Another Saturday, another week of Mothering under our belt, another Saturday Six. Enjoy!
This post contains affiliate links. You can read more at our legal page. Thanks for your support!
1. Crafts and Cabin Fever
We've been housebound a lot recently thanks to rain, ear infections, and the dreaded flu. When we get cabin fever, we like to bust something out of our secret craft stash! This week, we looked forward to a break from the rain with this Hide and Seek Rock Painting kit that we can take outside when the clouds part! And you can't go wrong with ANY of the craft kits from ALEX Toys! (But this one's on sale for 50% off right now!)
2. We LOVE Low Mess Meals
Have you ever noticed how many delicious "One Pan" dishes there are on Pinterest? But then they're all "We SAID one pan, but that's really only if you have a cast iron skillet, and if you don't then you need to use a regular skillet and then transfer into a baking dish, and I realize this changes EVERYTHING because you were really planning on this dinner when you pinned it and we lied to you about that one dish thing?"
Yeah, we've noticed it too. So Christine finally bit the bullet and bought this cast iron skillet and now she'll never get screwed by Pinterest again. Well, until she tries to do some "kid friendly craft" that proves to be anything but…..
3. National Puppy Day
Is it any coincidence that Chad sent Christine a picture of puppies on National Puppy Day and suggested that one join the family? Spoiler alert: She said No. Or, more accurately, "HELL NO!" I mean, they're cute and all, but puppies? Stay tuned and she'll fill everyone in on the ten reasons she gave him for absolutely, under to circumstances, adding another family member let alone one covered in fur that will never be potty trained.
4. Christine is Having MAJOR Problems with Co-Sleeping.
Mainly, her kids all want to and she doesn't. It's like having a newborn again with all the shuffling kids back to their beds all night long. Or they stay and rub their feet on her all night long, which is worse. Christine and Chad considered getting an obscenely giant bed like this one from The Ace Collection, but knows they'd still end up getting pushed off the edge somehow. The struggle is real.
5. Jaymi's Not the Only One Going Gray!
If you loved reading about the way she embraced her gray – and then how she changed her mind and went down the rabbit hole of hair coloring, then you'll totally dig our friend SewGeekMama's fight with her husband over her gray silver hair.
And if you haven't ready any of that, well, now you have something to do while you drink your coffee! Or wine. We don't judge.
6. Tragedy at Jaymi's House
We love Abram, we really do, but we were not loving the way he threw Little Blue Truck across the room when he was done reading it peacefully. And we especially did not love the tragedy that befell the TV screen when it happened.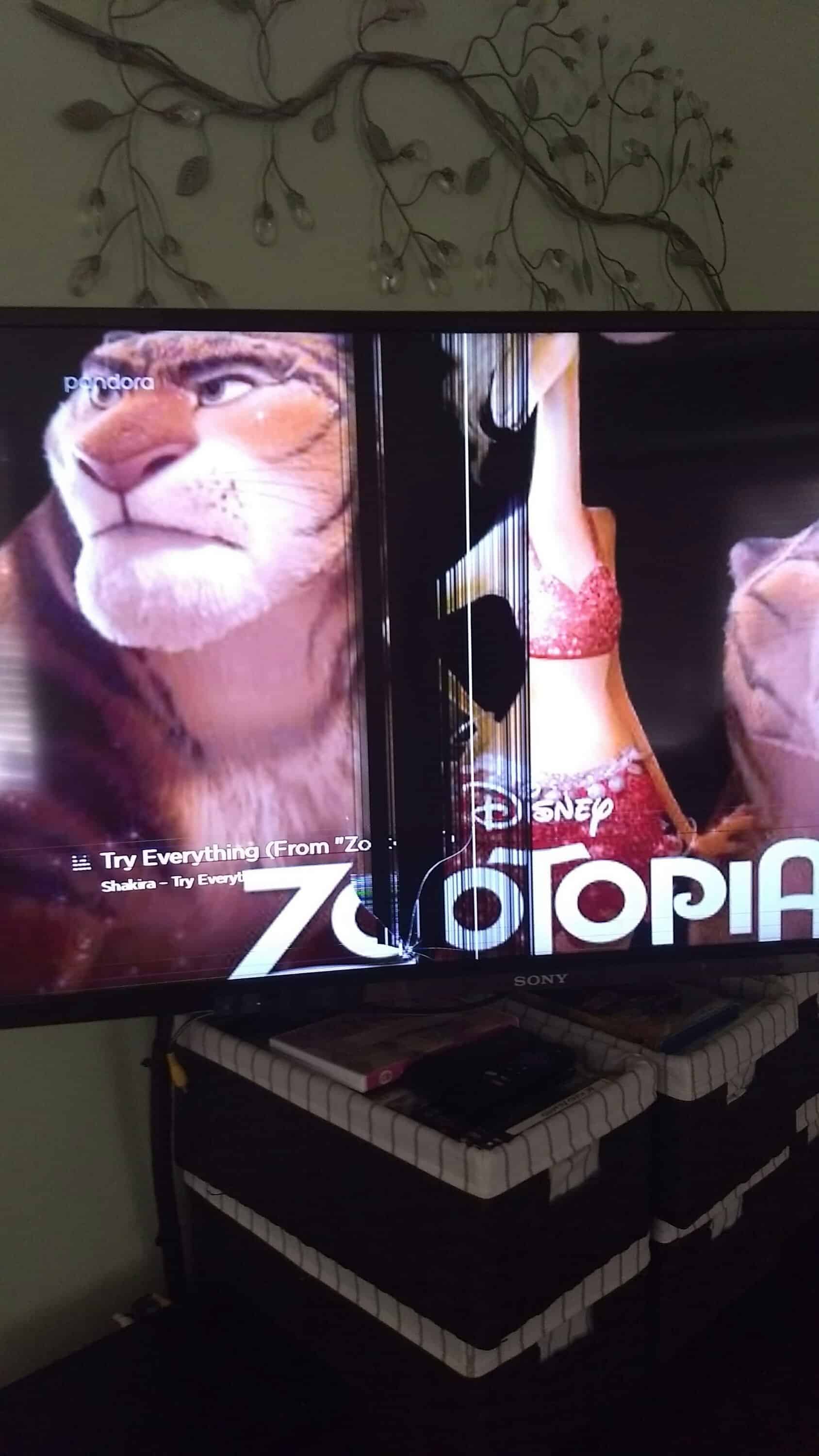 Help Jaymi not feel alone! Comment with the biggest tragic accident that's happened at your house! And have a great weekend!