Summer may not officially be over until September 21, but let's face it: It's over for us. The kids are in school, the lifeguards are working their last weekend at the beach, and there's football on the TV today. For all intents and purposes, it's fall. But before we put on our cozy scarf and grab a pumpkin spice latte, we have a tradition of sitting down as a family and doing a Summer Send-Off.
And now, you can join us! Snag this printable and take a few minutes to capture the best, worst, and most memorable events from your summer!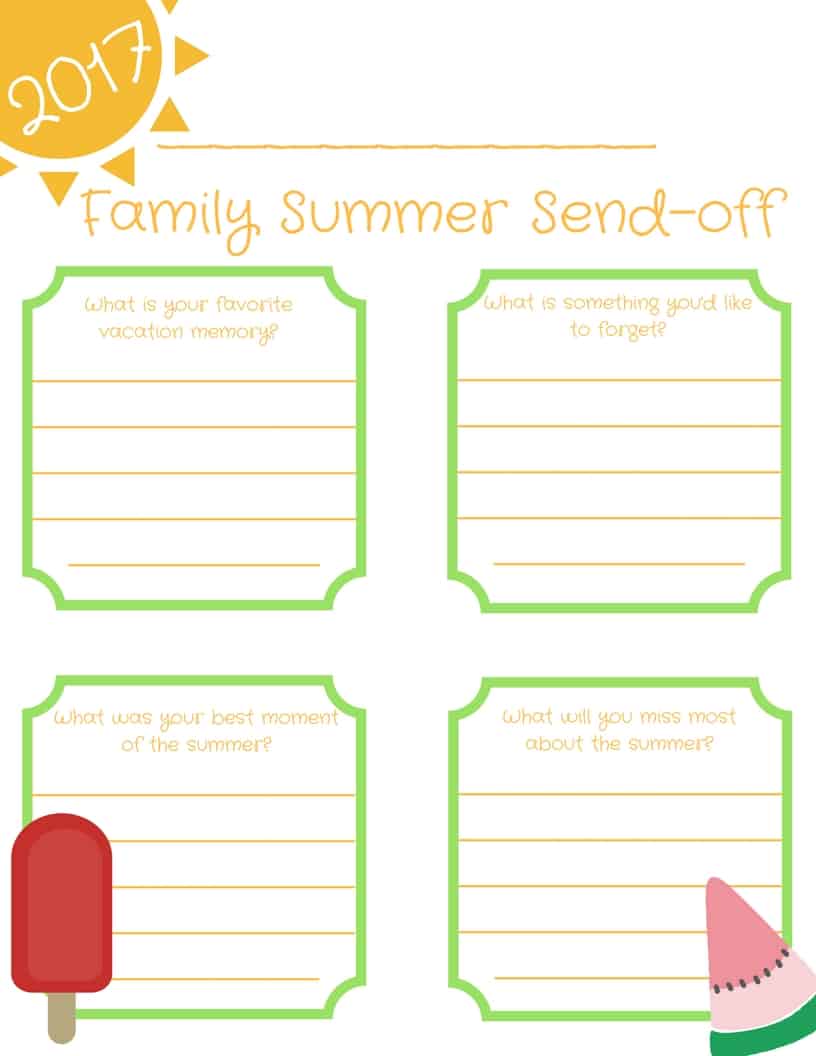 What's your favorite vacation memory?
Jaymi: We spent an amazing three days at a cabin on some remote coastal property in NorCal. The road trip there was intense, but man was it worth it. No TV, minimal internet, no work, not even toys… Just our little family and our friends, spending the days hiking, rope-swinging, roasting S'mores, and playing at the beach. Pure, unplugged magic.
Christine: On a whim, we decided to go down to San Diego for a night to go to the zoo. They were going to have bands and lights and a special bubble show off this giant bridge and it all sounded like fun. But all my kids wanted in the whole world was to see the hippos. So we walked around, we did the bus tour, but still no hippos. They were on the very very very far side of the zoo through very steep and windy paths. And we were pushing a thousand pounds of stroller. I really wanted to shut it down. We could see them next time. But the kids were insistent. We had to see the hippos. So right before the zoo was closed, we made our way to the right path. And it was DARK. This isn't like some amusement park where they light everything up – no, this is like the wild. And it was a little spooky. And there were animal noises everywhere. You could barely see. And then we came upon the hippos. And there was no one there. Just us and one beautiful hippo swimming back and forth and back and forth. And my kids were the happiest I've seen them in a long time. I was so glad we went looking for the hippo.
What's something from summer you'd like to forget?
The unnecessary stress I put myself through. I get too worked up over things that are supposed to be all fun and get caught up in the details. I need to try to relax a little!
The Great Potty Training Debacle of Summer 2017 – wherein my 2 year old, who we thought was ready to potty train due to one successful declaration of "I need to pee!" She was NOT apparently because upon us making the effort to train her she decided to go on a two week stint where she would poop consistently – and EXCLUSIVELY – in a pool. Not cool.

What will you miss most about the summer?
I am going to miss all the opportunities for free or cheap kids' activities. Cheap movies, wading pools, late evenings at the park, days at the beach. Anything that got me out of the house and having fun with my kids! And I think I'm going to miss having Lila home with us everyday (I mean, you never know. I could be like, "Thank God It's Monday" on the regular. Only time will tell!). Having her home gave us so much flexibility, and so many opportunities for fun, that I know that I'm going to miss her. But summer will be here again before we know it!
I'll miss our pool being warm enough to swim in everyday. Poop incidents aside, the pool is our favorite thing. And this year I had the added bonus of the big kids both being completely confident swimmers so I could sit on the side and watch them have a great time – and get hella tired. Early morning swims as the sun rose, hot midday swims while the baby napped, sunset swims where I had to beg them to get out to eat dinner and late night y'all should be in bed already swims. Soon the pool will be too cold for us to swim whenever and I'll sure miss it.

What was your best moment of the summer?
An evening at the wading pool. Hands down. So simple, but I was already nostalgic for it while it was still happening.
Is it so absolutely terrible if my best moment totally did NOT involve my kids?? During our staycation, we had the genius idea of getting a babysitter at the hotel. Vacations are wonderful, but all that togetherness and kids and hotel rooms and everything that makes it into a trip can be forgotten for one brief shining night when you get a babysitter! My husband and I went to Disneyland and went on rides and ate food without managing the needs of the tiny people and had conversations without interruptions and it was the kind of night that makes you realize why date nights really are that important. Which is why over after dinner drinks and some chocolate bread pudding that was bomb.com we decided we needed to make date nights a "thing." So we did. And I definitely credit it to that one perfect summer night.
Now it's your turn- download the printable and spend some time with your family talking about your summer highs and lows, and then share a little with us in the comments below!