For years, I thought wheat basically gave me life. I love to bake, and I love to eat all the gluten-filled things.  I am known for my creative recipes, and my Browned Butter Cookies have been a potluck staple for as long as I can remember. So when my doctor told me I should limit my gluten consumption, it was like a punch to the gut. No bread? Only gluten free cookies?!? For now, I'll spare you all the tears, but saying it was an adjustment would be an understatement.
Now, a year later, I still enjoy baking and sharing what I've made with my friends. Some recipes, like this one, still contain ALL the wheat in their original form. But I also find a slight thrill in trying to make things gluten free. If there are any other gluten-free friends out there, this recipe is easily adaptable, and equally delicious. You can use any cup for cup flour exchange.  I also recommend adding an extra tablespoon of cream cheese to help make these Gluten Free Cookies amazing. However, for the sake of this post, please know all the photos use wheat flour.
My favorite part of this recipe is the bag of Nestle Triple Chips. I typically have to buy one bag of white chips and one bag of semi-sweet chips for this recipe. And while I don't mind having extra chocolate around the house, I loved being able to just dump the whole bag into the dough. We even get the extra flavor of some dark chocolate- yum!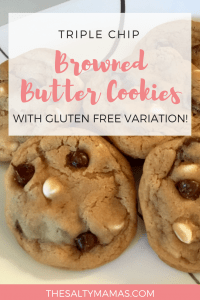 Continue reading "The World's Best Triple Chip, Browned Butter Cookies (GF!)" →