A new school year brings with it many things- new backpacks. New uniforms. New teachers. And for some of us it brings new experiences.  When you first set out to prepare your kids for their FIRST first day of school, a million questions pop into your mind. Is my child ready for preschool? Does my child have the kindergarten readiness skills they need? Will they be okay without me?
As a former teacher, I was surprised to find that I had exactly the same concerns when my daughter went to school for the first time. I felt like there were soooo many things I wanted to teach her before school started- and believe it or not, letters and numbers were the least of my concerns!
When it comes to school readiness, there are more important things to focus on (things like independence, how to get along with others, and fine motor skills) that will free up the teacher's time to teach academics.  Here's ten things that you can teach your kids before school starts that your child's Kindergarten/TK/Pre-K teacher will LOVE you for.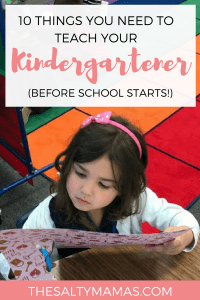 Continue reading "10 School Readiness Skills (That Have NOTHING to Do with Academics!)" →