You've walked by it a hundred times. And if you've walked by with your kids, no doubt you've had to fend off cries of, "Please mama, PLEASE buy me the giant bear we absolutely do not have any room for in our house!" (Or at least that's what you hear). You see it and think "Holy God, that one stuffed animal is bigger than most of the stuffed animals in our house put together!"
And it is.
And if you're me? One day, your well-intentioned husband, who feels moderately guilty about the extra long hours he's been putting in at the office does the unthinkable and says, "Yes kids, we WILL buy you that giant bear." Before you can pick your chin up off the floor, it's been hoisted into your cart and you know from the sparkles shining out of your children's eyes that this cannot be undone.
You live with this bear now.
You walk through Costco trying to be happy about the new member of your family. I mean, sure, its larger than you are, but you don't have to feed it and it doesn't poop. So really, it could be worse! Right?? On the other hand, you need to cram it in your car somehow…so that's gonna be fun. Still in shock, you take pictures of the kids grinning from ear to ear, because when they forget about this bear in 3 hours you're going to want to remember how happy it made them for 17 minutes. Then, you send the pictures to your Mom/sister/bestie – basically anyone that will feel sorry for you and commiserate.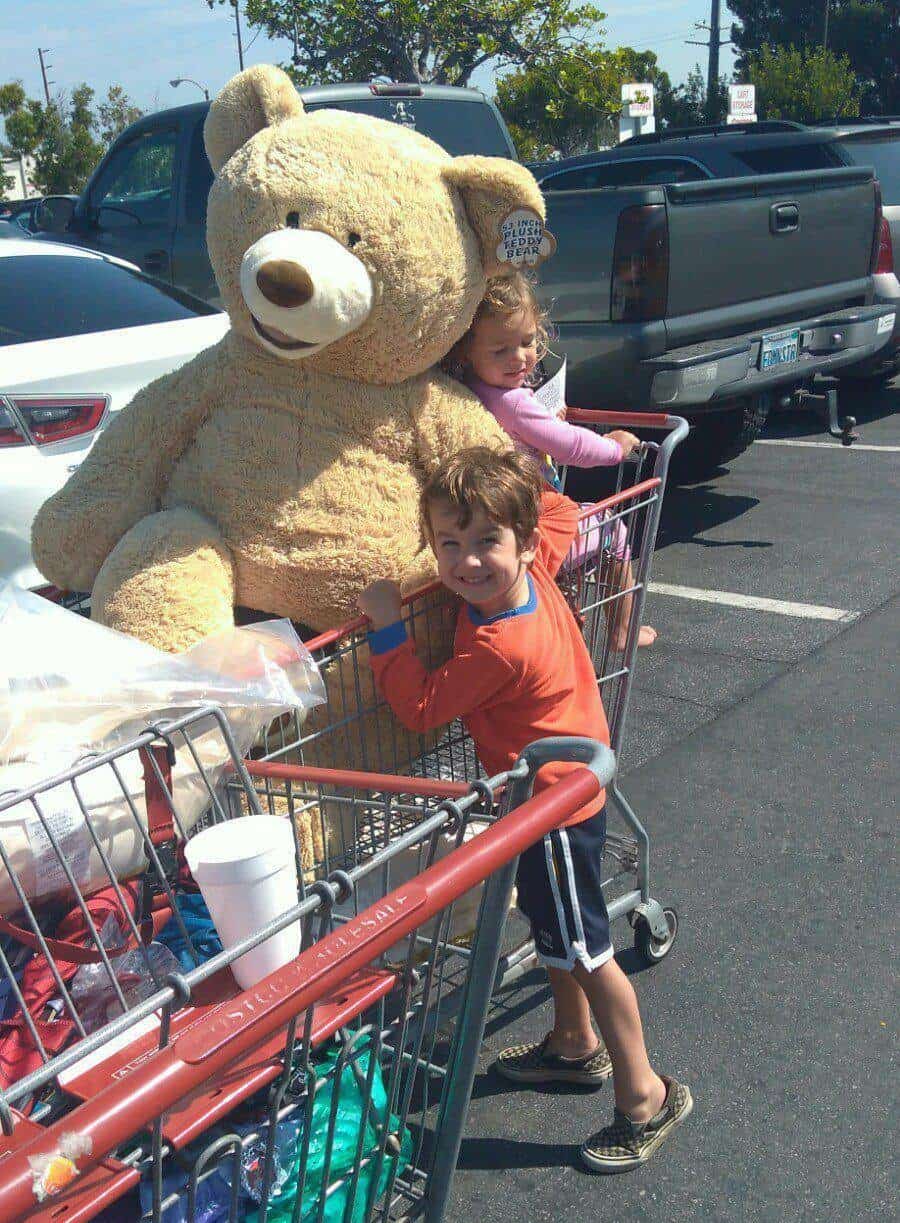 They all do. Because YOU OWN A GIANT BEAR NOW. And even if your husband doesn't get it – your people do.
You move the bear into your house and find him a room (because he's that big). The kids try to show you that he was worth every penny by playing with him for a little bit. You start to warm to the big guy, now affectionately known as Tootles by the way, but remember that he is the enemy. Because you need a scapegoat and it's better than thinking your husband is the enemy.
One day goes by, and then another. And then a strange thing happens. The kids keep.playing.with.Tootles. They lay on him when they watch TV. They feed him food they made in their kitchen. They ADORABLY ask you to take "family photos" with him. And wouldn't you know it – those kids play with that bear EVERY. SINGLE. DAY.
Maybe their dad is paying them in candy to prove me wrong. Maybe they remember that I grumbled through Costco that "they better freaking play with this bear or it's going in the alley." Or maybe, they just really do love it. And it makes them happy. And it teaches me that I need to lighten up and say "yes" once in a while. And that maybe that means the bear was the best $30 we've ever spent.