According to experts, kids are supposed to play outside for at least two hours a day.
Stop and take that in for a second. They need to play outside for TWO. HOURS.
Now this may seem crazy when you think about the amount of time your kids are at school, or the amount of time you are at work. But when you think back to when you were a little kid, it might not seem that ridiculous.  I remember getting home from school and taking off on my bike with my friends. Or exploring the creek next to our house for hours.  Or playing endless pretend in our backyard, or gardening with my mom, or swimming in our (above-ground) pool. There was SO much time outdoors, that it wasn't even a thing. It was just something that we did. Do I think my mom worried about meeting the required two hours each day? Uh, no. Because that was not a thing back then. You just sent the dang kids to play outside.
And we (I'm talking societally here), just don't do that anymore.
Even when you talk about going "screen free" or unplugged, it usually means board games and books and hours of playdough play.  It's not considered safe for kids to roam around on their own, and our green spaces are kind of being eaten up.  So we have to make up for it somehow, as forced as it may seem at times.  Because yes, it is another "requirement" of childhood, but from a scientific perspective, it is crucial (check out this article from the New York Post if you want to read more about this). Kids who play outside more are less likely to be obese and are less likely to be diagnosed with attention-related disorders.  Time spent in green spaces is good for anxiety and depression, and reduces stress-and that goes for little kids and grown ups alike. We were biologically just meant to spend time outside, and we have to make sure that's happening for our little ones, and our bigger kids, too.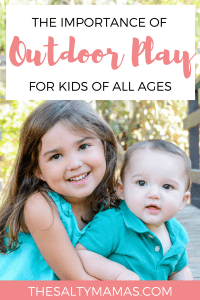 Continue reading "Why You Need to Play Outside with Your Kids" →