Living with a toddler is busy, hectic, and can be oh so unpredictable. But what if, for the price of a cup of coffee, you could bring a little structure back to your life with a toddler?
Well now you can!
$5 NO STRESS TODDLER SCHEDULE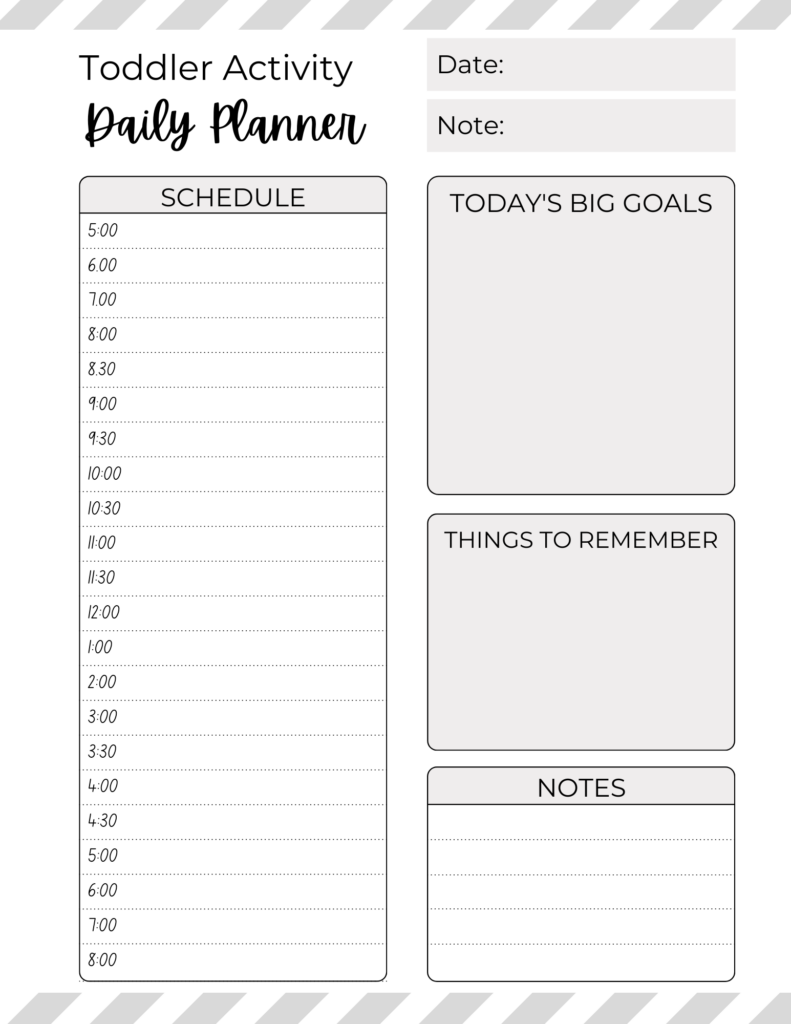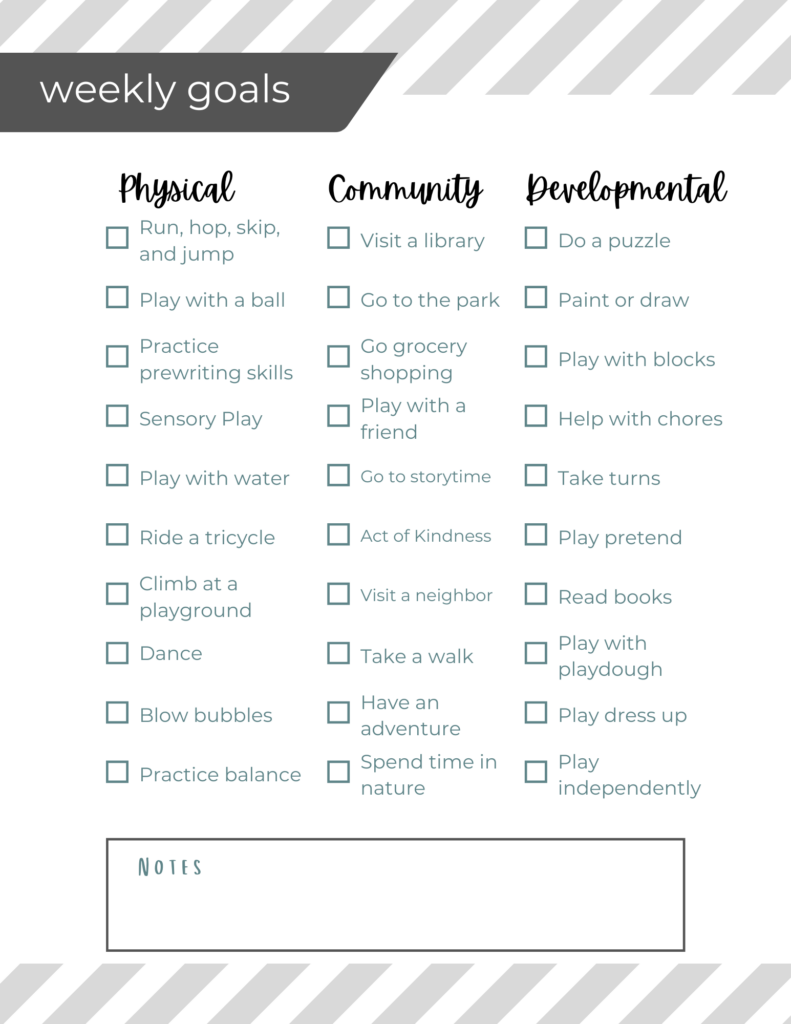 Get this deal while it lasts!
This planner will help you get organized – and stay organized – while navigating toddlerhood.
From daily planners to weekly goal checklists, activity ideas to a daily sample schedule, this planner has everything to get you well on your way to organized.

If you're anything like we were, you're exhausted. You're trying to check off all the boxes, keep your little one happy and on track developmentally, and constantly feel like you're coming up short.
It's hard.
It's overwhelming and would get event the best Mom down. But it's important to remember:
You don't have to do everything everyday
But how do you know how much you DO need to do everyday? And how should you organize your days and weeks with a toddler?
That's where we come in!
This No Stress Toddler Schedule can help you streamline your days!
You'll feel satisfaction as you check off actual boxes for all those beautiful little things you do all day long. Plan out your toddlers activities for the week and keep an eye on those important developmental milestones. Best of all, you'll love bringing some structure back to your days.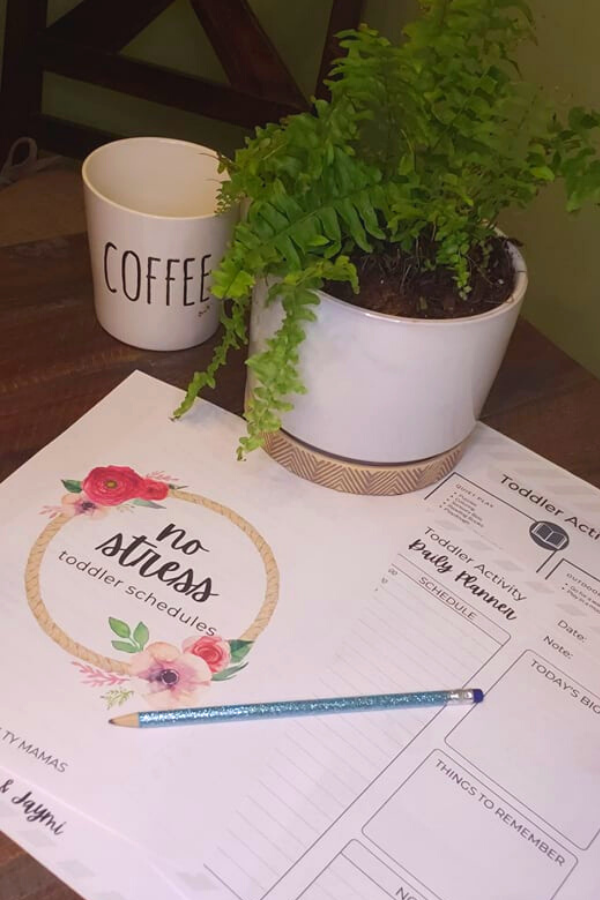 This toddler schedule got my family unstuck from our usual rut! I love the combination of structure and flexbility, with tons of ideas for fun things to do with my toddler. Following this schedule cut down on "I'm bored" tantrums and helped me engage with my toddler in creative activities that–bonus!–are great for her overall development!

– Kayci, Mom of 2
What's Inside?
You'll get:
11 Planning Templates to Choose From (Daily, Weekly, and Monthly Options!)
70+ Easy Activity Ideas to Add To Your Schedule
Developmental Activity Checklists
Sample Schedules to Help You Make Your Day
When you're dealing with toddlers, you don't necessarily NEED to plan every minute. On good days, you'll love having flexibility between activities. On bad days when you're counting down the minutes? You'll love having a schedule to fall back on and keep you grounded!
Plus, buy now, and we'll give you our Printable Activity cards FREE!
Our Printable Activity cards feature over 75 activities for your toddler. From art projects to sensory play, outdoor play to fine motor skill activities, there's something to keep your toddler busy.

These Printable Activity Cards provide several different activities across a wide range of kids' major developmental areas, including:
Art Activities
Outdoor Play
Fine Motor Skills
Sensory Play
Classic Activities
Cooking and Eating
Guilt Free Tech Activities
Educational Activities
Use these activities to fill in your toddler's schedule, and you'll be enjoying a hot cup of coffee in no time!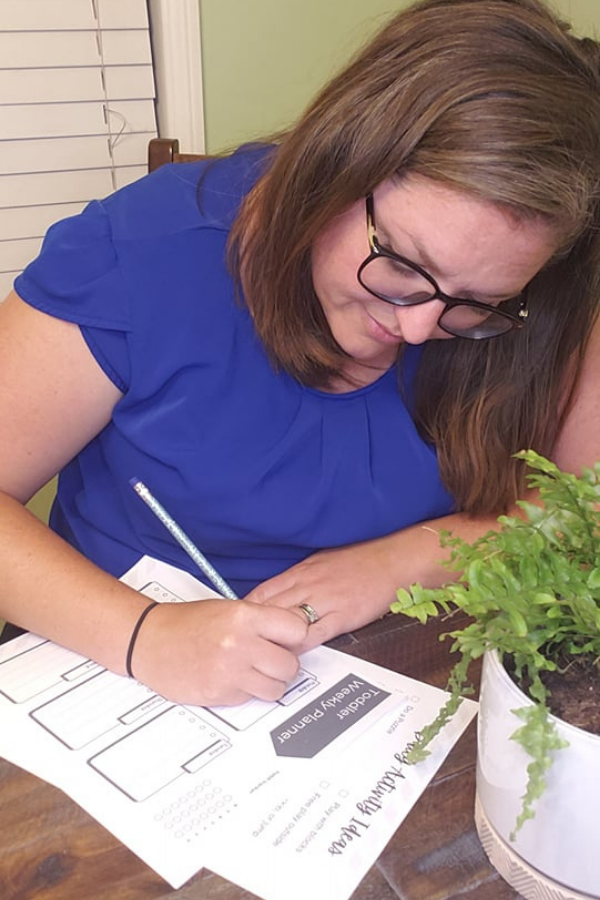 I would always get frazzled trying to plan a day for my toddler. The Salty Mamas toddler planning packet is a lot of fun for us both. It's really easy to implement, not overwhelming like other schedules. Definitely saves us from too much screen time! I'm a fan and recommend it to all of my other toddler mama friends.

– Daniella, Mom of 3
When it comes to toddlers, you need STRUCTURE & FLEXIBILITY
Using a combination of our No Stress Toddler Schedule and the FREE Activity cards, you can find the perfect balance for your family. We provide you with sample idea sheets, but also tons of blank pages where you can create your ideal schedule. Because if there's anything we know from raising six toddlers between two households, it's that what works for one kid or one family is not going to work for everyone!
BUY NOW to get started finding what works best for your family today!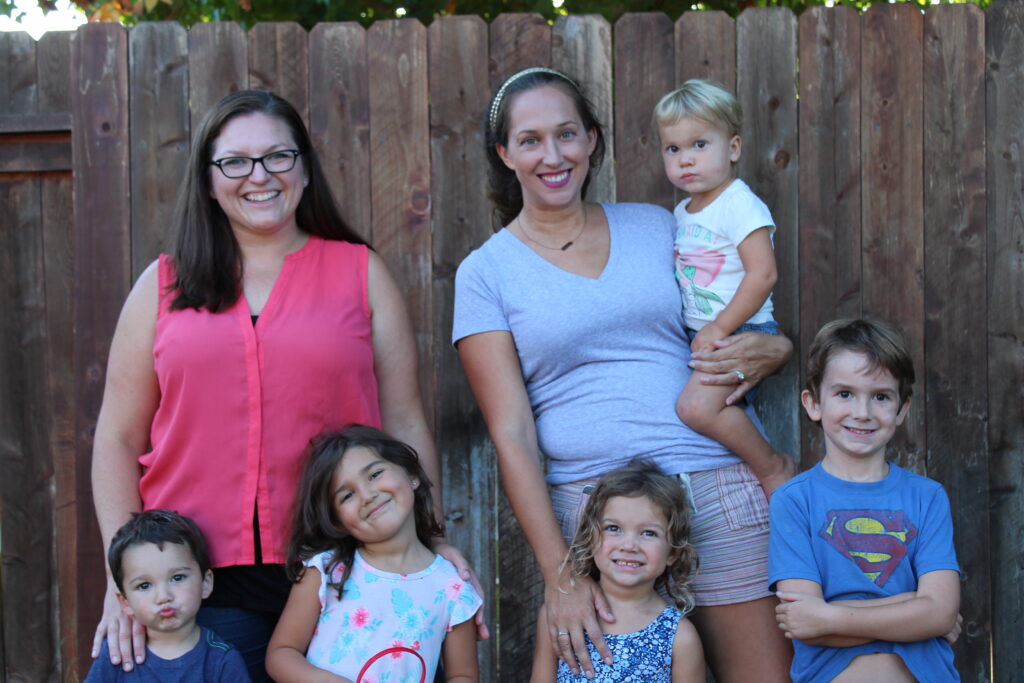 Christine and Jaymi are seasoned Moms that have been entertaining and educating toddlers for years! After lots trial and error, tantrums and triumphs, they're ready to share their scheduling strategies with other Moms!
Over the past four years they've helped millions of Moms keep their kids busy, happy, and hitting their milestones, and now they want to help you!