Need to keep that brainpower up during summer break? Go for less stress (and more fun!) with these fun summer learning activities for kindergarten and preschool kids.
On a beautiful summer day, we were soaking up the sun while drawing in our backyard. My friend's son, age 6, decided he was going to write a book. He casually asked Lila, age 5 and a recent TK graduate, if she knew how to spell the word "like." "K….L…E…" she started, and then looked at me in a hot panic. "MOMMY!!! I don't remember ANYTHING from TK!!"
I mean, she did, of course, and with some reminders to say the sounds in the word, her memory was jogged enough to produce the letters. But her fear of summer reading loss was real. And it reminded me that we should probably spend a little time on some summer learning activities for kindergarten.
So if you also find yourself with a child entering PreK, TK, Kindergarten, or First Grade, it's worth putting just a little time into some fun summer learning activities for kindergarten or preschool readiness. Here are some fun ways to make it happen without stressing your kids (or you!) out.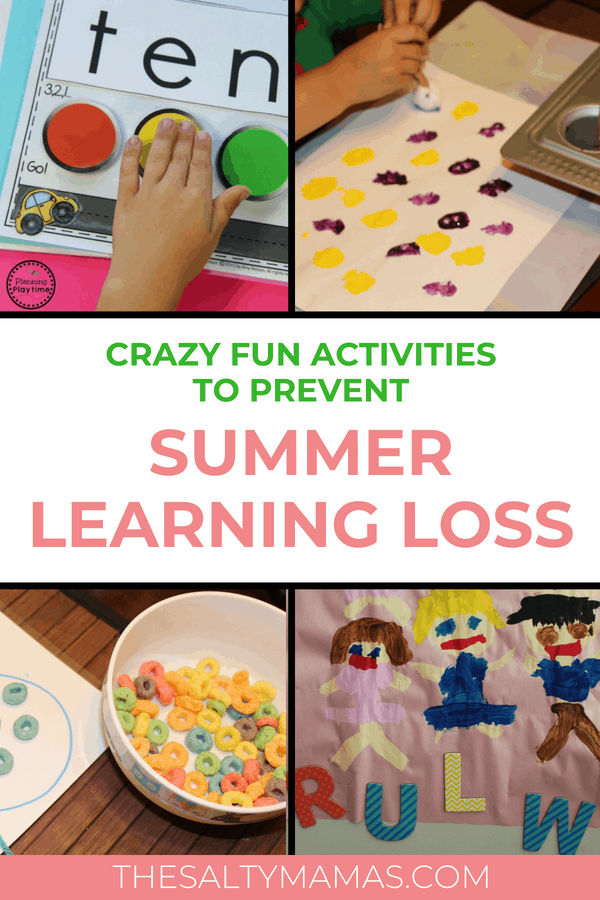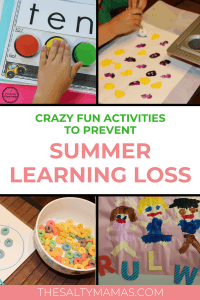 This post contains affiliate links. You can read more at our legal page. Thanks for supporting The Salty Mamas!
Read, Read, Read
We've told you all about how important it is to read to your kids, and how to help them become readers. One of the best things you can do with your children is to incorporate some summer reading into your daily routine, and have them read to you as appropriate.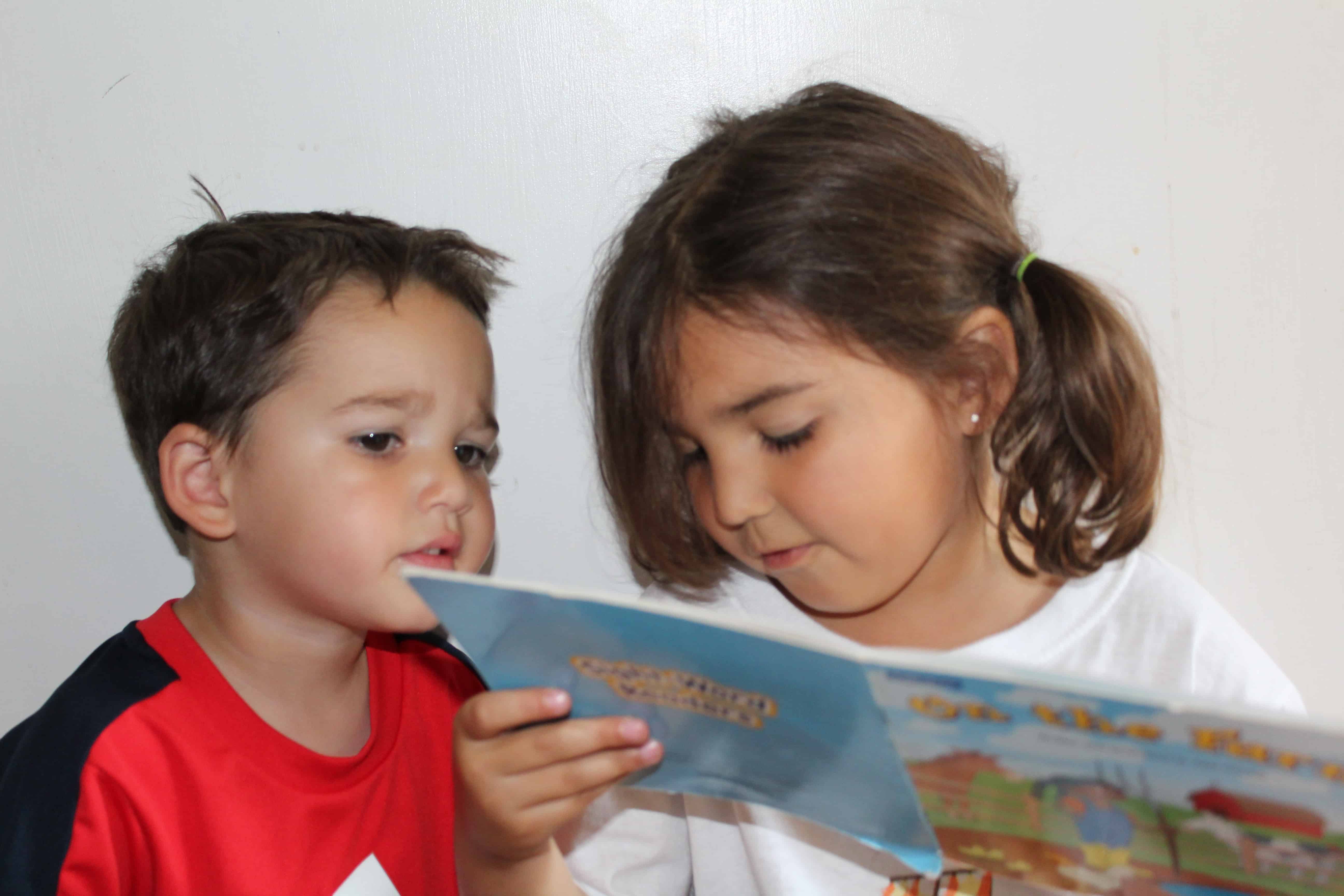 Don't be alarmed if your TK or PreK student isn't a reader yet– they'll get to that in kindergarten! But if your child has some mastery of sight words, consider getting them some sight word readers to help them stay fresh. (As an added bonus, it'll help them practice reading behaviors like tracking print, turning pages, and reading word-by-word.)
Grab Some Summer Workbooks
As much as kids hate workbooks and worksheets during the school years, they tend to LOVE them in the summer. The dreaded homework can turn into a novel activity, and it's often easy to get them to "play school" for a little bit at a time.
I really like these Big Practice Books of Kindergarten Skills. They're pretty basic, and you're not going to find anything groundbreaking in there (which makes them the PERFECT summer workbooks). These workbooks serve as a general review and are the perfect light summer skills refresher.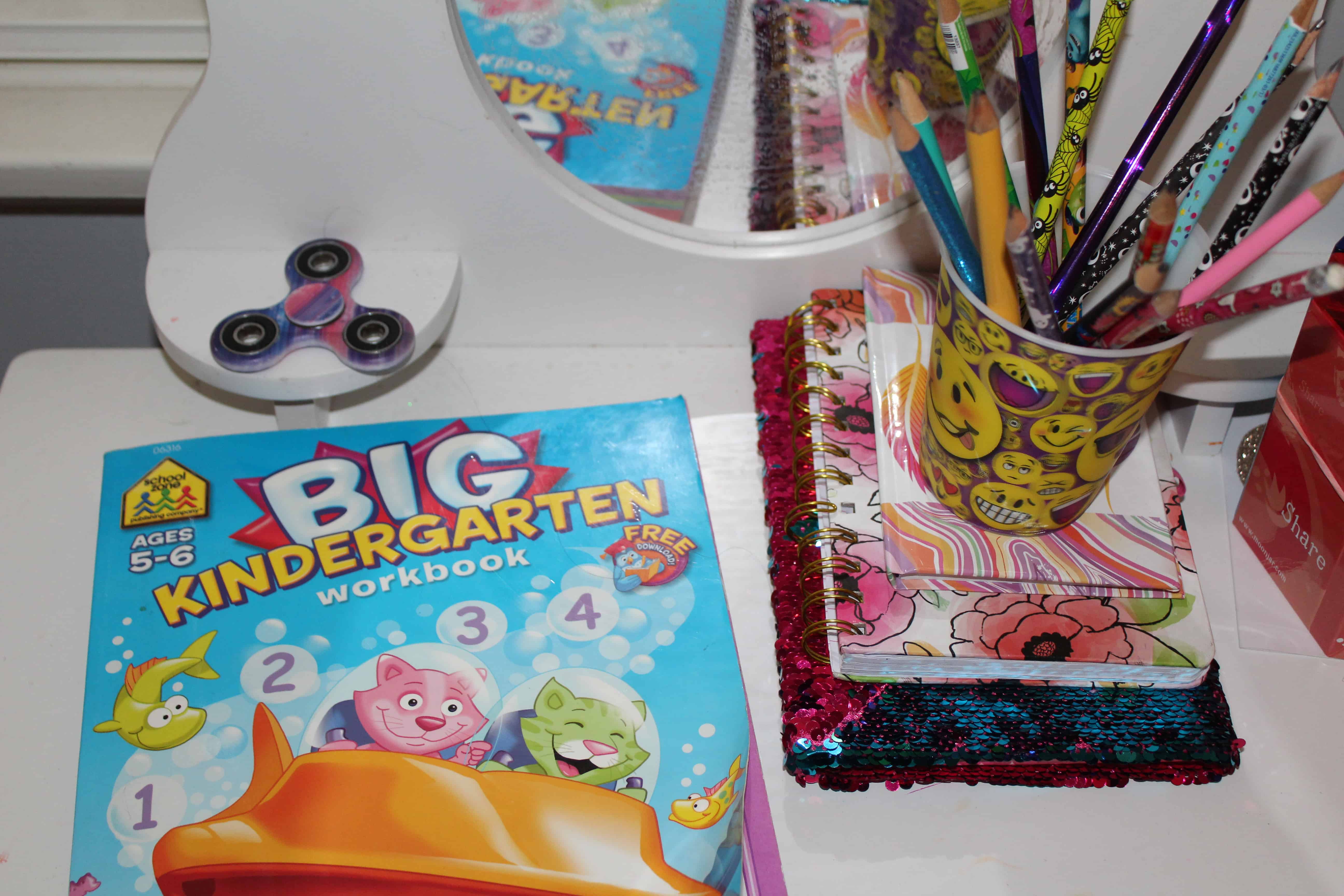 Lila and I tend to tackle a few pages at a time when her brother is asleep– no more than ten minutes a few times a week. You can go through the book page by page, but I recommend you pull a page from each section (Letters, Reading, Numbers, Pattern Recognition, Problem Solving, etc) and do a bit from each area in one setting.
You can either flip back and forth in the book, or do what I do and physically remove pages from the workbook and staple them together.
Make a Summer Scrapbook for Kids
All kids, and particularly those in the early grades, need practice to keep up their writing skills. Consider grabbing one of these Summer Journals. Once a week or so, have your kids write about the best part of the week (or just draw a picture if that's their level). It'll keep their skills fresh and not seem like a huge chore (since they're busy writing about something fun).
And the best part? At the end of the summer, they'll have a fun record of all their adventures, both big and small.
Practice Letters with Fun Summer Learning Activities for Kindergarten
There are TONS of fun summer learning activities to help kids practice their alphabet. Attend storytimes where they do letter activities, or have your child put flashcards in ABC order. Ask them to paint the letters using a big paper and an easel, or make them out of sticks. We also love these big refrigerator magnets, which make it easy to work on a couple letters each time you go in and out of the kitchen.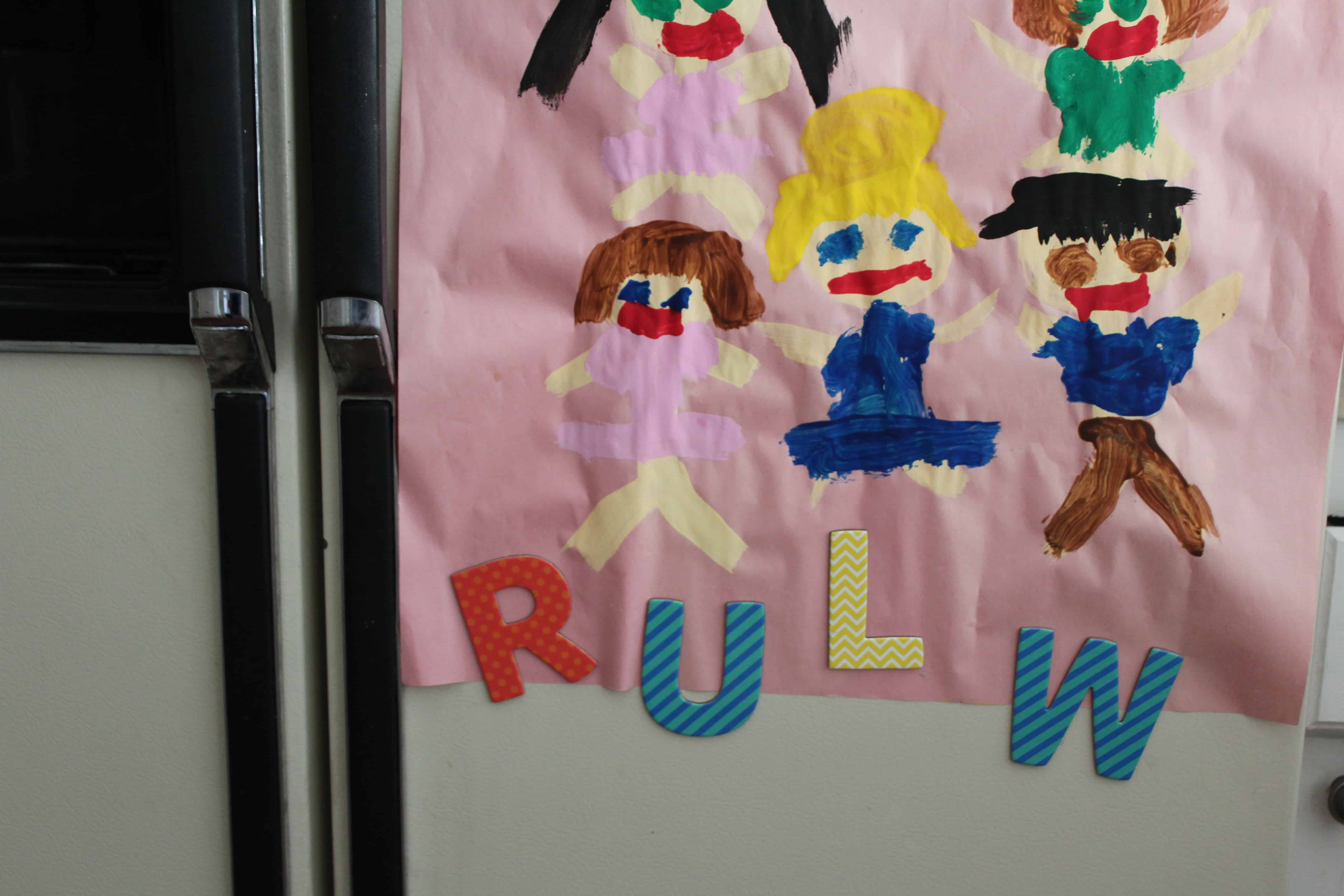 You can also spend some time brushing up on their letters, starting with their name. After that, move on to the names of their family members, pets, and friends. It's a low stress way to practice letters (without making it a chore).
Paper Heart Family also has a value-packed ebook on learning and practicing letters. Low prep, hands on activities will help your kids review without even knowing that they're learning.
Make Summer Reading Practice Fun
You might feel obligated to get in some word reading practice with your kids. And that's all well and good, but don't overuse it to the point where you're making reading a chore.
If you do want to get in some actual summer reading practice, try to present it in a unique way. Use a dry erase board to change one letter at a time (such as turning "cat" into "bat"), or build words with flashcards or letter tiles.
We also found this SUPER fun activity from Planning Playtime that uses interacting, DIY buttons to let children to touch/push each sound as they say it aloud. Then, they move a car along the sounds to blend them into a word. This is the approach teachers use with beginning readers, and will give kids meaningful practice that translates to school success.
And don't forget to occasionally practice those sight words! We have lots of fun ideas to practice sight words without being boring.
Do Some Art- And Have Them Sign Their Name To It
Art activities help kids practice valuable skills, like fine motor skills (crayons, paintbrushes, stickers), color and shape recognition (markers, mosaics, and painting), and creative problem solving. And it's usually such fun that those skills blend in without your preschooler even knowing they're learning.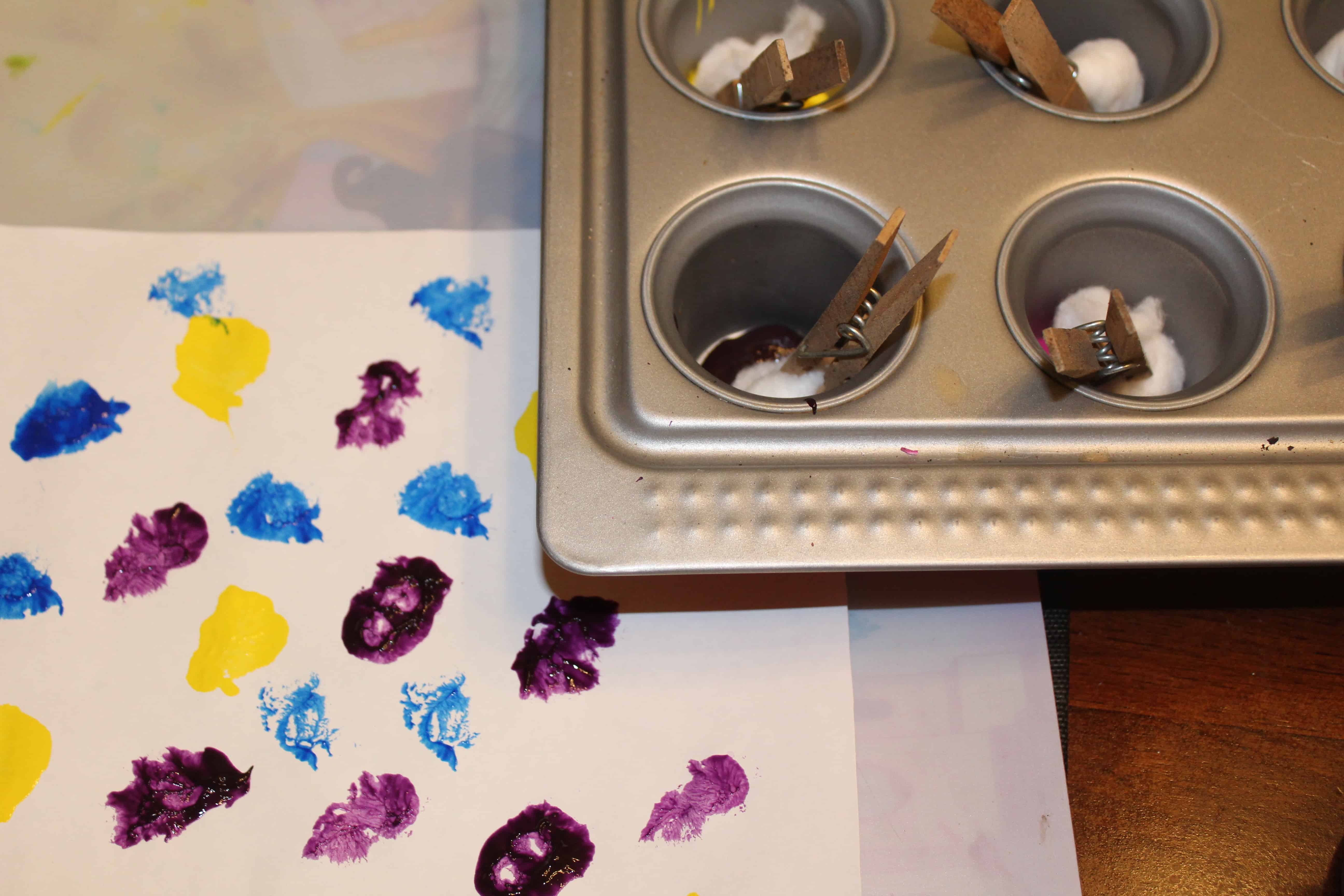 If you want to add another skill to their art sessions, consider asking them to sign their name to their artwork. It'll give them casual and frequent practice with writing their name, and it won't feel like a chore. There's nothing more important than one's own name, and I'd hate for your child to lose this skill to the summer slide.
Related Post: Monster Truck Process-Based Art
Avoid Summer Learning Loss with Snack-Time Math
Hands-on math is the best way to brush up on kids' number sense, and there are so many amazing summer learning activities for math. We like these mats for counting (you can use them with goldfish, fruit loops, or even fruit snacks).
We also made these super easy mats with a marker– one circle in each Froot Loop color- to allow kids to practice sorting. Then, to practice patterns, have your child create a necklace using fruit loops in alternating colors, or maybe two different kinds of circle-shaped cereal.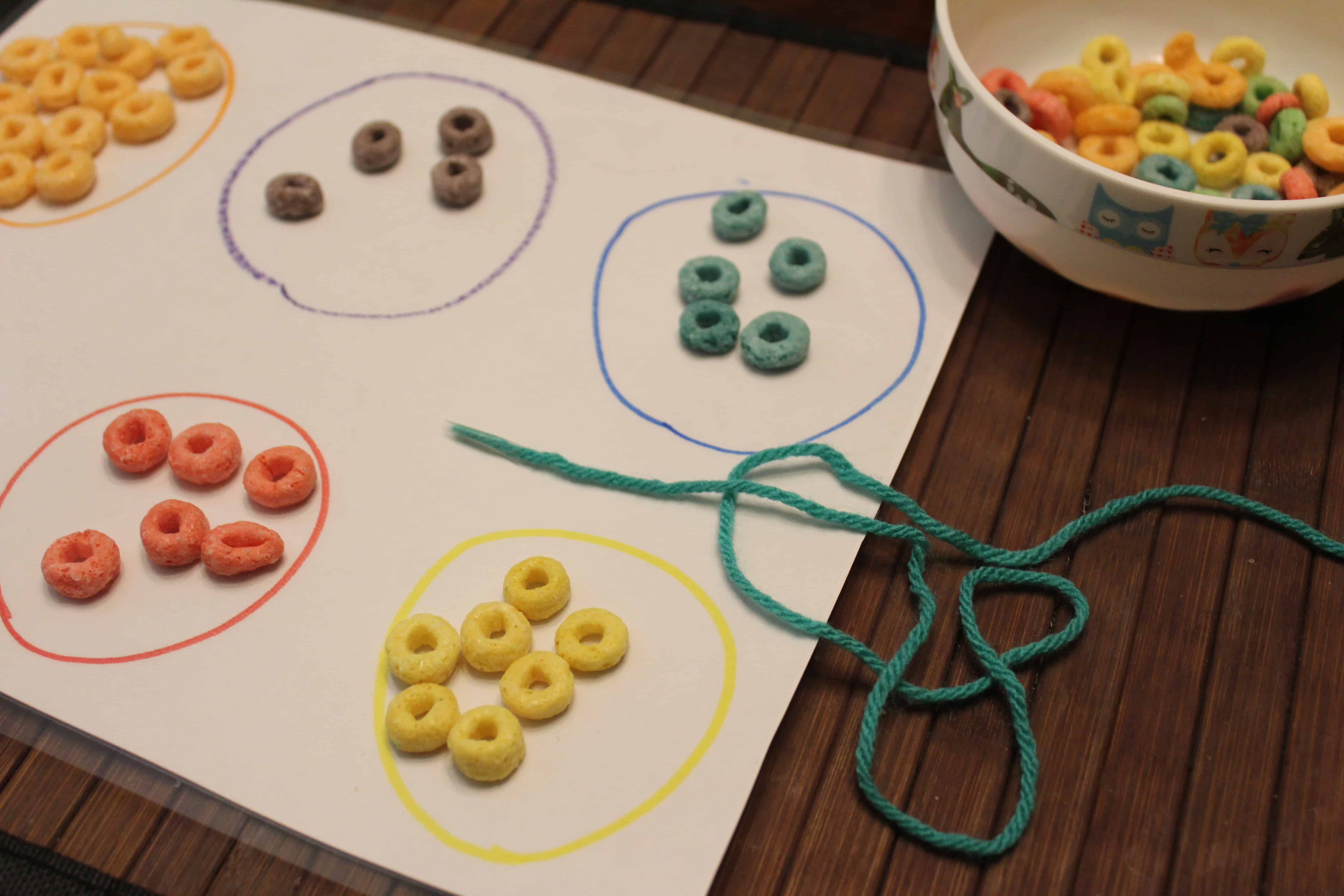 Another great trick is to incorporate addition and subtraction into your snack-making. Have your child help you make some ants on a log, first adding two raisins and then two more. Ask them how many they have altogether.
As they eat the snack, ask them how many raisins remain. It doesn't have to be ants on a log (because some kids are PICKY, amiright?) but this basic principle can be used with all kinds of treats and snacks.
Don't Stress It
At the end of the day, remember this is SUMMER- your child's vacation. Take some time for summer learning activities for kindergarten, sure, but keep it casual.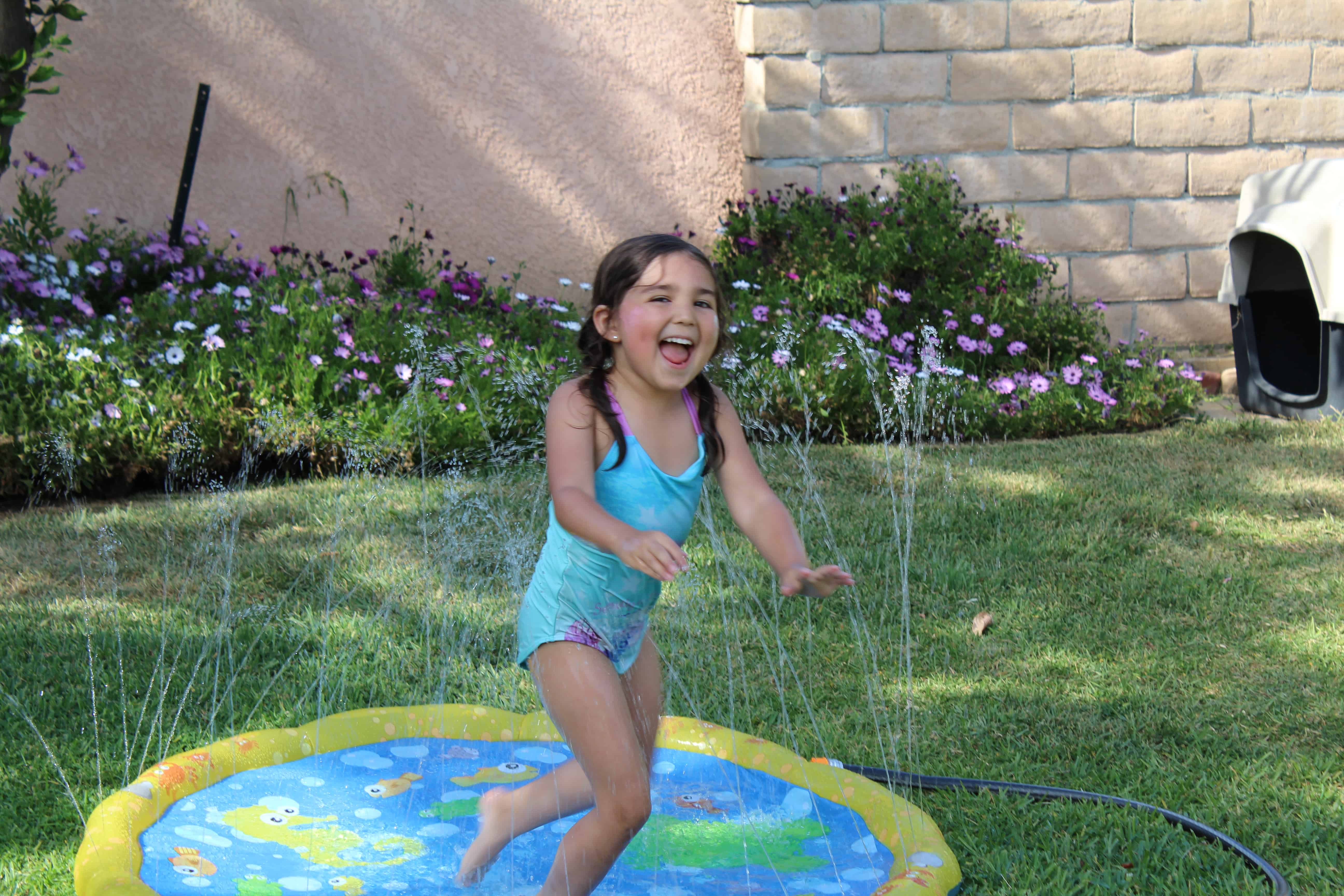 Your kids should spend the majority of their time running, playing, creating, and- frankly- getting bored. Embrace it. Enjoy as much of it as you can (not those parts where they're cry-begging you to invite more friends over, obviously. No one is that crazy). And try to remember that school will be here before we know it.
For better or worse.
*******
Looking for more ways to practice learning with your child? Check out these posts next-