So screen time may be taboo, and the ultimate sign of a terrible parent is leaning too much on the friends that live inside the television. But sometimes Mommy just needs a little help. There is still laundry to do, dishes to wash, and watching a little TV makes way less mess than Play Doh does. So the Salty Mamas make zero apologies about sprinkling in a little (or some days a lot) of screen time here and there. Which is how our kids favorite cartoons, become our favorite cartoons.
We'd like to take this moment to publicly thank some of the cartoons that have helped us get through these past five years.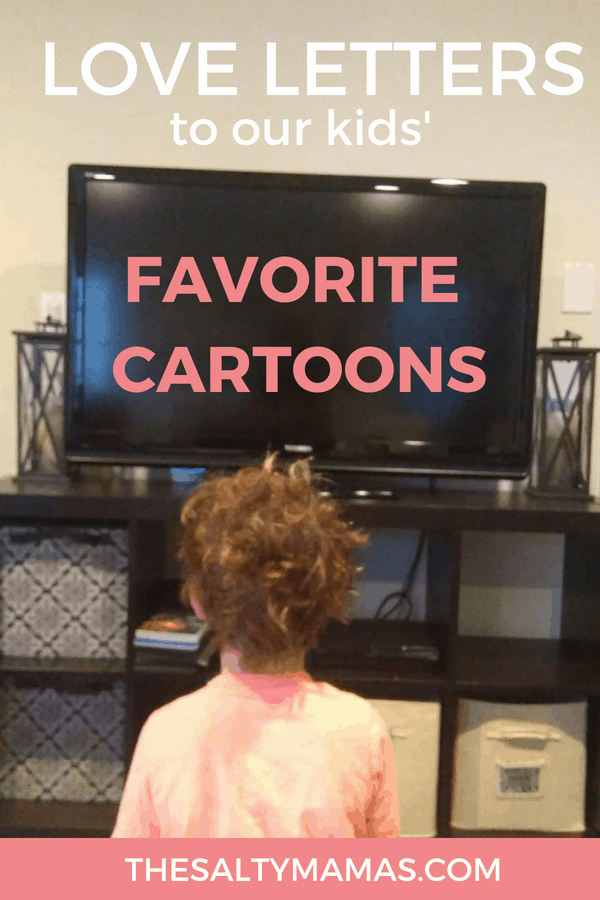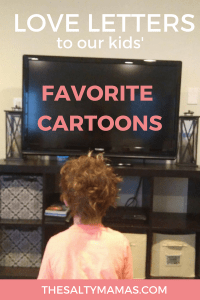 Dear Dinosaur Train,
I can't believe I'm saying this, but I miss you. I know we had a rough start, but you were my kid's first favorite show and I wasn't used to all the cheerful repetitiveness. Honestly, I think any first show would have been hard for me to accept. But now that the kids have diversified and started watching other things, I realize how good I had it with you. You introduced my son to his first obsession – dinosaurs – and taught him everything he needed to know to be a real show off.
Did I resent being corrected by a three year old on how to pronounce deinonychus or stygimoloch? Sure. But looking back, it was adorable.
However I do still have some serious questions about how you pulled off this whole cross species adoption thing, but I'm willing to let it slide for the sake of educational children's programming.
Dear Team Umizoomi,
God bless you and your mighty math powers. Not only did you teach my daughter about numbers and patterns and shapes, but you entertained her while I made everyone breakfast and packed lunches. Geo inspired my daughter to see shapes everywhere. Millie showed her the patterns the exist in the world around her. And Bot? Well, I'm not actually sure what Bot has taught her, but 2 out of 3 ain't bad.
And while I don't see the appeal, someday she'll blush when she explains how the King of Numbers was her first crush. Because she could watch him sing about his magical number kingdom forever. Maybe it's the numbers, maybe it's his charm, either way –  she's in love. And wants to be Millie when she grows up, which is just fine by me.
Dear Muppet Babies,
First off, my son singing your theme song in his raspy yet remarkably deep for a five year old voice is basically the cutest thing in the world. So thank you for giving me a million smiles every time he sings it and every time I think of him singing it. Also, you have somehow bridged the television gap and are the only show that my 1 year old, 3 year old and 5 year old can agree on. Meaning you get the distinction of being the show that allows me to cook dinner safely, without tiny hands turning the knobs of the range or trying to get in the way of my knife skills.
And since safety is my number one priority, that makes you my #2.
Dear Wild Kratts,
I absolutely bow down to you. You are my son's heroes. The people that taught him about sloth bears and praying mantises and the speed of a cheetah and everything about termites. You've given him the skills he needs to get into debates with other five year olds over things like, "….." And since you're real people, you have normal names. So when someone exclaims, "My! He knows so much about hedgehogs!," I can honestly reply, "Oh, I get no credit. He learned it all from the Kratt brothers – Chris and Martin, do you know them?" They either DO know you and are my kind of people, or don't and assume you're close family friends.
Which, let's face it – you kind of are.
Dear Puppy Dog Pals,
I've gotta admit: I don't get you. You're an enigma, wrapped in a riddle, and dogs. On your face, you're a silly show about dogs. And a robot dog? And a cat? Or something. To be honest, I've never really sat down and spent much time with you. But just when I think you're all physical humor and puppy puns my son tells me about how China has a really big wall and how he learned all about it from the Puppy Dog Pals. Are you educational too? I'm not completely sure but my kids have somehow absorbed a LOT of information while watching you, so I will happily pretend that yes, you are.
And for that, I thank you.
Dear Peppa Pig, Power Rangers and Paw Patrol,
At least you're not Caillou.
And I guess that counts for something.
What show are you thankful your kid loves to watch?