From the moment you have a baby, people will start giving you advice. One of those helpful tips is to make date night a priority. Everyone tells you that you need to not just be "Mommy and Daddy" but need to find a way to remain husband and wife, or to some degree, boyfriend and girlfriend. When this happened to us, we'd smile and nod and agree in theory. And then every Friday and Saturday night, we'd be on our couch, in sweatpants, watching some crap on TV before sloughing off to bed. Now, I'm not going to lie. That's borderline my perfect night. But at some point it got to be so routine and so impersonal. It was then that we started to understand why date night is so important.
It was one thing to make date night a priority in theory, but it was time to make it a priority in practice. Here are 5 ways you can.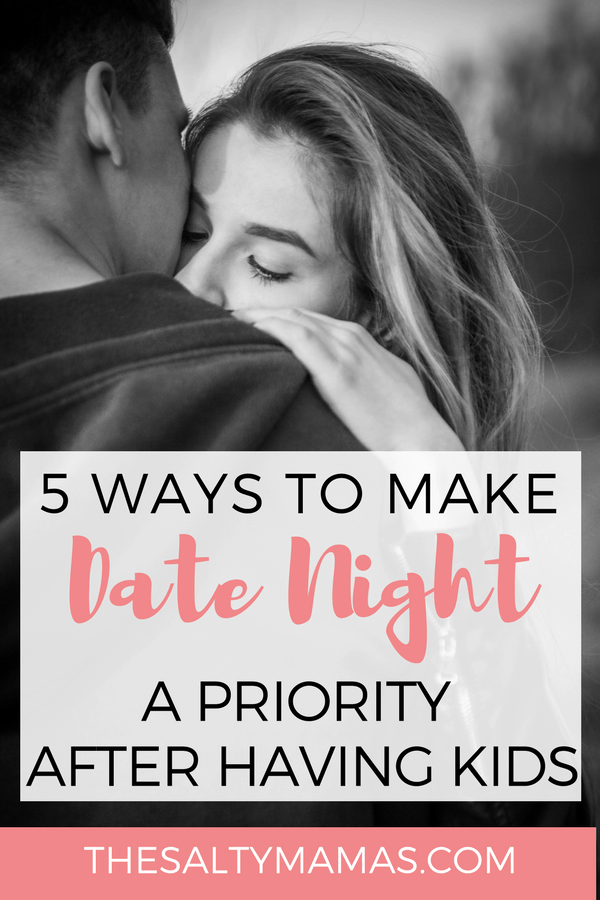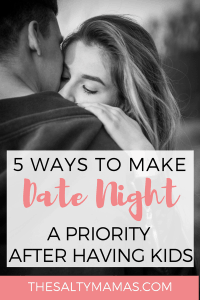 Budget for a Babysitter
We used to go out when we had the extra money. Inevitably that money got swallowed up by something else – another dinner out with the kids, a trip to the aquarium, or buying them some more books. All of those were noble activities, things we did as a family, so it seemed like a good choice. But since those things always came up, things that were "nice to do" just didn't get done. Until we made the conscious choice to make it a priority for us – and for our wallet.
Setting a little money aside every month ensured that we would have that quality time, even if we were just doing something simple and low-cost ourselves. We were investing in each other, and it's been worth every penny!
Commit to an Activity
Once we had the budget for a babysitter, we had to budget for whatever the heck we were going to do on those nights off! My childfree BFF and her husband happened to ask us at that same time if we wanted to get season tickets to a local theater with them. We jumped on it without much information and without thinking because it guaranteed us six nights out on the town with other grown ups. We would have agreed to six nights of just about anything at that point. We ended up loving it and just renewed our subscription for another season.
Now the theater might not be for you, but you can look into cooking classes, art classes, or even many movie theaters are now doing monthly passes. Whatever you and your partner love to do, plan to do together and then commit to it!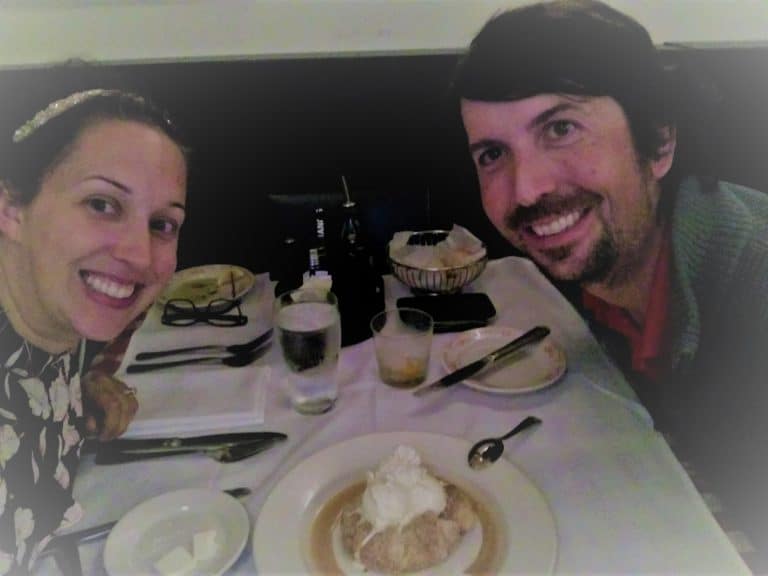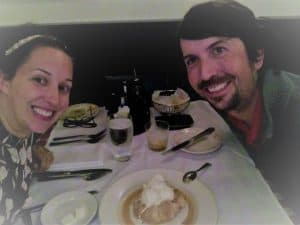 Have Date Nights on the Calendar
Maybe my favorite part about our theater tickets is that they are for a set date. We are seeing Hamilton on May 13, not "sometime in May." I mean, "sometime" we're going to have an adults night at Disneyland. "Sometime" we're going to try that new restaurant down the street. "Sometime" we're going to go back to the bar where we met for drinks. But guess what? We never put them on the calendar so they've never come to fruition.
But the day we buy our season tickets to the theater or sign up for those cooking classes or whatever we choose next, we put them on our calendars. We remind each other so we don't end up working late that night. We get the babysitter on the calendar immediately. We circle the date in thick red marker on a calendar on the refrigerator so we know we have something to look forward to. It's another way to set the date, and the priority.
Get Creative
Yes, I know I said date "night" but don't constrain yourselves to just nights – especially if an opportunity arises elsewhere! Last week, our family was on a cruise that, thankfully, had a Kid's Club for the older kids. Unfortunately, hours that they would take the baby were more limited. While 8am to noon isn't exactly the most romantic time of day, we dropped our 18 month old every morning, happily paid the $6.75 an hour and went to breakfast as a couple. It may not have been the red hot date night of our dreams, but eating croissants and coffee without tiny fingers grabbing for their share was heavenly.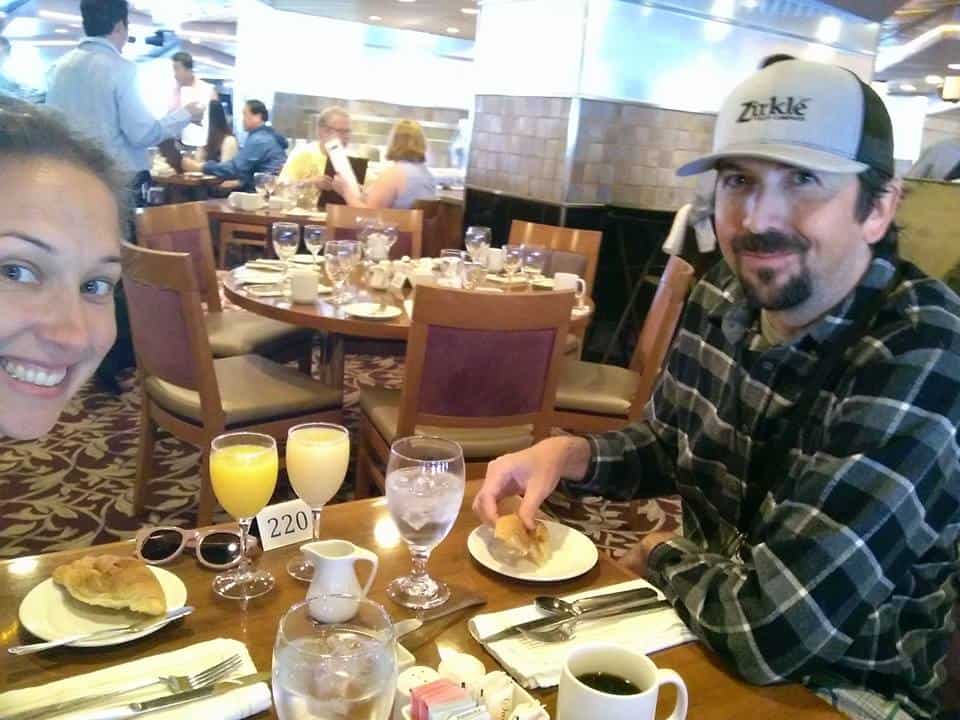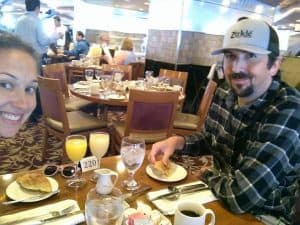 So if timing is what's getting in your way, think outside the box! Pick a time that will work for you and plan it!
Gear. Up.
Still feeling slightly unmotivated? Is it because you're wearing leggings and a shirt with a stain on it? (I am too). Date night sounds like a great idea, but when you feel like a lumpy kid magnet (again, referencing myself) it can be really hard to get in the mindset. For me, having all the "things" for date night make me more pumped. I mean, who wants to go play baseball if you don't have a glove, bat, ball, and whatever else you need for baseball? I don't! Then again, I don't ever really want to play baseball. But I DO want to date my husband.
So I grabbed some dresses – like this one and this one – to feel pretty (which is just what happens to make me feel pretty – you do you!) I channeled my inner Countess Luann and grabbed a few statement necklaces. I even dabbled in my new sort of secret Amazon obsession and grabbed some lingerie on the cheap (like this one which is forgiving in all the right places for a Mom-bod). And I felt ready to do the darned thing. I was all dressed up and I was ready to have somewhere to go! Because I sure wasn't going to let all my prettys just hide in my closet. I was going on a date.
***********
So now you've got the gear, the sitter, the date, the activity – there's nothing else to do but go, and enjoy the hell out of yourself – and your partner.