Summer is almost here, and with it will come these LONG stretches of time that need to be filled. You can put your family on a schedule that breaks the day into manageable chunks. You can run to all the activities, spend your days at those dollar movies, head to the beach, and swim at the pool. And yes. We do think you should do those things, if you and your kids are into it. But also? Sometimes you need a BREAK.
The best way to get your kids to leave you alone encourage independent play is to send them outside, and then leave them to their own devices. We recommend you splurge a little on some amazing outdoor toys for toddlers that will grow with them. The best outdoor toys for kids will last you for YEARS, and most of them aren't even a huge investment.
Even if you need small outdoor toys that don't take up a lot of space, you can find some amazing, open-ended outside toys for kids that will help them learn to love to play outside. So do some Amazon shopping, and then grab a cocktail and get ready to make outdoor happy hour a THING for your family this summer.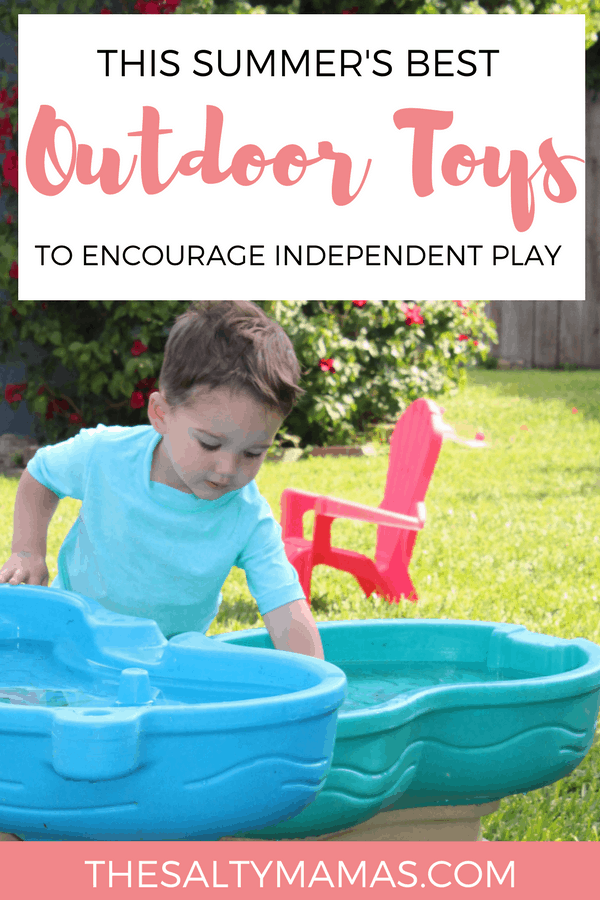 This post contains affiliate links. You can read more at our legal page. Thanks for supporting The Salty Mamas!
1. A Disc Swing
Or any swing really, but our kids seem to get extra fun out of this simple disc swing. It's a bit more exciting than a standard swing, and they can experiment with the ways they move on it.
They've are in charge of the swing and how it moves- want to go in a circle? Do it! Swing high? No problem. Lean back and fly? This swing has got you. My five year's outdoor play has almost doubled since we got this swing, and that's saying something.
2. A Splash Pad
We're going on three summers with this awesome, cheap little splash pad. With it's adjustable spray and small, flat base to collect water, babies love this little splash pad as much as preschoolers do!
You can adjust it to become a full spray, or let it just sprinkle enough to fill the "pool" part with a couple inches of water, which means that it will work for your kids even if they're terrified of having water in their eyes.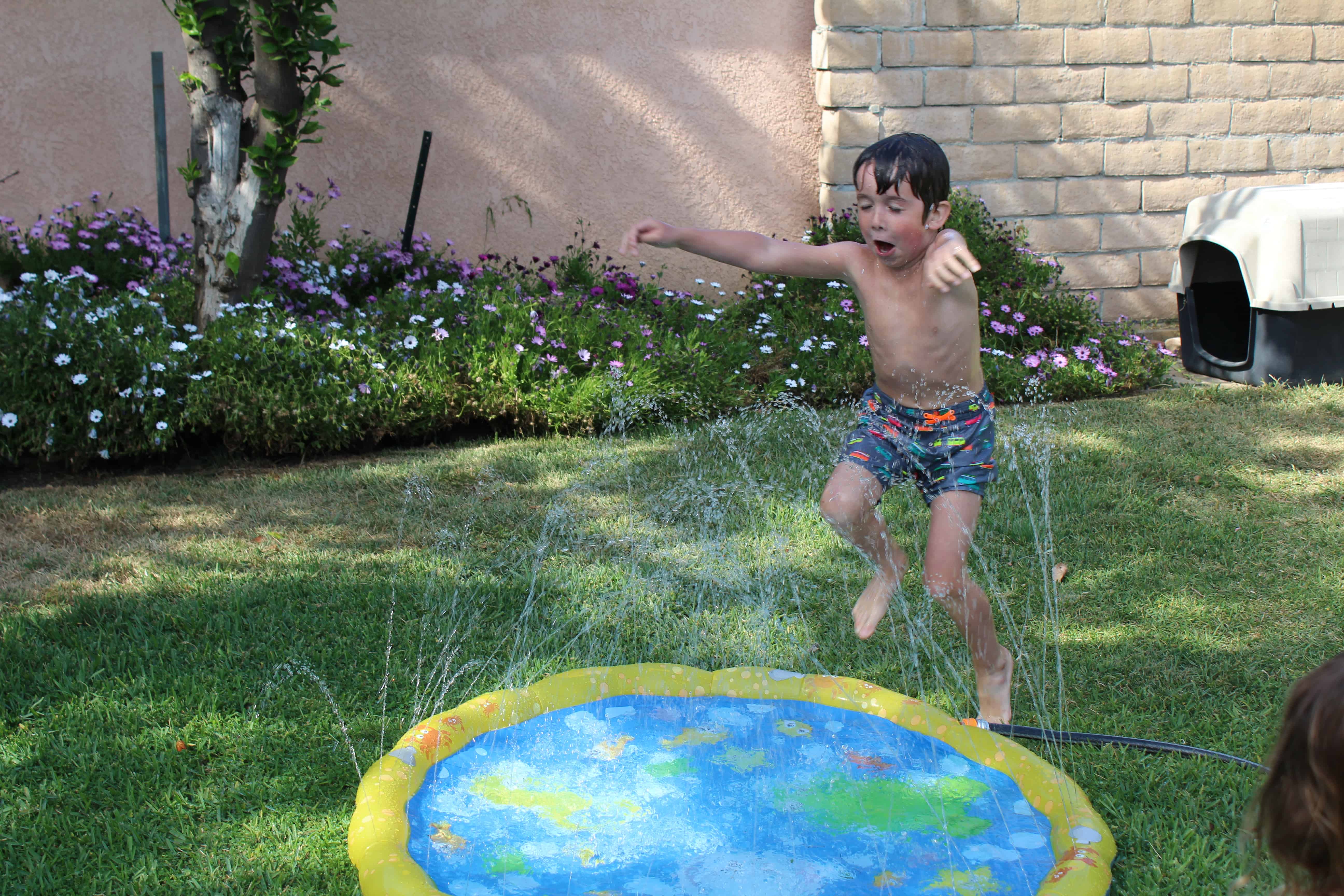 For added fun, place a small slide or a climber (see the next section) next to the pool. Have them scoop some water onto the slide and then slip down into the pool for a little extra excitement.
Related Post: The Best Water Toys for Kids
3. A Climber
You don't have to have a huge swingset for your kids to have some backyard fun. Consider getting a small Step2 Climber that will grow with your children.
My five year old is still happy to climb and slide on this climber, which she got for her first birthday, and uses the area below as a hiding spot during endless games of hide and seek. Sometimes we turn it upside down and let her jump off of it, or use it as part of an obstacle course, which helps to prolong her play when she's whining to go inside.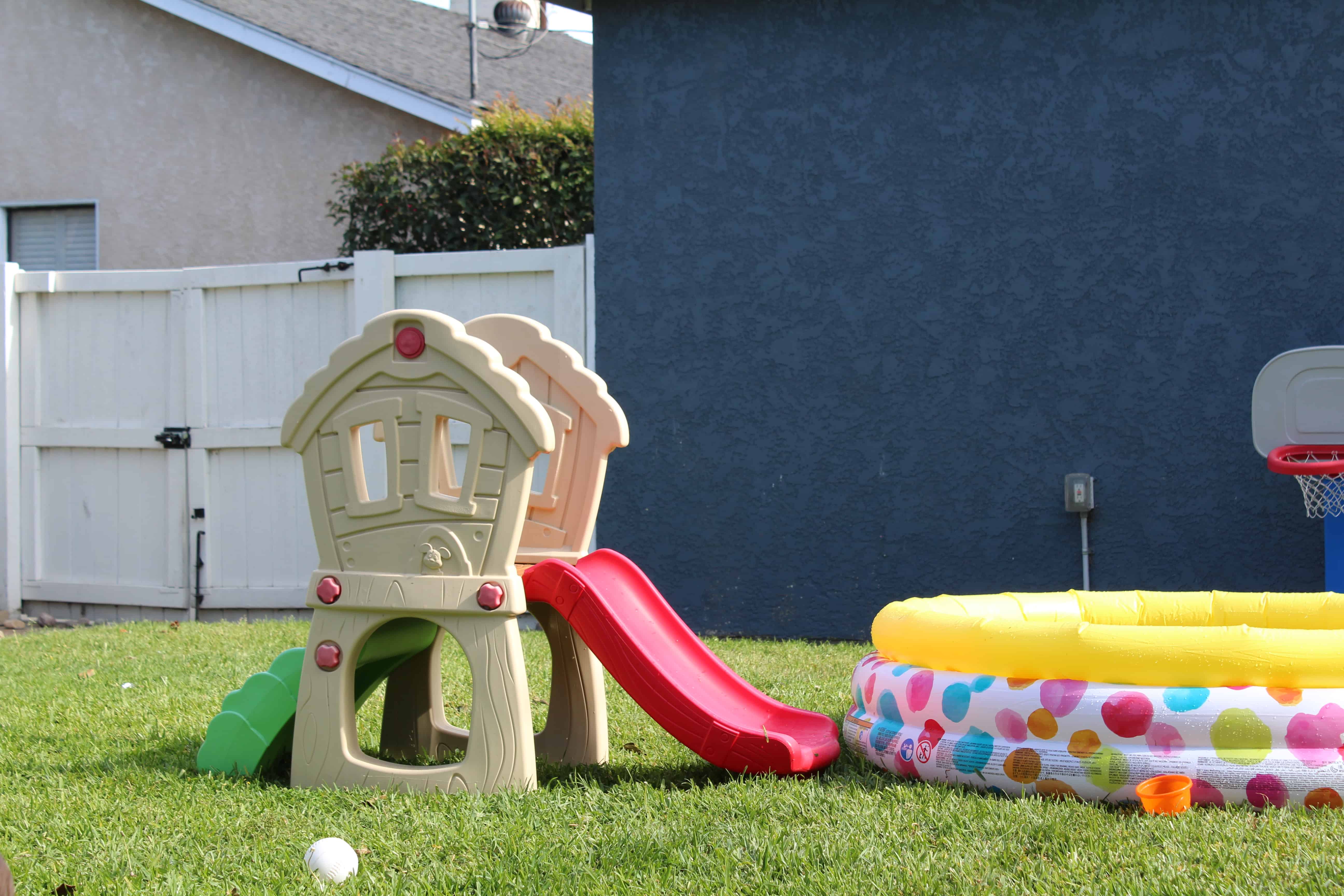 4. Rocks
Talk about small outdoor toys- it doesn't get much smaller than a little rock! Our weird kids love rocks SO MUCH that we wrote a whole post about the ways that we play with them.
From painting to stacking, a $5 bag of rocks from Lowe's can entertain our kids for HOURS. We break out the sand toys once in a while and encourage the kids to scoop and pour the rocks, see how many can fit in a bucket, etc.
With a little gentle coaxing, these rocks have gotten more use than a lot of our more traditional "toys." And on the off chance that your kids aren't as enamored with them as ours are? Hey, you're only out $5.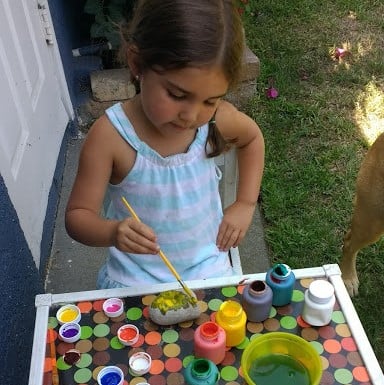 5. Bubble Blower
You know how kids LOVE to blow bubbles, but kids SUCK at blowing bubbles? We break out the bubbles and give each kid a jar (or these AMAZING Bubble containers. Seriously- they work like a dream!), but someone inevitably either cries because they can't make bubbles or sucks in a mouth full of bubble solution in the process.
So we encourage them to blow their own bubbles, but we also bring backup in the form of this Gazillion Bubble Blower. It puts out such a steady stream of bubbles that the kids barely know whose bubbles are whose, and thus ends the arguments about their various bubble-blowing-skills.
Then we chase them, and try to catch them on our bubbles wands, and try to see how high they fly. If you're feeling crazy and your kids won't spend the next thirty-two minutes attacking each other with them (spoiler alert: ours would), you can break out some Dollar Store fly swatters and see if your children can pop the bubbles using those.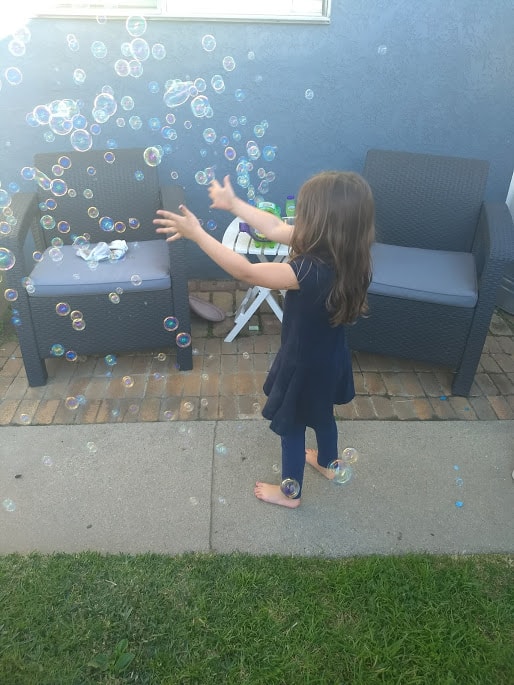 6. Water Table
This is by far my FAVORITE gift to give for a first birthday. Water is the ultimate sensory experience, and kids from 9 months to age 6 and beyond enjoy splashing, pouring, and measuring in this water tables. Our favorite includes an umbrella for built in shade, and we rotate out the toys we keep in it.
Sometimes we use the included scoops and spillways, and once in a while I'll bust out liquid measuring cups, bowls, and spoons and let them "cook" with the water. Add ice cubes, or Crayola Color Drops, or even fill the thing with shaving cream. There are endless sensory possibilities here, if you just use your imagination.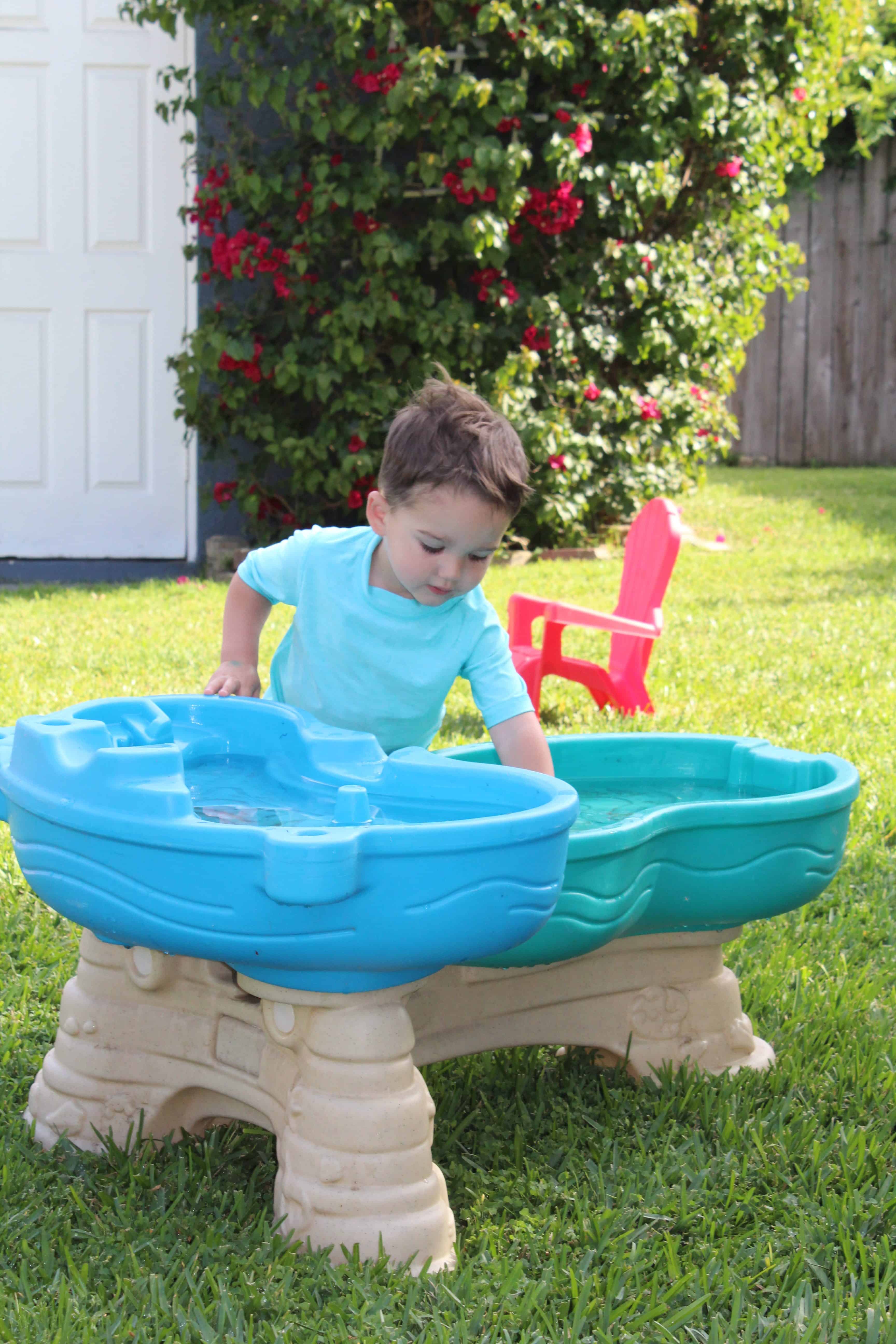 And because my kids jump off of EVERYTHING, we also turn this upside down and jump off of it. My daughter has seven (yes seven) unique types of jumps she performs using the overturned Water Table. Again, she's weird, but it's also super fun.
7. Inflatable Bouncers
Okay, so this is a GO BIG purchase. At just under $200 a pop, these preschooler-sized inflatable jumpers are not cheap. We are going on season four of use, and still going strong.
This jumper has been the star of many a playdate, has made appearances at birthday parties, and is often used to lure neighborhood kids over to our house (in the my-kid-wants-friends-way, not the creepy way). Putting up the bouncer is a clear sign that we are gonna have FUN today, and it's concrete proof that I am a cool mom.
It only takes five minutes to put up and put down (seriously), so it's not a huge commitment. When you're done with it, you just deflate it and fold it away, so it doesn't take up a lot of space.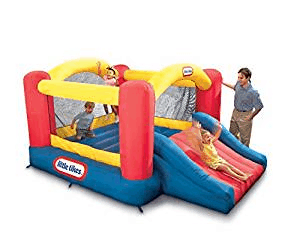 8. Mini Trampoline
Speaking of trampolines- my kids are OBSESSED with jumping. And since I don't always want to go through the effort of inflating the bounce house, they often get by with a mini-trampoline. It is also an excellent addition to your backyard obstacle course (think: "jump six times, then up the climber and down the slide!") We count the jumps, we jump to the beat of a song, we see how high they can go. It's the toy that keeps on keeping on.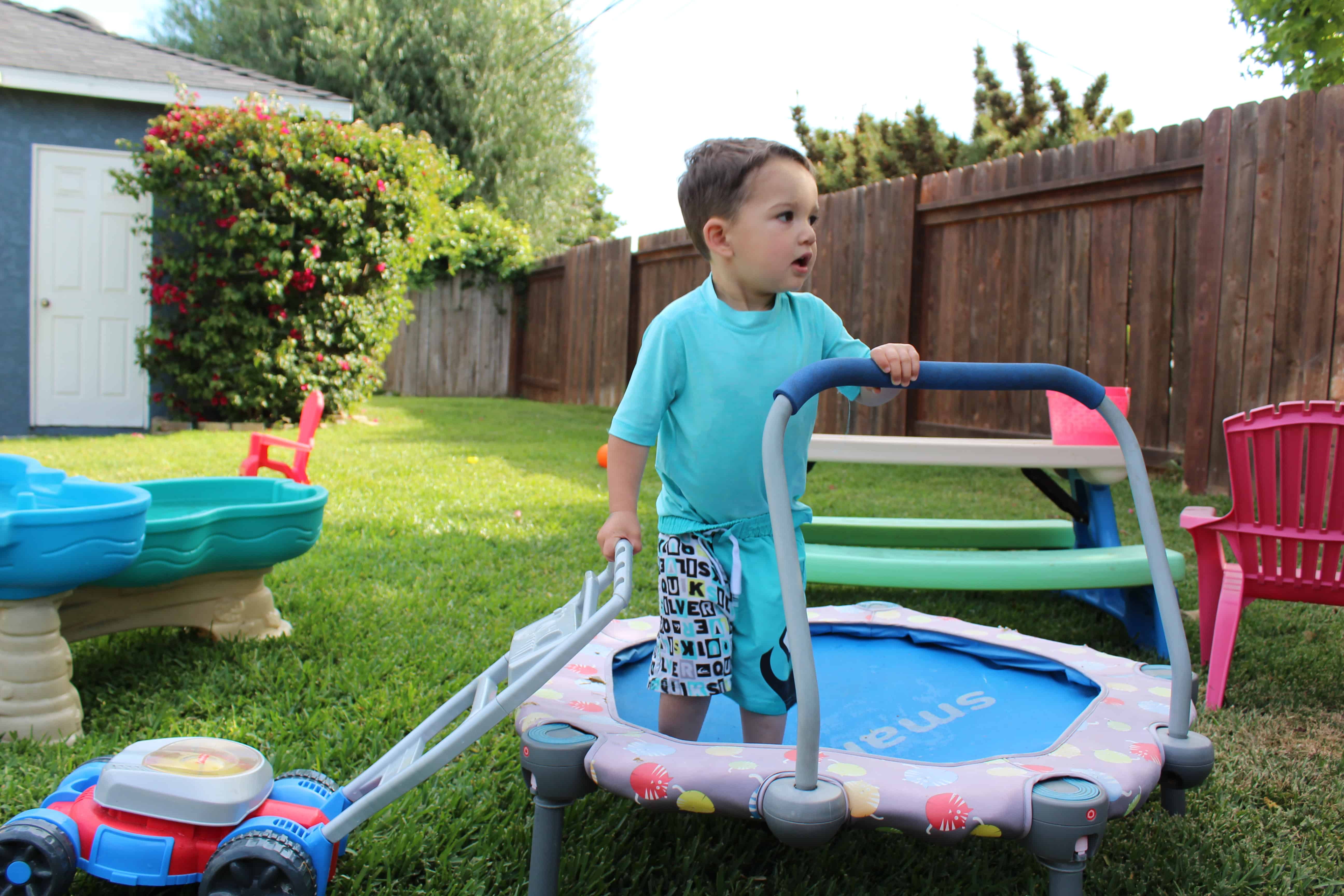 Related Post: Best Outdoor Toys for Summer
9. Sidewalk Chalk
It never hurts to get back to the basics. Kids don't always love to stay outside for the long stretches that we want them too (because hot. Or tired. Or don't wanna), so it helps to offer them variety.
Tired of all that active play? Why not have them sit in the shade for a while and color, or practice their letters. Lila is on a jag where she has me write all of her classmate's names in block letters, and then colors them in.
Sidewalk chalk is a great way to take a break without throwing in the towel on your outdoor play, and these are small outdoor toys that will get a ton of use.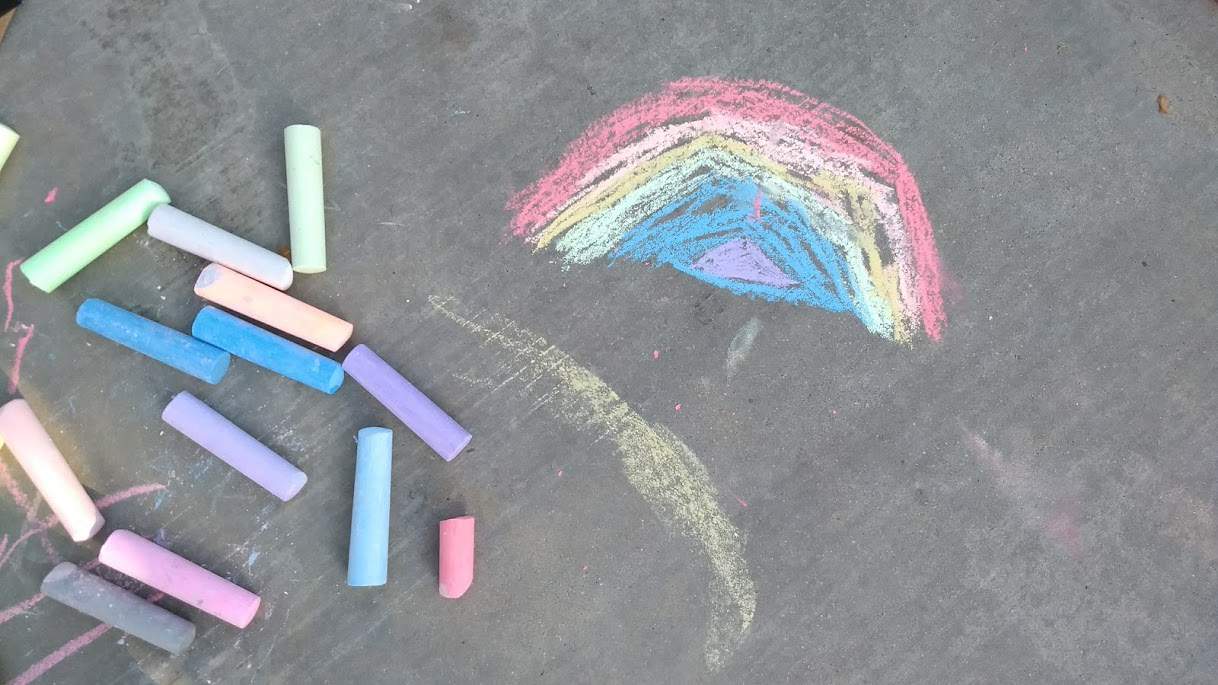 And you don't have to stop at sidewalk chalk! Crayola sells this super-cool kit that allows your kids to explore with sidewalk paint instead. It comes with a paint tray, a roller, and brushes so kids can cover a larger area in a shorter amount of time. I buy one of these kits each season, and then refill it using this recipe for sidewalk chalk paint for the rest of the summer.
10. Trainer Pogo Stick
The Trainer Pogo Stick is SO STRANGE but so fun. Every child who has seen it has been INSTANTLY attracted to it and must try it immediately. Which works for me!
They stand on the foam block at the bottom, which has a built in bounce-and-squeak function (I could live without the squeak, to be honest, but it is what it is). They hold onto the handle and then jump. It's a fun way to stretch their skills a little.
Have them practice jumping up and down, and then see if they can move with it. Draw a line with your sidewalk chalk and see if they get a little further from the line each time.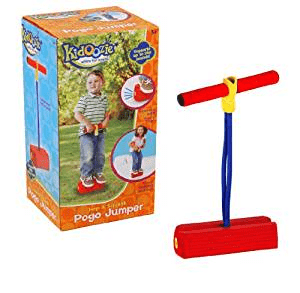 *******
So grab some of these outdoor toys for toddlers, and watch as they become outdoor toys for kids of all ages. Your kids will thank you- and so will your Summer Sanity. What's your kids' favorite outdoor toy? Tell us in the comments below!
Looking for more ways to have fun with your kids? Check out these posts next!