Lila turned five this year, and suddenly she has decided she's an adult.  She wants to be independent, and do things by herself, and even make her own money.  We instituted a chore jar system we learned about at Super Mom Hacks (it's so simple even I can keep up with it), but she wanted more (both responsibility AND money).  So when she suggested she set up her first lemonade stand, I decided to let her go for it.
Setting up a lemonade stand was a summer staple when I was a kid. A few neighborhood friends and I would haul a card table and pitchers of lemonade up the hill and set up shop. Sometimes we'd get creative, and sell friendship bracelets and painted rocks, too.
But most of all I remember laughing with friends, chatting with our neighbors, and stealing glasses of our icy cold lemonade in between customers. That is exactly the kind of childhood I want for my daughter, and I couldn't wait to share the experience with her.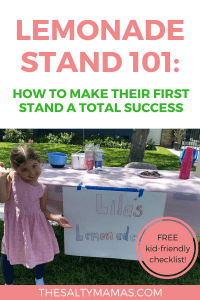 Continue reading "How to Help Your Child ROCK Their First Lemonade Stand" →