Thinking of trying the classic lemonade stand with your kids this year? Here is a complete guide on how to set up a lemonade stand, including a FREE printable lemonade stand checklist for kids, to help you get started!
Lila turned five this year, and suddenly she has decided she's an adult.  She wants to be independent, and do things by herself, and even make her own money.  We're working on chores on how to handle money, but she wanted more (both responsibility AND money).  So when came up with the idea to start her first lemonade stand, I decided to help her figure out how to set up a lemonade stand the right way..
Setting up a lemonade stand was a summer staple when I was a kid. A few neighborhood friends and I would haul a card table and pitchers of lemonade up the hill and set up shop. Sometimes we'd get creative, and sell friendship bracelets and painted rocks, too.
But most of all I remember laughing with friends, chatting with our neighbors, and stealing glasses of our icy cold lemonade in between customers. That is exactly the kind of childhood I want for my daughter, and I couldn't wait to help her figure out how to set up a lemonade stand of her own.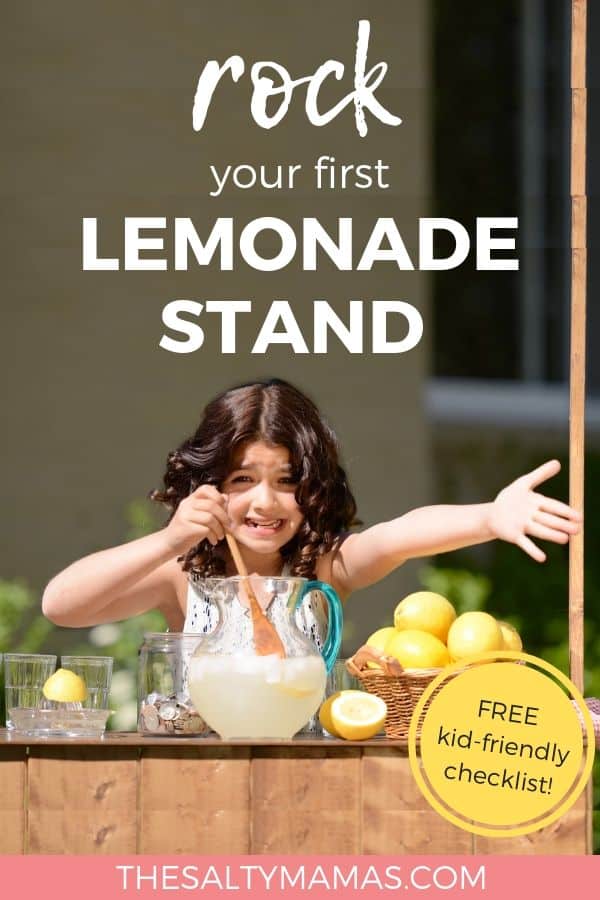 This post contains affiliate links. You can read more at our disclosures page. Thanks for supporting The Salty Mamas!
Helping Your Child Set Up Their First Lemonade Stand
Part of the joy of a lemonade stand is the independence of it, and feeling like you are a proper business person. My daughter is still young, only five, so she needed some guidance to start her stand. 
I tried to stay as hands-off as possible, while still helping her to get her little business off the ground- which led to me creating this handy little lemonade stand checklist for her to use as she went along (available for FREE for subscribers!)
So if your little one is trying to figure out how to set up a lemonade stand, we've got some tips for you Mama- and a kids' lemonade stand checklist that is perfect for even the youngest of entrepreneurs. Keep reading for everything you and your child need to make their first lemonade stand a success they'll be talking about (and remembering fondly!) for years.
Step One: Get Your Lemonade Stand Checklist
When Lila was trying to figure out how to set up a lemonade stand, I wasn't sure if it was going to be one of those things that she REALLY wanted to do, or one of those things that she'd want to do and then I'd do a bunch of work on it, and then she'd say "never mind, I don't want to do it anymore."
So to stall make sure she was prepared, I had her do a little work upfront.  We made a written plan together (she dictated, I wrote). You can make your own, or use our FREE printable, kid-friendly checklist. Either way, these are the questions you need to ask yourself-
Where will the stand be?
What will we sell?
What will we charge?
What will we need to buy?
What do we already have here that we could use?
How will we advertise?
What will we do with the profits (if any)?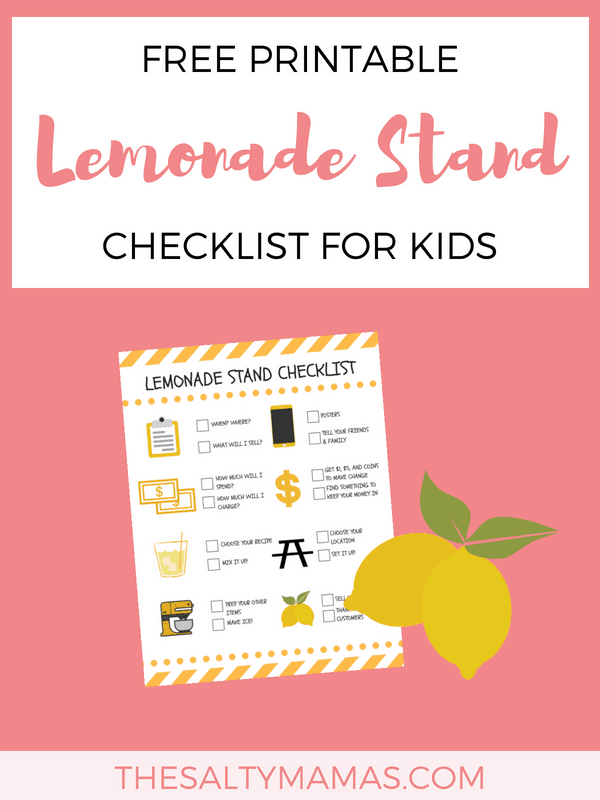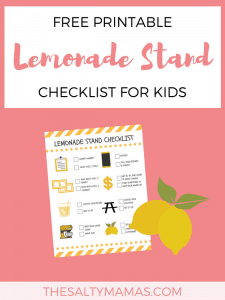 And I hate that this is a thing (because it's RIDICULOUS) but you may want to check to see if your city requires a permit to have a lemonade stand. You never know when a cranky neighbor will turn you in, and you want to make sure you're doing what's required.
Step Two: What Do You Need to Buy for Your Lemonade Stand?
The answers to the questions above should give you an idea of what materials you'll need to make your lemonade stand a success.  We headed to the grocery store for lemonade and to the dollar store for cups and poster board.
You also have to discuss investing in the business with your child.  Are they going to front the money, or will the family funds purchase the lemonade and other supplies? We decided that I would play the role of an investor of a lemonade stand. Initially, I paid for the supplies.  If/when she made a profit, I would have her set aside the cost of the materials (in our case, $2.50) in an envelope to reinvest in her next lemonade stand.
Feel free to have your child pay you back from their profits, or just "forgive" the loan. But make sure you address the fact that the money for the supplies has to come from somewhere! We want to teach them a bit about business in the process of starting their first lemonade stand.
Step Three: Make (Or Buy!) Your Lemonade
We have a delicious family recipe for lemonade that you can get here.  I love the fact that she had to put in some honest work squeezing lemons, making simple syrup, and mixing up a batch of lemonade. It made the process more hands-on (and if I'm being honest, made it take up more time, which was kind of the goal for this aimless Sunday afternoon).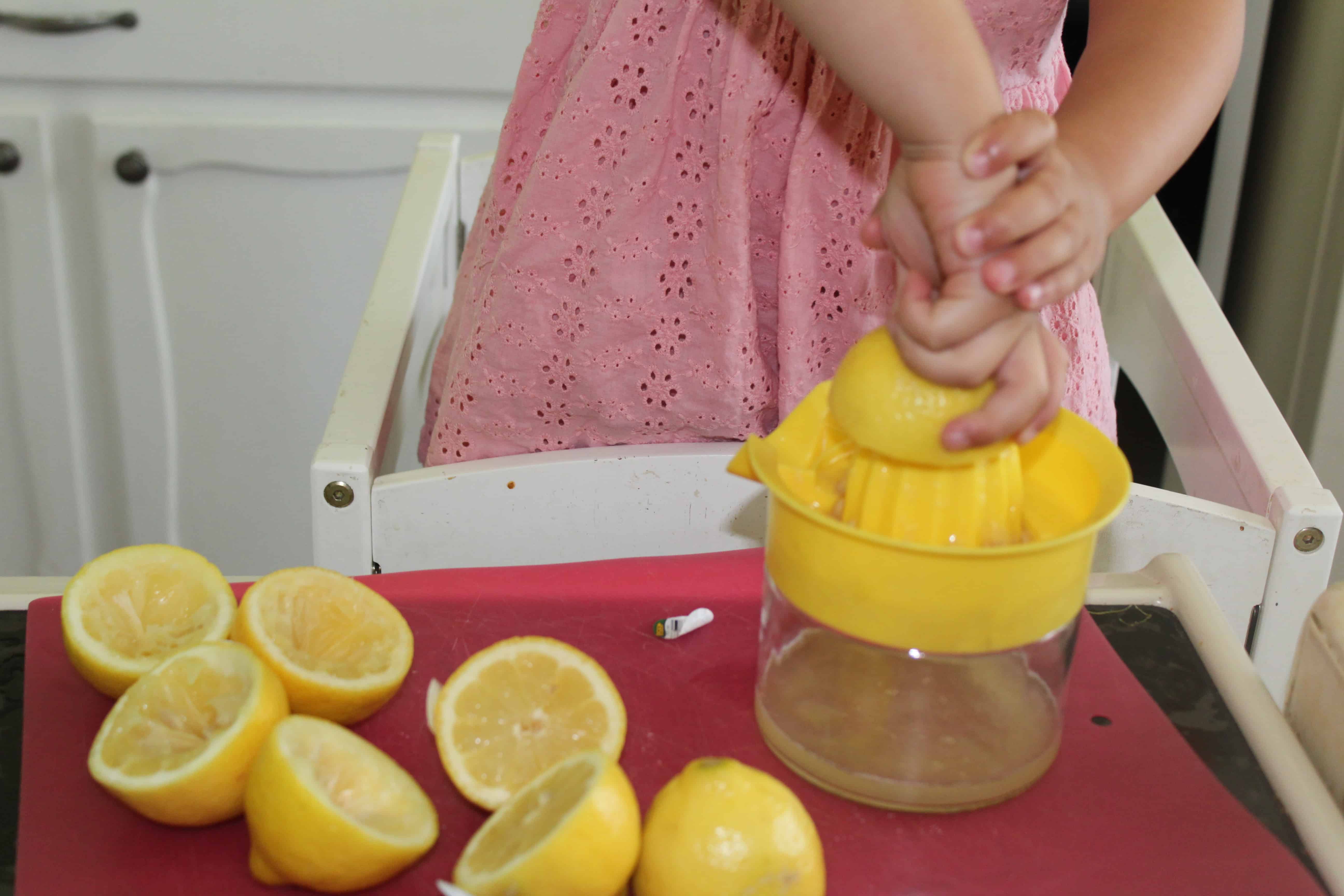 If you would rather skip this step, we recommend your kids make a pitcher or two of Country Time Lemonade. Everyone likes it, and it is simple to whip up another batch if you need more. You can even make two varieties, like Classic and Pink Lemonade, and give your customers options.
Don't forget, lemonade is a drink best served cold! Make a bunch of ice ahead of time, or consider buying a bag. If you haven't planned ahead to meet the demand, it's hard to make more ice quickly!
Step Four: Add Baked Goods (or Other Wares) to Your Lemonade Stand
This is certainly not a requirement of lemonade stands, but consider adding a small bake sale to your offerings. We made a batch of pre-made cookies, which were simple, easy for Lila to make herself, and SO YUMMY.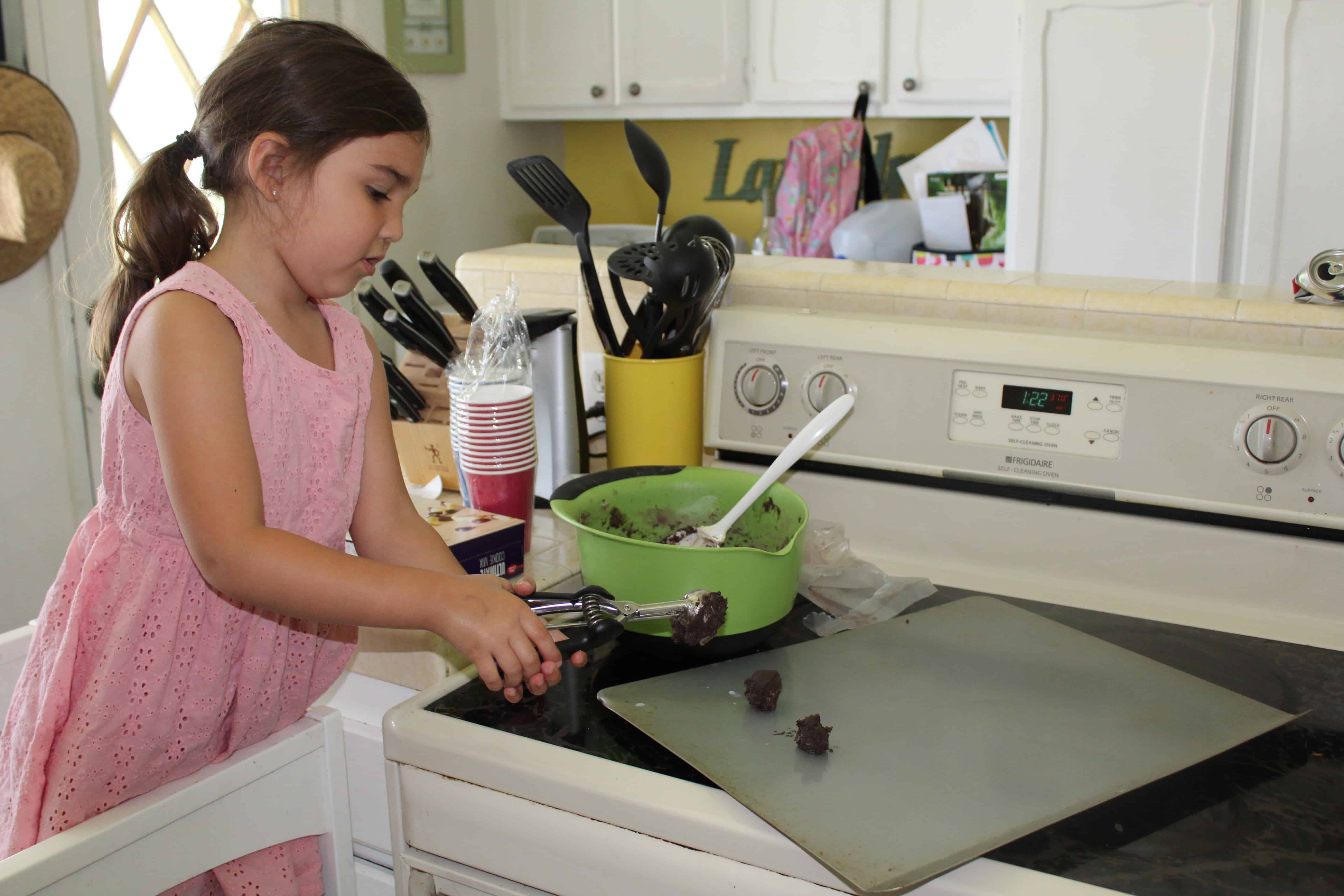 You might find that your child wants to sell other things, too. Think otter pops, artwork, gently used toys, or books. Once they get into the entrepreneurial spirt, it's hard to stop them.  Remind them that people might not be in the market for these items (like when my nephew wanted to charge $100 for the poster he had colored in), but they are welcome to try if they'd like.
Step Five: Advertising A Child's Lemonade Stand
Keep it simple, and keep it fun! We took a poster board and wrote "Lila's Lemonade" in big, block letters. Lila spent about half an hour diligently coloring it in, and we were ready to hang it up and start our sale. If you don't live near a busy street, consider making a couple of signs to hang in higher-traffic areas to point customers in the right direction.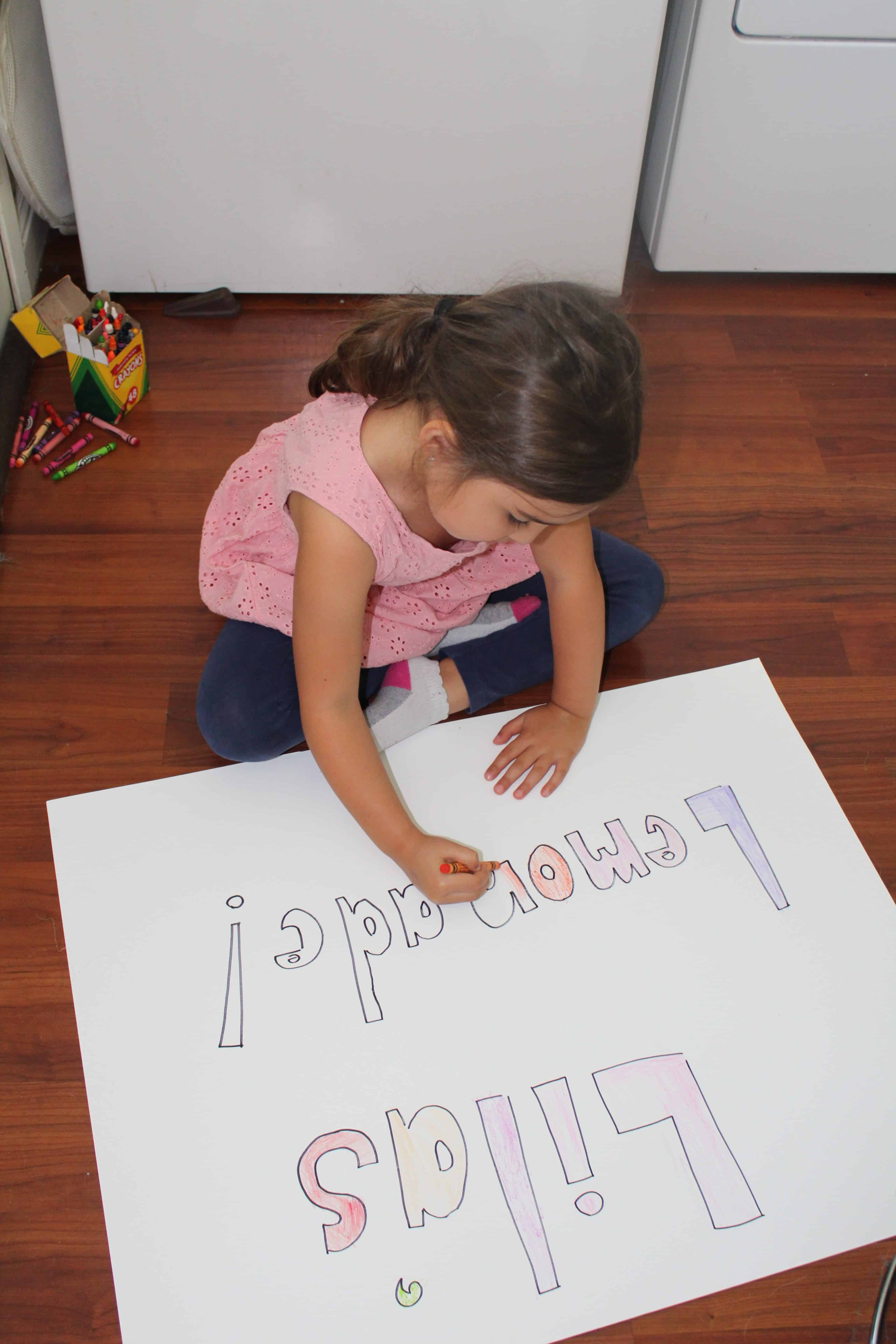 Lila also wanted me to use my phone to "text her friends" about her sale.  Post quickly on Facebook (only to your friends and family list!), and a few of our friends were able to make it over before we closed shop. Having her friends there made it extra special, and a little more fun, too.
Step Six: Using a Lemonade Stand to Teach Money Matters
Next up on the lemonade stand checklist, you'll need to make sure that you have change for your customers. We raided our loose change jar and rounded up some dollars from Lila's piggy bank to make sure we could give our friends and neighbors the correct change.  (Side note: having money from the start makes your profits look larger to your kiddo, and keeps them from getting depressed when their sales are low).
Ask your child what they plan to do with the profits.  It's nice to have a plan for any funds they rake in, like most businesses would. Again, remind them that they'll be setting aside some of their profits in case they want to have another lemonade stand in the future. (We love this little piggy bank that helps teach kids about the Spend-Share-Save method of handling money.)
Lila decided she would use her profits to get "ice cream from the ice cream man anytime she wanted." Because #GOALS.
If your child has a generous spirit, let them know about Alex's Lemonade Stand, a charity that is kid-funded and kid-created. Kids can donate their lemonade stand profits to help kids with cancer. It's an amazing and simple way that kids can use their lemonade stand for good.
Step Seven: Sell That Lemonade!
It's time for the big show- set up your stand, and cross your fingers that you get some customers! Remind your kids that we have no idea how many people will show up, and we'll try to make the most of it either way.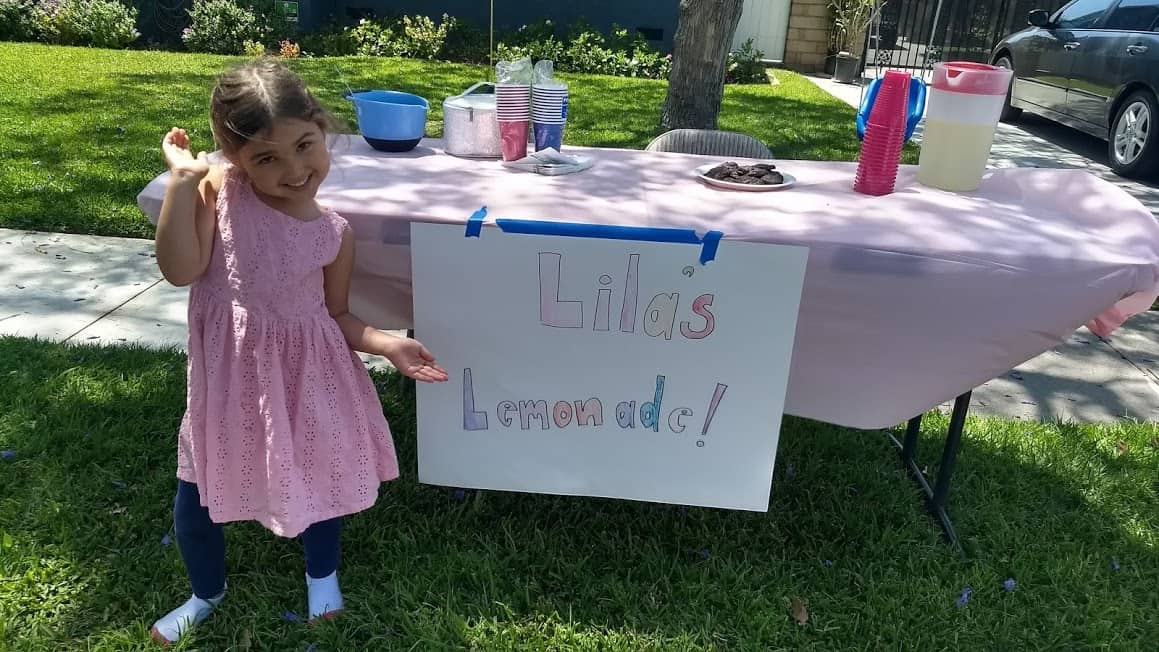 When customers do arrive, have your child be in charge of the sale as much as possible. Coach them ahead of time about the cost of the lemonade, how to serve their customers, and how to thank them for their purchase. You want your kids to feel like this business belongs to them, and customer interaction is one of the best ways to do it.
If your kids are little, you might want to have some activities set up for them between customers. We had our awesome disc swing close to our lemonade stand, and brought out some sidewalk chalk to keep Lila entertained.
Step Eight: Count Your Profits
At the end of the day, your little one may be hot and tired, but hopefully, they are also richer! Let them count out their money and help them figure out what they can do with that amount (for example, Lila earned enough for 6 ice creams from the ice cream man. THE DREAM).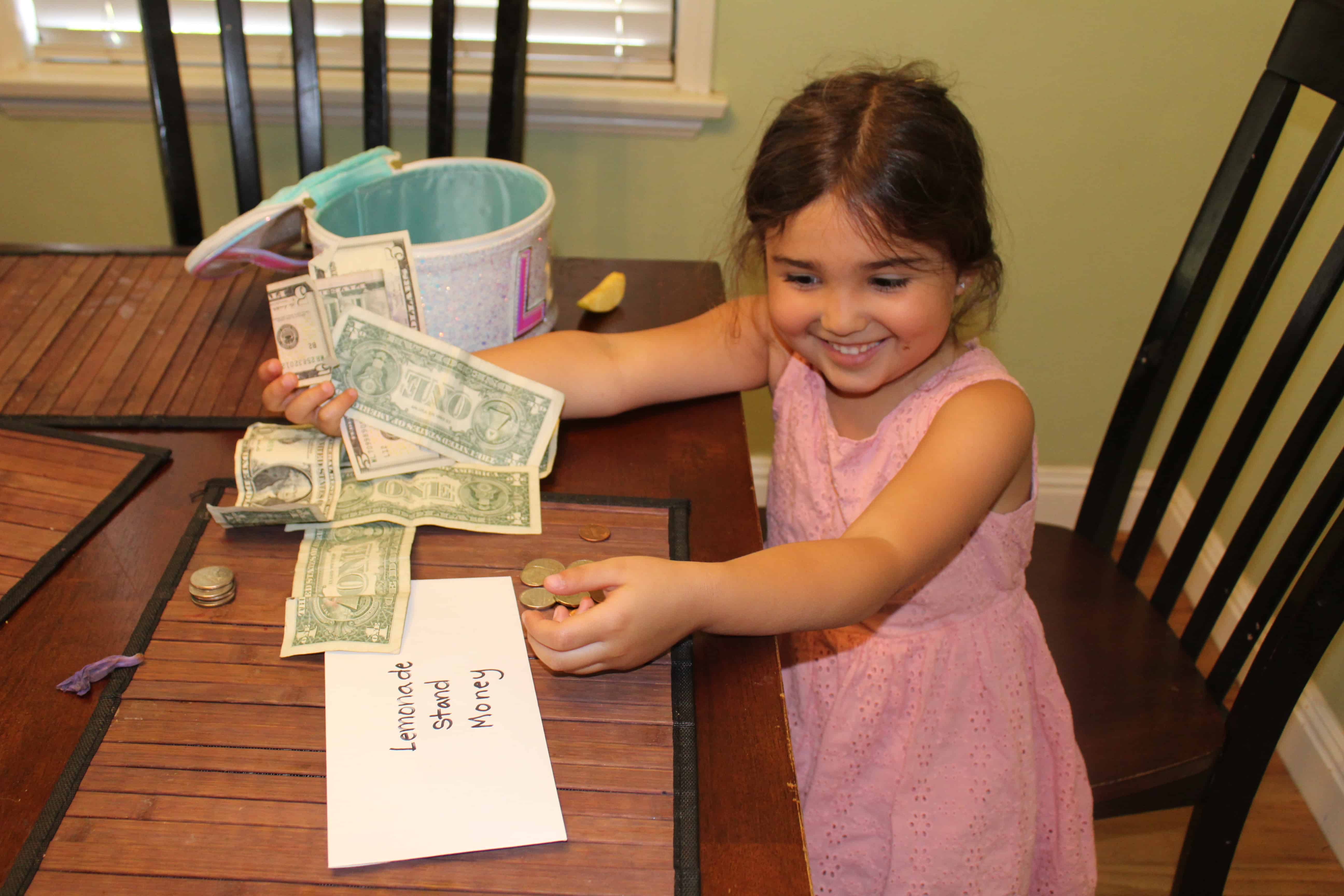 If they didn't make as much as they'd hoped, coach them through it. It happens, and it stinks, but it's also a valuable life lesson. Focus on the fun they had and what they learned. You can even make a plan for how you can improve next time!
Don't forget to set aside money for your next lemonade stand! Make a big show of decorating the envelope, seal it up with great ceremony, and put it somewhere safe so you'll be ready for next time.
*******
Figuring out how to set up a lemonade stand doesn't have to be complicated, fancy, or over the top.  With just a little planning, a bit of prep, and our handy lemonade stand checklist, your family will be able to create memories (and some cold hard cash) to last you all summer long.
Did you have a lemonade stand as a kid? Would you let your children have one? Tell us in the comments below!
Looking for more summer fun? Check out these posts next-