Do you have a budding reader on your hand? Whether you have a reluctant reader on your hands or a bookworm who tears through them, these are the best chapter books for 2nd grade girls.
My daughter is a GREAT reader. And I don't say that to brag- she just is. It's facts.
HOWEVER. She had this huge mental block when it came to reading chapter books. She just simply didn't want to do it.
I'm not sure if it was intimidating, or just not as fun, but it took a LOT of work to get her to start enjoying chapter books.
So I checked out pretty much EVERY chapter book for 2nd grade girls from the library. Some she loved, and some she didn't, but all those exciting new series got her invested in reading again.
In case you find yourself in a similar predicament (or if you just want some fresh new reading material for your second grade girl!) here are some ideas for great first chapter books for girls ages 7-9.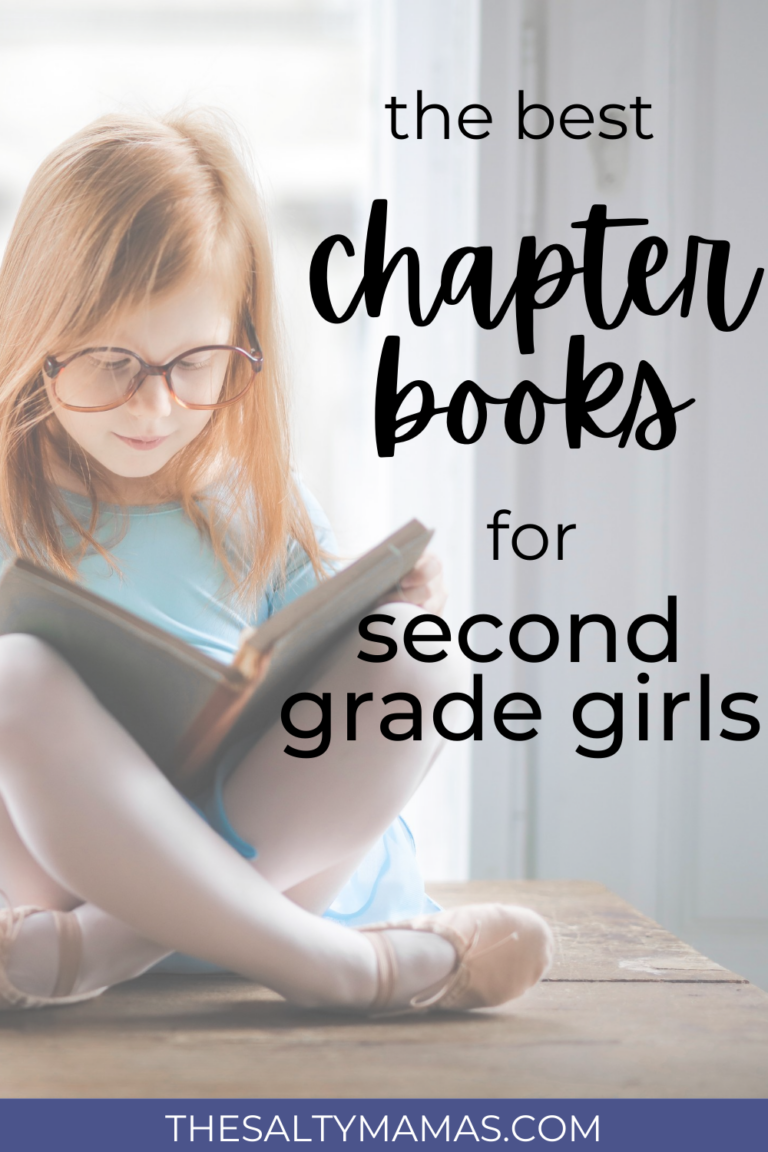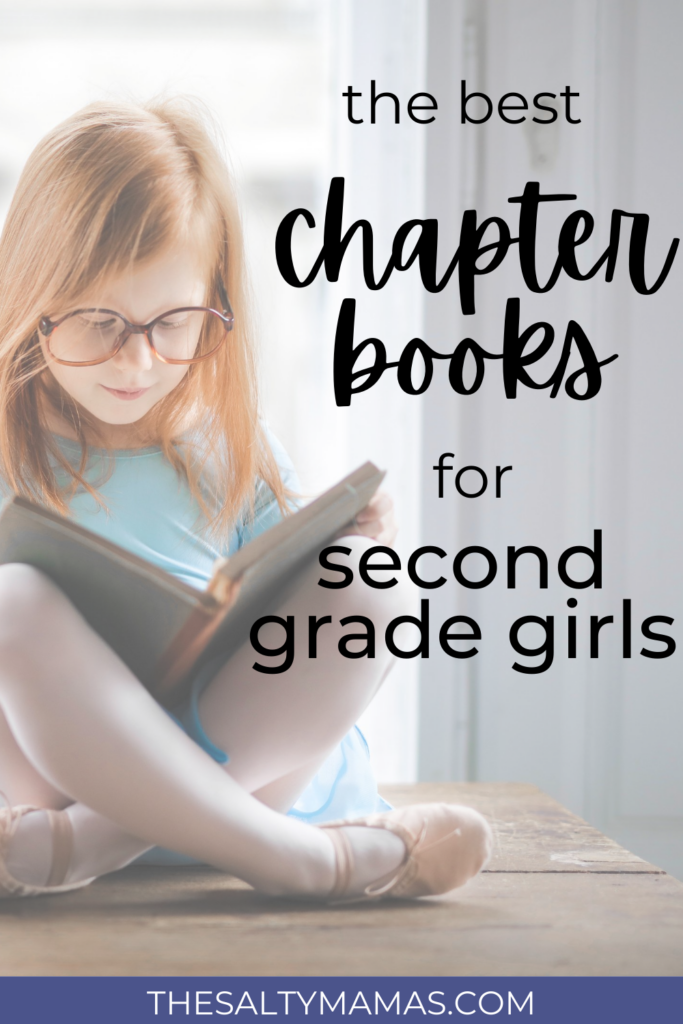 This post contains affiliate links. As Amazon affiliate, we may earn from qualifying purchases. You can read more at our disclosures page. Thanks!
How to Encourage a Second Grader Who Doesn't Like to Read
Before we get to the book list, let me address the elephant in the room. Kids are supposed to read- both for school purposes, and because reading is just so inherently good for them.
So what happens if your second grader hates reading?
Here is some advice to help encourage your child to read:
Make reading time special. Read aloud to them, read along side them, let them stay up late reading. Reading should be as fun for them as you can make it.
Let them choose their own reading material. Graphic novels, magazines, nonfiction, a huge variety of chapter books- whatever they want to read should be allowed.
Focus on reading for enjoyment. Don't push them into books that are "hard enough" for them. Don't focus on reading comprehension, or have them read solely for points or for time.
Surround them with books. It took dozens (DOZENS) of chapter books filtering through the house before my daughter decided she wanted to give on a try. But when she runs out of graphic novels to read (her favorite), she'll almost always settle for a chapter book.
Switch between reading aloud to them and independent reading. My daughter doesn't always want to read "real" chapter books, like the Ramona books or those by Roald Dahl. But if I read her a chapter before bed, she'll often want to hear more of the story, and keep reading even after I leave the room.
The Best Easy Chapter Books for 2nd Grade Girls
If you've got a second grader who is still struggling to get through longer books, these books all fall into the late 1st grade/early 2nd grade reading range.
These easy early readers have lots of pictures, and very low pressure. They are best for girls at a late first/early second grade reading level.
These books are VERY high interest. About the adventures of a friendly horse, these books will capture the interest of even older girls, while having a lower reading level.
An adorable book about navigating friendships. The content will hit right in the second grade range, while the reading level is accessible for newer readers.
These are bright, fun, and full of silly adventures. Full color illustrations make these books a great stepping stone into chapter books.
I have not personally had these in hand yet, but the internet RAVES over the short, funny stories, easy to read text, and colorful illustrations.
An adorable little story for girly girls, with fun, short plots, pictures on every page, and lots of second grade fun. Perfect for easing second grade girls into chapter books!
I hesitated to add this one, only because it comes with the "2" on the cover. In my experience, this can be a little stigmatizing for second graders. However, if your kiddo doesn't care (or they plan to read them at home) these books are fantastic for early readers in second grade.
The reading level is low, but these books are so friggin cute that kids in the middle grades will love them too. If you haven't tried them yet, this is a must-read.
The Best Chapter Books for Girls at a Mid-2nd Grade Level
Is your daughter a stronger reader? Give some of these chapter books a try. The following books all fall within a middle of second grade range.
Okay, we know Junie B. Jones is not for everyone- she's pretty naughty, a little whiny, and VERY sassy– but it turns out, that exactly what my second grade girl liked best about her. A great chapter book for girls at a second grade reading level.
These books aren't your classic second grade chapter book– there are three stories, a comic, and some random facts in each one- but this format is exactly what makes these books feel "safe" as a first chapter book.
Be warned- the reviews on this second grade series are controversial! The kids in it are naughty, often to the point of mean-spiritedness. Some kids will find this funny and unrealistic, getting them into reading when they might not otherwise be. Some kids (and their parents) would be horrified. Read at your own risk!
These stories are just-right for second grade readers. At about 60 pages each, the stories are easy enough to read and keep kids' attention for just the right amount of time.
These fantasy stories are sweet, easy to read, and not focused on "drama" like some other books geared for kids. Helps avoid more adult themes, with an appropriate second grade reading level.
These positive stories focused on a little scientist and her cat are sure to be a hit with your second grade girl. Each chapter is just a few pages long, making them accessible for newer readers.
Amelia is SO silly, that kids will be hooked right away. At a middle of second grade reading level, these still feel accessible for kids, but fun.
These stories are perfect for kids with "younger" personalities and higher reading levels. The stories are sweet and simple, but still plenty of fun and mischief to keep them entertained.
These stories are SUPER predictable. As an adult that makes these kind of hard to read, but as a newer chapter book reader, that makes these perfect for second graders.
Chapter Books for Advanced 2nd Graders
If your second grade girl is an advanced reader, it can be HARD to find books that are at their reading level, but still age appropriate. Here are some books that have worked for my advanced-reader 2nd Grader.
Heidi is a little girl with lots of magic. The books are engaging, with illustrations throughout and short, accessible chapters. Perfect second grade high interest books, with a slightly higher reading level.
My second grader, who was very reluctant to start chapter books, was willing to give Fancy Clancy a try because she "knew" Fancy Nancy already. There are a few sketchy scenarios in this series- reviewers point out that Nancy gets in a car with a stranger when her bike breaks down- but with proper conversations, these are really engaging and accessible.
These books are fun and interesting. Mia is a positive role model, and these books are appropriate for younger readers with a higher reading level.
These books are PERFECT for second graders with a higher reading level. The books are pretty tame (future books include crushes and the like), and the words are closer to a third grade reading level.
These books are quick reads and action packed, with themes of friendship and responsibility. While the publisher puts them at a high reading level (3rd grade and beyond) the content will appeal to second grade girls perfectly.
Clementine is rather naughty, a la Junie B. Jones, but without the whining. It's a great segue into more challenging books, with concepts and characters that second graders will love.
Kylie Jean books are short, sweet, and snappy. She is "good at everything," which means she tries everything. If your daughter is into something in particular (soccer, fashion, baking), there is probably a Kylie Jean book to get her hooked with.
Mindy Kim books offer a positive role model, a glimpse into another family's culture, and more challenging words. I love that they are still appropriate for second grade girls, but have a higher reading level.
---
We hope this list of chapter books for second grade girls gives you lots of good ideas to try, whether your daughter is an early, mid, or advacned reader.
And we're NEVER done looking for books to read! What are your favorite second grade girl chapter books? Tell us in the comments and we'll add them to the list!
Looking for more books to try? Head here next-