Trying to figure out what to bring on a cruise? We're heading away for our annual MomSquad weekend away, and we've got 6 things that will help you pack for your cruise like a pro. And also, maybe make it just a little more fun. (Which, it's a CRUISE. So that's saying something).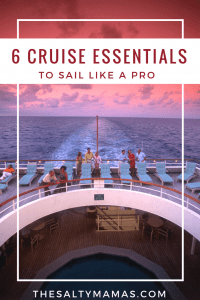 This post contains affiliate links. You can read more at our Legal Page. Thanks for supporting The Salty Mamas!
1. A Lanyard
When you board the cruise, you'll be given a little card, not unlike a hotel room key.  This little baby is required for pretty much everything- buying items, ordering drinks, and getting into your cabin. You do NOT want to leave this lying around, or forget it in your room. Do yourself a favor and get a lanyard (either standard black or, if you're traveling with a group,  assorted colors for easy identification). They will make keeping track of your card so much easier…especially once you're a few drinks in.
2. A Tumbler for Boozin'
Or lemonading. Or Ice-teaing. Whatever you're into, you're going to want a cute cup to cart your beverages back and forth so you're not stuck at the buffet every time you get thirsty.  Obviously, we recommend our adorable tumblers (see the full tutorial here), but any cup will do the job just fine.

3. A Tumbler for Hydrating
While your cutesy tumbler is full of tropical drinks, you're still going to need to follow the basic hangover-reducing principle of drinking 8 oz of water for every alcoholic drink consumed.  Get yourself a giant water bottle, and you can refill it whenever you pass a beverage station (and avoid paying top price for bottled water elsewhere).
4. These Sneaky Containers…
I mean, we're not guaranteeing they'll work for you…but we may have it on good, PERSONAL authority that these bad boys work for smuggling in some alcohol on the low-down.  Not that we'd ever be cheap enough to do that of course.
5. These Flowy Dresses
Wondering what clothes to pack for your cruise? We are obsessed with these little swing dresses on Amazon. They work as adorable cover-ups, and also look presentable enough for dining on the ship.  They are super versatile, crazy comfy, and are easily adaptable for all parts of the ship.
6. Power Strips
If you're looking for practical things to take on a cruise, might we suggest you bring a power strip (as well as chargers for your electronics).  We triple up in each cabin to save on costs, but unfortunately those rooms don't come with triple the outlets. Pack one of these to ensure that you and your friends aren't fighting over the plugs when you're getting ready for formal night or putting the phones to bed for the night.
*******
So do some shopping and make some lists- but whatever you do, don't forget these six essential items while packing for a cruise.  What would you add to the list? Happy Sailing!