I was a late bloomer in the cleaning-bathrooms department. I did have bathroom cleaning lessons, but they didn't come at what I consider an appropriate age- say, between the ages of 8 and 16, for example. Nope.
Two days before my wedding, in a hot panic, I desperately asked my mom to show me how to clean a bathroom. How I had avoided it until then is a complete mystery, but it was one of those life skills I was pretty sure I was supposed to have, but failed to, pick up along the way.
Presumably, you learned how to quickly clean a bathroom somewhere along the way. It is rarely anyone's favorite household task, but it is one that you'll certainly notice if it hasn't been completed in a while. It's a proverbially dirty job, but somebody's gotta do it. Spoiler alert: that person is you.
So if you're trying to find out how to make cleaning a bathroom easier, you've come to the right place. I've come a long way since those wedding-week-lessons, and I've finally figured out how to get a sparkling clean bathroom.
Are our bathroom cleaning hacks goign to make cleaning bathrooms go away? No. But they WILL make cleaning your bathroom easier. And frankly, that's about all we can hope for in the toilet-scrubbing department, am I right?


This post contains affiliate links. You can read more at our legal page. Thanks for supporting The Salty Mamas!
Swish and Swipe Bathroom Cleaning Routine
Let's be abundantly clear- this is not my own invention. The darling creator of FlyLady.net has coined this term to describe frequent, light cleanings of the bathroom. The Fly Lady is the only reason my house looks acceptable, and if you haven't checked out her routines, weekly tasks, and cleaning missions– you.are.missing.out.
My favorite aspect of the Fly Lady's techniques is her bathroom cleaning methods. She recommends that you "Swish and Swipe" the dirty areas of your bathroom every day. You should take 1-2 minutes to wipe down your counters and swish a toilet brush around your toilet.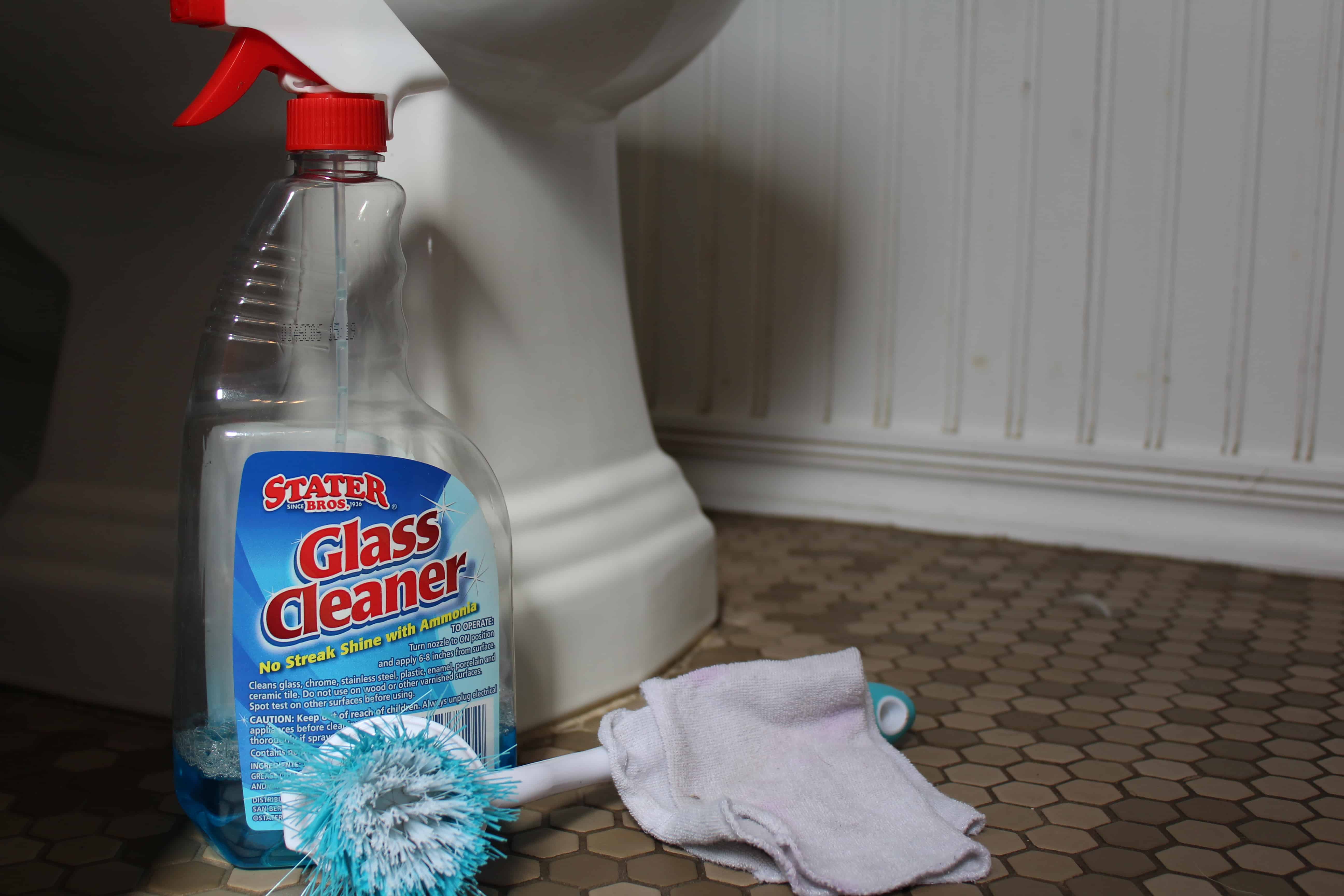 Store some Windex and some small rags in your bathroom vanity (I use the abundance of old baby washcloths we have around here, but you do you) to make this task even quicker. A quick swish around the toilet, a swipe across the counter, and you're done.
Caddy Full of Supplies
The Swish & Swipe is awesome for your day to day upkeep, but every once in a while you've got to give your bathroom a deep once-over. I find it's best (and hardest to procrastinate) if you've got a caddy full of bathroom cleaning supplies at the ready.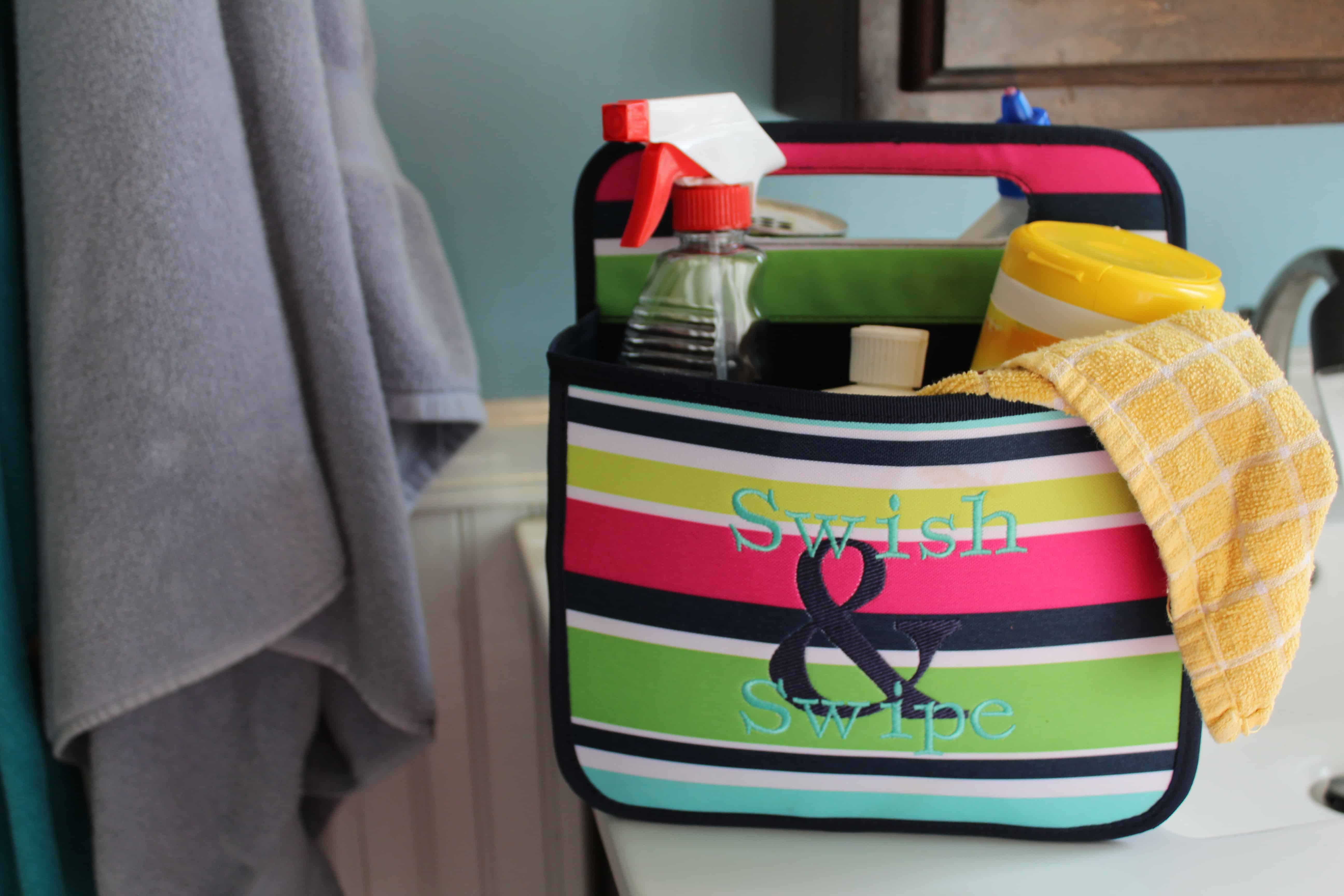 You know we're obsessed with this Thirty-One Double Duty Caddy, and it truly makes for the BEST bathroom supplies organizer. (I even got mien personalized to say "Swish & Swipe!")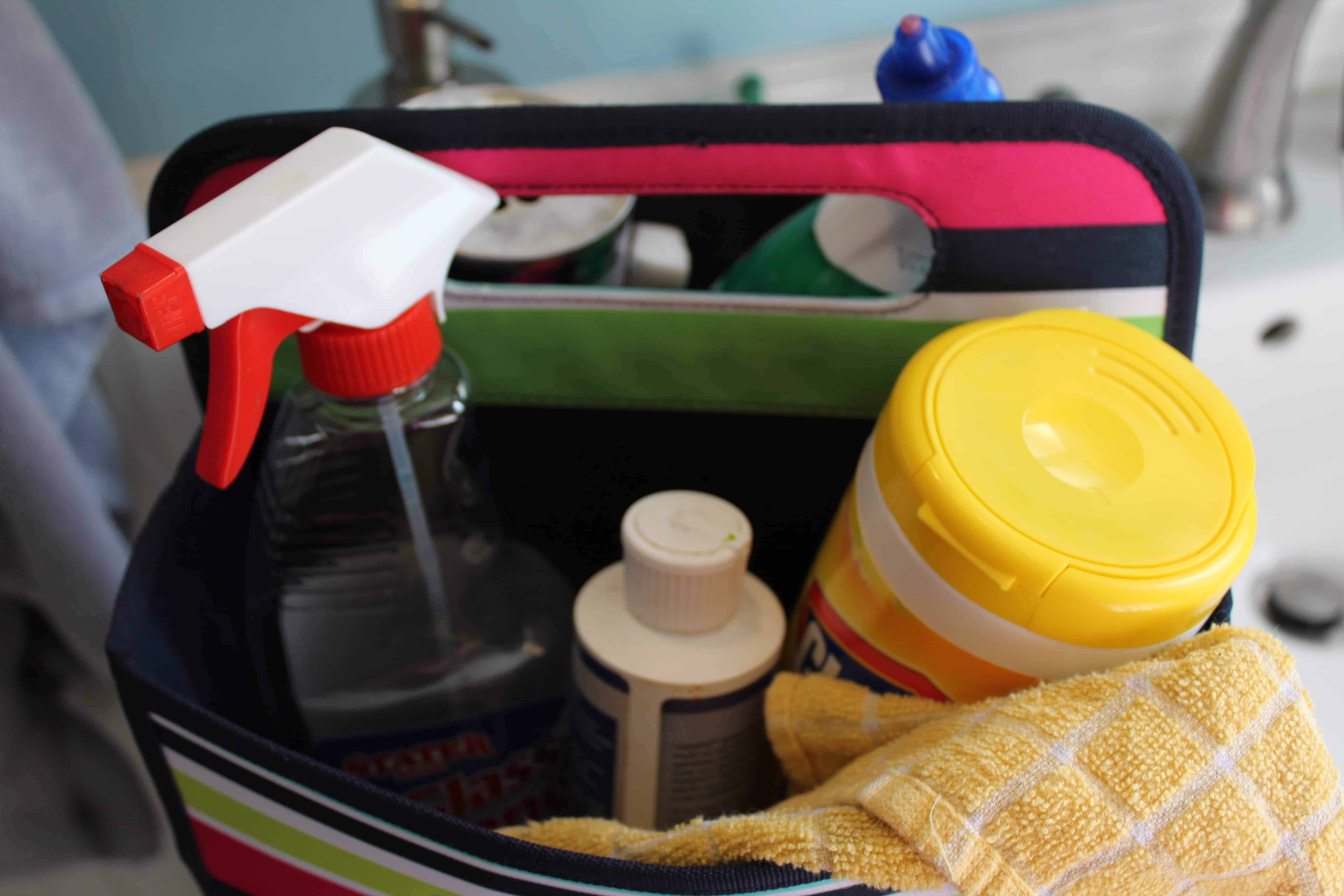 I fill it with everything I need, from rags to cleansers to a toothbrush for those tricky-to-reach areas. That way, when it's time to clean, I have one less excuse to put it off.
Work in Stages
When it is time to buckle down and get a big cleaning accomplished, it helps tremendously if you go in a certain order. Yours may differ, but the idea is to have everything ready for you when you get to it.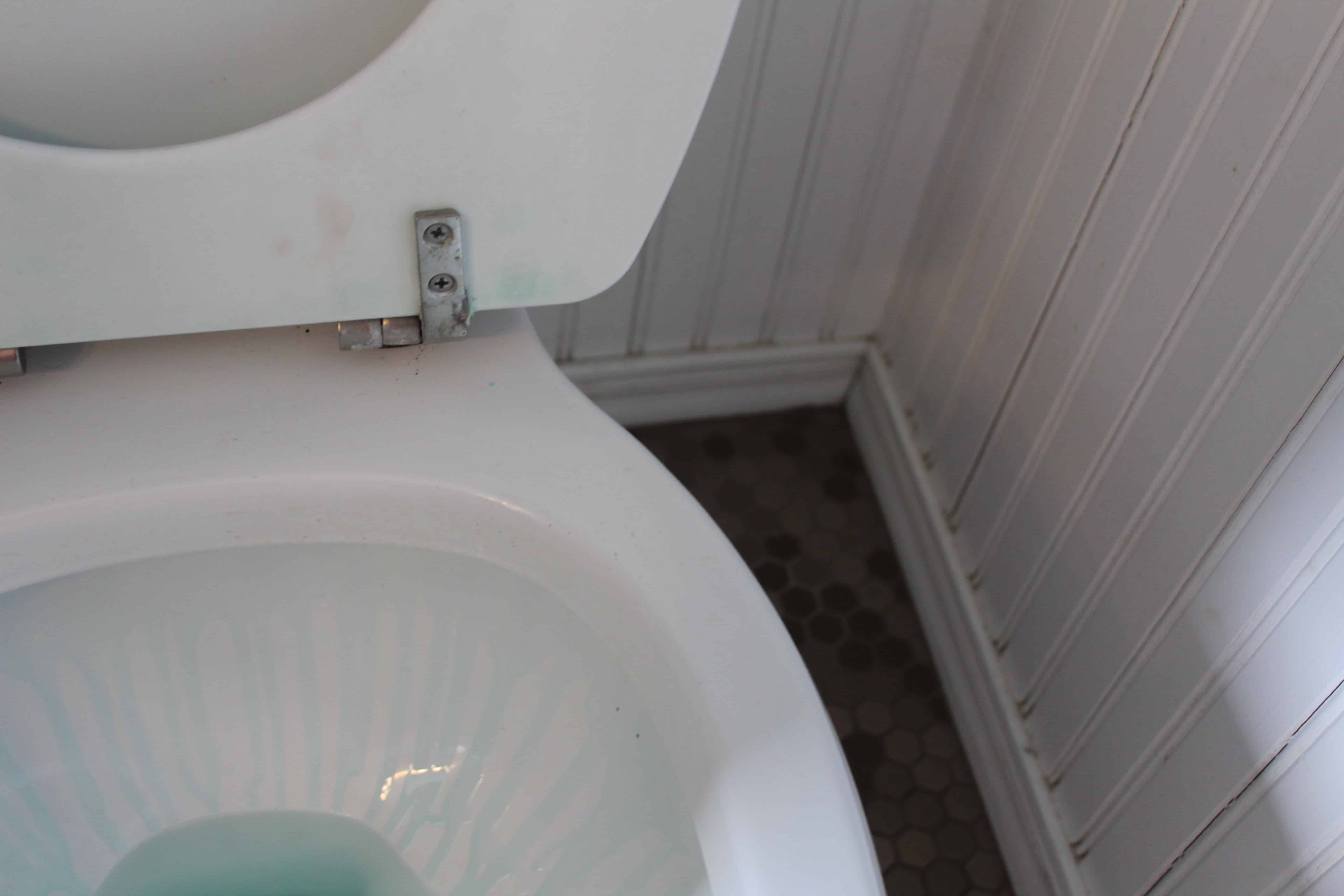 I start by putting the cleaner in the toilet and spraying down the tub surface, for example. This gives the cleaning solution some time to work its magic before I start scrubbing, and eliminates some of the elbow grease needed to complete the project.
And I wipe down the counter last, because I'm bound to set some shampoo bottle down, or leave a ring from the bottom of one of my sprays. Hitting it last means I don't end up having to do it twice.
The Best Tub Cleaner
If you've got soap scum, a ring around the tub, or any kind of yucky buildup in your shower, you know that sometimes you can scrub and scrub before you can see any kind of noticeable difference.
If you're tired of all that scouring, we've got the perfect way to remove a ring around the bathtub. First, you'll spray the whole tub down with Scrubbing Bubbles Foaming Cleaner. Then wet a Magic Eraser, and wipe it across the surface of the stains. I'm telling you- this combination works like a freaking DREAM.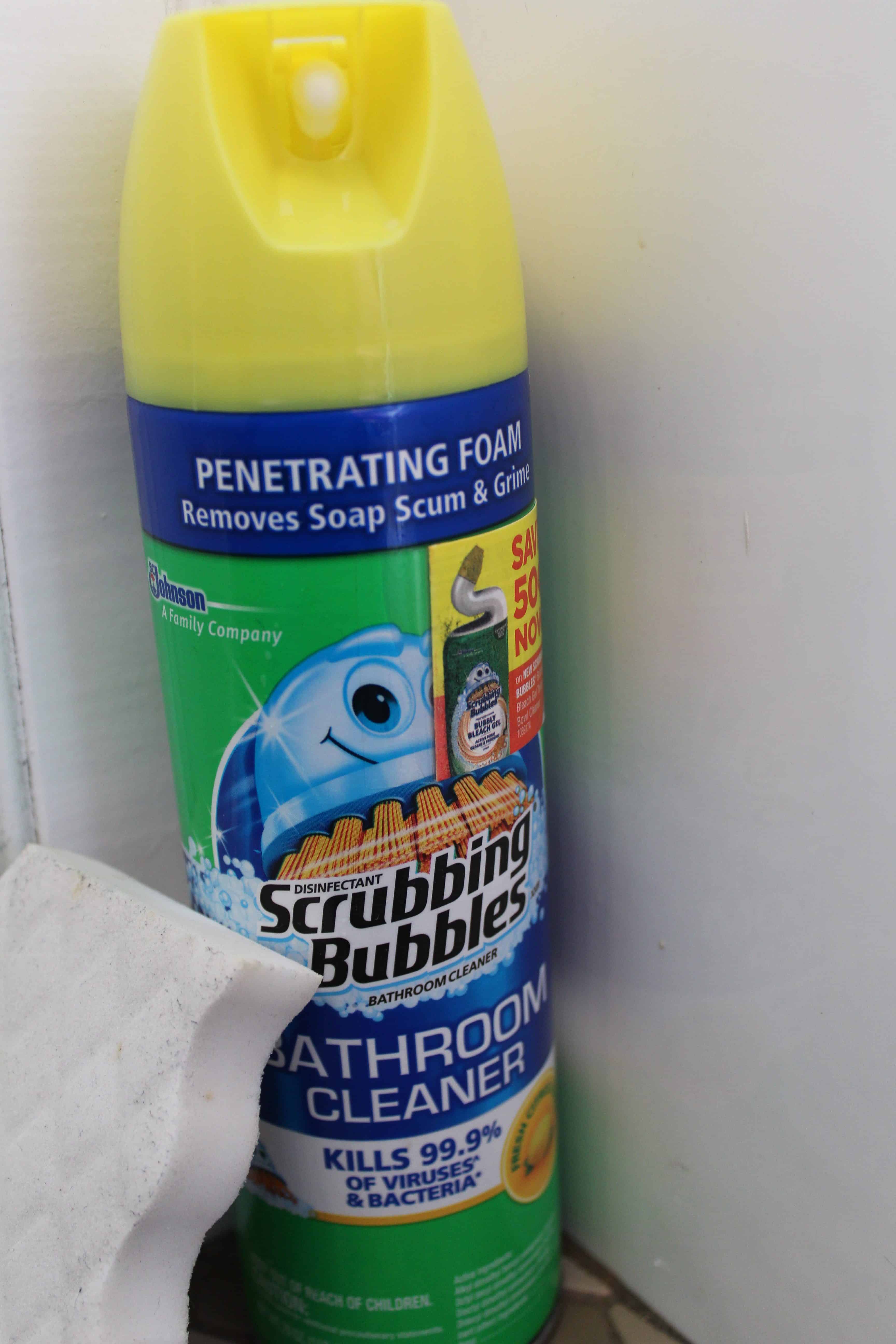 You can get good results with just the Foaming Cleaner, or just the Eraser, but combining the two? Literally dissolves the stains away.
Barkeep for Rust
Did your shaving cream canister leave a rust stain on your shower ledge? A little Barkeeper's Friend will take it right off.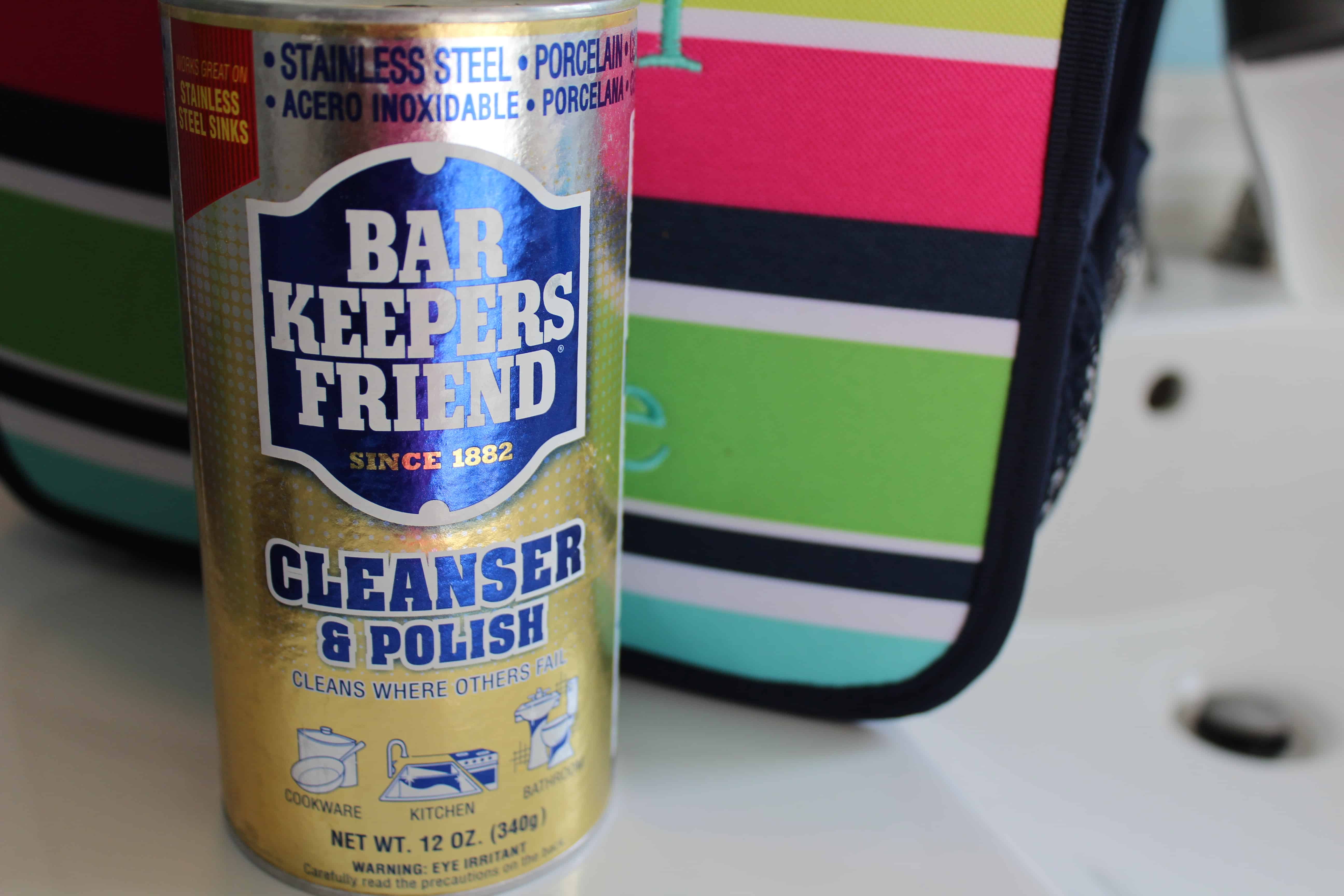 I prefer the powder, but if you're worried about leaving a mark, you can use the liquid version, too. Gently scrub it in with a sponge, or even that Magic Eraser we're so fond of, and watch that rust stain disappear.
Essential Oil in the Toilet Paper Tube
Y'all, this is so EXTRA but I always feel like an expert-level housekeeper when I bust it out. I don't know where you store your extra toilet paper rolls, but if they are exposed anywhere in the bathroom, you're going to want to try this trick.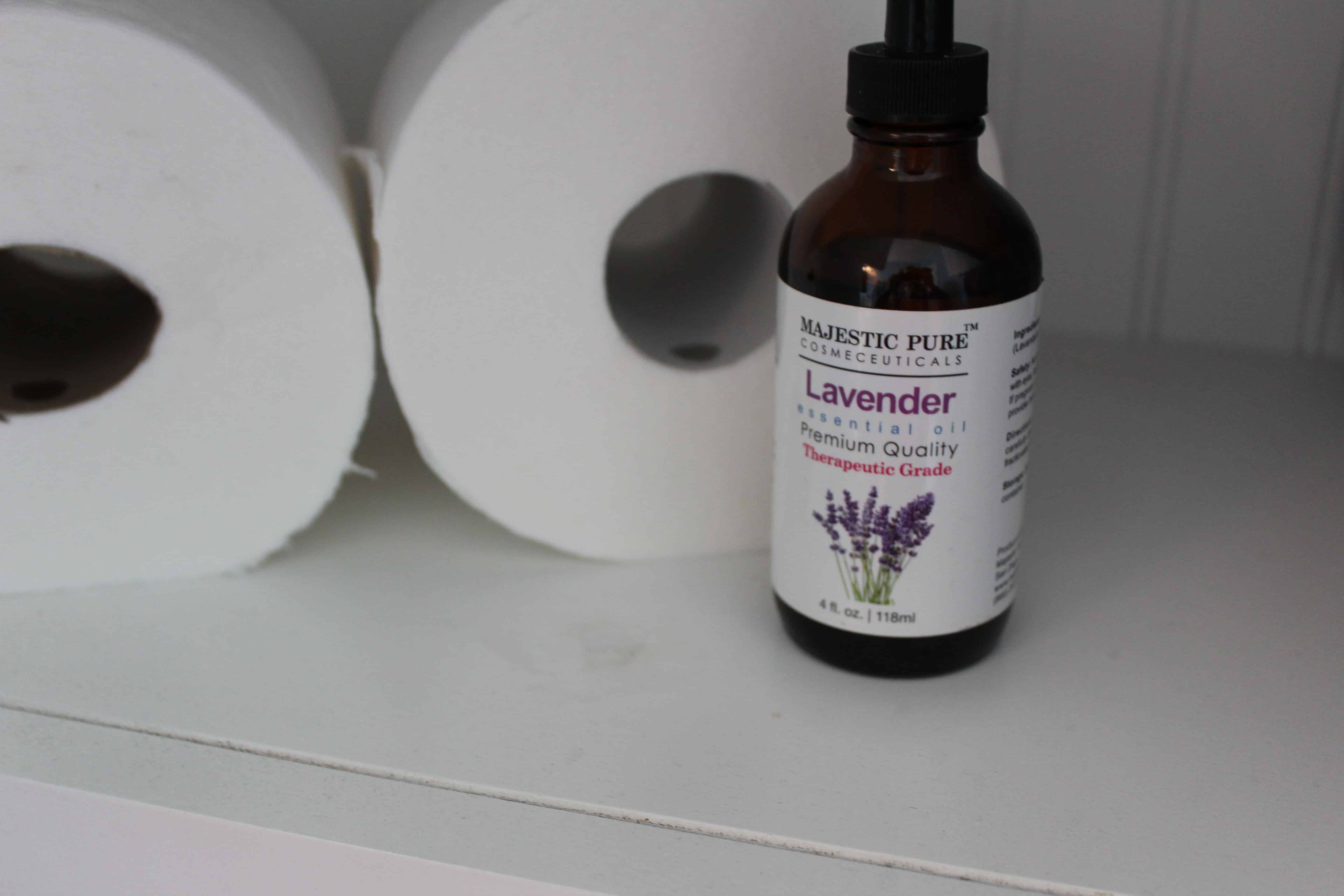 Whenever you put out a new roll of toilet paper, add a drop of essential oil to the inside of the toilet paper tube. Not only does it add a little ever-present, ever-pleasant smell to your restroom, but whenever someone rolls out the TP, they'll catch a little extra whiff of the essential oil you added.
The Best Bathroom Cleaning Hack: PooPourri
But let's be honest- sometimes you need more than a little whiff of essential oil. And if you've got one bathroom, like I do, you're definitely going to want to do some odor-masking from time to time. No bathroom is going to seem clean if there's lingering odor in there.
By now, most people have heard of PooPouri, the "Before You Go" Bathroom Spray. We bought a bottle when it first came out, and it works AMAZINGLY well. But it also comes with a pretty hefty price tag, and I'm just not down for that.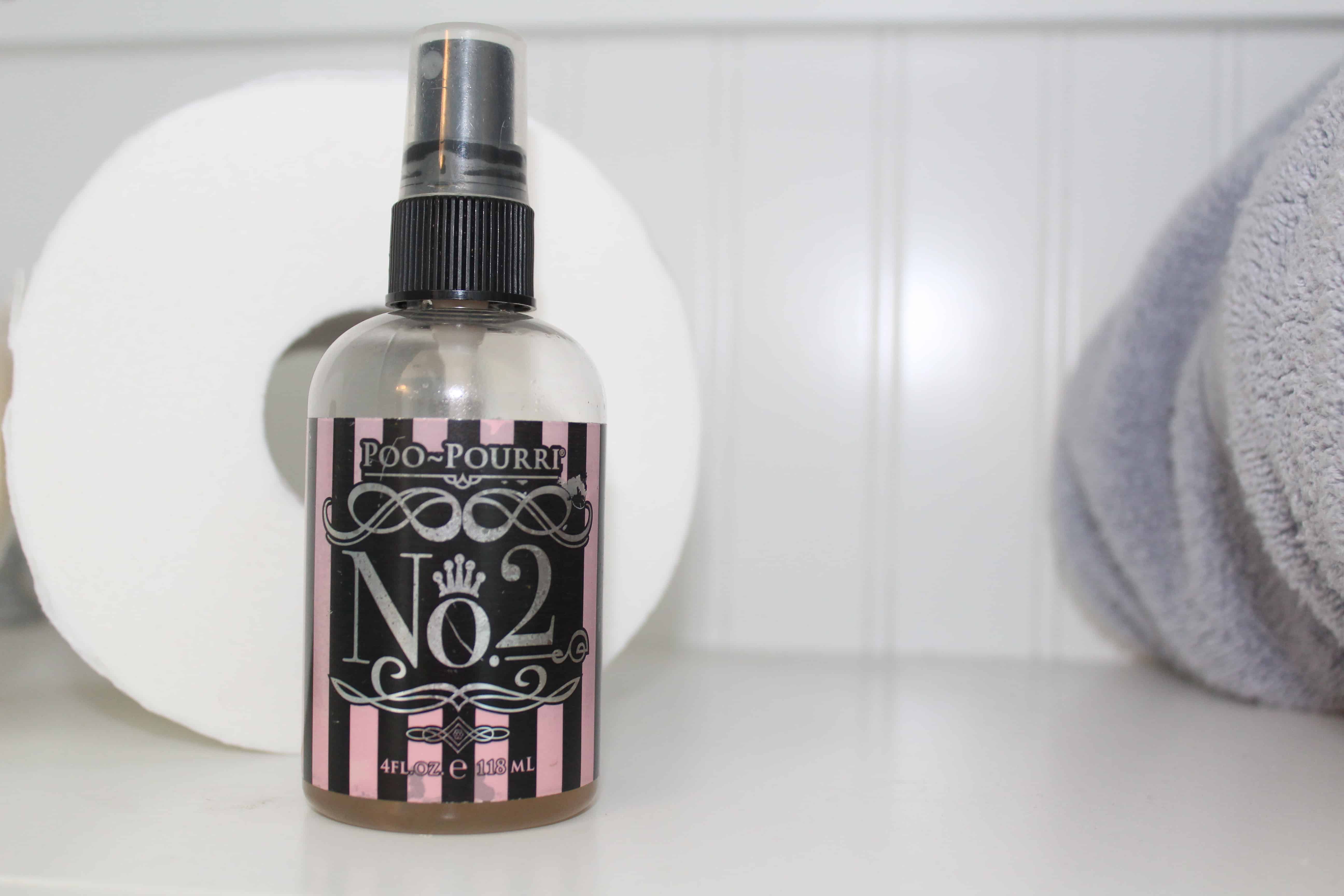 So I decided to start making my own. It's crazy easy, and works just as well as the original.
Ingredients:
Small Spray Bottle (about 4 oz size. I use an old Poo Pourri Bottle, but how pretty are these blue glass ones?)
2 Tablespoons Rubbing Alcohol
10-20 Drops Essential Oil of Your Choice (I Like Lavender or Citrus)
Distilled Water (To Fill)
Add Rubbing Alcohol and Essential Oils to the spray bottle. Put the lid back on and shake to mix.
Fill to the top with distilled water, and shake again to combine.
When you're ready to…um…use the spray, 5 sprays onto the surface of the water (before you go!) should do the trick.
*******
Let's face it, you're not going to get out of cleaning your bathroom, but if you've got to do it, why not go the full 9 and figure out how to get a sparkling clean bathroom? You might be surprised what a difference it makes.
Liked this post? Check these out for more handy tips!
Recommended:
REALLY need to get organized? Keep a cleaner house- with LESS effort- by snagging this organization course from a genius housekeeper. You WON'T be sorry!
Need more convincing? Check out Hilary's 5 Word Organization Challenge for FREE!