Need some easy to transport snacks for the beach? You might want to rethink some of those ideas (we're looking at you, juicy peaches!) Check out our list of the best beach snacks for toddlers (and bigger kids, too). 
Summer is approaching and that means beach days – which we LOVE. But it also means sand – which we, well, DON'T.
Sand gets everywhere – in our clothes, our bags, and worst of all, in our snacks. And since kids can't go ten minutes at home without a snack, it's a sure thing they can't go a few hours at the beach without one!
So if you're the kind of person that panics and brings a bag of potato chips and a few super ripe peaches as a beach snack (what were you thinking??) here are the best beach snacks for toddlers and big kids, too!

This post contains affiliate links. You can read more at our legal page. Thanks for supporting The Salty Mamas!
Healthy Beach Snacks Vs. Easy Beach Snacks
There's some debate about what kind of snacks are best to pack to the beach, but we're going to argue for both. Healthy beach snacks for toddlers offer the fuel they need to keep up, but easy beach snacks make your life just that- SO.MUCH.EASIER.
As with everything, we're going to suggest you strike a balance. A few healthy beach snacks and a few treats are the perfect way to make sure you're snacking pretty all day long.
Applesauce Pouches
Really anything in pouch form is ideal, but kids of all ages generally still accept applesauce as a good snack. And since the opening is teeny tiny, there's not a lot of room for sand to squeeze in their. Plus, the individual serving guarantees that worst case, you'll ruin your own snack and not everyone else's!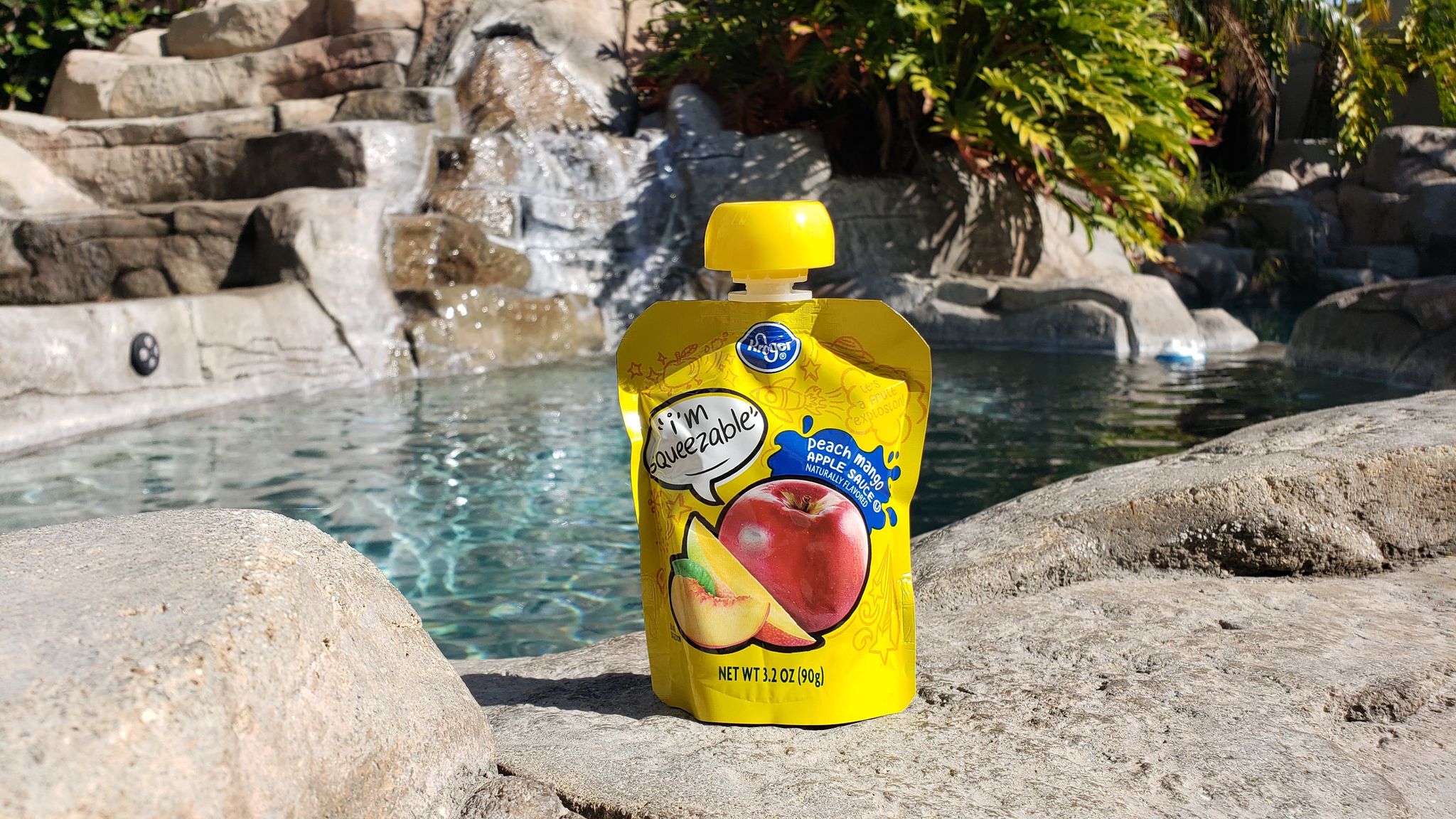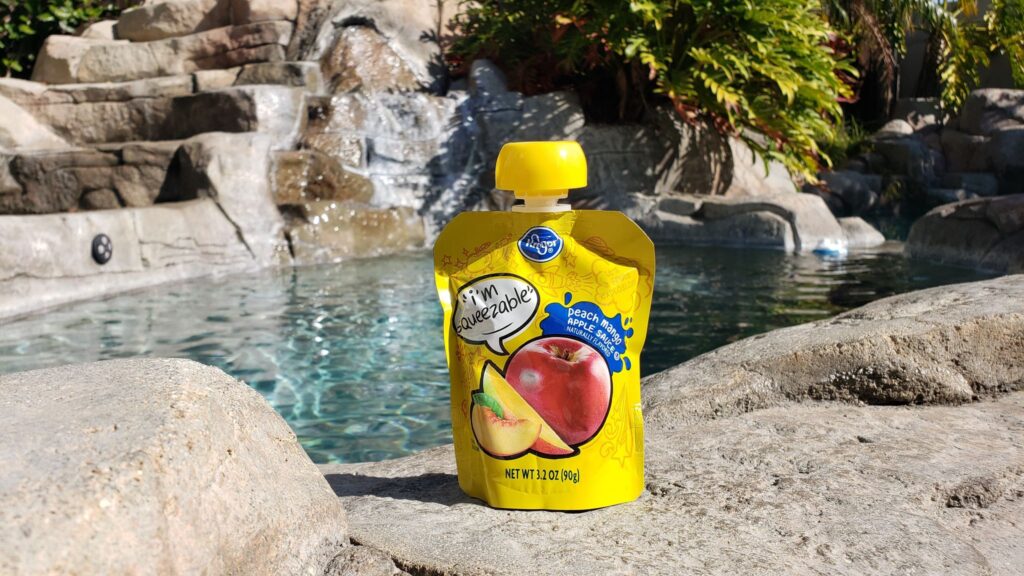 Kids not crazy about applesauce pouches? Grab these DIY pouches and fill them with the smoothie, yogurt, or fruit puree of your choice. (And YES, they really work, and NO, they are not super hard to clean. Cause we know you were gonna ask.)
Peanut Butter Burritos
This is our FAVORITE beach snack for toddlers because it packs all the punch of a hearty treat, but is pretty sand free! My family likes to get fancy and call them peanut butter burritos, but they're really just tortillas with peanut butter! Just take a tortilla, spread out the peanut butter (or almond butter, sunflower butter – whatever!) and roll it up burrito style.
They're easy to hold (and not drop!) and if they DO drop, sand actually wipes off a tortilla pretty well! If it gets on the peanut butter part, just rip the end off and hand it back. They're also super easy – and cheap – to make, so you can make a few extras in case there are casualties that can't be revived.
Individual Bags of Pretzels
Again, individual servings is key! The worst thing is sharing a family sized bag of thin potato chips and seeing some damp hand reach in and rummage around looking for the perfect chip. Pretzels are also a great choice because they're significantly heartier than a chip, and can stand up to a little moisture much better than a potato chip.
Crackers
Another beachy favorite, we love the dry, salty goodness of a cracker. From Goldfish to Ritz, you can't go wrong with a crunchy treat to fill you up before you hit the surf.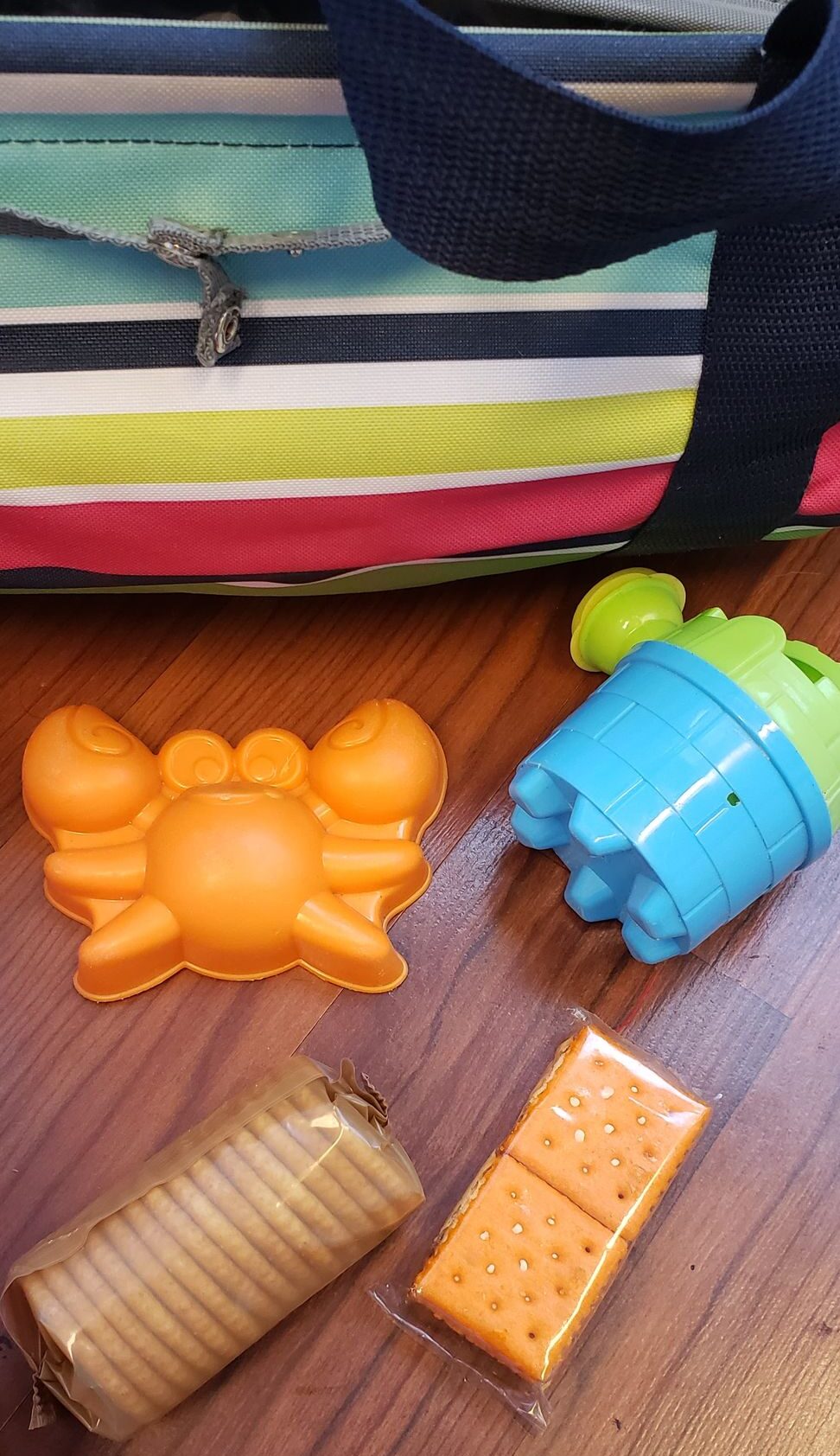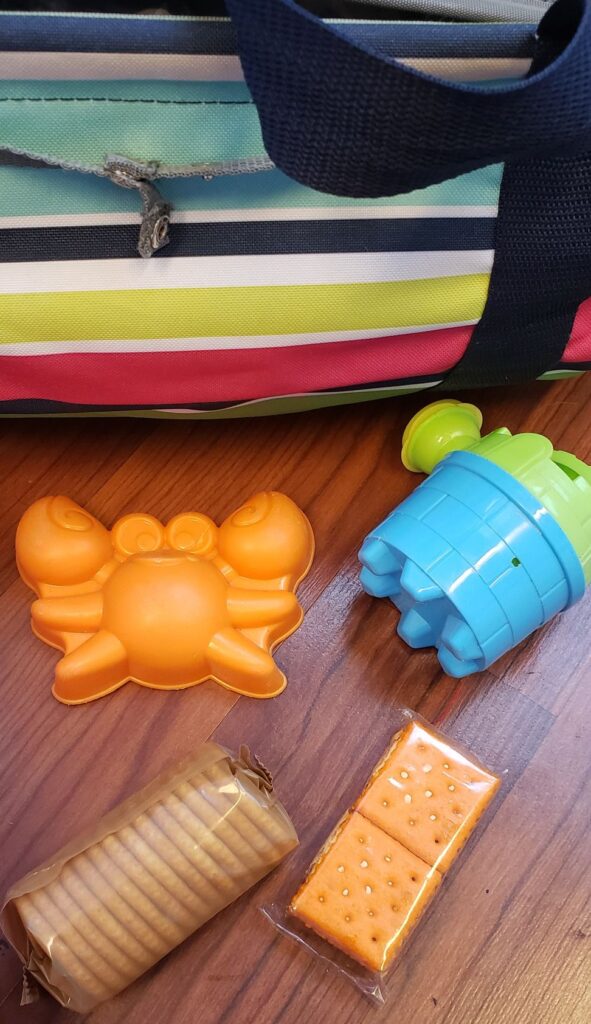 Try to grab individual packs when you can (or at least check out the Fresh Stacks Ritz offers) to avoid a complete loss due to wet, sandy hands.
Frozen Gogurts
Little tubes of yogurt are the perfect addition to your picnic basket. They'll offer calcium and protein, fill up your kids, and not make a giant mess in the process.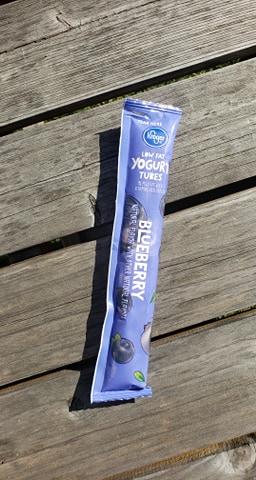 We like to freeze them before throwing them in our bag. By the time snack time rolls around, they'll still be slightly frozen. It's the perfect cold treat for hot beach days. (Just make sure to throw in a couple of extras in case of sand contamination.)
Don't love the sugar in Gogurts? Fill your own tubes with Greek yogurt instead. You can find the tubes here, and use a funnel to fill up with the yogurt of your choice.
Carrots & Celery
We love carrots and celery because they pack that cold crunch that's perfect on a hot day! But these make the cut for a day at the beach because they're so easy to rinse off if one falls in the sand.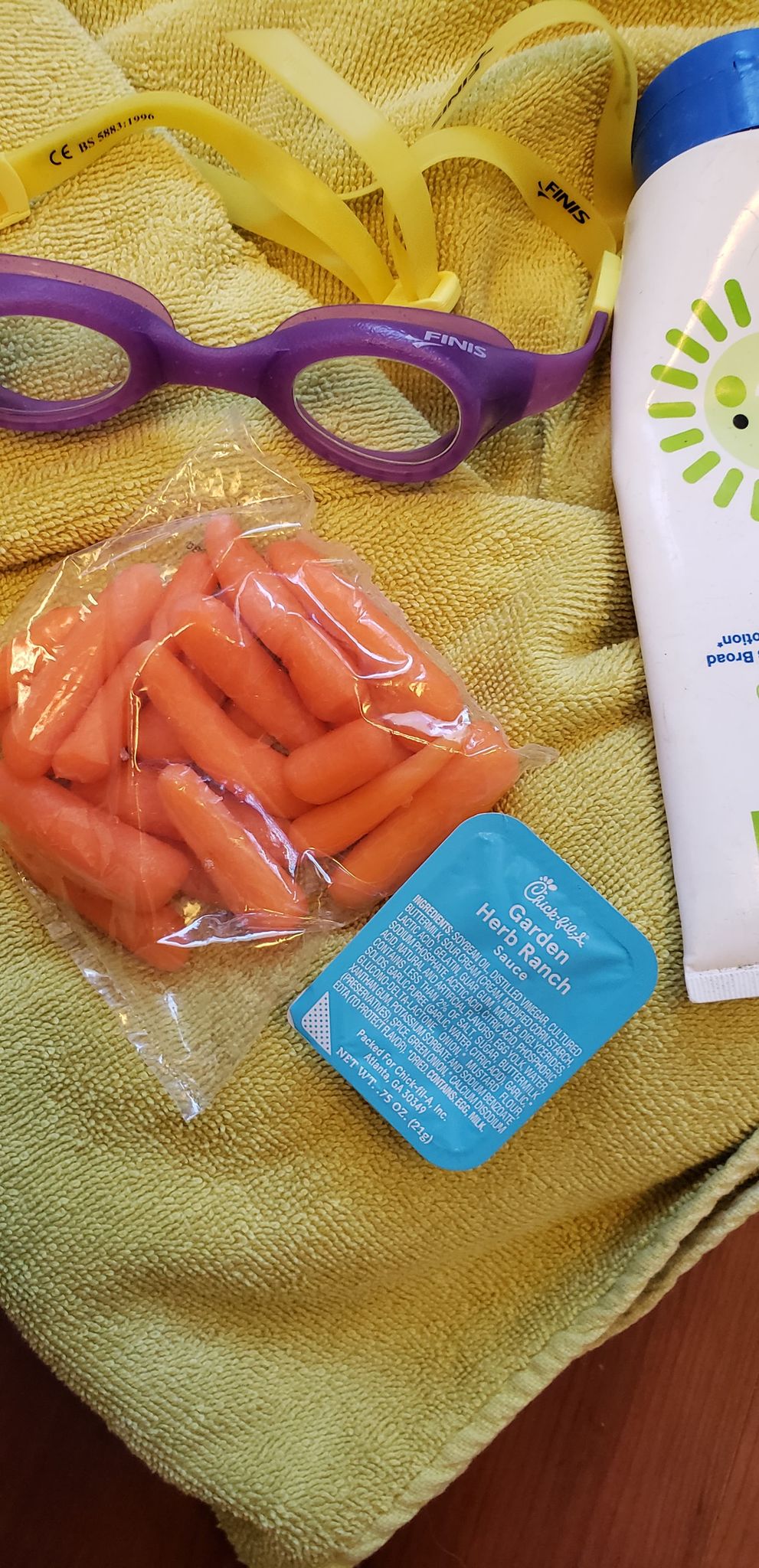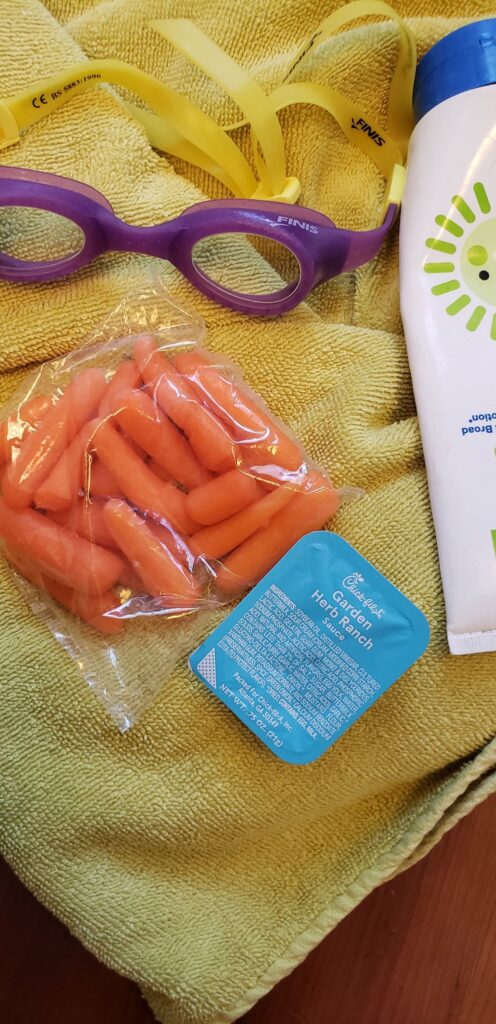 If you're feeling brave, bring a side of ranch or hummus (it's the perfect time to use up those extra sauces from Chick-fil-A, btw)! If you're bold and want to share with the kids, consider individual serving bowls of dip. 
Watermelon
While watermelon isn't going to pass the sand test, the beach is the perfect place for little ones to enjoy this sticky snack. Use clean adult hands to distribute the giant slices and watch the kids go nuts! Don't worry about them dripping everywhere, because it's just the beach! Covered in sticky juice? Send them straight into the water to rinse off before coming back for more.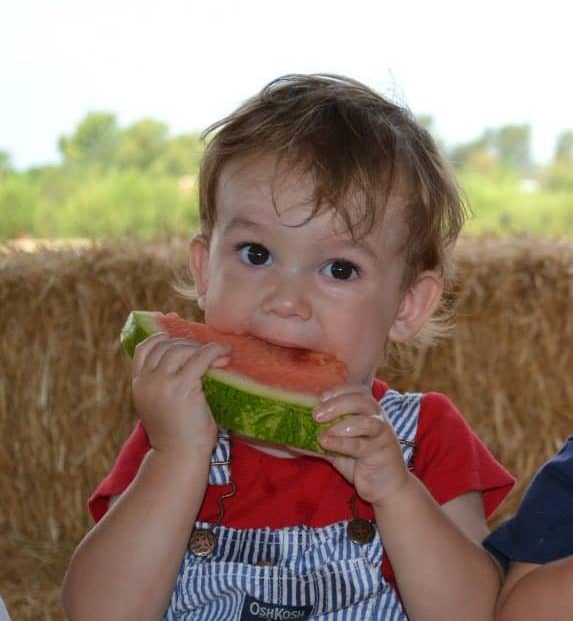 Otter Pops
For a sweet treat, consider bringing otter pops. They'll cool you down if the day is a total scorcher and give you some serious Mom points. Unlike regular popsicles, you can save the life of an otter pop that's fallen in sand by rinsing the end with a little water and cutting it off with some scissors if it's a serious beach foul.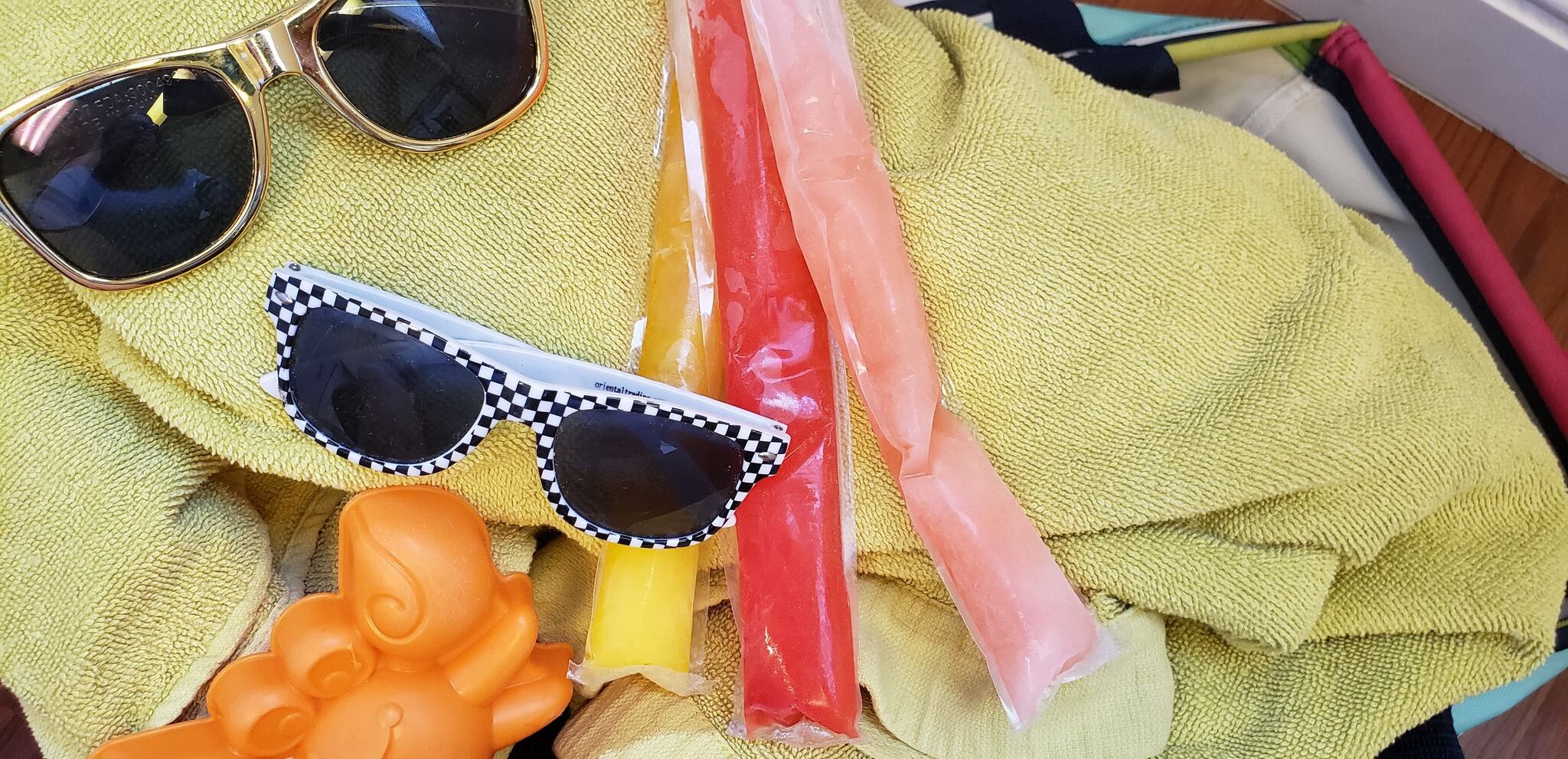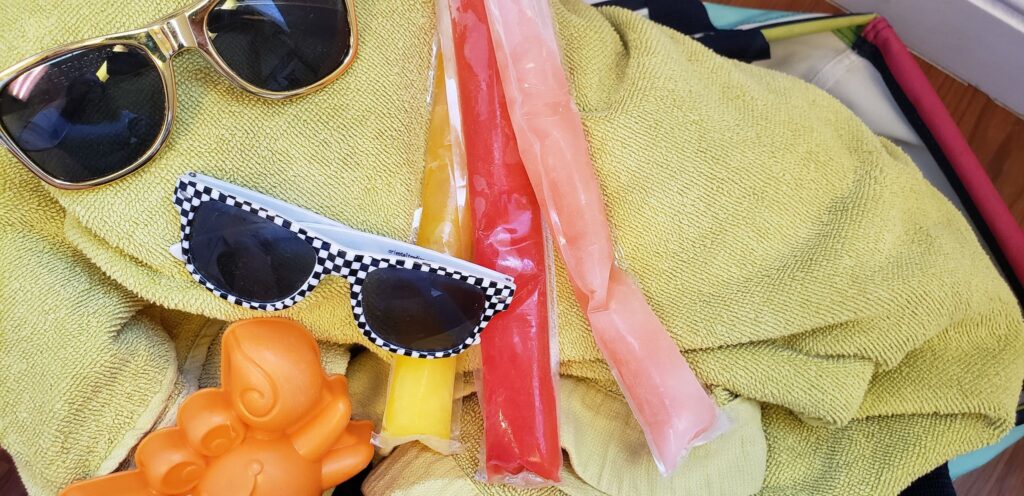 Kids quickly go from tears to giggles when they realized that you saved the day – and their treat. Toss in a few extras in case your kids make some friends at the beach! 
We love these Packit Freezer Bags to keep things cool. You throw the whole bag in the freezer, then slip goodies inside to keep them cool. And if they get sandy, it's easy to rinse the whole thing off when you get home.
Water
Obviously, you need to stay super hydrated when you're out in the sun all day. But watch out for typical water bottles. Sandy hands taking off caps are likely to cause a mouthful of sand. And I don't think we've ever visited the beach without several spills.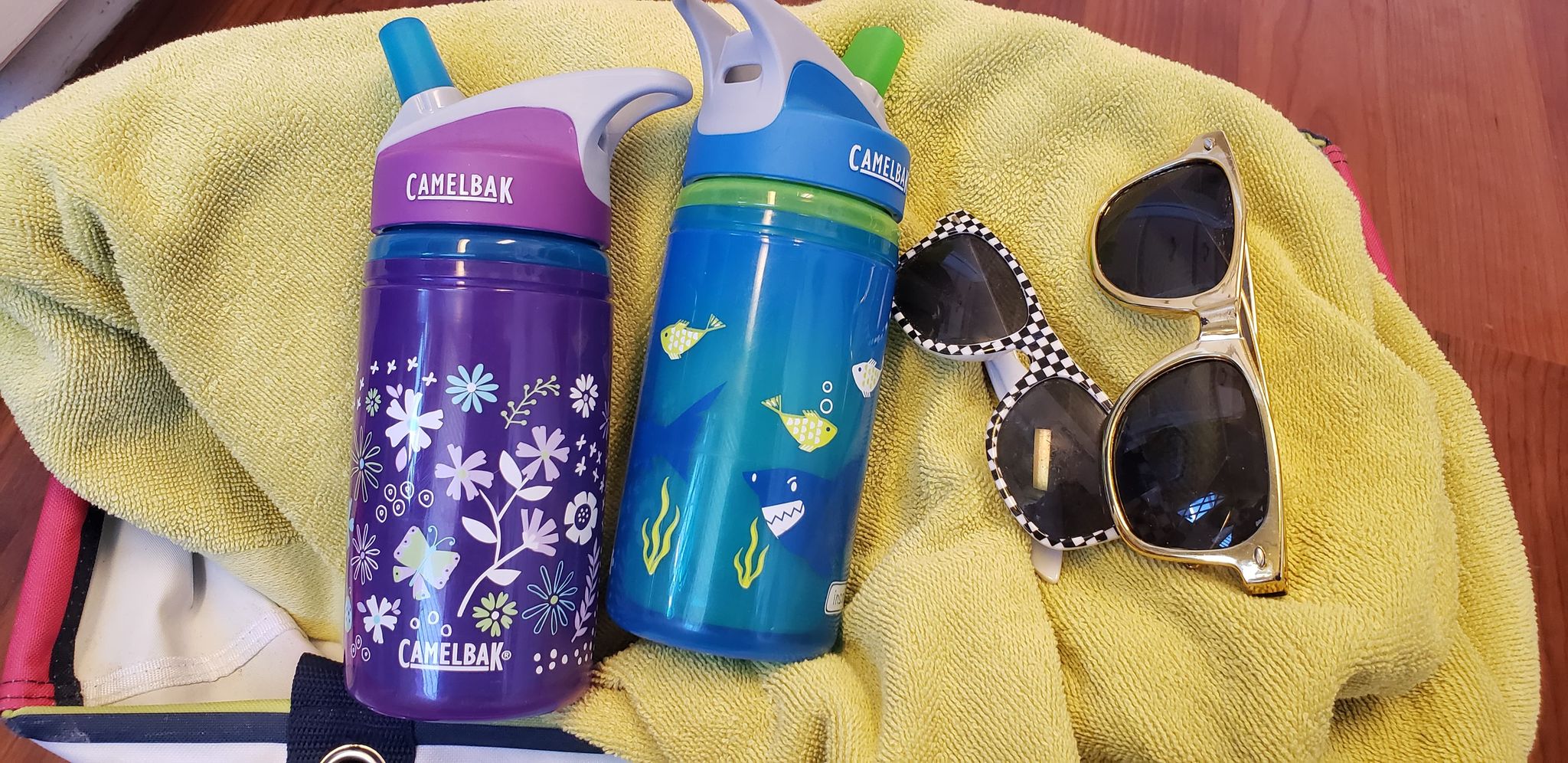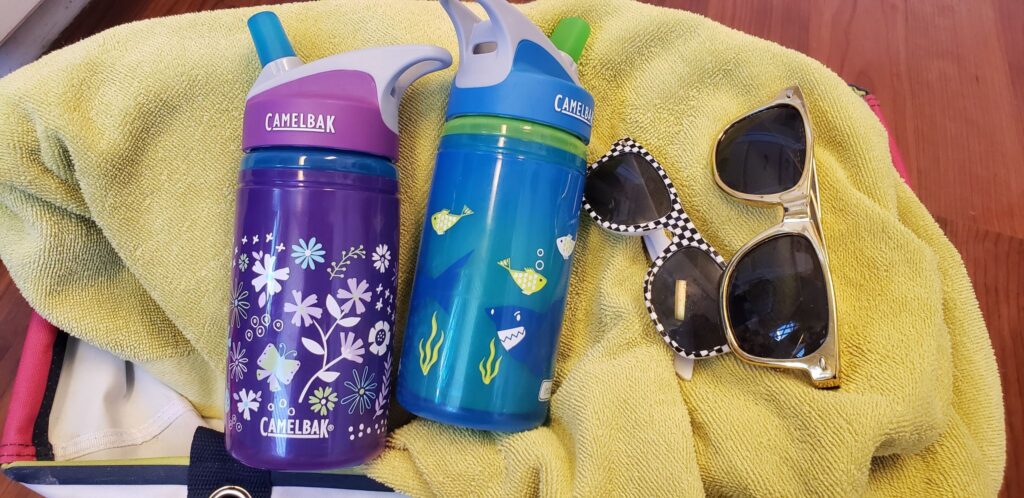 You'll want something with a straw that is relatively hands free. We love the Contigo Autospout because it's got a straw you can clean up easily, you can close the straw to store it and with a simple push button to open, tiny hands can do it on their own.
*******
With a little planning (and a little waste, sorry planet Earth) you're going to make your beach day SO much easier. And more delicious, because the best beach snacks for toddlers are going to tempt YOU as much as they tempt them!
Looking for more summer fun? Check out these posts!