Need something to add to your construction vehicle activities? Or just trying to keep a vehicle obsessed toddler or preschooler busy? Check out this fun, crazy low-prep sensory bin for transportation loving kids!
I don't know about you all, but my son is absolutely OBSESSED with vehicles. He loves his hot wheels, his toy planes, and his train set. But the toy he loves most of all might just be his giant, outside-only dump truck.
Which is fabulous when we can head outside for some big, messy, muddy play. But honestly, that doesn't always work for us. And by "us," I mean "me," the one who doesn't always want to supervise outdoor play, followed up by cleaning up a filthy child.
So we found a way to get that same vibe with this indoor-friendly construction vehicle sensory bin. Featuring mini-construction vehicles and plenty of materials to push, scoop, and move, it'll scratch that sensory itch (without all the mud).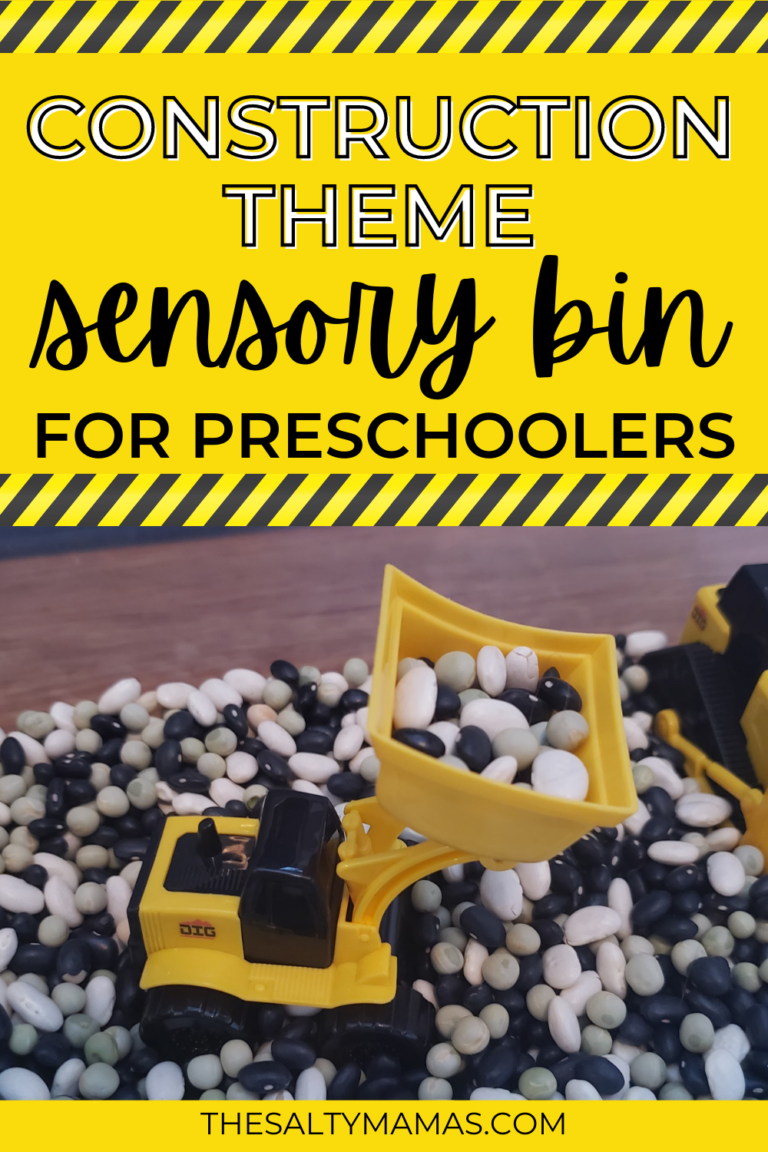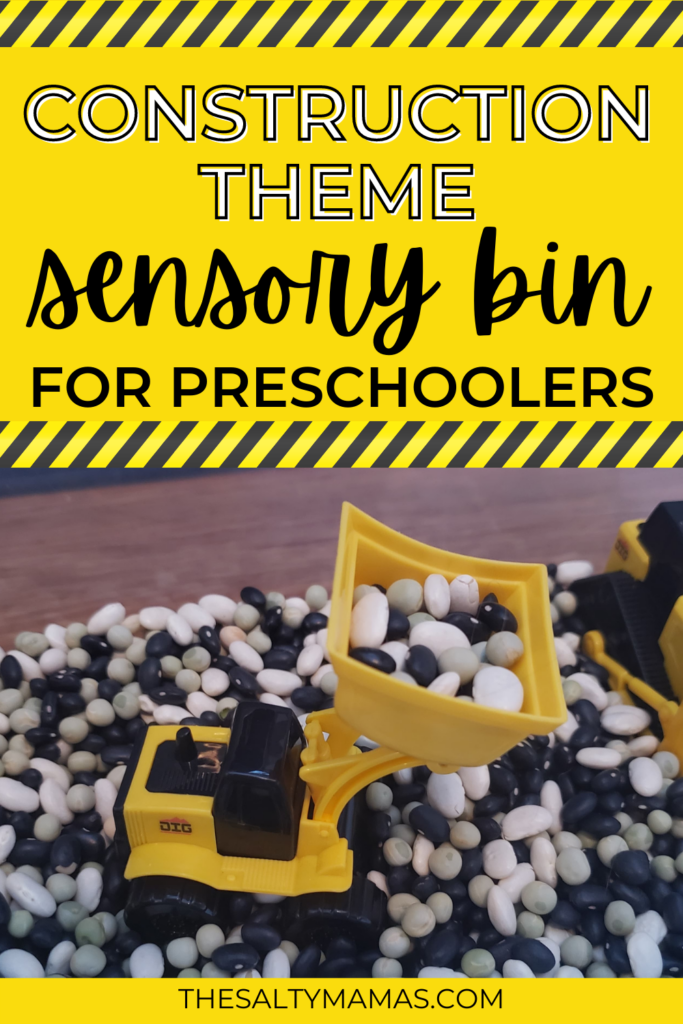 This post contains affiliate links. You can read more at our disclosures page. Thanks for supporting The Salty Mamas!
The Benefits of Sensory Play for Preschoolers
Sensory play is just so dang GOOD for kids. Ask any early childhood interventionist, and they'll tell you that sensory bins are a fantastic opportunity for kids to play, learn, and explore in a low-pressure way.
Sensory bins can help with language skills (for example, this bin alone can help teach the words push, pull, scoop, forward, back, up, down, go, stop- and so on!) and are highly motivating for kids who are hesitant to express themselves.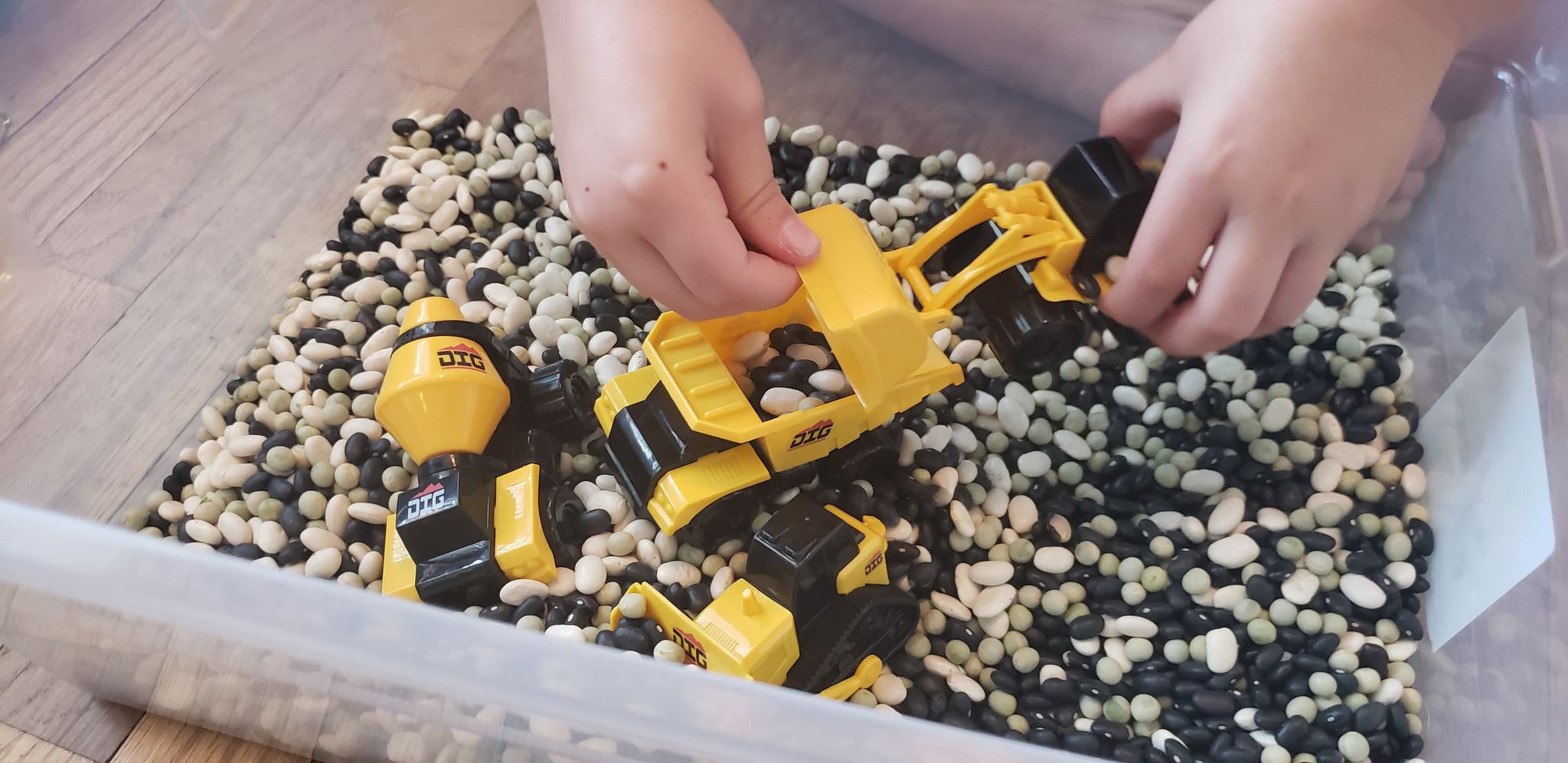 They are also crazy good for fine and gross motor skills, and help kids with concepts like fair play, taking turns, and exploring their senses (sight, touch, sound, etc).
Establishing Rules for Your Transportation Themed Sensory Bin
I know sensory bins are not always everyone's favorite, but I think they get a bad reputation when it comes to MESS. But sensory bins don't always need to be shaving cream and scattered rice. There are lots of ways to limit mess.
First up, choose your filler wisely! Small materials scatter the furthest (i.e. rice, corn kernals, sand). Some have lots of small parts that can be hard to track down (gravel, dried beans). Some materials are messy (dirt, shaving cream, cloud dough). You have to choose what you're in the mood for, and act accordingly.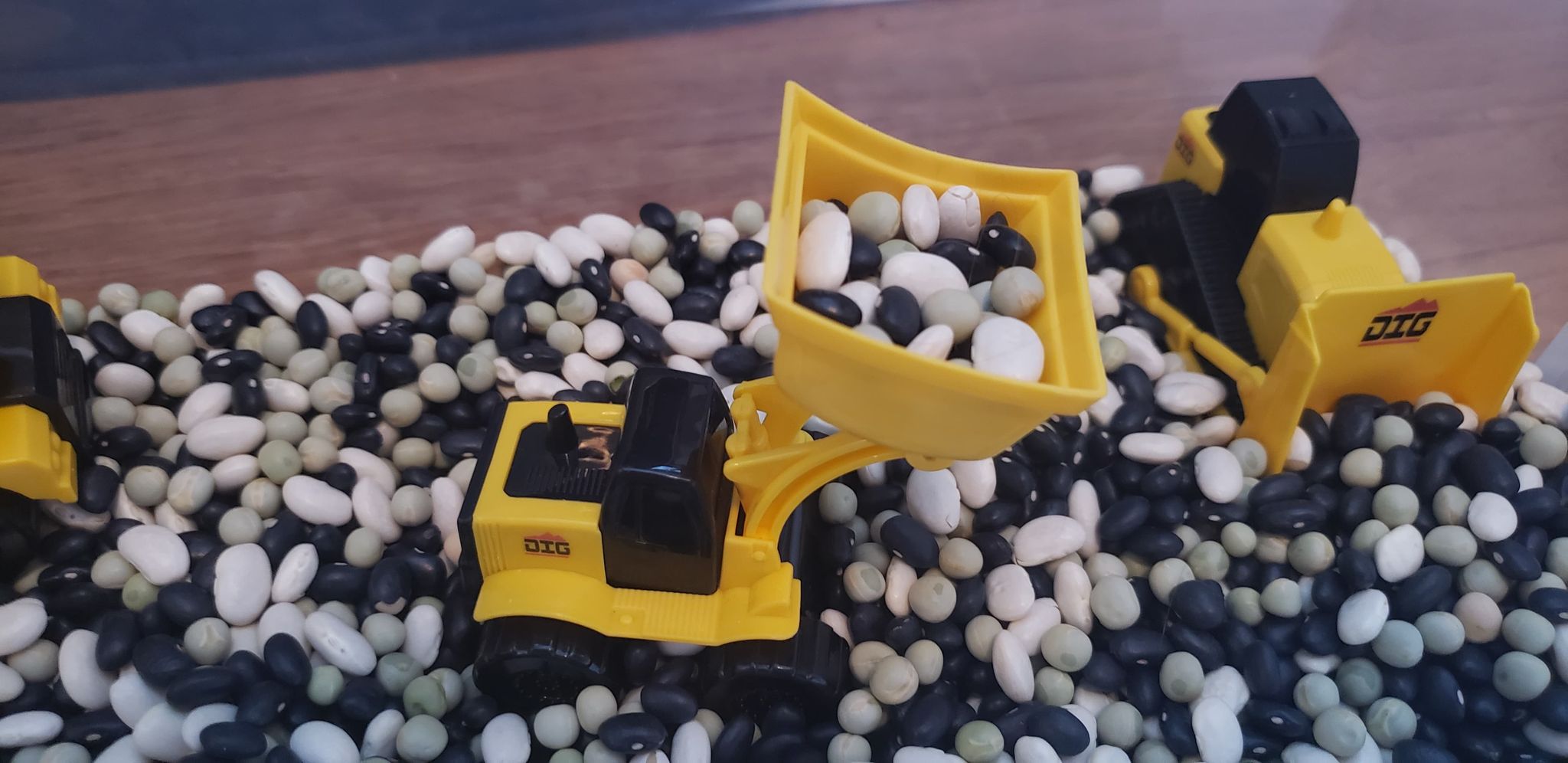 Next, set up rules with your child. We recommend the following expectations for sensory bin play:
Try to keep materials in the bin. If a few escape, that's okay. But we won't purposely move materials from the bin to the floor or table, or we'll need to put the bin away for the day.
Keep the bin in the spot where it started. We don't pick up the bins, or put them in different rooms. They need to stay in the area mom put them in.
Sensory bin materials do not go on our bodies. Nothing from the bin should go into your mouth (or hair, or nose, or belly button, etc).
We clean up when we're done. It's okay to make small messes (that's what sensory bins are for, right?) But part of being responsible means cleaning up when we're done. Don't be afraid to give your child a broom or dustbuster to help clean up materials before putting the bin away.

Choosing Your Construction Vehicles Sensory Bin
First up, let's get that sensory bin set up!
We recommend this 16 quart sterilite bin. Honestly, any bin will do. But we like that this one has high-sides to contain small parts. It is also big enough to play in, but not so big that it takes a ton of materials to fill.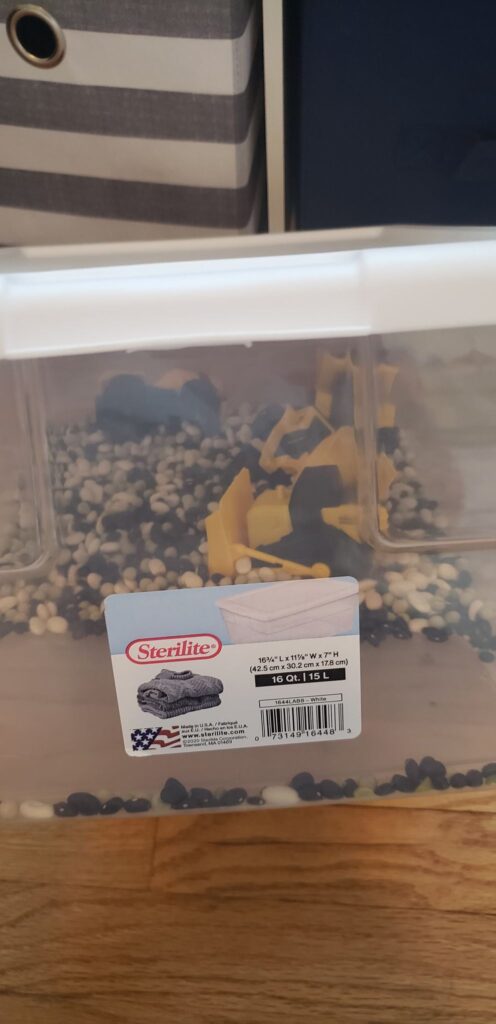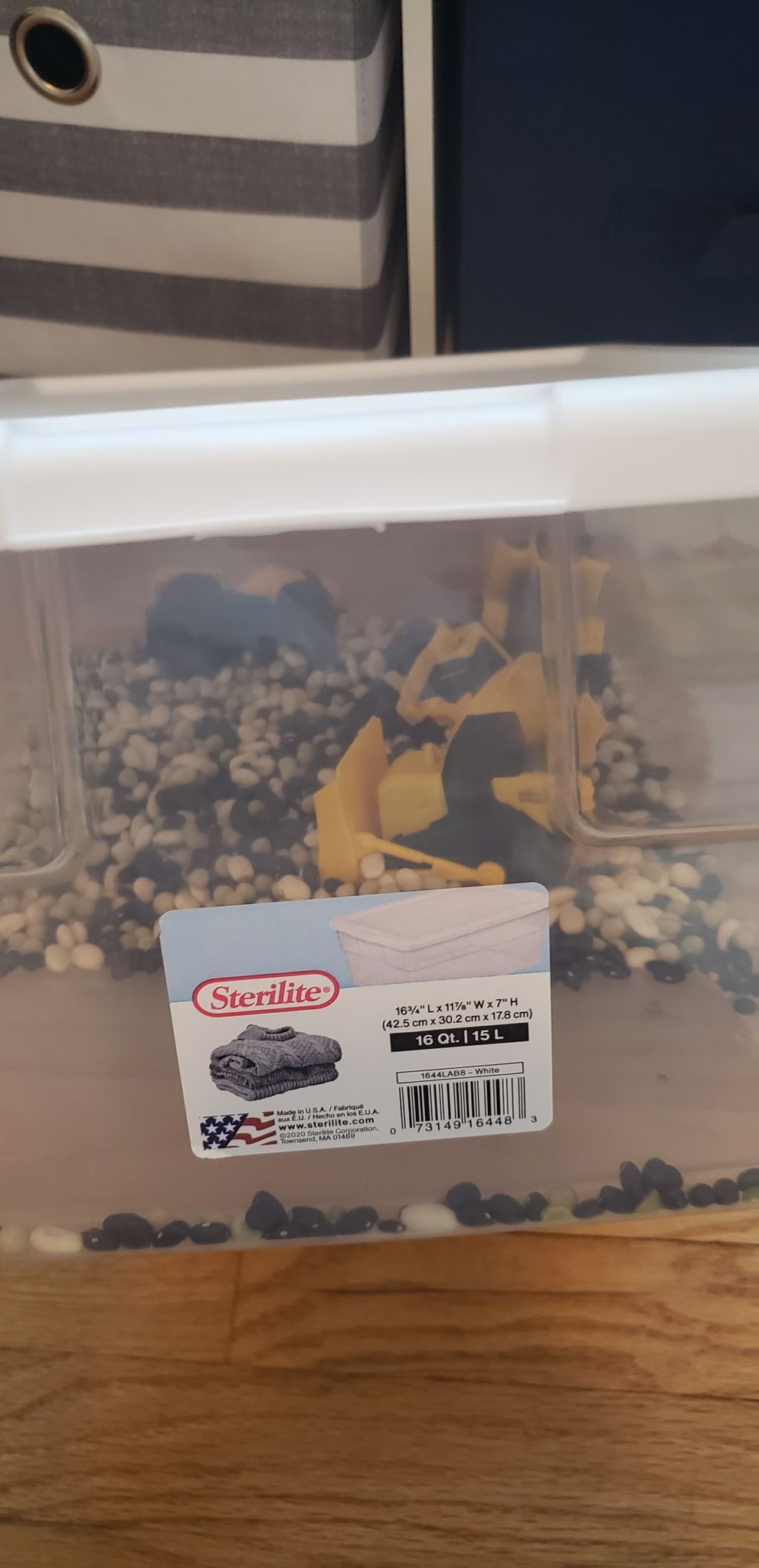 Lastly, the lid fits snugly on top, so we can store it for a few days or weeks until we're ready to move on to the next sensory bin.
Choose Your Sensory Bin Filler
There are lots of options to fill your construction vehicles sensory bin. A few ideas:
Plain old dirt!
Dried black beans (looks like asphalt)
Dried pinto beans (looks like dirt)
Dried lentils (looks like plants/grass)
A mix of dried beans (because it's what you already have, maybe, hypothetically)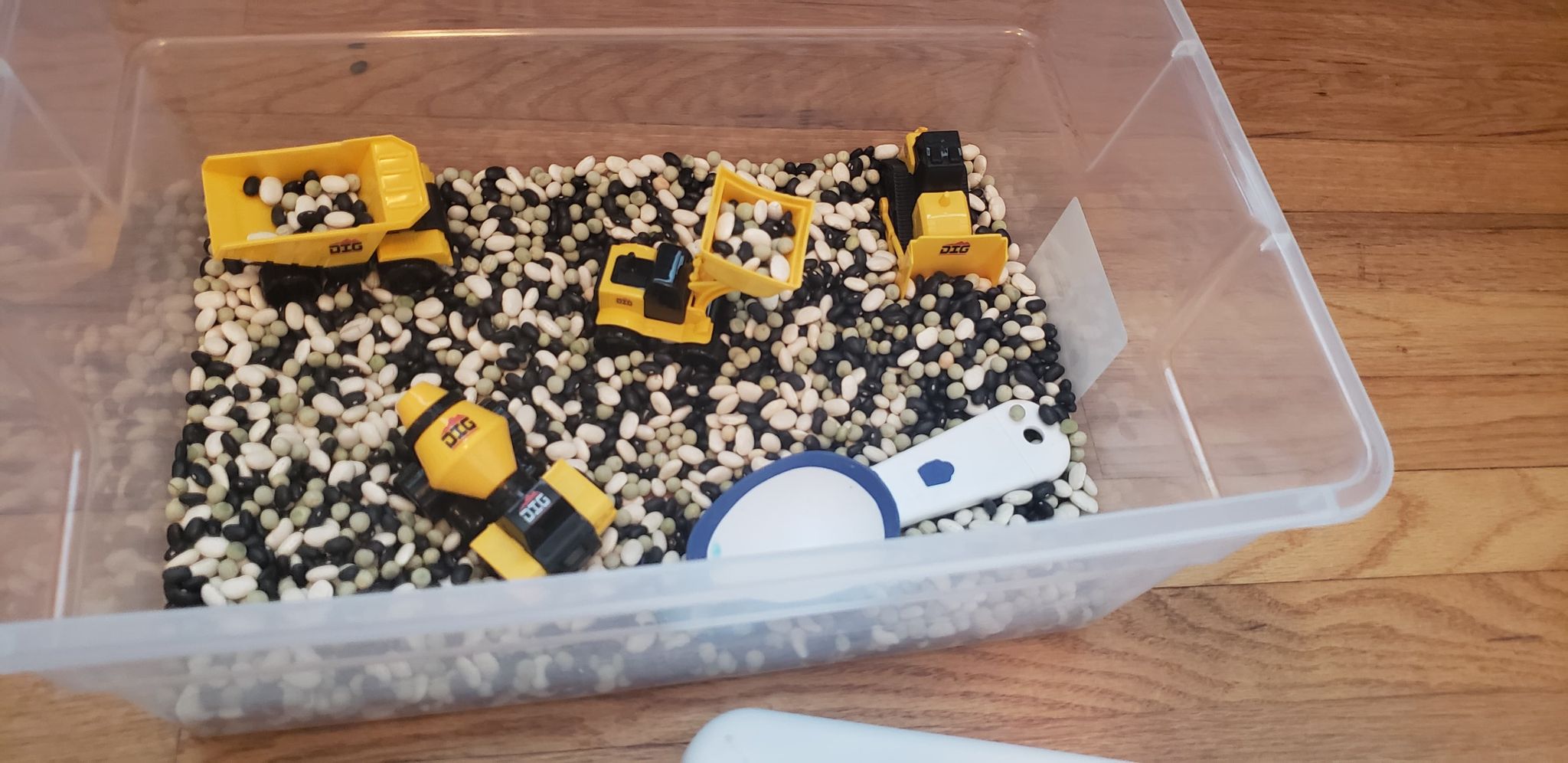 The idea is to fill your construction vehicles sensory bin with lots of materials that your child can push, pull, scoop, and move on their own.
Add Your Mini Construction Vehicles
These small construction toys are maybe one of my favorite kids' Amazon finds of all time. This set of small construction vehicles comes in a set of five and are reasonably priced.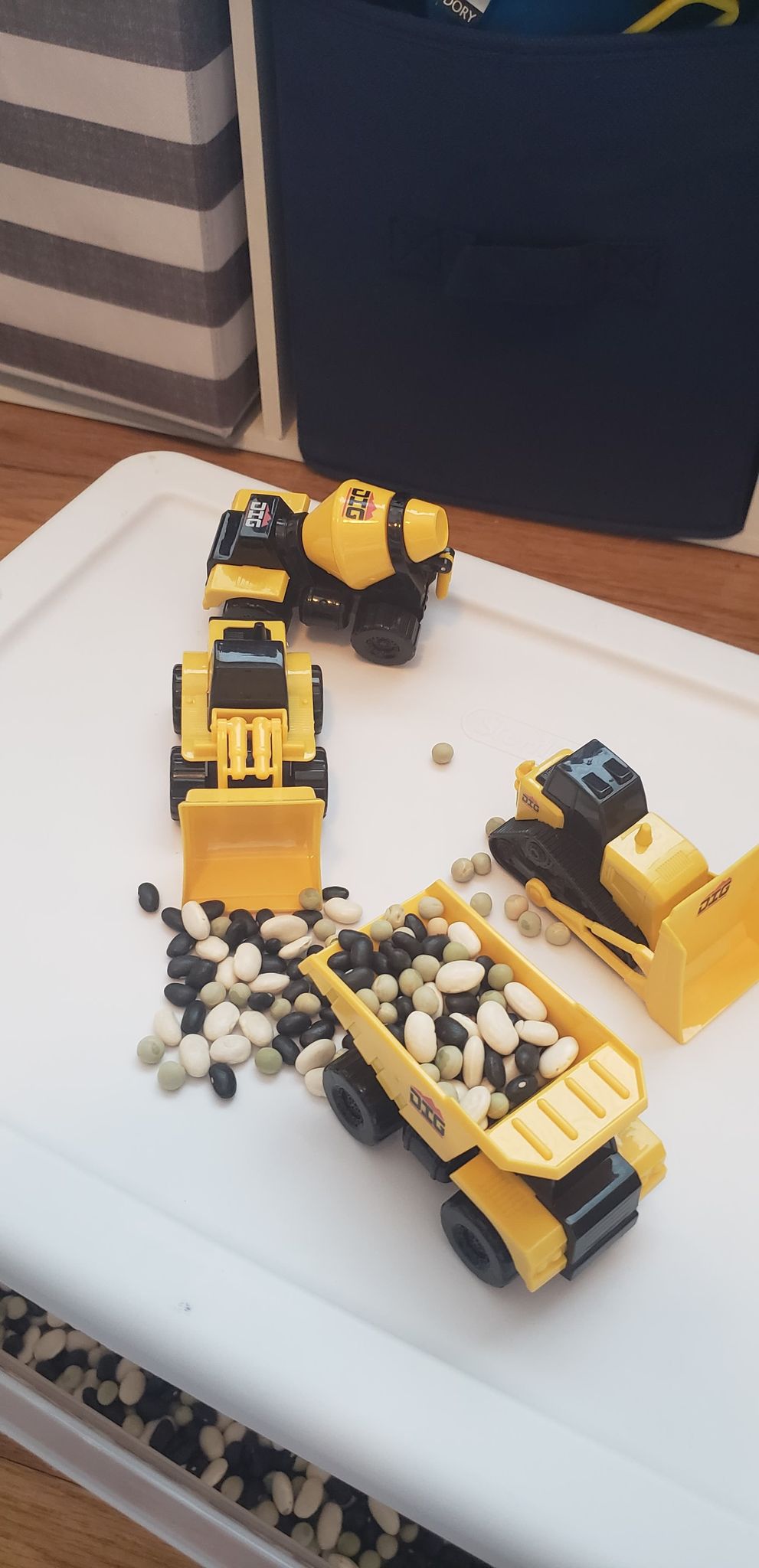 All five vehicles have moving parts. The dump truck bed goes up and down. The pushy things on the pushy thingy truck move up and down. (Side note: I need to actually learn something about construction vehicles, I guess.)
They are the perfect size for a sensory bin, and offer the same fun as his full-size construction vehicles that go outside, but in miniature form.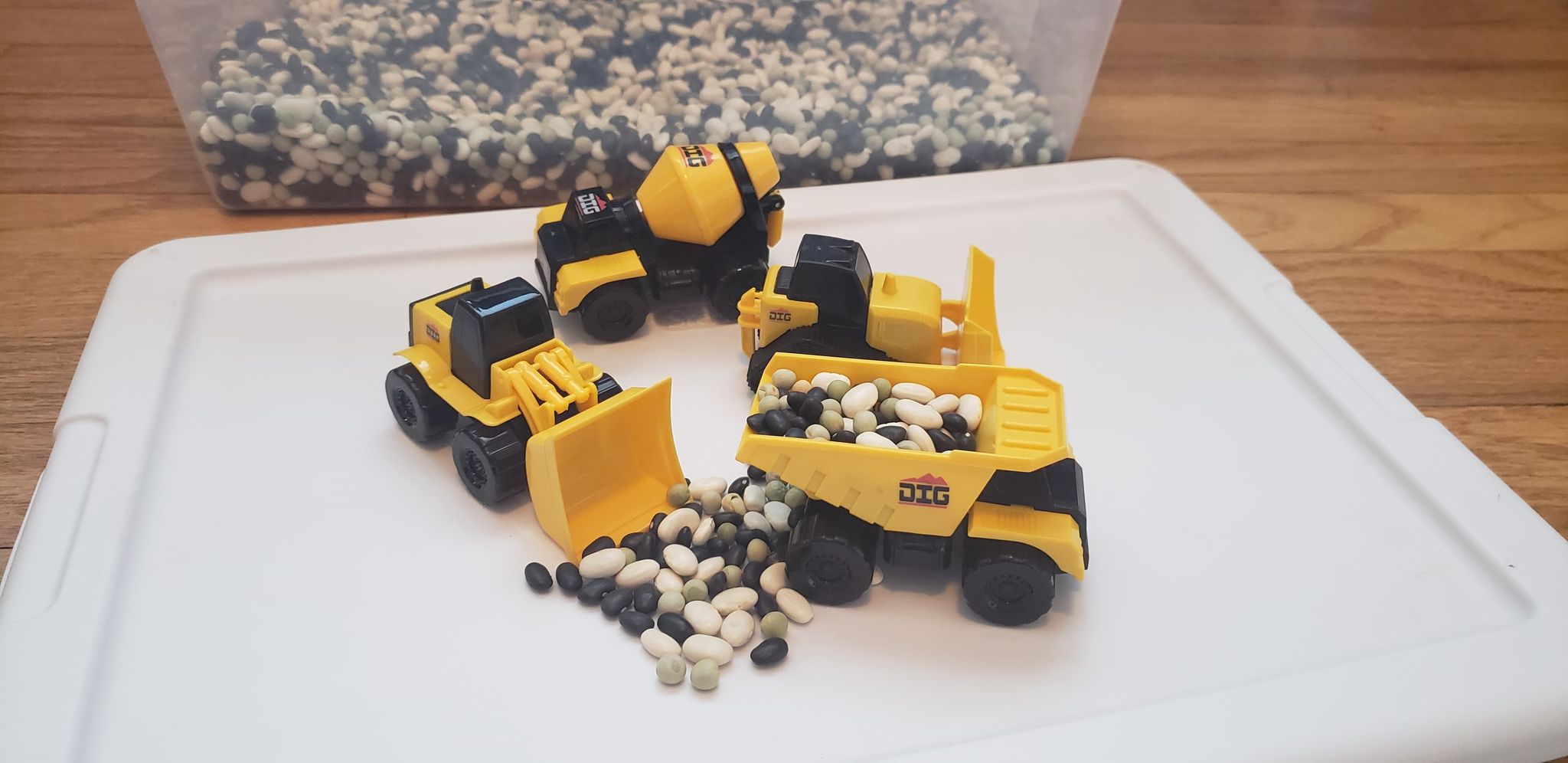 Don't want to buy anything new? No worries! Use vehicles you already have, or just use small scoops to act like a construction truck. Push like a pushy-thingy-truck (bulldozer! I finally got it!!), scoop like a digger, pour like a dump truck, The options are endless!
Encourage Independent Play, Or Play Together
Whenever I introduce a new sensory bin, I plan a little time to play with the bin with my son. He needs a little time to learn ways to play with it, and to see how fun it can be.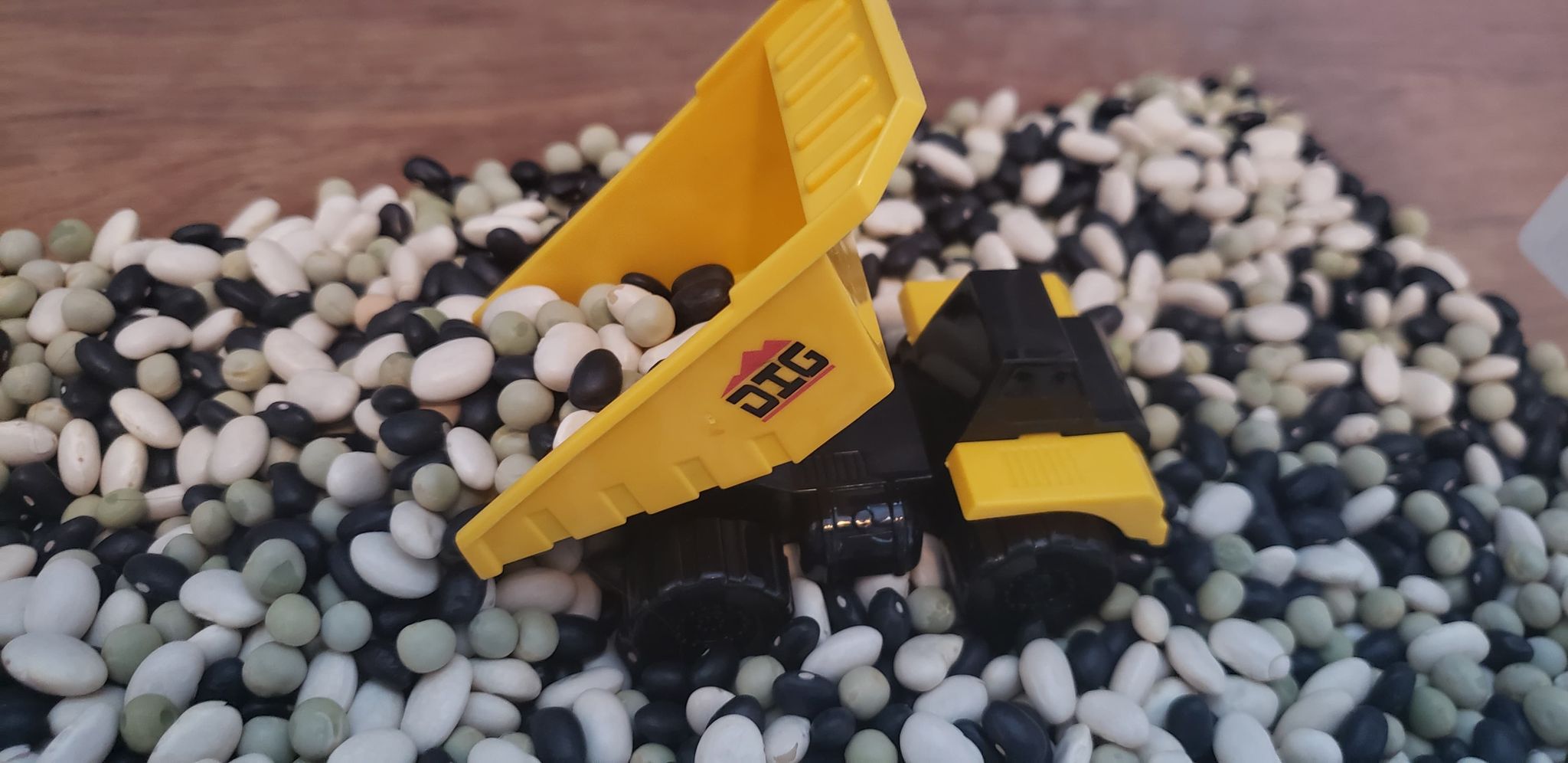 We go over a lot of the words that describe the play- forward, backward, the names of the vehicles that I have had to google but now know- and I show him how to scoop and pour if needed.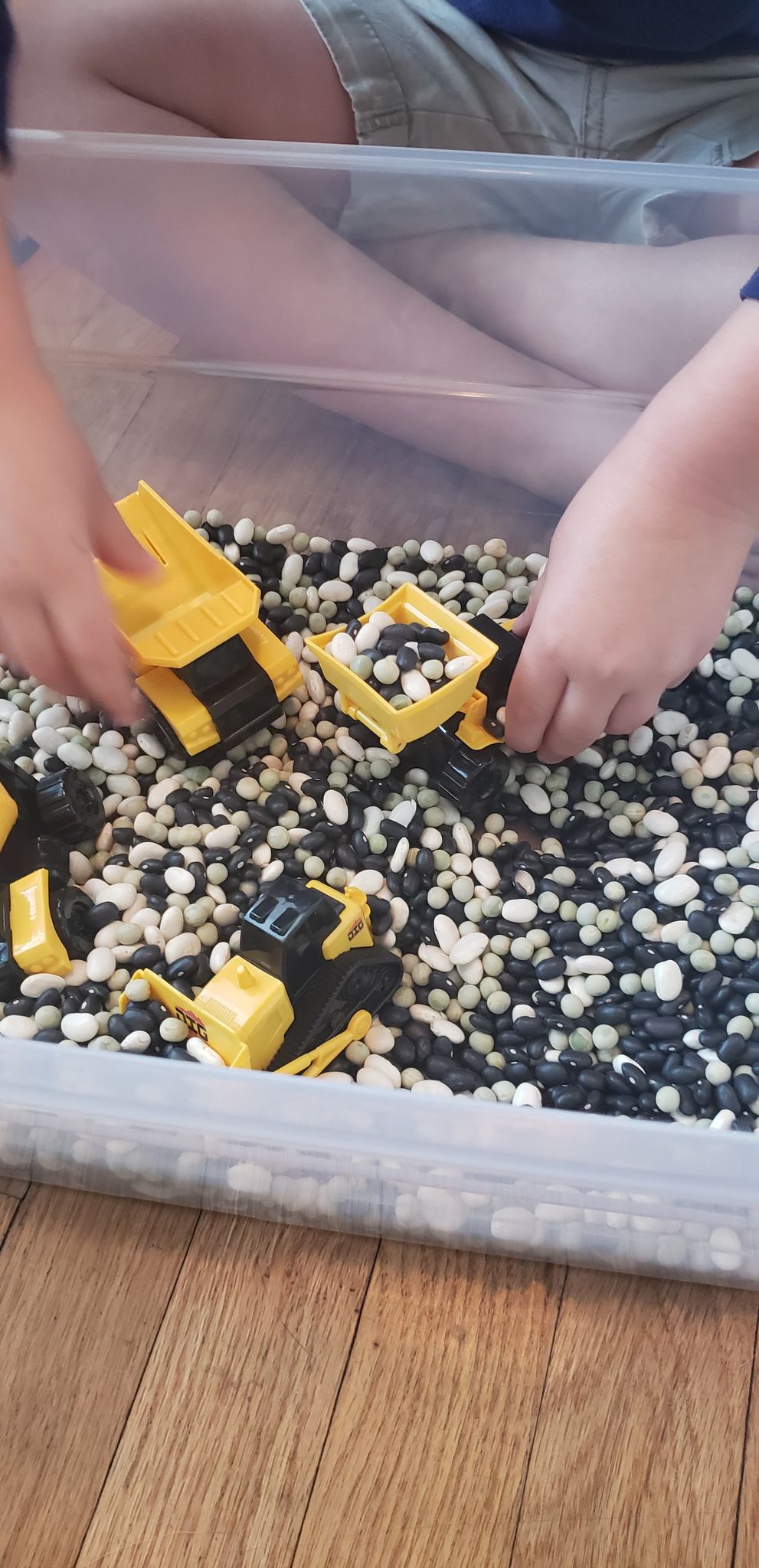 If your child is good at independent play, they may take over from here. Kids who are still practicing may need to see you build a mound, move materials, and play a little pretend with the vehicles ("hey, we need to move this pile of rocks to the new construction site! Bulldozer, can you help me?").
After you're done engaging with the bin yourself, try to step away. See if your child can continue the play on their own.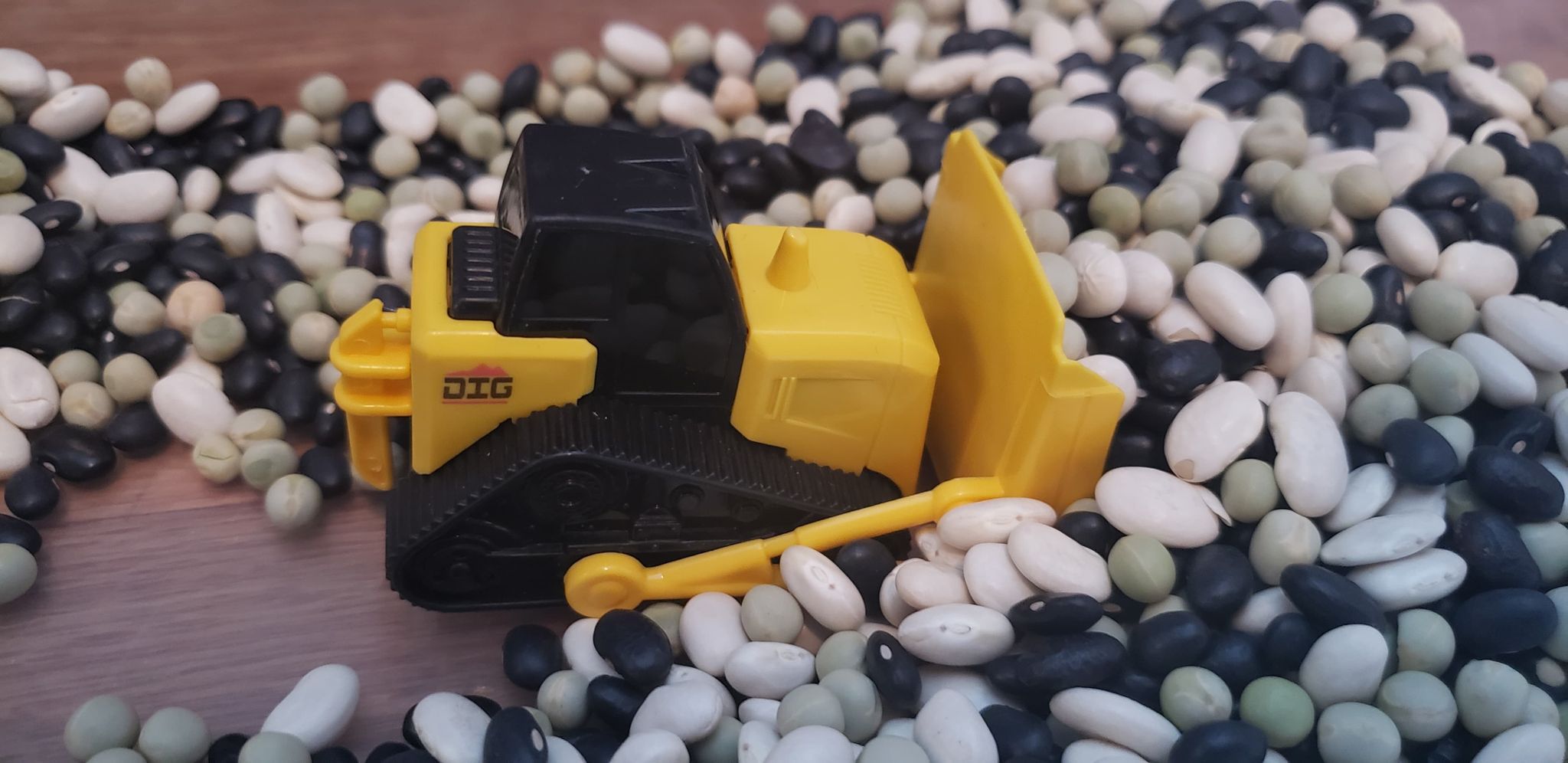 But don't go too far (See: "Small parts scatter" and "sensory materials do not go in our noses," above). Stay in the same room to keep an eye on things while you get some work or cleaning done, or, God willing, read a book).
*******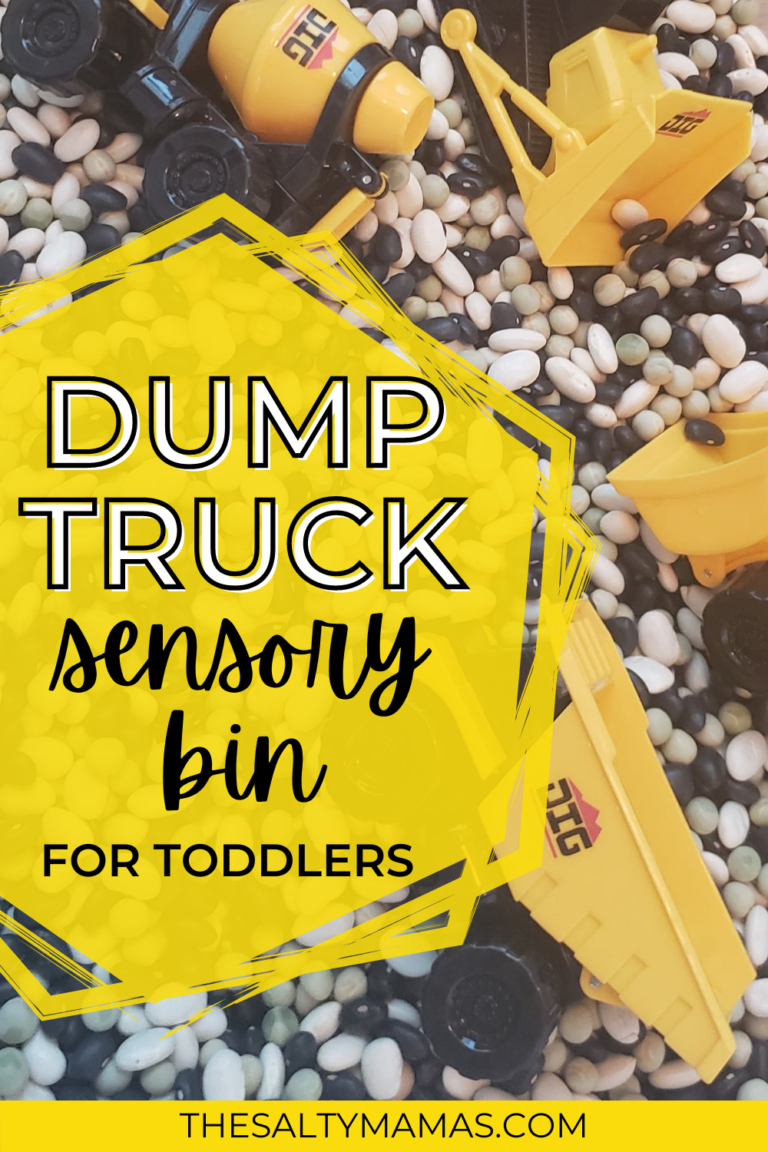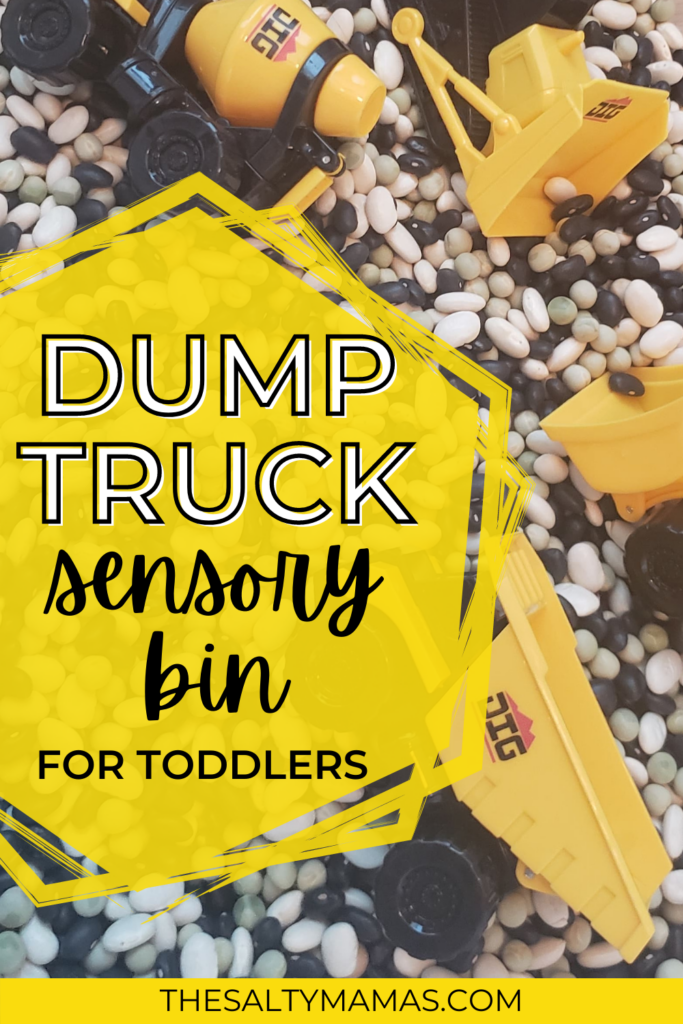 When you're done with play for the day, simply snap the lid back on your dump truck sensory bin and save it to play with another day. It's the perfect construction themed sensory bin for your own preschooler, or to compliment a transportation preschool theme.

Tried it? We'd love to hear what you used for filler in the comments!
Looking for more preschool fun? Head here next-
And don't forget to grab your construction vehicles-