Want to convince your toddler that art can be fun? Try this toddler boys' art project guaranteed to get your little guy (or gal) engaged, learning, and having fun with our muddy truck process art for kids.
Because I am both a lazy mom and a former preschool art teacher, I make a point to do process-based art projects for toddlers at least a few times a week. I just can't with a ton of prep, so keeping the materials simple is the way to go for us. And I want my kids to express themselves, but let's be honest- I'd really love to have some cute crafts for toddlers to hang on my fridge, too.
So imagine my dismay when Abe took the beautiful colors I presented him during a free-painting session and mixed them all into a muddy brown. But that muddy paint got me thinking, and I quickly set up this toddler boys' art project that even my rough and tumble little guy loved.
Add to it some toddler sensory play, and you have yourself an hour full of fun toddler activities without much prep at all. And you'll check a few items off of your Toddler Daily To-Do List while you're at it!
This project has three parts to it, but you could easily choose one or two to focus on and it would still be a hit. First, you'll let your toddler mix colors. Then you'll engage in some hands-on painting with unconventional materials. Finally, you'll finish up with some soapy, sudsy fun. Read on for the full details!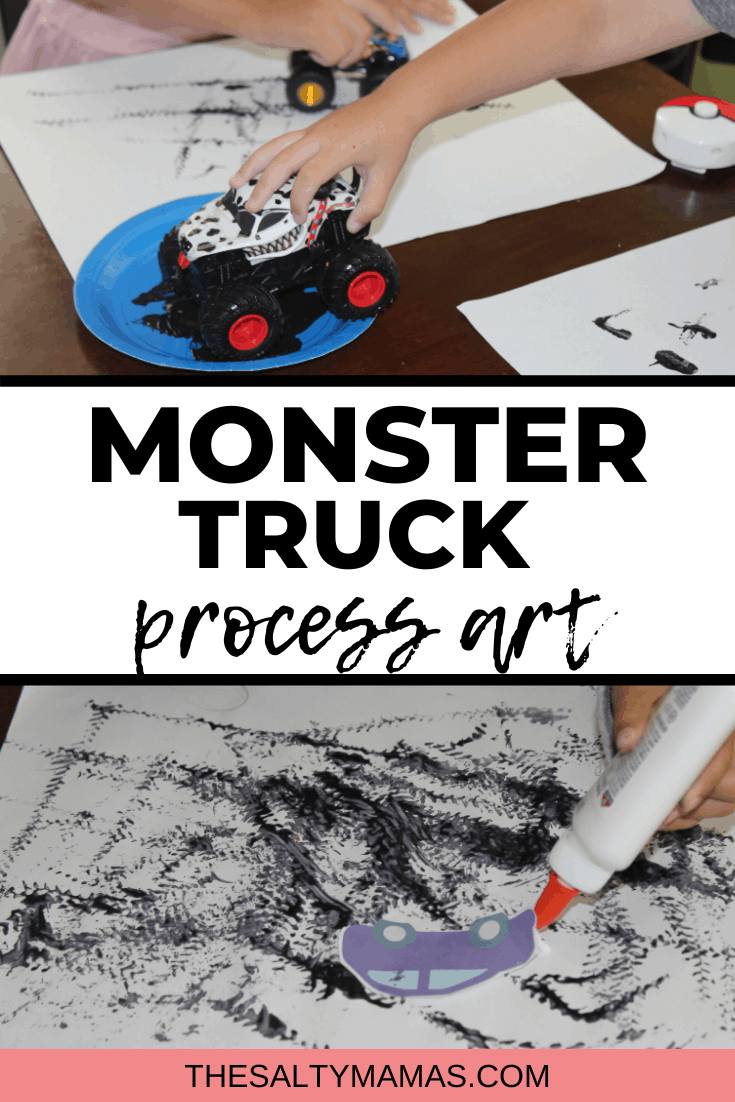 This post contains affiliate links. You can read more at our legal page. Thanks for your support!
Teach Your Toddler Colors- And Let Them Mix Them Up!
I began by putting three colors on Abe's paper plate, with the idea that he would put a few streaks of each on his paper. Instead, he immediately took his paintbrush and mixed all the colors together. The result is a deep, textured, and muddy brown. While this is usually a nightmare for me, for the sake of our activity, it creates the perfect color.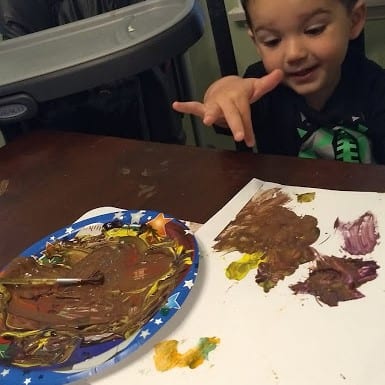 Take the opportunity to talk to your toddler about the colors you are putting on their plate (or in a bowl or pallete, if you prefer). See if they can name them, or have them point to or put the brush into each color as you say it.
Depending on how enthusiastic your child is, they might jump right into mixing the three colors together. But if they are willing to wait, there's a great opportunity to work on color recognition skills. First have them mix two colors, like yellow and blue, and let them see what happens. It's a great time to talk about secondary colors while they get hands-on experience swirling them together.
When you're done experimenting with two-color blends, have them mix all three together until the paint is a even-ish brown.

The Ultimate Toddler Boys' Art Project- Monster Truck Painting
Does your toddler love playing with cars and trucks? In this portion, they'll get to send their toys through the mud and onto the paper, leaving a trail of tire marks behind them! This part is bound to get messy, so put down a placemat or an activity mat, or just take the fun outside.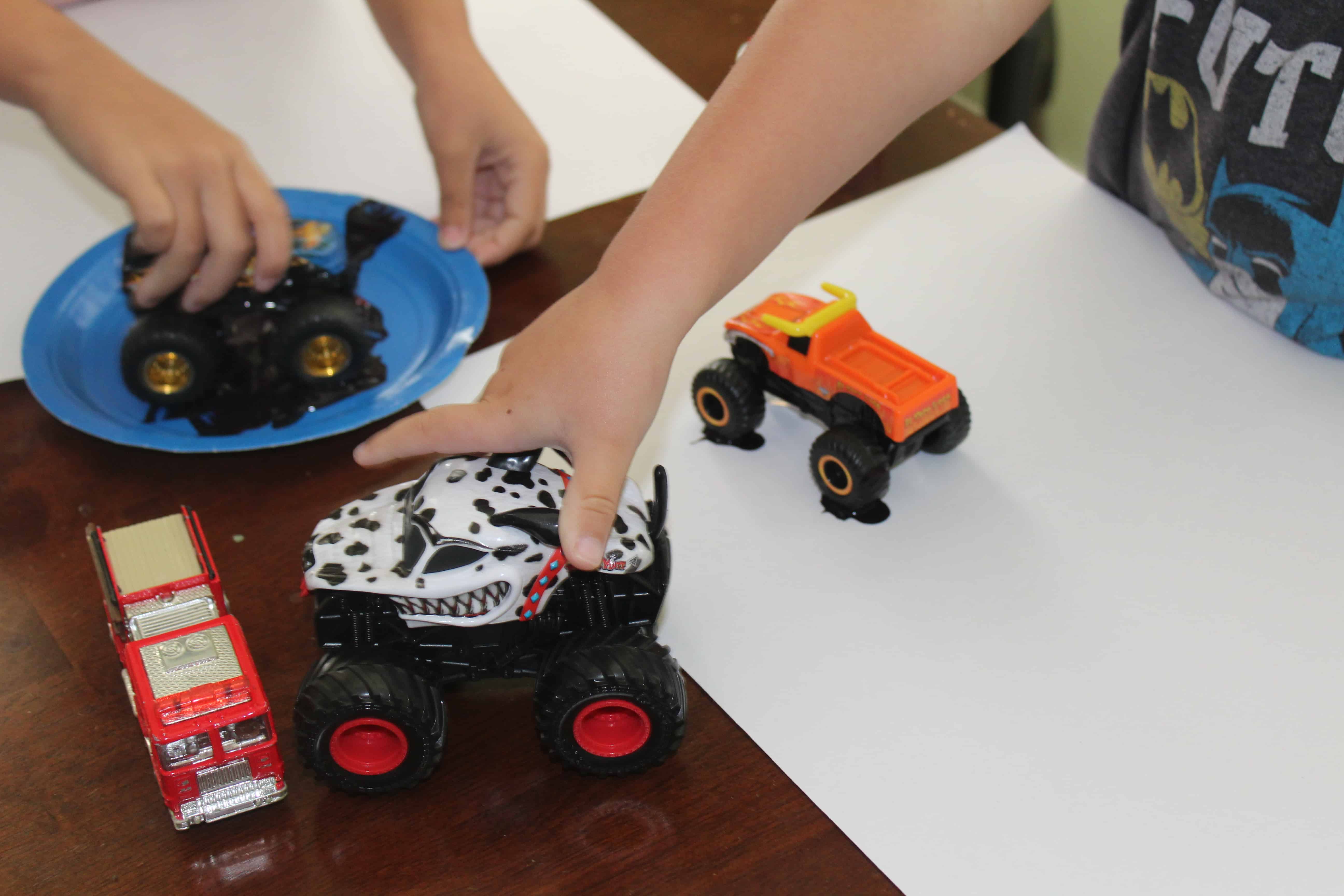 Choose trucks and cars with a variety of tires– some with lines, some with bumps, and some smooth. Invite your toddler to "drive" their vehicles through the mud paint, and then across their paper. Their paper will quickly become covered with muddy truck tracks, and you'll have a toddler boys' craft that matches their interests in no time!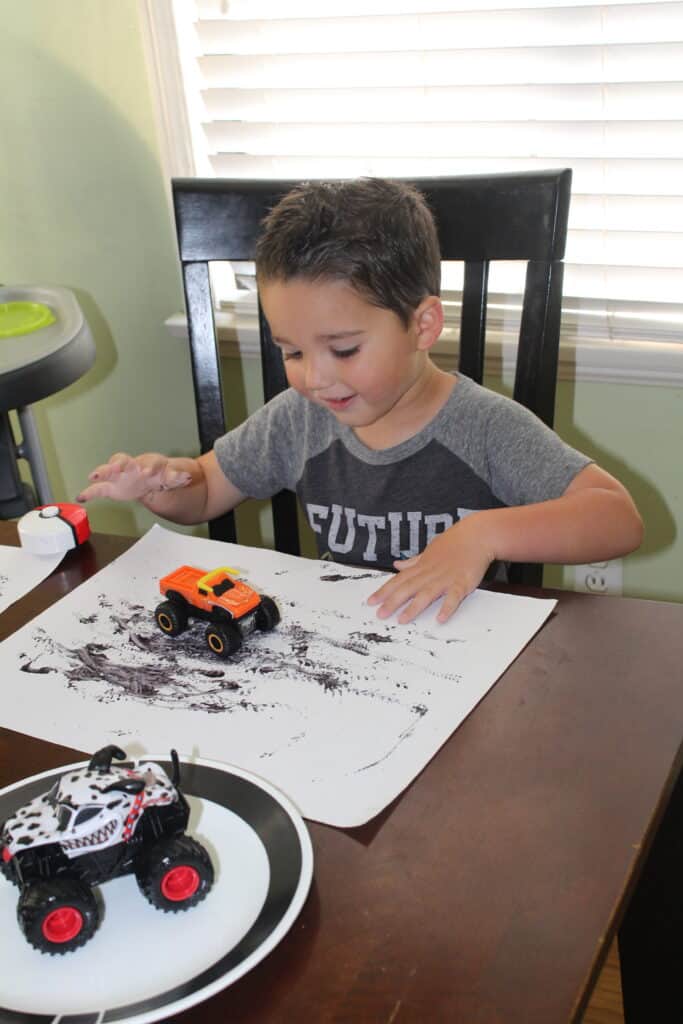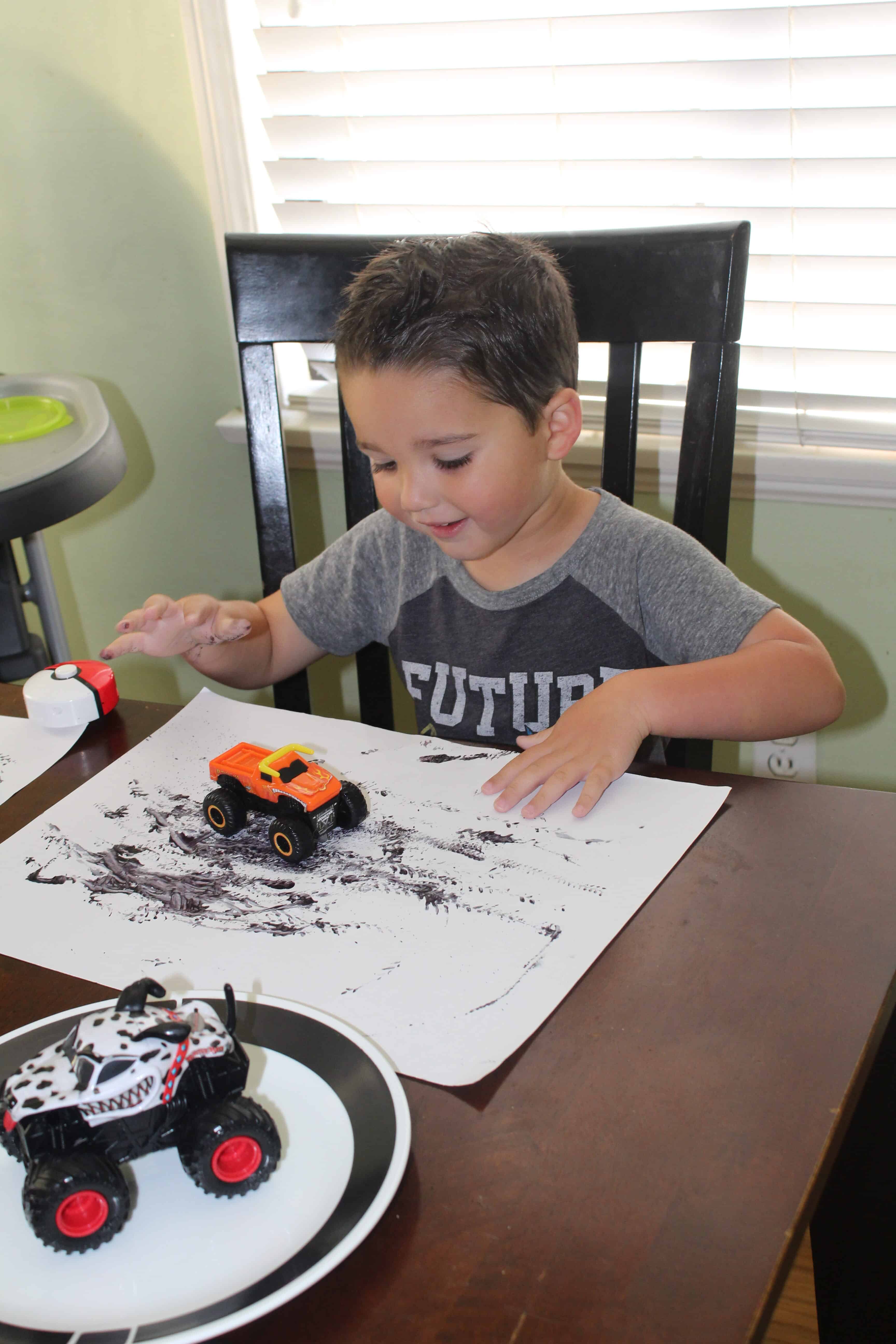 Add Some Cars to Your Process Art Painting
If you choose to leave the process art activity there, your kids will have had an amazing time experiencing color mixing, print making, and playing with different lines in the form of tracks.
Or if your kids are anything like my kids, they're going to ask to leave the monster trucks as part of a three dimensional art exhibit on your dining room table for the foreseeable future.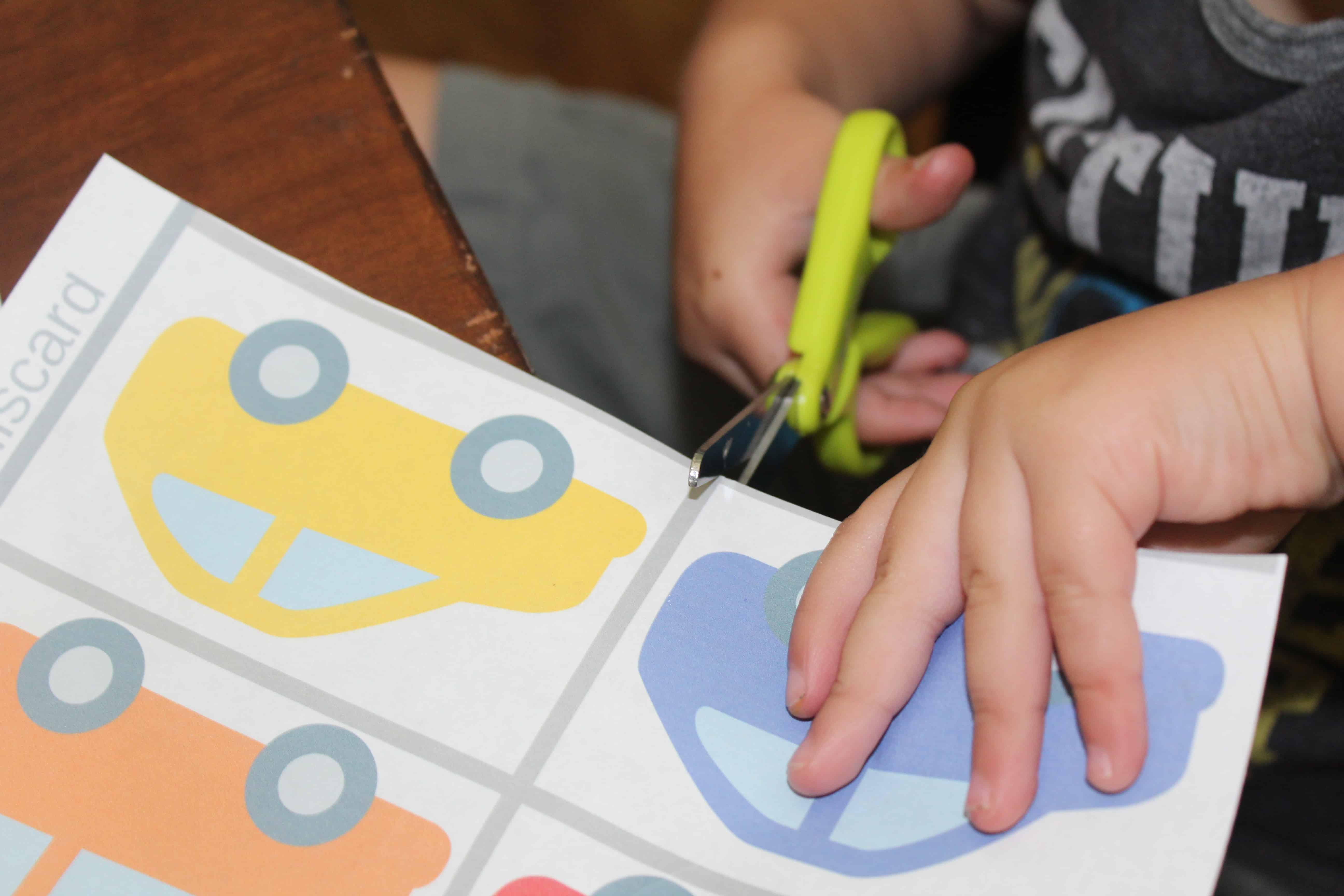 To avoid that, I had them cut out some race cars from our Transportation Printable Activity Pack. It's a great way to practice their scissor skills, without actually gluing any monster trucks to our paper in the process.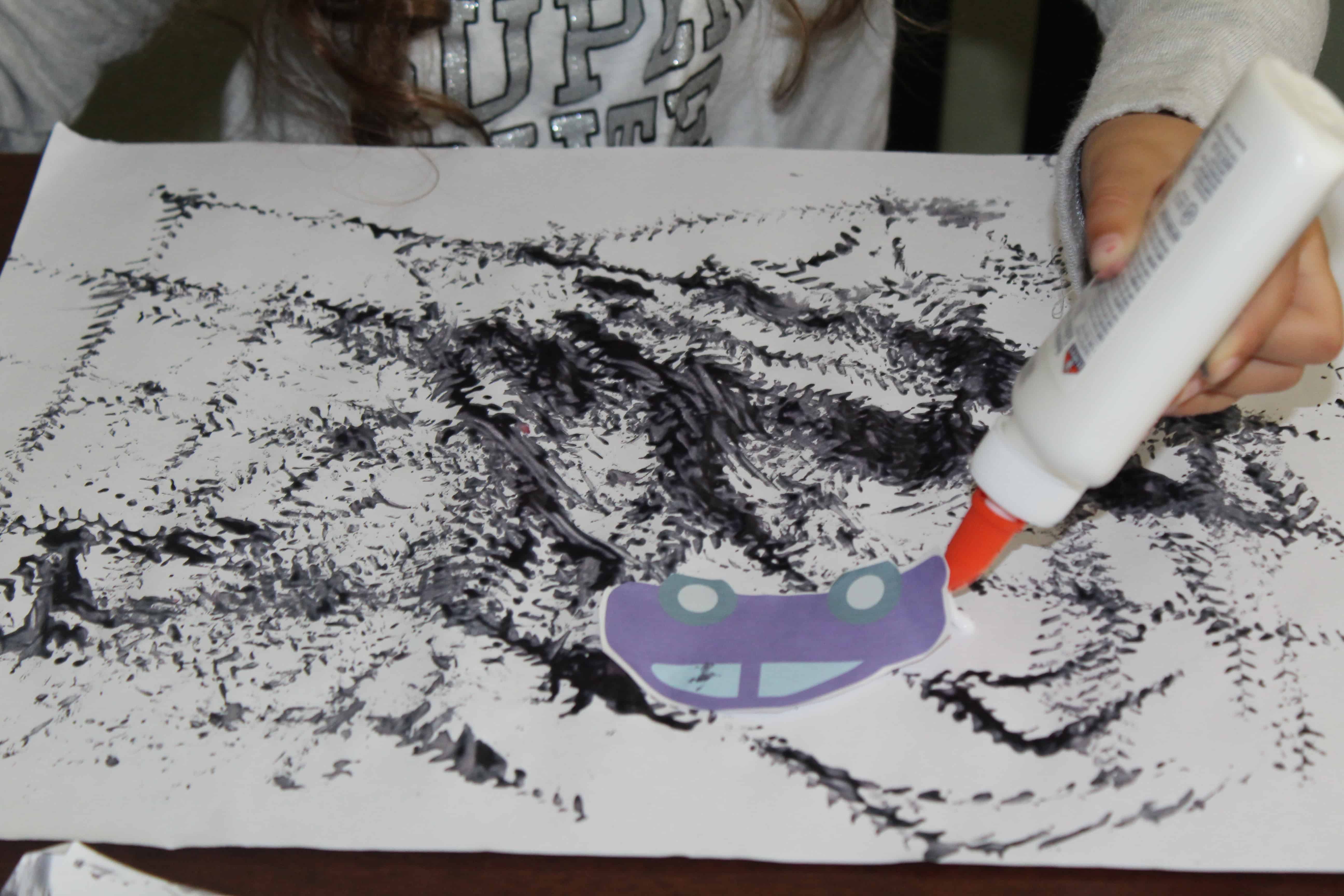 Set Up a Car Wash Toddler Sensory Play Station
At some point, your toddler is going want to include these cars and trucks in their play again. And we sure don't want muddy tire tracks on our living room walls! (Side note: choosing flat paint for my living room walls was the worst.idea.EVER.)
When your toddler boys' craft is done, you could just rinse the trucks off in the sink yourself. But why not let your toddler get in on the action, too? Water makes for great toddler sensory play, especially when you add in cars, suds, and simple tools.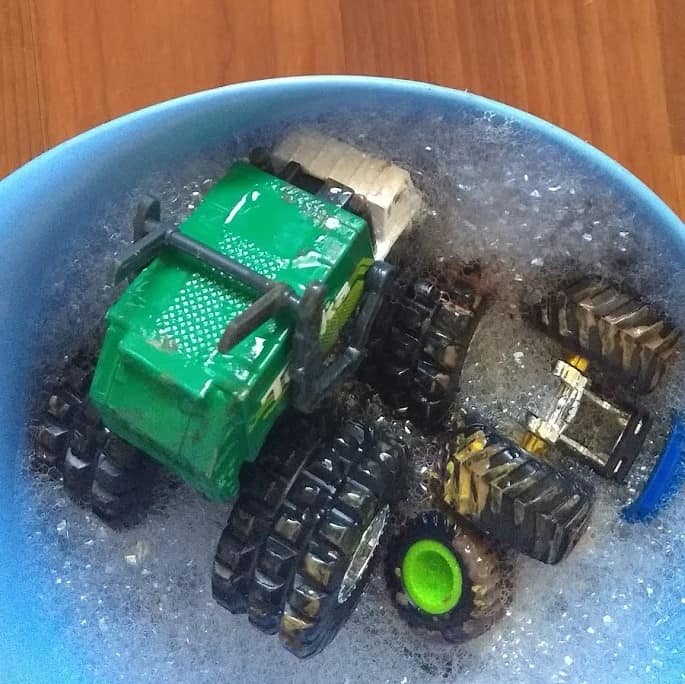 Fill a large bowl with cool, soapy water and set the muddy cars and trucks inside. You might want to do this activity outside, or on a towel if you're in the house. Alternatively, pull up a learning tower to the kitchen sink and let them clean the cars there.
You can let them use their hands and the water to wash the paint off of their toys, but adding a toothbrush or dish scrubber adds an extra layer of fun (and a fine motor activity for toddlers, too!).
Have your kiddo spin the wheels, scrub the undercarriage (is that a thing? This #boymom has a lot to learn!), and rinse those trucks until they're nice and clean again.
Related Post: No-Fail Fluffy Slime
*******
With pretty much no prep and very few supplies, this is a toddler art activity that can be repeated again and again. Our Muddy Monster Truck toddler boys' craft (and girls' craft!) is sure to be a favorite that they'll be requesting again soon! What do you think? Would your kids love this? Tell us in the comments!
And are you following us on Pinterest yet? We've got a whole board full of art activities your kids are sure to love!
Looking for more art projects to do with your kids? Check out these great ideas next!
Recommended for You: