Need a cheap, easy neighbor gift idea (that helps avoid spreading germs around?) Check out this easy neighbor gift idea, and grab your free printable Christmas treat bag topper (sized for standard treat bags!)
This year, Christmas is looing a little different. I mean, first there is the whole stay-home-by-yourself thing, and then there's the mask thing. But there are some traditions we really want to stay the same this year, and giving small gifts to the neighbors is one of them.
In traditional years, the people in my neighborhood usually bake for each other. Some deliver cookies, others bring their signature peanut butter fudge, and a favorite neighbor of mine brings her A game with bottles of her handmade holiday Sangria (my neighbors > your neighbors).
This year, with additional safety precautions, we had to get a little creative to find a cheap, easy neighbor gift that would help keep our neighbors safe while keeping the Christmas spirit alive.
Read on for an easy, no baked-goods neighbor gift your block is sure to thank you for!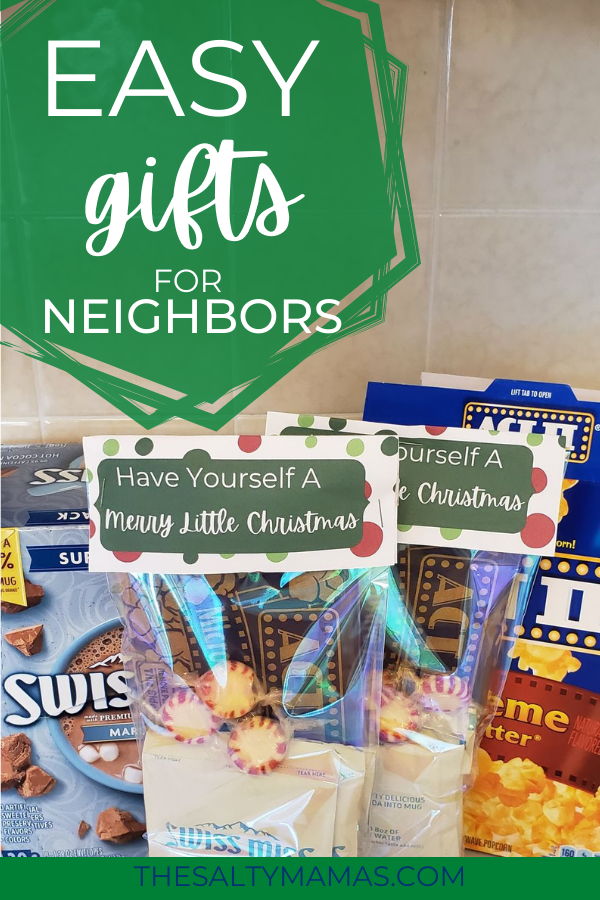 This post contains affiliate links. You can read more at our disclosures page. Thanks for supporting The Salty Mamas!
A Cheap, Easy Neighbor Gift (That Won't Spread Germs!)
This gift was originally designed to help spoil our neighbors a little (without passing germs around in the dumpster fire that is 2020). However, if you're not inclined to bake, this would be a great, easy neighbor gift idea for any year.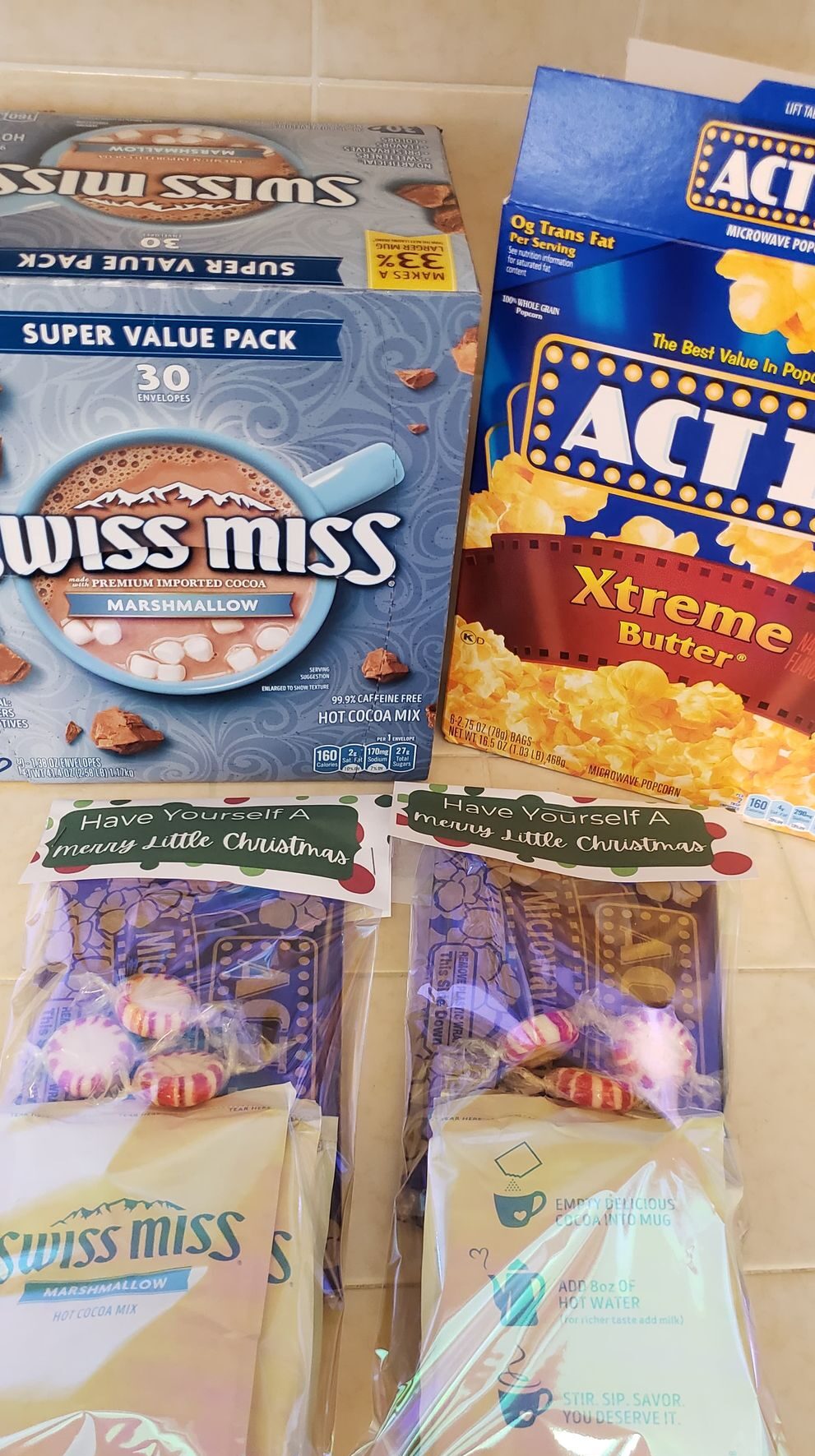 And if you buy your cocoa and popcorn in bulk, it is definitely affordable. These bags cost be about $10 for 8 families, which can't be beat!
Get 5 inch Christmas Treat Bags
First up, you're going to need to grab some 5 inch treat bags. (Really, any treat bags, or even large Ziplocs will do. However, since our treat bag toppers are optimized for 5 inch bags, it's what we're recommending).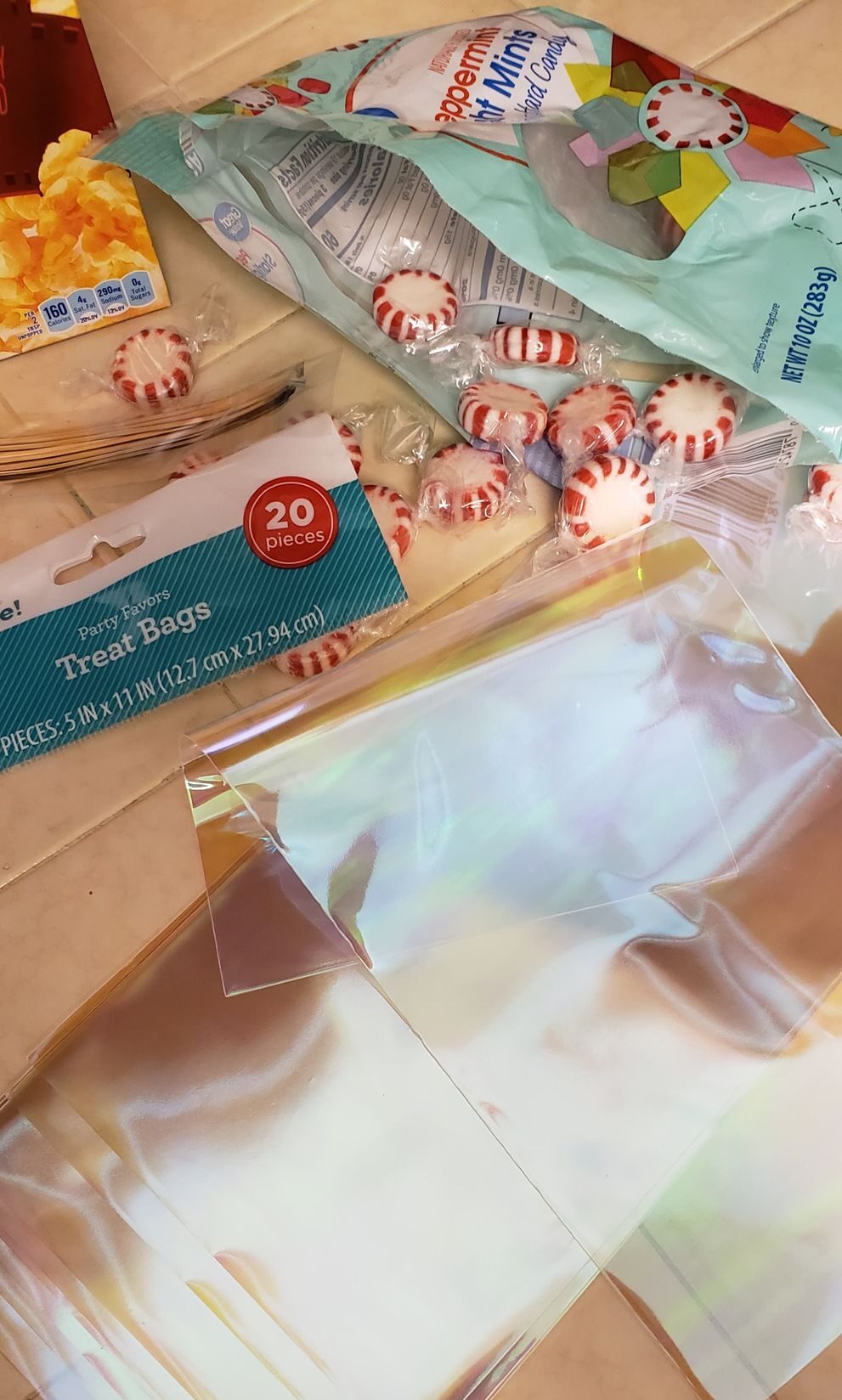 These are the kind of treat bags they sell at Walmart or the Dollar Store, and are used for goodie bags or for collecting candy from the pinata. You can grab a more festive version on Amazon if you'd like to have them delivered straight to you.
Print Up Our 5 Inch Christmas Treat Bag Toppers
When we were searching for Christmas treat bag toppers for ourselves, we noticed that the vast majority of Christmas bag toppers are sized to go on top of a Ziploc bag. And that's great if you're using Ziploc bags, but if you're not…well, that's kind of a problem.
So we designed these sweet 5 inch wide Christmas treat bag toppers to use, and decided we'd share them with you, too! Click through to grab your own Christmas treat bag toppers.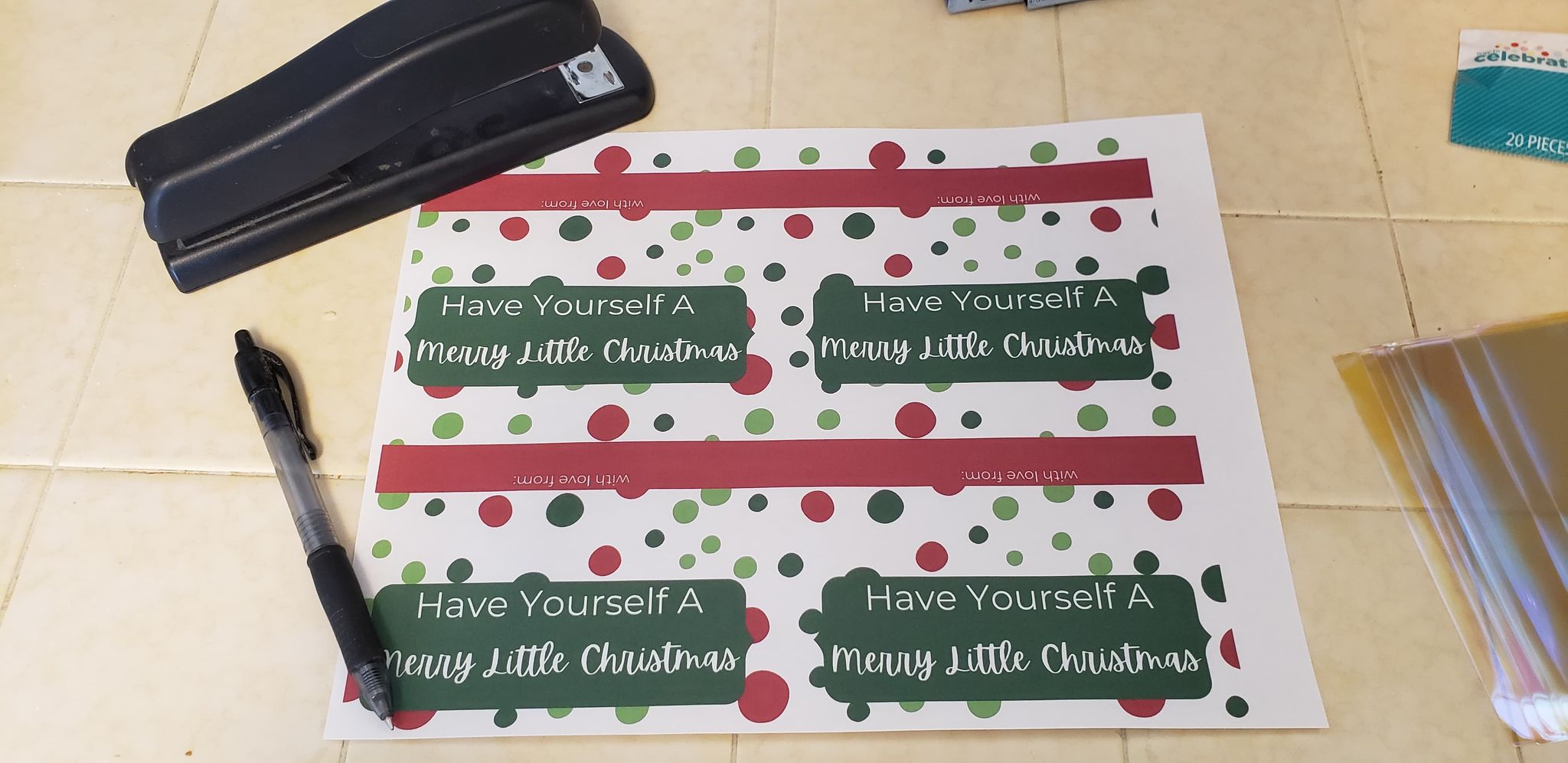 They will print 4 per page, and you can print them either on regular paper or cardstock (I used regular paper, since I figured they would just get thrown away in a minute, anyways).
Write your name on the toppers, cut them apart, and fold them in half. Hold onto them until you have your bags fully stuffed.
Neighbor Gifts Using Hot Cocoa
We bought a huge box of Swiss Miss Hot Cocoa packets for around $5. Separated carefully (they will definitely open up and spill cocoa everywhere if you're not careful!), they will have enough for several households on your street.
Add one cocoa bag for each member of the household. If you don't have enough to go around, you can also just slip in one for each of the kids.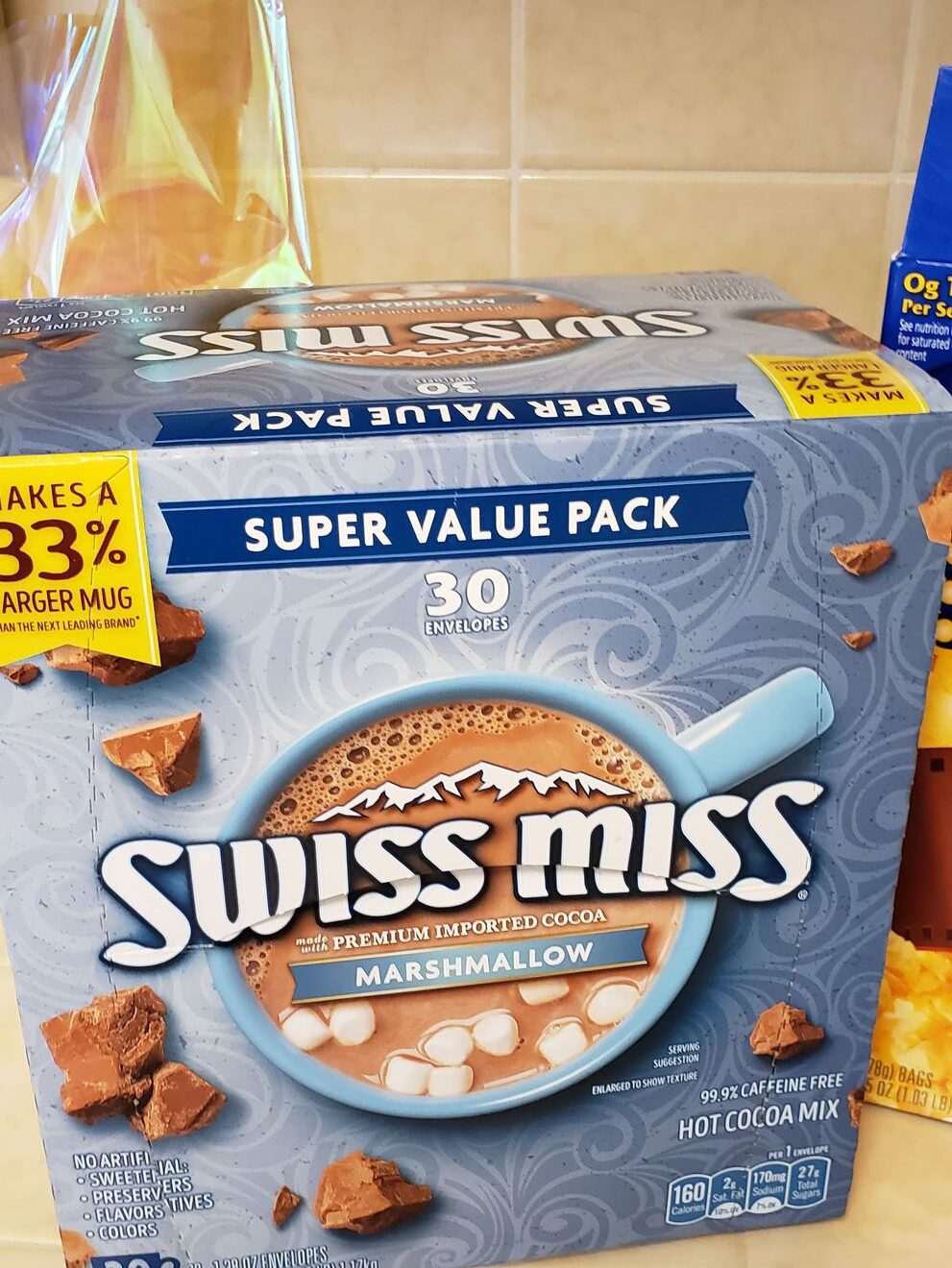 If you'd like to be fancy, you can also give gourmet hot chocolate packets in various flavors. I happened to have some peppermints lying around, so I figured people could drop in a peppermint to give their cocoa some extra flavor if they'd like (and they added a much needed pop of color).
Popcorn Gifts for Neighbors
I also had maybe hoarded some popcorn on my last trip to Walmart, leaving me with twelve extra bags of microwave popcorn. (Don't judge me. It's holiday movie season.)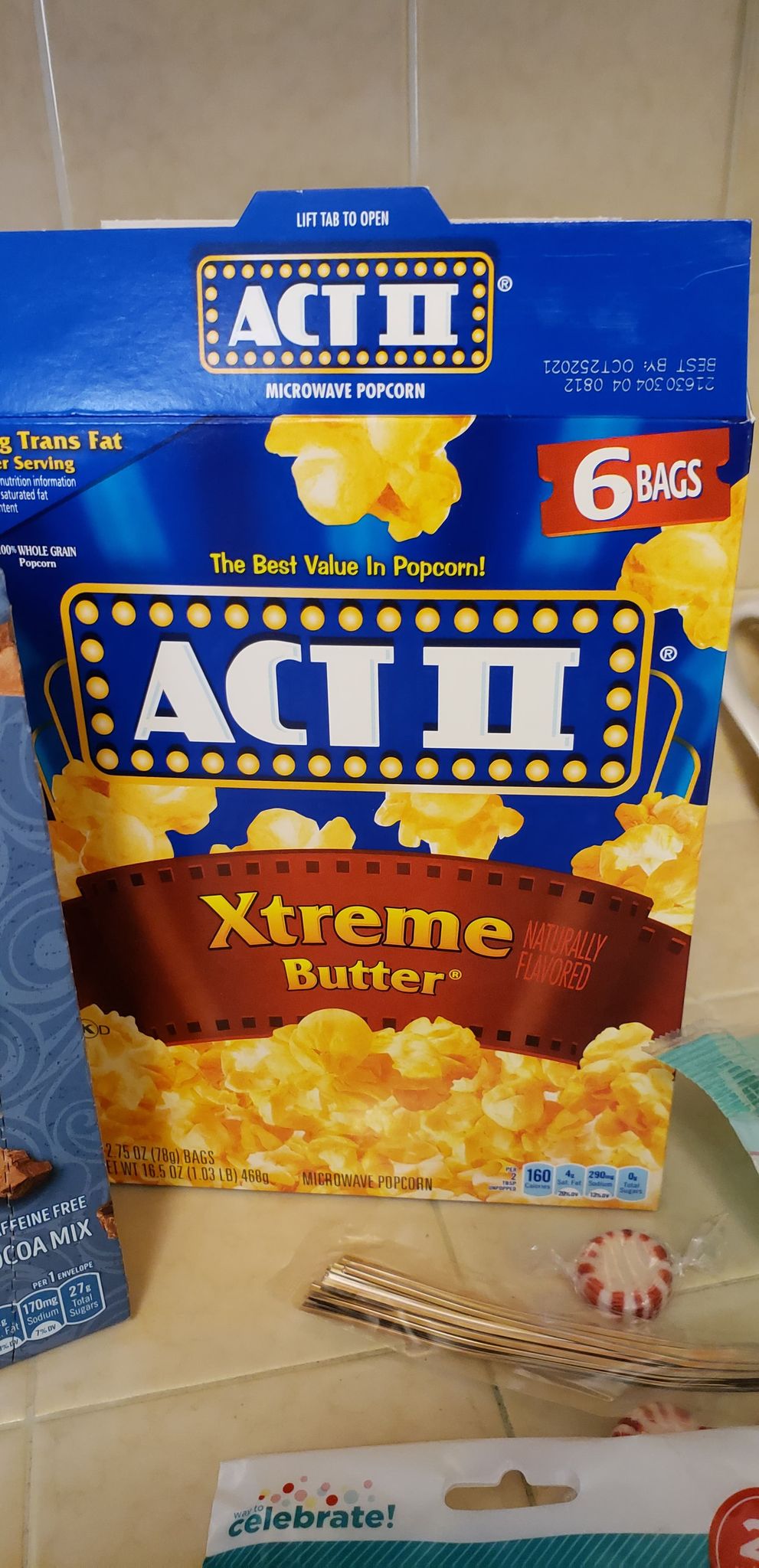 I slipped in a sealed bag of microwave popcorn into the back of each pack. I was a little worried they wouldn't fit into my 5 inch treat bags, but when inserted vertically, they actually fit perfectly.
Add In Some Extras to Make Your Neighbor Gifts Special
There are lots of ways to customize your easy neighbor gifts. You can toss in some peppermints like I did, or swap them out for these freaking adorable candy cane spoons. Sprinkle in a couple of Hershey's kisses, or other candies for your neighbors to enjoy while they sip their cocoa.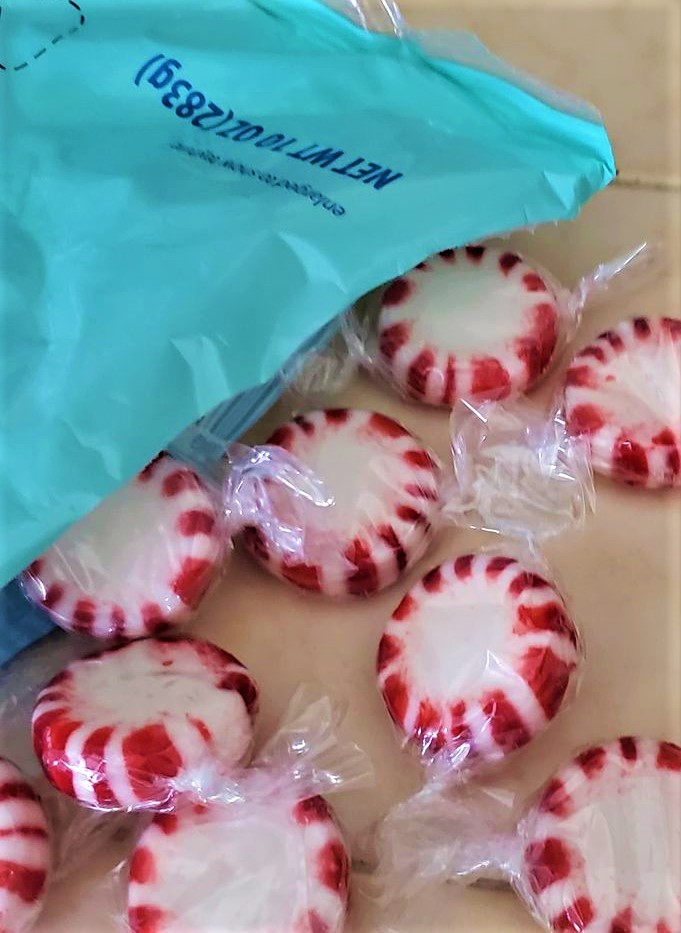 We think these popcorn seasonings would make a great addition to the bag, and a fantastic way to make your neighbor gift a little more unique. There's also plenty of room in the 5 inch bag to slide in the seasoning in front of their popcorn.
Lastly, we think mini bottles of Baileys would make a fantastic addition to your cocoa neighbor gift. (You'd have to know your neighbors pretty well for this one, but it is definitely an upgrade for those adults who imbibe!)
Attach Your 5 inch Christmas Treat Bag Toppers
Fold the 5 inch Christmas treat bag toppers you prepped earlier in half horizontally. Place them over the top of the 5 inch treat bags, with the "with love from" on the back of the bag, and the "merry little Christmas" on the front.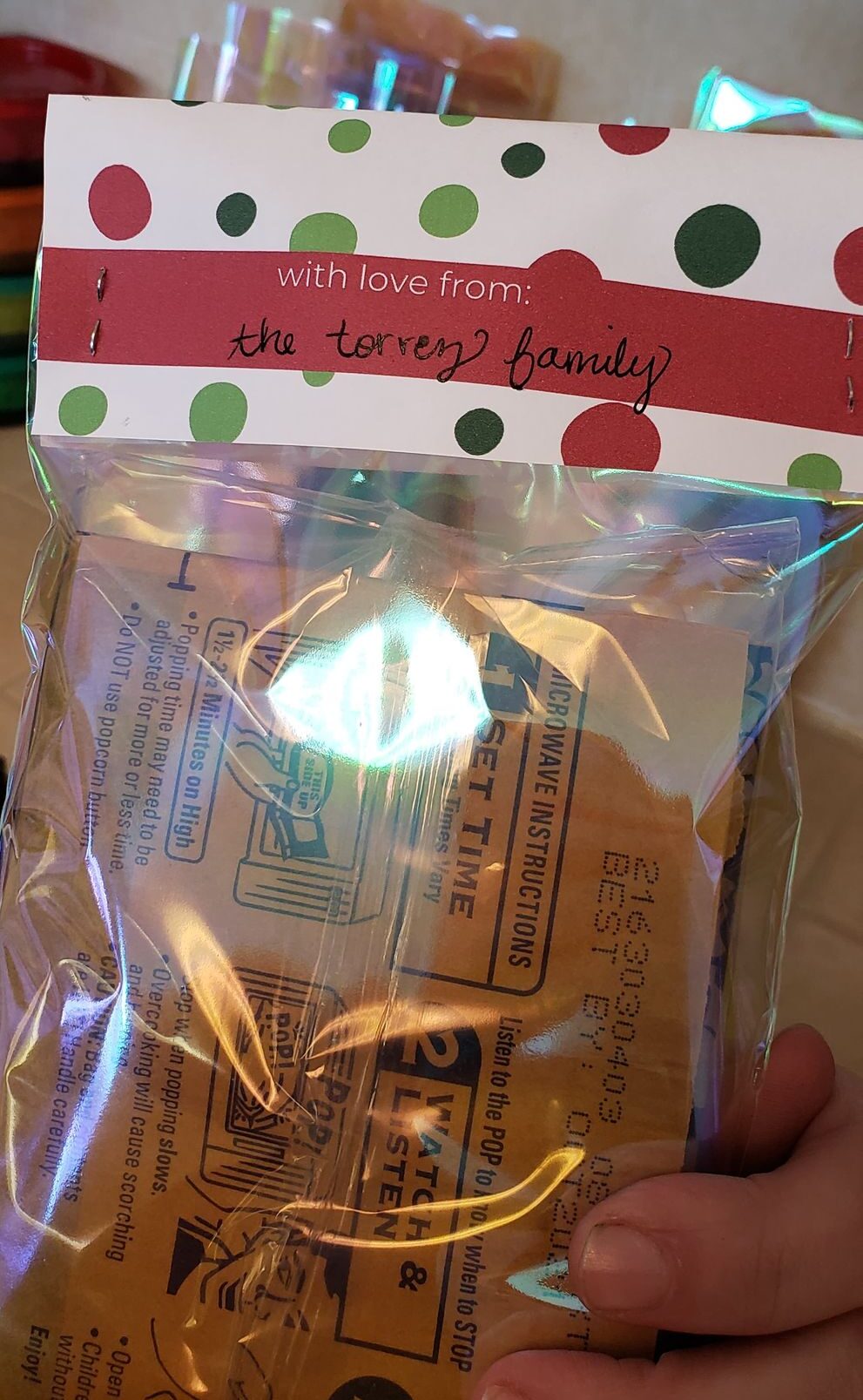 I tried a few different ways to staple these. You can put one staple in the middle (that's probably the easiest way). However, I think it looks a little better with two staples, one on either side (arrange your stapler so the staple will be vertical to make it less noticeable).
That's a Wrap! Your Cheap, Easy Neighbor Gifts are Done!
And that's it! I think this project took me all of ten minutes and $10 to get gifts assembled for all of our neighbors. It was a great solution for a weird year, and it helped show our neighbors we're still here for them in whatever ways we can be.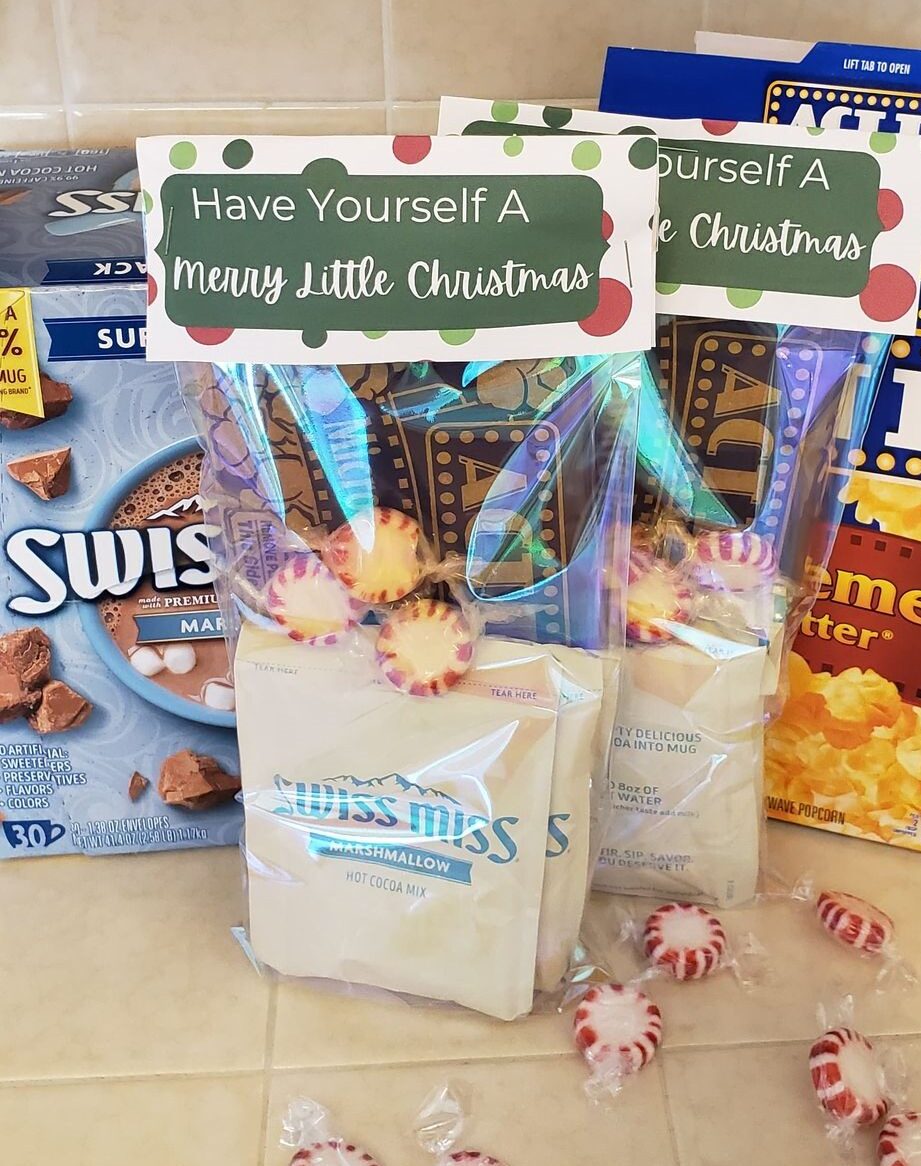 *******
With a little assembly (but not much time!) you'll have a thoughtful neighbor gift that is cheap, easy, and thoughtful. Add extras to your bag to make it your own, and drop them off on your neighbor's doorsteps for a happy surprise to make their evenings just a little cozier.
Do you exchange fits with your neighbors? What's the best neighbor gift you've ever given (or received?) Tell us in the comments!
Looking for more ways to spread Christmas cheer? Head here next-