Kids over coloring, but still need something to kill time before the food arrives? Want to keep your kids off tablets and phones while you wait? Check out these fun screen free games to play at restaurants!
Every Saturday morning, my family picks one of our favorite local restaurants and goes out to breakfast together. There's seven of us, so it's safe to say that the meal is a little chaotic. But we've got it down to a pretty good system.
We have our "assigned seats." We usually know just about what everyone wants to order before we even get there. Our "regular" servers definitely know that I need a giant cup of coffee almost immediately.
And we are going to bust out some sort of entertainment until the food arrives.
For a long time, this meant we either relied on the restaurant provided crayons and kids menu or brought our own books and crayons. Eventually, my kids tired of the crayons and we had to get creative.
We wanted to keep the screens out of the restaurant, so tablets or phones were out. My kids love playing games, but we're not about to set up Mouse Trap or Candyland in the middle of a restaurant! So I went on a quest for the best screen free games to play in restaurants.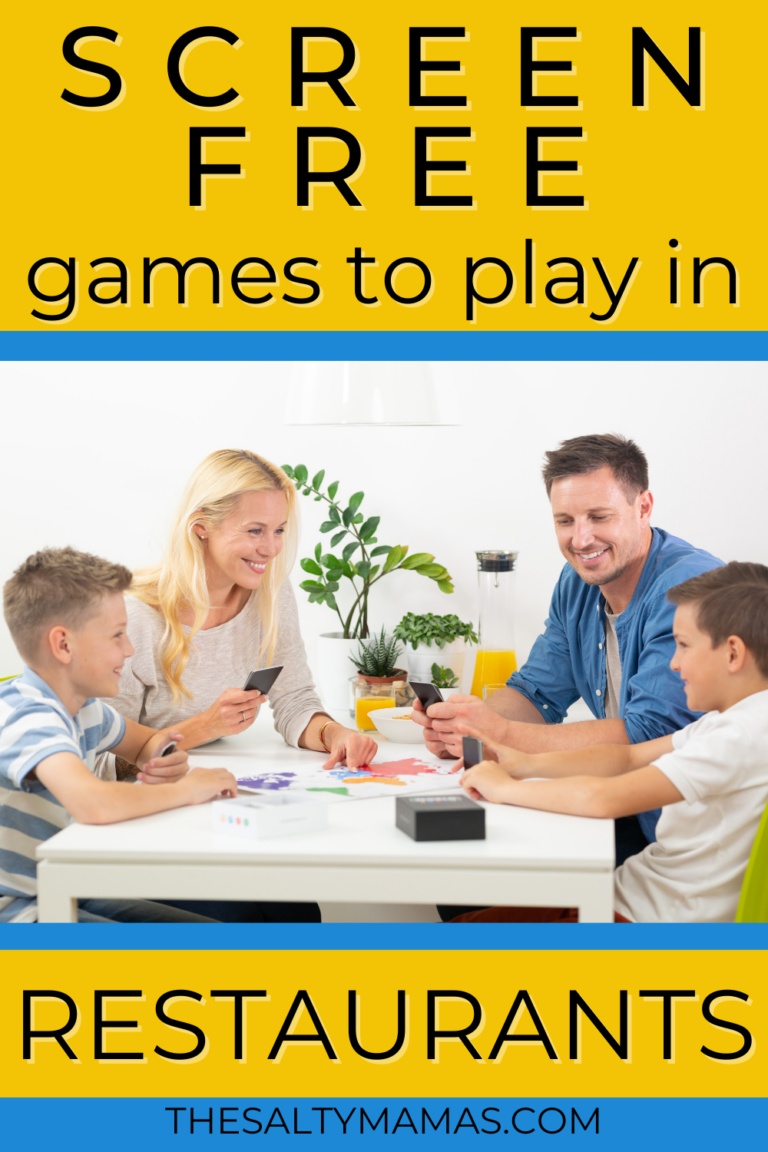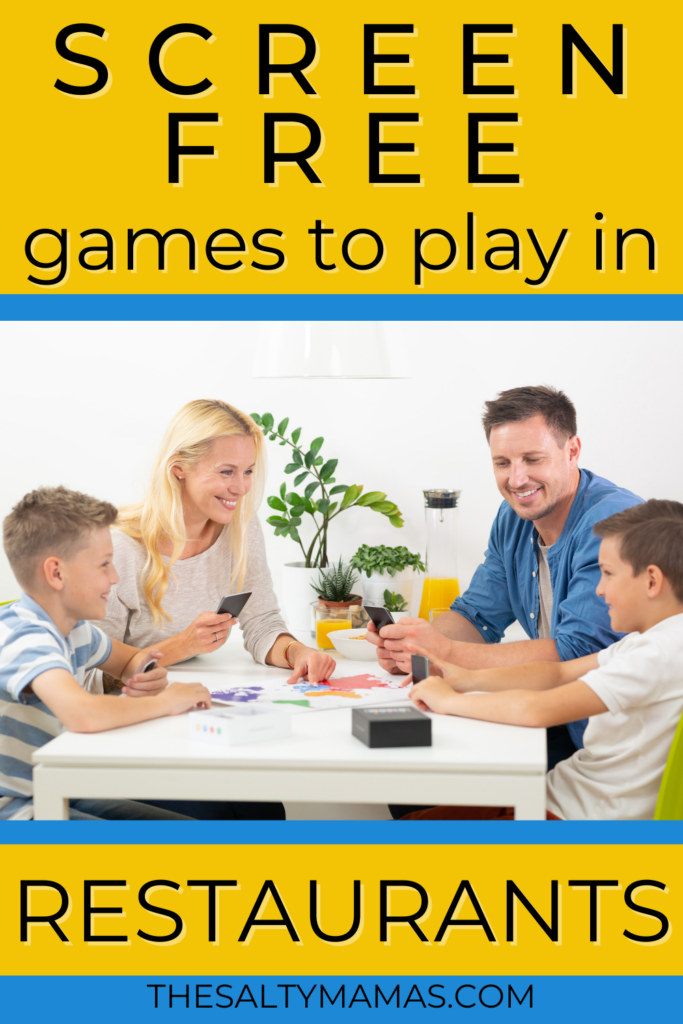 This post contains affiliate links. As Amazon affiliate, we may earn from qualifying purchases. You can read more at our disclosures page. Thanks!
Card Games
This easy kids game is enjoyed by kids of all ages. Find the two items that match on any two cards. Be the first to find the match, and you win! This simple game can be played many different ways – including in close quarters! The game doesn't necessarily have a start or an end point either, so "highest score when the food arrives!" is an easy way to finish up!
Available in lots of fun themes like Marvel Emojis, Harry Potter, Star Wars – The Mandalorian, and Spot It Junior, Animals – for even younger players!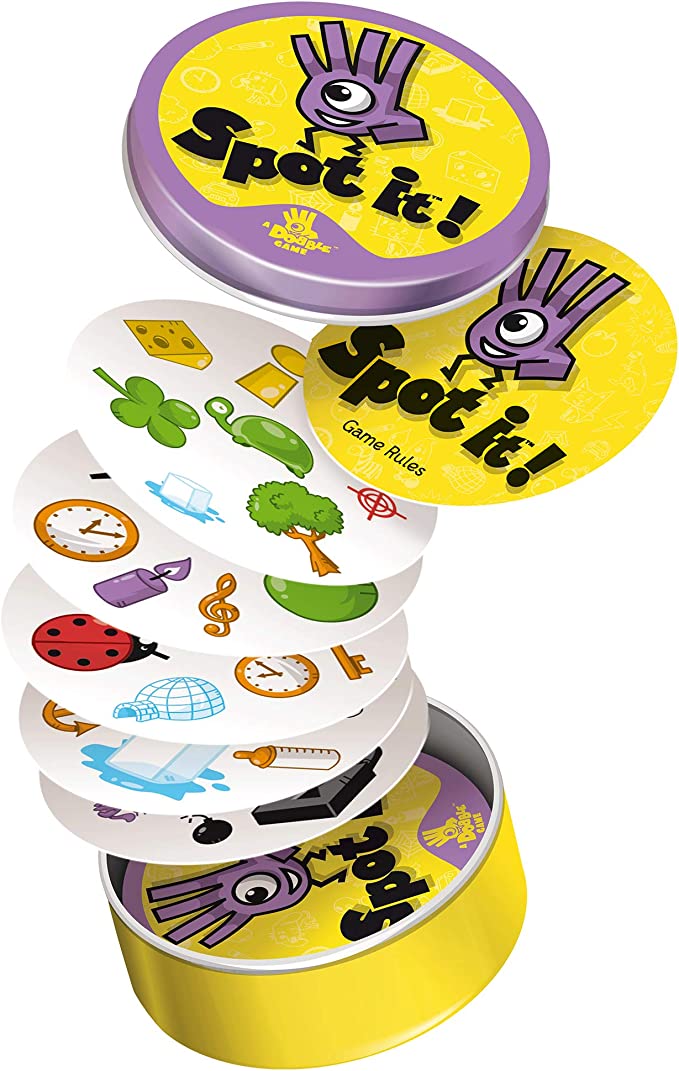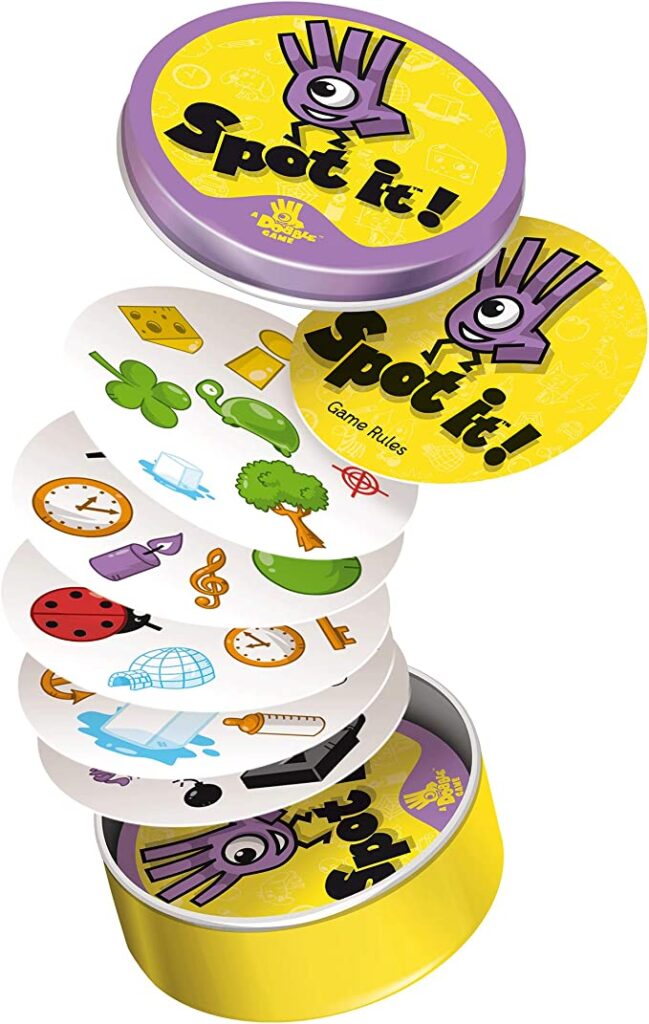 We love Rat a Tat Cat because it's easy, can accommodate 6 players, and has relatively short rounds. Oh – and it develop some basic mathmatical skills and strategy!
Add up points each round – lowest points when the game is over wins! When is the game over? Whenever you want! Decide to play a specific number of games, or until your food arrives!
This game may take up a little more space than some others, but it's FAST and kids of almost all ages can enjoy it! Rather than lay the cards out in an organized grid, at a restaurant we put all the cards in a big messy pile. Then it's just taking turn flipping cards. It takes basically no skill, but will have your kids giggling so much they'll forget they're waiting for food.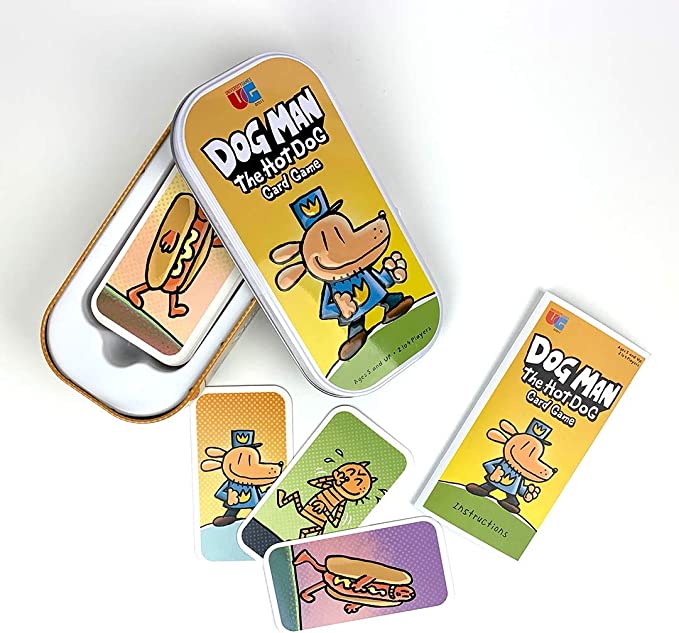 This card version of the classic game Rock Paper Scissors is the perfect addition to your fast paced card game collection. Deal out your cards and challenge your opponent. As fun added entertainment – each card contains a fun fact about sharks, aliens or zombies!
Kids done playing cards? Then they can move to telling jokes! Every card also has a joke, so there are 100 laughs inside as well!
Kids of all ages will love looking at these adorable puppies and deciding which one fits the name the best! Or, go off script and make up your own names! However you choose to play, your kids will be distracted and entertained while you wait at a restaurant.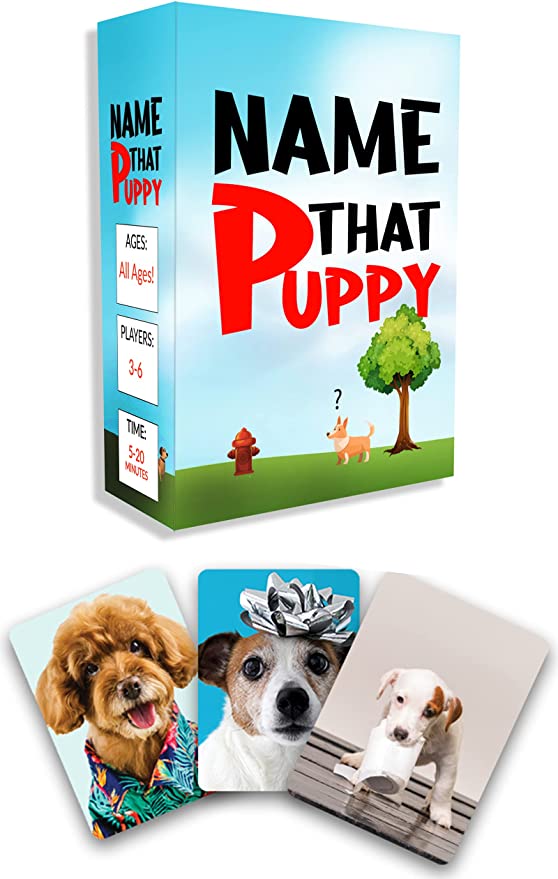 Small Board Games
We recently went on a cruise, and my kids got BIG into chess! Every night, they would bring their magnetic chess set to dinner and play between ordering and when their food arrived. If they were in the middle of a game, they could put their board to the side and the pieces stayed in place thanks to their magnets.
Bonus points for all the positive comments we got from other diners for having our kids do such a classic, wholesome activity while they waited!
We love playing Battleship in a restaurant for a few reasons. First, Battleship packs up in it's own case for each player, so it doesn't take up a ton of table space. Second, players don't have to be able to reach a central board. With each player just having to move pieces on their own portable battle case, it's a great game to play across a table or from opposite sides of a booth.
Plus, it's super easy cleanup since you don't need to bring a box. The case IS the board and holds all the pieces! Win-win!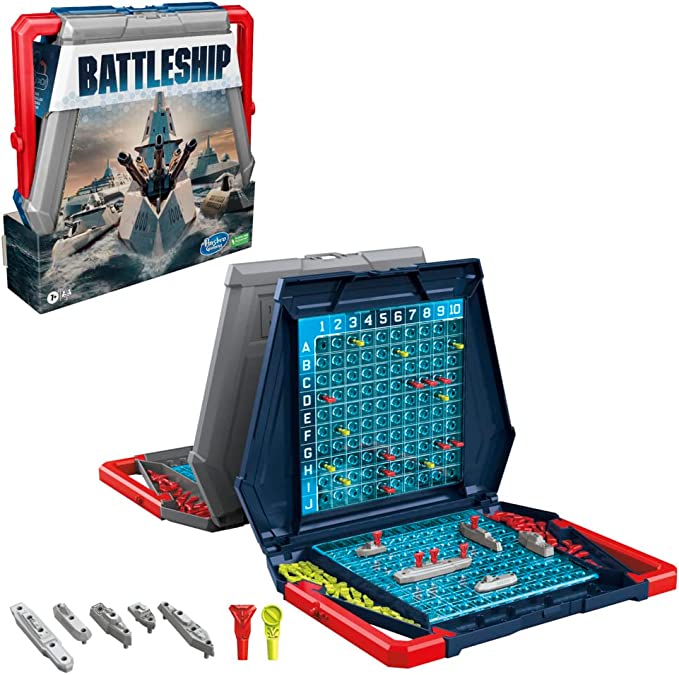 Puzzle Games
This fun puzzle game comes in a small case, doesn't take up much space (in your bag OR on the table) and has 48 unique puzzle challenges. With different levels from beginner to expert, your kid will be entertained through many a meal! Also available in DogPile, SeaStax and HayStax.
The perfect puzzle for a restaurant is one where all the pieces are contained! Which is why this slide puzzle brain teaser is absolutely perfect for dining out. You child will try to recreate the pictures on the cards by sliding on piece at a time around the board.
Everything fits in it's own case, so this game is easy to clean up and won't take up much space.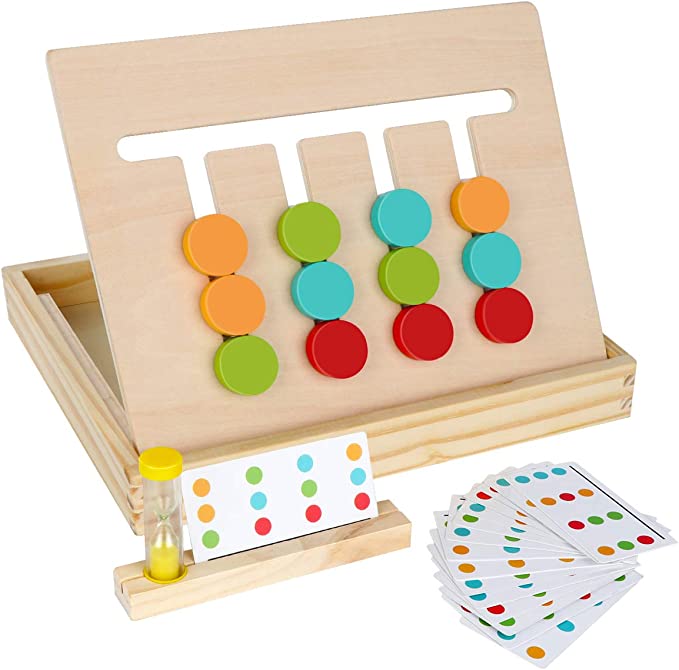 If you loved tangrams growing up, you'll love watching your kids play with these wooden puzzle pieces. Let kids make their own designs or try to recreate the puzzles on the cards. Either way, it will help your kids from being bored in restaurants.
---
Look, dining in a restaurant may still be a hot mess. Someone will spill their water. Someone will change their mind about what they want to eat as soon as the food arrives. But at least with these fun games to play in restaurants, you won't suffer waiting for the food to arrive!
Looking for more ways to keep kids busy? Head here next!