There are so, so many things about summer that I am excited about. I can't wait to take my kids to the local pools, the beach, and the summer movies. I'm looking forward to weekends away with my husband, and evenings spent sipping a Mike's Hard Lemonade (cause I'm classy like that) in my backyard. I'm even stoked about my electric bill-yes, you heard me right- since my bill pretty much goes away in the summer. And, in strange contrast to last year, I am STOKED to bust out my summer fashion 2019 selections and take my stylish self around town.
I've spent WAY too many years refusing to wear shorts and summer dresses due to self doubt. I bought the flounciest one pieces to hide myself away (which, spoiler alert- it does not work). I sweated my way through the weather and wore jeans to the wading pool, simply because I was intimidated by summer style. Well, not this year. This year, mama's coming in with a bang.
So I scoured the internet (because let's face it, no amount of confidence is going to make me want to go into Old Navy in the one hour a week I have without kids) and found the best summer fashion, summer style, and general cuteness to greet this summer in style. Give them a peek- we KNOW you're going to love them as much as we do!

This post contains affiliate links. You can read more at our legal page. Thanks for supporting the Salty Mamas!
Prescription Sunglasses
I was always a sunglasses gal, but that all changed when I had to make the switch from contacts to glasses. For years I avoided buying prescription sunglasses and just squinted my way through sunny summer days. It was hard for me to justify spending a few hundred dollars on sunglasses, when I was already spending so much on my regular and computer pairs. Not to mention those tiny hands that seem to have a real knack for breaking glasses.
But then I stumbled upon this site called EyeBuyDirect, and at $40 a pair, I was definitely on board to give them a try. You can upload a picture and virtually try on glasses before you buy, and compare how you look in different styles.
I am obsessed with the faux-wood look I eventually landed on, and I've got to say that I get a TON of compliments on them.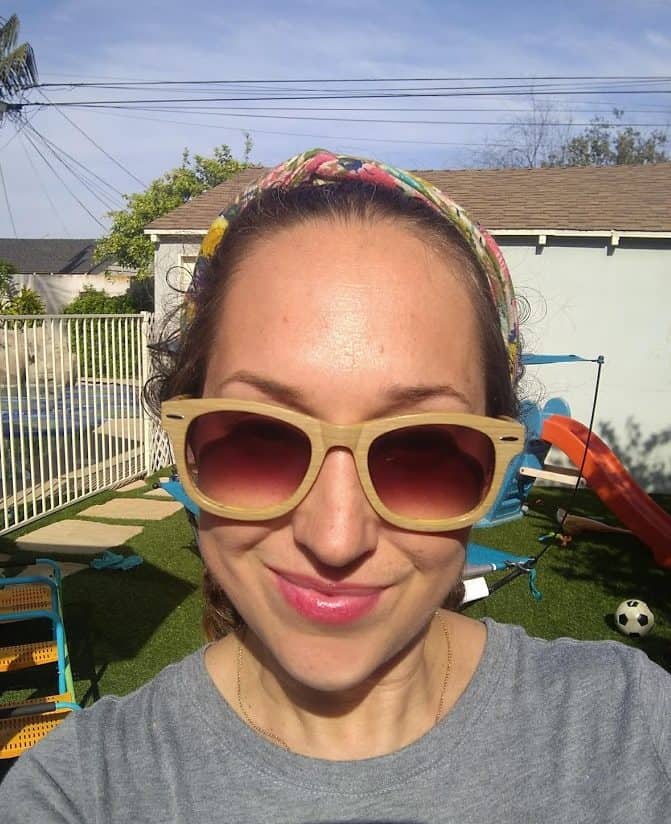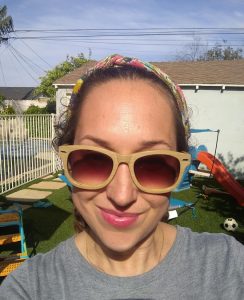 And if those tiny hands DO get to them? At least you can afford to replace them. Trust me.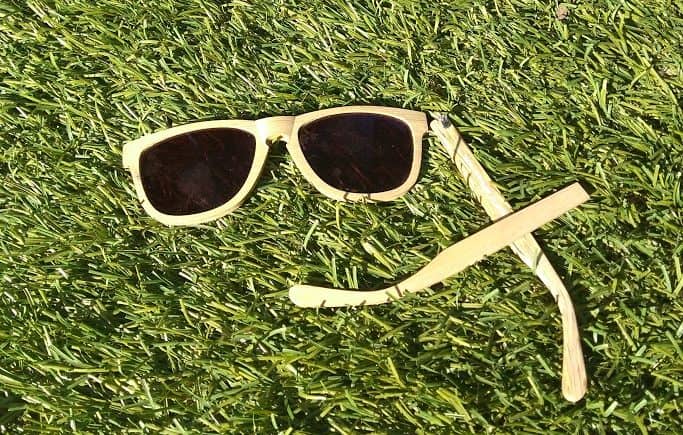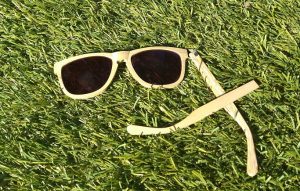 Board Shorts
If you've ever been to the beach or a little wading pool with your kids, you'll relate to my "full suit or fully clothed" dilemma. It's not enough water that you are going to be submerged, but you'll probably get splashed and soaked a'plenty.
Finally, I wised up and got some swimsuit bottoms that look like shorts, which you can wear with a tankini top. It's a fantastic compromise, leaving you ready for whatever comes your way without committing you to the full swimming experience (and ensemble).
Swing Dresses
Mama, this summer is going to be HOT- but so are you in these adorable little sleeveless swing dresses you can get on Amazon. They are flowy in all the right places, come in a million fun colors, and most importantly- they have POCKETS. I have worn this summer dress to the beach and to church, and I'm telling you, it's the most versatile piece of clothing I own. Well, pieces, because how can you stop at just one??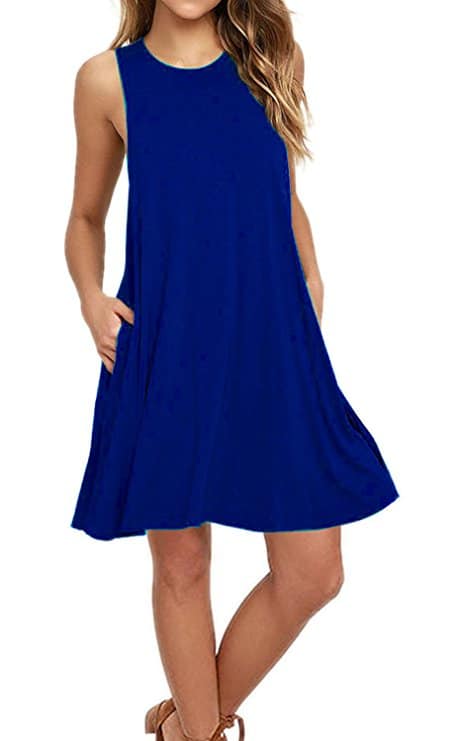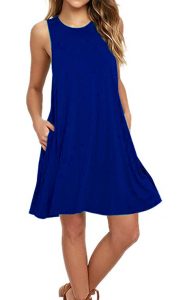 A Long-Lasting Lip Color (That Doesn't Cost an Arm and a Leg)
We are currently OBSESSED with CoverGirl's Colorlicious Rich Color Lipstick. Jaymi's got it in Romance Mauve, and it is everything. It is light and not sticky, but the color lasts all day. You will get some transfer to coffee cups and the like, but it provides just enough of a pop of color to freshen up your look without taking over your look, if you know what we mean.
Jelly Shoes
They are BACK y'all, and this time in adorable mommy-flats form. Like the swing dresses, these shoes are very versatile and can be worn with a lot of different looks. In addition, these are the most comfortable shoes I've ever worn (which is saying something because I ONLY wear comfortable shoes). They do well in water, sand, and on the go, making them the perfect mommy shoe for summer.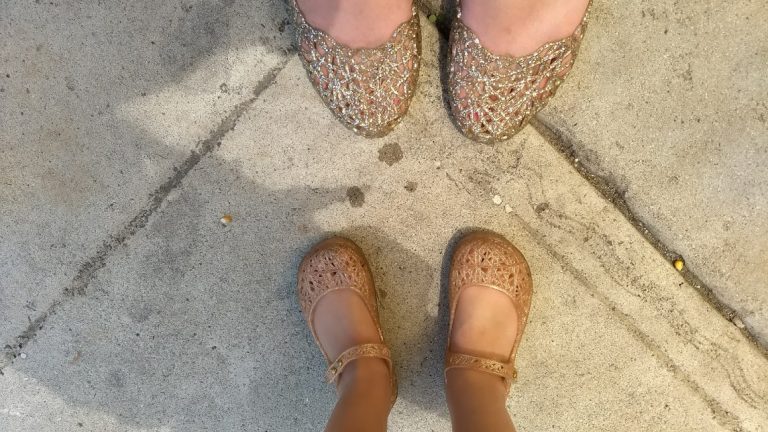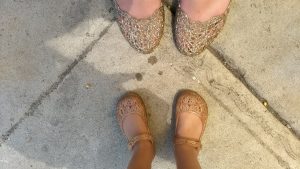 A Hot Mom Bod Friendly Bathing Suit
Our kids LOVE going to the beach all summer. And we don't necessarily love trying to hide in a giant tarp while watching them splash and have fun. Also horrifying? The idea of going to an actual store and trying on a bunch of bathing suits before leaving in defeat. So we freaked out when we had some shockingly good experiences grabbing suits on Amazon.
With a HUGE selection of affordable – and sexy – one piece suits (our personal preference) the hardest part was deciding which one (ones?) to order!
Make sure to check the customer pictures too! There are often people of all shapes and sizes that submit their photos, so you may be able to see what it would look like on your body type before taking the plunge!
*******
So if you're looking to up your game for summer style 2019, it doesn't take a whole lot of cash to freshen up your look. Focus on accentuating your best features, and most importantly- have a little fun with your look. Whether that's bringing back jelly shoes for women, getting some functional eye wear, or even just adding a little color to your makeup routine for just a few dollars, you'll feel better if you invest a little in yourself. I mean, the rest of the summer is about the kids, but honey, this summer's fashion is all about YOU.