Momlife is hard. It's exhausting. And, let's face it, it's not glamorous. But the good news is that whatever wacky thing happened to you today, there's a Mom that has been there. And she's probably on Twitter complaining about it. So here to make you feel a little bit better about your situation are these super relatable #Momlife tweets.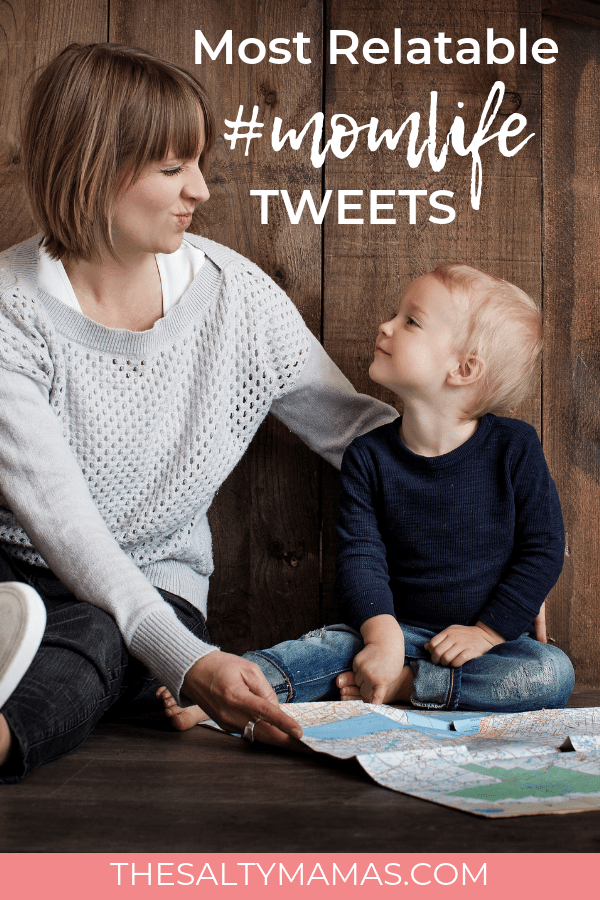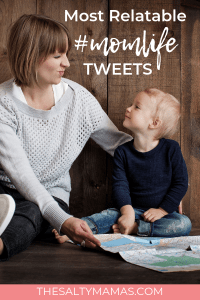 So. Many. Dishes.
#momlife is stirring your coffee with the handle side of the knife you used to make your kid's sandwich. Because every dish you have to wash counts.

— The Salty Mamas (@saltymamas) October 29, 2018
Don't Judge My Priorities
Friend: I got 7 loads of laundry done today, made chili & put together 35 Valentine treat bags. How was your day?
Me: Finally figured out how to get the Pringles out of the bottom of the can without getting my hand stuck😎 #momlife

— Amanda (@mamasahotmess04) February 6, 2019
And the World Record is….
Let's see how many times I can reheat my coffee. I believe I'm on #258#MomLife

— MomLifePart2 (@MamaLifePart2) February 5, 2019
It's Not Complicated People!
Me: I'm exhausted

H hears: I'm more tired then you, cause your *just* a dad.

My mom hears: I have it so much harder then you did when you worked all night and were up all day

Society hears: I dont like my kids

Im JUST FUCKING TIRED. #momlife #parenting #dadlife

— Momma Librarian (@mommalibrarian) February 4, 2019
Who Have I Become??
They told me parenthood would change me. I just didn't think that meant I would one day lick my kid's pizza sauce off my phone in the middle of a restaurant and not think twice. #momlife

— Erika Moore (@MooreMama1410) February 6, 2019
This is it!! Almost.
No one is more hopeful than a parent whose baby slept through the night one time #forevertired #momlife #dadlife

— Natalie (@tiredmama99) January 30, 2019
Keep Trying Mama
I get up early for coffe & silence.

Then someone always has to wake up & ruin it. #momlife

— Tyler (@MrsTyler78) February 3, 2019
Who's in Charge?
My 5 y.o. just clap backed at me:

"But👏 I 👏 already👏 told you👏👏that 👏I 👏know 👏how 👏 to👏use 👏 BIG PEOPLE SCISSORS!"

So yea, I'd say parenting is going great.
It's great.
Everything's great.
Life is great. #momlife #dadlife #parenting #SaturdayMorning #Clap

— Nichole (@Will_work_4_zzz) February 9, 2019
How Quickly the Time Passes
8:00 am

6yo- ughhh, my tummy hurts so bad. I can't eat anything.

8:02 am

Same 6yo- can I have a cheeseburger? #momlife

— Mom Problems (@Aliciav22Mom) February 10, 2019
So. Freaking. Fast.
No one runs faster than a toddler who knows they shouldn't have what they're holding. #momlife

— Marlena Ryan (@LenaLoves6) February 10, 2019
My New Favorite Hobbies!
If you like saying "calm down" and screaming "knock it off" repeatedly day and night…having multiple children might be for you #momlife #parenthood #lifewithkids

— The Mom Behind The Mask (@MomMask) February 10, 2019
Horses Might Be Easier
As the old saying goes:

You can lead a toddler to the bed but you can't make him sleep. #toddlers #momlife

— Mom Life (@kidsvsmom) February 9, 2019
We Didn't Think of That….
The worst part of having school age children is now I have to answer all the unknown local numbers that call me while my kids are at school.#momlife

— The Salty Mamas (@saltymamas) February 6, 2019
Well That Backfired…
"I had my kids close in age so they would have someone to play with," she yells over her children's incessant fighting.

— Jessie (@mommajessiec) February 12, 2019
The Truth Hurts
My 9yo gave his new friend a tour of our place and as he passed me in the hallway unloading the washing machine, he said "and this is where my mom spends most of her time" and I mean, he's not wrong.

— Snarky Mommy (@SnarkyMommy78) February 11, 2019
#Goals
Facebook posted a "10 places every woman should visit before they die" article and I'm here thinking All I want Is to get in and out of the grocery store in less than an hour.

— Nonchalant Charlotte (@jellybnbonanza) February 10, 2019
God Bless Alexa
The best thing about Alexa is having someone in the house who does what I ask right away.#momlife #dowhatisaydammit

— mommed real hard (@MommedRealHard) February 15, 2019
A Win
I shaved some of my leg.#MomLife

— Elle Decker (@ElleMNOP22) February 15, 2019
The Struggle is Real
I used to be young and cool and now I spend the majority of my time reminding my children to put on clean underwear everyday… #momlife

— Annagetscrafty (@Annagetscrafty) February 15, 2019
Moms Have Needs Too!
I'm a mom…

But I'm also a woman… *gets up*

A woman who has needs…*licks lips*

That need to be fulfilled….*starts to go upstairs*

So badly….

So someone else please load the damn dishwasher and leave me alone with my wine and chocolate for 10 freaking minutes!!

— puzzler (@c_puzzler) February 15, 2019
At least I have a purpose?
Welcome to Parenthood.

You will now run their errands until you die.

— Mom (@OhThatMomGlow) February 11, 2019
I'm So Scared
My deepest fear:
5.
4.
3.
2.
1. My kids open the lid of our trashcan and discover what I've been doing with all of their art projects.

— Mommy Owl (@Lhlodder) February 5, 2019
Looking for more hysterical tweets? Check out these other roundups from The Salty Mamas!