My birthday is in October, and luckily for me, every beer garden in the world has decided to throw me a party complete with live music, tons of people and – of course – giant steins of beer. Now, I'm not delusional enough to think that every Oktoberfest in Long Beach is actually thrown in celebration of my birthday, but that doesn't mean that I didn't spend many years taking full advantage of this easy to throw party. I mean, who doesn't want to go to Oktoberfest?!? But the harder question is, Who wants to go to Oktoberfest with kids?
Not me.
Standing in front of a large crowd chugging a stein of beer just doesn't have the same appeal when my three kids are part of the audience. But the truth is that somewhere along the line I ended up enjoying so much more about Oktoberfest than just the beer. And I found myself wanting to find a way to share some of that with my kids. Here are some cool ideas of ways to celebrate Oktoberfest with your kids.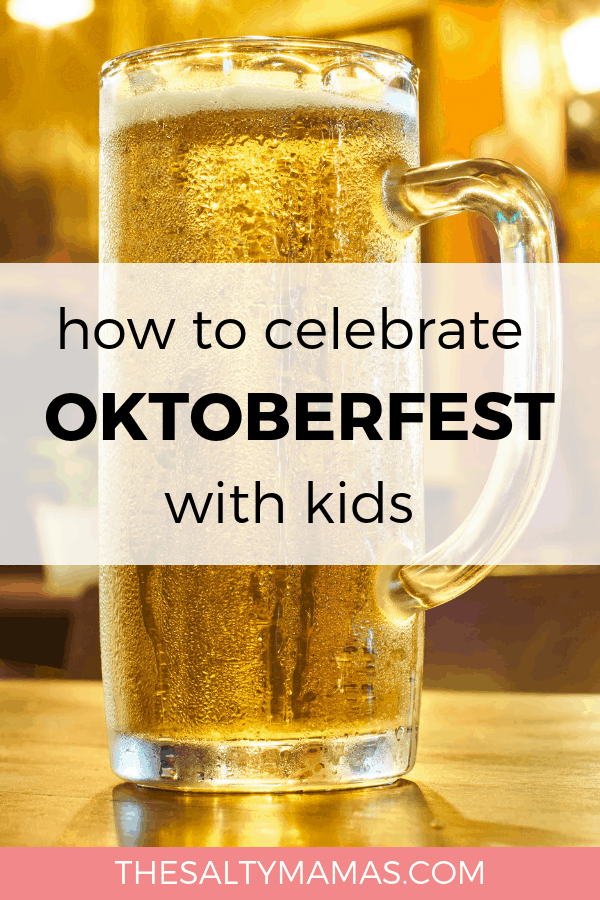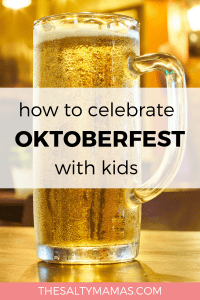 This post was sponsored by Cool Cabins. As always, all thoughts and opinions are those of The Salty Mamas. You can read more at our legal page.
Have Dinner at Rasselbock German Kitchen & Beer Garden
Rasselbock is one of our favorite Long Beach restaurants because they have great German food and provide games, puzzles and even an adorable pirate ship sandbox for the kids. One night when we decided to go there, we bumped into some friends and their baby. As we sat and ate, drank, and watched our kids play through dinner, we all commented on how this was the most pleasant night out at a restaurant we'd had with the kids in a long time. If that's not a ringing endorsement of a place I don't know what is!
Their festivities kick off September 22, so if you're looking to celebrate Oktoberfest in Long Beach this is the spot for you!
Have Brunch in Alpine Village
Did you know there's an adorable little German town right in Torrance? In fact, it's the site of the great white tents where I once spent many a year celebrating Oktoberfest the old way.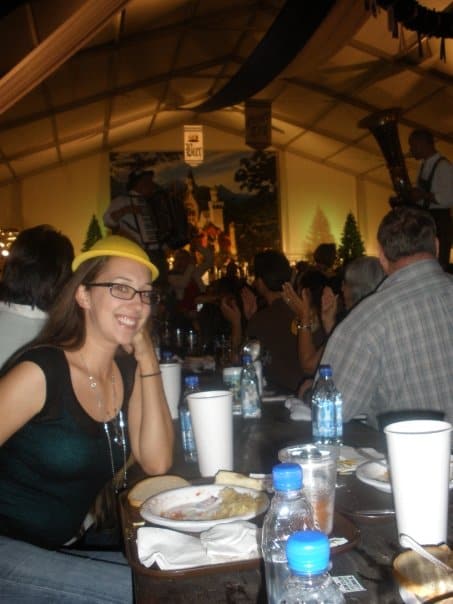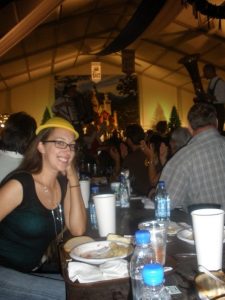 But now, we go for a more laid back approach and hit up the brunch at the restaurant. There's a huge variety of German food, music playing in the background and even TVs with the game on if you can't miss our team playing.
After lunch, walk around the little town and don't forget to go into Alpine Toys and Gifts to pick up a little something festive! We like to grab a Christmas ornament, book for the kids, and one day I swear I'm finally going to bite the bullet and get my kids an authentic lederhosen!
Bring Oktoberfest to Your Home
If your kids are just not in the space where you want to take them to any restaurant – and believe me, I've been there – then bring a little bit of Oktoberfest to your home! In Alpine Village, right across from the restaurant is a great market where you can get everything you need to prepare a German feast at home! They've got tons of German sausage, a full grocery stocked full of imported goods to complete your meal, and of course a huge selection of beers, wines and liquors.
But no meal would be complete without dessert, so don't forget to grab some amazing pastries from the Alpine bakery! If you want to step up your home celebration up a notch – invite the whole family over and order one of their amazing custom cakes. Check out more of the bakeries offerings here.
Do Some Cool Oktoberfest Crafts
A great way to enjoy something with your kids is through crafts. And there are a ton of easy and adorable crafts you can do with your kids to celebrate Oktoberfest. Here are a few of our favorites!
Check out these super easy alpine hats your kids will love to wear around the house!
Pretzel Necklaces came into fashion for adults at Oktoberfest to be able to have their hands free and a snack nearby at all times. But fun fact: Toddlers ALSO love to have their hands free and a snack at all times. Your kids will love to string these pretzel necklaces, and then enjoy eating them the rest of the day!
Meaning Gingerbread Hearts, Lebkuchenherzen, are traditionally sold at open air markets in Germany, especially during Oktoberfest. They are sold on a ribbon so that you can wear them to commemorate your day. This adorable paper version is a great craft for kids of any age!
Go to Oktoberfest in Big Bear
If after all that you're thinking, You know what? I still want the real authentic full on Oktoberfest experience!, then you want to consider making a weekend out of it and heading up to Big Bear for their amazing Oktoberfest celebration! This Oktoberfest will give you the full experience, but also has a ton of great activities for kids. There's a Kinder Garten with a bounce house, mechanical bull, carnival games and more! Sunday's are free for children and include children's competitions as well, so it's a great way to spend your weekend!
But traveling with kids can be a pain. And spending nights in hotels with them aren't exactly my idea of "vacation" anymore. So when we head up to the mountains, we love to stay in cabins that give us the feel of being at home, much more than a hotel does. Finding a cabin, however, can be overwhelming because there are so many options! Thankfully, Big Bear Oktoberfest has partnered with Cool Cabins to provide discount on lodging in 1 of over 350 private homes and cabins, discounted Oktoberfest tickets, 2 free 2-hour bike or kayak rental from GetBoards and 10% discount on Scenic Sky Chair or Golf.
Use promo code OKTOB1 when you book to get your discount!

Now go and enjoy Oktoberfest!!