Got a family beach day in your future? Don't head to the seaside unprepared! Check out these beach day hacks for moms (and find some of our favorite beach essentials for toddlers) in this one stop shop for family fun at the beach.
As you might have guessed by our moniker, these Salty Mamas LIVE for days at the beach. As two Southern California moms, we are no strangers to days spent at the beach, bay, and lagoon, and have logged HUNDREDS of hours of experience chasing kids around at the ocean's edge.
Over the course of the last 7 years of beach days, we have nearly perfected our list of beach day hacks for moms. So pack up your bag with beach essentials for your toddlers, put on your swimsuit, and prepare to totally NAIL your own day at the beach with these handy tips and tricks from two beach bums (and their 6 kids!)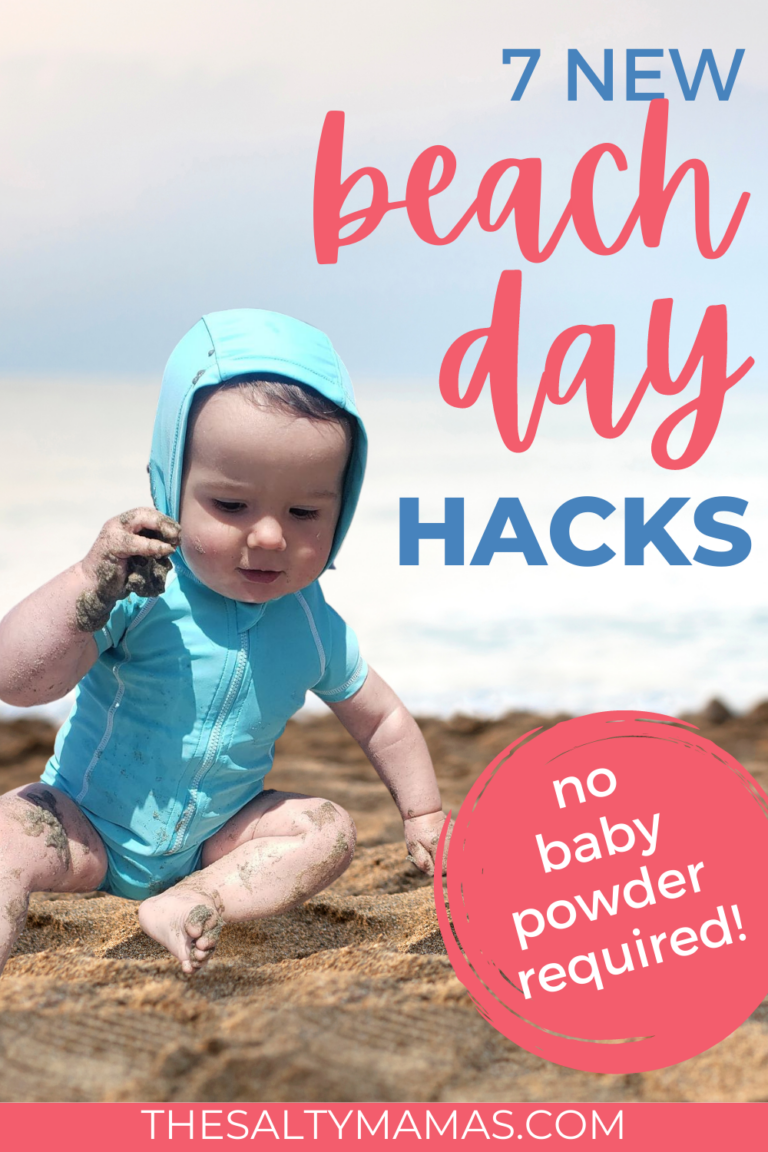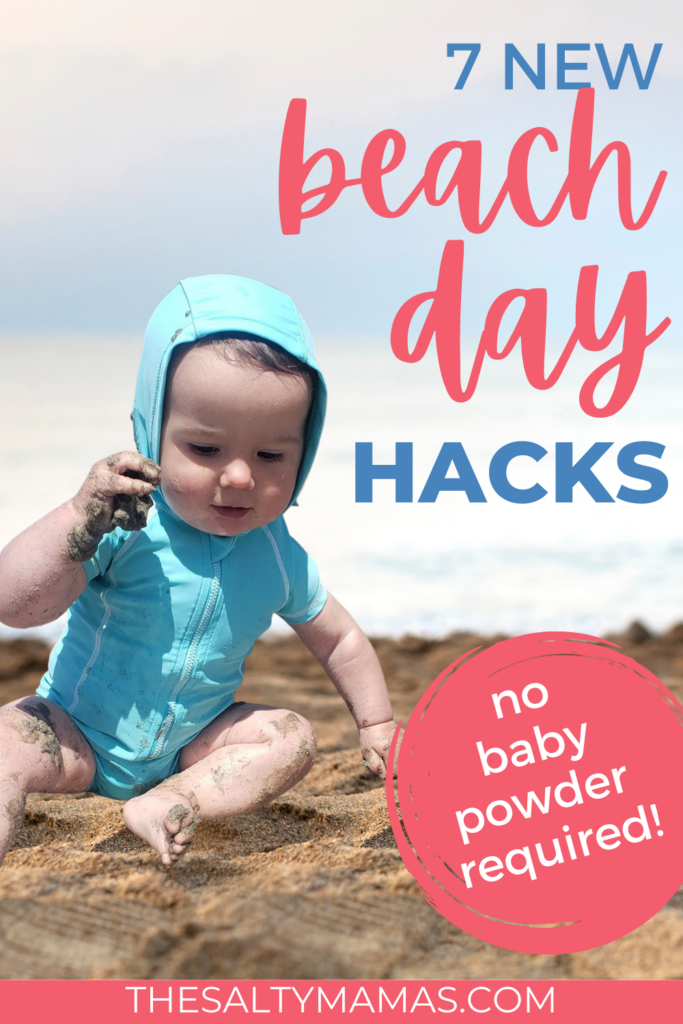 This post contains affiliate links. You can read more at our disclosures page. Thanks!
Toddler Beach Safety Comes First!
First things first- we've got to keep everyone safe! Yes, we keep our eyes on our kids at the beach, and make it a priority not to get distracted.
But let's be honest, life happens. So first up in our list of beach essentials for toddlers: a flotation device. We love these puddle jumpers, since they let kids sit, play, and snack.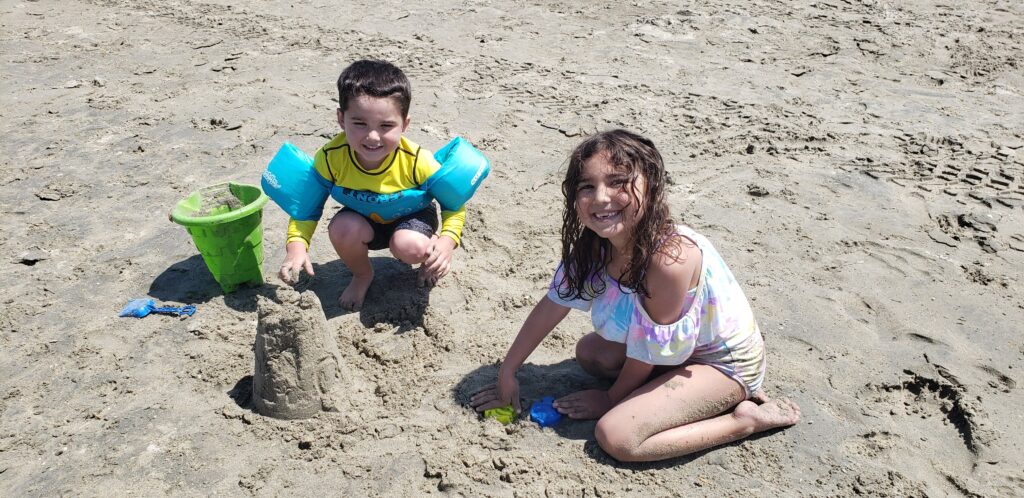 Anyone who doesn't know how to swim (like, the length of a pool kind of swimming) wears a puddle jumper the entire time we're at the beach. Snacking, playing, running in the sand? Doesn't matter. You wear your floaties, period.
Use Beach Robes, Not Towels
Towels can be great for lying out in the sun, but honestly, your kids probably aren't going to do much of that.
They'll likely spend most of their time playing in the sand or actively in the water, and those beach towels and just going to get wet, sandy, and wind-whipped before you know it.
Instead, opt for a family beach blanket for lounging and snacking, and grab beach robes for your kids instead of towels.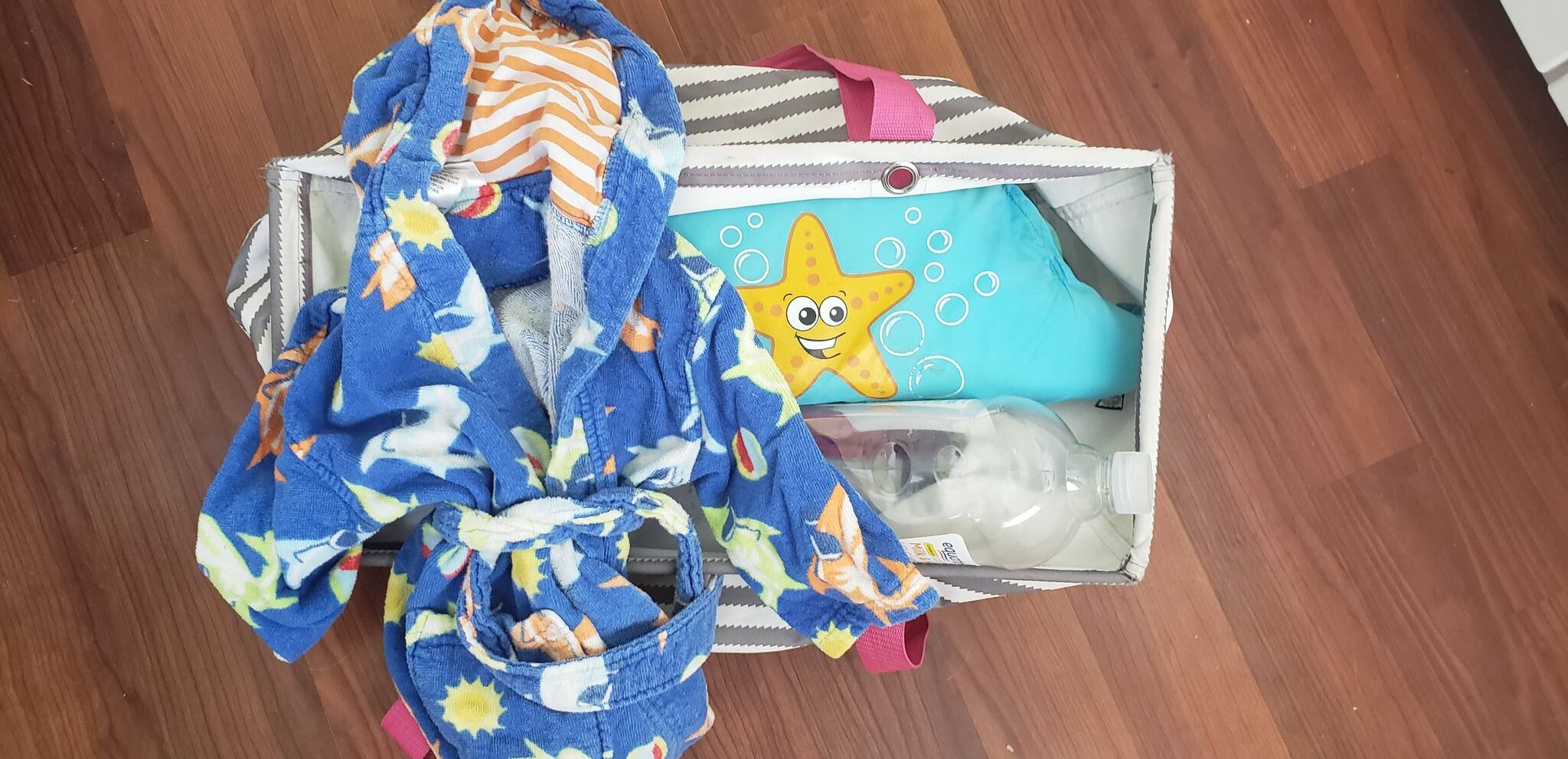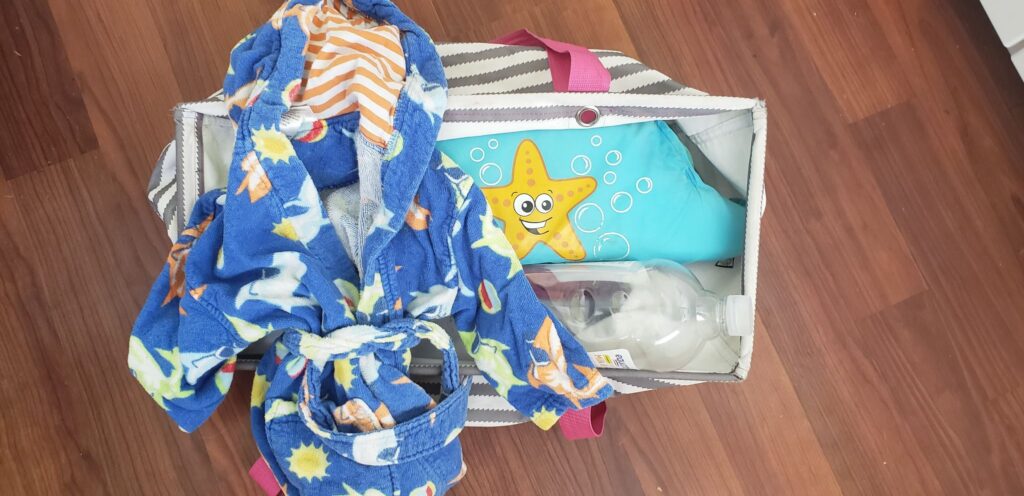 Because A, they're freaking adorable and B, they'll avoid the inevitable trip-and-fall that comes from a kid wrapped in a too-big towel trying to make it back to the car when the beach day is done.
Grab a Pop Up Shade Tent
If you're heading to the beach for the day, it might be tempting to travel light. But it's well worth it to bring your own shade along to give your kids a break from the sun.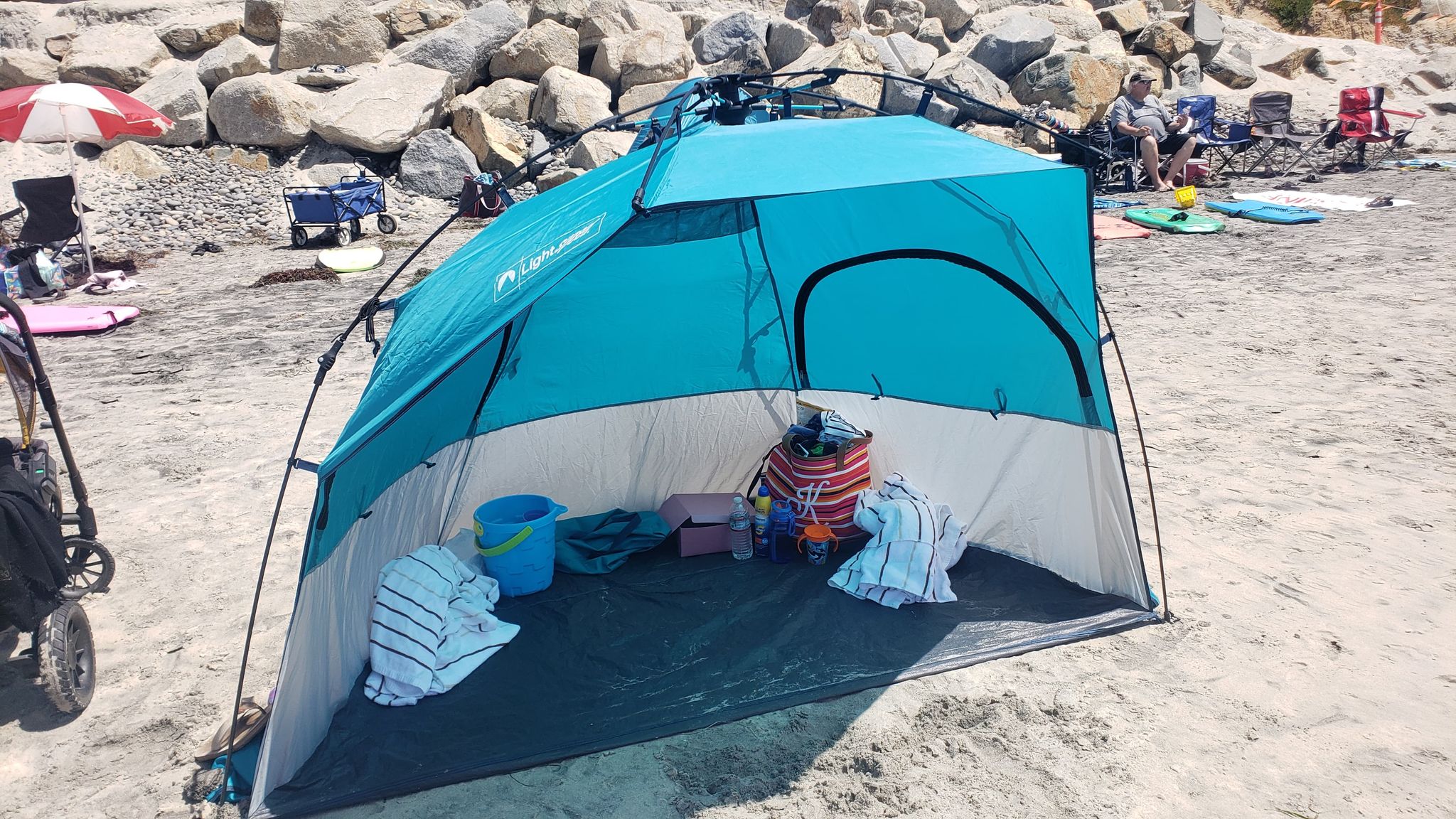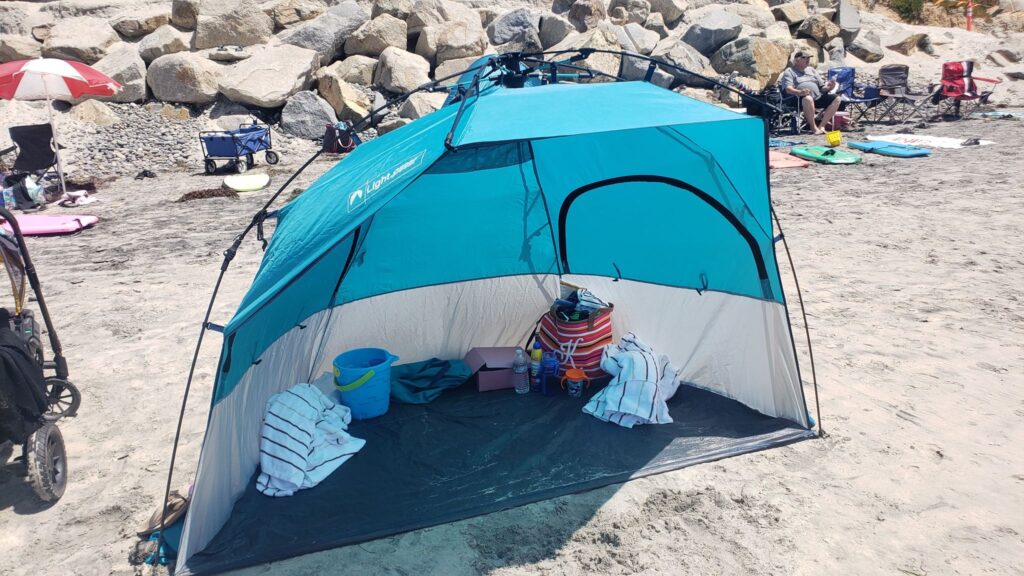 We like how easy this pop up tent is to put up and break down. It's also pretty light, so it doesn't add too much weight to your belongings.
…or a Pop Up Changing Tent
Okay, hear us out- this one seems extra, but a cheap pop up changing tent can make your life SO much easier. It's easy to tote and even easier to set up, and gives your kids a place to change that's more private than the back of your SUV.

And the best part? You can set it up on the sand, on your blanket, or even in the parking lot. Getting your kids out of their wet suits faster will mean less sand in your car, and that's easily worth the $20ish dollars this thing will cost.
Speaking of wet suits- grab a wet bag to throw your suits in once they're out of them! It'll keep the rest of your stuff dry til you can get the suits to a dryer.
Build the Best Sand Castle (EVER.)
All kids dream of going to the beach and making a gorgeous sand castle, but the results of their efforts rarely meet their expectations. You're more likely to get wet lumps of toppled over sand than the fancy sand castles they've seen in their picture books.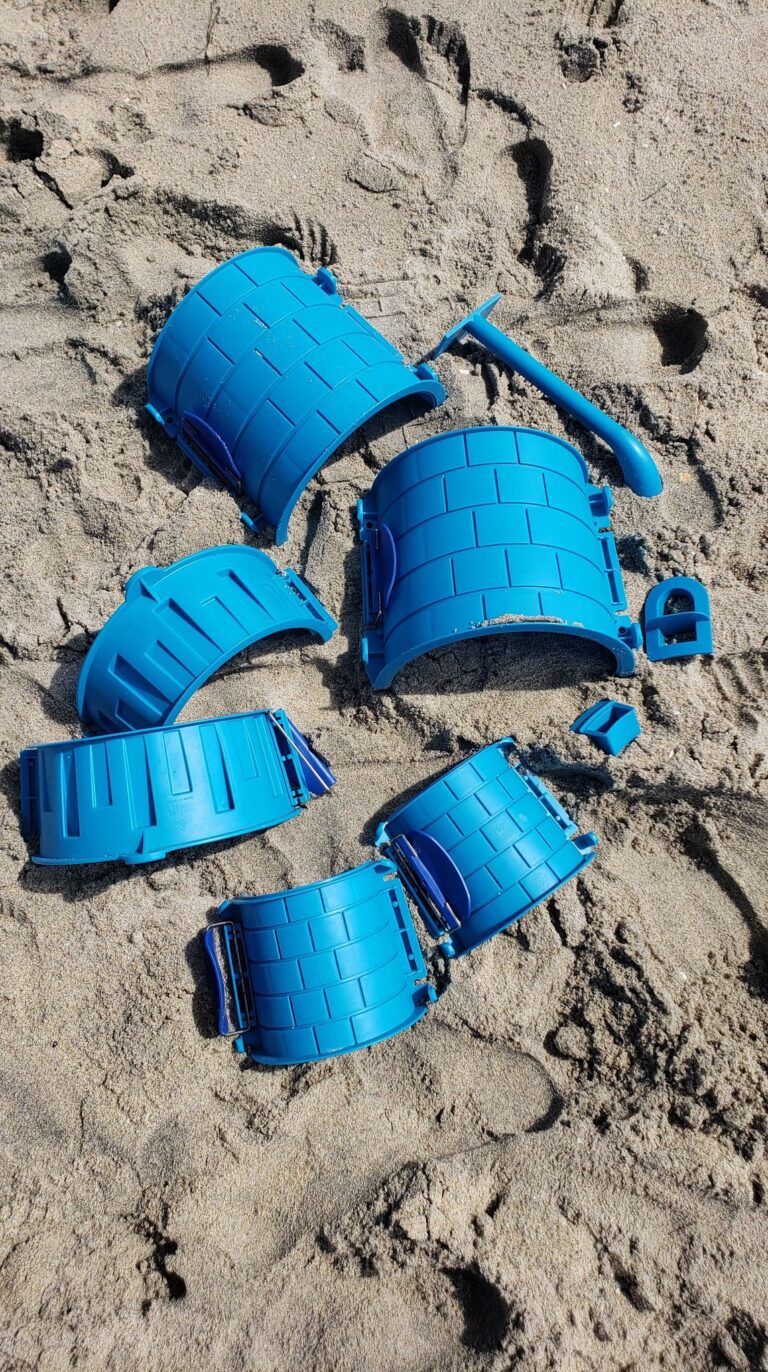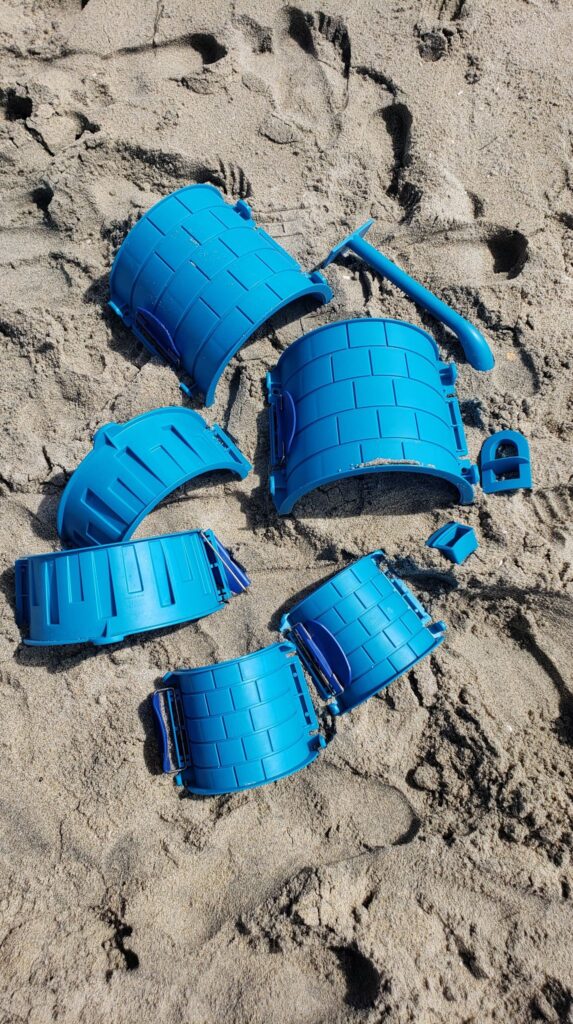 If you want to build a pro looking sand castle without the fuss, grab a sand castle kit from Create a Castle. It's got molds to build that classic castle kids want, and lots of extra pieces to let older kids (and adults!) customize the sand sculpture of their beach day fantasies.
Rash Guards for Everyone!
So yes, bring lots of sunscreen. But if your kids (or you!) are on the paler side, sunscreen and a beach umbrella just aren't going to do it.
Grab a rash guard for each of your kids before you head to the beach. It's one of those toddler beach essentials that will possibly save you the literal pain of a sunburn, and help to keep your kids healthy, so this one is a no brainer.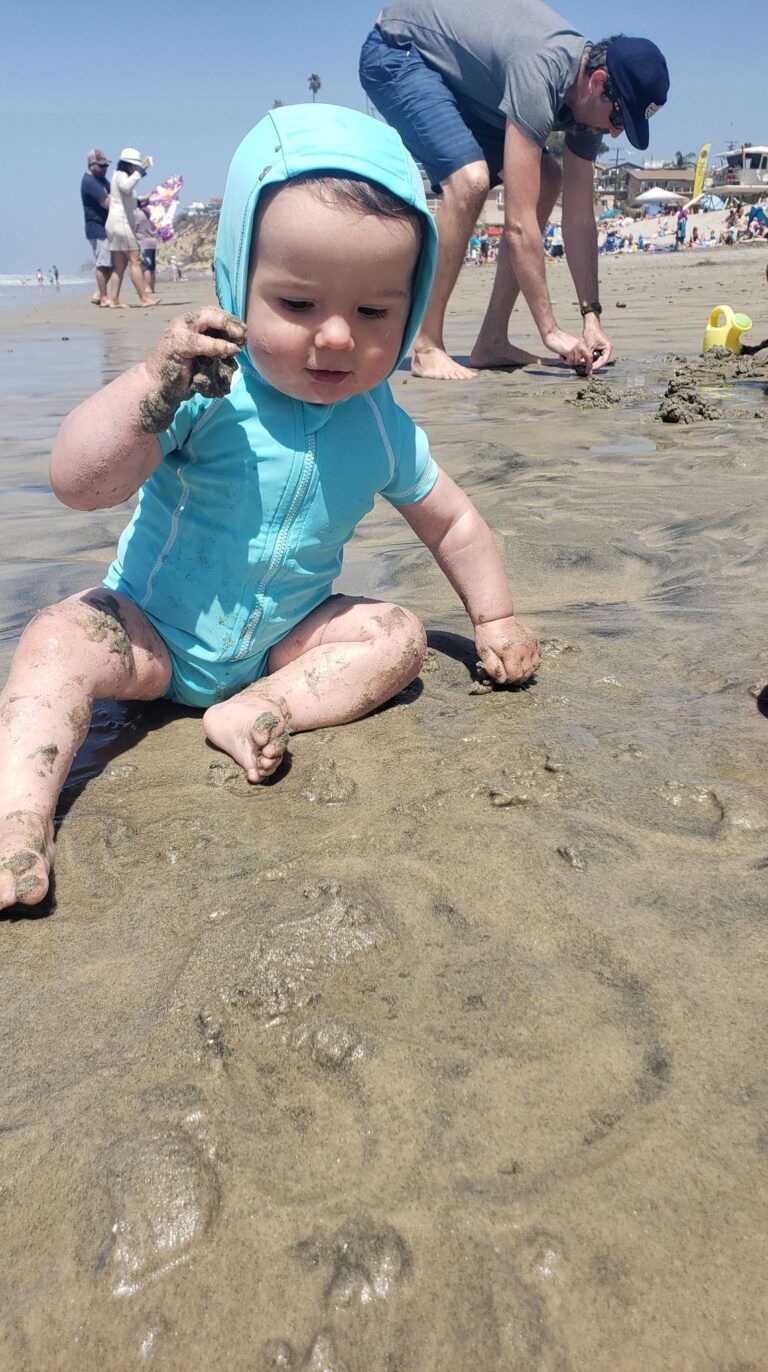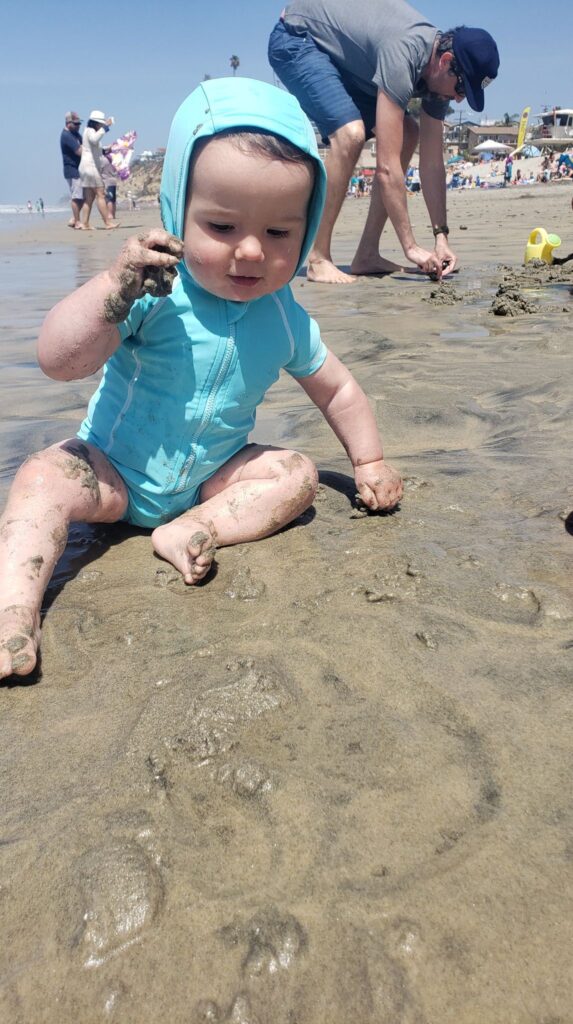 But also? Don't forget to get one for yourself! Odds are you're going to get busy and forget about applying your own sunscreen.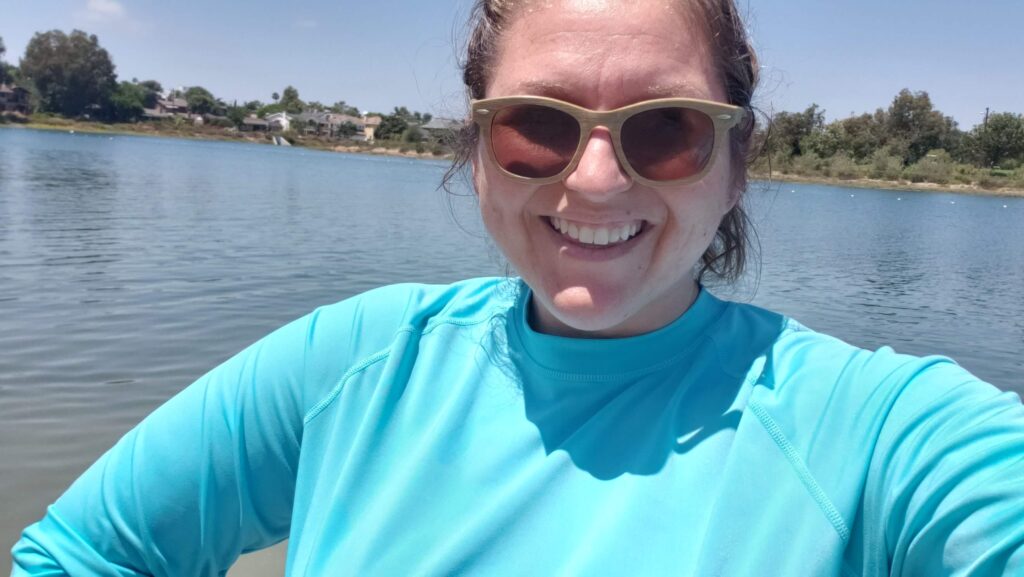 You don't want to be miserable for days after your fun family beach day, so throw on a rash guard to give yourself a little more protection in those hard-to-reach places.
Bring Snacks and Drinks
We know the urge to pack light (especially here in Southern California, where the stretch of sand between the parking lot and the water can be so.dang.long.)
But hangry kids are going to send you right back across that stretch of sand and back to your house or hotel before you get the chance to dip a toe in the water.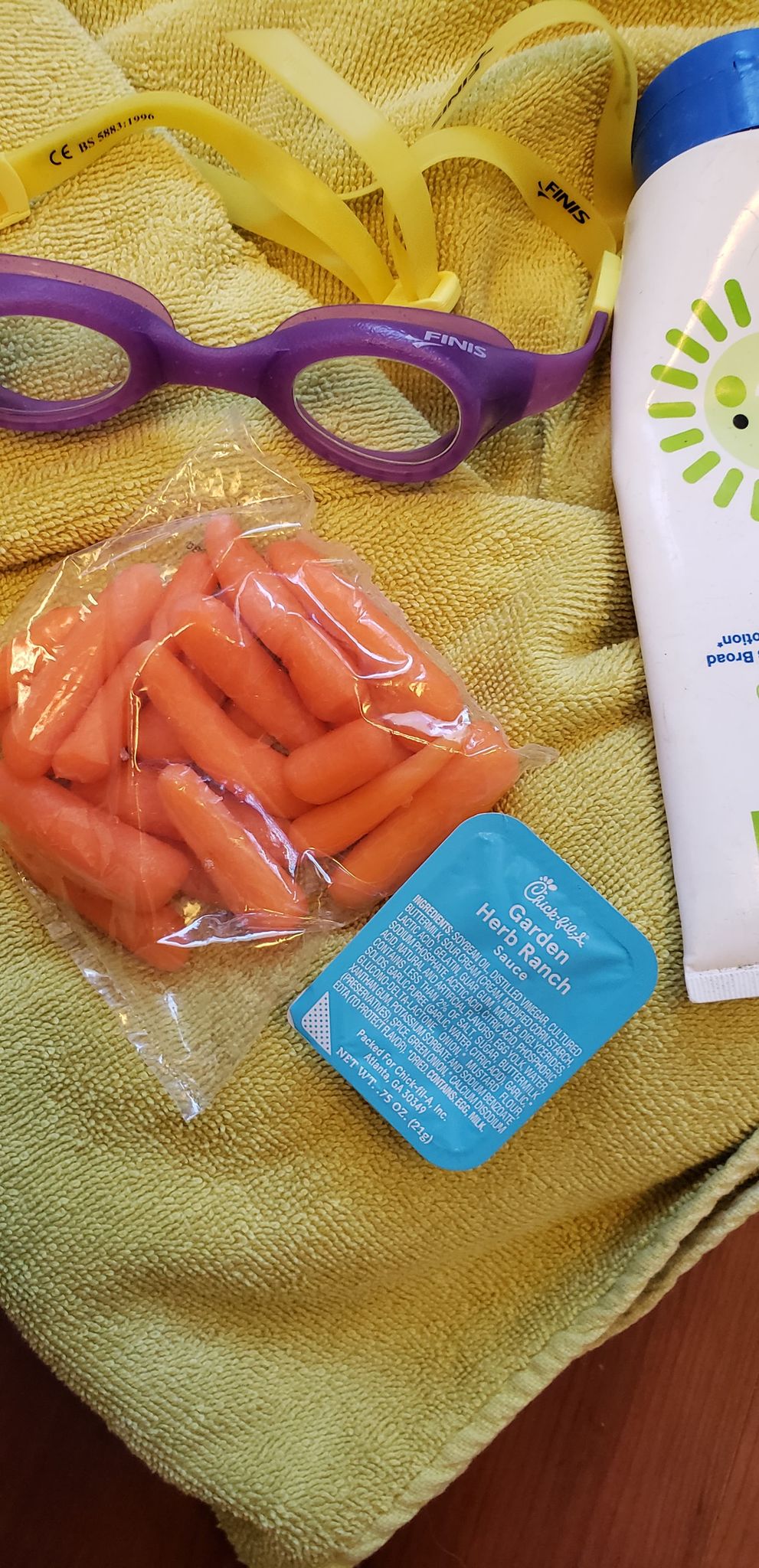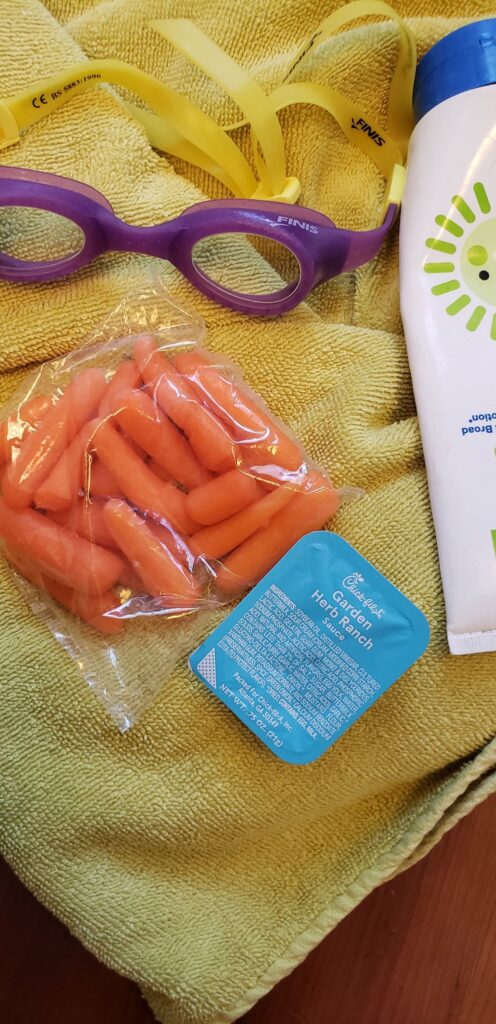 Not all beach snacks were created equal though. Check out our favorite beach snacks for kids, including lots of options that won't become sandy messes in the first three seconds after you brign them out.
Bring a Big Bottle of Water for Sand
This summer, I saw a mom at the beach with a giant, gallon size bottle of water washing her kids' feet car side. It's one of those beach day hacks for moms that is so simple, but so freaking effective, that I couldn't believe I hadn't thought of it myself.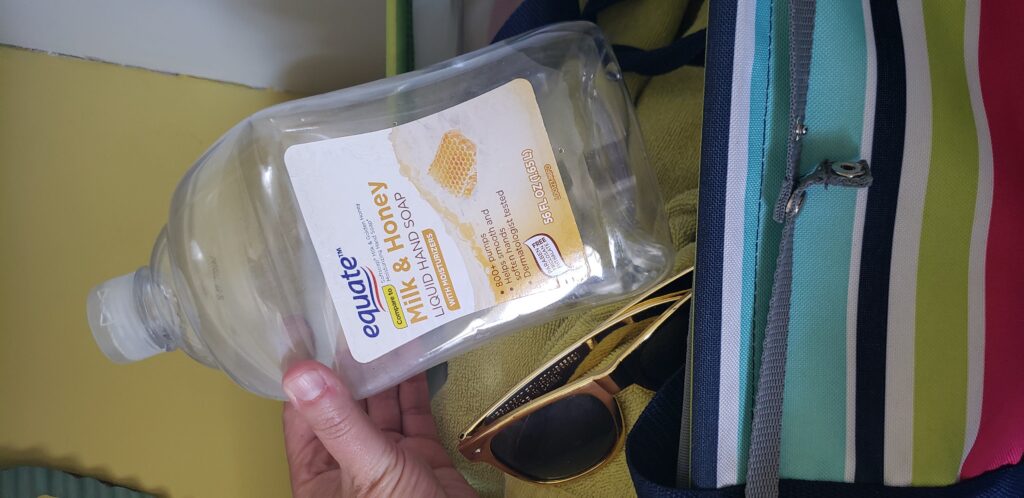 Unlike baby powder, which can add up quickly cost wise and make a huge mess of it's own, the gallon size bottle of water she was using likely cost about a dollar.
I opt to use a cleaned out hand soap refill container, which costs me nothing. I think the squeeze-bottle style also helps me to clean my kids up for efficiently, too.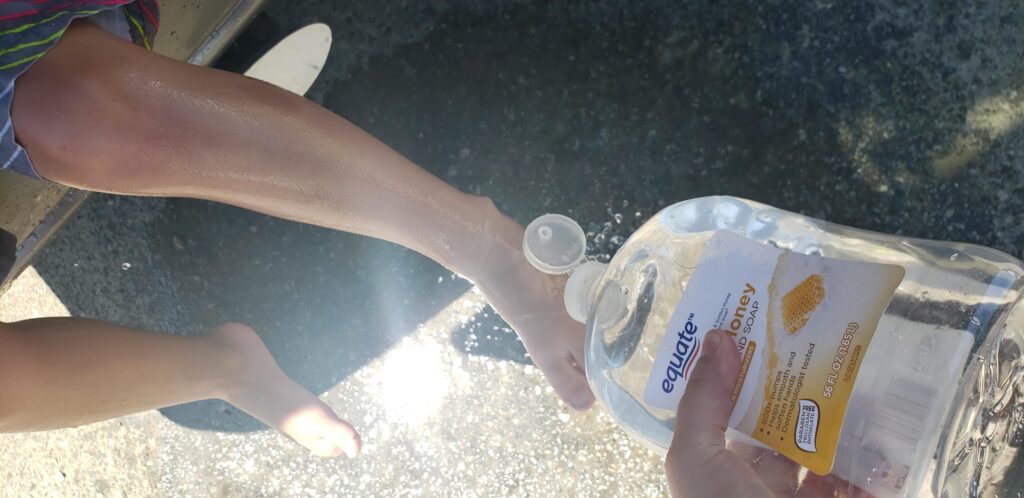 I keep it with my beach bag and fill it with water from the tap before we go, making for free and easy clean up when we're ready to head home.
Carry Your Sand Toys in a Mesh Bag
No matter how much you rinse your sand toys, they are bound to keep some sand in them. Grab a mesh bag to store them all in instead. This will allow water to evaporate from the toys between uses, preventing yucky mold.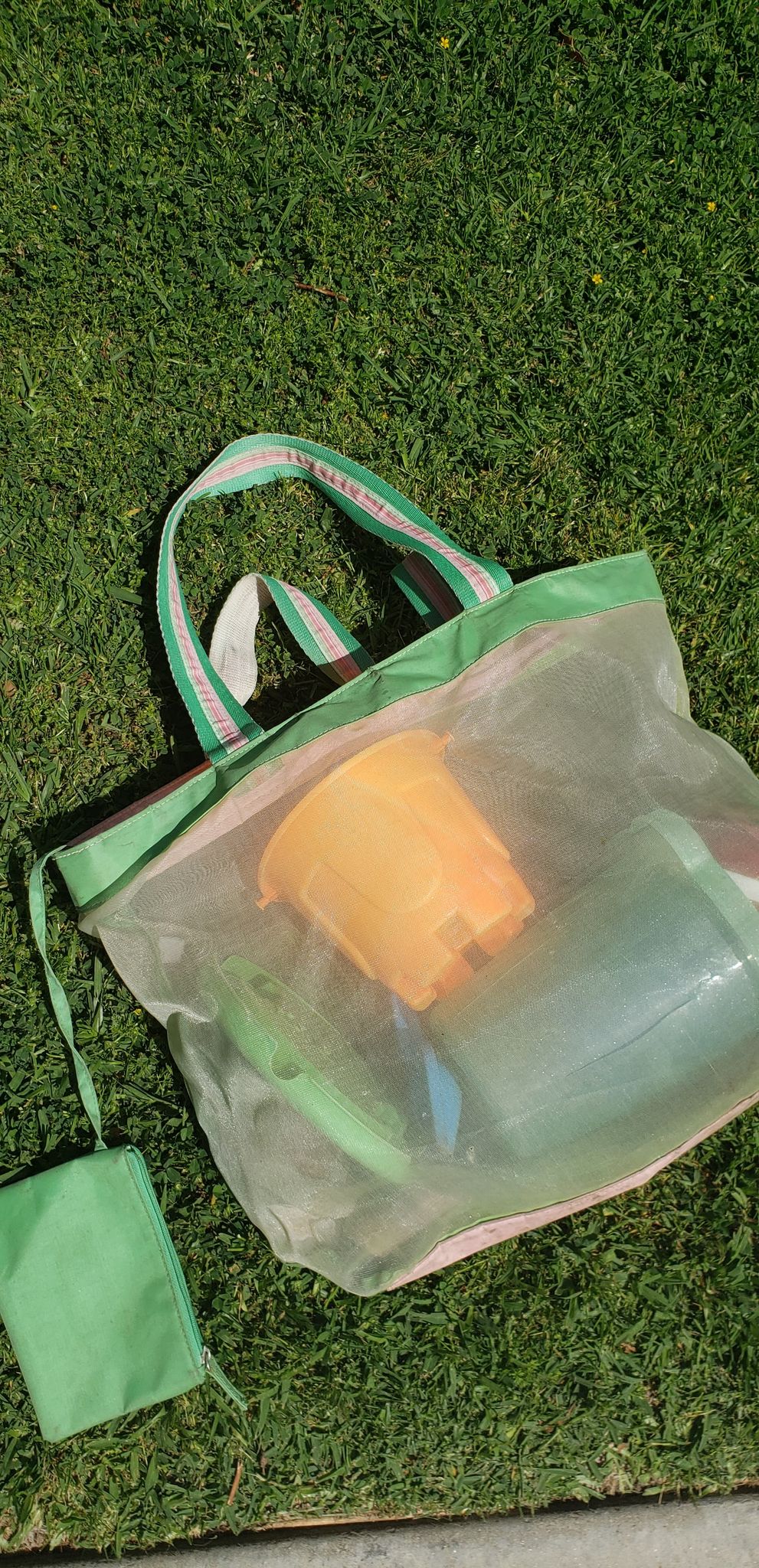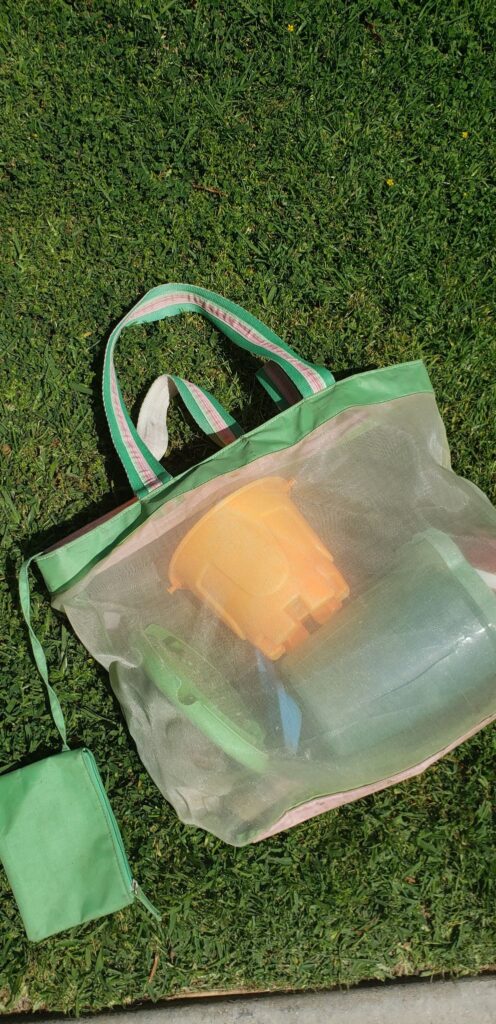 Mesh bags also have the added benefit of letting sand out of the bag. Pack the toys up, give them a few shakes when wet, and allow the toys to dry. Once they've dried, give them a few more shakes, marveling at the amount of sand that you inevitably packed home with you.
*******
It might seem overwhelming at first, but these beach essentials for toddlers will make SUCH a big difference in your day. It can take it from stressful to comfortable (and a lot more fun for everyone).
What are your favorite beach day hacks? We'd love to hear about them in the comments!
Looking for more summer fun? Head here next-