Need a cup (or pot) of coffee to deal with your kids in the morning? You are not alone! So go reheat your lukewarm coffee, sit down, and check out the funniest parenting tweets about coffee.
Coffee. The daytime life blood of parents. And yet, we never seem to actually get to drink one warm cup no matter how hard we try. So whether your coffee is hot, cold, lukewarm or served with a side of broccoli (one of our more depressing experiences) the parents of Twitter have been there too. So we hope you enjoy these Tweets – and that they make you feel a little less bad about your own sad coffee.
For more funny Tweets, make sure to follow us @saltymamas on Twitter!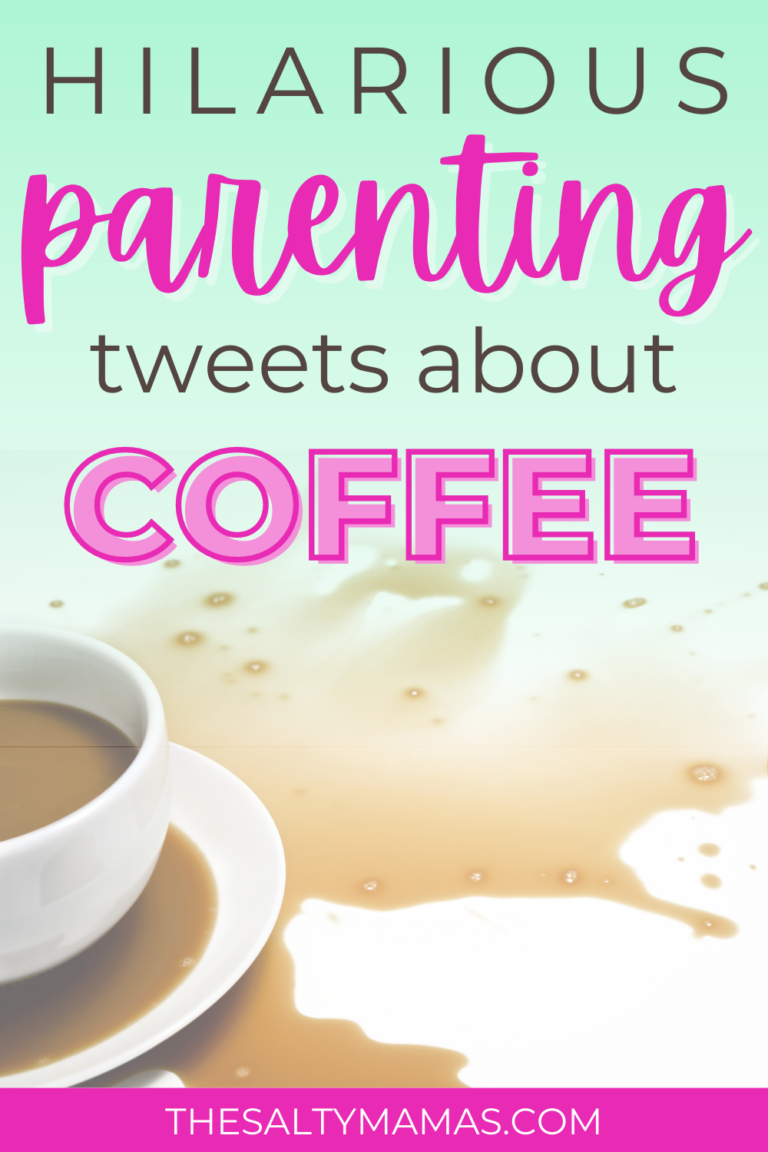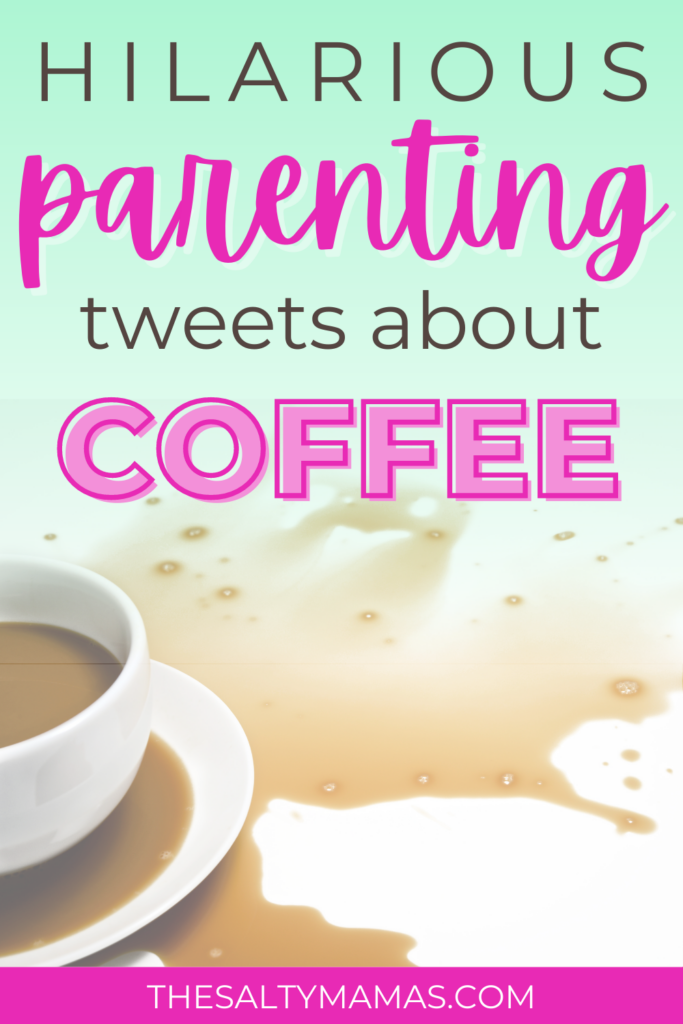 *Chefs Kiss*
There is just nothing like that first sip of lukewarm coffee at 11:53 in the morning.

— Janina Maria (@dontlosethekids) April 11, 2021
Follow me, for more health tips!
A balanced breakfast when you're almost 40 is a coffee in one hand and allergy meds in the other.

— MichiMama (@michimama75) March 4, 2021
Ask me no questions, I'll tell you no lies
I'm not saying I love coffee more than I love my kids but it's probably best if you don't make me choose between the two.

— Snarky Mommy (@SnarkyMommy78) August 16, 2019

Cream? Sugar? Or……
2y.o eating his lunch: "Papa's coffee hot?"

Me: "Yeah baby it's hot, don't touch."

2y.o: "Me blow on it for Papa?"

It was at this point I witnessed with horror, my 2y.o attempt to blow on my freshly made coffee, only to spit a half eaten chicken nugget straight into it..

— Steve 🏳️‍🌈 (@papaneedscoffee) January 28, 2020
WIIIILLLLLLLSSSSSOOOOOOOONNNNNN
We've reached the stage of this pandemic where I have just renamed my coffee cup Wilson.

— My Life Is The Pitts Family (@LifePitts) January 28, 2021
I'm going to cry
The only thing sadder than having to microwave your sad, cold, kids-got-in-the-way coffee is finding yesterday's mug lonely and abandoned still in said microwave.

— The Salty Mamas (@saltymamas) June 11, 2019
It's already brewing
Today requires coffee #2 immediately after coffee #1.

— Dawn Marie Beauchamp (@DawnMarieBeauc1) April 14, 2021
Every. Single. Time.
I'm not a conspiracy theorist, but if the world ever ends, if society collapses, or the nukes go off… my experience as a parent tells me that this tragedy will take place immediately after I try to sit down on the couch with a cup of coffee.

— Dad is Teaching (@DadisGrumpy) December 15, 2019
Lean in, Mama
sips hot coffee
sips warm coffee
sips cool coffee
sips cold coffee
adds ice
fuck it, iced coffee

— LauraTheExplaura 🎒 (@lalal0r) November 24, 2020
At least he's consistent?
Me: 2021 is going to be better!

*husband farts loudly while walking through the dining room, where I'm drinking cold coffee

…ooorrrrrr it's going to be pretty much the same.

— Ohio mom of two #BLM 🏳️‍🌈 (@OhioMomoftwo) January 1, 2021
These are the important lessons in life
No achievement as a Dad will ever be as rewarding as teaching my 3 year old to use my Nespresso machine! pic.twitter.com/OU09mveIam

— Philip Simon (@PhilipsComedy) April 10, 2018
Hey Kickstarter – take my money!
I want a fitbit that can measure my caffeine intake and send an alert so I know when I'm ready to deal with my kid's drama.

— KJ Babs (@IDontSpeakWhine) April 14, 2021
The dream
Is there anything finer than sipping your afternoon coffee while ignoring the chaos going on around you?

— LAsh (@coffeestain_mum) April 9, 2021
Learning the hard way
I'm "I can't drink caffeine after 5pm" years old…I know this now.

— Momsense Ensues (@momsense_ensues) October 3, 2019
Momlife recipes the whole family will hate
Recipe for a Mom Meltdown:

Add 1 baby not sleeping
Add 1 husband sleeping
Add a 4yo who needs water
Sprinkle in cat vomit in a dark hallway
Let simmer for an hour.
Top with no coffee and enjoy.

— Stay at Homies (@stayathomies) April 10, 2019
Sweetest kid ever
My toddler is so considerate. He asked me to put my coffee on the floor BEFORE using my spleen as a trampoline so that it wouldn't spill.

— Unexpected SAHM (@UnexpectedSAHM) July 21, 2019
That's straight up parental abuse
Are there parent labor laws? I'm being forced to build a kinetic sand castle before my coffee is done brewing.

— Science Mom 🔬 (@EmSlyce) March 6, 2021
The newborn tips you need
Husband: How'd the baby sleep last night?

Me: *pours ground coffee directly into mouth*

— Mother Haggard (@MotherHaggard) August 23, 2018
You sold me!
If you enjoy having little humans running and diving on you while you're sitting on the couch holding a hot cup of coffee, then toddlers are for you.

— Tired Dad of 2 (@Tired_Dad_of_2) December 29, 2019
Teach them well and let them lead the way….
Asked 9 to walk two feet to hand her mom a cup of coffee and she groaned, "What is this, National Kindness Day?"

Please feel free to join me as I sing in tribute to children being the future of our country.

— NicholasG (@Dad_At_Law) March 6, 2021
Enjoyed our roundup of the funniest parenting tweets about coffee and looking for more funny Tweets? Check out these other parenting tweet roundups: