Struggling through distance learning with your kids? Let's look on the sunny side- or at least laugh about the darkside!- together with these collection of hilarious tweets about distance learning.
I think we can all agree that this year looks…different than any other school year we've ever been through! As we all work through figuring out Zoom and common core and just being around our kids all day long it can be super overwhelming.
If you're anything like us? You might feel like bursting into tears at any moment. And you know what they say, if you don't laugh – you'll cry. So let's laugh instead with these hilarious back to school tweets – distance learning edition! Because if the funniest distance learning tweets can't turn your day around, it might be time to cancel school for the day.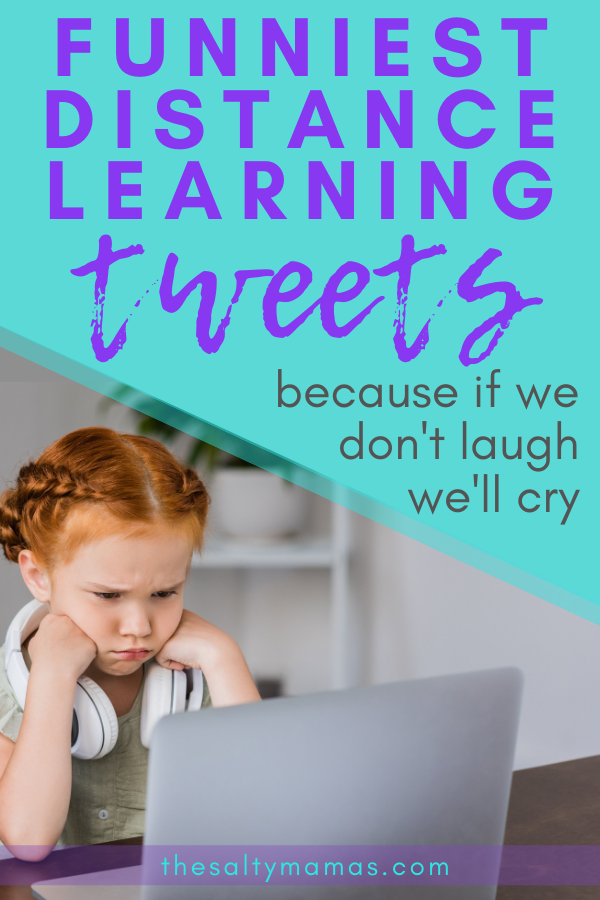 It's going GREAT
Other Mom: How's distance learning going?

Me: *squeezing a tube of frosting into my mouth and setting up an IV bag of moscato* You know, better than I expected actually.

— The Salty Mamas (@saltymamas) September 3, 2020
Today we'll be working on accurate storytelling
*5 yo on her kindergarten Zoom class*

Teacher: "So what do you do before joining our Zoom class?"

5yo: "My mommy hits me and says 'do good!"

Me, no make-up, bagel crumbs on my face, unexpectedly joining the Zoom class: "SHE MEANS I HIGH FIVE HER HAND!!!"

— Stay at Homies (@stayathomies) September 3, 2020
#KillingIt
Love the first day of school pics of your kids with their laptops at the kitchen table and esp love the flowers strategically placed in the background but we should also get to see the pics where everyone's losing their shit and screaming that everything sucks. Cause balance.

— Snarky Mommy (@SnarkyMommy78) September 2, 2020
That's my JAM!
I wrote a new song about school right now. Ready?
🎶🎶If I never heeeeaaaaaarrrrr the word asynchronous agaaaaaaaaiiiiiinnnnnn it will be tooooooooo sooooooooonnnnn! 🎶🎶
I think it will be a big hit.

— Ohio mom of two #BLM 🏳️‍🌈 (@OhioMomoftwo) September 2, 2020
It's got a nice ring to it!
Can we stop calling it "Asynchronous learning day" and start calling it "Youtube because your parents and teachers are out of their wheel house Wednesday?"

We all know that's what we mean.

Thanks for coming to my TED talk.

— Heather #BLM (@dishs_up) September 2, 2020
Well played Satan, well played.
*First day in Hell*

Satan: *hands me a laptop* Now go start your distance learning.

— your other mom (@difficultpatty) September 3, 2020
Have more kids they said….
"MOMMY, ARE YOU HOOKED UP TO YOUR MILKING MACHINE???"

and other things my kid yelled over Zoom on the first day of school.

— The Salty Mamas (@saltymamas) September 1, 2020
Part time homeschool Mom, part time sommelier
What wine pairs well with Common Core math?

— Jessie (@mommajessiec) August 24, 2020
Peace out kiddo
After 6 long months, 8's school opens again tomorrow. They're staggering drop-off times to avoid large crowds and I've been told to take him 10 minutes earlier than usual but joke's on them I left him there 2 weeks ago

— MumInBits (@MumInBits) September 6, 2020
I never was good at names….
One difficult aspect of a new school year is learning your students' names. I'm like, "What's your name again?" And he's like, "It's Tyler, Mom."

— Jessie (@mommajessiec) September 3, 2020
One. The answer is ONE.
If a parent has two children under the age of 10 doing remote learning, how many days into the start of the school year will they start counting how many days are left in the school year?

— Julie Vick (@vickjulie) September 2, 2020
Breakfast is the most important meal of the day.
Remote school day one. 9am my kid is eating mashed potatoes in the living room.

— Mary (@AnniemuMary) August 19, 2020
No, but are you though?
Are you muted
Are you muted
Are you muted
Are you muted
Are you muted

– all. day. long.

— The 21st Century SAHM (@21stcenturysahm) September 2, 2020
I'm REALLY proud of you
8's teacher asked the kids what they learned during homeschooling and 8 told her "the words to all the Beatles songs and that mummy likes to drink wine" and I hope she was impressed I put a lot of effort into both those things

— MumInBits (@MumInBits) September 7, 2020
Business casual in 2020
"Today on zoom my teachers were saying how we still have to follow the dress code even online. They don't know that I don't have any pants on though."

My 16 year old niece, who is now my life coach.

— Momsense Ensues (@momsense_ensues) September 9, 2020
Different strokes for different folks
Other moms: I've created a well-lit, organized space for my child to distance learn.

Me: That's cool. I wake my son up & hand him his chromebook while he's still half asleep in bed.

— Scary Mommy (@ScaryMommy) September 9, 2020
Now THIS is the kind of support we need!
For all of the parents out there struggling with distance learning rn, may your coffee be strong and your adult beverage be stronger

— Don't wake me (@MamaBear2_0) September 9, 2020
I mean, it's 5:00 somewhere
These parents all twisted after a few days of helping their kids with distance learning just need to CHILL, I say, fixing a 3rd gin & tonic before noon.

— Ms. Havisham (@MissHavisham) September 9, 2020
The exception to the rule:
Me: Kids, we don't say we can't do something. We ALWAYS try! And we NEVER give up, okay? We can do this!

Also me: Ok, this distance learning is bullshit. I can't do this. You don't actually have to finish 2nd grade right? Let's take a gap year and go get ice cream.

— The Salty Mamas (@saltymamas) September 9, 2020
Hang in there, all. This has to end sooner or later, right?
RIGHT?!?
Looking for more laughs? Check out these other Tweet roundups from The Salty Mamas!