Trying to find a pregnancy village? Finding your people isn't the easiest, but if you're looking for a pregnancy support system, here are the 7 friends you need to get you through.
I mean, you've heard this saying before- "It takes a village to raise a child." And while the saying's not wrong, we think the saying is also missing a little something.
After all, it also takes a village to raise a mother.
Pregnancy is exhausting. It can drain you physically, and it can leave you wondering if pregnancy can actually, literally make you crazy. We'd argue that pregnancy can be one of the hardest life transitions for a woman, but you're going to hear more about what a "magical" time it is. (Which can leave you feeling insanely frustrated if it's less than magical for you.)
So where can a pregnant mama turn?
If you're building a pregnancy village, either online at somewhere like The Bump or Meetup, or in person with people you know, there are some key characters you need to add to your crew. Here are our top suggestions for the 7 friends a woman needs to get her through her pregnancy (and beyond).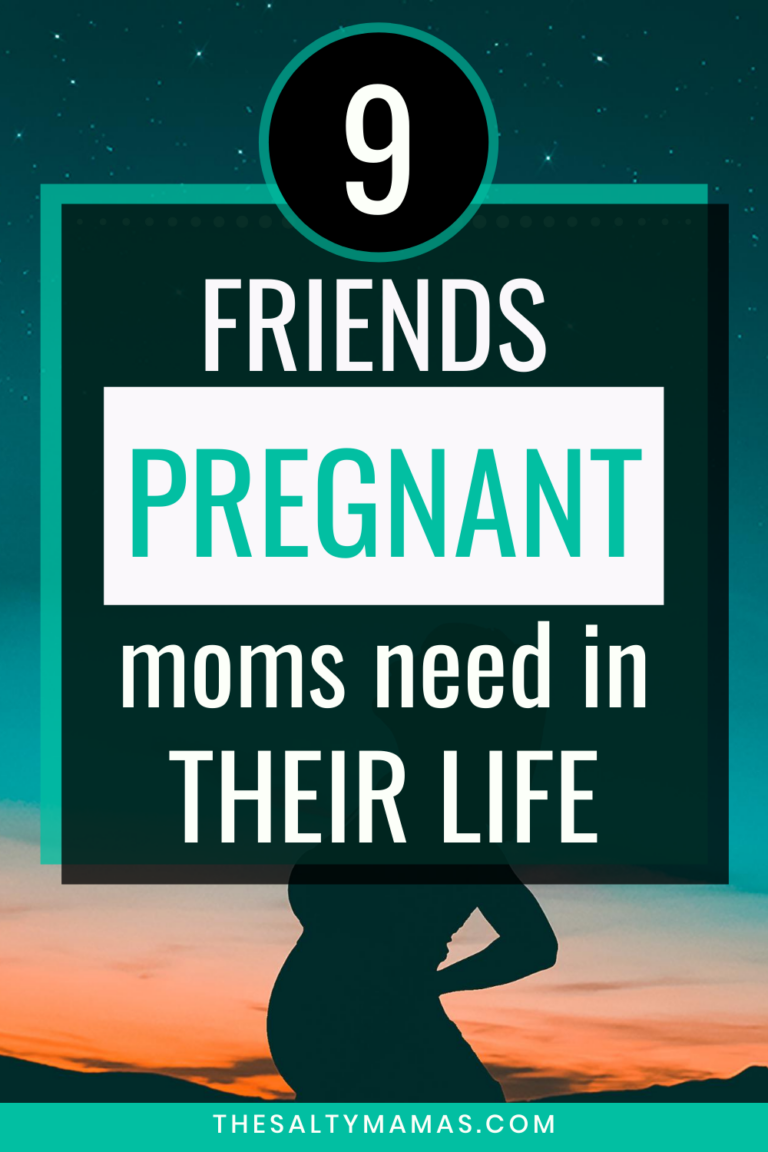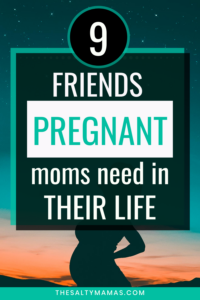 This post contains affiliate links. You can read more at our disclosures page. Thank you for supporting The Salty Mamas!
The Social Friend
Need someone to make the "She's in labor!" calls? The Social Friend has your back. Same goes for when the baby arrives and you need someone to help notify the people who fall into the "before Facebook but after the grandmas and aunties" range.
She'll coordinate your other friends so everyone doesn't pop by with a lasagna on the same day and help you to plan your baby shower. And if you just need someone to talk to, this friend is only just a phone call or an over-coffee chat away from filling your chatty needs.
The Cheerleader
You need some reassurance that you're going to be just fine? The cheerleader friend has got you.
Whenever you're feeling stressed out, or insecure, or just a little less-than, this friend is the one to call. She'll lift you up, give you a rallying call, and remind you that you are still fabulous, capable, and overall amazing.
And not fat. DEFINITELY not fat.
The Professional Mom
This Mama has been there, done that and has seen it all. She knows when your freakout is serious, and when it's new Mama jitters.
She's here to tell you not only how to make breastfeeding easier and what items you absolutely cannot leave off of your baby registry, but also to tell you to relax. You'll learn all of these things in time, and her reasonably-well-adjusted-ish kids are the proof of that.
The Nurse (Like, Literally)
While we love all the friends in our Mom Squad, our nurse friend is worth her weight in gold. She has a kind heart, will love your kids, and won't mind when you send her a picture of every rash your kid will ever get.
And if something embarrassing happens to you (like pooping during labor or getting stretch marks in weird places) it's totally okay. She's seen worse, and she doesn't mind reassuring you that this is NOTHING.
The Calm Friend
New Motherhood is full of highs and lows – and freakouts. Is this what poop should look like?? Will this baby ever sleep? Am I just losing my mind???
Your zen friend will help you recenter yourself and realize that yes, this is a crazy time, but yes, you got this Mama.
The Not-a-Mom Friend
Someday you'll sit down and wonder, is this all I am now? A maid, housekeeper, personal assistant to an incredibly tiny person? While you may have traded a designer handbag for a diaper bag and wouldn't dream of wearing a white shirt anytime soon, your Not-a-Mom friend is there to remind you of all the other parts of you.
They're still there, just hidden under a layer of spit up for the moment. Life as a Mom and life as all the other wonderful parts of you can be a fine line to walk, but this friend will be there for you – if you let her in.
The "Food is My Love Language" Friend
This friend has got you covered in the postpartum hunger department. She'll bring over not only dinner for tonight, but a postpartum freezer meal to stick in your freezer for another night.
There will be loaves of banana bread and frozen homemade lunches for your kids. It's going to feel like she's doing you too big of a favor sometimes, but this is how she shows her love.
And for the love of God, woman, LET HER.
*******
So find your pregnancy village, friend, and build it well. With any luck, these are the women that will see you through pregnancy, postpartum, and beyond. You're going to want to keep them all.
So friends, who did we miss? Which friend is an absolutely ESSENTIAL addition to the village of motherhood? Tell us in the comments below!
Looking for more friend inspiration? Head here next-