I know there are some fabulous mamas out there, but ladies, I am not naturally one of them. Sure, I used to spend big money on make-up back in the day. But those days are loooong gone, and I've spent years and years with a lackluster five minute makeup routine for moms– drug-store foundation, drug store eyeliner, drug store blush, and LOTS of drug-store mascara.
I just didn't have the time, the energy or, frankly, the money to put towards my day to day look.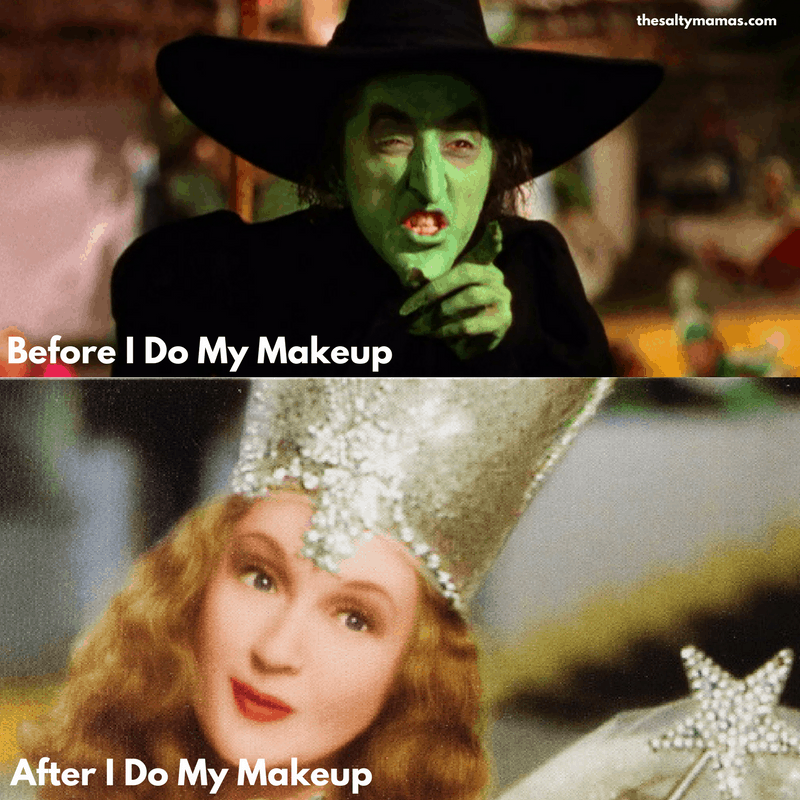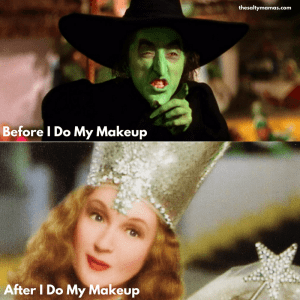 And then my son spent five minutes as a model, and, as a result, so did I.  And I received two glorious makeovers in the process. I wasn't the focus of the shoot, so my makeup was light, natural, and simple.
But I still felt like a million dollars, and decided I wouldn't wait until the next photo shoot to find that oomph again, but that I would find it on my own (which, thank goodness, as there was no next shoot).
So I adjusted my makeup budget a little. I did some serious Google Searches, and some serious trial-and-erroring, and stepped up my game by finding the best drug-store make up for moms.
So if you find yourself looking to up your mom makeup game, take heart. We've got the PERFECT five minute makeup routine for moms to get you looking fresh a little more frequently.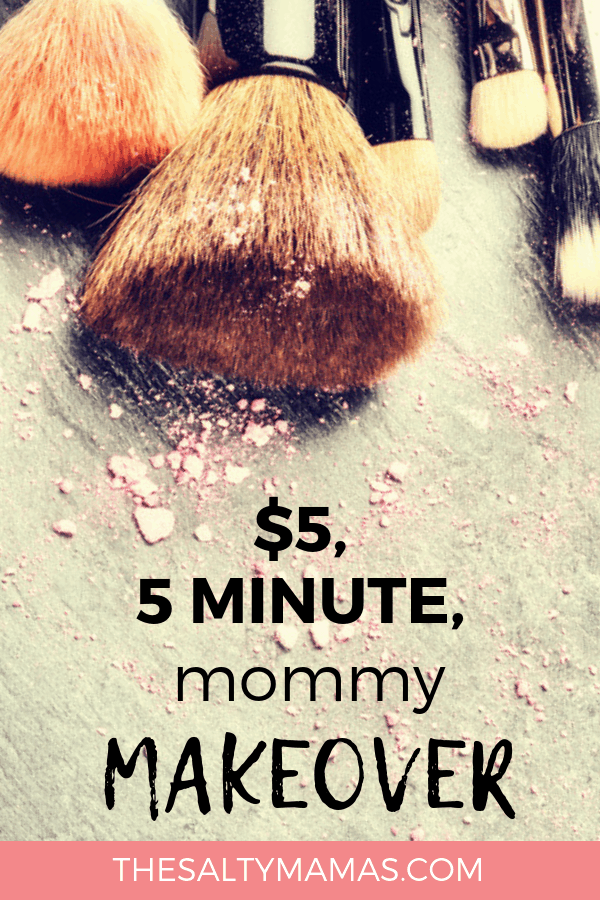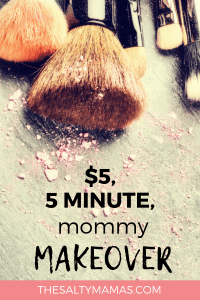 This post contains affiliate links. You can read more at our legal page. Thanks for supporting The Salty Mamas!
Best Drugstore Primer
If you're going to do this right, it's best to start with a fresh face. Wash your face with water and gentle soap and pat dry with a towel.
Next up, you'll apply a coat of primer over your entire face. A tiny bit goes a long way here, and makes a BIG difference.

We love the ELF face primer. It's cost effective, and just plain old effective. It makes a BIG difference in the application of your makeup. Allow it to dry while you brush your teeth and then move on to the next steps of your five minute makeup routine for moms.
The Best Drugstore Foundation
We've tried our share of drugstore foundations. You need a formula that is light and fresh but that provides dark-circle-coverage after a long night of getting up with babies.

I like to use this Maybelline Fit Me Dewy & Smooth Foundation, applied with this brush. A little goes a long way when applied with the brush, and it is everything it says it will be- full coverage, but with a little glow in the finish to leave you looking fresh and sunny.
The Best Drugstore Blush
For a hint of color without the full-face-makeup effect, we recommend Maybelline Fit Me Blush.  Based on my face shape, the Make Up Artist I worked with at the photo shoot gave me the suggestion to use only a bit of blush or bronzer low on the apple of my cheek.
After a little searching, I found this blush, which comes in a multitude of shades and adds just the right amount of color for some definition, without going over the top.

The Best Cheap Mascara
Until very recently, I was borderline OBSESSED with my CoverGirl Outlast Mascara. My old-school, orange-tube CoverGirl Mascara got me through many, many years.  I got it in ebony black, and layed it on thick in several layers.
My mama always told me that a lady doesn't leave the house without her mascara on, and for the most part I follow her rule.

However, I've discovered a NEW favorite mascara that wowed me from day one. Coming in at an INSANE low price (see it here), Lash Princess False Effect Makeup is just what it promises to be. Thick, full lashes in just ONE coat? And at THAT price? It's a no-brainer.
*******
Don't get me wrong, I'm still a model in name only, and only wear makeup about half the time.  But all I was really looking for was a way to look better when I wanted to do, and between Beth and that Hollywood Make Up artist, I found a way to do just that.
So try some new products (without breaking the bank, even!) and find a five minute makeup routine for moms that works for you. We promise, it'll make a world of difference.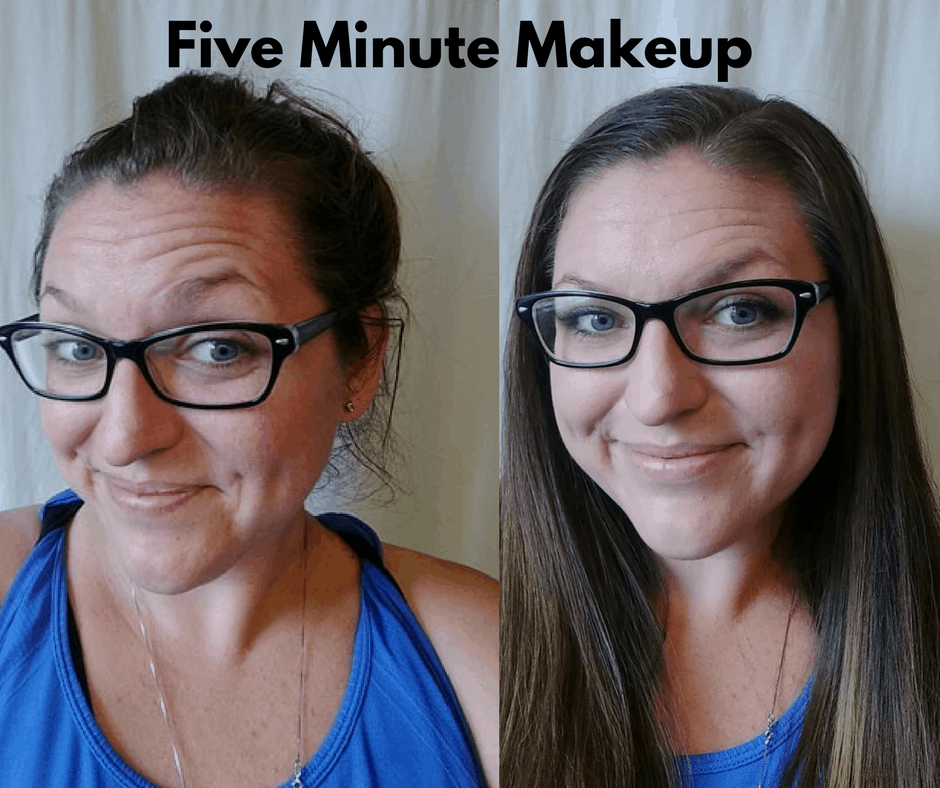 Want more self care for moms? Check out these posts next.