Got extra grocery ads lying around? Turn them into a totally free cutting and pasting craft for toddlers. It's a great way to get in some free scissor practice, AND to buy yourself a few minutes to make your grocery list, too!
When my daughter was younger, we had a Monday morning ritual. We'd pour ourselves a cup of coffee and a glass of milk (you can guess whose was whose), sit down at the kitchen table, and look over the grocery ads that came in the mail. 
We'd look at the foods, talk about which ones we'd like and dislike, and sometimes choose a new food to try.
As we chatted, I had a bigger goal in mind- making my grocery list in preparation for our grocery shopping trip later in the morning.
Over time, she got less interested in having the same conversation over and over, and I started looking for a new way to keep her busy while meal planning. 
Armed with just scissors, glue, and a paper plate, we stumbled on a fun, easy-to-repeat, totally free cutting and pasting activity for toddlers. It's so simple and low prep, but has TONS of opportunity for genuine learning experiences for kids.
So let's take a look at how to turn those free grocery ads into a HUGE learning opportunity for toddlers (and get you a little peace in the meantime!)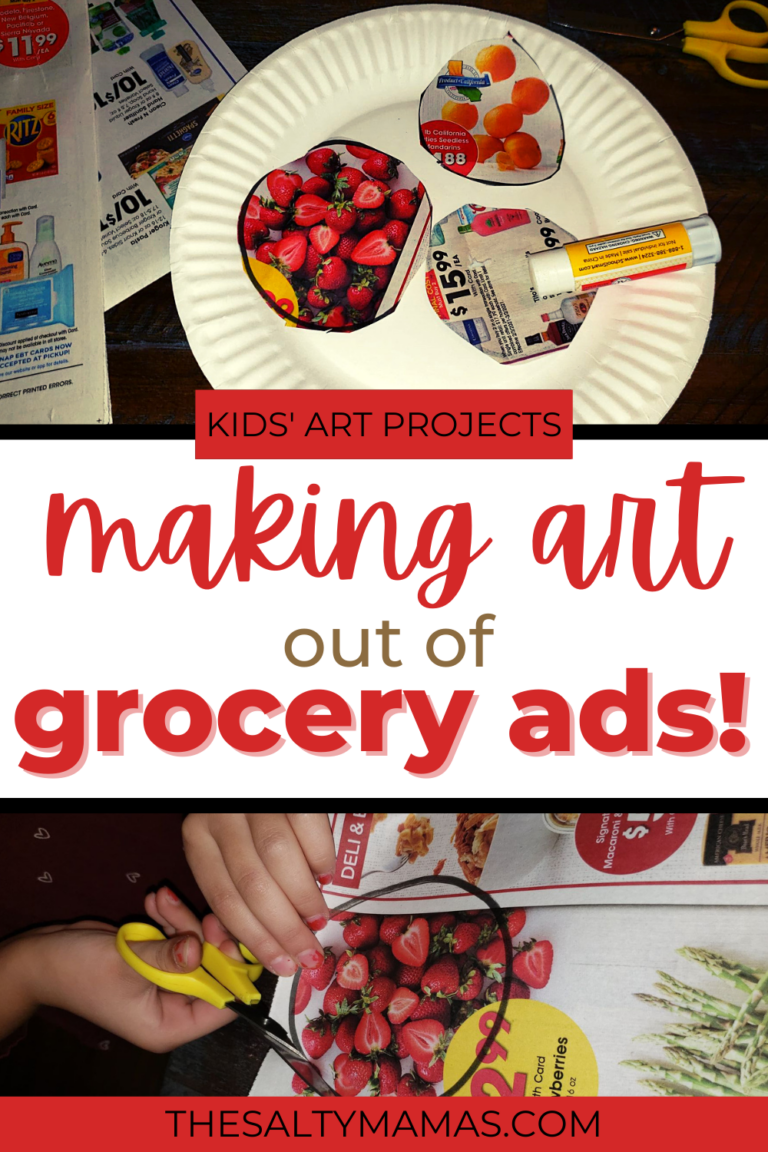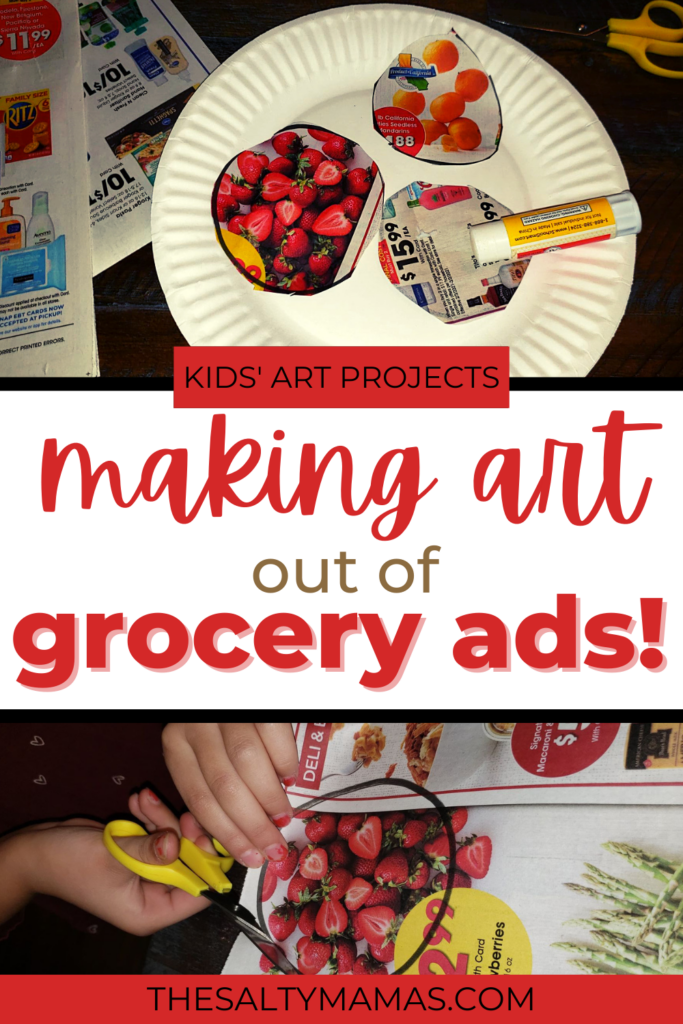 This post contains affiliate links. You can read more at our disclosures page. Thanks!
Why are Scissor Skills Important for Toddlers?
While scissor skills obviously aren't completely necessary for two and three year olds, they do help littles work on important skills like hand strength, fine motor skills, and hand-eye coordination.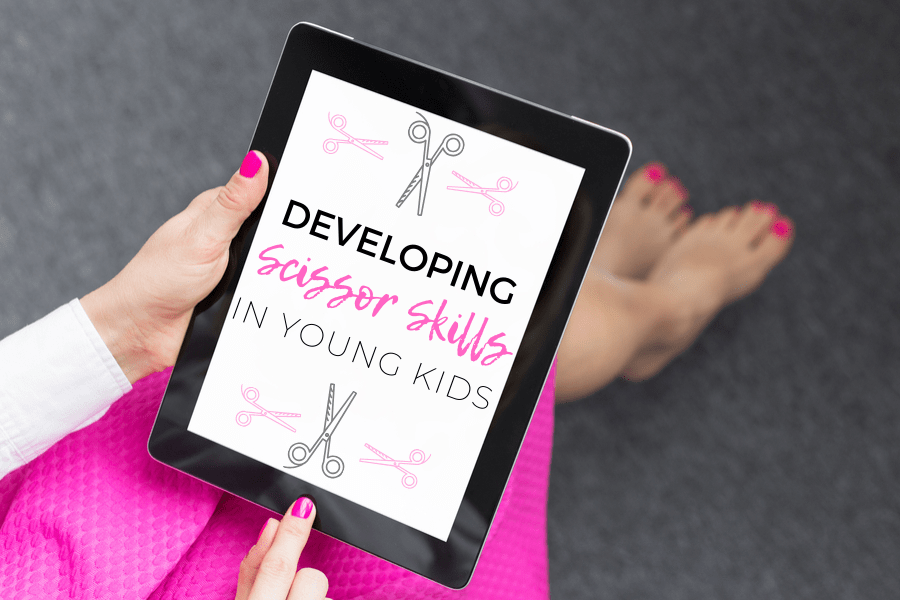 Working with scissors is also a really important school readiness skill. As a former preschool teacher myself, I can tell you that their teachers will be VERY grateful if they come to school knowing how to wield a pair of scissors.

Setting Up Your Cutting and Pasting Activity for Toddlers
This is such a perfect sit-beside-me activity for those mornings when you need to get something done, but your toddler wants to be underfoot help you.
First, grab some of those grocery ads that get delivered each week. Keep the ads for the store you shop at for yourself, and pass some for the other store(s) to your toddler.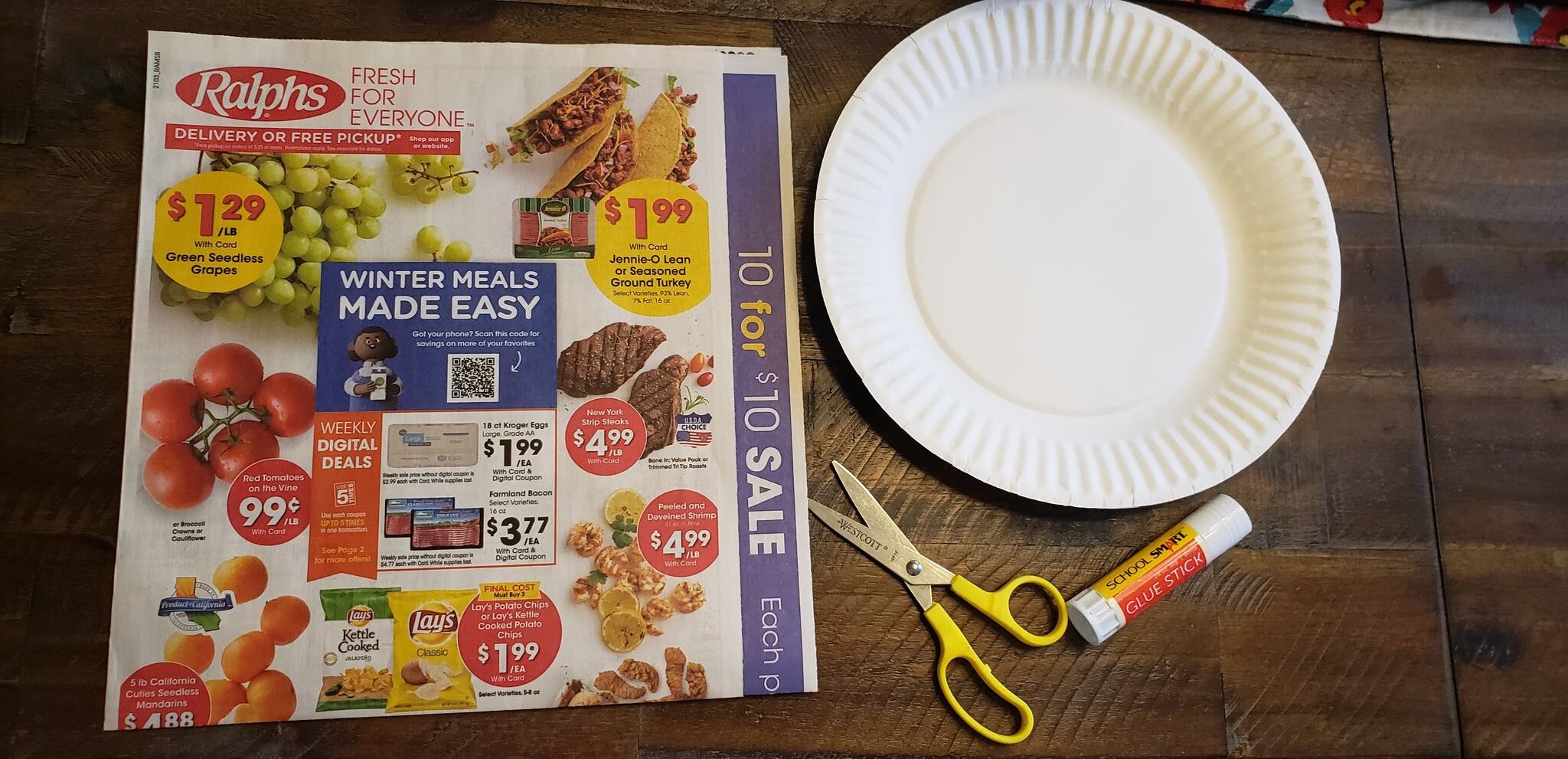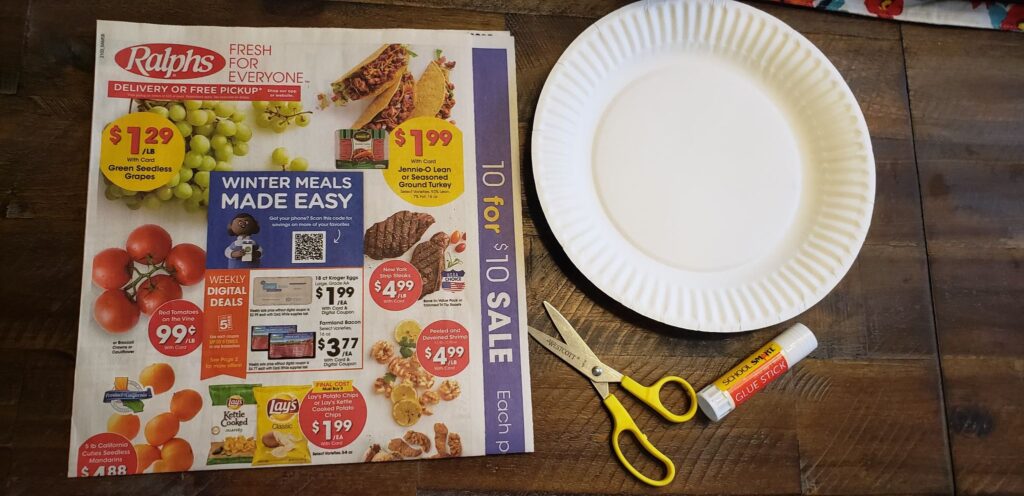 You'll also want to gather the following items for your activity:
Grocery ads (see above, or print some here)
A washable marker
A paper plate or blank paper
Glue sticks or glue (a bottle of glue is way messier, but this is also a great time to practice "dot, dot, not a lot")
Developing Language Skills
If you have a few minutes to spare, spend some time browsing the grocery ads with your toddler first. See which foods your toddler already recognizes, and help them to learn the names of foods they don't know yet.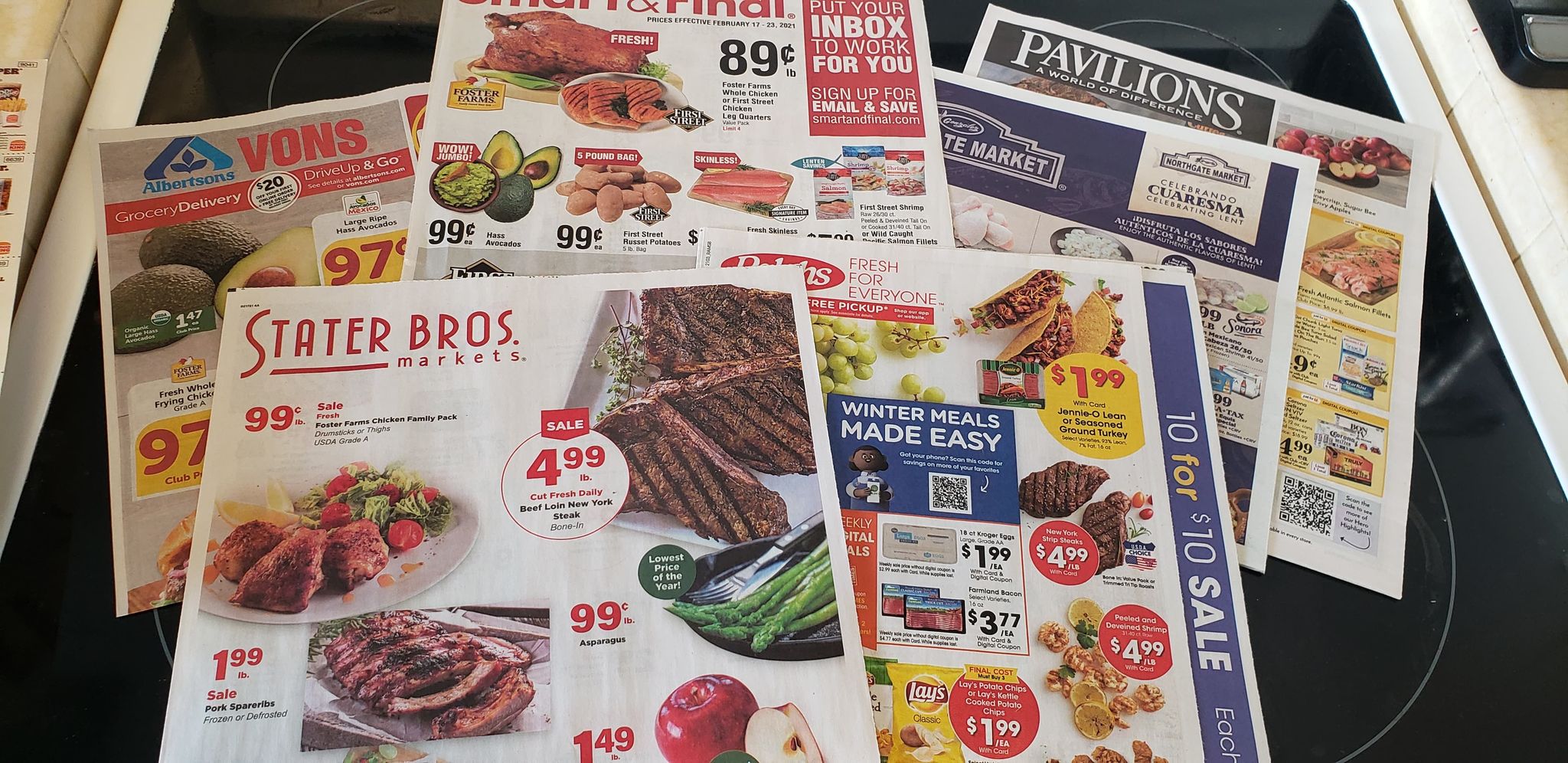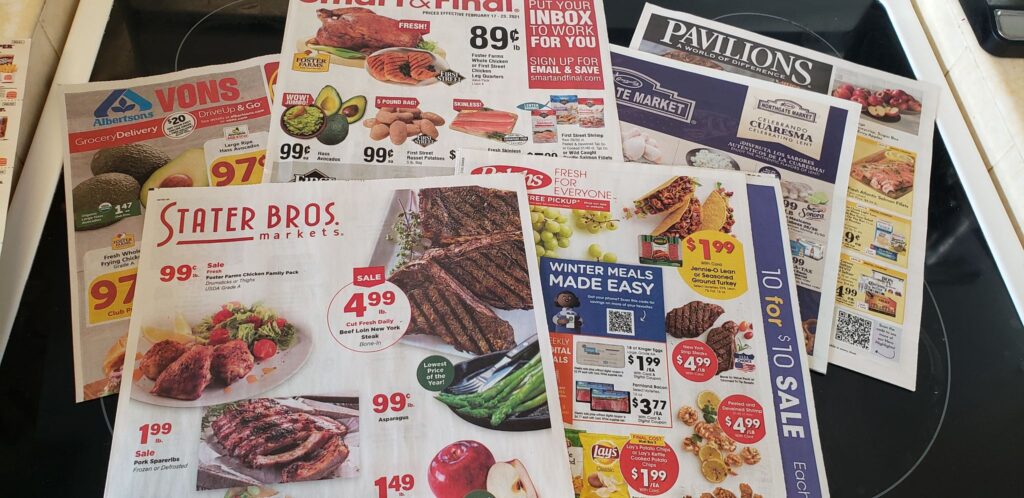 Older preschoolers can "read" the ads on their own, labeling items they see and practicing their numbers by telling you how much they cost. You can prompt them by asking questions like, "which fruits do you see?" or "which items would be good for breakfast?
Choose Items to Cut
Now, let your child choose the items they'd like to cut out. You can give them different prompts depending on skills you're working on, or change it up every week.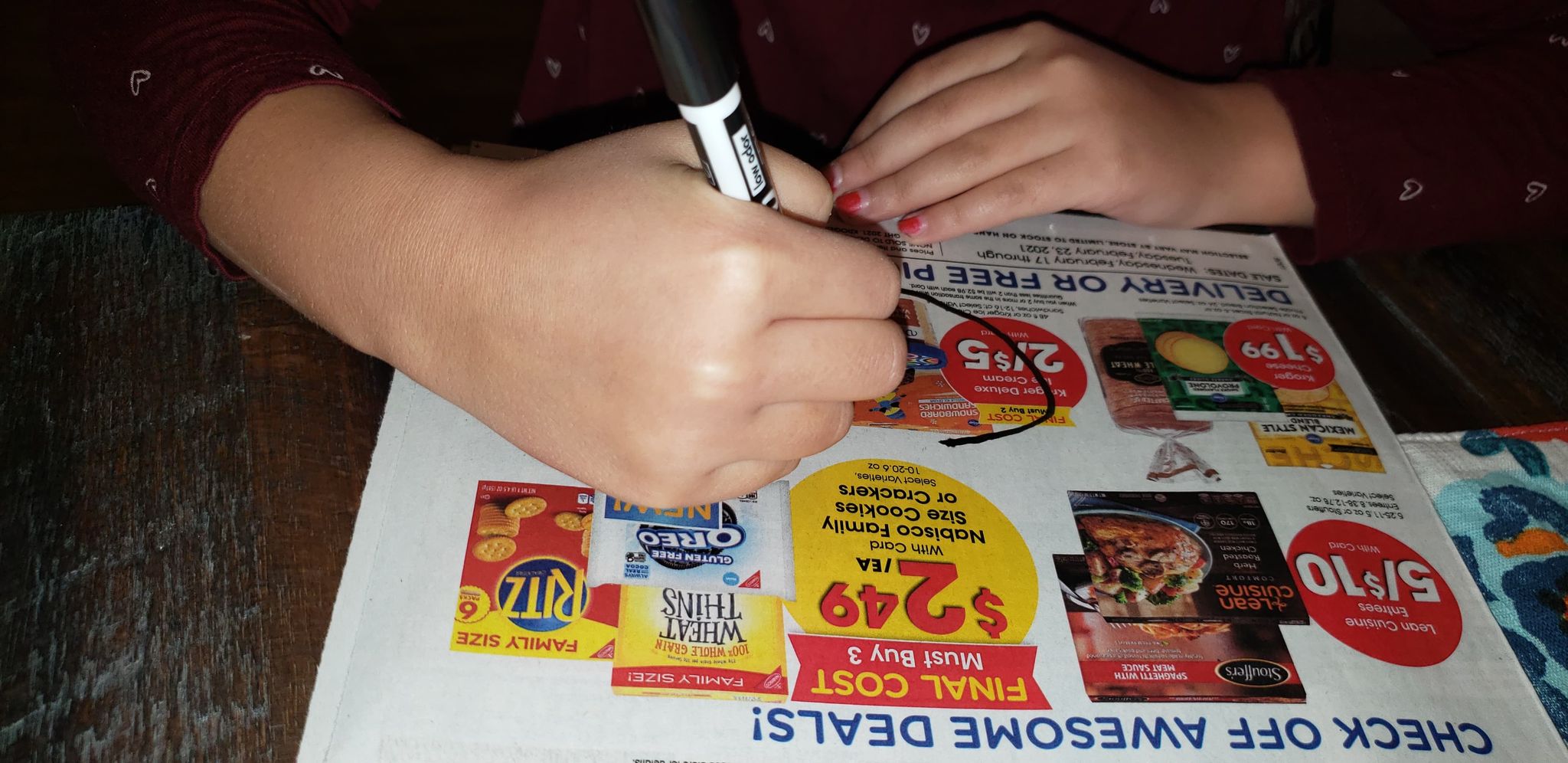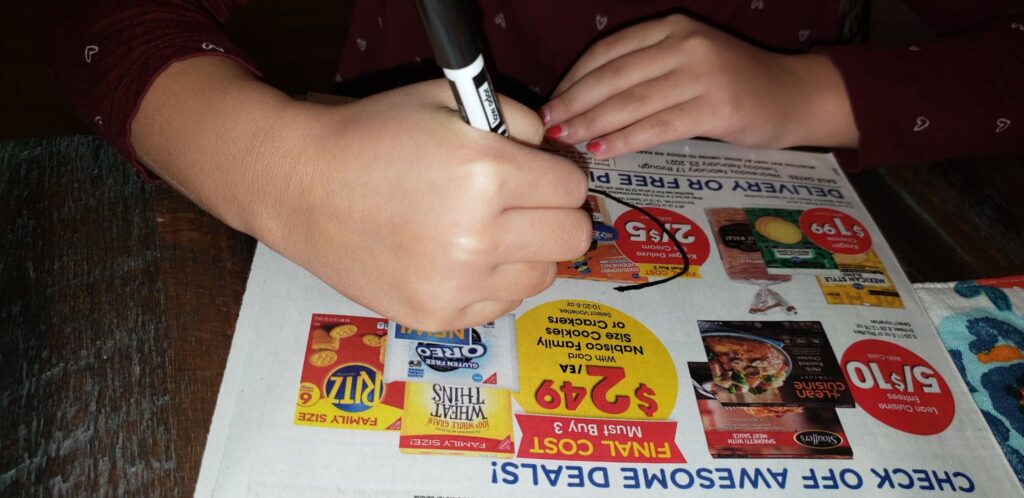 Asking them to simply cirlce their favorites is a great place to start, but here are some examples of items we've circled:
Items they'd like to buy at the store
All the fruits
All the vegetables
Breakfast foods
Lunch foods
Dinner foods
Snack time foods
Desserts!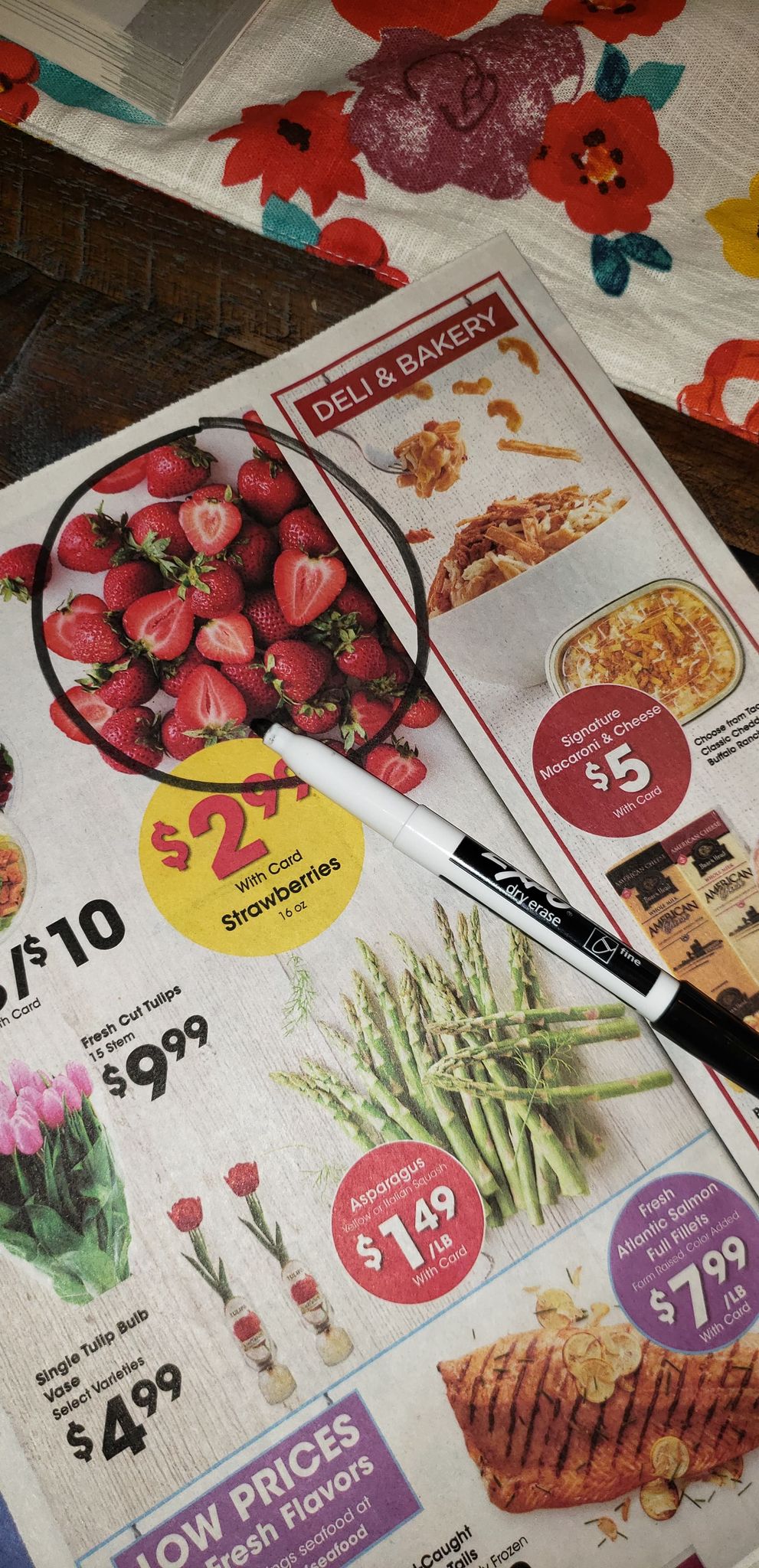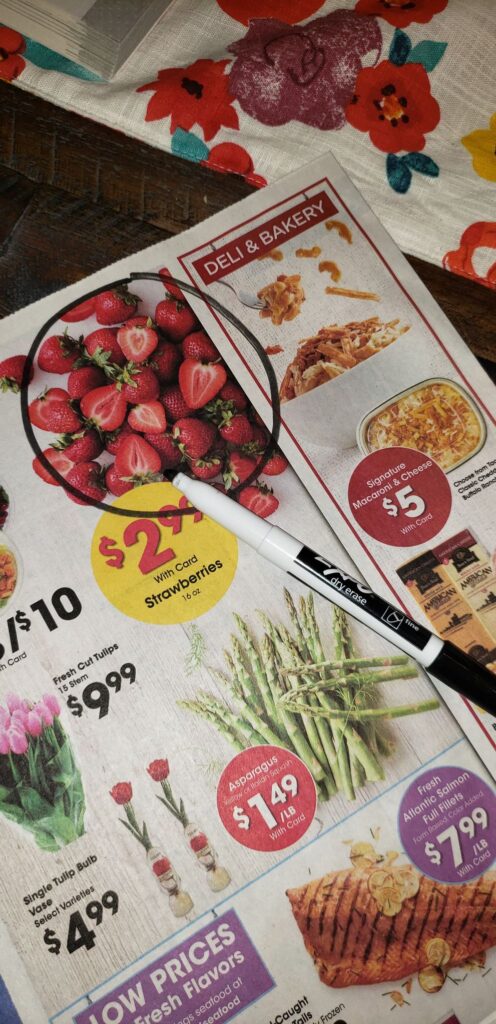 As they choose the items to match your questions, you or your child will circle the items using a thick marker. You'll do this for younger kids, but at around three years old, kids will be able to start drawing circles on their own.
Cut out Grocery Items
Now it's time to practice those scissor skills! Have your child practice cutting out the items you've circled. Encourage them to put their thumb in the smaller hole and their fingers in the bigger hole, with their "thumbs up" towards the ceiling. Elbows should be in, and they should move their paper, not the scissors.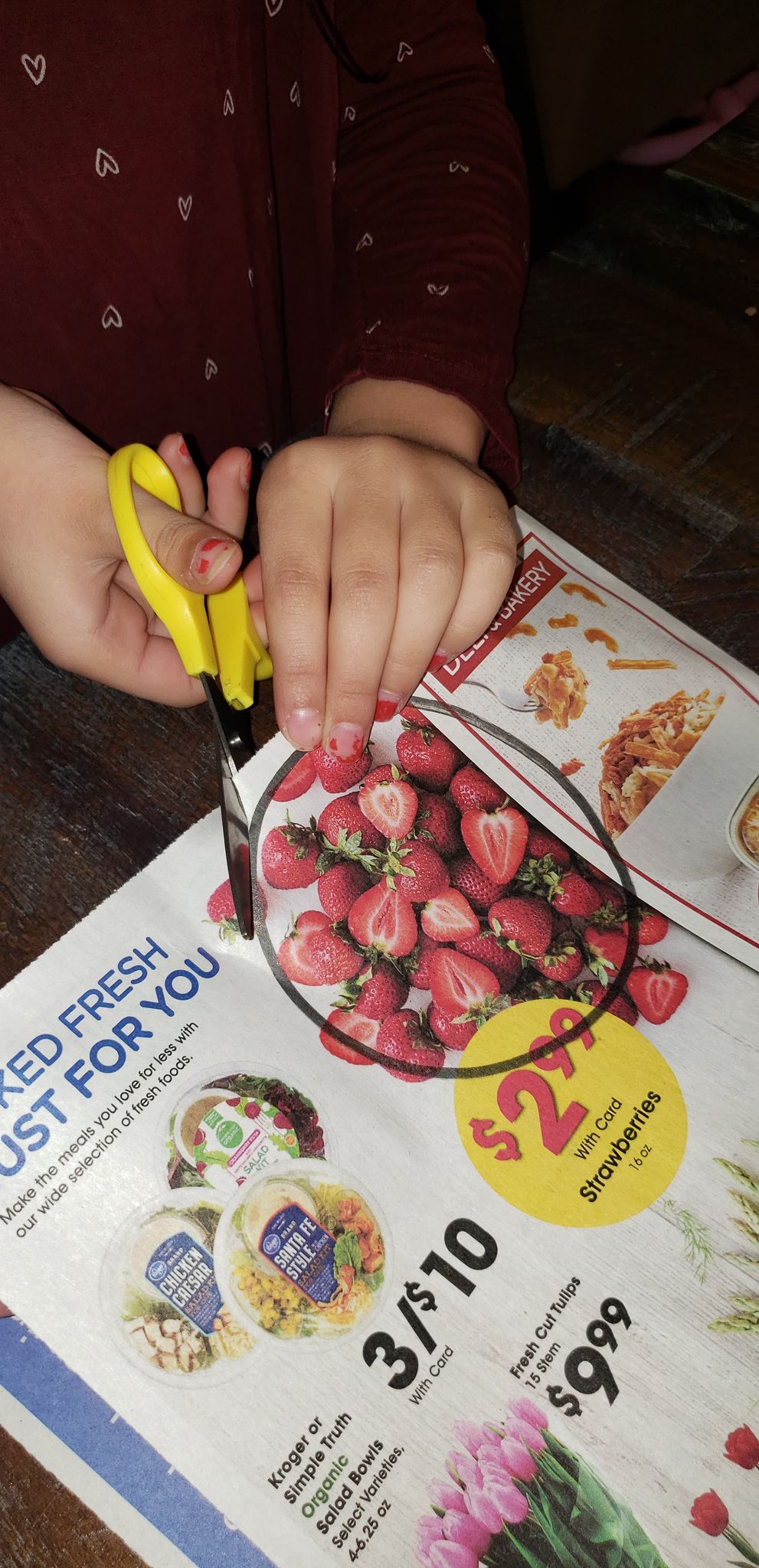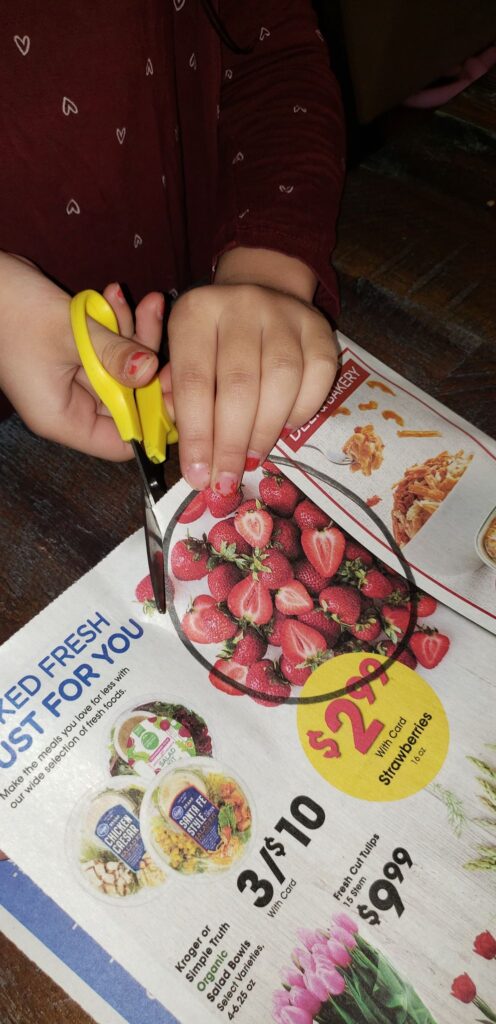 Adaptation for Ages 2-3: Do a rough cut of the item first, so they're not working with the entire page of ads. I like to cut out a big square around the item, so they're just doing the trimming.
Turn Your Cutting and Pasting Into a Craft!
Now is the fun part of this cutting and pasting activity for toddlers! They'll get to glue their items down to make a tangible product, which they LOVE. 
I like to give kids a real paper plate, but a regular paper works fine. Show them how to use a glue stick (put glue around the edges and an "x" in the middle) or a "dot" of glue to attach the image to the plate.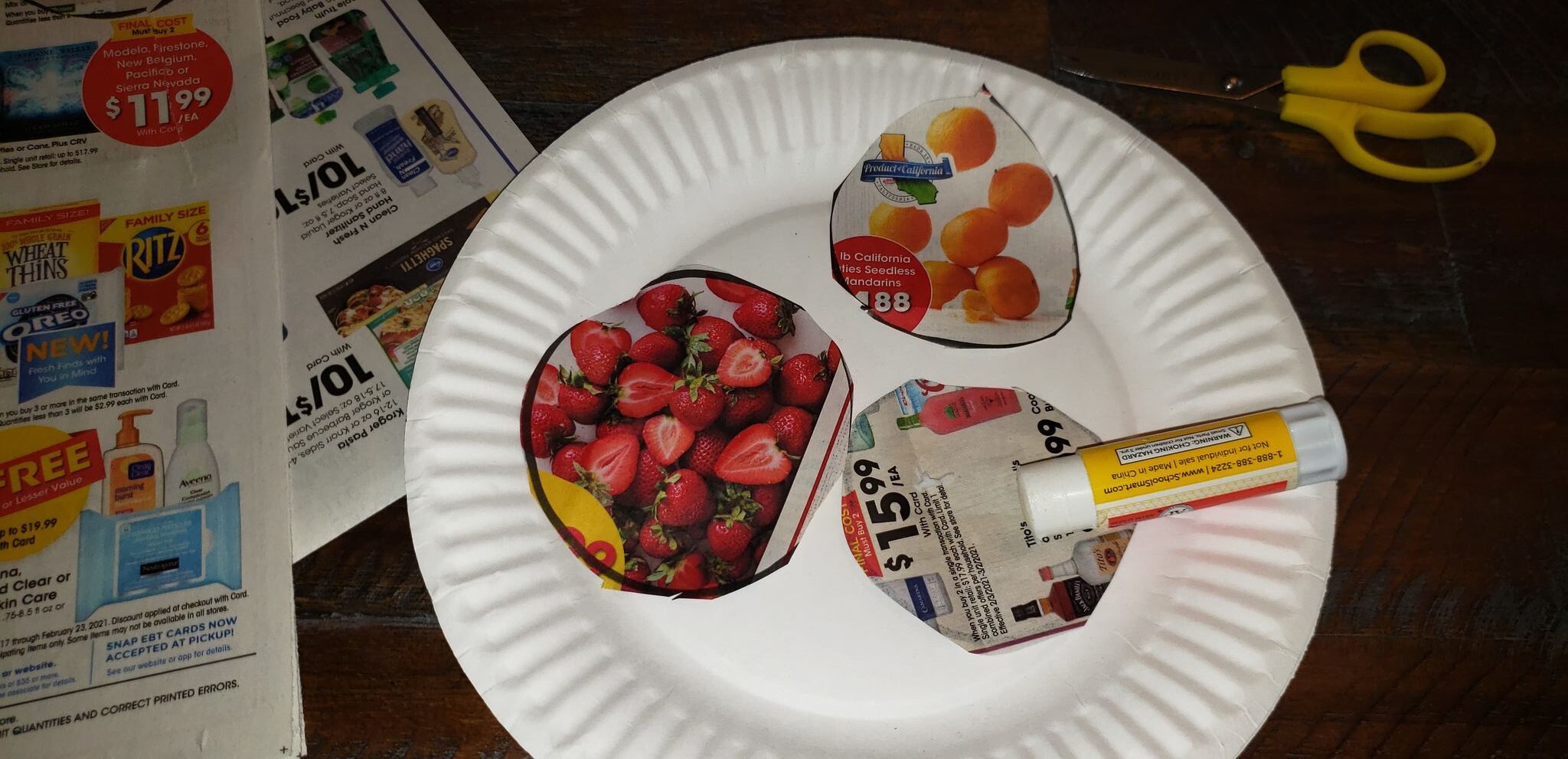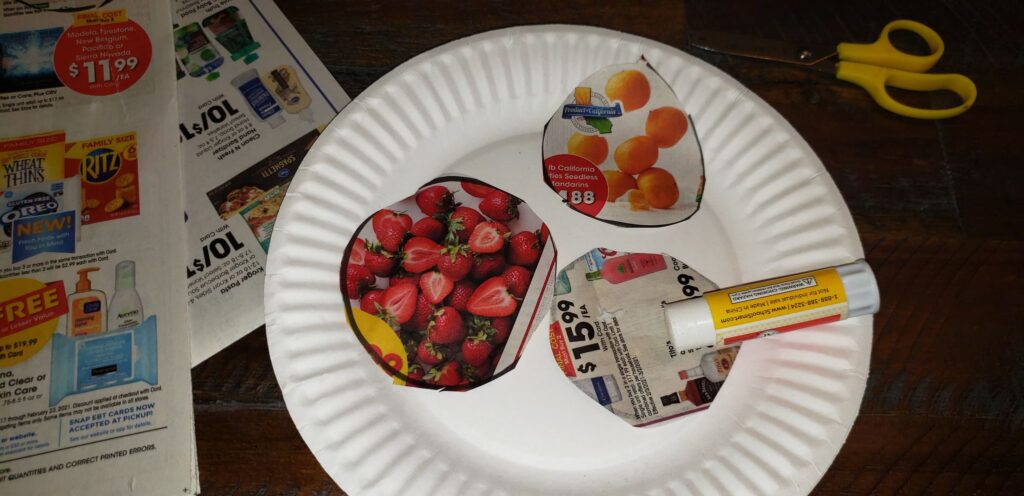 When they're done, they'll have a whole plate or paper full of food. Let them "read" the plate to you by naming all of the images. If they seem interested, you can also use a pen or pencil to label the foods by writing the names next to the images.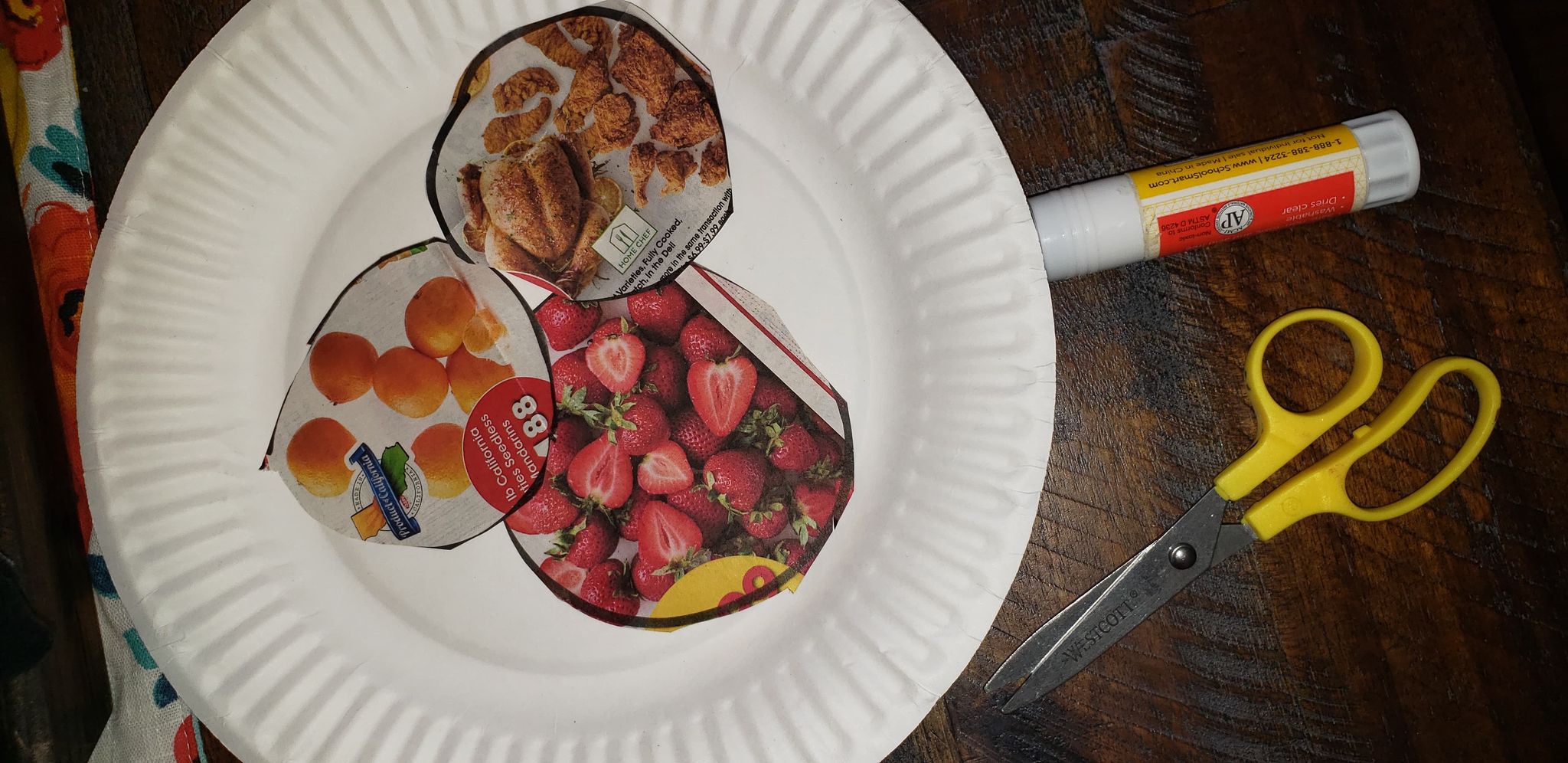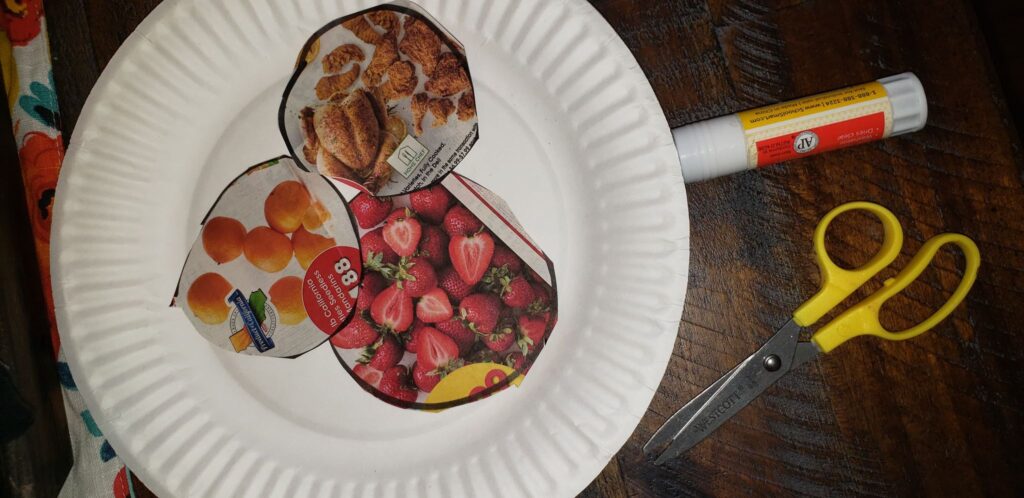 When you're finished chatting about their craft, you can bring it with you to the grocery store and see if you can find the items you've cut out. You might also want to add it to your child's pretend kitchen or use it to serve a "meal" to their dolls.
*******
With toddlers, you'll often find that less is more, and this totally free cutting and pasting craft for toddlers is no exception. In fact, don't be surprised if your toddler wants to repeat it every week. If your kdido is anything like ours, it'll become a cherished part of your weekly routine.
Looking for more ways to play and learn with your littles? Head here next-