Kids love goody bags, but moms don't always love that they're full of junk. So what are some goody bag ideas that DON'T suck? Check out this list of party bag alternatives from two moms with LOTS of party planning experience.
I had everything ready to go for my son's 6th birthday. The party place was booked, the food was ordered, and the cupcakes had been requested. I was feeling pretty dang good about myself.
Until my son asked me what we were doing for Goody Bags.
It's no secret that we HATE goodie bags around here. We don't think goody bags are necessary, and the idea of buying more plastic junk for our kids to eventually throw away makes me a little ill.
But because my son INSISTED that we needed to hand out party favors, I started looking around for party bag alternatives.
And I ended up finding a TON of cool ideas for party favors that are not junk.
If you are also looking for Goody Bag Alternatives for Kids, read on for this list of unique goodie bag ideas for kids' parties.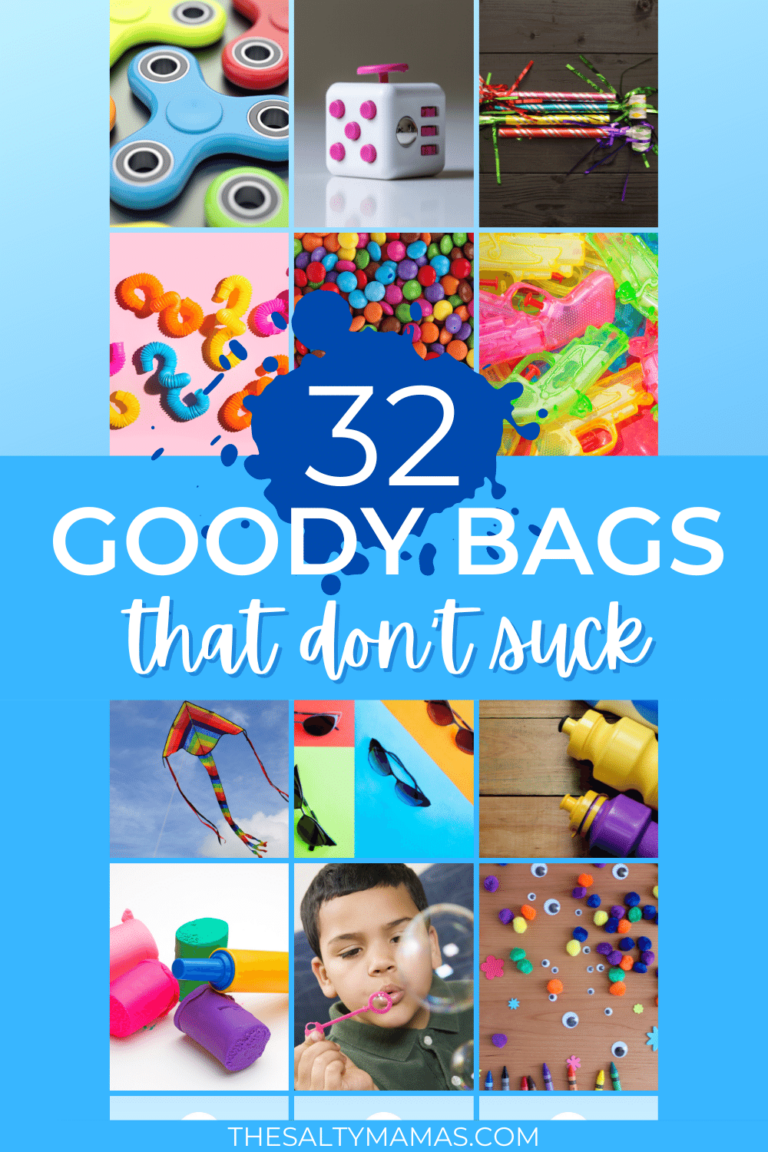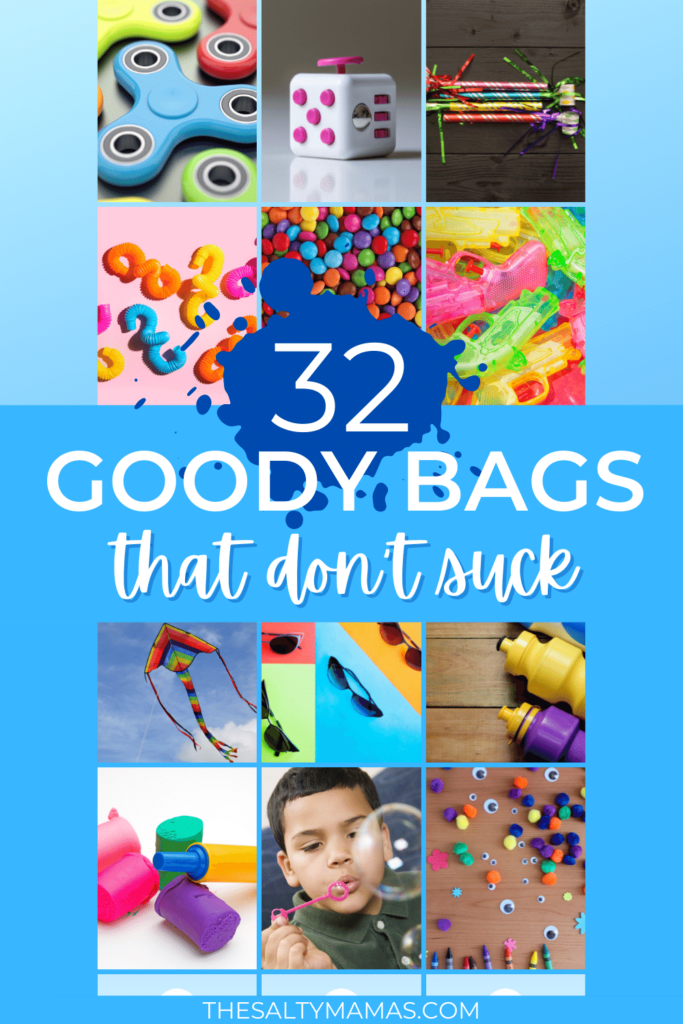 This post contains affiliate links. As Amazon affiliate, we may earn from qualifying purchases. You can read more at our disclosures page. Thanks!
Do I Need Goody Bags for My Kids' Party?
The short answer? No. You don't need Goody Bags. Nobody needs more junk, and we definitely don't need more candy.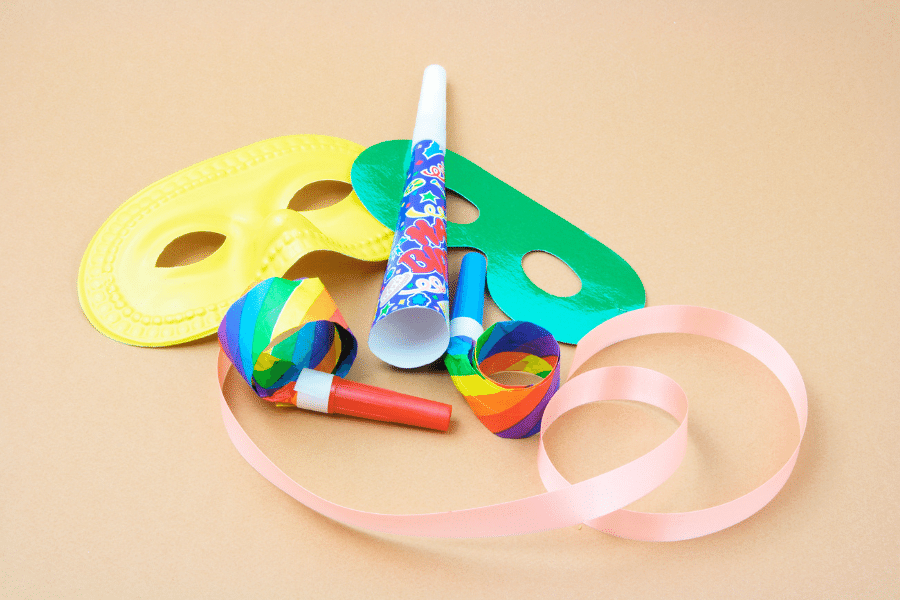 However, it can be nice to give out a party favor. First of all, some kids (and maybe their parents) expect a little something at the end. It can get kind of awkward when a kid asks for a goody bag and there isn't one (ask us how we know.)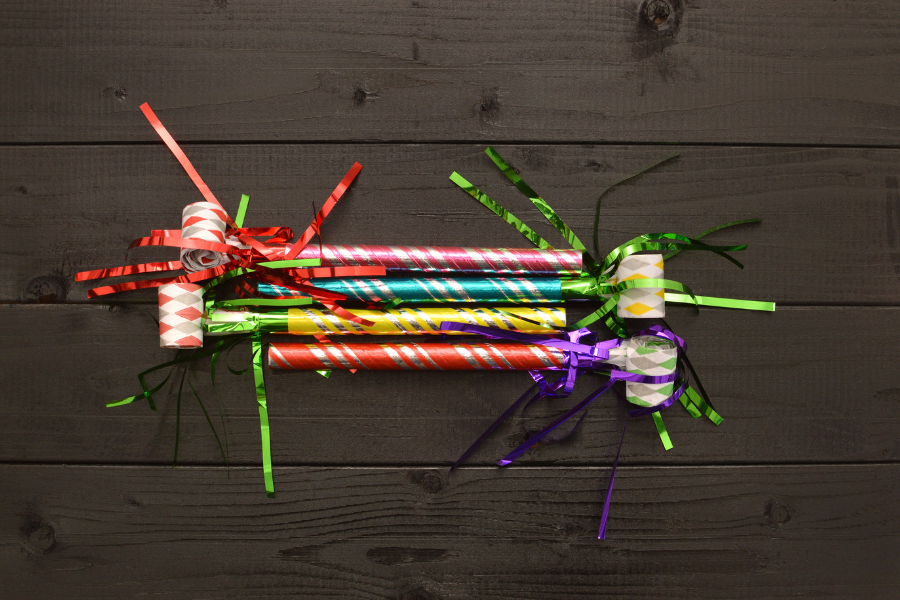 Secondly, sometimes your kids just really want a unique goody bag for their party. If your kid is into it, and you don't mind, there's no harm in passing out a party favor alternative.
No Prep Party Favor Alternatives
Need a party favor alternative that is as painless as possible? These unique goody bag ideas are no-prep, easy peasy solutions to your party favor problem.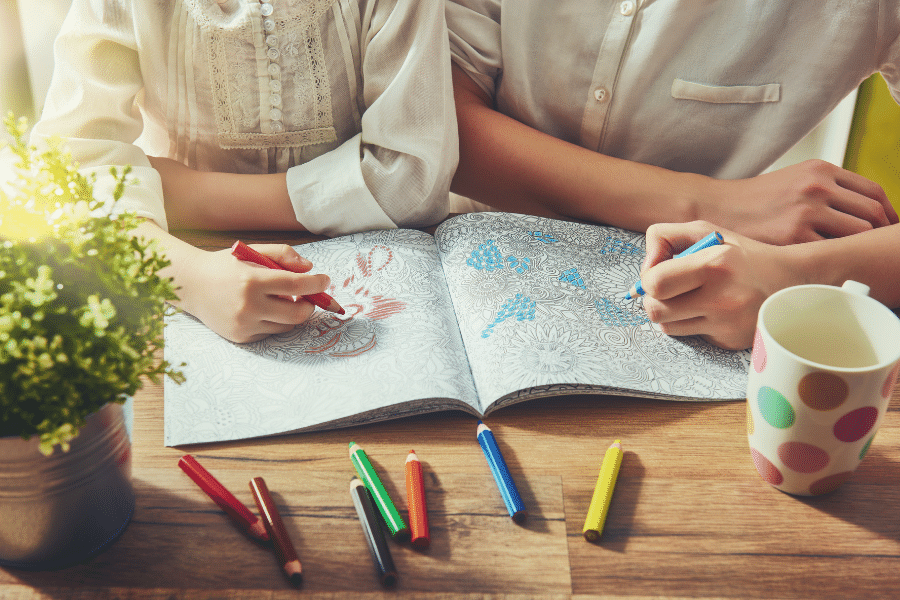 Worth noting: you can often find these items at the Dollar Tree, too, but Amazon links are provided for your convenience.
Here are some classic, no-prep party favor ideas:
Bubbles (wands are usually the most fun, but small containers of bubbles are great too!)
Playdoh (Grab the premade cans, or make your own if you're feeling extra)
Play packs (these come to match almost any theme, and are conveniently packed for easy distribution
Coloring Books (Once again, these are easy to keep on theme, and kids and adults both love them)
Sunglasses (Perfect for summer parties, pool parties, etc!)
Water Guns (This is another one that is great to give out at a pool party)
Lego (We know, these can get REALLY expensive. Consider grabbing a pack in your party's colors from the Dollar Store, or send everyone home with some fun MiniFigs)
A Ball (Bouncy, soccer, mini basketball- these are super fun to continue the play at home with!)
A Kite- This was one of my favorite "goodie bags" that my kids ever got! Grab the Dollar Store versioin for the most bag for your buck.
Fidget Toys Party Favor Ideas
Fidget toys are having a moment- and as such, they make INCREDIBLE party favors! Kids will think they're fun, parents (probably) won't think they're annoying, and they are very trendy.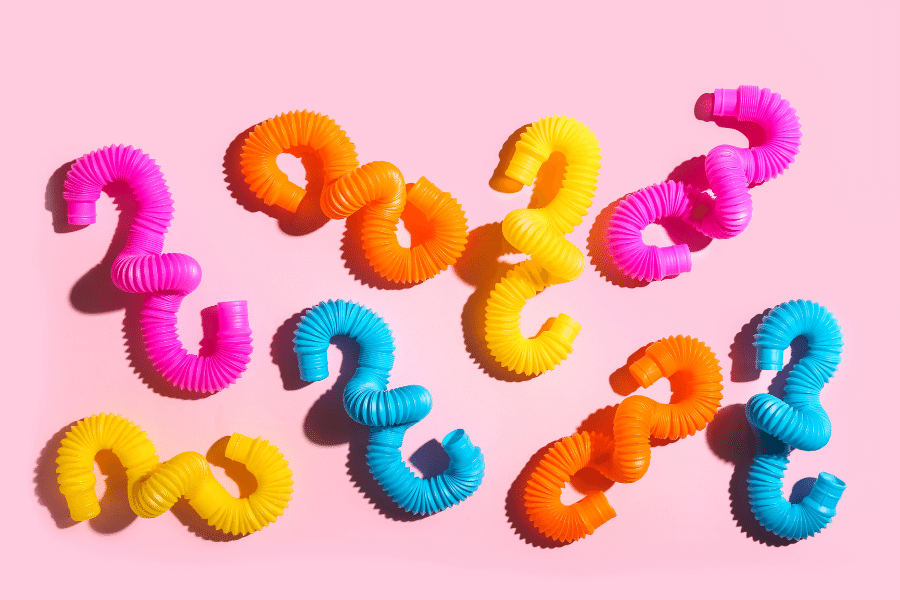 You can also use these fidgets as a centerpiece! Pop them in a basket, place them in the center of the table, and your decor is almost done.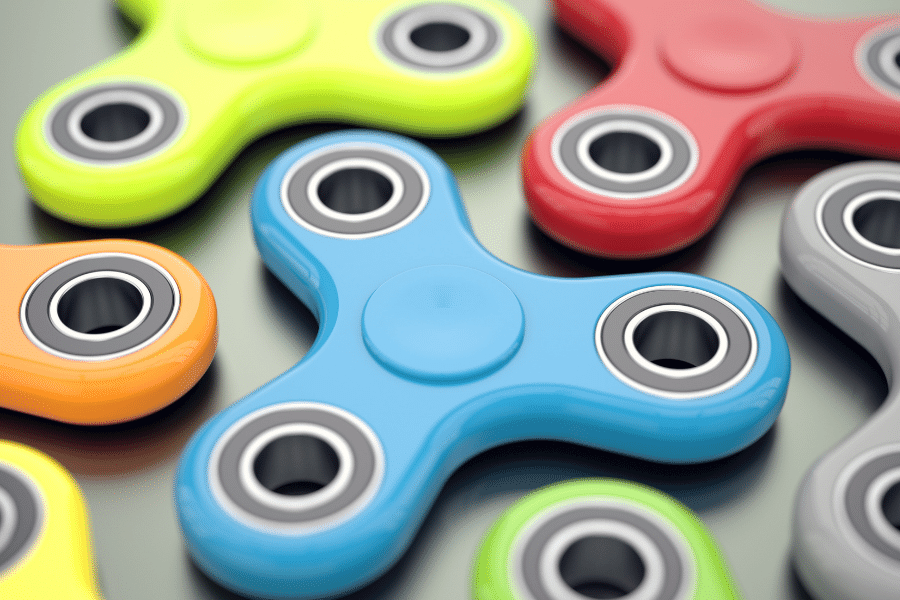 Here are some ideas for fidget toy party favors:
Crafts as Party Favor Alternatives
Got a crafty kiddo? These little craft supplies and craft kits make GREAT party favors!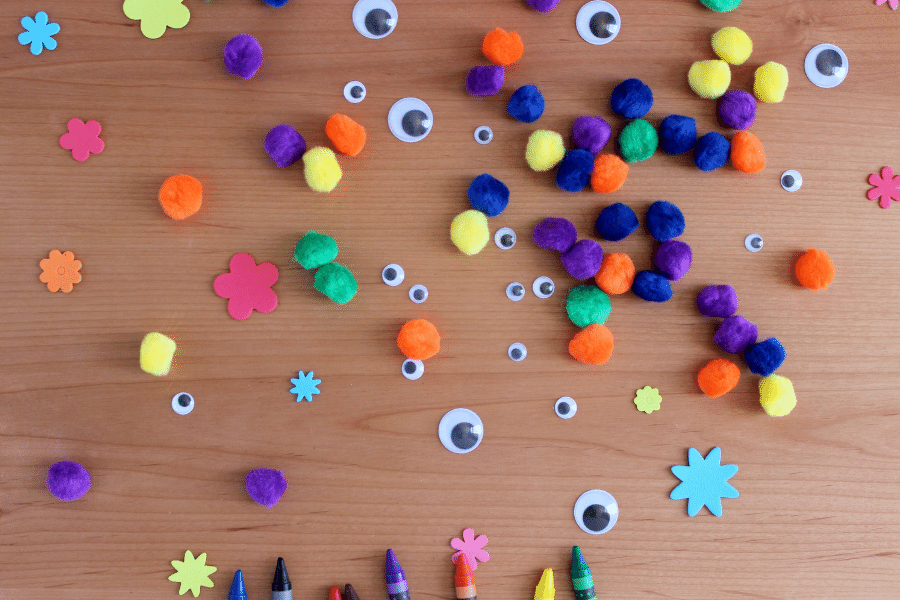 These are the kind of party favors parents actually like, and are unlikely to end up in the trash or in the bottom of the closet.
Here are some fun ideas for crafts as party favors:
A Scratch Pad– My kids are weirdly obsessed with these, and they seem like a generous party favor.
DIY Bouncy Ball Kit– We got these as a party favor once, and we promise, it was the coolest.
Wind Chime Craft– Send kids home with all the supplies needed to make their own wind chime!
Gel Pens – These mini gel pens come in a set of 60, and they smell yummy too!
Air Dry Clay Kits– I wish I had a link to show you, but you can grab little air dry clay kits to send home with guests. They come with directions on how to make the creature, and enough clay (and then some!) to make it happen.
Veggie or Seed Kits– The Dollar Spot at Target almost always has little seed growing kits this time of year. Why not send guests home with a little springtime fun?
Paintable Magnets– Integrate craft time into the party, and then send kids home with the magnets they painted.
Fairy Wands– Let guests create their own fairy wand to take home.
Edible Goody Bag Alternatives
When in doubt, give them something yummy to eat!
Most parents don't mind edible party favors for kids (with the exception of allergies or kids with dietary restrictions). They are quick, cheap, and one and done.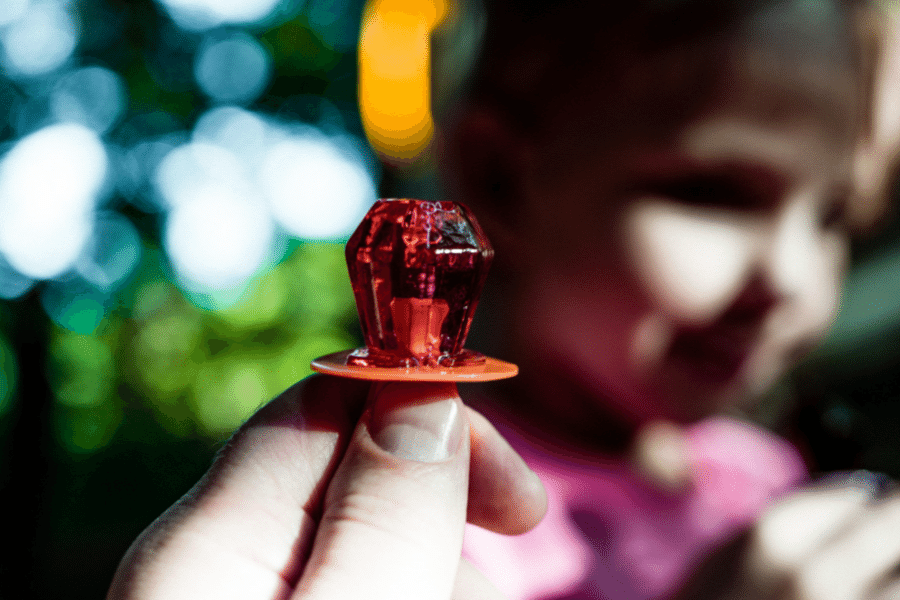 And let's be honest- who doesn't like a good snack?
Here are some ideas for easy edible party favors:
One Fun Candy- A dollar store box of candy in your theme's colors, one candy bar wrapped cutely (grab these easy ones on Amazon)– there are lots of ways to give them one piece of candy and be done (and we promise the kids will LOVE it!)
Candy Necklace Making Kit– Okay, how fun are these candy necklace kits? And surprisingly affordable!
A Ring Pop- Keep it simple- kids LOVE candy, and Ring Pops are extra fun! (You can get them in your party's theme color on Amazon!)
A Bag of Chips- Grab this free printable tag and send guests home smiling! In my experience, the Cheeto and Dorito variety pack is always the biggest hit.
A Packet of Popcorn to Pop at Home- Again, PLEASE DON'T THINK I'M CRAZY. My kids got these as a edible goody bag once and they were STOKED. These tags from Amazon can dress them up.
A Hostess Cupcake- Okay, you might think I'm nuts- but I have given these as "favors" for class parties, Valentines, and so many other things, and the kids LOVE it.
Goldfish Crackers– A little bag of goldfish goes a LONG way with kids! (We recommend you DON'T get a variety pack. Trust us. It'll help avoid a battle.
Prebagged Salty Snacks- What's your kiddo's favorite? Or go with a theme- Pirate's Booty for a Pirate party, obviously. (Note: this is one of the rare things that IS cheaper on Amazon!
Pinata Candy- Whenever we have a pinata, the clear plastic bag full of candy that they take home? That IS the party favor. And trust us, that's plenty.
---
You're not stuck with a typical, boring party favor for your kids' birthday party! Now you've got tons of ideas for goody bags (that don't suck!) as fantastic party favor alternatives for kids.
What unique party favors have you received (or given)? We'd love to hear about them in the comments!
Looking for more party fun? Head here next-