Are kids' birthday gifts killing your monthly budget? We've got great ideas for saving money on kids' birthday gifts – without looking like a total cheapskate in the process! Scroll down to read all about how to save money on kids' birthday gifts.
I don't know how it works in your circle of friends, but in ours? We are heading full-throttle into what we affectionately call Birthday Season. From now until the end of April, we will likely be attending anywhere from one to four birthday parties every.single.weekend. And my kids LOVE it. But my budget? Yeah, it doesn't.
How do I tackle all of those Big Birthday Bashes on a Budget? Well, it's easy. I have a few very creative ideas for saving money on kids' birthday presents.
Now, no one wants to look like a total cheapskate at a birthday party. The key for how to save money on kids' birthday presents lies in planning ahead, being prepared, and adding just a touch of creativity to your gift.
So if you also have a billion birthday parties coming your way, try not to stress out- we've got some fantastic tips on saving money on birthday gifts for kids.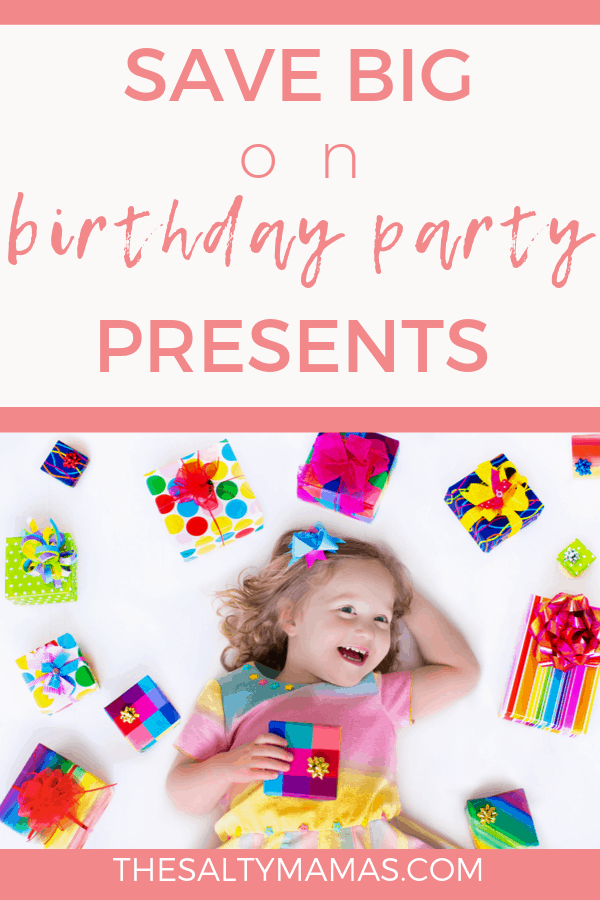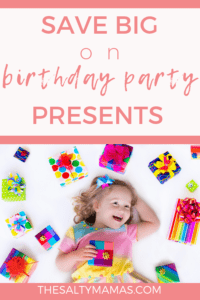 This post contains affiliate links. You can read more at our Legal page. Thank you!
1. Buy Birthday Gifts Ahead of Time
Instead of budgeting for gifts based on the number of parties I have that month, I try to budget a flat rate of $30 per month, and make a game of seeing how many birthday gifts I can accumulate using that $30.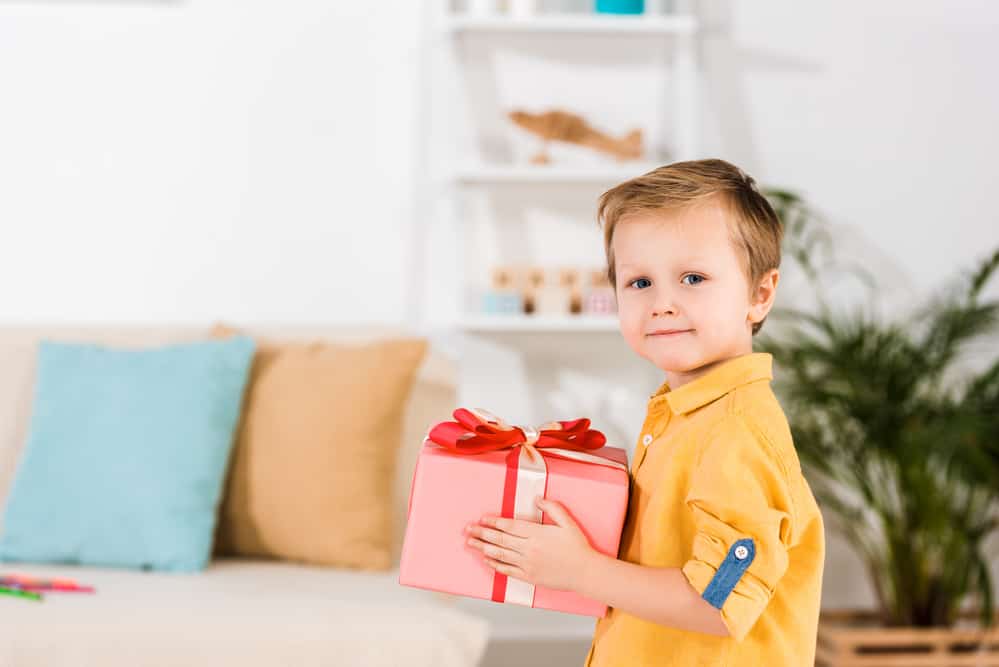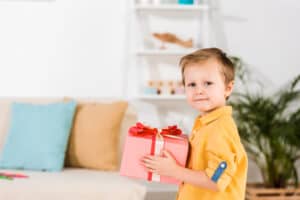 I troll the clearance sections at Target, use Kmart FreeCash and Points, and keep an eye on the bargains displayed by Jennifer in the Kidz Stealz and Dealz Facebook group (for real, if you're not a part of the group and you buy for children EVER, you need to join, like, yesterday).
The trick here is to keep an eye on the overall value of a gift. I aim for a value of around $15 to $20 dollars per gift, and aim to get it for 1/3 to 1/4 of that price.
2. Setting Up a Gift Closet
Setting up a gift closet will save you TONS of money in the long run. Remember all those gifts we got at a bargain earlier? In short, a gift closet is a place where you store gifts you got on sale so that you're never stuck paying full price for a present. The trick to putting them to good use lies in properly storing them (so you can actually find them when party time rolls around).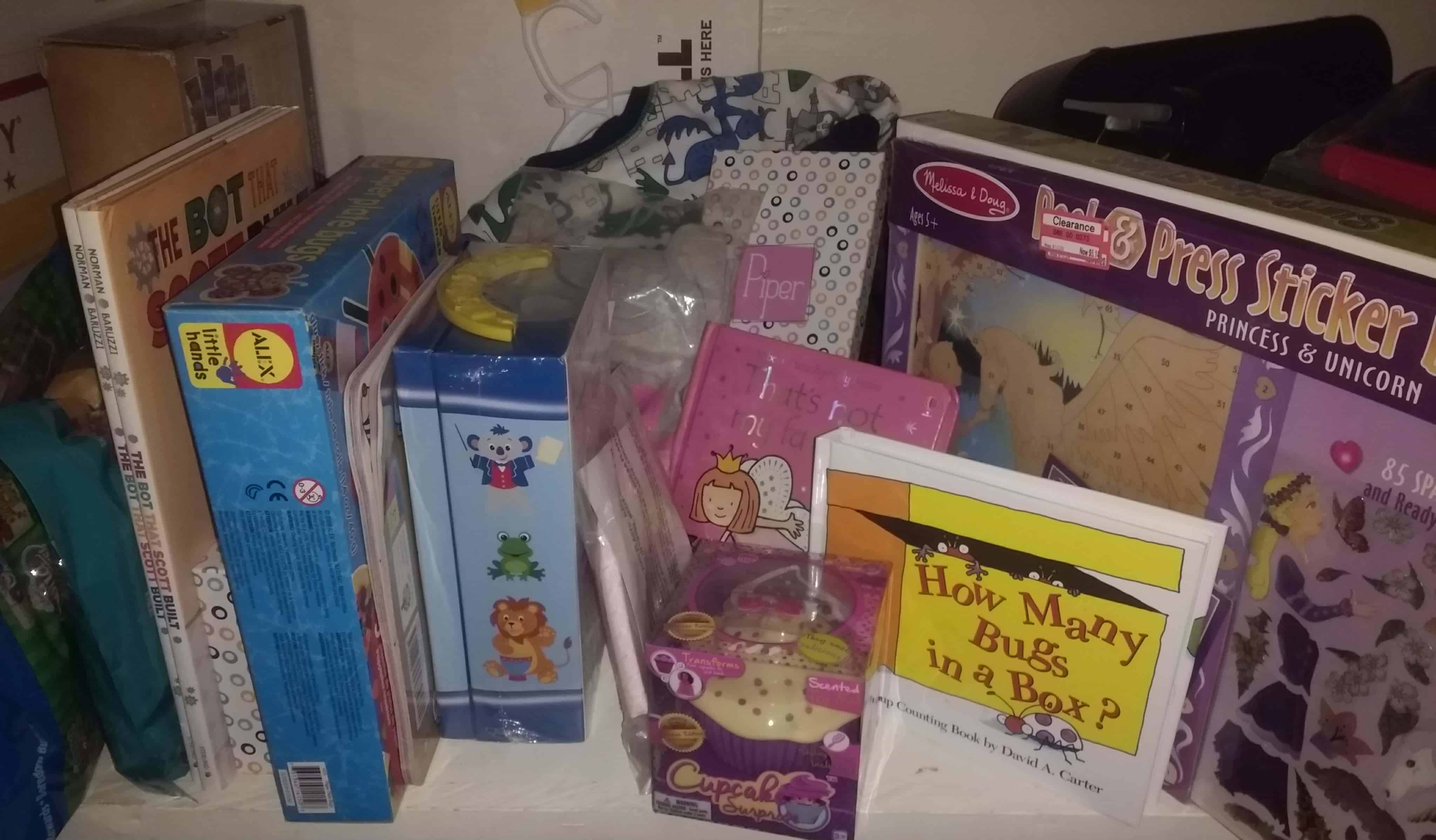 I have a corner of my hall closet that I dedicate to storing the accumulated birthday gifts mentioned above. When a birthday party rolls around, I send my daughter to the closet to pick out the gift she thinks her friend would like the best (or I just choose it myself if I ain't got time for that).
She still feels like she's shopping for her friend, but just in a different way.
I realized a long time ago that birthday cards can add up to big money over time. For a while, I would stock up on cards at the Dollar Tree, where I can get 2 for $1. But when my stash ran out one day, I had Lila create a handmade birthday card for her friend.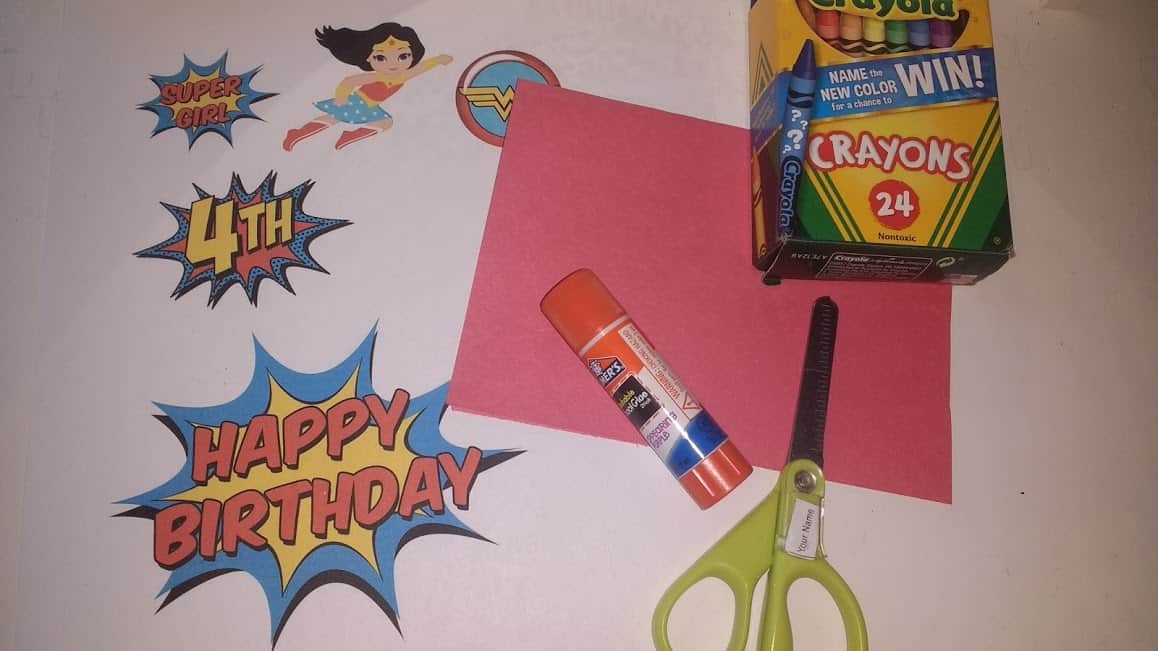 It was just as thoughtful (and just as easy for our guests to throw away), and it was a way for her to give back to her friend.  So to "earn" the party, she has to make the card. I give her construction paper, print some images that match the party theme (or a sheet of stickers if we're in a hurry), and away she goes.
Looking for something even easier? Grab our FREE Printable Birthday Cards! All you need is some crayons or markers and you have a cute homemade card.

4. Save Your Gift Bags and Tissue Paper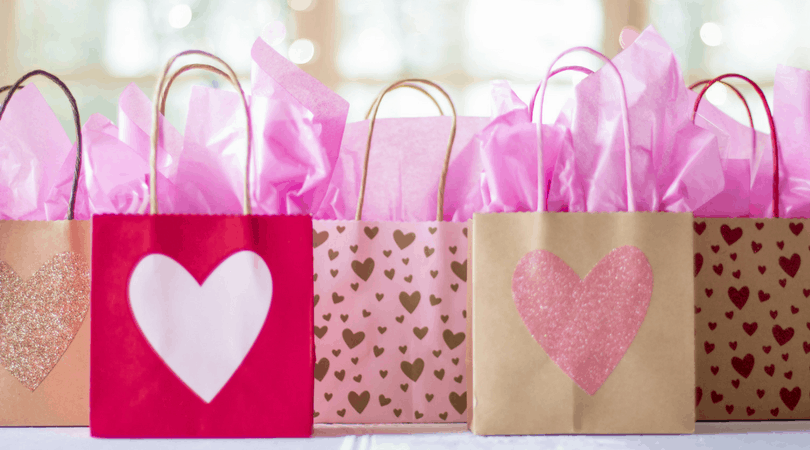 I am this lady, y'all. After my kids' birthday parties, you will see me folding up tissue paper and gift bags and correcting you if you try to throw them away. This habit of mine reminds me most of my Depression-Era Great-Grandmother, but it also saves me a lot of money.
I like to neatly fold the tissue paper and store it in the bag it came with, and I store them in an underbed storage container in my son's room.
When it's time to wrap a gift, I just grab a bag and can easily wrap a gift with the coordinating tissue paper. If my supplies start to run low, I'll use some of my Birthday Budget for the month and buy some all at once from the Dollar Tree.
5. Buy Cheaper Gifts
If your friends are going to be angry with you for NOT buying their kid a big, expensive gift, I recommend you find new friends. Seriously. The gifts my kids get at their parties are the LEAST of my concerns when planning for their big day (in fact, I usually ask that people skip the gifts altogether), and I'd bet 99% of your friends feel the same way.
For most birthday parties, I try to stay on a budget of around $10 a child (although using tip #1 usually means that the gifts have a higher value than $10). Your amount may be higher or lower than that, but the idea is to have a number in mind and then stick to it.
Here are some of my most affordable birthday gifts for kids' parties:
Alex Craft Kits -usually $10 or under- since it looks the most like a complete gift and is easy to store
A Good Book- think Rosie Revere, Engineer or Vegetables in Underwear. Something that will make kids giggle.
$10 Cold Stone gift card (because who doesn't love ice cream?!?). You can also package these cute in a Cold Stone Ice Cream Cup with shredded paper (just ask them for an empty one at the counter)
Klutz Craft Kits for older kids-These regularly go on sale on Amazon for 50% off!
Tickets to an experience-We have a pony ride place and an indoor kids' playplace nearby that have affordable tickets. I'll gift the birthday kid a ticket or gift certificate there.
A Science Kit– Butterfly gardens, ladybug gardens, and terrarium kits regularly go on sale.
We love our friends, and I know they love us, and I don't need to prove it with money.
*******
Following these tips can help you save money on kids' birthday gifts during your busy birthday season, whenever it happens to fall for you. With a little creativity and a lot of planning, you'll save tons of money (while still showing your friends how much you love them in the process).
When is your "busy birthday" time of the year? And what's your favorite gift to give?
Looking for more gift-giving ideas? Head here next-