This post contains affiliate links. You can read more about it at our Legal & Disclosures page. Thank you!
From the time my kids were little little, I had dreams for them. All the usual things – I wanted them to be happy. I wanted them to follow their dreams. I wanted them to be good and decent and kind human beings.
And I wanted them to love reading.
I know how much I've gained from falling back in love with books. From the practical – expanding vocabulary, being well-read to engage in conversations with others, having a good and purposeful hobby – to the fantastical. That feeling of getting completely lost in a book, expanding my imagination, exploring new worlds, ideas, feelings. All of it.
I wanted that for my kids.
So for the past four and a half years, I've surrounded my kids with books. Story time at the local libraries, reading as many books as we can every night before bed, sitting and reading a book in front of them while they play, teaching them to take a book everywhere, and basically never saying "No" when they ask for a new book. 
And it took. They were thrilled each night in December last year when Santa left them a book somewhere in the house, excited to open and immediately read the newest addition to their quickly growing collection. Their excitement gave me increasing confidence in my favorite present to Cole: the illustrated edition of Harry Potter and the Chamber of Secrets. I had big plans for me and my boy. So, obviously, my heart cracked in half when he looked at it, said "cool," and unceremoniously started to look for his next gift.
I held in my disappointment, understanding that between a Hot Wheels race track and a Fingerling a ginormous book might not check all the Christmas morning boxes in a four year old's brain. So I sat there patiently, planning how I was going to show him how cool this book actually is.
My opportunity came at naptime for the girls. I took Cole into his room and sat down with him for quiet time, bringing the book with me. I explained how much Mommy loved reading this book, how I'd read to him a little bit every day, and how when we finished the book I'd take him to Universal Studios to see the Wizarding World of Harry Potter. Because he's obsessed with the commercials and I'm not above bribery.
He was SOLD. We cracked open the book immediately and he listened intently while I read him an entire chapter. I was part stunned and part thrilled that he had the patience to do a whole chapter in one sitting. We read a little more the next day, and finished chapter 2 on the third day. He seemed hooked! Whether reading a page with no pictures at all, or engrossed in the beautiful illustrations, I had my own little Potter fan!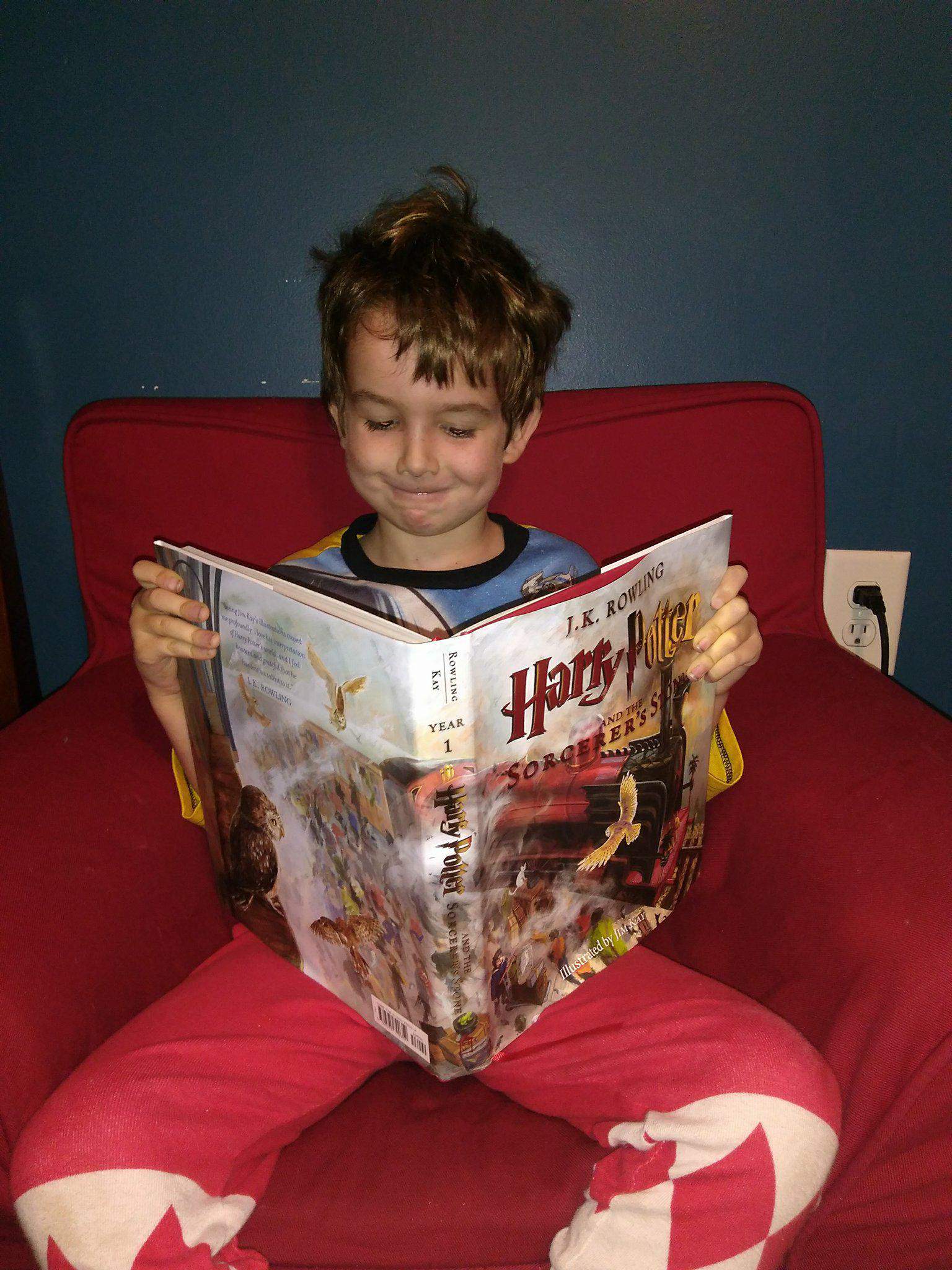 Then we hit a bit of a wall. He didn't really want to read. I told him that was fine, and maybe I could read while he built with Legos or played with his Hot Wheels. He thought this sounded like a pretty good idea, grabbed a couple cars and sat on the floor.
I sat on his bed and started to read chapter 3. Hot Wheels in hand, he listened as I read of letters addressed to a boy, that lived in a cupboard under the stairs, appearing with increasing frequency. And then – the moment I feel like I'd been waiting for his whole life: he dropped the cars, hopped up next to me on his bed, and stared at the pages filled with words. My heart swelled as I tried not to make a big deal of this new development. He sat intently until we finished the chapter, and seemed confused when I swept him into my arms and covered him with kisses behind teary eyes.
But it was one of those moments of parental achievement, when you're overcome with that feeling of, "I did it." Tomorrow I'll be a hot mess. He'll watch a thousand hours of television or eat a sleeve of Ritz crackers for breakfast. And I won't beat myself up about it. Because some days, I'm not a mess. Some days, I'm nailing this parenting thing. And raising a good, decent, kind human being….who loves books.