Do your kids love playing with playdough? But maybe you hate making it all the time? If so, this cheap, easy two ingredient playdough recipe is for you. Read on for the full recipe for our lavender sensory playdough recipe!
My son is a sensory seeker. He needs a LOT of sensory input every day in order to focus in school, or even at home. If he doesn't get the sensory input he needs, there are BIG consequences…for all of us!
He loves when I make him sensory bins, and will play with my homemade playdough recipe for hours. But sometimes, I'm just not in the mood to get all of the ingredients out.
This two ingredient playdough recipe is PERFECT for those times when I just can't do a whole batch of playdough from scratch. As an added benefit, it smells AMAZING, and feels different than his other playdough. It's a really unique sensory playdough recipe, and change up his play.
Want to try this lavender sensory playdough for yourself? Read on for the (ridiculously easy!) recipe!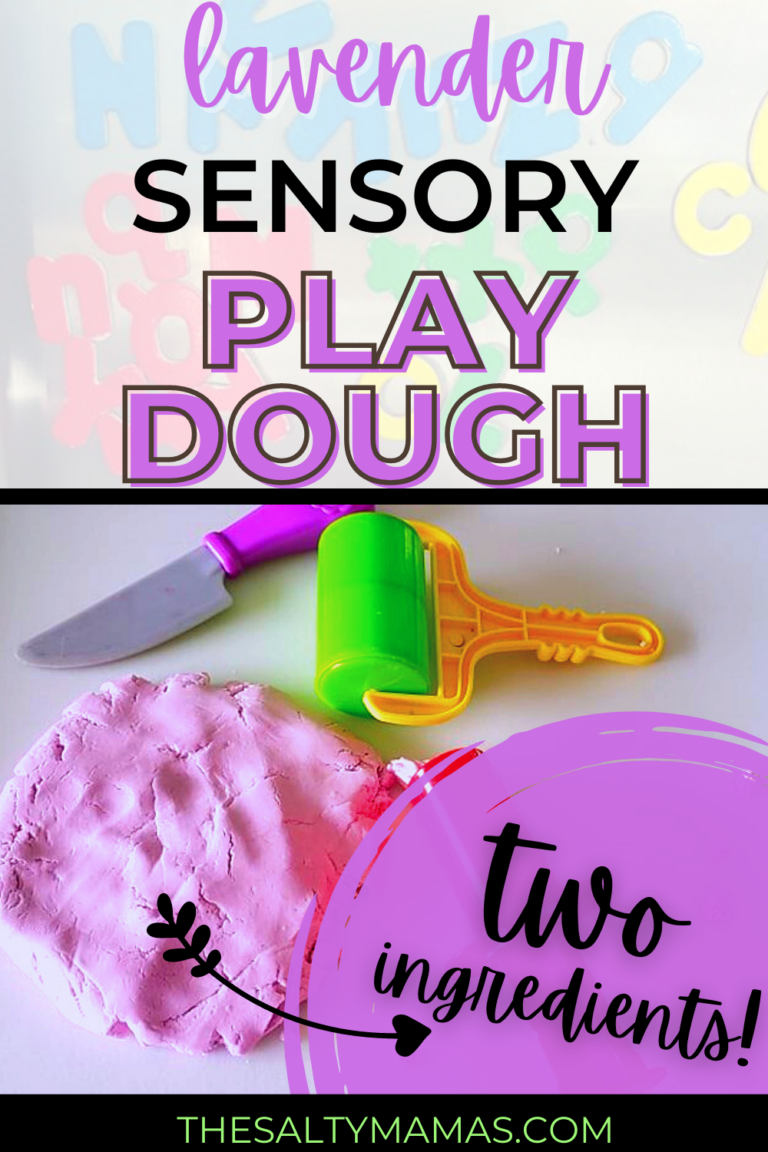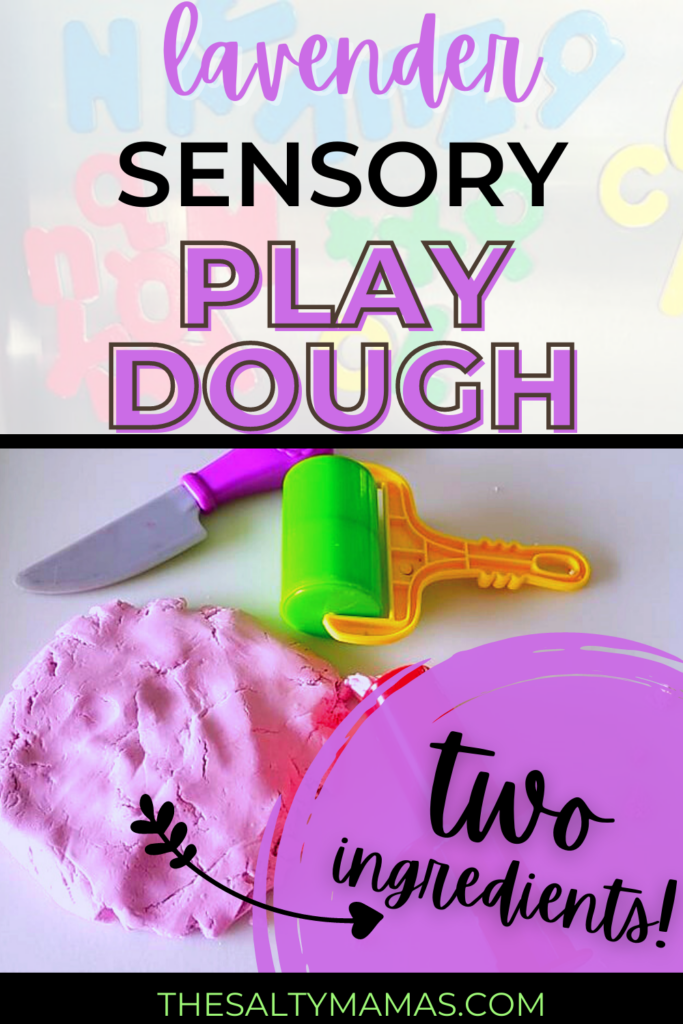 This post contains affiliate links. You can read more at our disclosures page. Thanks!
Why is Sensory Playdough Good for Kids?
Playdough is a great developmental tool for kids. And the best part? They'll never even realize they're doing something that's "good" for them- because it's pure fun!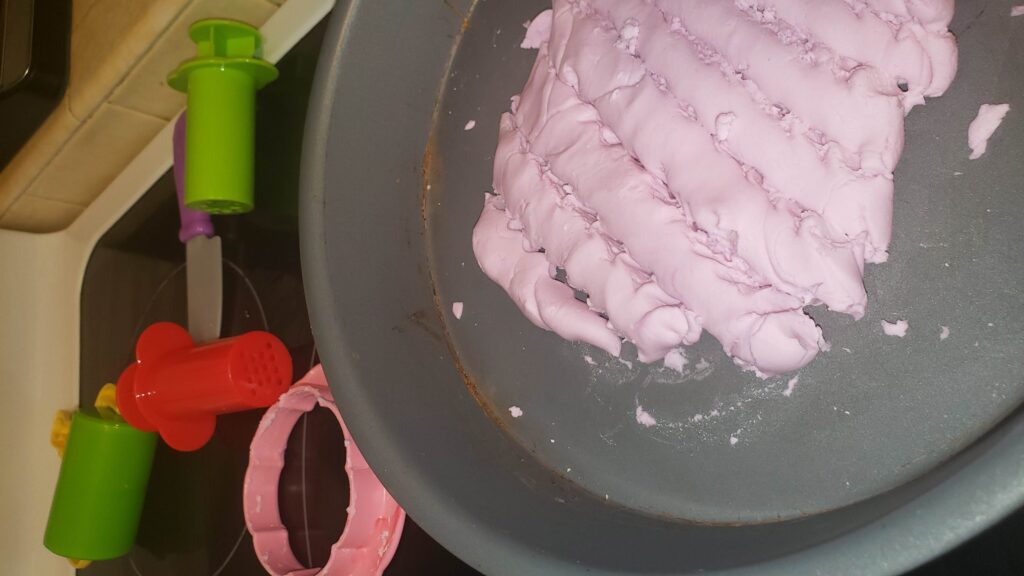 The benefits of playdough:
Improves hand strength
Improves finger control
Improves hand-eye coordination
Allows kids to practice creativity and self-expression
Improves self-regulation
Helps kids to calm their bodies
Provides sensory input (this recipe includes both tactile and olfactory senses- AKA it feels and smells good)
Can evoke a positive emotional response
Buy Your Lavender Sensory Playdough Ingredients
Luckily, the ingredients for this playdough are SUPER cheap, and easy to grab at the grocery store.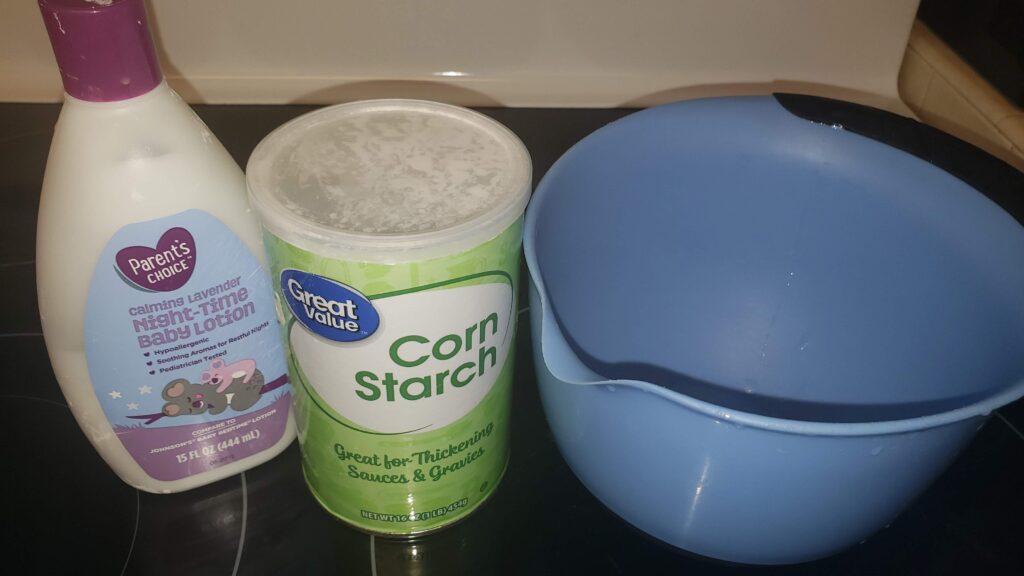 All you'll need is one container of Lavender scented baby lotion (that's where the yummy smell comes from! You'll also need one container of cornstarch. Each are about a dollar each if you buy generic (which I did).
Mix Up Your Two Ingredient Playdough
Grab a bowl, and have your kids get in on the playdough making with you! We usually double the ingredients, and make each kids a batch.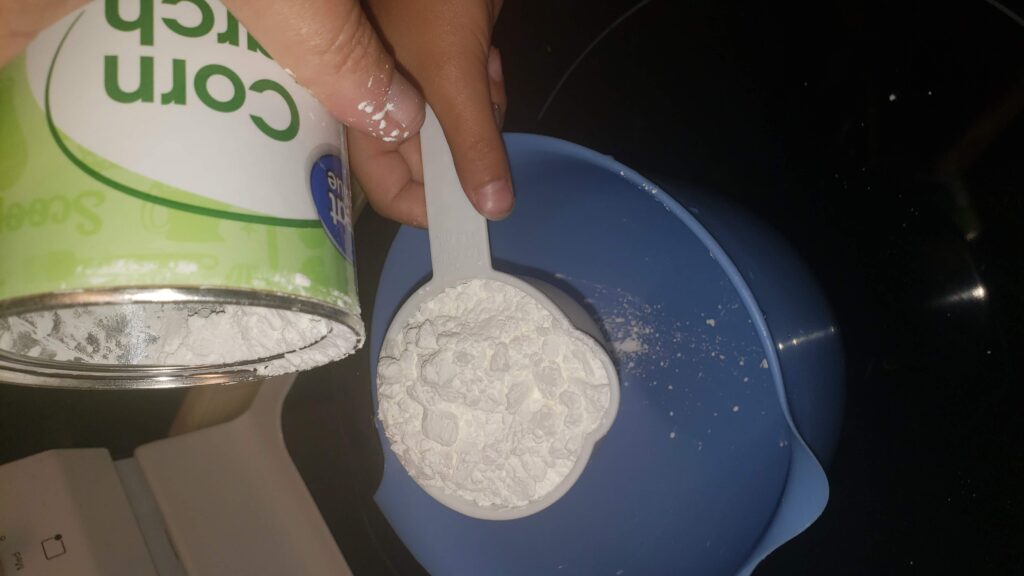 I can generally get two double batches out of a container of cornstarch and a container of lotion– not too bad, especially considering how much playtime it'll create!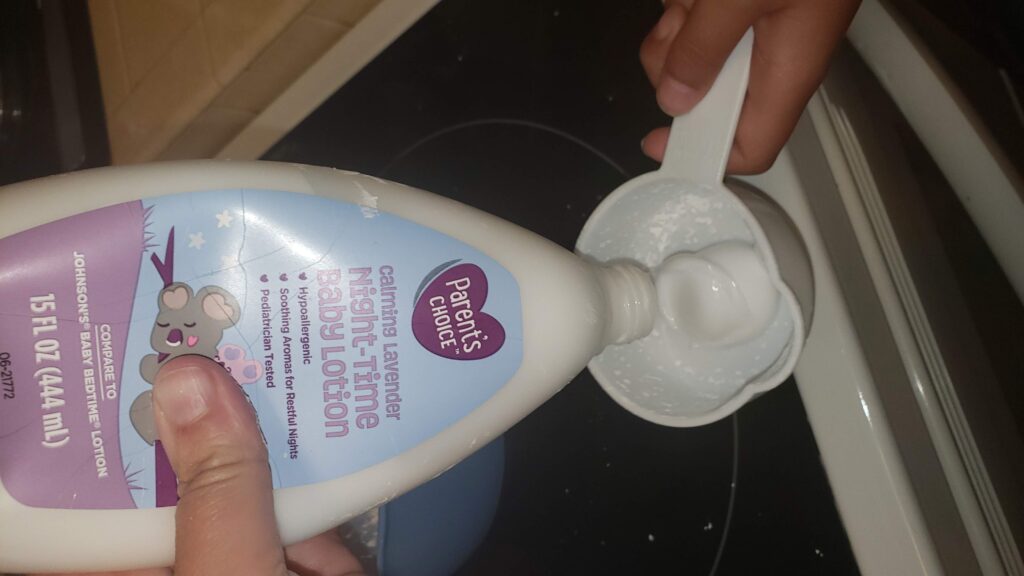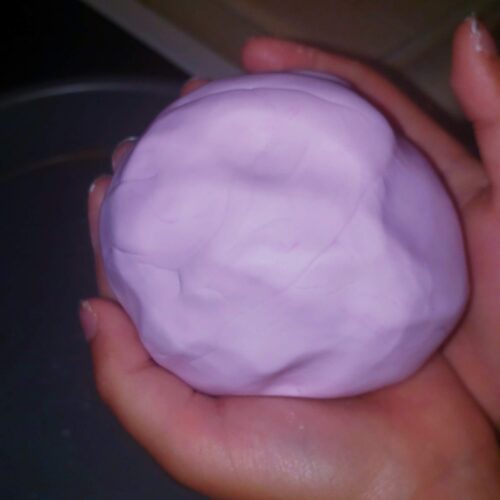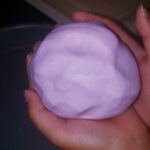 Two Ingredient Lavender Sensory Playdough
In just a few minutes, you'll have a fresh batch of sensory playdough ready for your kids to use!
Ingredients
1/2

cup

baby lotion

1

cup

cornstarch
Instructions
In a large bowl, add one cup of cornstarch.

Add in one half cup of baby lotion.

Stir until mixed thoroughly.

If playdough is still sticky, add cornstarch one tablespoon at a time until texture improves.

If playdough is clumpy, add one teaspoon of lotion at a time until texture improves.

Knead for a few minutes, and then get ready to play!
Optional: Add a few drops of food coloring to the lotion, and mix the color in before you add it to the cornstarch.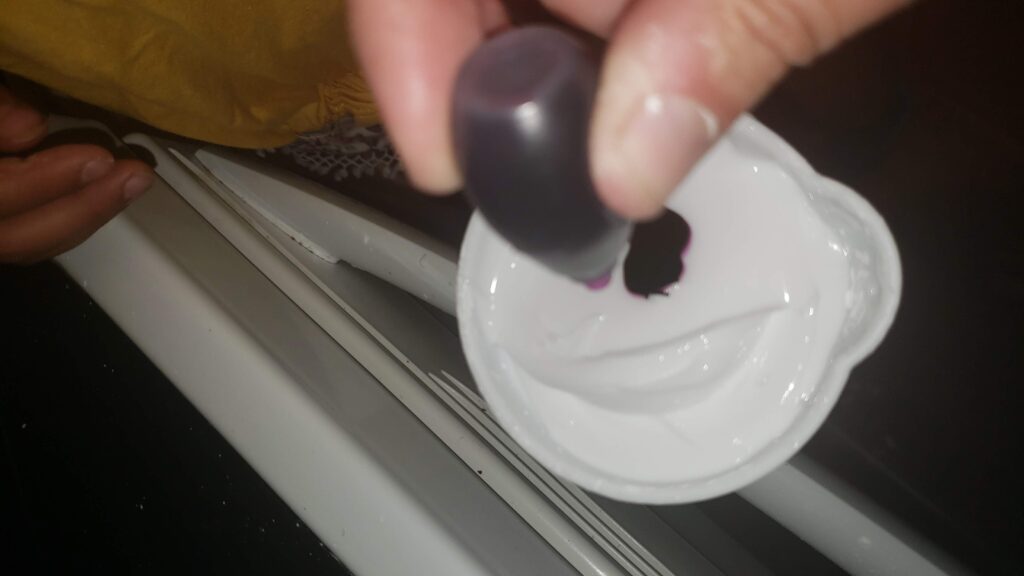 Is It Messy to Make?
Y'all, I'm not gonna lie- creating this playdough can make a bit of a mess. Cornstarch is lighter than flour, and likely to scatter.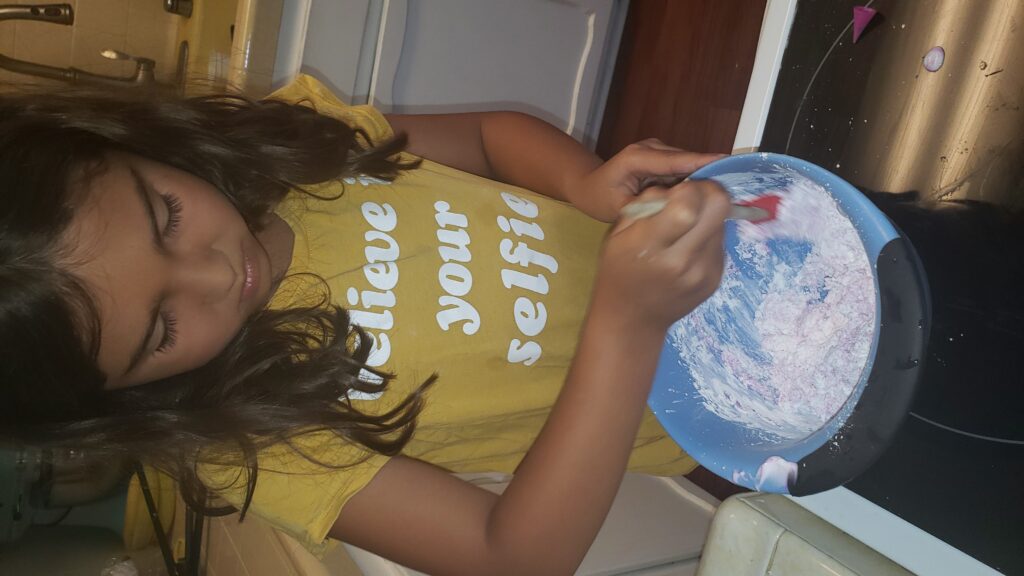 I just plan to sweep up after. The cornstarch itself isn't sticky or messy, and neither is the lotion. A quick sweep is usually all it takes to get my kitchen back in shape.
And yes, your hands are going to get a little messy. But it's nothing soap and water won't fix. Grit your teeth if you need to- the messy part will pass quickly!
Setting Up Your Playdough Play
As always, we're going to recomend laying down a few ground rules before you set up sensory play.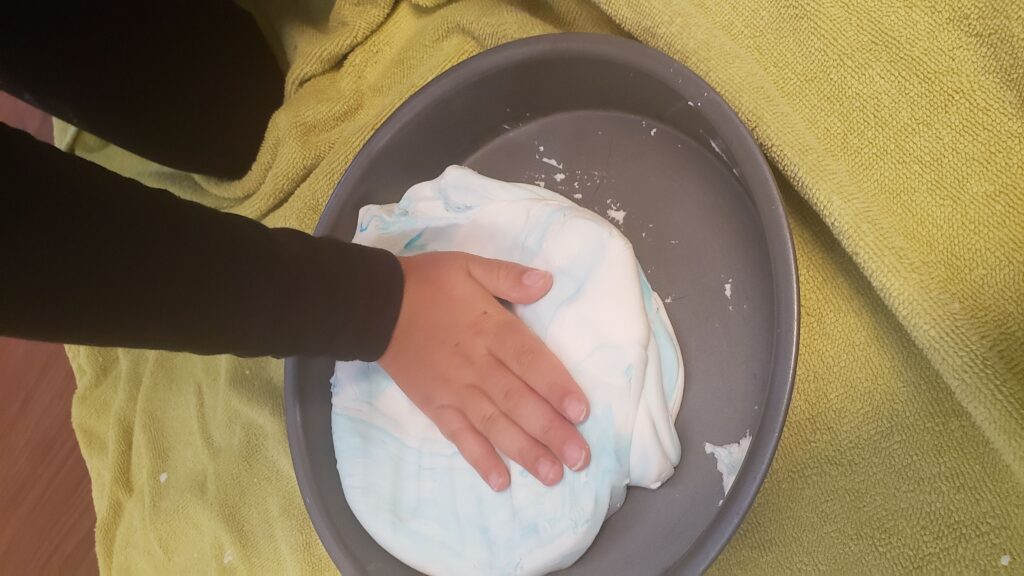 Here's what we recommend preteaching before you hand your playdough over to the kids:
Playdough stays on the mat. (Or whatever surface you choose)
Stay seated while you play.  This keeps kids from walking into not-safe-for-playdough areas!
Set up the playdough in a container with a lip (we use cake pans, but Pyrex or disposable containers work great too).from
Only playdough tools go into the playdough.
No tasting the playdough! These ingredients are not toxic, but they are disgusting. We definitely don't recommend sampling.
Tell your parents when you're done playing. It'll prevent the playdough from drying out, and help keep it out of the hands of littler siblings.
Extending the Play
Don't feel pressured to add anything to the playdough, espeically at first. My eight year old spent about 15 minutes playing with the playdough all by itself (she was mesmerized by the lavender smell, and how nice it made her hands feel).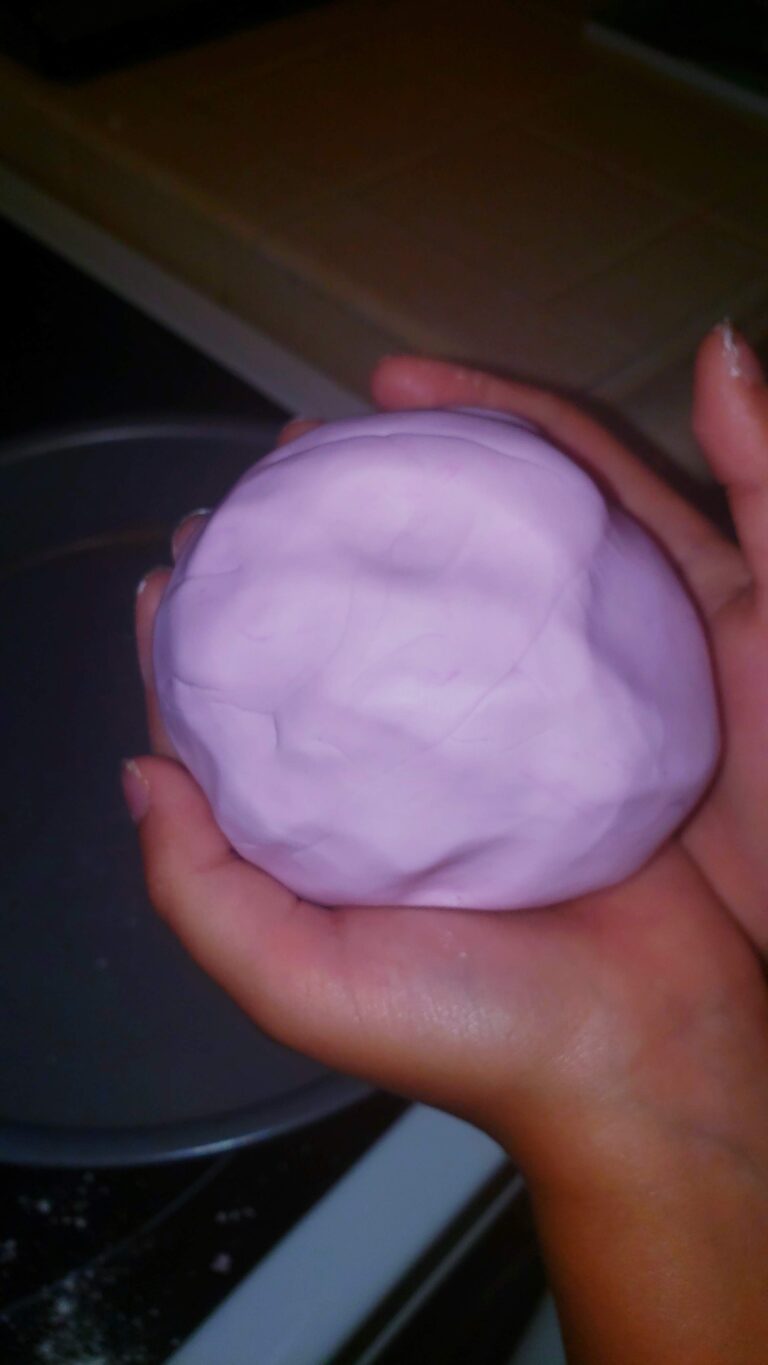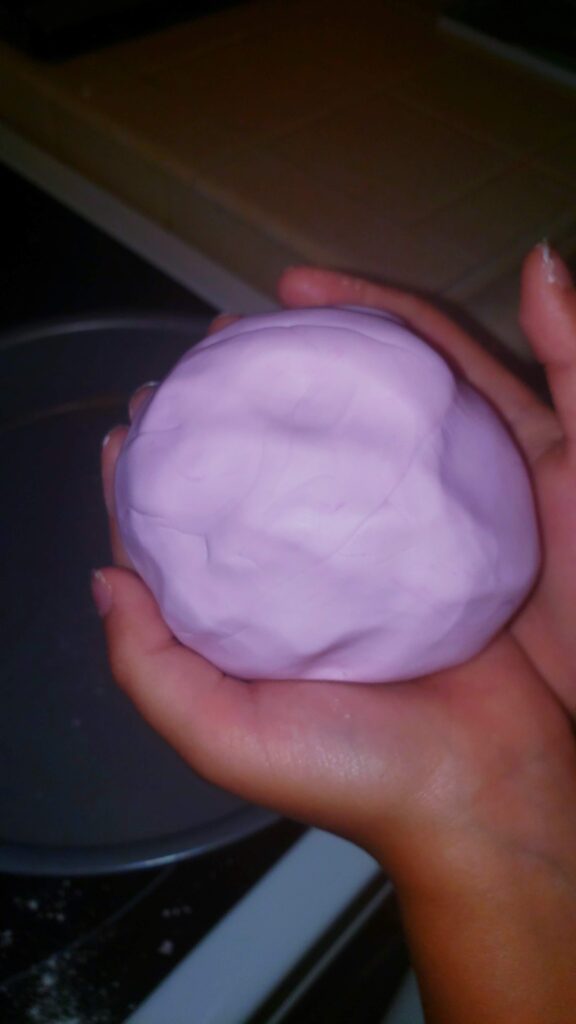 Younger kids will need to add some tools to extend their playdough time.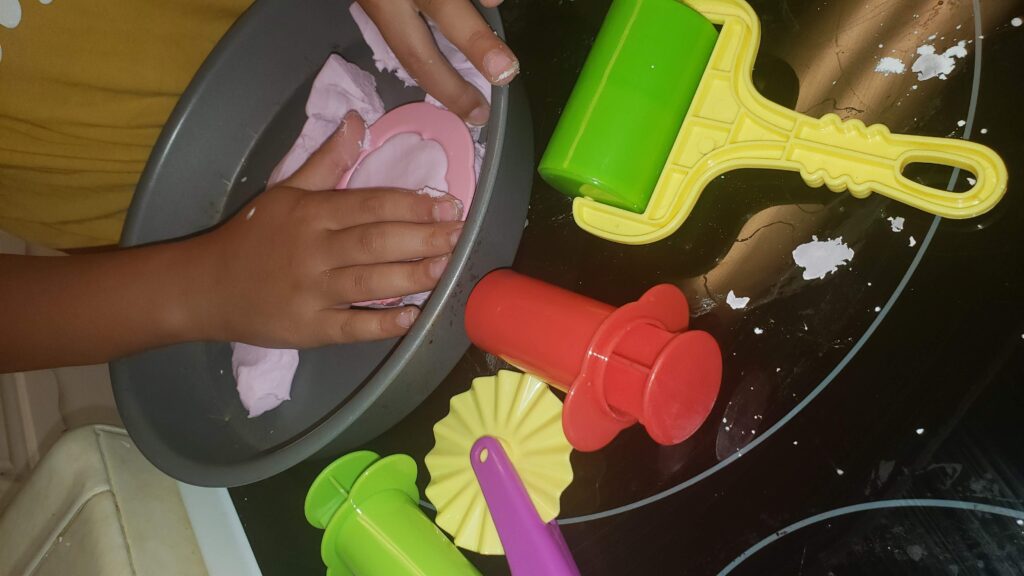 A few ideas of tools to bring in:
Regular, kid-safe scissors
Construction mini-trucks (my son's request. They worked just okay, but he played with them FOREVER)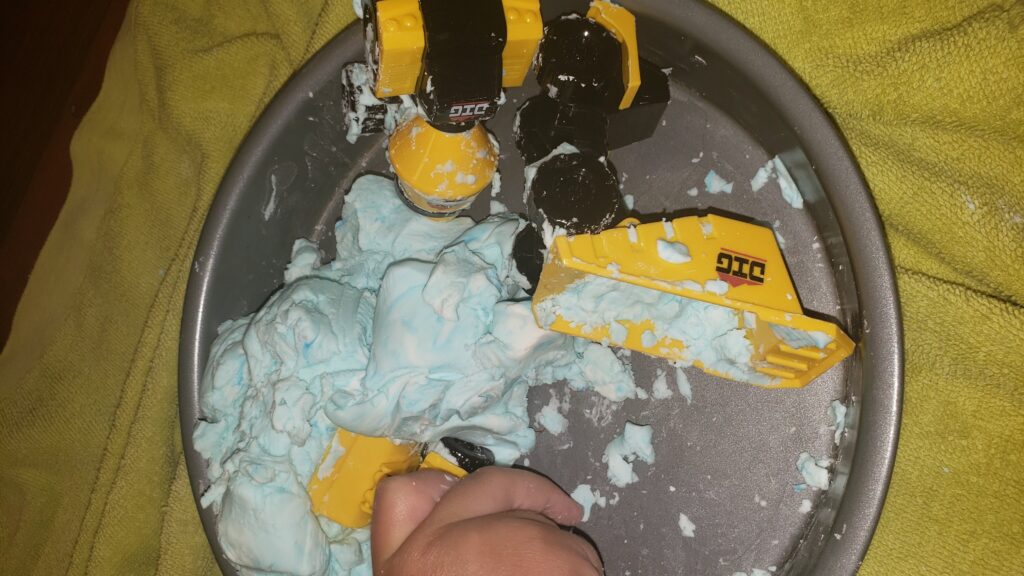 And in case you're wondering: I soaked them in water for about twenty minutes, and then the playdough came right out when I rinsed them.
Storing Your Sensory Playdough
When kids are done, store the lavender sensory playdough in an airtight container. We love trust take and toss containers, or tupperware will work great.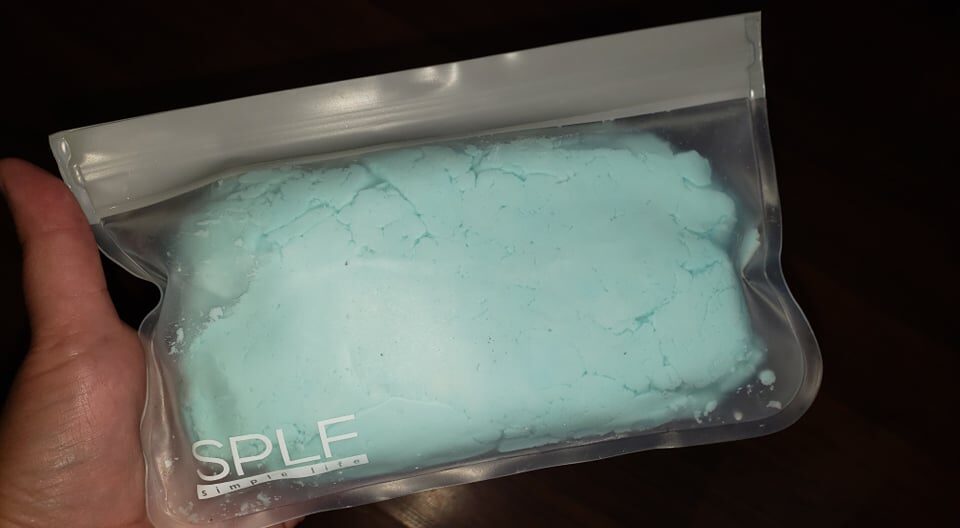 We have recently started storing our sensory supplies in these silicone bags. They are easy to squeeze air out of,  easy to store. And the best part is, they are less wasteful than Ziplocks (and pretty cheap, too!).
*******
With about five minutes and two dollars, it's easy to make your kids their own batch of lavender sensory playdough. With any luck, it'll keep them busy for hours- and you can sneak in a little time to get the thingsyou need to get done, done!
Looking for more sensory play ideas? Head here next-