This post includes affiliate links, which means we'll earn a small commission off of purchases made by clicking through. Thanks for supporting The Salty Mamas!
When I was in high school, my 10th grade History teacher made us all take our notes in a spiral notebook – the bane of lefties everywhere, but I digress – and part of our assignment was that we had to make them artistic. Whether it was doodling in the margins, using markers for headings or drawings, or trying different handwriting fonts, we were to do something to enhance our notes. The idea was that it would engage us more and we would retain the information better. There were groans from much of the class but I started to fantasize about the markers I was going to ask my Mom to get for me. I loved making the pages beautiful and making my notes come to life with my drawings – bad as they probably were. I'm no artist, but that wasn't the point. The point was to connect in an artistic way.
I'm grateful for that teacher that made us make that artistic component a priority. As the years went by, the markers fell by the wayside. There wasn't much room for doodles in college and grad school. Working life presented even fewer opportunities to play artist. Then came parenthood….I looked forward to getting to bust out thick coloring books with my kids, opening a new box of Crayolas and running my fingers across my old friends. Reality was harsh. My perfect pages were quickly destroyed enhanced by my small assistants. Unhappy to stay on the perfectly good coloring books I gave them, they wanted to "help" me with mine. I soon realized this was not going to be the fantasy I had….I gave up. We made coloring a team project. Crayons went outside the lines, trees were purple, dogs had rainbow stripes, the ocean was orange. And I was going crazy inside.
I needed something for ME.
Enter: Bullet journaling.
Part day planner, part LIFE planner, part coloring, I am living for my bujo (what the cool kids call the bullet journal). I would LOVE to dedicate about an hour a day to making it beautiful, but alas reality is more like carving out 15 minutes to dedicate to it's pages. Some days I can be more creative other days I just have to get my grocery list down before I forget everything. There's a TON of info out there about bullet journaling, so we're going to focus on what has worked for us! You'll have to play around to find out what works for you ?
So, here are my basics:
I use a Classic Notebook from May Designs. It's available in a larger size as well, but I like the classic because it's small enough for me to toss into basically any purse. I use my bujo as a very functional journal that goes everywhere with me, so that's important for my use. You'll want to get the dot grid for the inside which will help you draw your calendars, lists, basically anything. I love the May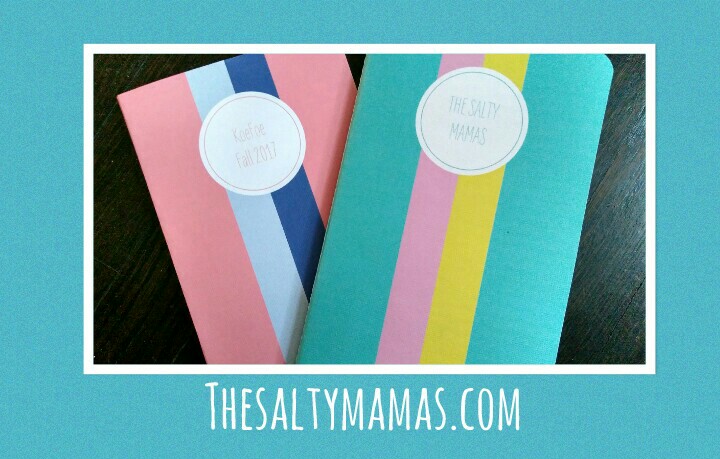 Designs books because there are TONS of seriously stunning prints available for your cover and you can personalize your book with your monogram, family name, at home company, etc. I probably spent about three hours trying to decide what I want my covers to look like, but that's because (a) Libra and (b) there are just that many cute choices.
I mentioned I am a color junkie, so I go big and use markers. These triplus fineliner Staedtlers have been my favorite so far. I use these basically like pens. I also like to have something with a thicker tip for coloring and decorating, so I use these Duo Tip Staedtlers for that. Now, this FREAKED ME OUT when I started. Because I'm also a little anal about things being perfect. And when you eff up with markers you're just screwed. So I just decided to be perfect all the time. Wait, no, that is the opposite of what happened. I messed stuff up. Not a lot, but definitely more than I'd like. And for a hot second it stressed me out. But then I was like, who cares? No one else is going to see this! Well, until now.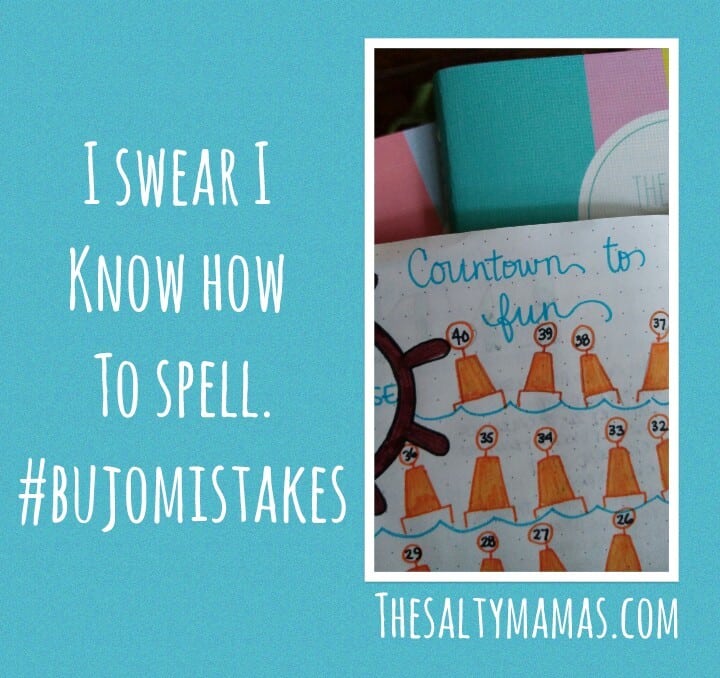 Yikes. That hurts.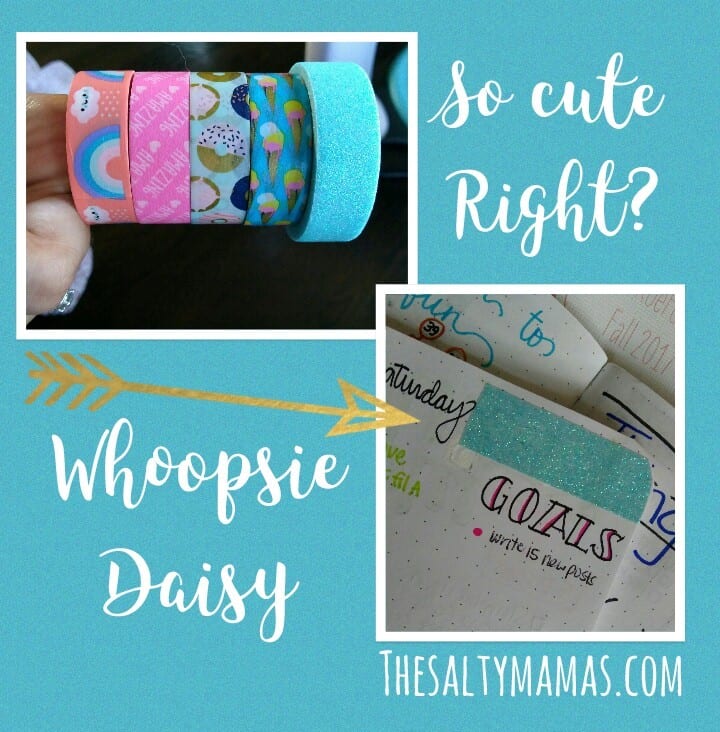 But the beauty is I can get used to it, I can incorporate it into the design, or I can cover that shit up with Washi tape. Yep, there was a big ol' mistake under there, then wham, bam, apply Washi tape and make it look like that was your plan the whole time! Plus, washi tape is ADORABLE.
Remember how I said I take it everywhere? Well I also like to take most of my pens everywhere. And I actually have a few bujos for different things (one for life, one for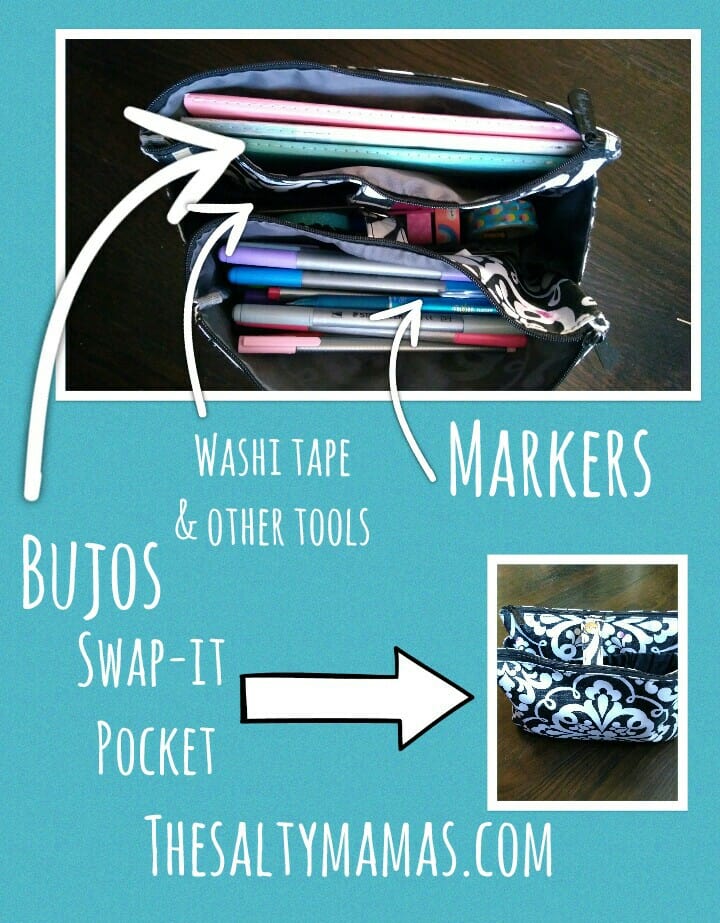 my Thirty-One gig, one for Salty Mama stuff). That's a lot of stuff rolling around in my bag, SO I keep it all in a Swap It Pocket. I love, love, love this product for my bujo because it has two pockets with zippers that fit the classic notebooks PERFECTLY. It keeps them flat and protects the edges from getting bent (which has happened when I just toss them into my purse solo) and I can keep markers and things in the middle section or the other zipper side. If I have the pens in the other zip pouch, I can put my wallet and cell phone in the center. Then when I change purses I just move the whole shebang over. And if you are already bullet journaling or have a planner that works for you and is larger? There's also a Super Swap It Pocket 😉
SO, that's what I use daily for my bujo!
Coming soon – I'll show you some of my most used spreads and layouts and some Mommy specific ways I use my bujo, including the time I used it to measure which kid was my favorite! Can't wait? Check out our Facebook video where I show off all these products and some of my favorite bujo pages!