I've got a Mother's Day hangover. And not the good kind that implies that I spent the entire day relaxing and drinking too much champagne. No, I've got the kind where I find myself asking, "What happened yesterday??" Now, I'm not the kind of person that traditionally builds up holidays. I've never had high expectations for a life changing New Year's Eve. I've never thought that Valentine's Day was going to be the most romantic day of the year. But somewhere along the line I saw one too many Mother's Day commercials with happy kids showering their Moms with love, crafts, coffee and breakfast – even if it was poorly, yet comically, made with egg shells hidden in the omelet.
That was not my Mother's Day. And as I scrolled through Facebook, I started to think maybe I was the only Mom that didn't have that picture perfect Mother's Day….crafts everywhere, Moms thanking their families for the outpouring of love, and me feeling more and more empty. Then I remembered I was on Facebook and decided to go to Twitter, where complaining is more accepted. And I found my people.
But you might be my people too. So here's what I fantasized for Mother's Day, and how my day differed dramatically.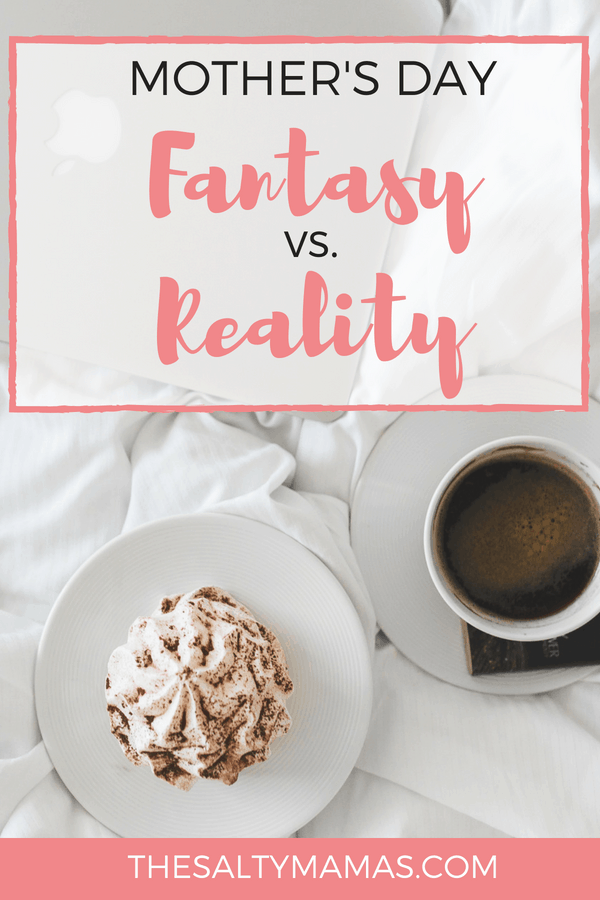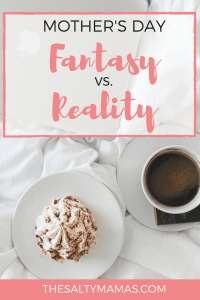 Fantasy #1
Mother's Day begins with Mommy sleeping in. Daddy gets up with the kids and convinces them all to play in complete and total silence. While keeping them deadly quiet, he brews coffee, makes pancakes, takes pictures of the kids helping, and posts on Facebook about how much Mommy is loved and adored, all before Mommy's feet hit the floor in the morning.
Reality
The baby wakes up at 5:15. Mommy lays in bed thinking, "Surely someone else is going to get this kid…." but no one does. Mommy gets up, gets the baby, changes her diaper, pours her a milk, sits on the couch to at least watch her own show only to quickly be joined by the other kids that fight over whether they are going to watch Team Umizoomi or Captain Underpants.
Mommy has not had coffee yet.
Daddy is still asleep.
Fantasy #2
Sometime after breakfast, the children will run up to Mommy with arms full of homemade cards, necklaces made of noodles and something that she can display proudly. These Pinterest level crafts will have been orchestrated by someone else and will be a complete surprise. There will be no sign that any of these items were made in the home because the children, or at least the responsible adult, will have cleaned up any mess. At least one item will declare her "World's Best Mom" and for a minute, she'll believe it.
Reality
Sometime after she's cleaned up breakfast, Mommy will beg Daddy to just keep the kids in the backyard so she can finish her project. Daddy will ask what project and Mommy will explain that this week she went to Michael's (where she was told off by an employee for having a screaming kid), made little fingerprint hearts on tiny canvas of all three kids, and today she needs to finish the project by turning it into a Mother's Day present. Since she's already making one for her kids' grandmothers and Godmothers, she figures she'll make herself one too, so that she can pretend someone made her a Mother's Day present.
She will then wrap the gifts, add nametags and clean up the mess.
The children will interrupt her no less than 17 times for important things Daddy could never handle, like cups of water.
At least the craft she made herself is cute.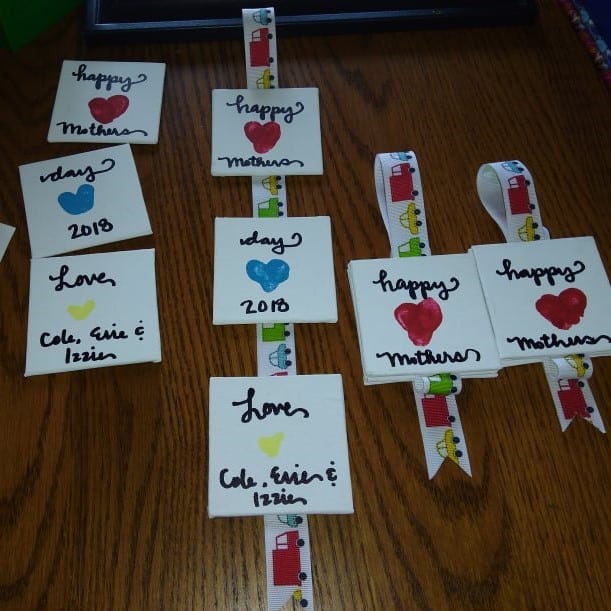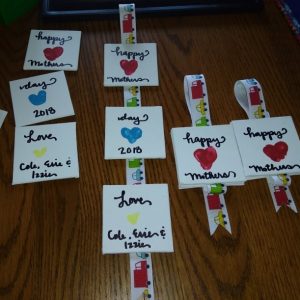 Fantasy #3
Housework will cease to exist for one glorious day. Dishes will magically get done. Maybe by elves. Maybe by fairies. Maybe by the Daddy. Mommy doesn't really care as long as she's not the one with dishpan hands. Nothing will need to be washed or folded. The kids will put their toys away on their own. It will be like she lives in a Disney cartoon, where woodland creatures make sure everything is perfect while she giggles and sings about how wonderful her life is.
Daddy might even wear an apron. It will be hot.
Reality
No one can find clean underwear and chose today to tell Mommy. As Mommy goes through everyone's hampers she figures it would be a good time to take an inventory of what else people need washed. Four loads of laundry later, Daddy has enough clothes for the work week and the kids won't be going to school naked. Bonus points for clean towels for everyone after bathes.
To remind Mommy that this is a chore that will never end, the kids go outside and play in the dirt to prove just how dirty they can make their clothes in a matter of fifteen minutes.
Daddy will never war an apron. There is nothing hot about the housework done today.
Fantasy #4
Everyone will take a nap. In a Mother's Day miracle, all three children willingly lay down, close their beautiful eyes and fall asleep. They sleep for at least two hours and wake up happy and refreshed. Since it's a housework free day, Mommy will decide for the first time in five years that she should also get to take a nap. She'll lay down in her bed – blissfully alone – read a few pages of her book and then fall asleep.
She'll sleep as long as she likes, because even if the kids wake up, Daddy will take them on a walk to keep them out of the house and quiet. She'll wake up, realize she's alone and read some more of her book. It's the happiest she's been in a long time.
Reality
The girls fall asleep with minimal fighting. Daddy falls asleep on the floor of the boy's room while he colors in relative quiet. While folding some of the aforementioned laundry, Mommy lays down her head because she's just. so. tired. She falls asleep, drooling on the clean laundry. Fifteen minutes into this impromptu and less than glamourous nap, her son comes into the room shouting, "Mommy! Mommy!" She snaps to attention, rubbing the crick in her neck, saying, "Huh? What?"
"Daddy told me to come ask you what time it is."
Mommy has no words. Because, REALLY???
Fantasy #5
The children will love each other. They will love Mommy. There will be no fighting, no whining, no hitting. There will be spontaneous expressions of their love and appreciation for Mommy. They will understand that this is one special day where they are to be on their best behavior.
Reality
The children fight. They whine. They hit. They get angry when they don't get what they want and they don't appreciate Mommy nearly enough. But despite it all they do love each other. They do love Mommy. And even though everything else in this day didn't go exactly as she dreamed, she still loves the little buggers.
And after they go to bed she'll have a drink, and dream of sleeping in next year.