Ready to start potty training your kids? Make the job a little less daunting with our printable potty training planner for kids. Everything you need to get organized, start training, and STAY motivated, all in one convenient place.
You've read the posts. You've checked out the strategies. You think you're ready to start potty training your child.
But now you've got to start and, frankly, well…you don't really know where to start.
Take the guess work out of the toilet training process with our printable potty training planner. With a clear cut path of how to get prepared, track your progress, and incentivize your kids, we've got the tools you need to make your potty training journey a success.
Plus, there's lots of places to record funny moments, laugh at yourselves and your kiddos, and track your survival in cups of coffee (or glasses of wine).
Because we're still us, and we still treat this motherhood thing with as much laughter as one can muster while cleaning pee off the bathroom floor.
Wondering what exactly a potty training planner is? Check out the main features below!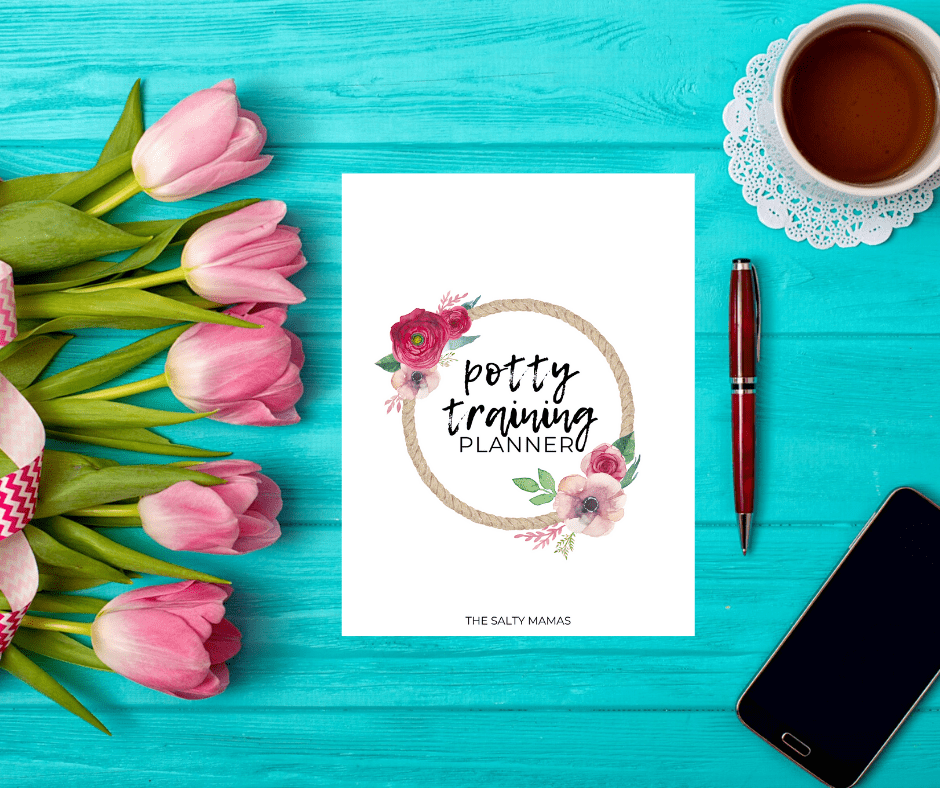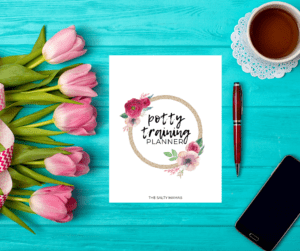 Getting Prepared with Your Potty Training Planner
We want to set you up for success well before potty training actually begins. Our readiness assessment will help you determine if your child is ready to start toilet training, while our supplies list will help you get the resources you need.
Additionally, the printable planner comes with a description of the most popular potty training methods (including a build-your-own plan). It'll give you a jumping off point to get started- and a backup plan in case your first option doesn't work for your kiddo or you.

Breaking Potty Training Into Steps
Designed by a behavior specialist, we've got step-by-step instructions for the skills you need to teach your child how to use the potty on their own.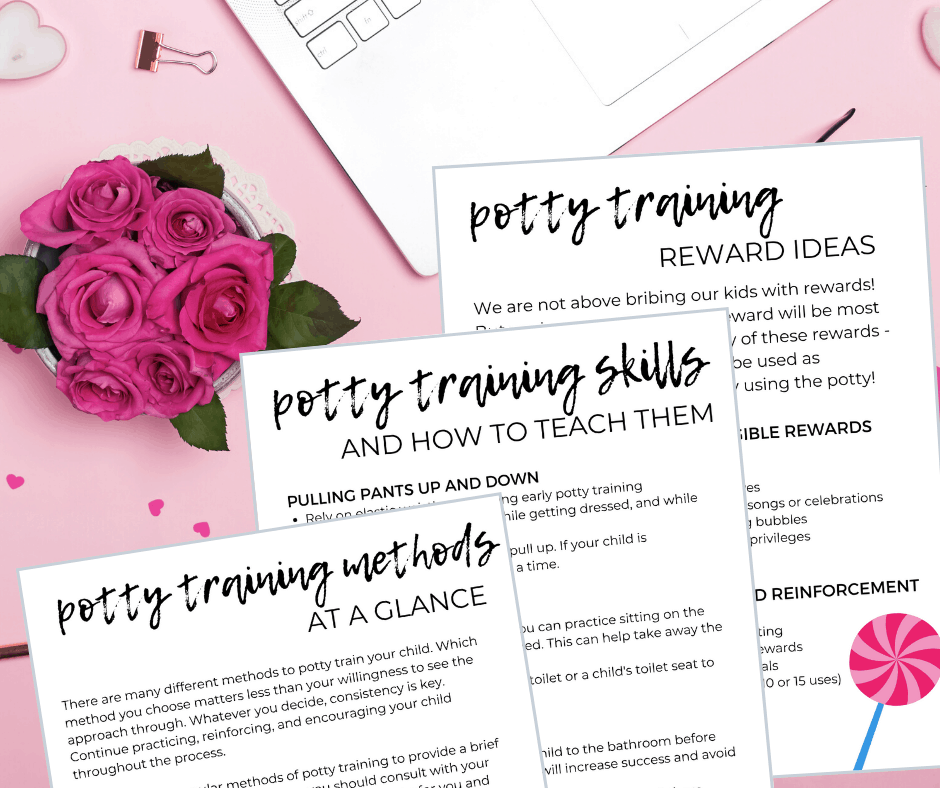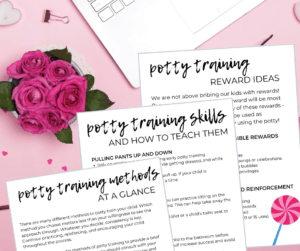 With easily identified icons and easy to understand instructions, we've got the written instructions for you AND a visual, kid friendly version to help you teach your kids.
Printable Daily, Weekly, and Monthly Potty Training Trackers
So how do you know if this whole thing is working? When you're mired down with accidents and dirty laundry, it's easy to lose sight of your wins and successes.
Which is where our printable potty training trackers come in!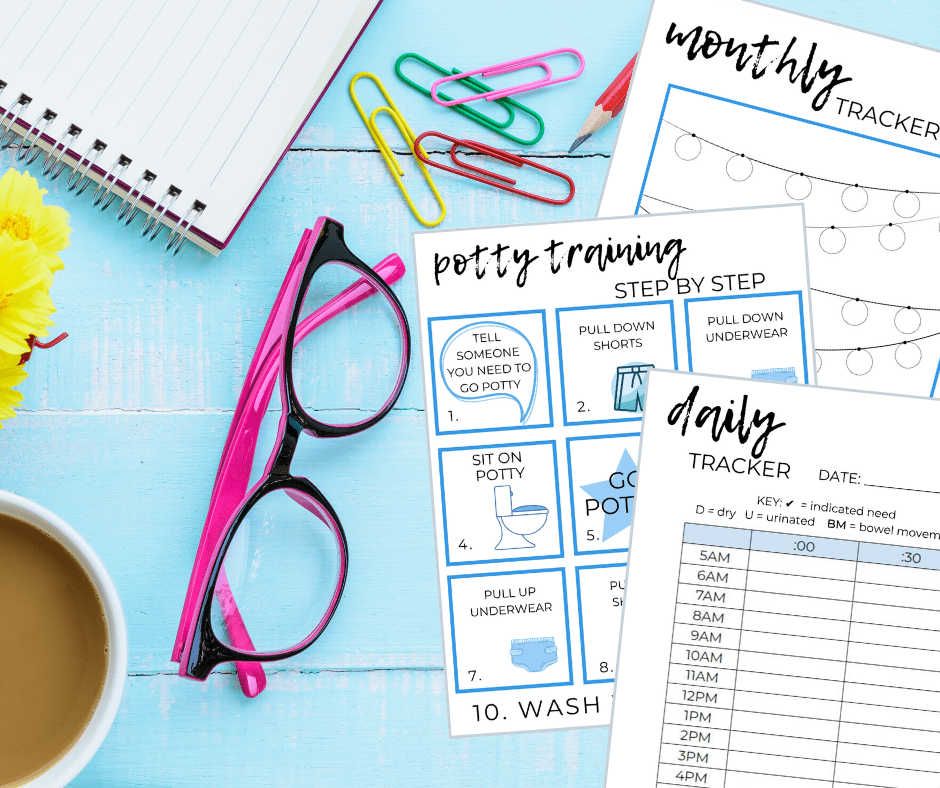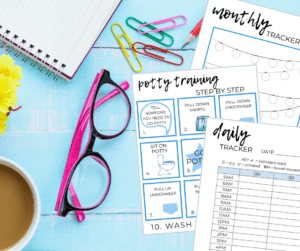 We've got TONS of designs for you to choose from. Weekly logs, printable monthly trackers, and daily check-ins will help you create a potty training schedule in whatever way works best for you.
We've got ways to track liquid intake, bathroom visits, potty wins and total potty fails. Track the funny things they said and did, track your survival in cups of coffee or glasses of wine- whatever works for you, we've got it here in our potty training planner.

Make Communicating Easy
Working with a team? We've got sheets to make potty training at daycare or with another caregiver a BREEZE. Make an extra copy of your visual schedule or incentive charts, or keep a spare handy for grandma's house.
And at the end of the day, we have a super simple potty training communication form to help keep you up to date on what's going on in the bathroom, even when your kids are away from home.
Kids' Potty Training Charts
Need ways to bribe reward your kids? We've got behavior-therapist approved charts and trackers to help your kids track their own success, no matter what approach you choose to take.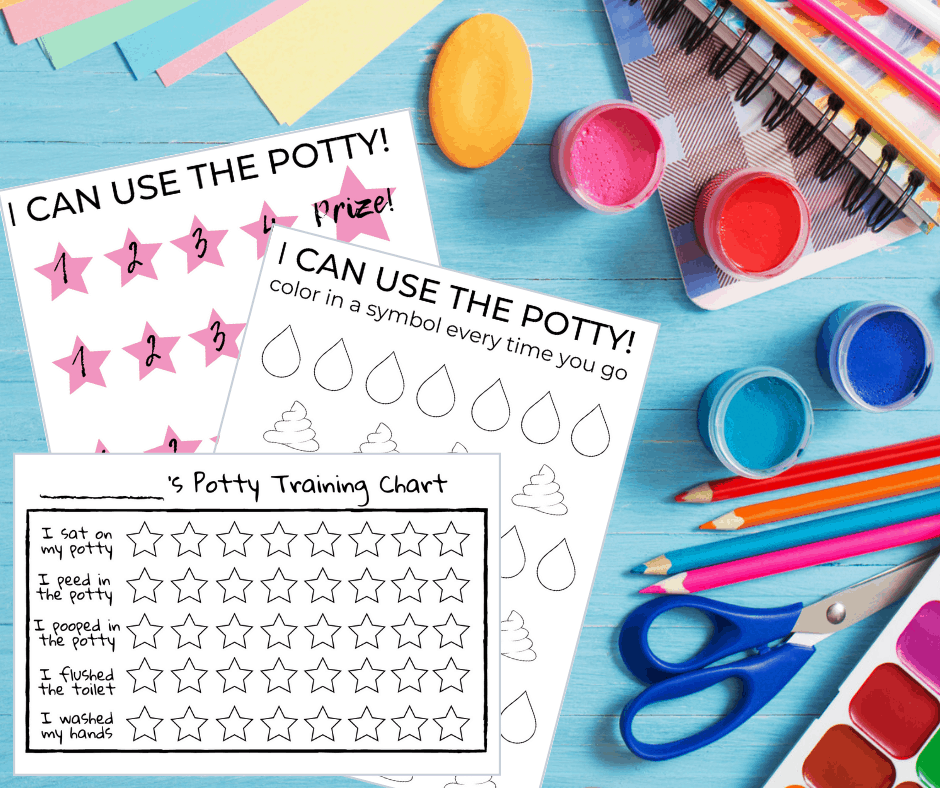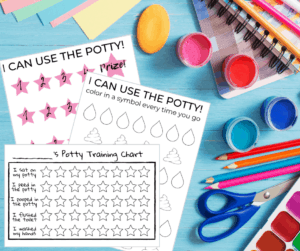 From simple sticker charts to fun themed game boards, we want to help you celebrate your child's potty training wins. There are also potty training checklists for kids and color-in-the-poo emoji charts (hey, it worked with our boys!)
Try one, and when the newness starts to wear off, you'll have LOTS more to choose from to keep your kids excited about their potty training charts and prizes.

Additional Resources
Need to find the right potty seat? We've got a recommendation for the that. How about the most effective book for boys (or girls)? Yep, that too. A potty training episode guide, or the best potty training videos on YouTube? Sure thing.
We're telling you, mamas, with this planner in hand, you've got this. And The Salty Mamas, as always, have got your back.

*******
We have seriously PACKED this printable potty training planner FULL of value (and at 60+ pages, TONS of pretty options for you to choose from). It's just what you need to get your mind right for potty training, and tackle it like you do everything else- like a total badass.
And at a CRAZY low introductory price of just $12? Mamas, that's less than you'll spend on Clorox wipes during this whole process. You'd be crazy to pass this up.
Grab your planner here before the price goes up, and you'll be ready for potty training whenever it's ready for you.
Wishing you lots of luck, plenty of coffee, and all the clean pairs of undies you could ever need!
Jaymi & Christine