Looking for the best potty training books for kids? Need some book ideas to help get your little boy or girl interested in toilet training? Check out our favorite board books and picture books about potty training, all in one handy place.
Potty training can be a terrifying thing. The messes, the inconvenience, the strategy involved- the whole thing just screams overwhelm.
And if we're intimidated by it? Just imagine what our kids are thinking about it.
One of the best ways to potty train a child easily is by getting them on board from the beginning. Build excitement, allow for some bribes incentives, and hype potty training with your kid as much as you possibly can.
As usual, one of our favorite ways to help our kids learn about something new is through the magic of reading. While we often find ourselves lost for words when trying to explain a new concept to our little people, books seldom fail us.
So if you find yourself in a similar position, we have collected an assortment of our favorite potty training books for kids to help get them in the zone. Read on for the very best potty training books Amazon has to offer.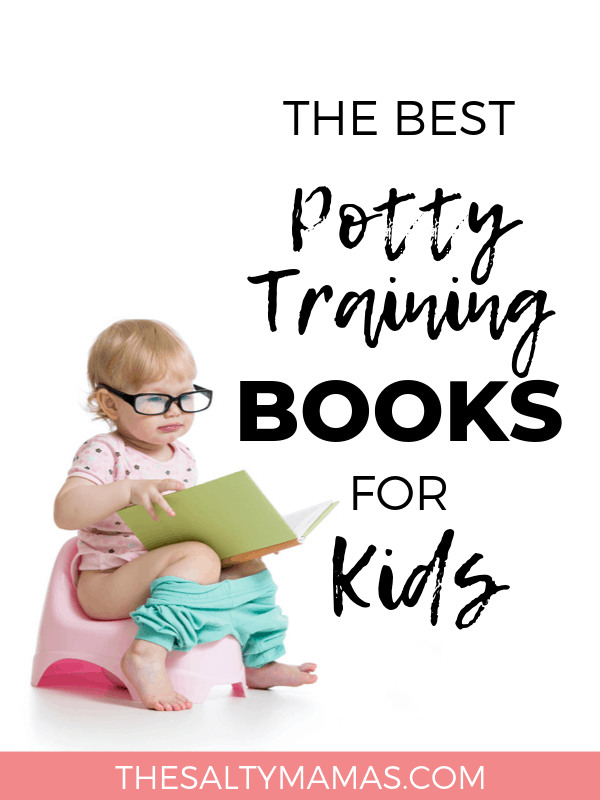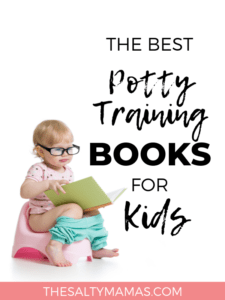 This post contains affiliate links. You can read more at our disclosures page. Thanks for supporting The Salty Mamas!
Potty Training Books for Boys
Working on potty training your little guy? Whether you've got a toddler boy or a preschooler, this collection of just-for-him books will appeal to the typical "boy" interests- with lots of humor thrown in the mix.
This book focuses less on the process of potty training and more on the j
oy of wearing big boy underpants
(another one of those parenting sentences I never thought I'd say). If your little guy needs some more motivation, this book and a pair of
fun new undies
just may do the trick.
This isn't strictly a boys' book, of course, but my boy does have a serious fascination with firefighters. Why not use that obsession to show them that
everyone has to go sometimes
? It's got (mostly male) characters from a variety of professions using the bathroom, which also
helps to teach kids that there are bathrooms everywhere
. There's always somewhere to go, and this book goes a long way in helping to teach that.
Okay friends, you're either gonna
hate
this book, or you're going to
love
it.
This little guy pees all.over.the.place
. Backyard, mountain top, in costumes, hands-free- you name it, he tries it. And we know- that's not for everyone.
But when you have a little boy who just won't go? Well, we'll try anything. Even if it means letting them pee in the backyard. If that's how you roll, too, this may be the book for you.
Another book that focuses more on familiarizing kids with the toilet, but with
colorful, diverse characters
. It'll definitely hold their attention, and is a perfect addition to your bathroom book basket. Bonus points because it also comes with a rewards chart and fun stickers.
This book is almost
guaranteed to crack your little guy up
. We're gonna be honest, it doesn't set the
best
example- but if your little man is stuck in the "I hate the bathroom" potty training phase, this board book may be just the thing to help snap him out of it.
Get prepared with our potty training planner, only $12:

Potty Training Books for Girls
Now it's time for potty training books for your little lady. There's sugar, spice, and everything nice- with a little sass thrown in. These books will have your daughter using the potty like a pro in no time (we hope so, anyways!)

This sweet little book not only walks your little lady through the process of using the bathroom, but also includes a punch-out tiara and reward stickers to help get her excited for toilet training.
This potty training picture book is printed on paper, not a board book, so it'll appeal to older potty trainers that aren't interested in board books. It's by the same author as the popular "Biscuit" books, and has a sweet rhyming pattern your daughter is sure to love.
Who said girls don't love superheroes too?? This fun little board book helps guide your daughter to be "diaper free" using adorable illustrations and a motivational story.
Parents will love the smooth rhymes in this book, and kids will love the parade of tea party friends that need to use the potty throughout. This book does a particularly nice job of pointing out that even when you're having fun, it's important to take a bathroom break as soon as you feel the need.
This interactive potty training book for girls has lots of fun pull tabs, lift the flaps, and other ways for kids to engage with each page. It's a good pick for keeping kids entertained while they're using the potty. It's also a great incentive help them stay put until they actually need to go.
My kids love pretty much anything by Karen Katz, and this fun lift-the-flap book is no exception. Help your little lady say goodbye to diapers (and hello to undies!) with this fun girls' potty training book.
We're not gonna lie, this book loses a few points for use of the word panties (for no good justifiable reason, we HATE the word panties). However, it's a fun story that motivates little ladies to earn their big girl panties (seriously, ew) and was one of Lila's very favorite potty training books.
Lots of illustrations and a fun little story make up this book about becoming a potty training superstar. We love the little tabs that can help kids to turn the pages on their own. (Bonus points for including a main character of color!)
Potty Training Books for Everyone
If these books teach us nothing else, it's that everyone has to use the potty sometimes. These books appeal to little boys and little girls alike (and there's even a little humor in here for mom or dad, too).

This is one of my all-time favorite potty training books. The pictures and the words are both pretty simple, but my kids and I both found it incredibly engaging. Even years after potty training, my six year old still sometimes recites this little book from memory. Trust us- it's a keeper.
Short, simple rhymes and an emphasis on telling someone when you need to go to the toilet (one of the HARDEST things to teach my son, I might add) earn this book a spot on our best potty training books list. It's sweet, easy for kids to remember, and has mass appeal for the preschool and under set.
Another Karen Katz contribution to our potty training books list, this lift-the-flap book is a great time-killer for kids that are trying to use the toilet. This book focuses less on the process of potty training and more on getting comfortable with the toilet. We think this one is best for younger kids.
This book is short and sweet. Kids will love it mostly for the flushing sound it makes when they press the button. But if you've got a flush-obsessed kid,this is a way for them to scratch the itch without costing you a fortune in wasted water.
Okay, is it crass? Well, yeah, a little. But let's face it, kids are gross sometimes. Why not indulge their fascination with poop by showing them that everyone does it? Seriously. EVERYONE. This book is especially good for kids who are reluctant to poop on the toilet (a potty training phase we know all too well).
*******
So there you have it, the VERY best potty training books for kids. Are there any you'd add to the list? Tell us in the comments below, and we'll add it to the mix!
Looking for more about potty training? Head here next-
Get our Customizable Potty Training Planner: