Sometimes, as parents, we make packing lunches for preschool WAY harder than it needs to be. But you don't have to go over the top to get the job done! Check out our favorite preschool lunch box packing tips to make your life SO much easier.
As stay at home moms, we have been thinking about all the ways our lives would get easier when our kids started school. Running errands alone, having cleaner houses, not being solely responsible for their education- we were SO looking forward to having the pressure taken off of us.
And then we realized- the pressure doesn't leave us. It just gets different.
Case in point- the pressure to constantly come up with new school lunch ideas for our kids.
Whereas a PB&J and a few carrot sticks on a plate would work at home, we now have to send our kids out into the world with carefully packed lunches that will A. Be swiftly compared to their friends' lunches and B. determine how good we look to the teachers and supervision staff.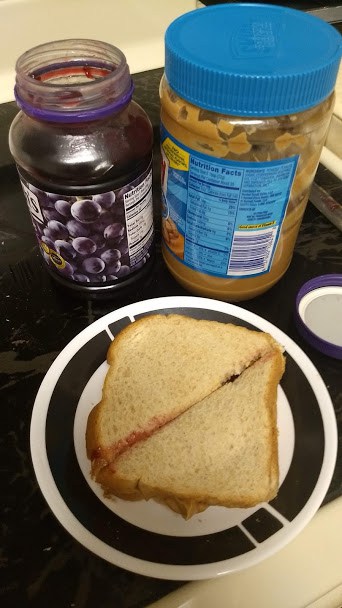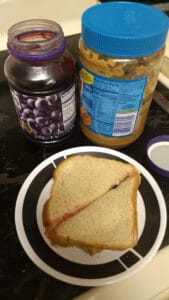 But mamas, we've got to say- all this pressure we're putting on ourselves? We don't have to do that. You don't have to constantly recreate the wheel. You don't need to be innovative and imaginative every day.
The saying "Fed is Best" doesn't go away just because your kids are older now.
We have found that the best way to take the pressure off of ourselves is to invest in some tools that make packing lunch boxes WAY easier. Sometimes a few lunch box hacks (and the right containers!) can make all the difference in how your child perceives their lunch- and expands the list of what you're able to send, too.
So if you find yourself looking for preschool lunch box packing tips, look no further. We've got the right tools to help you step up your game (without adding extra pressure to your life).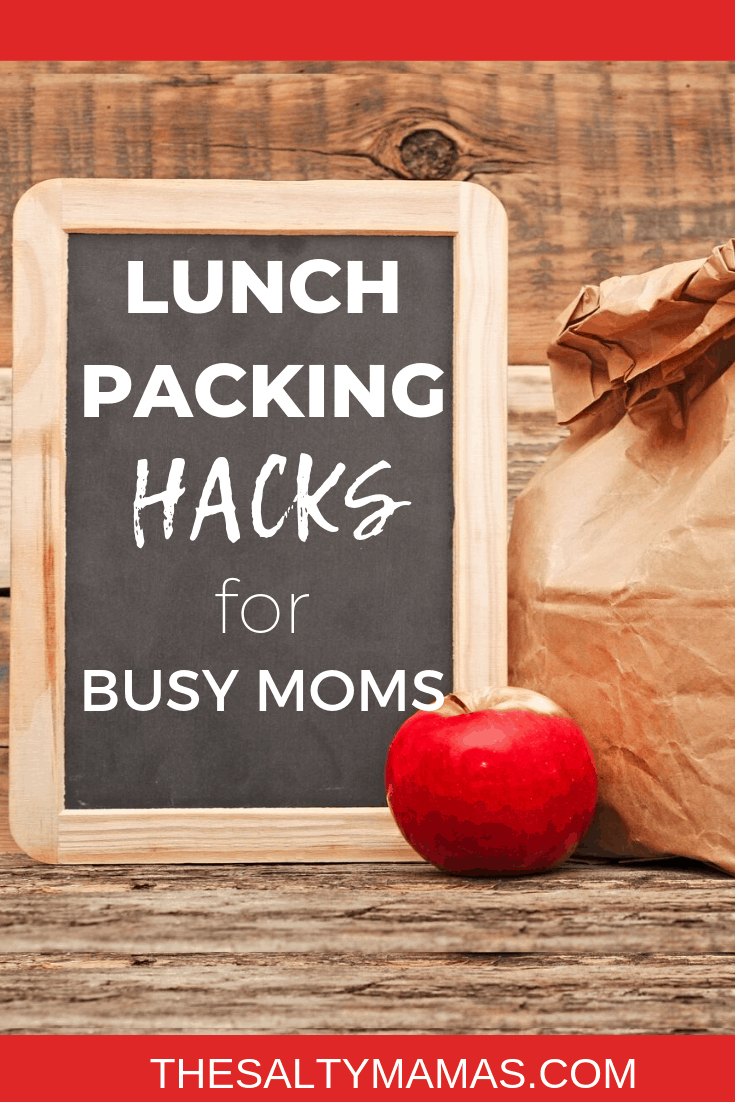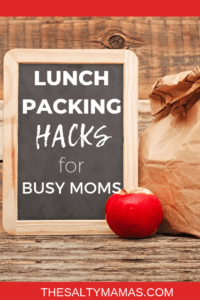 This post contains affiliate links. As Amazon affiliate, we may earn from qualifying purchases. You can read more at our disclosures page. Thanks!
Preschool School Lunch Ideas
First up- what in the world can you actually PACK for kids to keep things interesting? I mean, I'm not suggesting you go full artsy Bento every day, but it can be nice to change things up.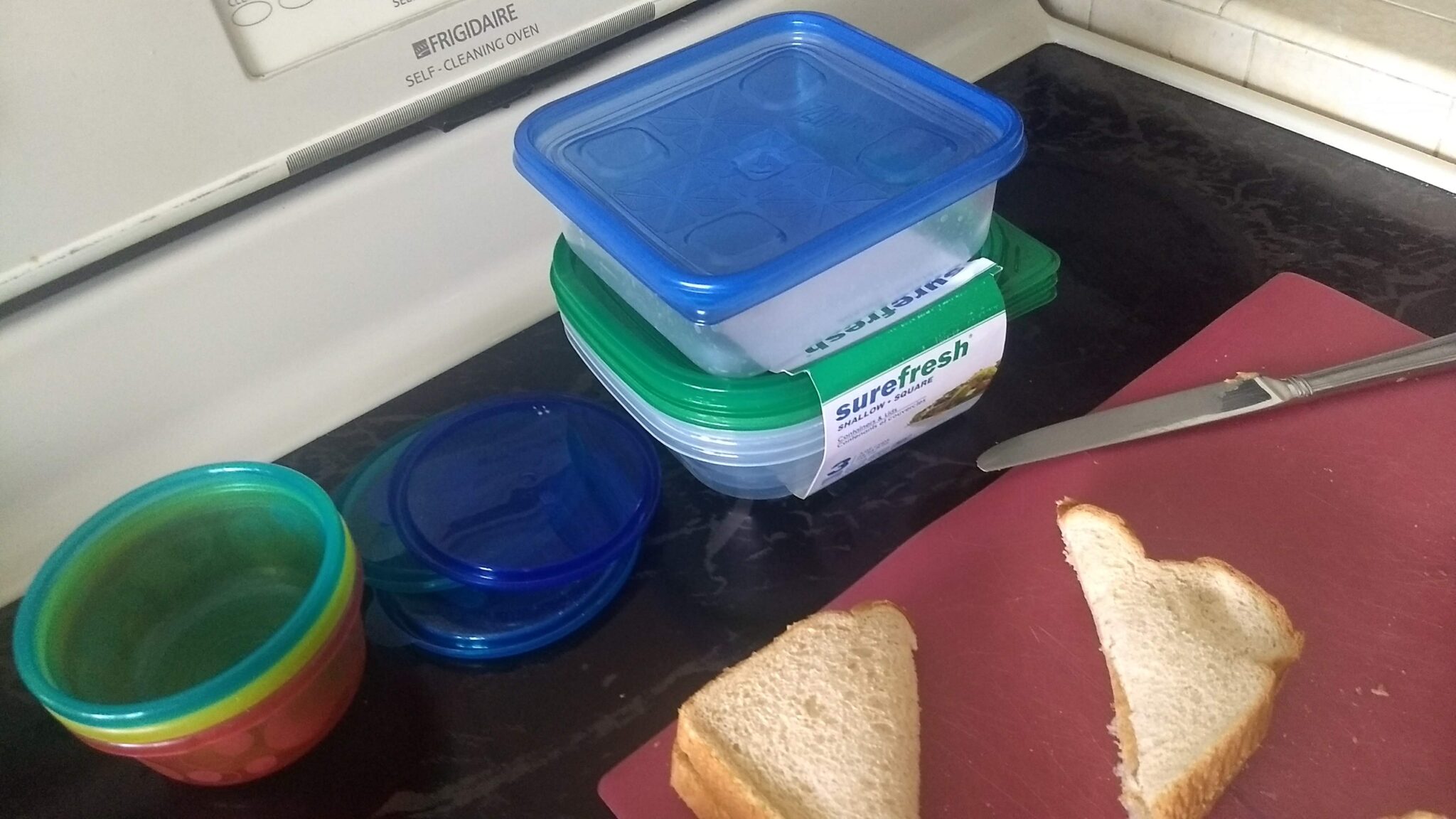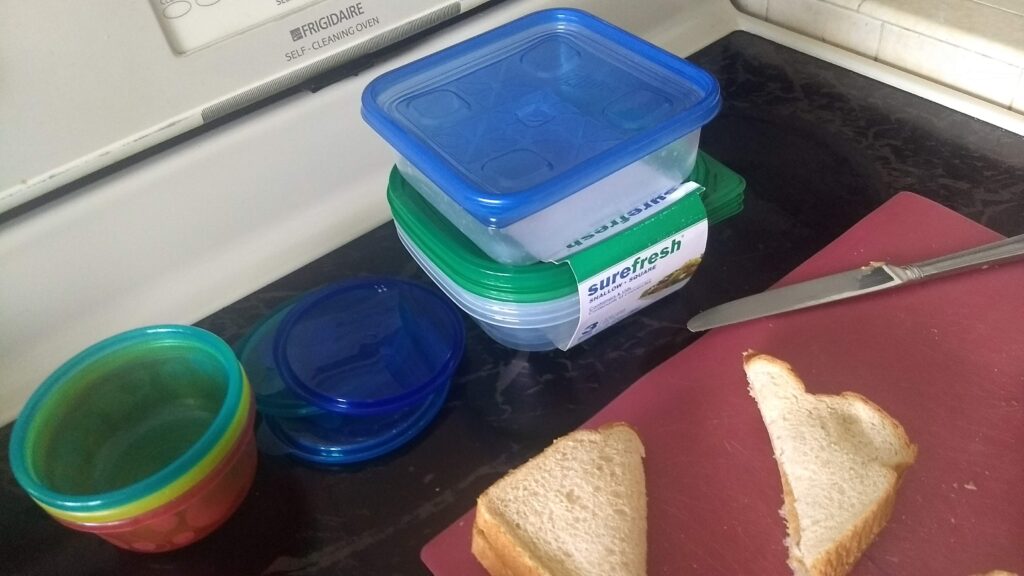 Here's a list of ideas that can change up your school lunch routine (without going full Pinterest).
Cold Preschool Lunch Box Ideas
These dishes are best served cold, saving you TONS of extra steps. Throw a skinny ice pack into their lunch box and it'll stay cool all the way until lunch time.
Here's a few of our favorite cold lunch ideas-
Our Favorite Preschool Lunch Box Tip- How to Send Warm Lunches to School
When you've got a kid-sized Thermos, it opens up your options exponentially. Grab a thermos (and make sure you prime it according to the instructions first!) and fill it with your kids' favorite foods for a warm school lunch on the go.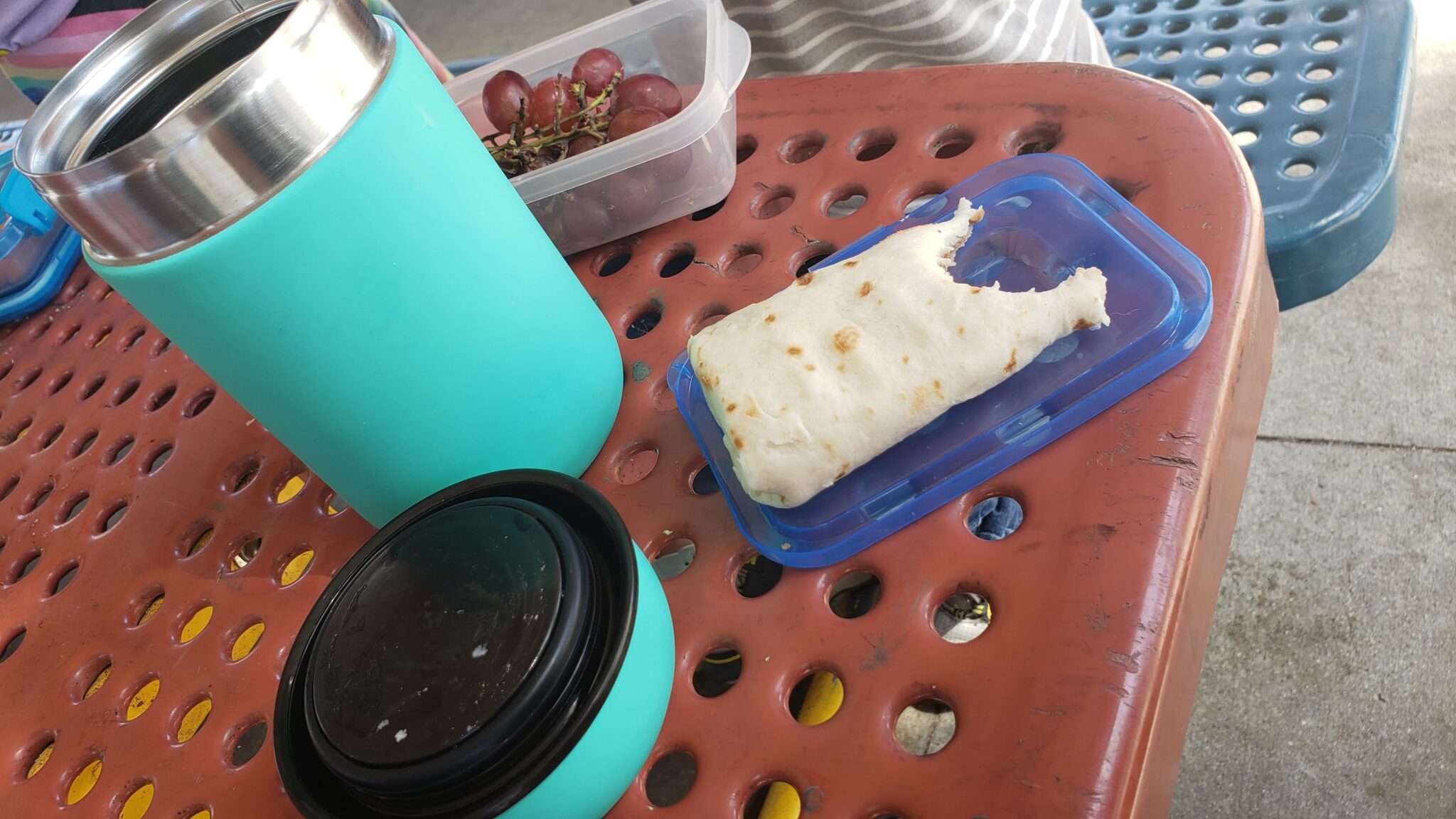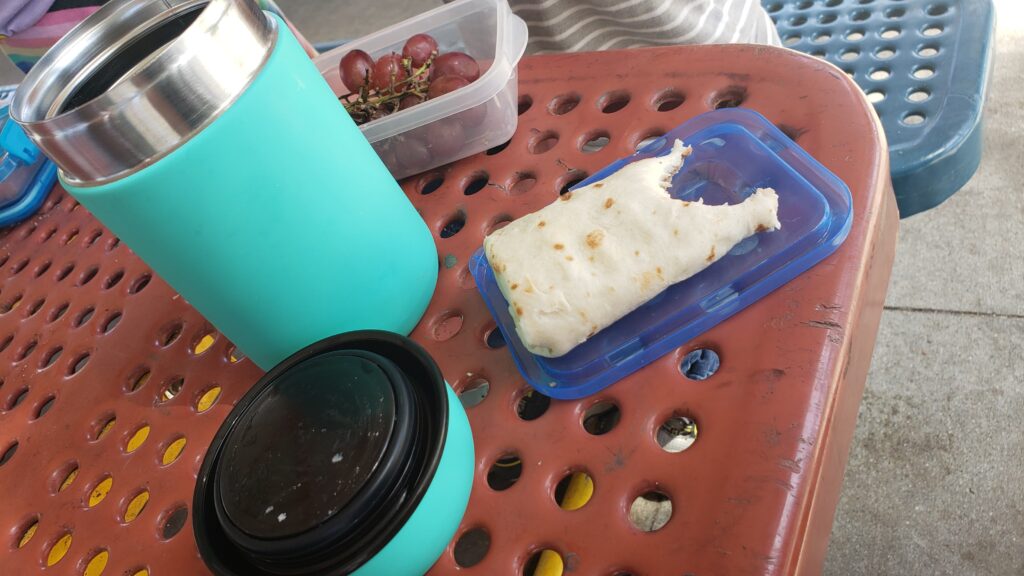 Tools For Making Packing School Lunches Easier
Half the battle of packing lunches is figuring out how to properly store and serve the food. Hot food should stay hot, and cold food should stay cold. And on top of that, we all want to reduce how many single-use plastics go into our kids' lunch boxes every day.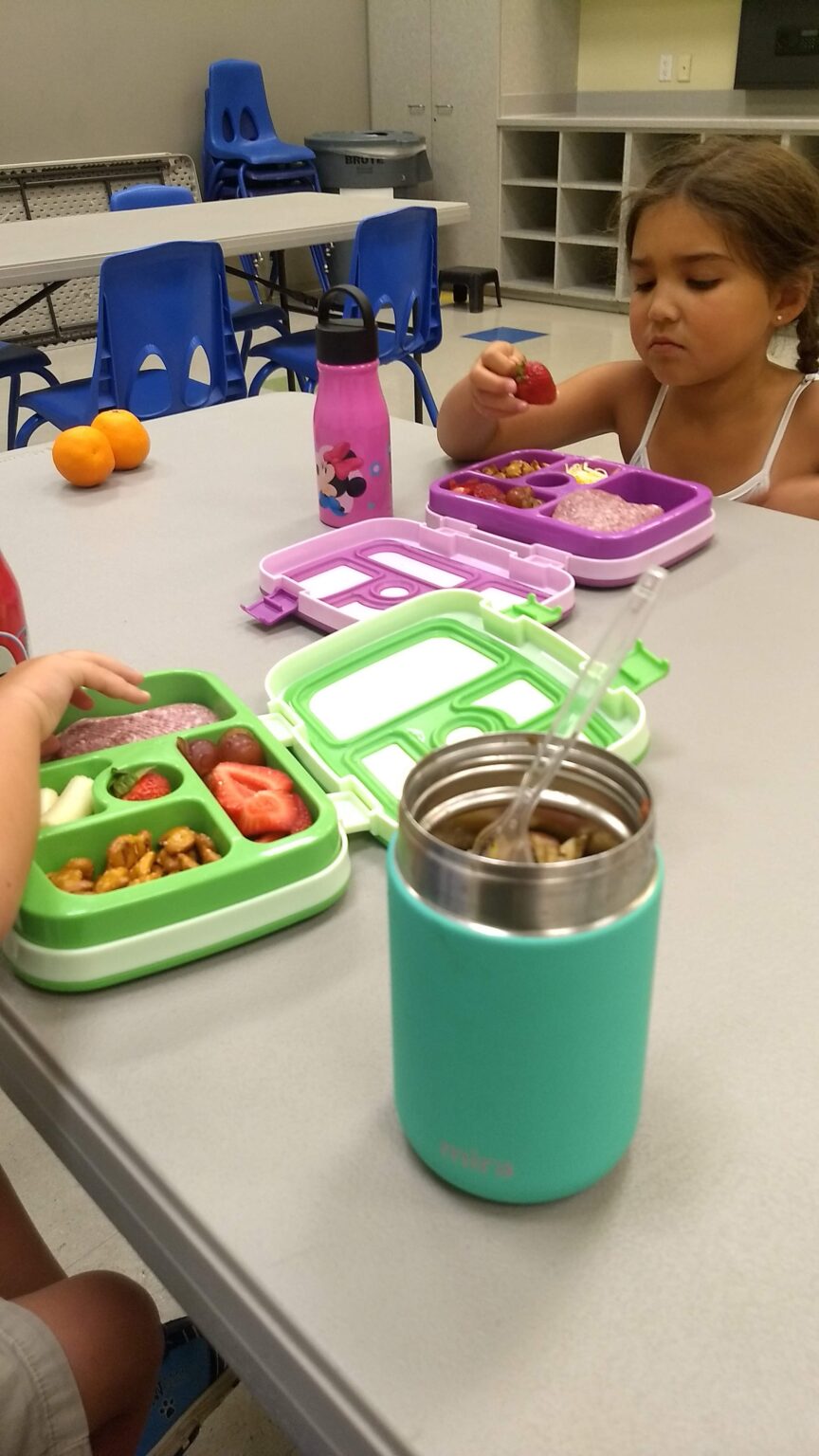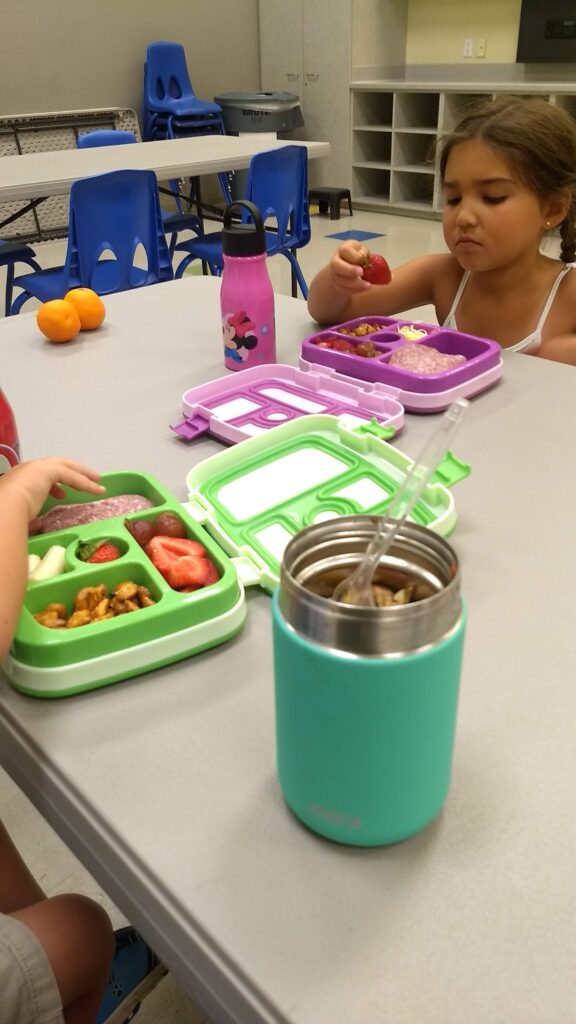 But once you get a good assortment of boxes, bags, and containers, making kids' school lunches gets WAY easier. Here are our favorite lunch box hacks to help you get ahead of the monotonous school lunch prep.
Bentgo Boxes, Trays, and Lids
They may seem fussy at first, but Bentgo boxes are the easiest way for me to throw together a lunch using whatever I can find in my fridge. It comes with small individual compartments, which means I can use up the last bits of several different kinds of produce, meat, or cheese that I may have leftover from other meals.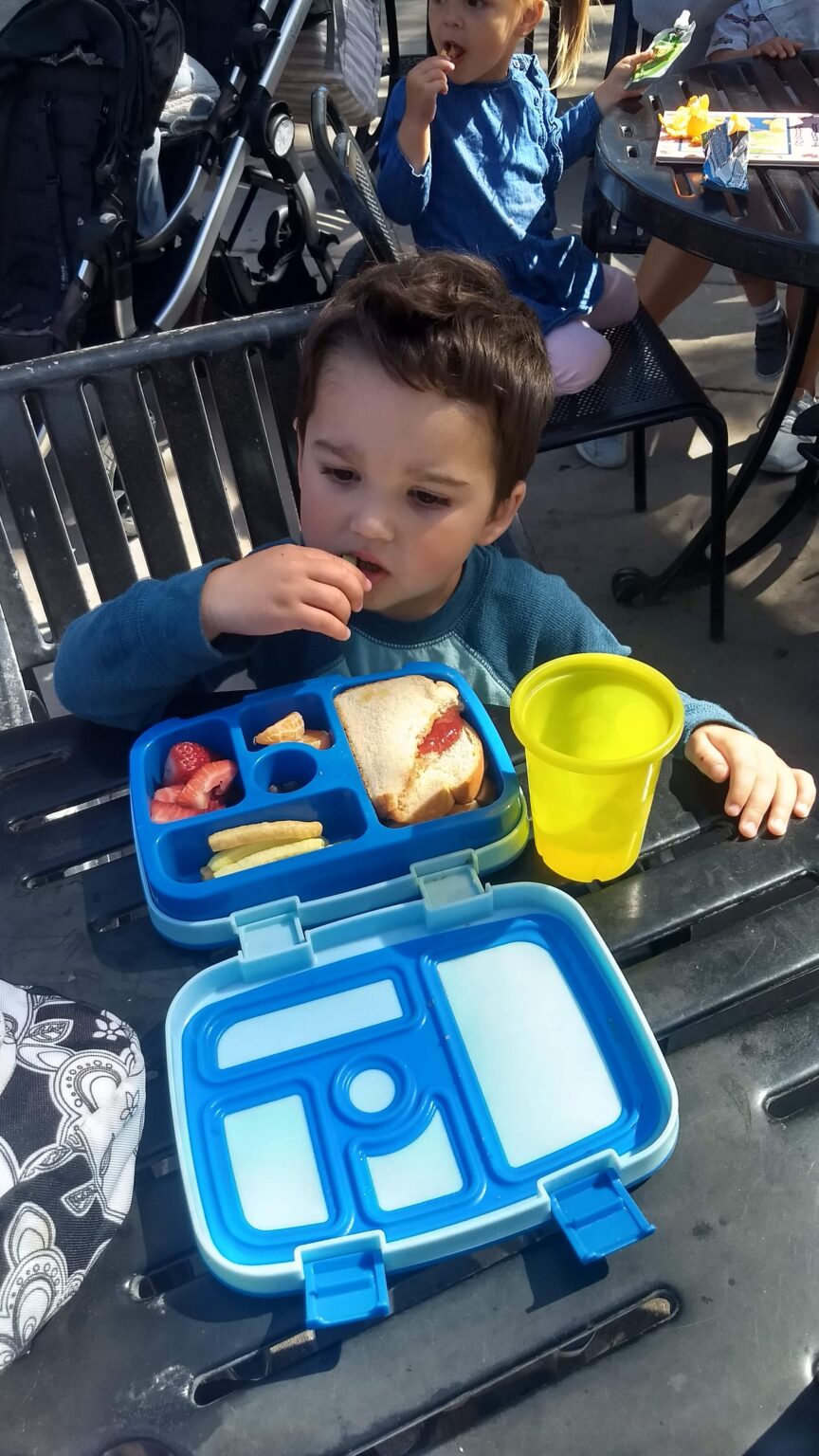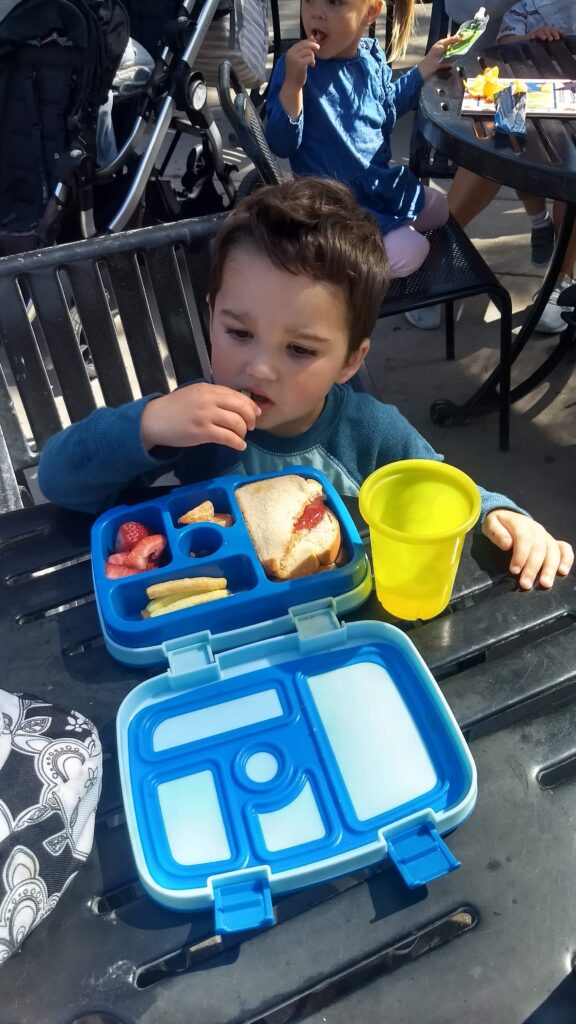 The Bentgo box is also consistently leak-proof. I can add ranch into the small center compartment and it will reliably stay contained there without spilling over onto the other foods.
I also recently discovered that you can buy extra trays and covers to prep lunches for the week all at once. These lids aren't leak proof, so don't send them to school with your kids. Simply swap out the inserts with your pre-prepped lunches and you're good to go.
YumBox
Another popular solution for bento lunch boxes for kids is the Yum Box. It also boasts leak-proof containers, but comes in flexible sizing (we're partial to this one with a sandwich-sized compartment.
The YumBox is a fabulous way to cut down on your use of sandwich bags- without having to juggle a thousand small containers in the process. (And there's less compartments to fill than with the Bentgo, so there's less pressure on you to get creative!)
Silicone Muffin Cups
If you're going with a Bento box, you might find that you need a bit more flexibility for the various compartments. I frequently use these silicone muffin cups to help keep things divided within the large compartment.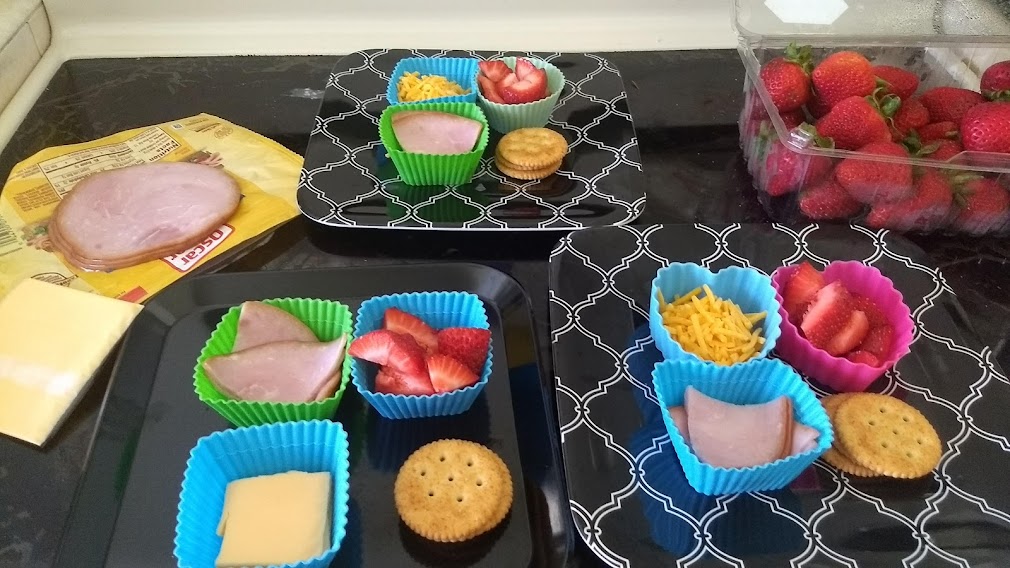 If I'm not sending a sandwich, I often create homemade lunchables inside of my daughter's Bentgo box or even within a square tupperware container. I'll add in a lunchable-type serving of ham, cheese, and crackers, each in separate silicone cups.
Funtainers by Thermos
If you're only going to take us up on one of our lunch box hacks, let it be this- get your child a Funtainer from Thermos (or two). It will exponentially increase the types of foods you can include in your child's school lunches.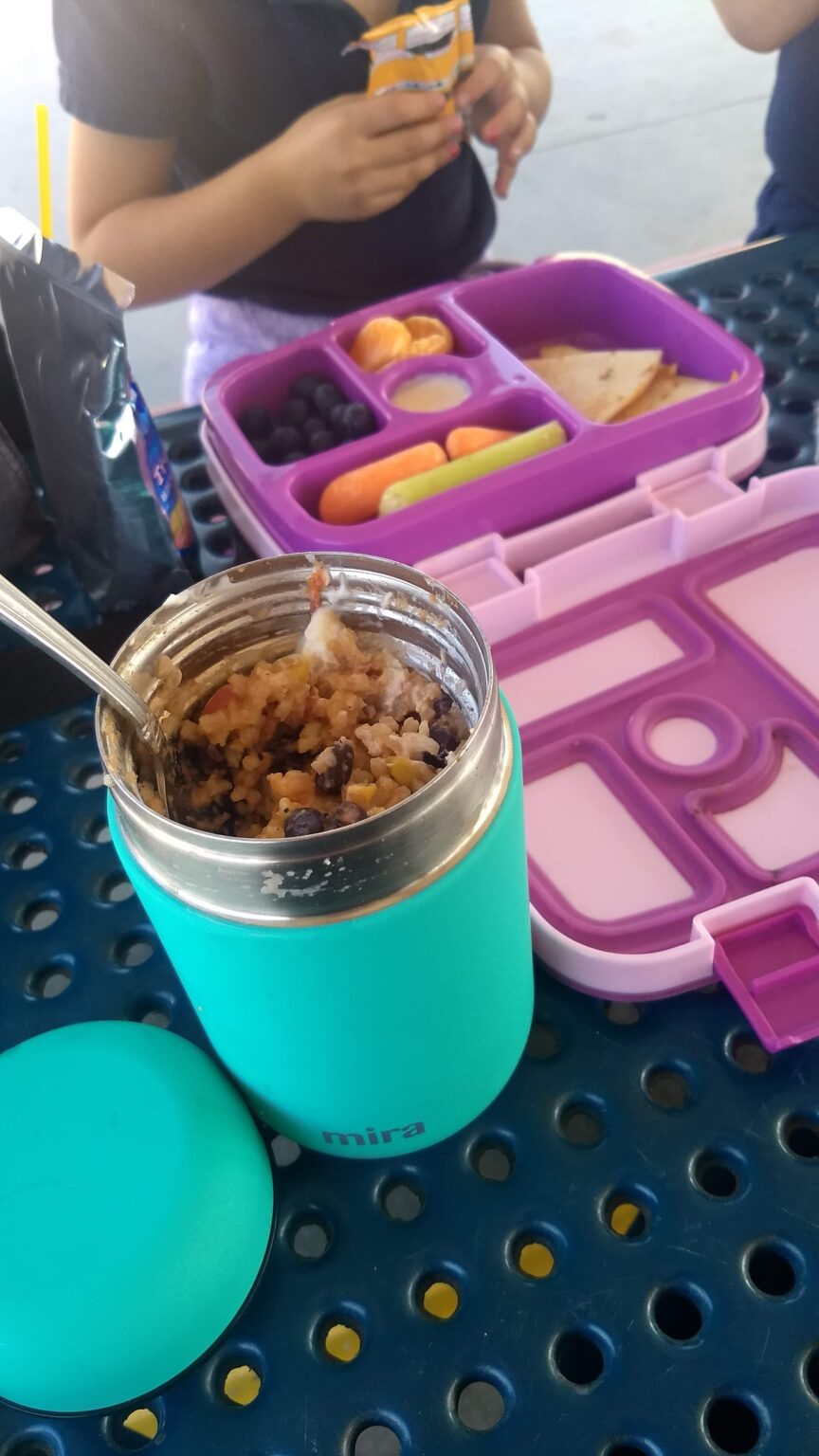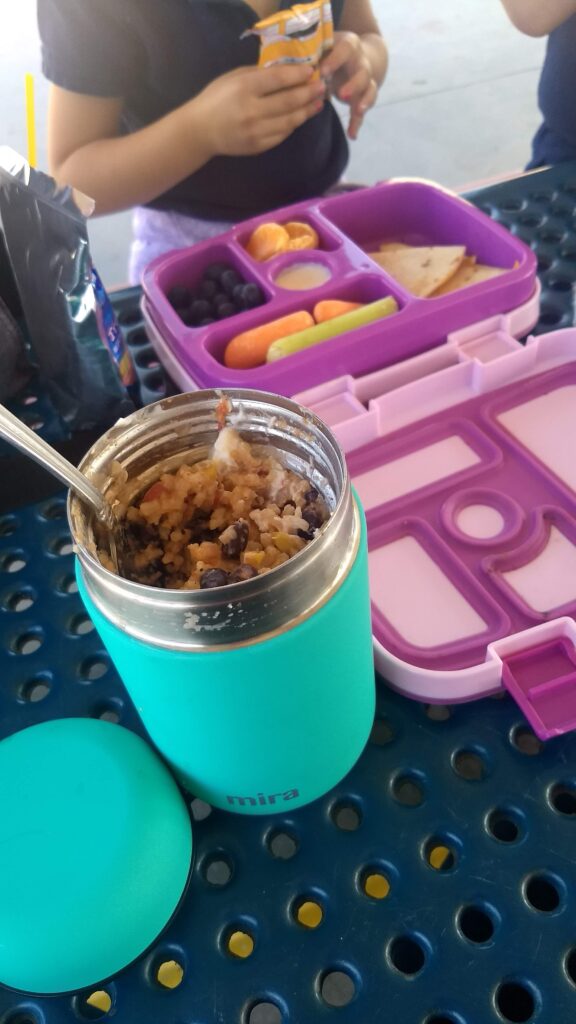 When properly prepped, my daughter's Funtainer keeps her food hot (not warm, not room-temp- as hot as it started out) until lunch time. It's the perfect solution for kids who aren't big on sandwiches, or who prefer more variety in their lunches.
In order to keep the temperature consistent, you must first fill the Funtainer with hot, almost boiling water. Close it up and let it sit for ten minutes to warm the container. Warm up the food you plan to pack in the microwave or stove so that it goes into the Funtainer hot.
After the ten minutes are up, dump out the water, dry it out with a towel, and place a paper towel, folded in quarters, in the bottom of the dry thermos. This will keep foods from getting soggy.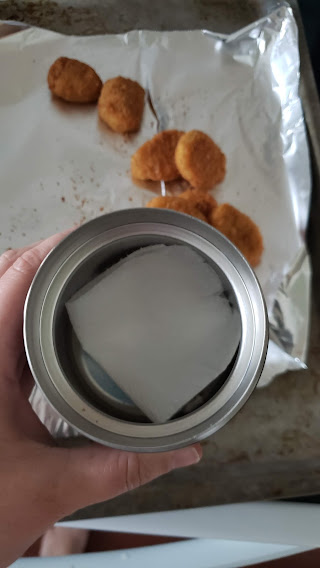 Place your warm food inside. Seal the lid tightly and place in your child's lunch box. Truly, that's all you've got to do to ensure that your child has a warm meal waiting for them at lunch time.
Snack Bags
These aren't necessarily easier than using sandwich bags, but they are a lot more environmentally friendly. I usually send Goldfish, crackers, or chips in these cloth Bumkin bags, while fruit gets sent in this snack-size silicone version.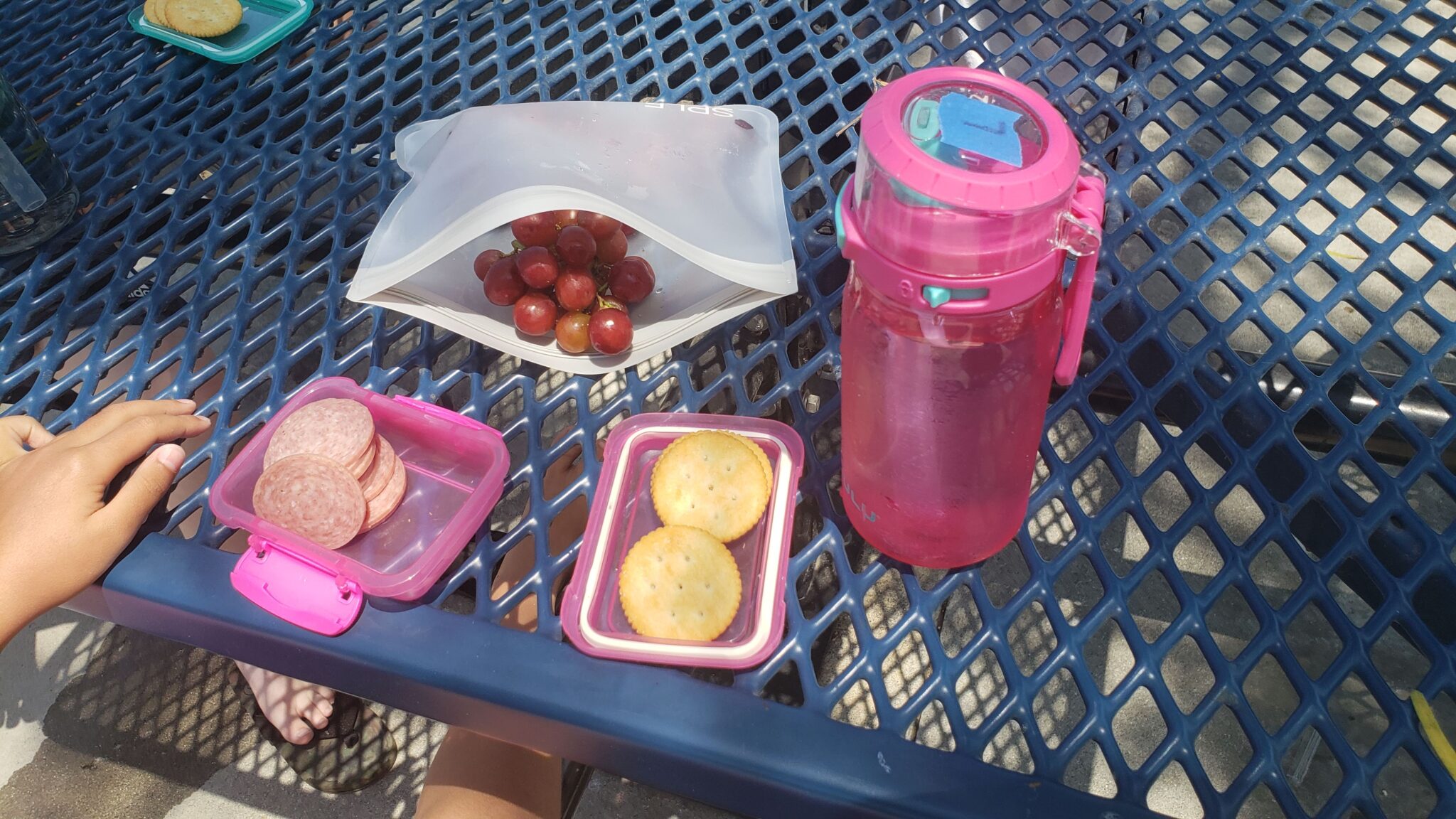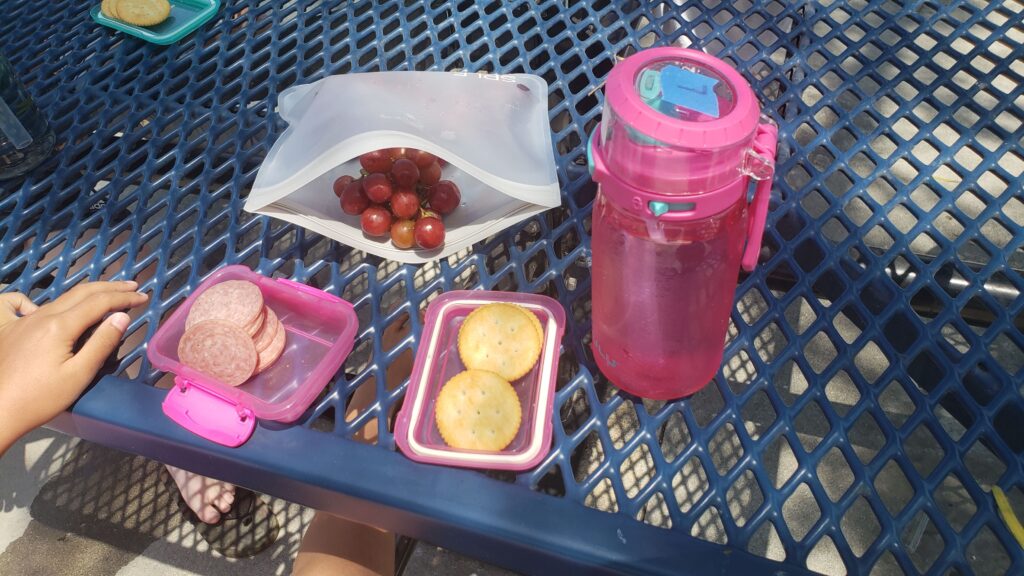 You can also buy silicone bags in sandwich sizes if you prefer silicone to plastic or stainless steel.
Contigo No-Spill
Drinks can be tricky when it comes to sending to school. We send our kids with their favorite water bottles, labeled with their names. We've had good luck with both the Contigo No Spill kids water bottle for littler children, and the Thermos brand for older kids.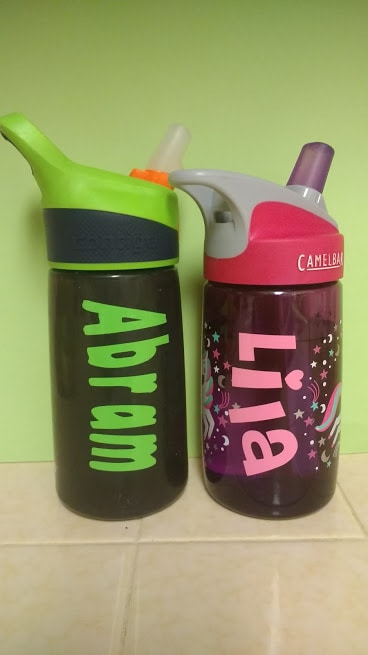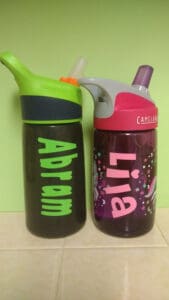 Both keep water where they're supposed to be (and off of your kids' lunch!) no matter how much bouncing around they go through.
Thin Cool-Packs
Standard ice packs are so bulky and add a TON of weight to a child's lunch box. But at the same time, you have to make sure that your cold food stays cold to avoid temperature fluctuations that could make your child sick.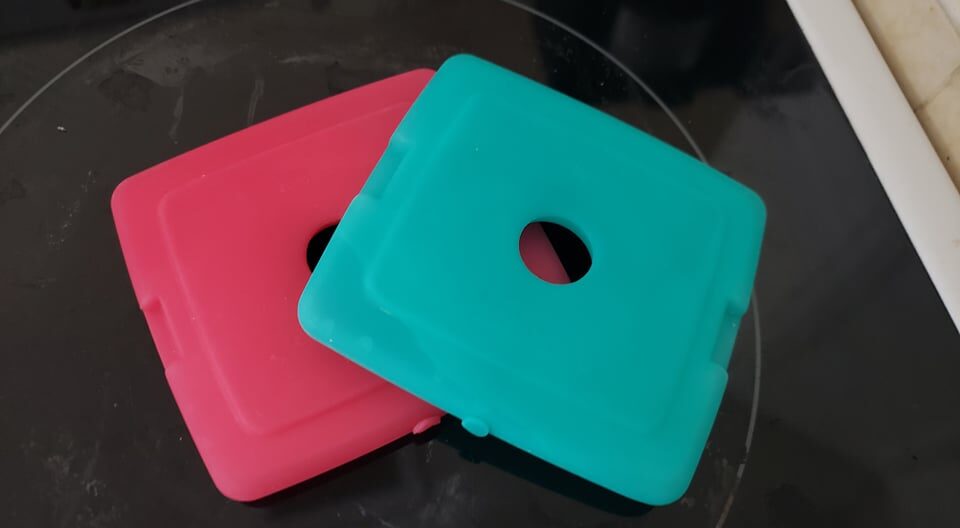 We recently found this four pack of slim ice packs on Amazon, which are designed to fit easily into your child's lunch box. They fit in with our Bentgos or our collection of containers. They are perfect for keeping food cold without adding a lot of extra bulk or weight.
Condiment Cups & Containers
I don't know what it is about dips, but nothing will get my kids to gobble up their veggies faster than a little ranch dressing.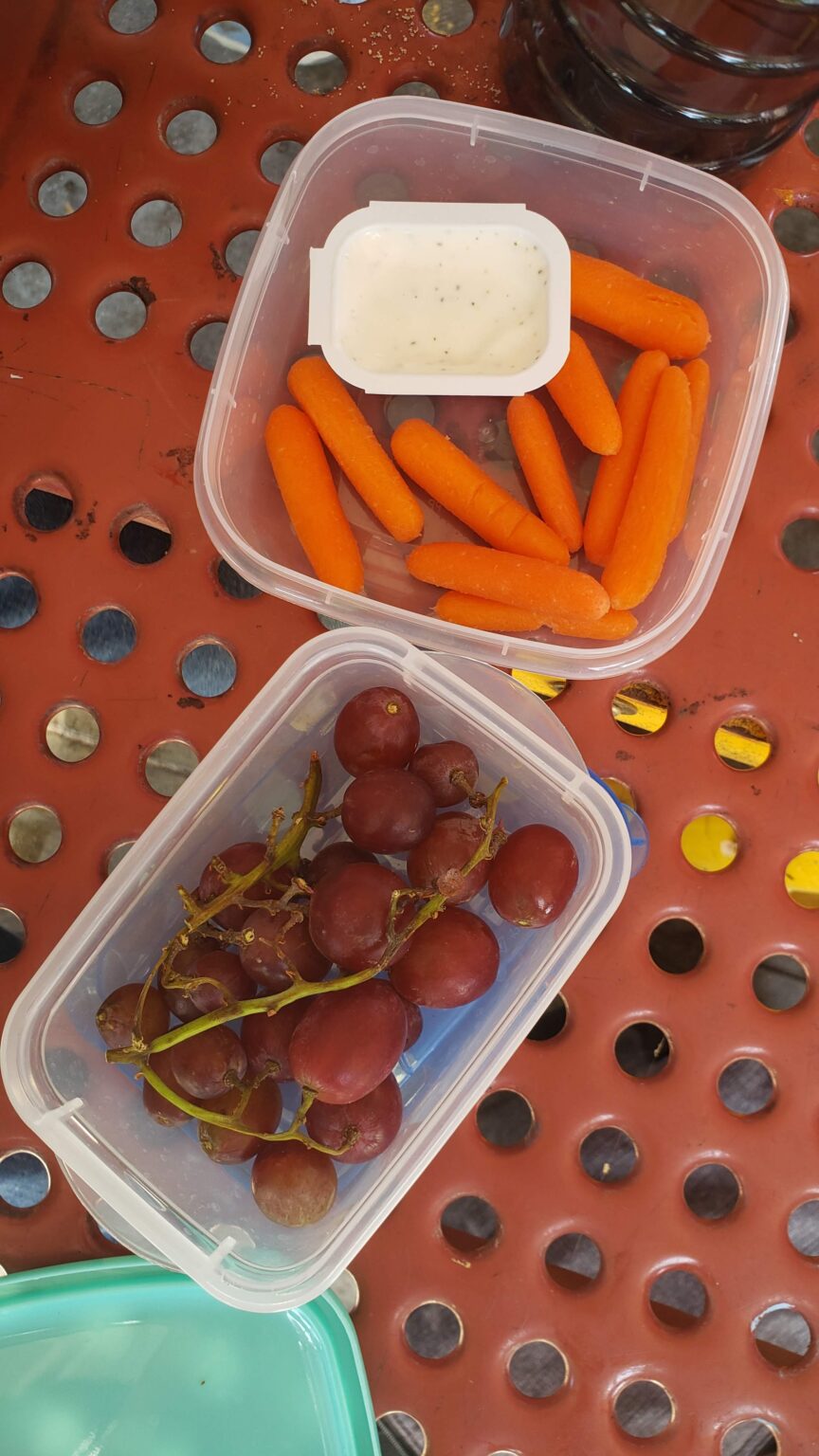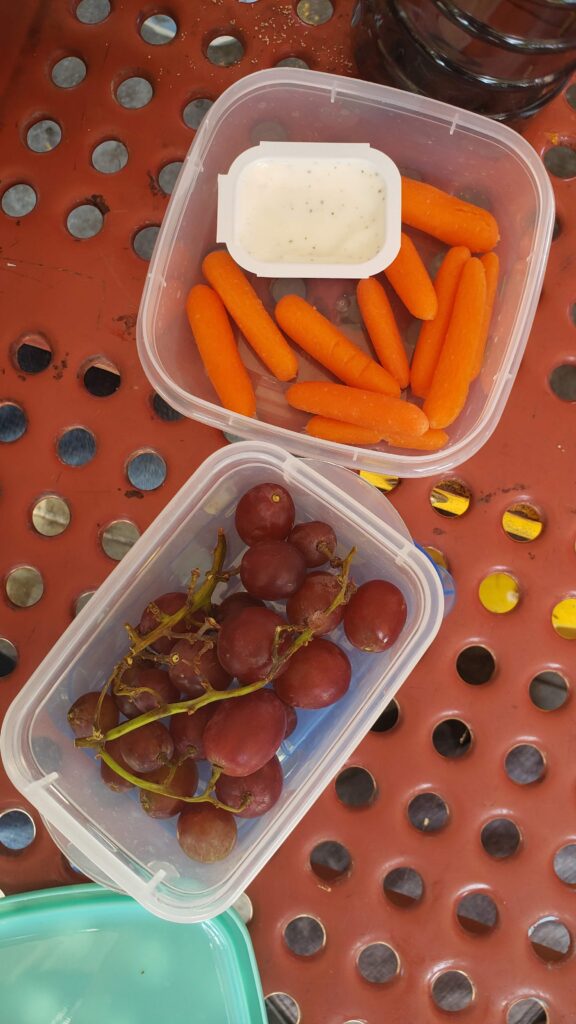 Sometimes, I'll add in a leftover container of sauce from Chick-fil-A or McDonald's. When we don't have those on hand, I put a little ranch into one of these containers. It helps encourage my kids to eat their veggies, even when they're not at home.
******
So if you find yourself in a preschool lunch rut- or if you're just stressing yourself out about packing school lunches for kids- we hope these handy preschool lunch box packing tips make your life a little easier (and more fun and yummy for them).
How about you? What lunch box packing tips would you add to the list?
Looking for more parenting hacks to make life easier? Head here next-
Recommended for You: