Running out of school day breakfast ideas? We've got quick breakfasts your kids will love (and that WON'T take your whole morning to make!)
I don't know about you guys, but school day breakfasts at our house have always been like WOAH.  From back in the day when I was a teacher trying to hustle my little one off to daycare, to now as a SAHM trying to hustle my big one off to class, the name of the game has always been to get everyone fed as quickly- and as free of chaos!- as possible.
Over time, I got tired of relying on cereal to get my kids fed and out the door, and started looking for new school day breakfast ideas for my kids. By incorporating a few new nutrition packed ideas (as well as a few unconventional favorites), we've managed to bulk up our rotation of breakfast ideas for our kids.
Here, you'll find our ten favorite recipes and quick breakfast ideas for kids to make eating breakfast go down a little easier.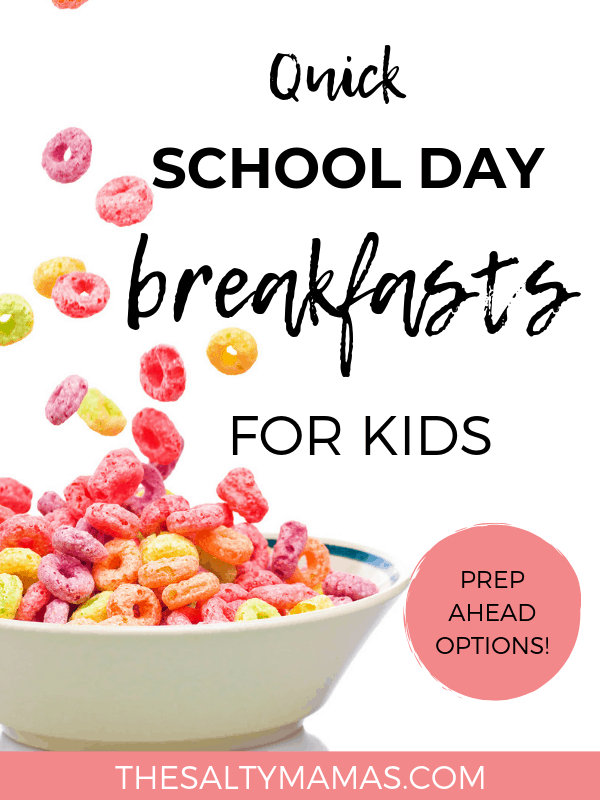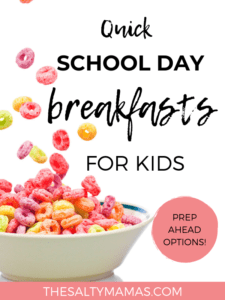 This post contains affiliate links. You can read more about our disclosures and policies here. Thank you for supporting The Salty Mamas!
1. Yogurt Tubes
One of the easiest ways to get a little calcium and protein into my kids is to take those little yogurt tubes you find in the grocery store- think GoGurt or Chobani Kids- and freeze them.  Once they're solid, I take the tube and cut it in half, making two little "yogurt popsicles," and hand them off to my toddler. The shorter size makes it easier for him to get all the yogurt out himself. And because they're frozen, he doesn't make anywhere near the mess he would with a fridge-temperature tube.
Can't get on board with the sugar in GoGurt? Or prefer to make your own for budgeting purposes? Buy these little tubes on Amazon and make them yourself using the yogurt, smoothie, or puree of your choice!
2. Overnight Oats
There are lots of overnight oat recipes out there, but we are partial to the Red Velvet version from The Peachee Pear- which even includes a sneaky veggie!  You can make several at once, and have a little sweet treat ready for breakfast when you wake up in the morning.
3. Toddler Veggie Muffins (Or Any Muffins, Really)
Check out our recipe for Toddler Veggie Muffins for a yummy little breakfast your kids will just DEVOUR. Chock full of good stuff, with none less of the "bad stuff."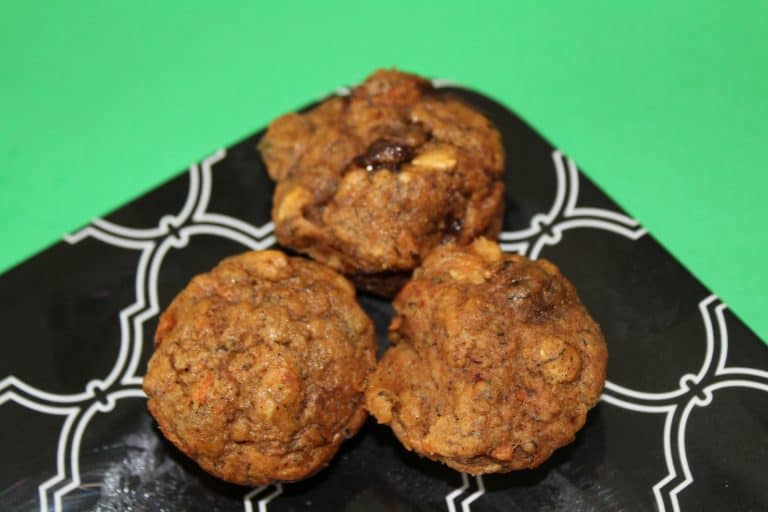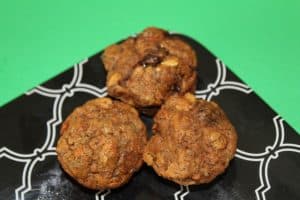 The best part of these tasty little muffins? My kids have absolutely no idea that they're eating large amounts of fruit, veggies, and protein. And that, my friends, is the magic of chocolate chips.
4. Breakfast Burritos
My daughter hates eggs. Or so she says.  But egg-and-bacon breakfast burritos? THOSE she loves.  Scramble some eggs, place them in a tortilla, and crumble some bacon on top. Add a little cheese, roll it up in a heated tortilla (microwave for 20 seconds will work just fine), and you've got a breakfast packed with protein and yumminess.
As an added bonus, these freeze really well. I make a big batch, freeze them in Ziploc bags, and reheat one at a time for a quick breakfast when we're in a rush.
5. Egg and Banana Pancakes
These two-ingredient wonders were a staple in the breakfasts I would pack for Lila's daycare lunches as an infant and young toddler. They reheat quickly, hold up well to fridge or freezer storing, and are so yummy your kids will gobble up several before they realize what's inside.
To make them, take one mashed bananas and mix with two eggs. (Our friend Catherine adds a little food coloring to make mornings extra fun!)  Cook on medium in a greased pan, like you would a pancake, for two or three minutes on each side.
These also freeze really well, stacked in a Ziploc bag. Take them out the night before and they'll be thawed by morning, or reheat in the microwave for about twenty seconds.  I serve them plain, but if you're not as sticky-averse as I am (seriously. I can't even.), then feel free to add some syrup or jam.
6. School Day Breakfast Pancakes
Pancakes freeze like a DREAM.  Use your favorite pancake recipe (our favorite comes from Grace and Good Eats– we sub in whole wheat flour for the ones we freeze for the kids), and make as normal. Stack two-high in a flat bag and freeze.  You can take out a few at a time and reheat as needed.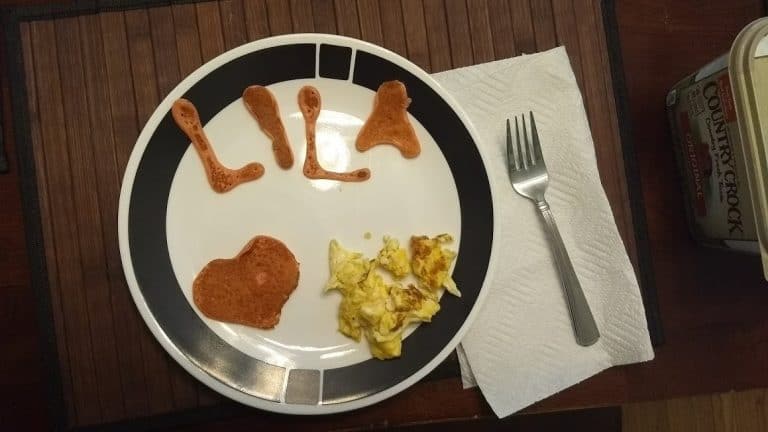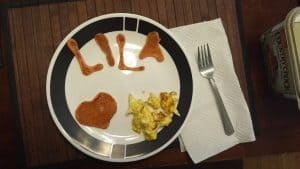 On mornings where you have a little extra time, you can use a condiment bottle to squeeze the pancakes into shapes and even letters on the griddle. Sometimes the new format will trick into the pickiest of eaters into trying something new.
7. Zucchini Pancakes
These are a little off-the-beaten-breakfast-trail, but my toddler actually gobbles them up. This Golden Sweet Zucchini Pancake recipe from Super Healthy Kids freezes really well, and is a great way to sneak some veggies into your child's diet.
I actually freeze the three kinds of pancakes listed here- one each of the zucchini pancakes, the whole wheat pancakes, and the egg-and-banana variety- together in a single-serving Ziploc bag.  That way, I know I can give my little guy one bag of pancakes and have all of our bases covered.
8. PB&J
Okay, I KNOW. It's a PB&J. But did you know some nutritionists recommend peanut butter and jellies as the perfect pre-workout meal? And what is childhood if not one big workout? It's the perfect mix of carbs, proteins, and a little something sweet.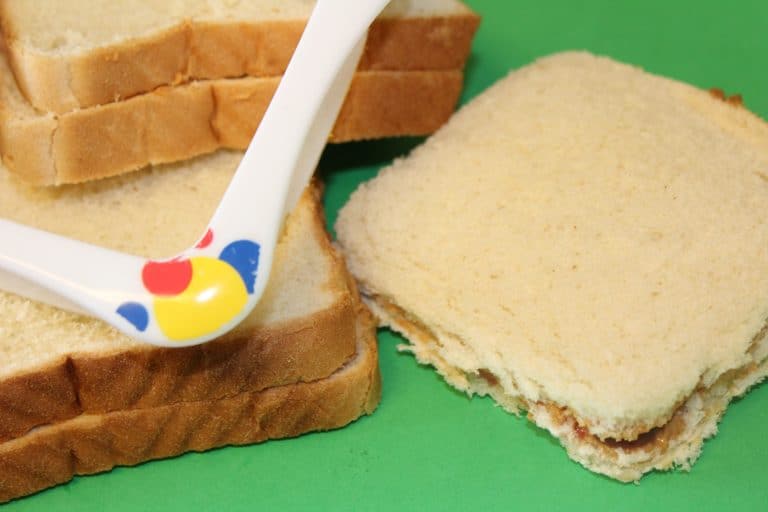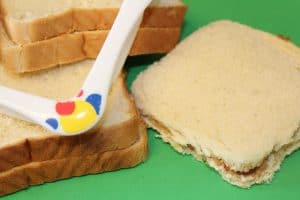 And you can make it healthier by using real fruit preserves, whole wheat bread, and the nut butter of your choice. Make it extra fun by using these sandwich cutters from Amazon for a special school-day-morning treat that doesn't add a lot of extra time.
Looking to save time on prep? Check out our how-to video on Facebook!
9. Breakfast Cups
Our friends at How We Do have a list of delicious, healthy breakfast ideas for families on the go. Our favorite is their eggs in muffin cups, which you can modify for each member of your family and just bake once!
10. Breakfast "Cookies"
So your kids won't eat a typical breakfast- but these breakfast cookies are anything but typical! And as an added bonus, they are easy to eat on the go for those mornings that start at full speed. Thanks to Blessed Simplicity for this awesome idea!
11. Pizza for Breakfast!
I mean, why not? I started making my kids little "pizzas" out of whole wheat English muffins, topped with pizza sauce and some mozzarella cheese. I kept them in the freezer for quick lunches or dinners, and my kids could tear through two of them a piece.
One day my daughter asked me for pizza for breakfast. My gut reaction was, "no," because I'm a monster. And then I realized that if I served her one of THESE little pizzas, she would be eating whole grains and dairy and was like, "girl, eat your pizza." And so a delicious breakfast tradition began!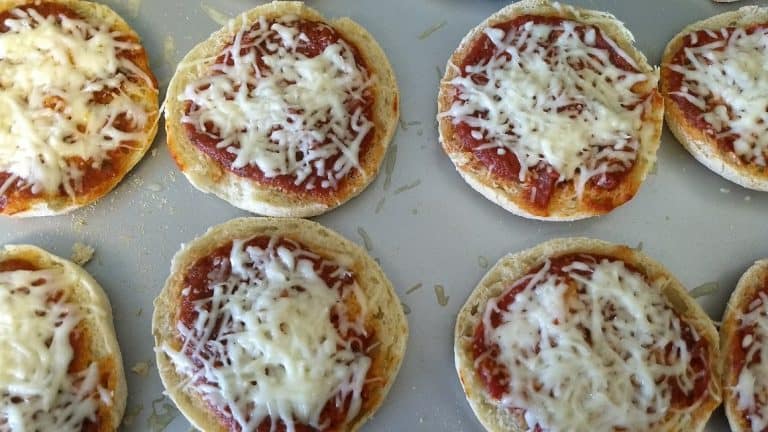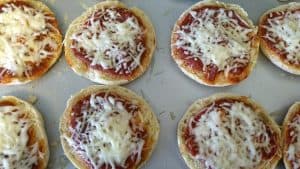 12. How to Make Scrambled Eggs in the Microwave
Y'all, this is a school day breakfast game changer. Did you know you can make scrambled eggs in the microwave, in less than three minutes- and WITHOUT dirtying up a pan?
Find out how to make scrambled eggs in the microwave for a CRAZY easy school day breakfast idea for kids.
*******
There's our ideas for school breakfast ideas for our kids, but we'd LOVE to hear your go-tos in the comment section! What are your favorite quick breakfasts for kids?
Make sure you're following us on Pinterest, where we're constantly uploading kids' meal ideas. We've got a whole board dedicated to it! See you there!
Looking for more kids' meal ideas? Head here next-