When I first sent my son to preschool, he went to a traditional preschool – the kind I remember, and you probably do too! A carpet with letters and spots for each kid to sit. Charts on the wall showing the alphabet, calendar, weather. Super cute crafts for every holiday, with a Pinterest perfect sample of what they would be making that day. But he wasn't learning his letters. He wasn't great at sitting. He wasn't participating in the crafts. So we moved him over to a play-based preschool. And he LOVED it. But everyone else? Well, they thought we were crazy. And I learned there are a LOT of myths about play based education.
Being the delightfully stubborn person I am, I threw myself into learning as much as I could about the educational style that was benefitting my son so very much. Over the next two years, and as I went on to enroll both my daughters in the school, I've come up against a lot of concerns and criticisms from people that, frankly, just didn't know what they were talking about. So if you're curious about play-based preschool, or wondering why in the world your friend is sending her kids to one, here are some of the myths you may have heard – and hopefully some truths to help clear things up.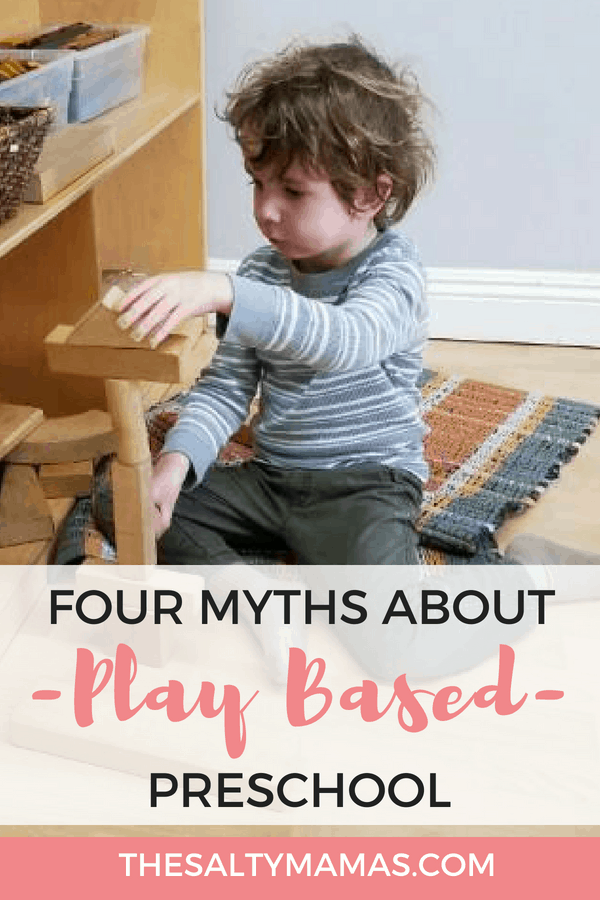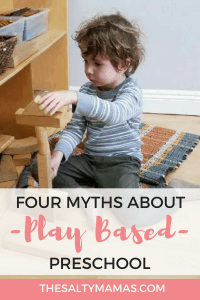 There aren't lesson plans.
On the one hand – this is sort of true. At Back to School night I can't ask what the lesson plan for the third week in November is. Because our teachers don't know. Our teachers plan the lesson for the week on the Thursday of the previous week. This is to work the lesson plan around what the children are interested in.
For instance, Cole is obsessed with dinosaurs and Legos. After noticing this, the teachers made a lesson for a following week using Legos to measure how tall toy dinosaurs are. They learned about units of measurement, counting, colors of the Legos and talked about different types of dinosaurs. The teachers also spent time during the week teaching about habitats and where different animals live. Everyone went outside and collected different elements to build a dinosaur habitat. It was an amazing week that never would have happened if they'd stuck to a predetermined lesson plan, or had an agenda of what my kid "needed" to learn.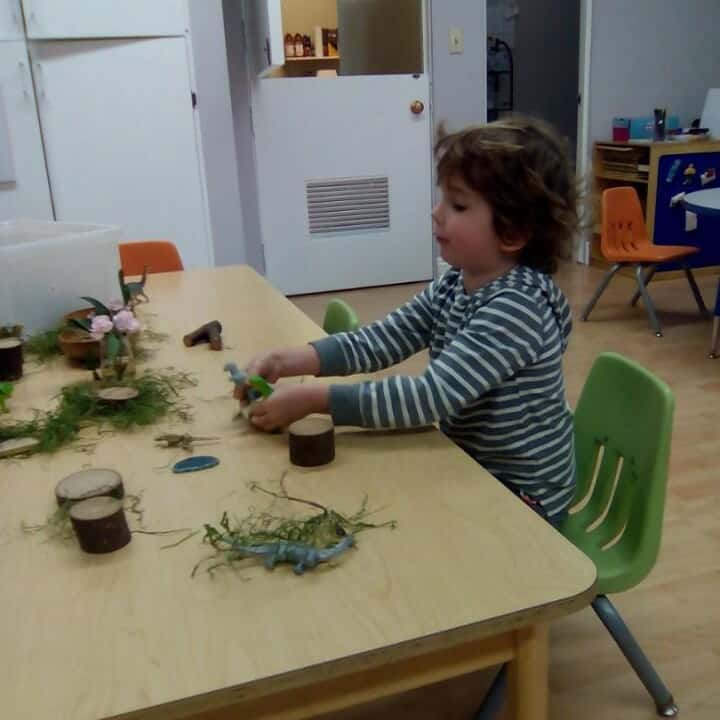 It's expensive babysitting.
No. Just, no. The teachers are so engaged and in touch with these kids and how to best teach them, not just watch them. It may seem like they are just supervising kids' play, but if you watch them closely, you'll see how much work goes into facilitating healthy play. Teaching children how to play with each other. And, ultimately, learning a great deal in the process.
There's no discipline.
I don't know why lots of play translates to very little discipline to so many people, but this seems to come up a lot in my conversations with people. But in my experience at my son's school, there are plenty of rules – certain types of play are to remain in certain areas, you need to play respectfully with other students, only four kids at any station at one time, etc. It's not a free for all, just play for all.
Education isn't a priority.
Okay, unsurprisingly, this is the myth I hear the most. It's also one that makes me the most crazy, wanting to scream, "It's not true!!!!" Yes – my son's class has no posters with the alphabet on the wall. There aren't any worksheets. There's no letter of the week. But he has learned SO much. He's rolled balls of different weights to learn about speed and velocity. They mix paints and get messy and learn about color and texture and get a chance to experiment. They learn numbers and counting and math just through playing with cars or trains or even rocks outside! They're given free reign of lots of different materials to create their own play, giving their minds a wonderful opportunity to grow. And through it all, somewhere along the line he's learning his numbers, letters, how to write his name, and a great beginning to reading and reading comprehension. Just on his own time and in his own way.
All this isn't to knock a more academic setting. The truth is, both settings probably have more in common than either is quick to admit. Academic settings still have lots of play, and play based still has lots of academics. It's just the process that's different. We tried academic, and found that for my kid, play based was the way to go.
So next time you hear someone say their kid is getting a play-based education, take a minute, ask a question, and try to learn more about it! I'm sure they'd be more than happy to share and chat!