Want an easier way to bullet journal? Try bullet journaling in a passion planner. It's the best of both worlds- here's why.
As followers of the blog know, Christine and I are BIG fans of bullet journaling. We love the organization it provides, we love the pretty trackers and layouts, and we LOVE the supplies. It was everything I wanted from a planner system- until it wasn't.
The number one question I always got asked about Bullet Journaling was, "But doesn't that take up a lot of time?" And the short answer is yes, it does. Creating weekly layouts, monthly calendars, elaborate trackers- all of these things take up precious time. And as long as you're enjoying the time spent making those things, it doesn't feel like work at all.
But then Lila started elementary school, Abe became a person with his own activities to keep up with, and I got the part-time job of my dreams. There were blogging deadlines and birthdays to remember and things to buy. And spending time making pretty weekly spreads suddenly went WAY down on my priority list. I needed something with better functionality, but that still left room for the things I loved most about bullet journaling.
Enter: the Passion Planner.
This post contains affiliate links. We were also fortunate to receive giveaway items from Passion Planner and Hal Elrod. We'd like to thank them for their support, and think you'll enjoy their products as much as we do. For more information, see our legal disclosures. Thank you!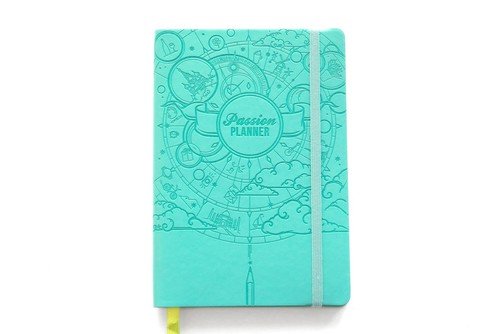 Why Bullet Journaling in a Passion Planner is the Best of Both Worlds
This planner is the PERFECT solution to my dilemma. This little beauty features weekly spreads and monthly calendars that come pre-made, eliminating the need to spend hours drawing lines and creating boxes.
It comes in dated and undated versions, so you can jump in anytime. You can choose a planner that begins on Mondays, or if feels like the start of the week for you (like it does for me), there's a version for that as well.
The pages are heavyweight, so I can use my Staedtler Fineliners with no bleed-through (and for our BuJo junkies out there- there's not even any GHOSTING!).
What are the Page Layouts in a Passion Planner Like?
The passion planner has undated weekly layouts. Each day is divided into hourly slots, so you can manage your day. There is also space at the bottom for to do lists, and a blank area to use however you'd like.
Now I'll admit, it took me a little while to get used to the time-slots of the weekly layout. First I ignored them.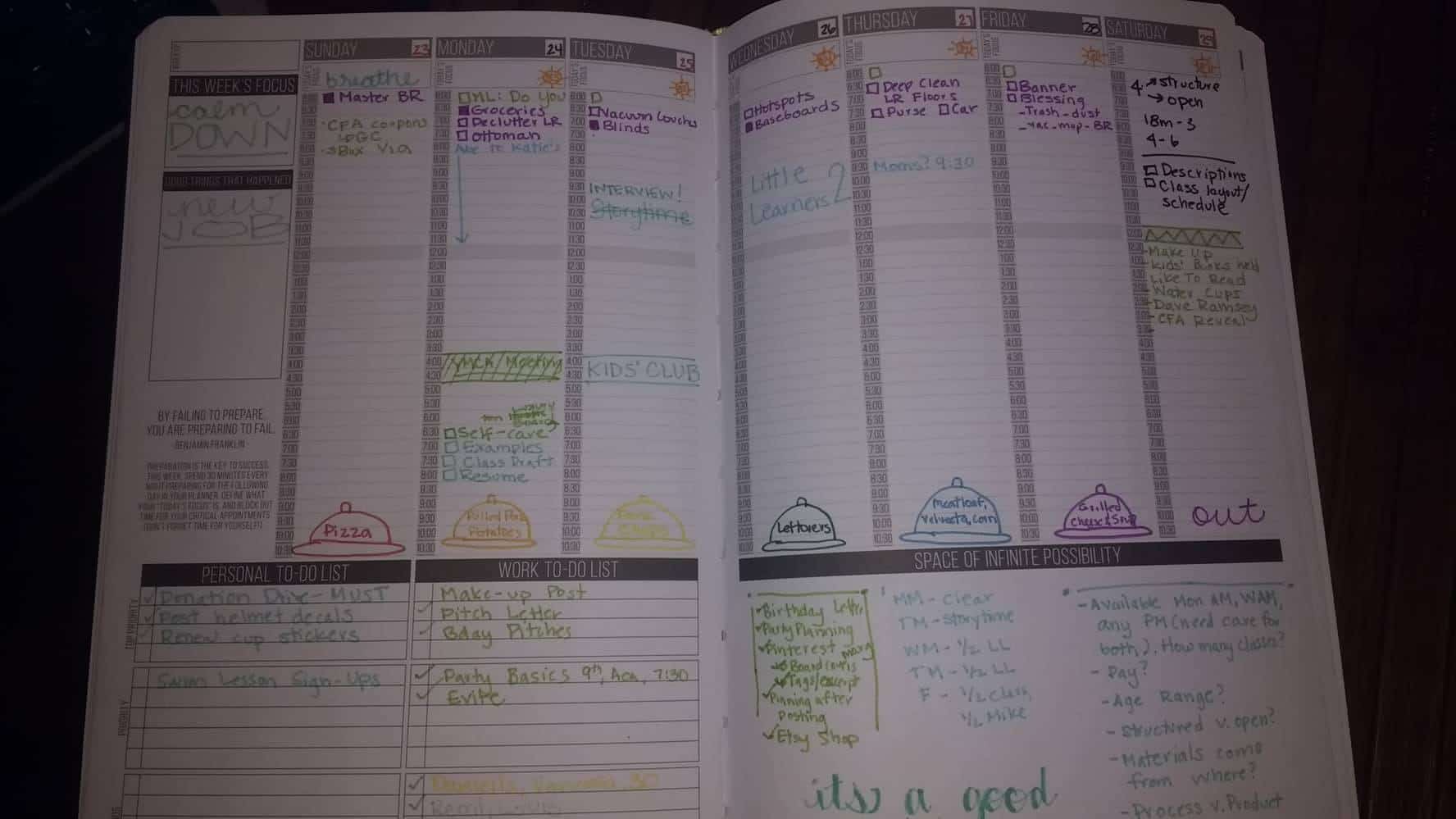 Then I embraced them.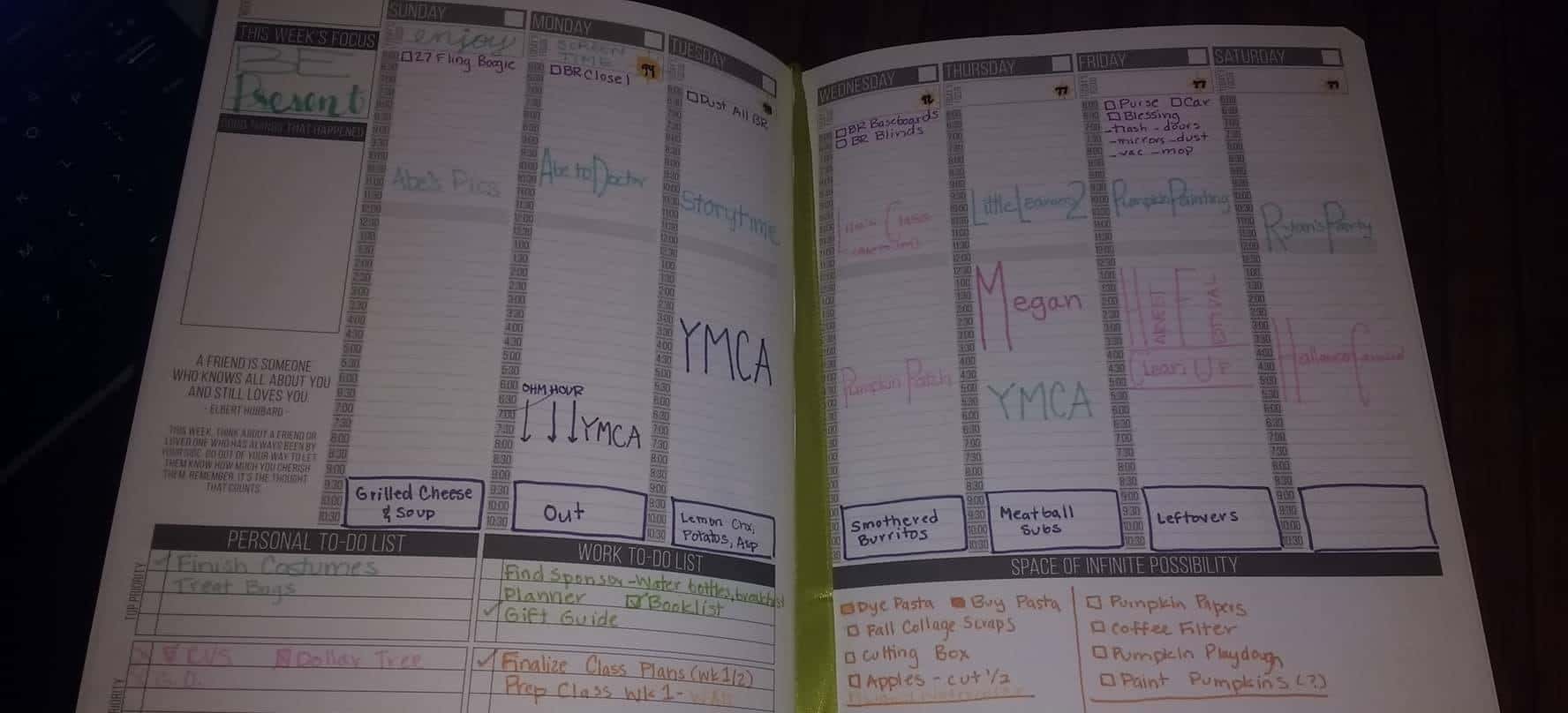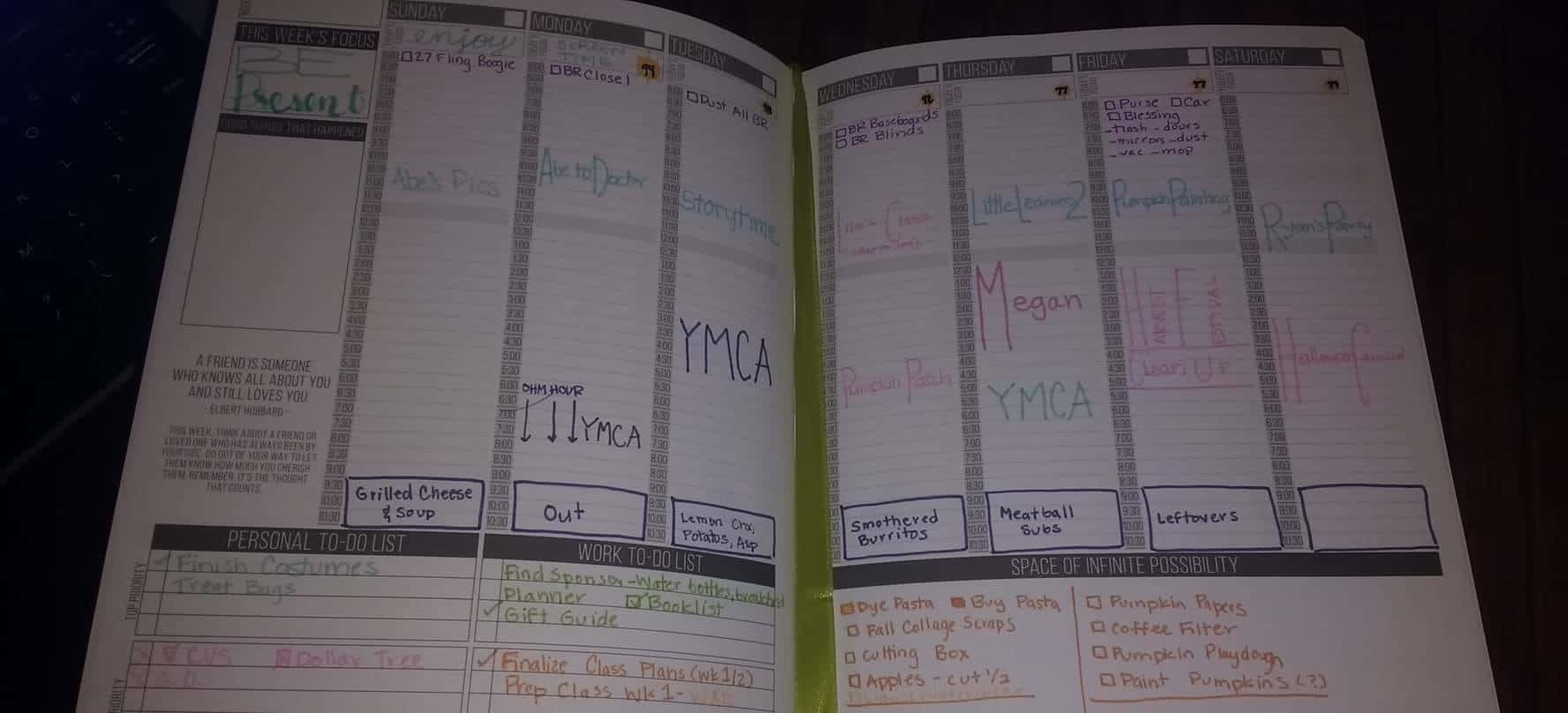 You can see here that I use color coding for the different members of my family, and types of tasks. So for example, my part-time job is shown in Orange, my daugther's activities are pink, and blog tasks are lime green.
It really helps me to see where my time is going, because the things you spend time on? It turns out that those are your priorities, whether they're what you intended or not. Having this visual keeps me focused on my bigger goals and dreams, and to make sure that Iam actively taking steps to achieve them.
What Makes a Passion Planner Such a Good Bullet Journal?
But the thing that makes the Passion Planner the ideal hybrid between a planner and a BuJo? Has to be the forty blank pages (20 grid, 20 blank) at the back, so there's still plenty of space for my favorite trackers and pages.
You've got the ease and time saving of the weekly layouts and monthly calendars, but there is still TONS of space to customize your planner. Health trackers, habit trackers, even lists of books I'd like to read or movies I want to watch- there's plenty of room to record it all, and to keep everything in one place.
Using a Passion Planner for Your Miracle Morning
If you're a Miracle Morning person, the Passion Planner is also a fantastic fit. It is the perfect pairing for setting goals and living with intention. If you don't have a copy of the Miracle Morning yet, I suggest you snag one here, and look for a future post about why the Passion Planner is the perfect companion to Hal Elrod's system.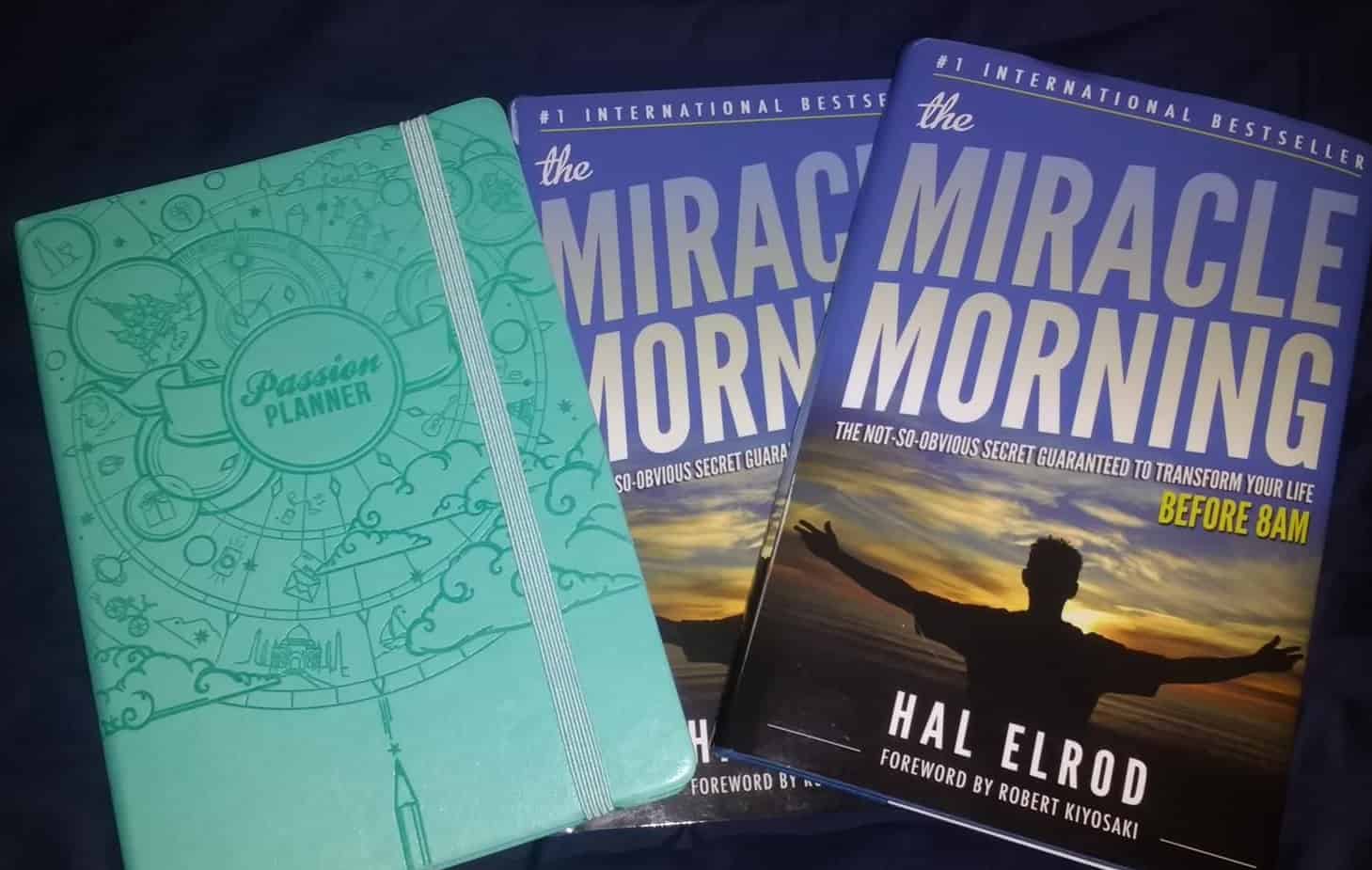 *******
No matter what your goals, or what your days are like, you'll find that bullet journaling in a passion planner is one of the best timing saving Bujo hacks. It's got just the structure you need, without taking away your ability to be flexible and creative.
How about you? What's your favorite planner to use for a Bullet Journal?
Looking for more on how to organize your life? Head here next-