Learning about rainbows with your preschooler? Or need a fun St. Patrick's Day activity for your toddlers? Paint rainbow rocks, and send the kiddos on a rainbow scavenger hunt! This is a sweet, simple, time filling rainbow themed activity for kids your whole family is sure to love.
I'm not usually a big fan of St. Patrick's Day. All the St. Patrick's Day activities my kids have ever done- leprechaun traps, treasure hunts, even putting potatoes in their shoes- have been conducted at school.
But last year, we were fresh into a stay at home order that would keep my kids home with me allll day long, leaving all of the magic making to me.
In a fit of desperation, I came up with a simple idea. We'd paint some rocks in the colors of the rainbow. The project evolved from a simple premise into almost a full day of play.
Here's how to set up your own rainbow rock painting activity for toddlers, and how to turn into an exciting rainbow scavenger hunt for kids afterwards.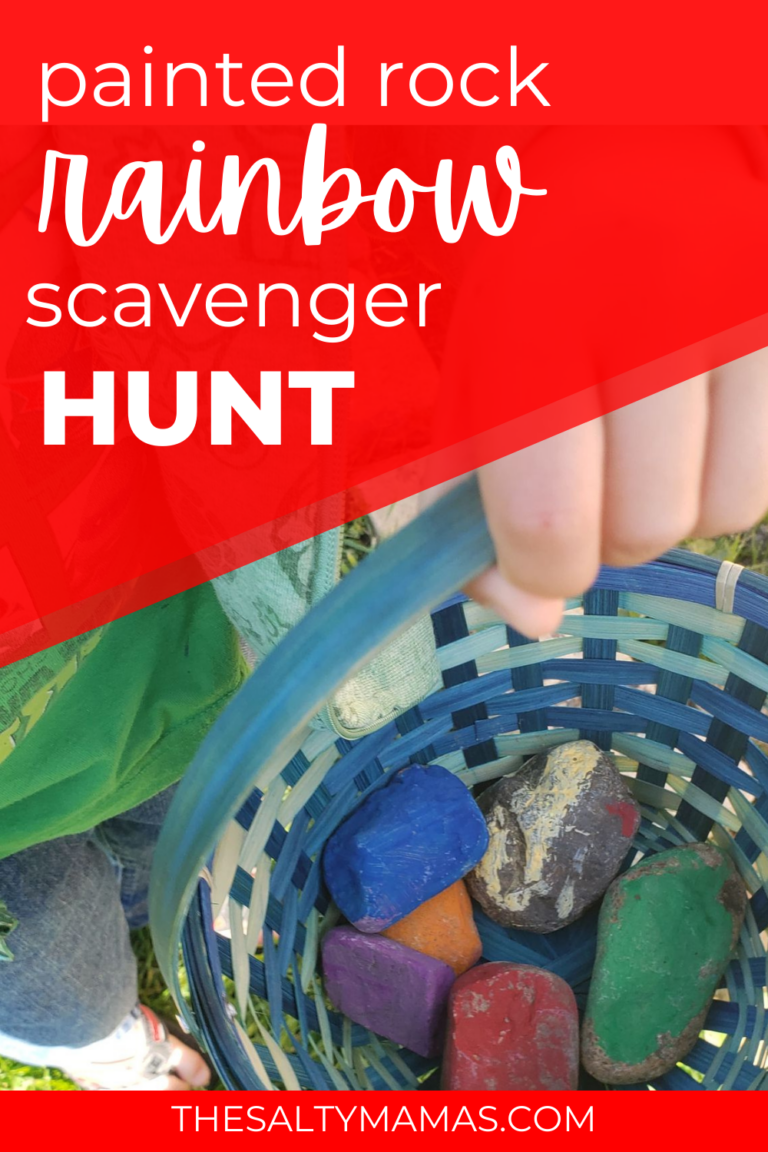 This post contains affiliate links. You can read more at our disclosures page. Thanks for supporting The Salty Mamas!
How to Teach Toddlers About Rainbows
Rainbows are seriously fascinating things, if you think about it. Colors "magically" appearing in the sky? That's pretty amazing even for adults, let alone for toddlers!
Watch this video about how rainbows are formed with your kids, or sing along with Jack Hartman as he shows the rainbow colors.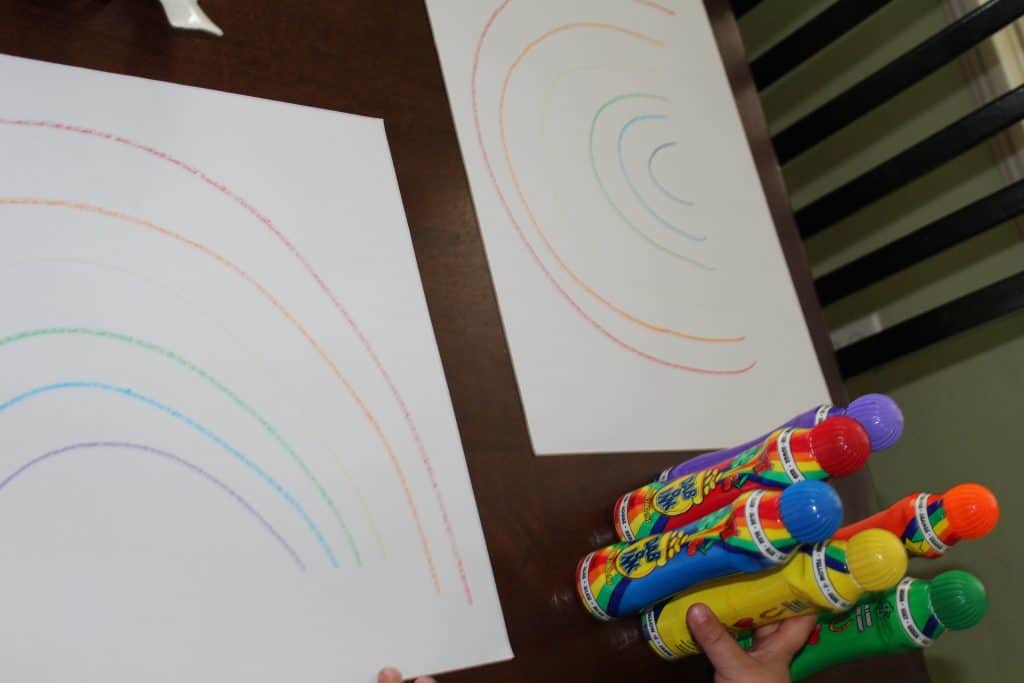 We also recommend teaching your kids the Rainbow Color Song. This song is also a staple in any rainbow theme for preschoolers. It goes like this, and is sung to the tune of "10 Little Indians."
Red, orange, yellow, green blue purple.

Red, orange, yellow, green, blue, purple.

Red, orange, yellow, green, blue, purple.

These are the colors of the rain-bow.
It helps kids memorize the order of colors in the rainbow (good old ROYGBIV!) and will come in handy when painting in the next step.
Setting Up Your Rainbow Rock Painting
First up, let's paint some rainbow rocks! This is an activity unto itself, and takes up a good amount of time (making it a great addition to a stuck-at-home day).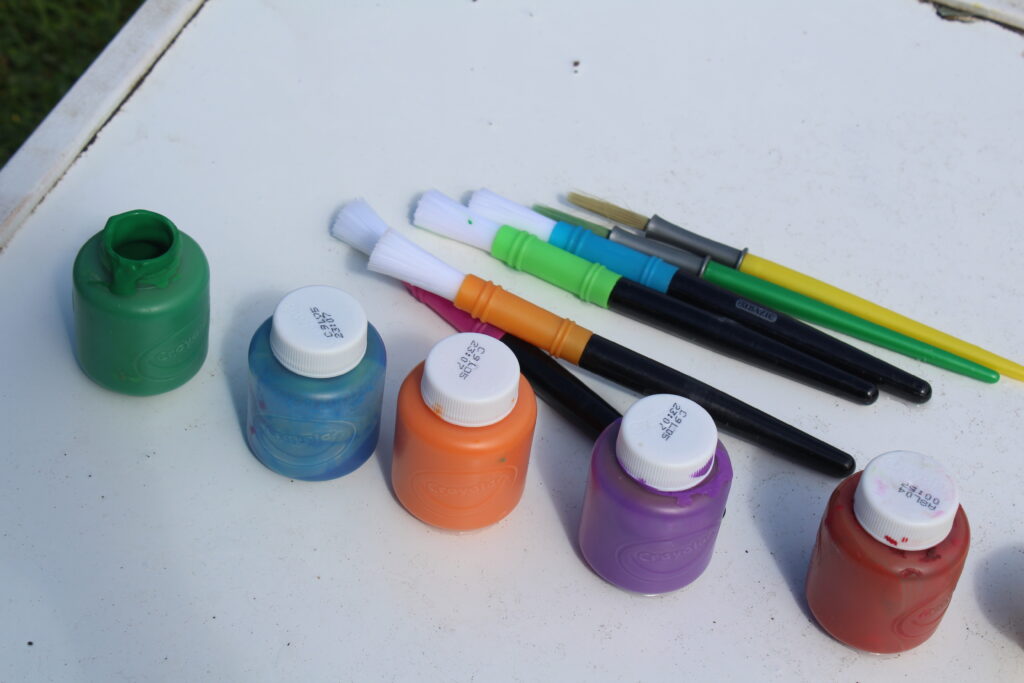 If you don't have those, we used these small pots of Crayola paint. Before we even opened them, we spent a long time naming the different colors and putting them into rainbow order.
Painting Your Rainbow Rocks
Next up, have your child select six rocks to paint. We buy them in bulk (a huge bag costs $5 at Lowe's, or you can grab a bag of rocks online), so we always have a nice selection of rocks to paint lying around. If you don't, you can go on a rock hunt in your neighborhood or park to find some to paint.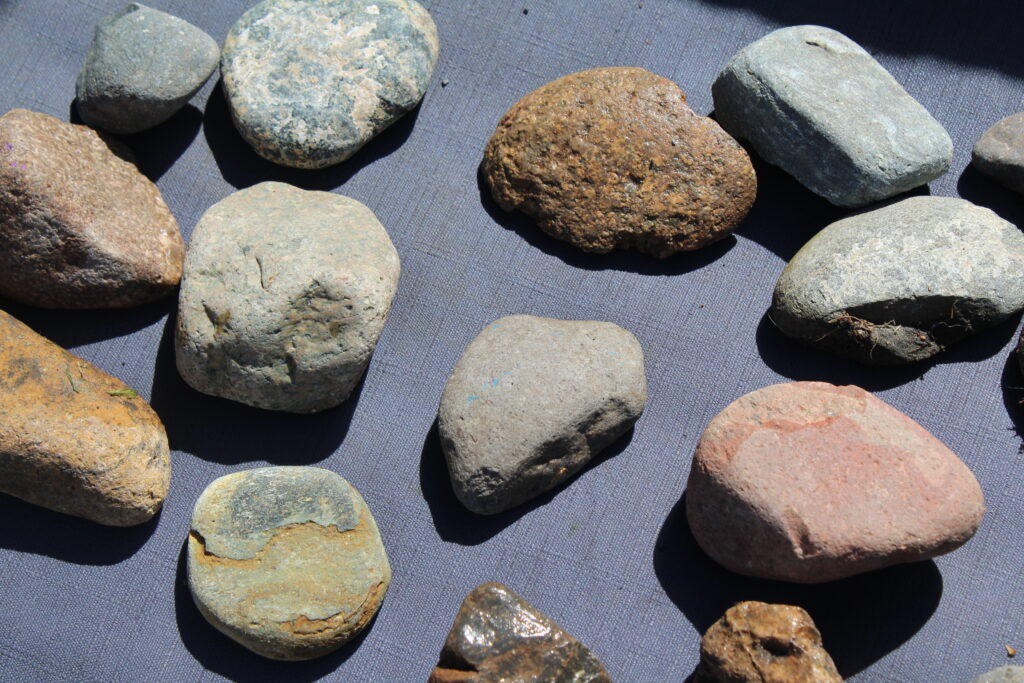 Have your child paint one rock in each of the rainbow colors. One rock will be completely red, the next completely orange, and so on.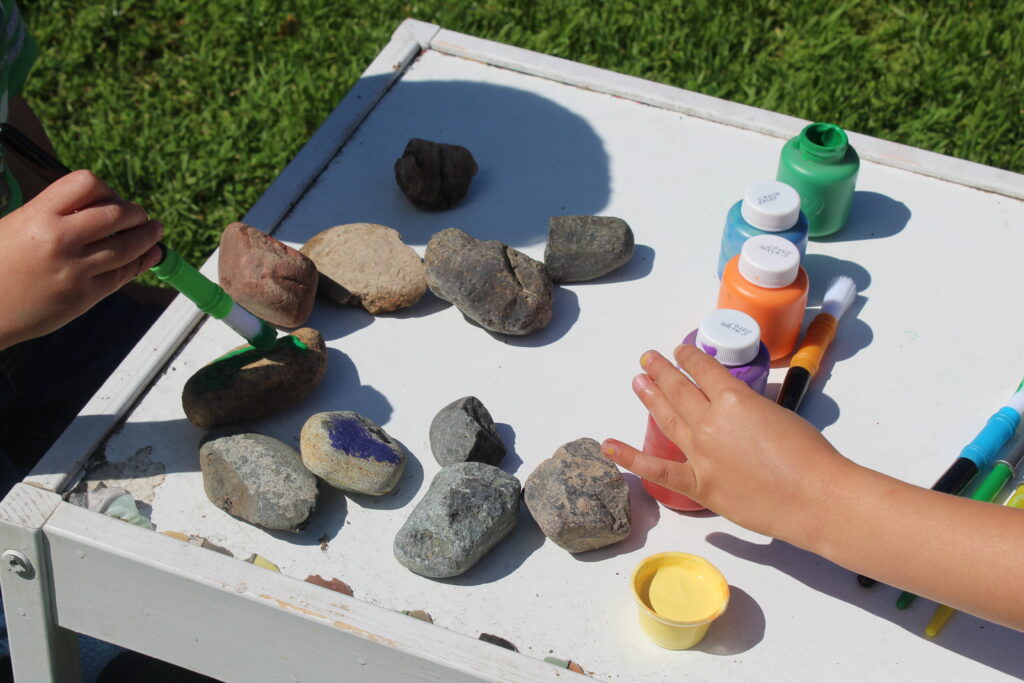 The simplicity of the activity makes it the perfect rock painting idea for toddlers, but my seven year old was honestly just as into it. So this activity works well for all ages.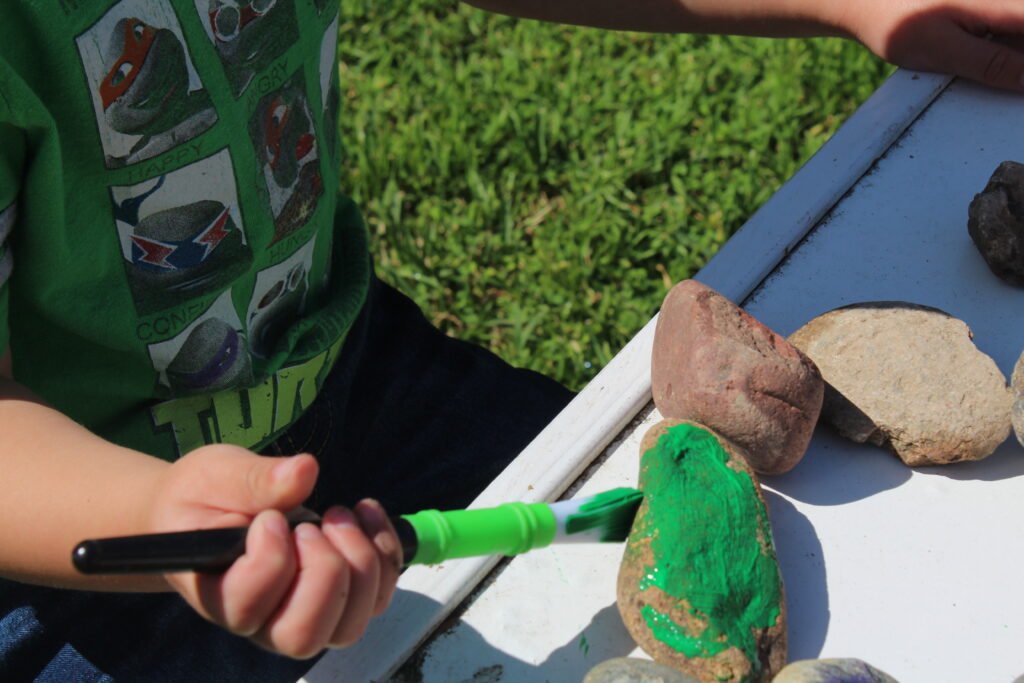 If you'd like, you can have your child paint a rainbow on a seventh rock. This will be the last rock they'd find as part of their rainbow scavenger hunt.

Rainbow Activities for Kids (While You Wait for Your Rocks to Dry)
Now here's the hard part- finding something to entertain your kids while your rainbow painted rocks dry!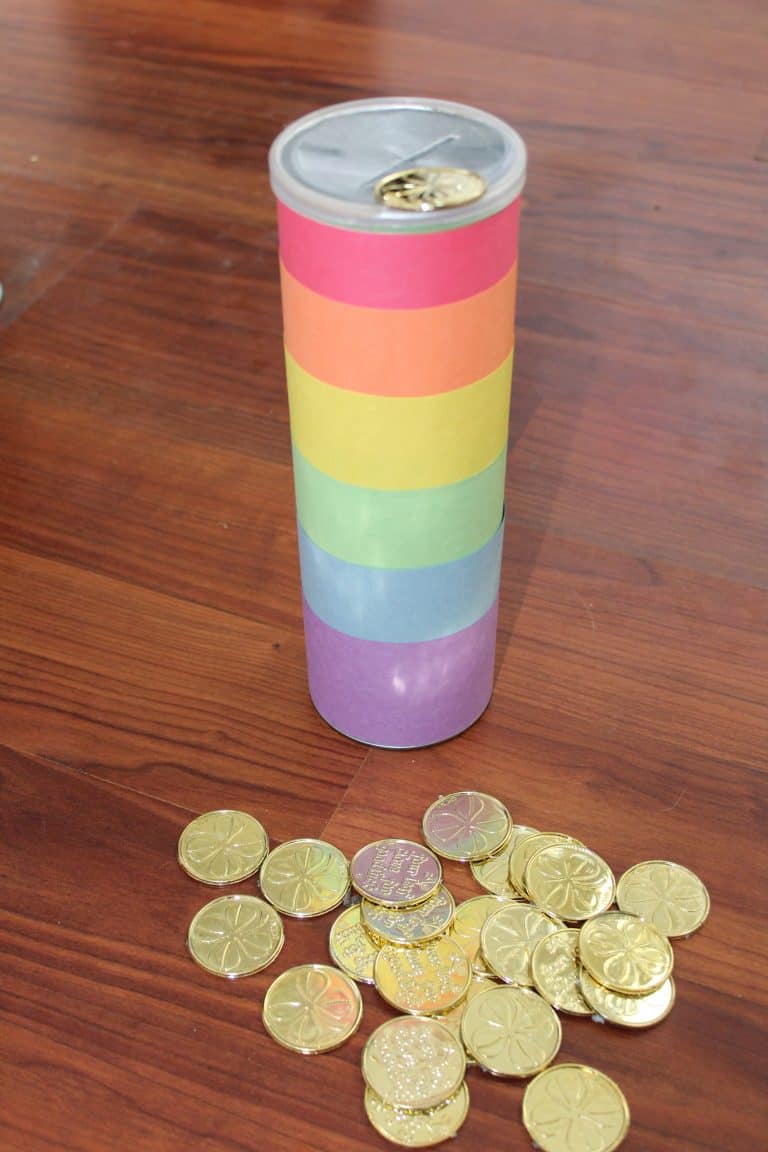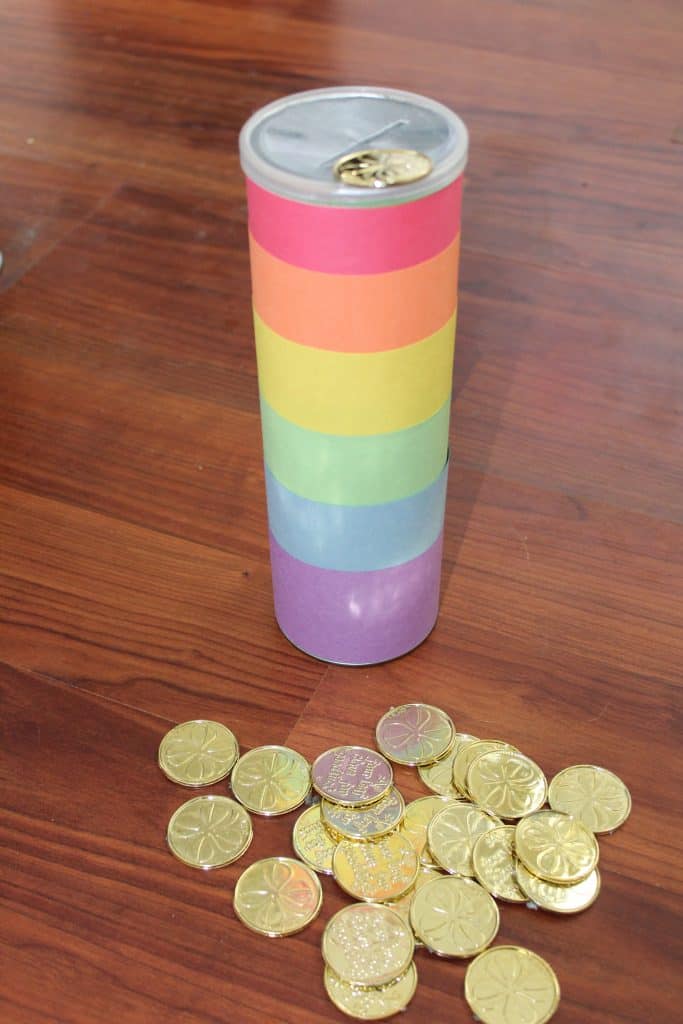 If you're using the rainbow scavenger hunt to celebrate St. Patrick's Day, try out some St. Patrick's Day Sensory play to keep your littles busy!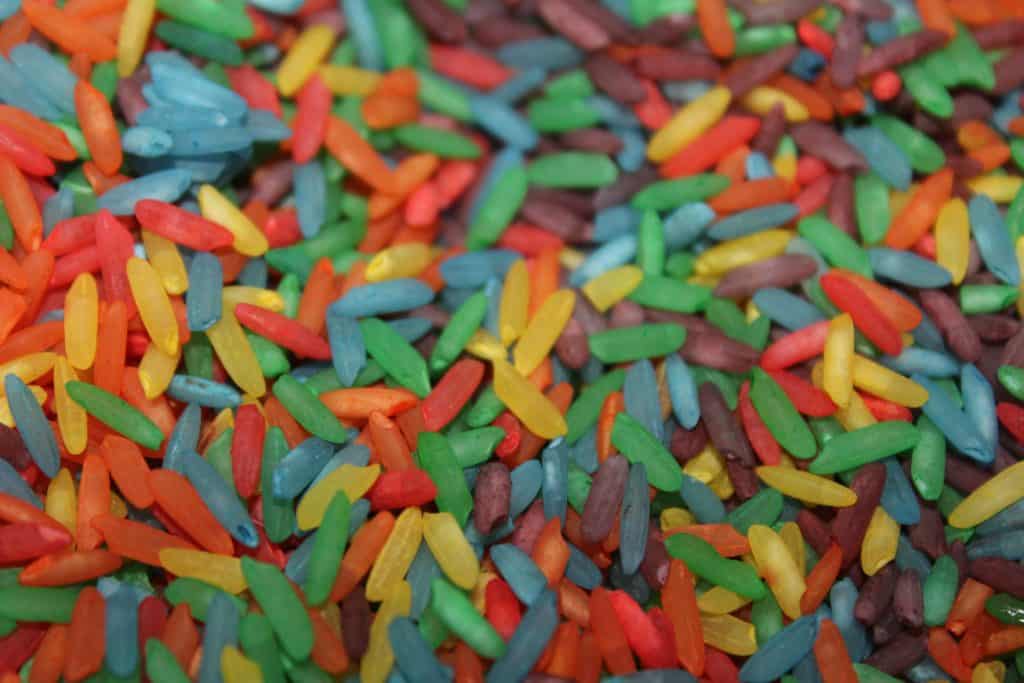 If you're working on a rainbow preschool theme (or just have a rainbow obsessed little one) you can use these colorful activities to practice your colors. It's got lots of art and learning opportunities for your toddlers and preschoolers to enjoy!
Setting Up Your Rainbow Scavenger Hunt
When your rocks are dry, you're ready to set up your scavenger hunt!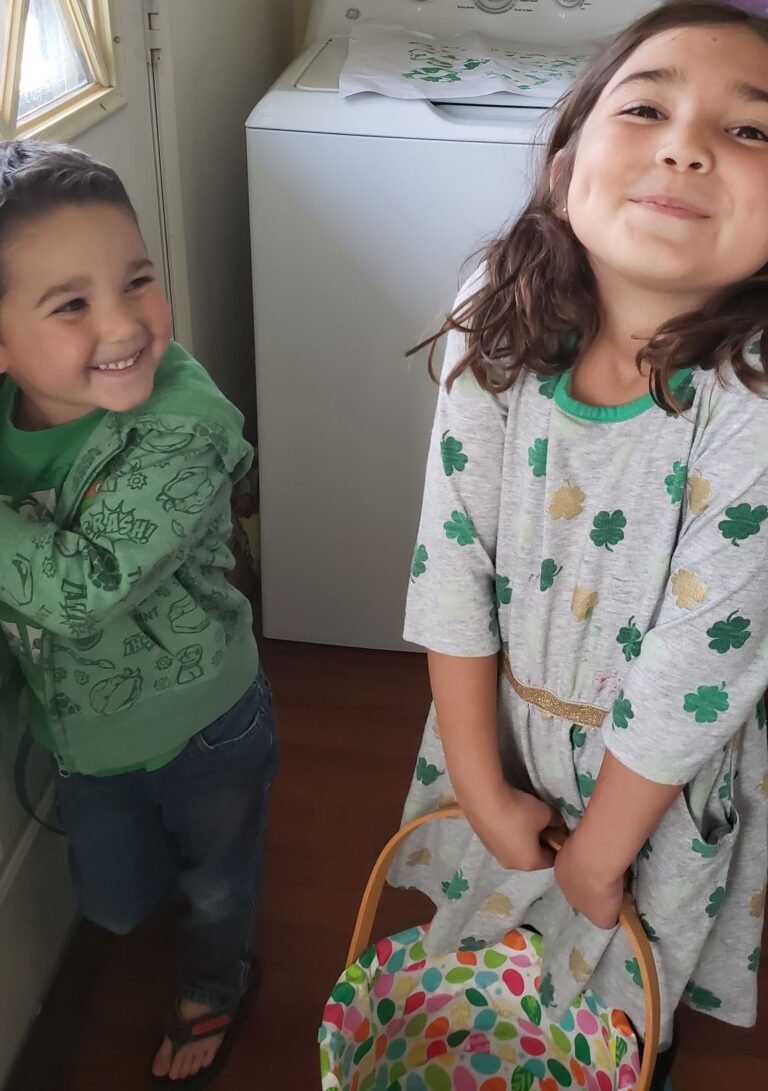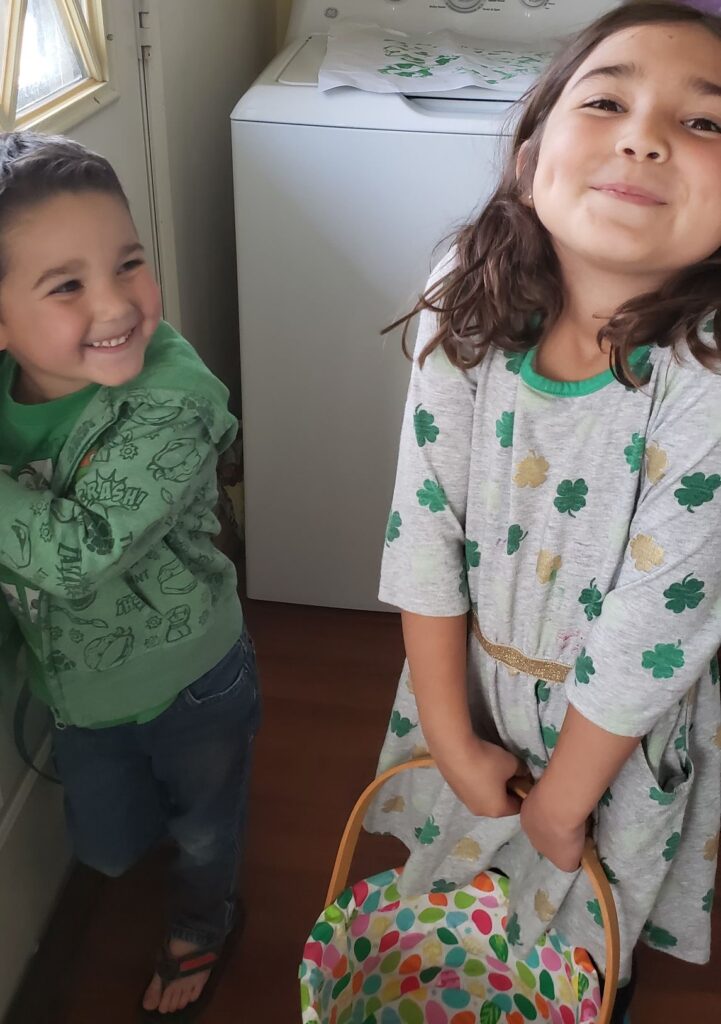 Grab our free rainbow scavenger hunt printable, and get ready to hunt! To start, mom or dad will hide the rainbow rocks in the yard or at the house. Give your child a basket, and ask them to go on a rock hunt (similar to how you may hunt eggs at Easter).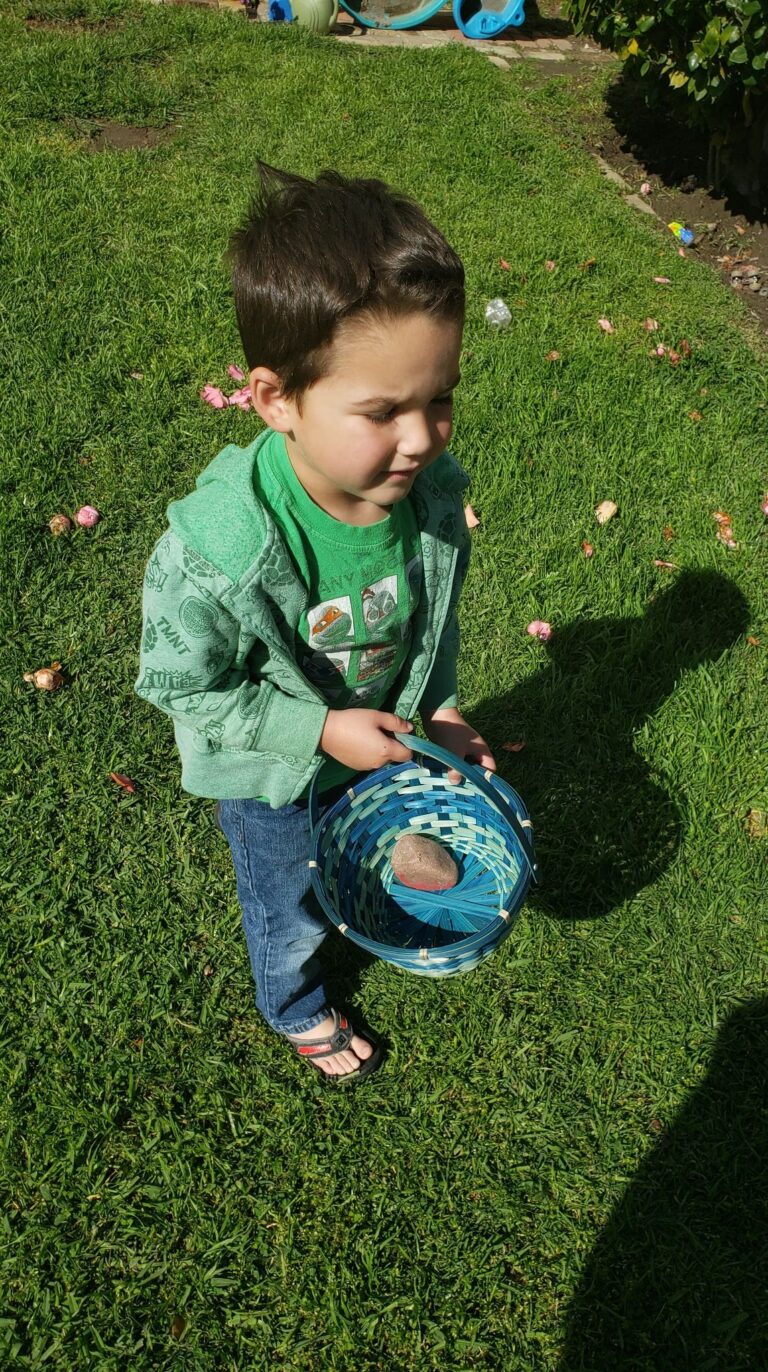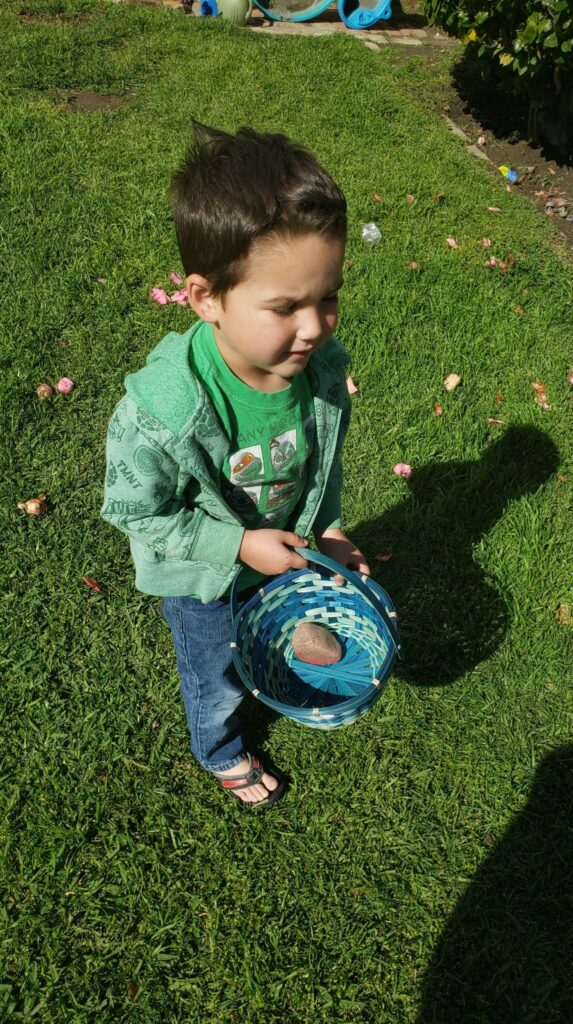 You can draw the rainbow order with sidewalk chalk for them to line them up, or you can use your rainbow scavenger hunt printable to guide them. Once they've collected all of the rainbow colors, they win!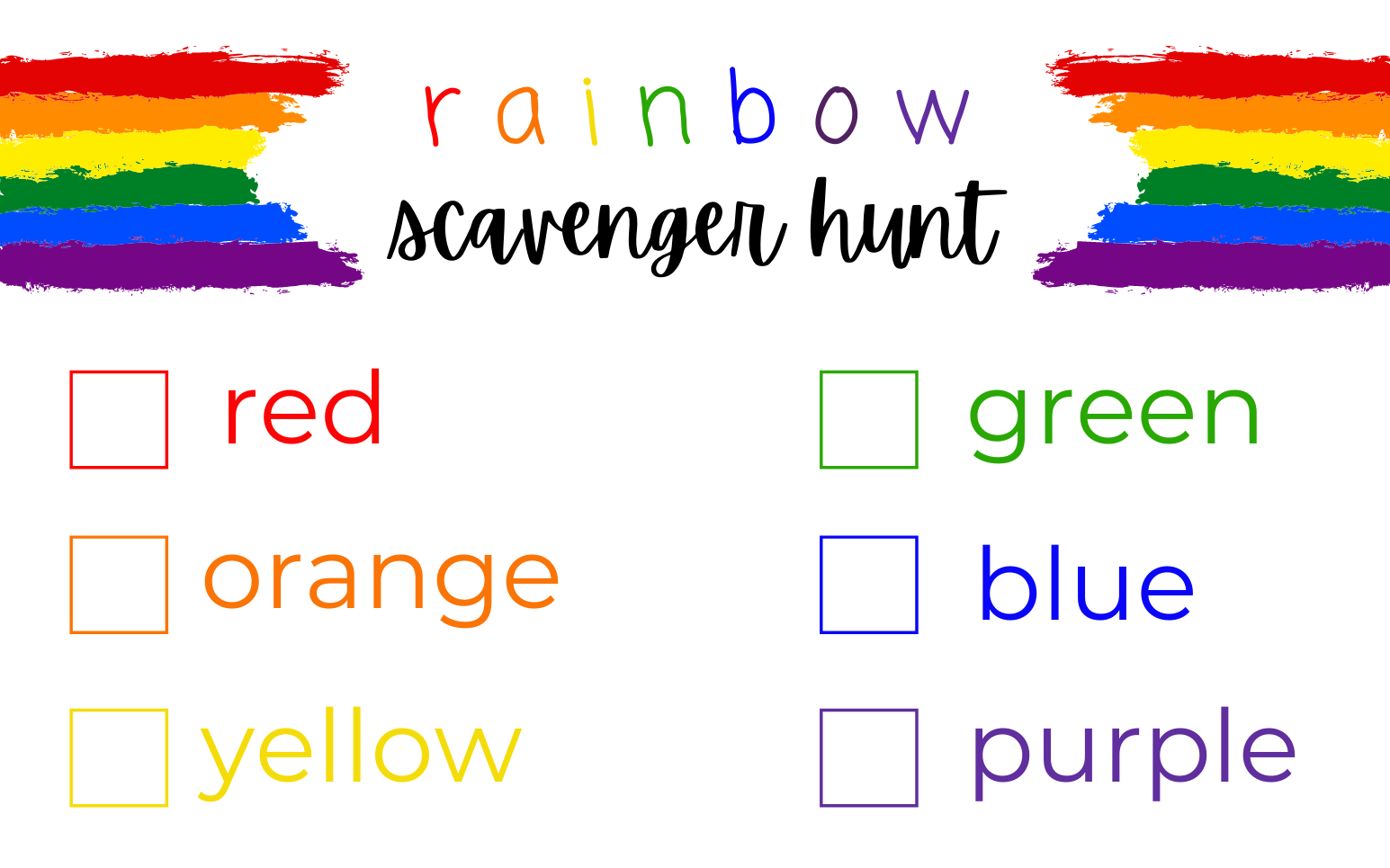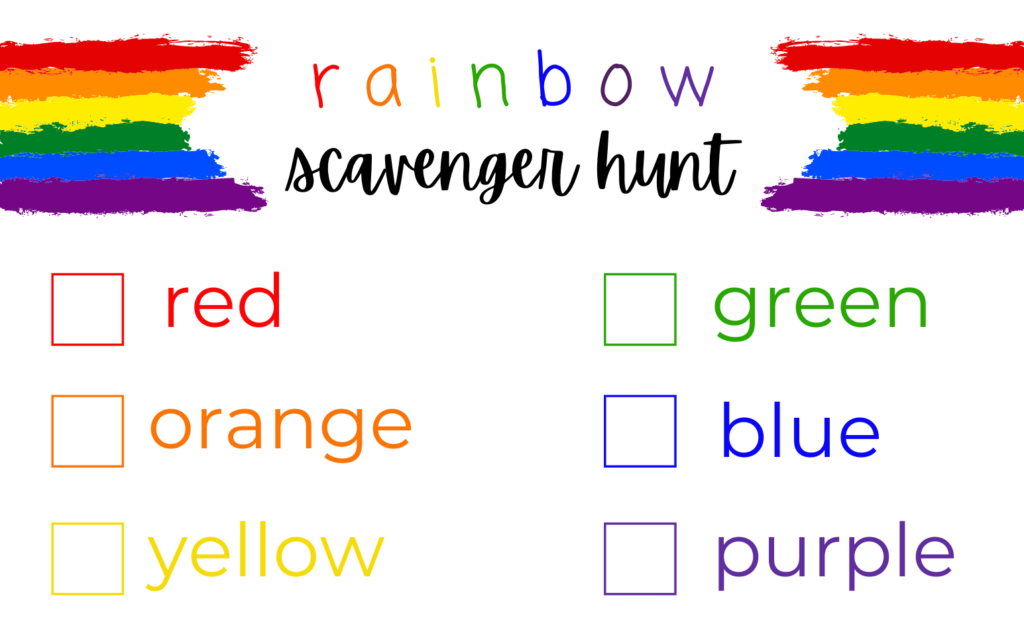 Ways to Extend the Rainbow Themed Fun
Don't be surprised if your kids want to play this again, and again, and again.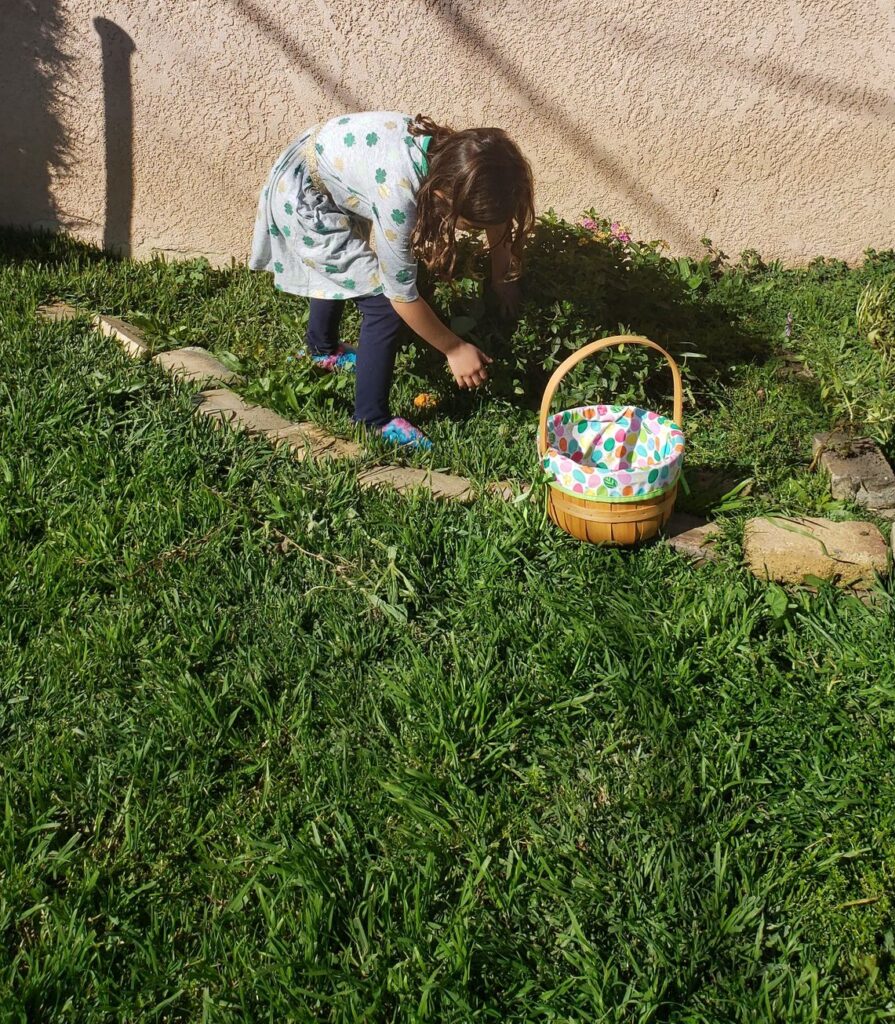 You can change up the fun by having the kids hide them, and the grown ups look for them. You can also ask them to only pickup the rocks they find in Rainbow order (for example, they have to find the red first) or in reverse rainbow order.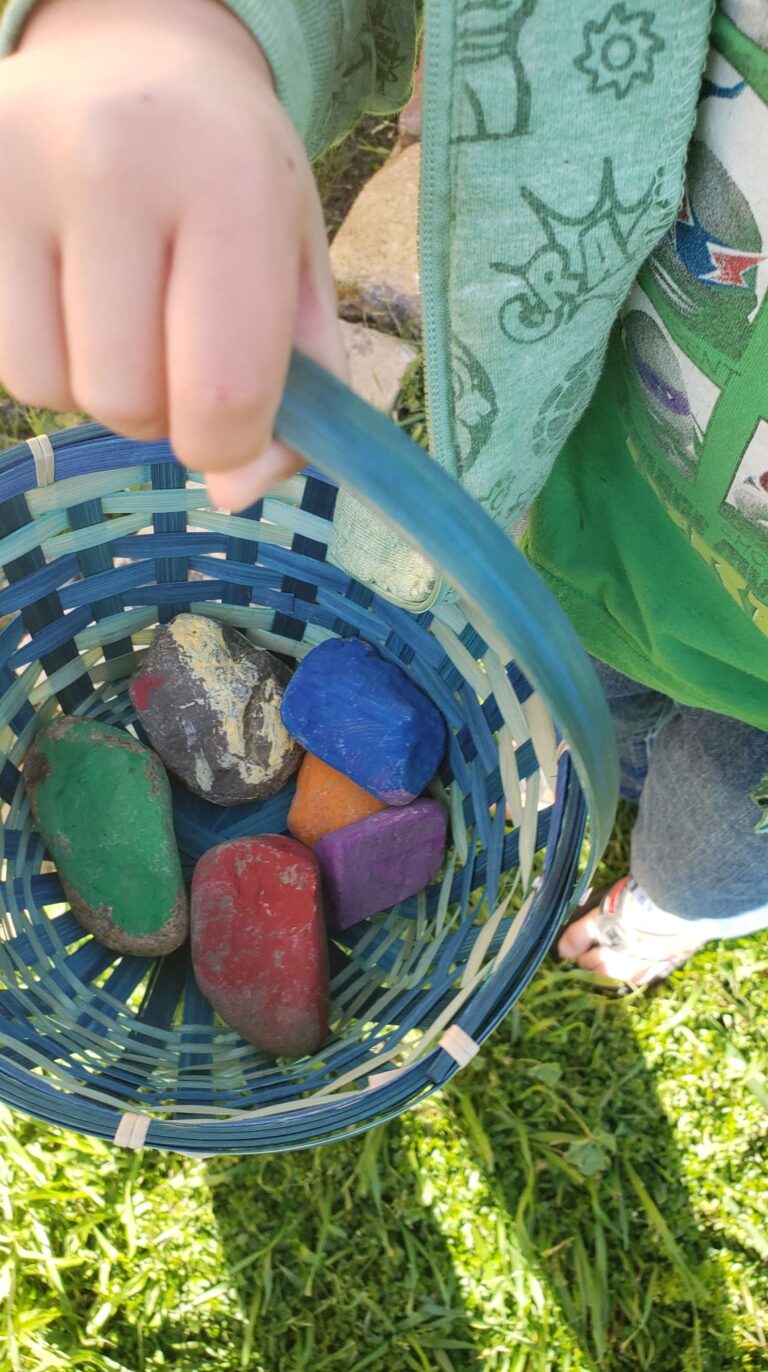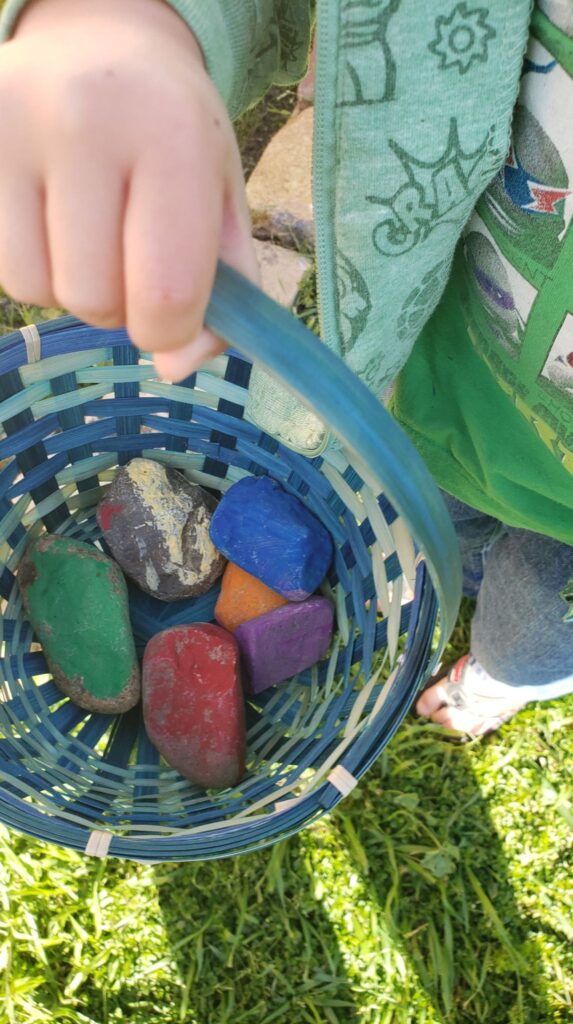 Time their hunt, and then see if they can beat their own time. Have them race against each other, or a personal goal.
Let your kids take some ownership of the activities too, and you might just be surprised with some of the variations your kids come up with.
*******
With not much prep, you'll get a full day of fun with your rock painting and rainbow scavenger hunt (and your kids will learn a little something in the process!).
Don't miss any of our fun, independent kids' activities! Sign up for our newsletter here to get new activities delivered straight to your inbox.
Looking for more activities to do with your toddlers and preschoolers? Head here next-