Need a quick independent activity for your preschoolers? Try this solo cup stacking challenge for kids all of all ages. It's an engineering challenge your preschoolers (and older kids, too!) will want to play again and again.
You know those days at home that just drag on FOREVER? Maybe your kids need to stay home from school because they're sick but don't feel sick. Maybe you're snowed in.
Maybe, I don't know, there's a GIANT TERRIFYING VIRUS SCARE. No big deal.
But on THOSE days- the very, very long and boring ones, we need to pull out all the stops to keep our kids entertained for a bit. Whenever possible, we love those activities to be creative, educational, and engaging. It helps us to feel good about ourselves and, let's be honest, keeps our kids out of our hair.
With that in mind, on one particularly boring stay at home day, I was trying to get my kids to build with their blocks, but to no avail. As always, when my kids aren't interested in something I want them to do, I turn to introducing novel materials that accomplish the same objectives.
Don't want to play with blocks? Fine. I'll give you a red solo cup engineering challenge instead. Read on for the full instructions on how to pull off this solo cup activity for preschoolers (and trick your kids into building in the process).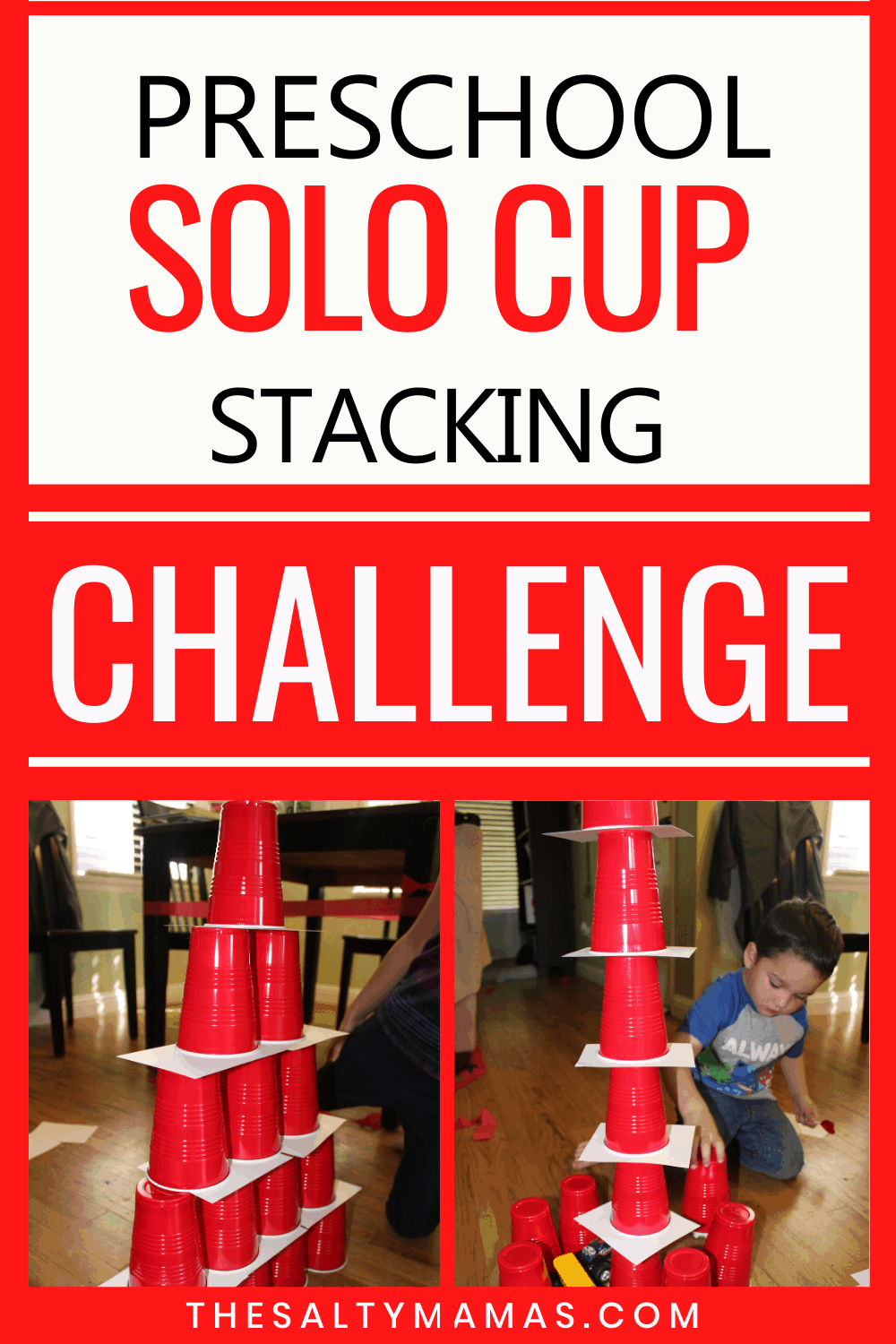 This post contains affiliate links. You can read more at our disclosure page. Thanks for supporting The Salty Mamas!
Set Up the Red Solo Cup Challenge- And Walk Away
Your kids will get the most out of this engineering challenge for preschoolers if they are largely in charge of the experience. Tell them you have a preschool building activity for them, put out the red solo cups– and then walk away.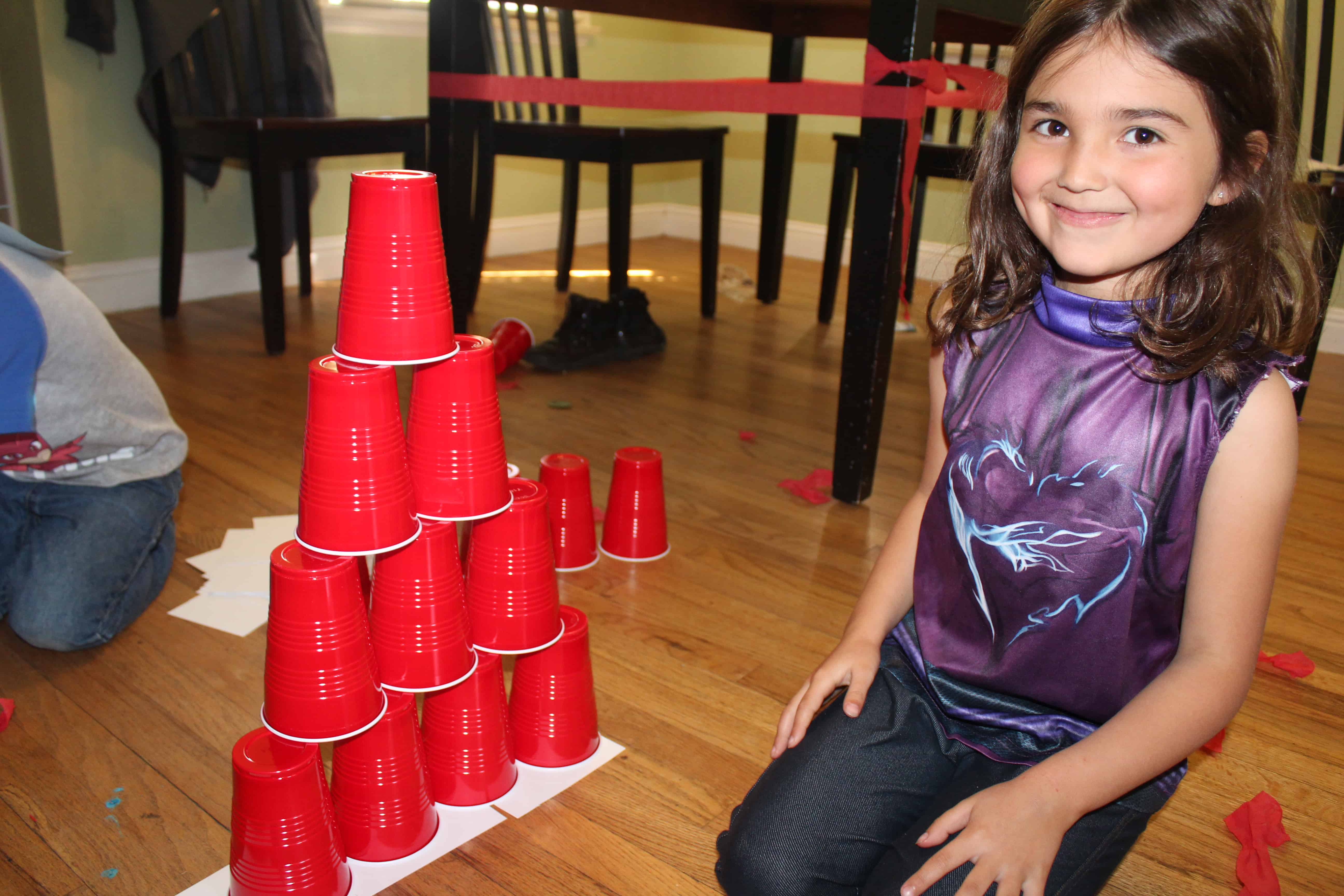 See what your little engineers in training come up with on their own. It's okay for them to fail- heck, they'll actually learn more if they do!
Add in Another Material to Change Things Up
Once your kids get tired of playing with the cups alone, add in another material. We used this idea from Little Bins for Little Hands and gave the kids white pieces of cardstock.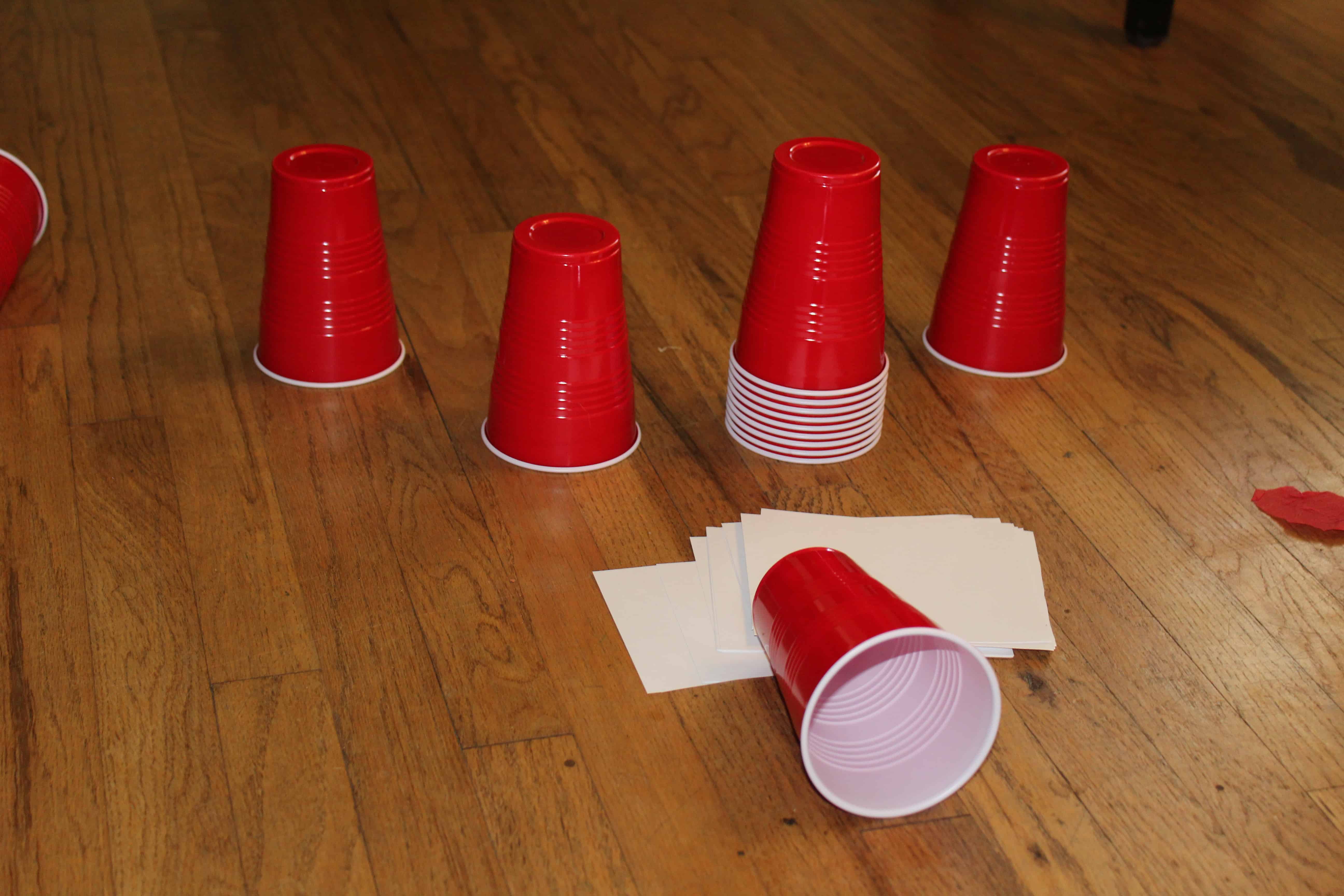 The cardstock gives them the ability to create higher platforms, and thus to build taller and more stable structures.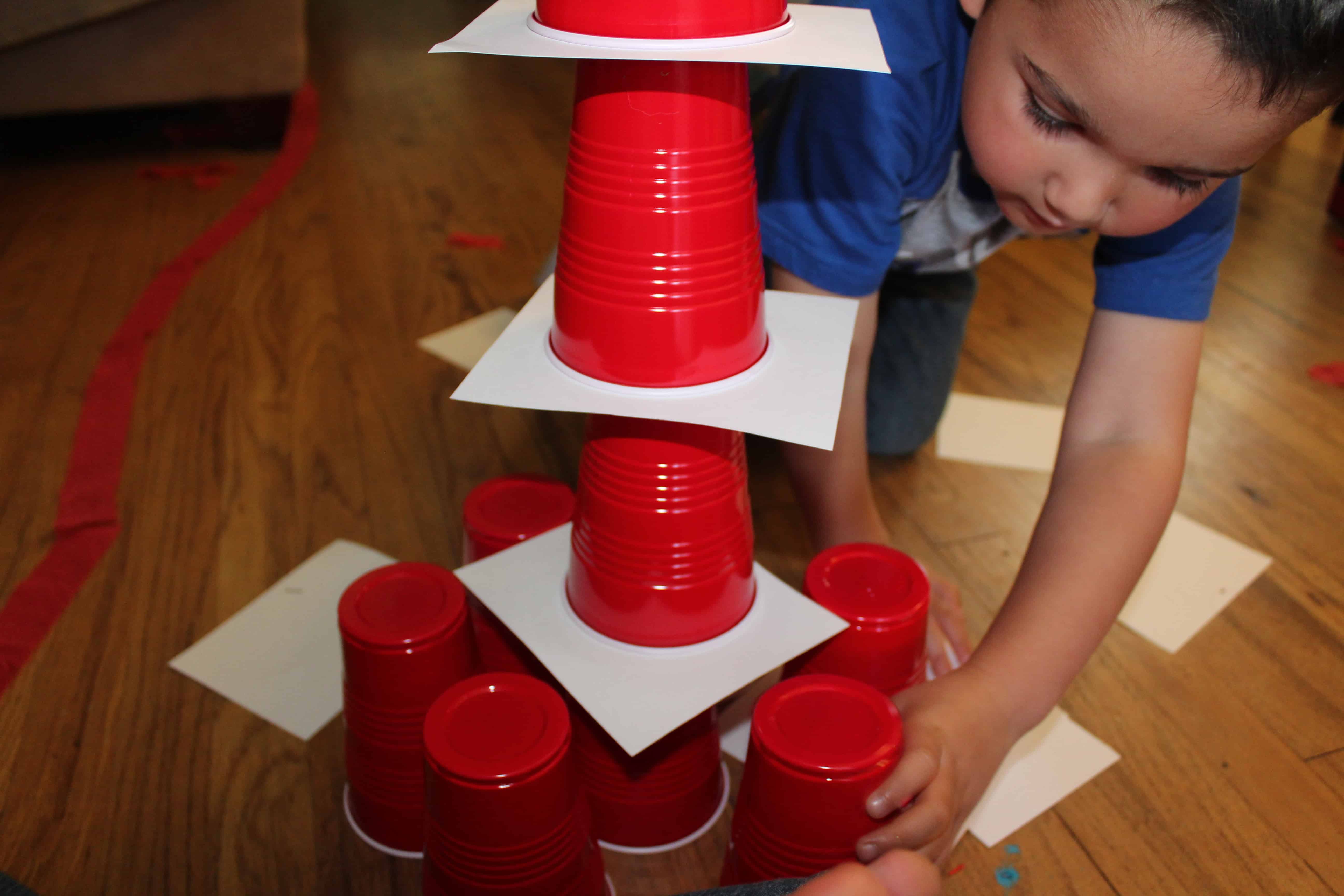 Try to see what they come up with on their own, but eventually you may want to guide them to help them realize what the cardstock can help them to do.
Give them Challenge Questions to Extend the Play
We want to keep this preschool engineering challenge as engaging as possible for as long as possible. You can keep the kids playing by introducing new ideas or challenges to keep things fresh.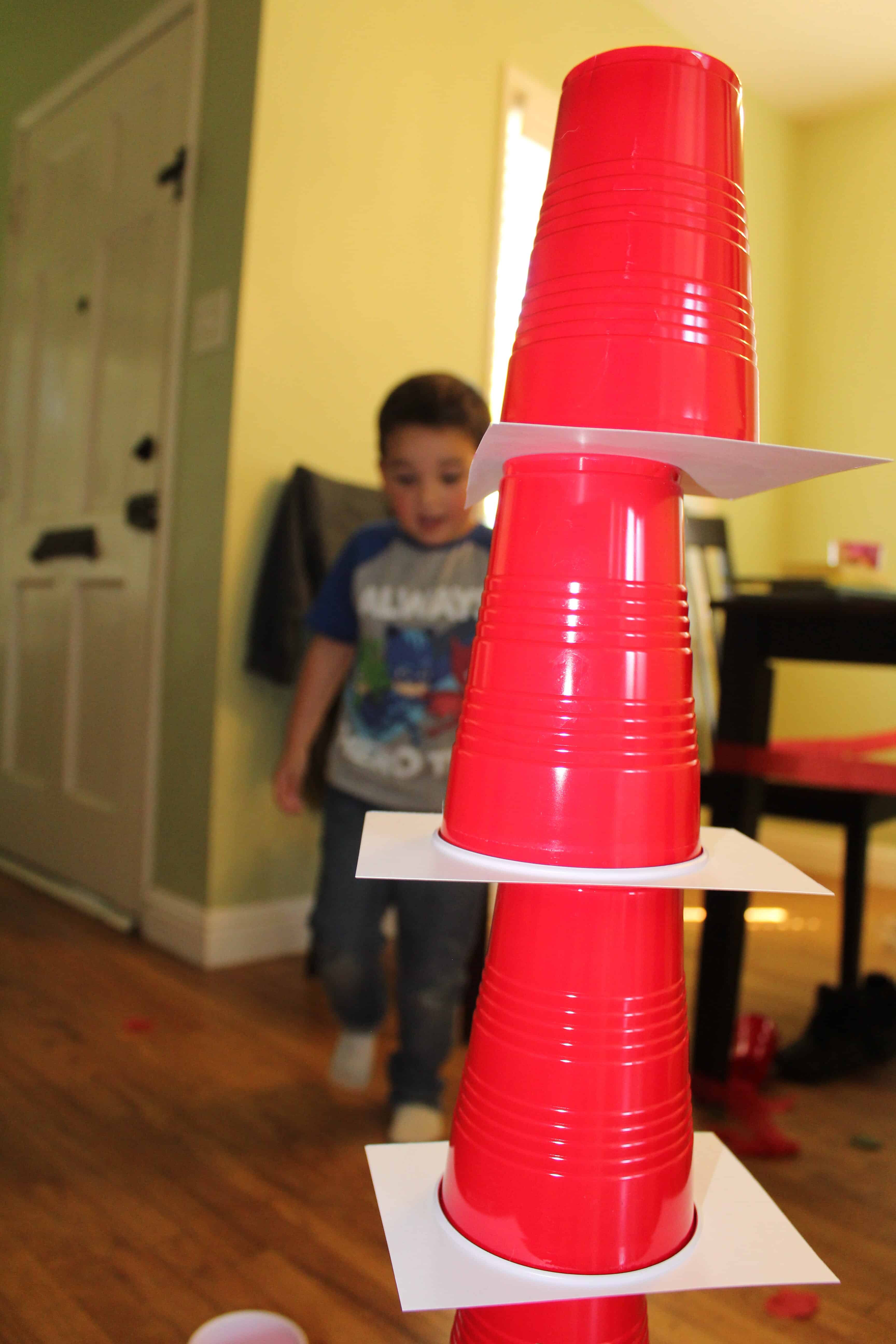 If you have two kiddos, challenge them to see who can build the tallest structure. What about the sturdiest? Or maybe the prettiest? Or the most creative?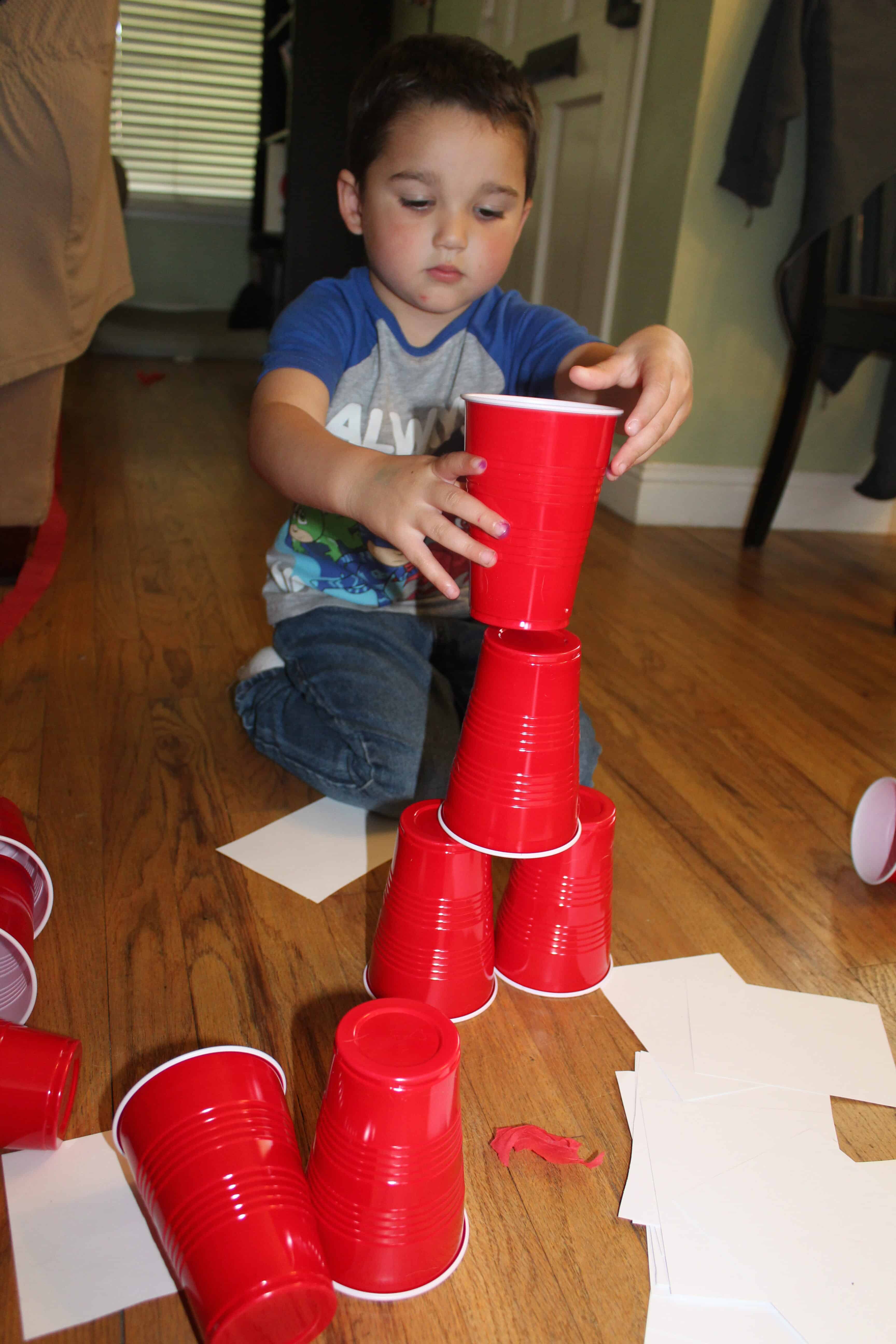 You don't have to make it a competition to make it fun. Kids who are playing alone can be just as creative in finding the ways to meet new objectives within this preschool STEM challenge.
Bring in Toys or Other Objects
Once we tired of the STEM challenge aspect of the building challenge, we went ahead and good old fashioned played with them. Lila made a castle for a "princess."
Abe brought all of his trucks and made a big parking garage, with individual cups serving as individual garages for each Hot Wheel.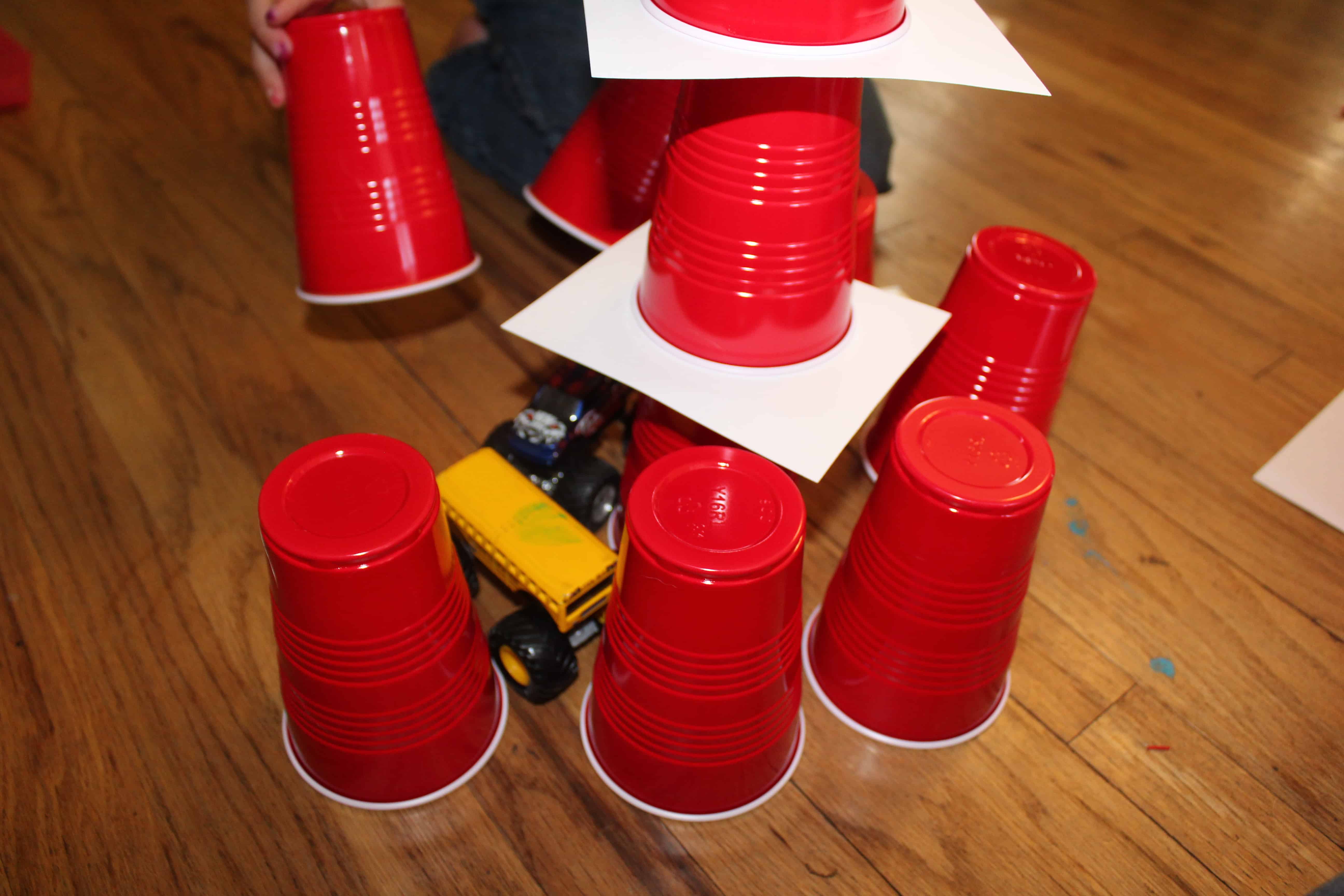 And he had LOTS of fun using his monster trucks to knock it down afterwards.
*******
It's a simple activity, but this Preschool engineering challenge fills a LOT of time and gives you a lot of bang for your buck. In fact, this entire activity took up an hour and half of time for my kids, and cost me a whopping $2. Keep the cups out in your toy box for a week or two, and when they eventually need to go, make sure they make their way into the recycling bin.
What creative ways do you have to entertain your kids? We'd love to hear about them in the comments!
Looking for more ways to have fun at home? Head here next-