Got the bad-weather blues? We've got tons of rainy day indoor activities for stir-crazy kids. From ways to burn energy indoors to the best activities for sick kids, we've got all the ideas you need to fill up a day stuck-at-home day.
Let me start by saying- I am not a Stay at Home Mom. I mean, I AM. That's what anyone would call me. But the title is so, so inaccurate.
I am a take-kids-to-swim-lessons mom. I am a host-a-playdate-mom. I am a go-to-the-beach mom, a running-errands mom, a might-as-well-be-a-chauffeur-mom. I don't go to work everyday, but I'm also not likely to be found at home, either. 
But sometimes? We HAVE to stay home. Because we're potty training, or waiting on an appliance repair person, or someone is contagious (even though they feel fine). Maybe it's too hot, or maybe there's snow. Or maybe it's freaking dangerous to be around other people and your best bet is to keep your butt at home.
But for whatever reason, sometimes you just have to stay home all day. And if you're into that sort of thing? That's likely not a problem. But if you're not? You're trying to fill the longest.day.ever. with activities for stir-crazy kids.
After a recent Hand-Foot-Mouth scare over at our place, we found ourselves quarantined. No one felt particularly sick, but we'd been advised to stay away from our friends for a day or two.
Lila took it hard (I might as well have handed home a death sentence), but I took it upon myself to seize the day and make it an amazing one.
An amazing day that happened to include six hours of television. But who's counting?
So if you find yourself in a similar position, we've got some super fun activities for stir-crazy kids that will make that long day at home a fun one, too.


This post contains affiliate links. You can read more at our legal page. Thanks for supporting The Salty Mamas!

Art Activities for Stir-Crazy Kids
Craft Kits- We keep several of these Alex craft kits around for just such occasions. They are self-contained and a great way to keep kids busy when you don't have time to prep.
Free Painting- Bust out some watercolors, tiny pots of paint, or set up an easel, and let kids paint the day away.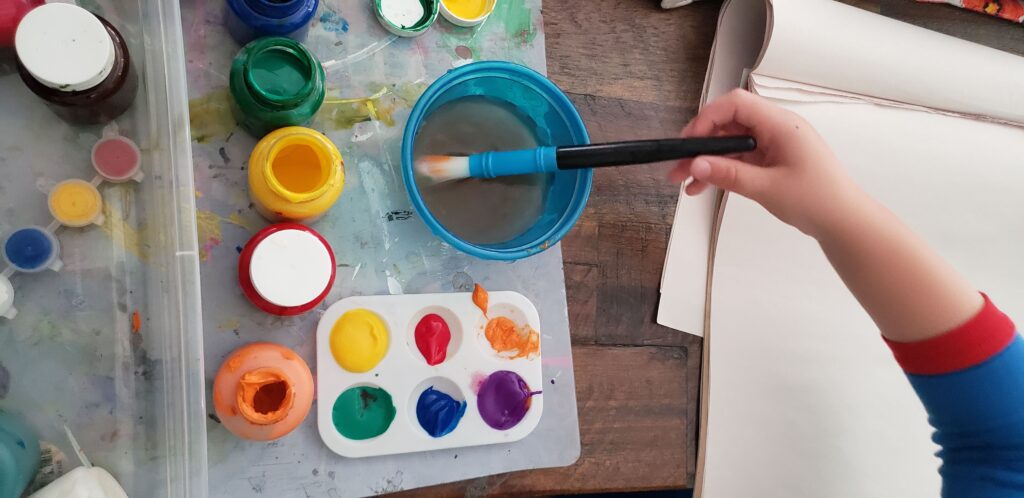 Salt & Glue Painting- This art project has several different stages, which makes it a GREAT time filler. You can read all the instructions here, but the gist of it is that you squeeze glue onto paper, shake salt onto the glue, and then paint the salt with watercolors.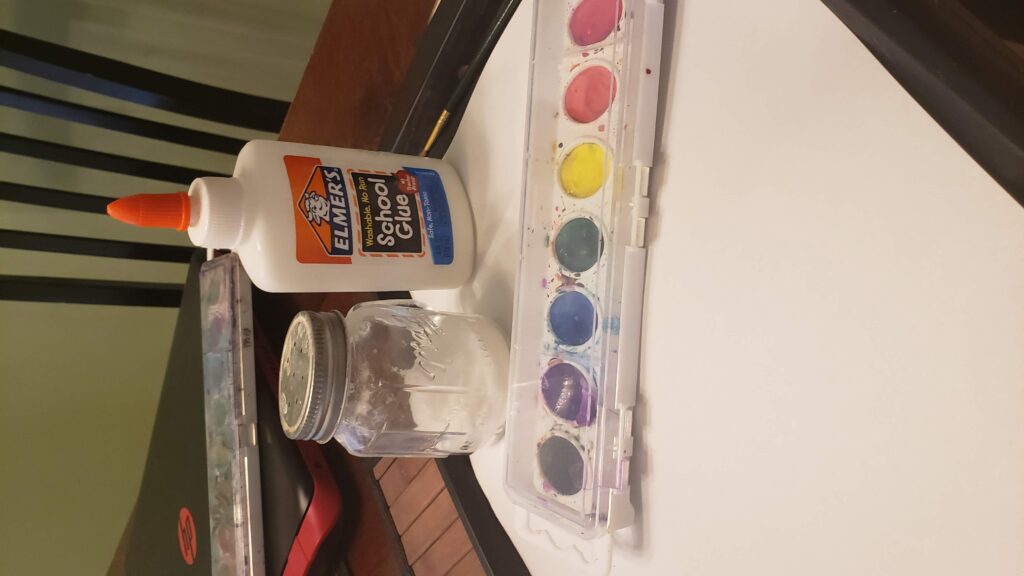 Tin Foil & Cotton Swabs- It's as easy as it sounds- tear off a sheet of tin foil, give your kids some cotton swabs and a little pallette of paint, and let them get to creating. Here's how to set up your tin foil painting project.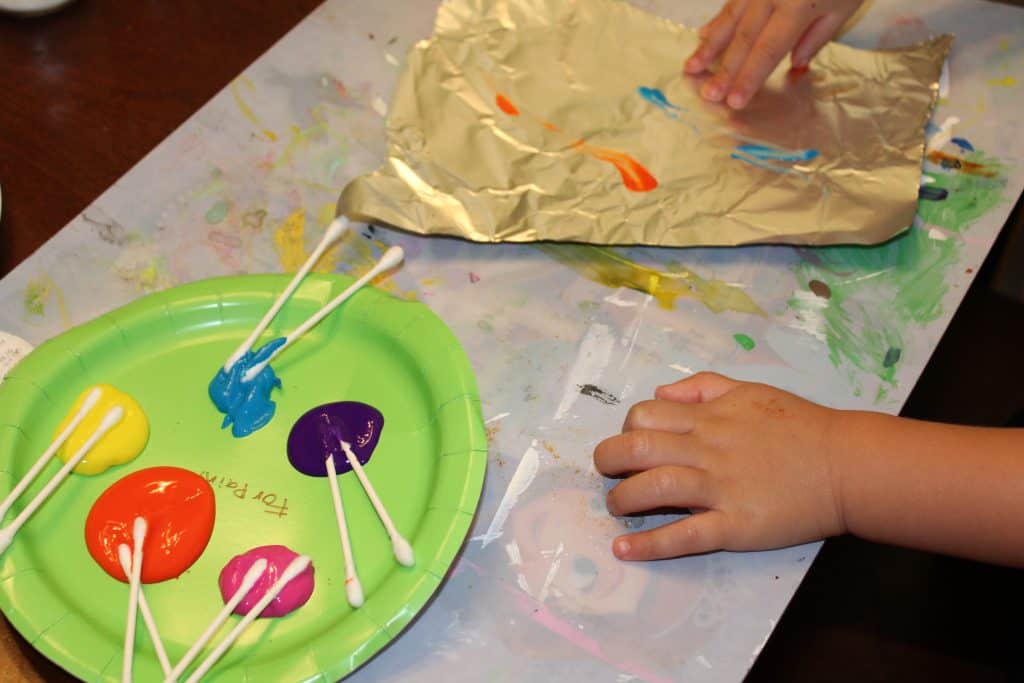 Recycled Materials Painting- Raid your stash of recyclables, like egg cartons or toilet paper rolls, and see what your kids can create with them. Here's how we do it.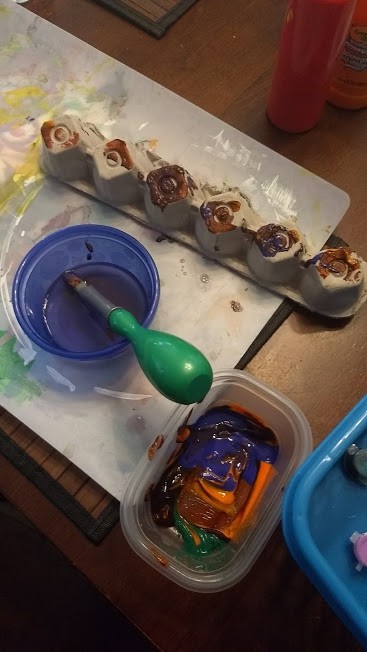 Monster Truck Painting- Take the toys to the canvas with this art activity, which combines the fun of hot wheels with the creative expression of paint.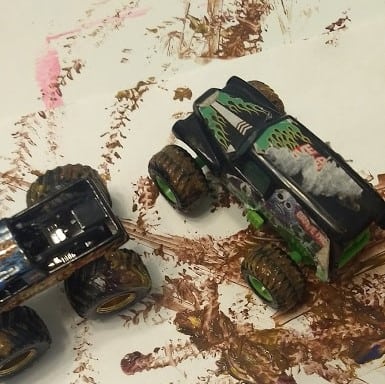 Shaving Cream Art- Another multi-stage activity. Get the full details here.
Cookie Cutter Stamp Art- It turns out, cookie cutter stamps are SUPER fun! Play around with cookie cutters and paint, or use them to make cards to send to loved ones.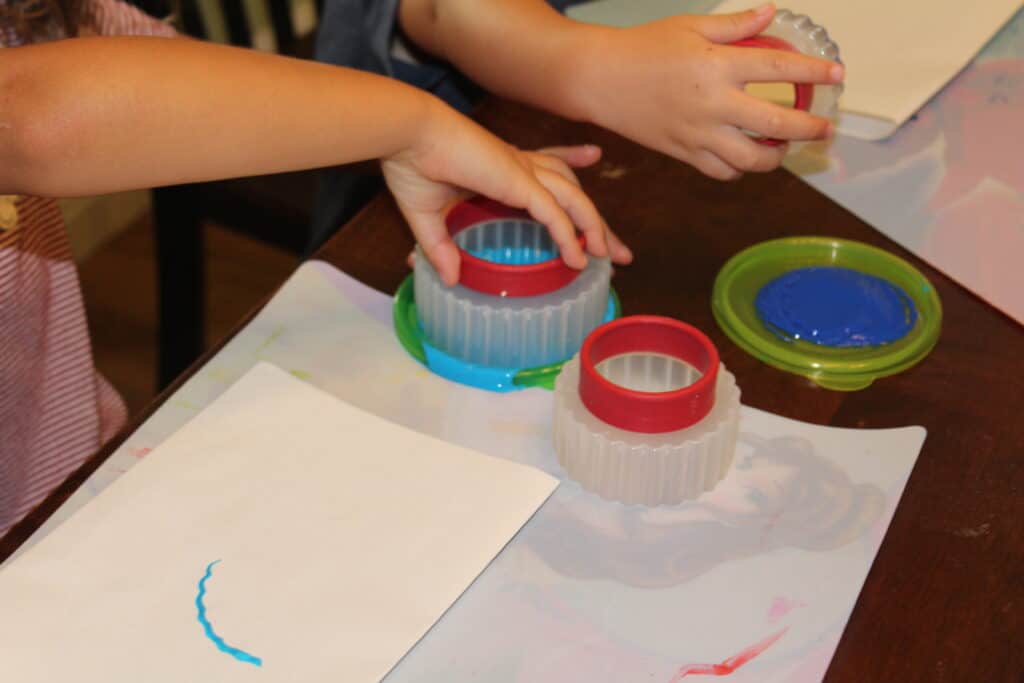 Cotton Ball & Clothespin Painting- A new take on classic painting. Get the details in this post.
Painting Ice Cubes- There's something fun about the impermanence of ice. Give your kids some watercolors and brushes, and let them paint the ice cubes. The colors will mix and swirl as the ice melts, creating a changing canvas as you go.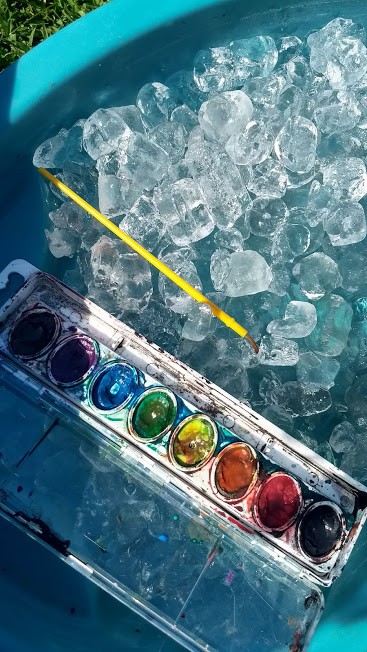 Glitter Glue or Paint- Because everything is better with a little sparkle.
Wet Chalk on Black Paper- Chalk behaves differently when it's wet. Give your kids the chance to explore what it does by soaking the chalk in a small amount of water and handing out some black construction paper.
Melted Crayon Shavings Bookmarks– get rid of all those extra broken crayons, and create something beautiful with these bookmarks made from melted crayon bits (this takes up a long stretch of time!)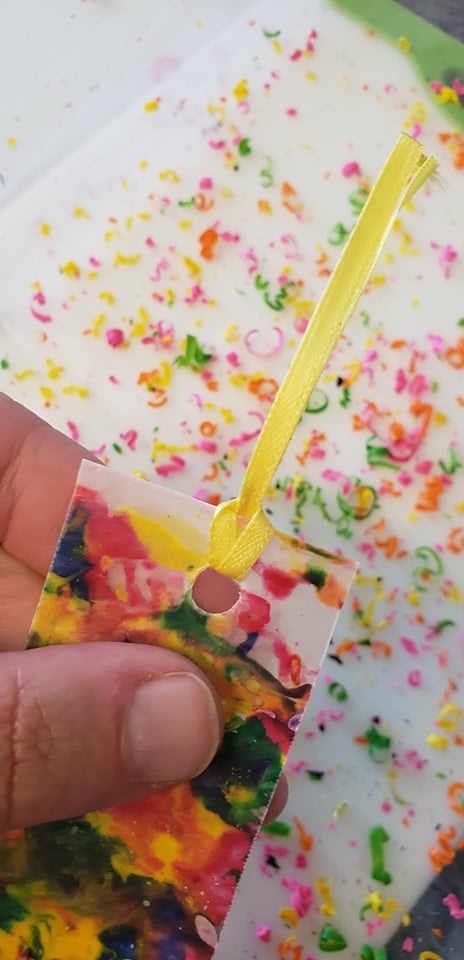 Bubble Wrap Printing- This is a process art activity with very little prep and VERY fun results. Get the project details here.
Make Salt Dough Shapes- This is another one that takes up a LONG time (in the best way!) Have kids make salt dough, cut out shapes, and paint them. Get our salt dough recipe!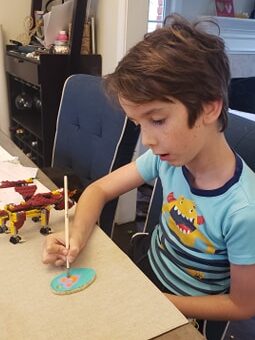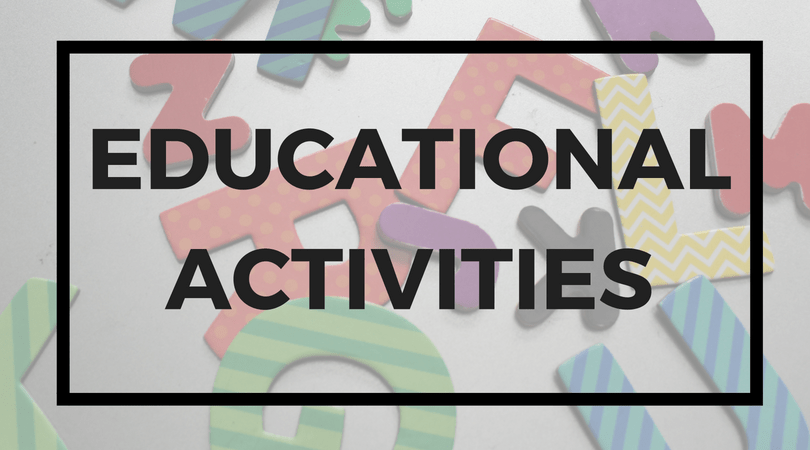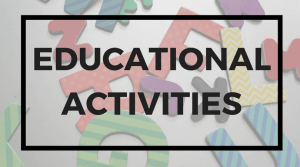 Educational Learning Activities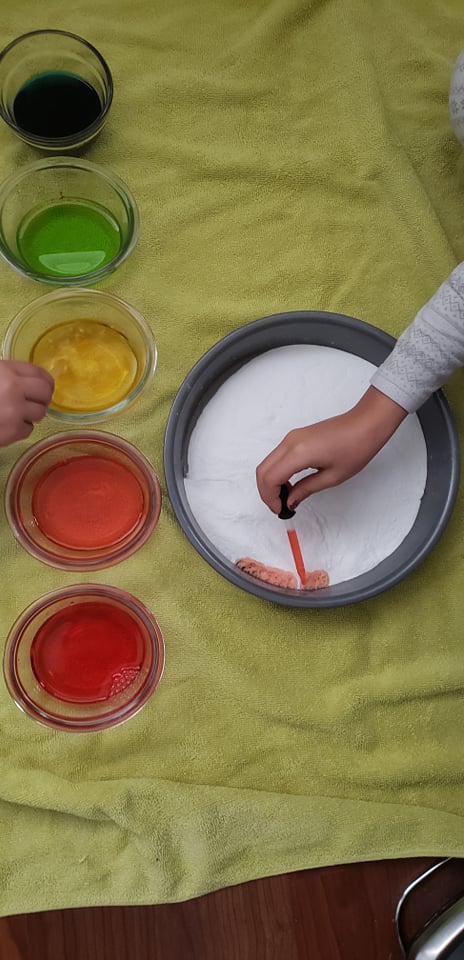 Sink or Float?- Give kids a bucket of water and some items to start with, and have them test which objects will float and which will sink. Let them find their own objects to add (within reason).
Solo Cup Stacking Challenge- Do you have solo cups lying around? Challenge kids to make different structures with this solo cup stacking challenge for kids.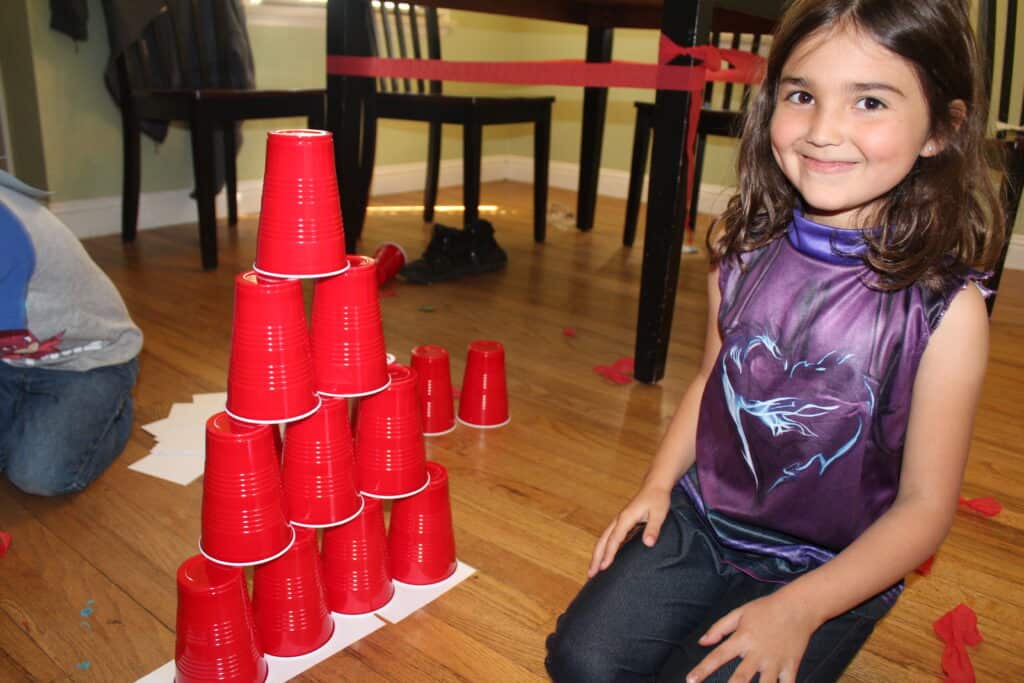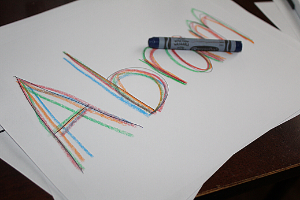 Measuring Tape- Show your kids how to use a measuring tape to measure…well…pretty much everything.
Gardening or Planting- If you can head outside, do it! Prune back your plants, remove dead flowers, plant any seeds you may have. It's a great way to tend your garden and take a break from being indoors.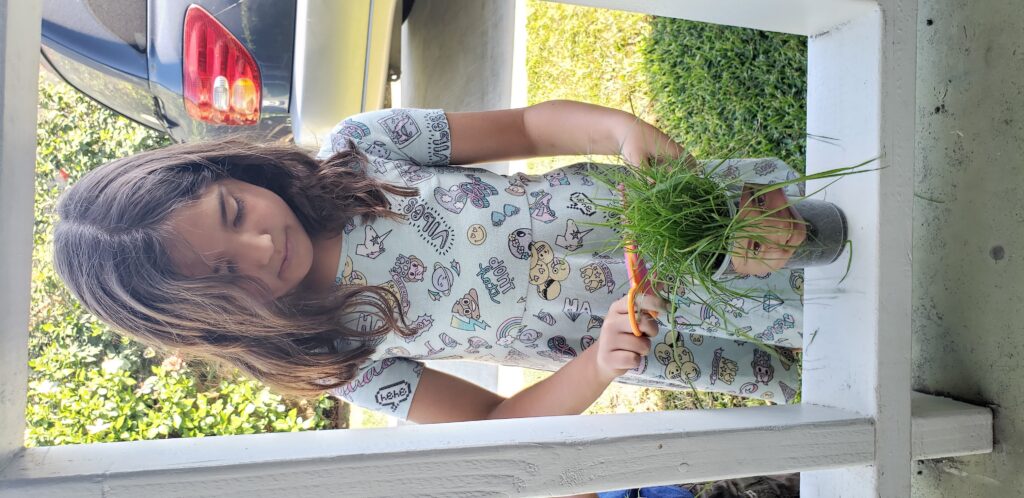 Magnifying Glass Station- Place some items in a tray and give your kids a magnifying glass. Pennies, feathers, leaves, grass, books, and fruits/vegetables make excellent objects to check out on a bigger scale.
Penny Boats- In this STEM challenge, kids will try to design a boat made of a single sheet of tin foil. They'll try to keep it afloat as they add pennies, one at a time, until they find the best boat design.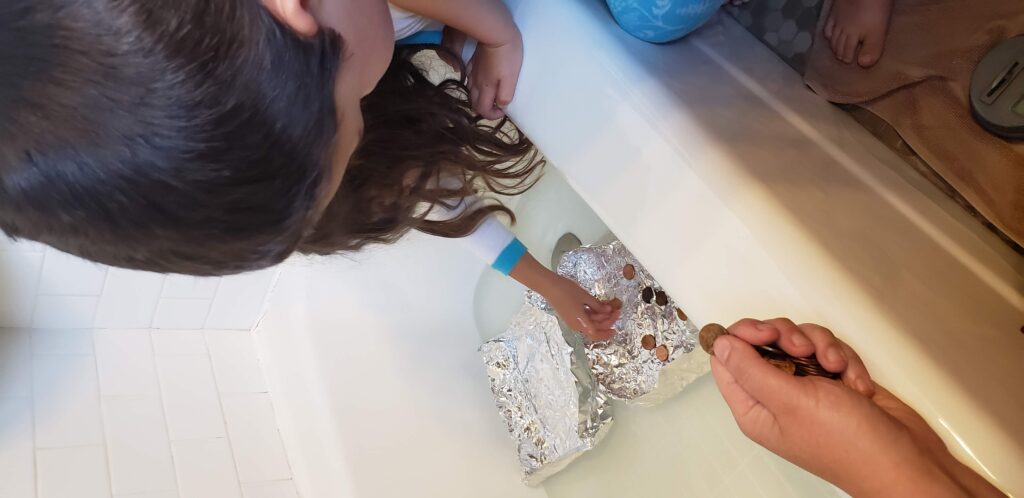 Scoop & Pour Water- Head to the bathtub, or give your kids a big tub of water. Add some measuring cups and spoons, bowls, pitchers- whatever you can think of!- and let kids scoop, pour, and measure water as they transfer it from one container to another.
Toy Rescue Ice Challenge- Freezer your kids' favorite action figures in a block of ice, and have them use the scientific method to get them out. Find our free printables and the full instructions here.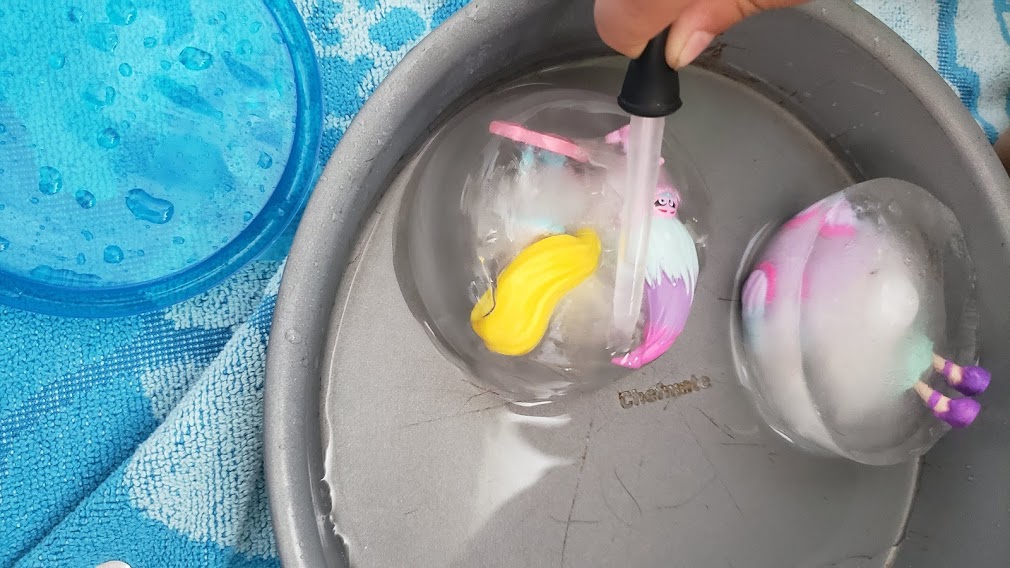 Printable Explore & Learn Activity Packs- We wanted an activity for our toddlers and preschoolers that incorporated fine motor skills with early academics, like sorting and matching, and we just couldn't find one that fit the bill. So we made our own. Click here to read more about our printable kids' activity packs.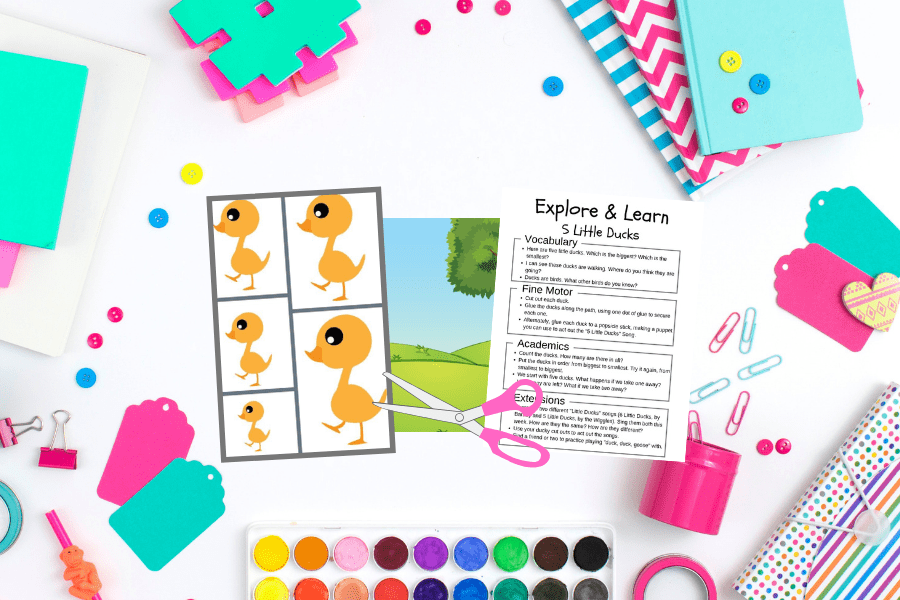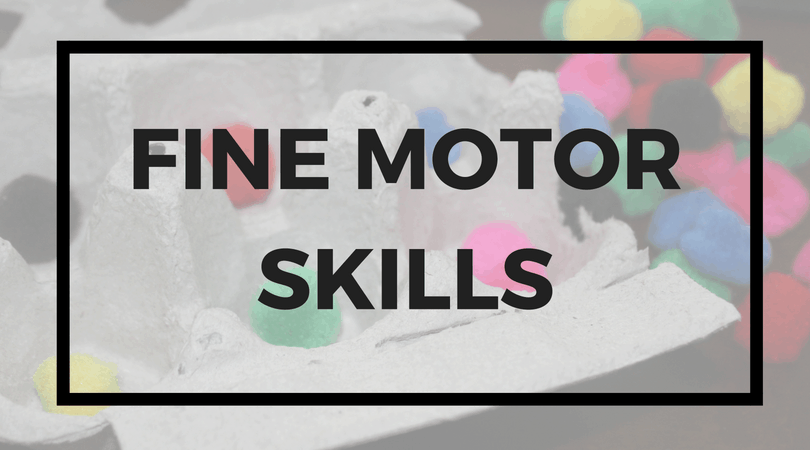 Fine Motor Activities
Stickers- Time to break out that Dollar Store stash! Have your kids make cards for family or friends, or just let them freestyle.
Practice Cutting with Grocery Ads- give your kids grocery ads, and let them cut out items to make a paper meal.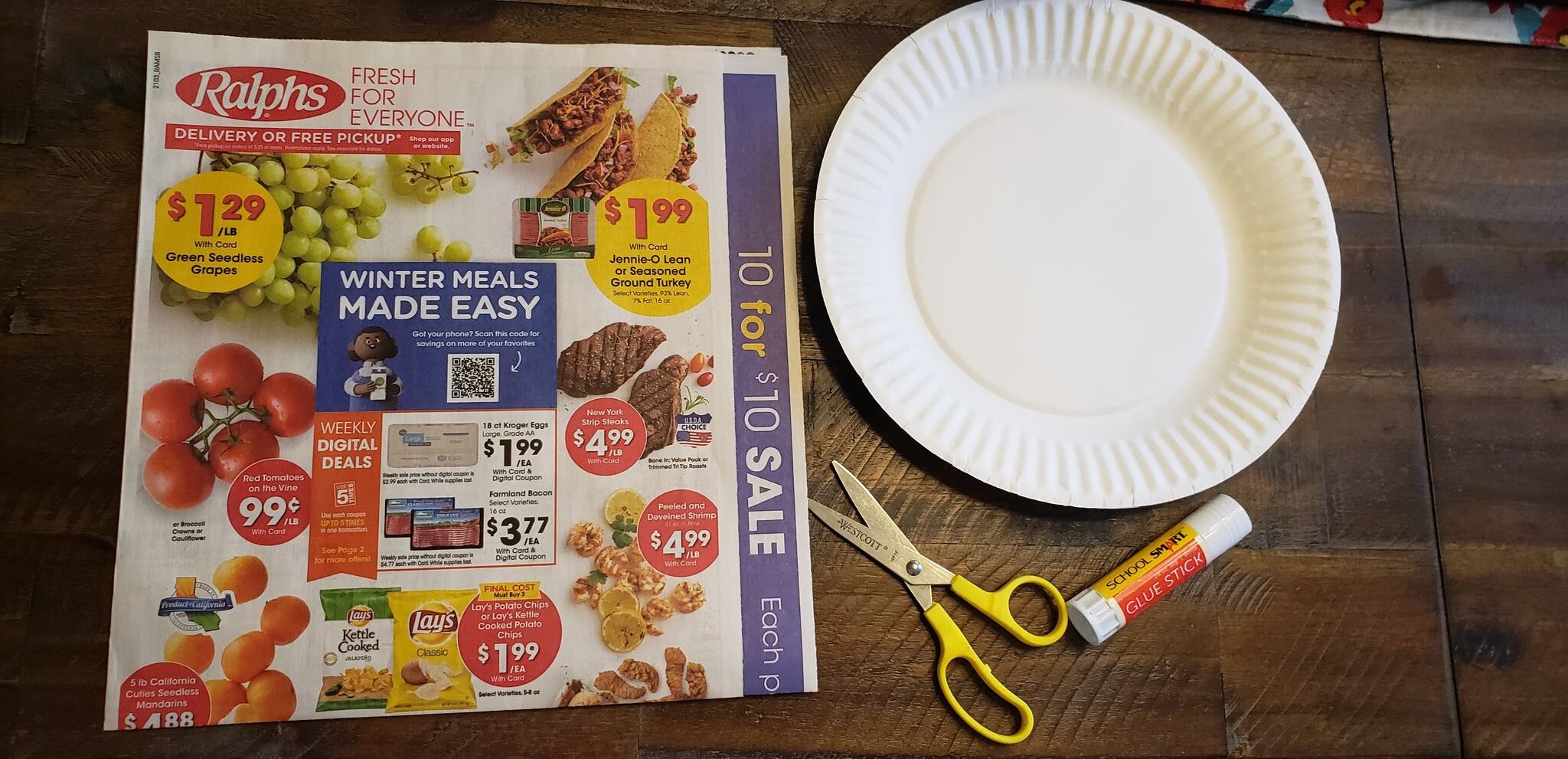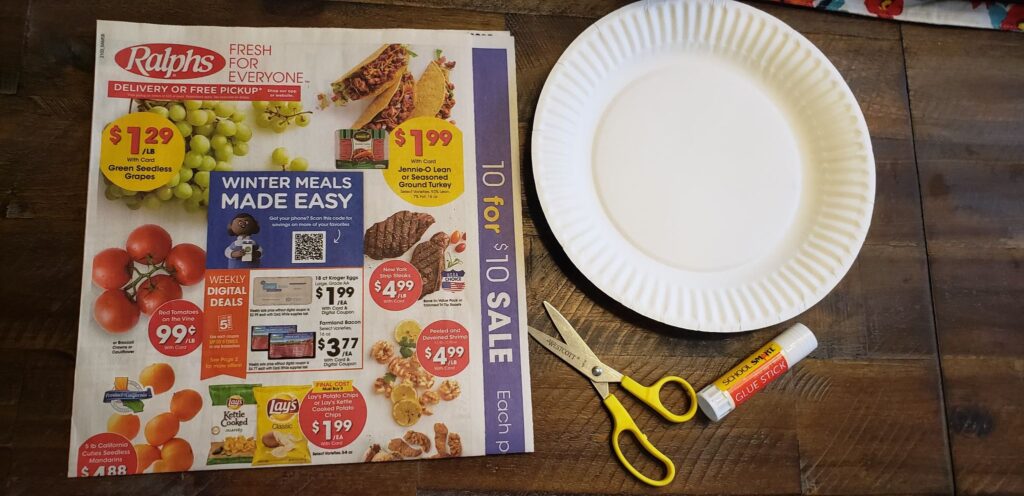 Printable Sticker Pages– We needed a way to keep our kids' little hands busy, so we developed this printable fine motor skills pack, focused on helping kids add little stickers to pages for BIG printable fun.
Stringing Beads- String pony beads onto pipe cleaners or yarn to make bracelets and necklaces. For an added challenge, have kids practice making patterns or sorting by color.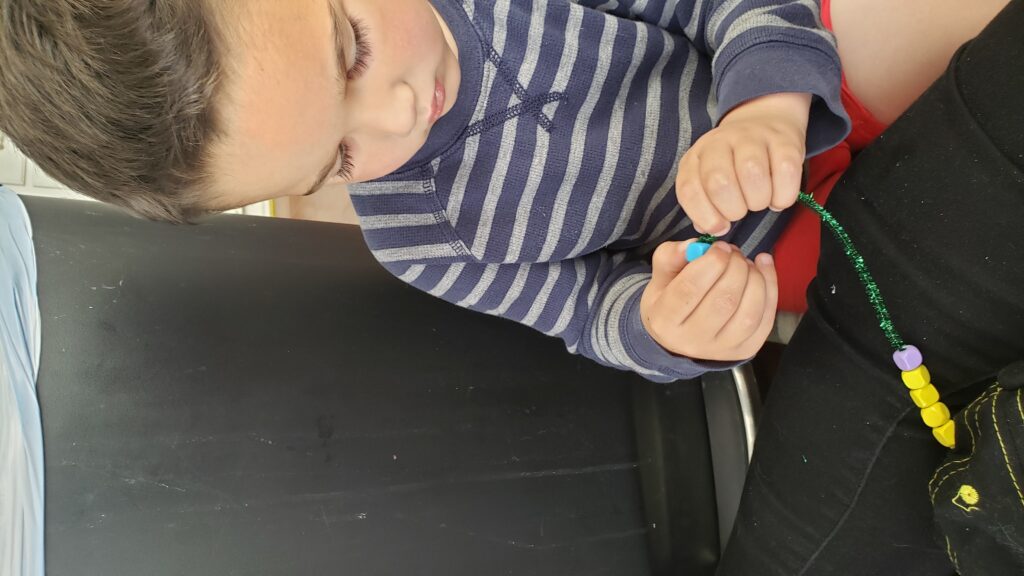 Learn to Use Chopsticks- Have a timed race to see who can move the most pom poms from one container to the other first using chopsticks. Or, make snacktime a little more fun by using them. (You can use regular ones or get training chopsticks here). Popcorn, with all it's lumps and bumps, makes for excellent chopstick practice.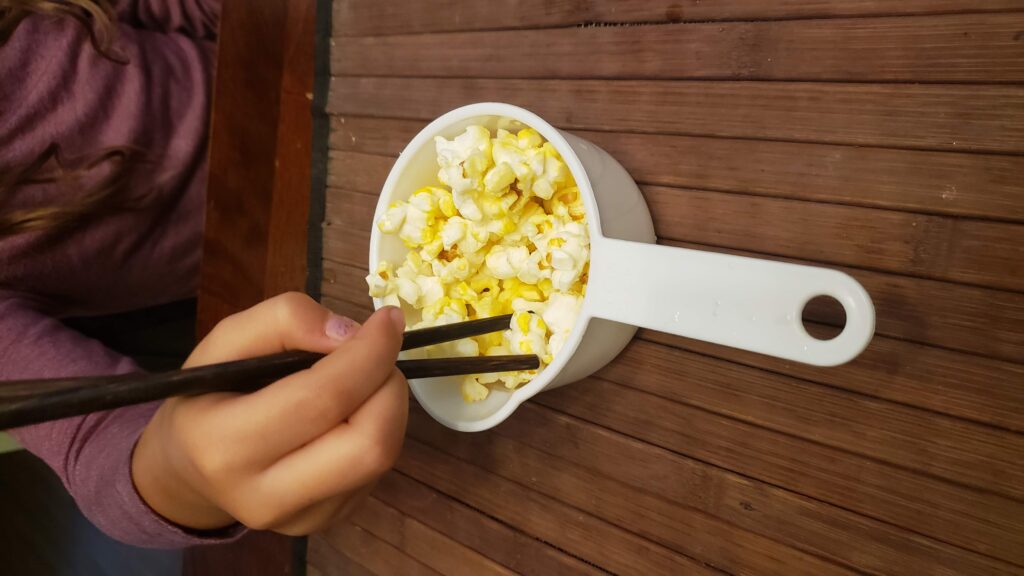 Coloring- Old-fashioned coloring books are the perfect time filler for a day at home. Consider printing up some sheets of your child's favorite characters for added fun.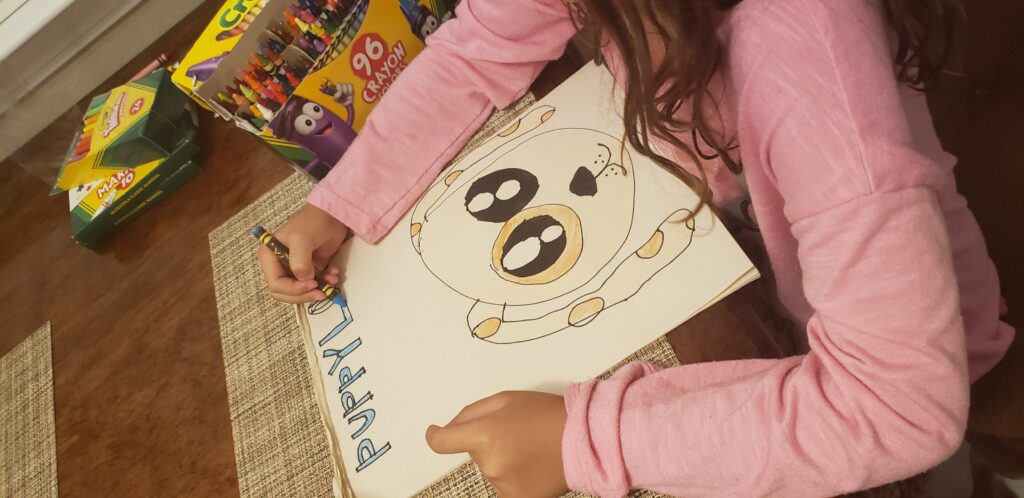 Scissor Practice- Check out our complete list of cutting activities for preschoolers!
Paper Tearing- Tearing paper into smaller pieces is fantastic for working on hand strength.  Give your children some scrap paper- or even something like a phone book!- and let them tear it to shreds.  As a bonus, they can use it to make a collage later.
Make a Paper Zoo- Have your child cut out pictures of animals and build a zoo on paper. Great for scissor and prewriting skills.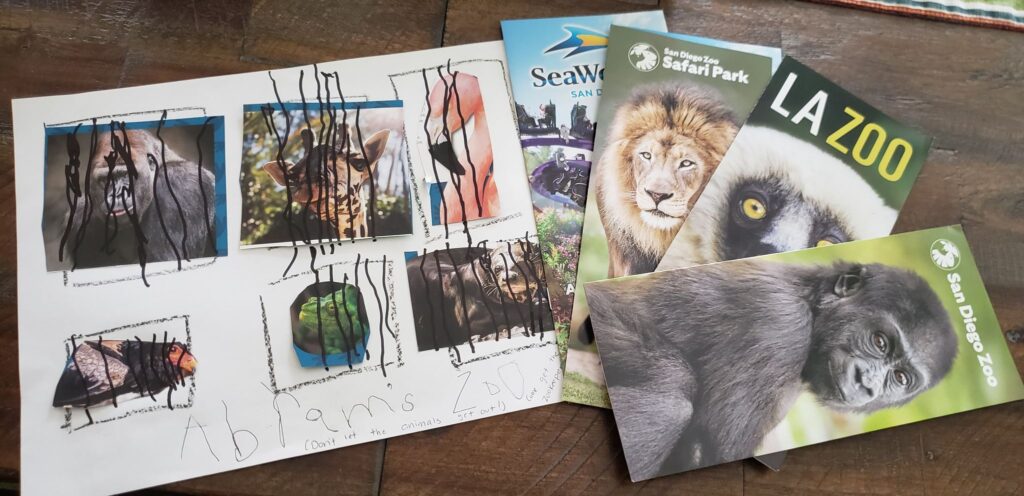 Dry Erase Books- These fun books allow kids to work on their alphabet skills and prewriting. If you don't have one handy, you can place a paper into a page protector or laminate it. A picture frame will also work! We love this art prompt that lets kids create funny faces again and again.
Work on School Readiness- Now's the perfect time to work on those school readiness skills! Take a look at the list and see if there's anything your kids still need to practice.
Prep and Play with Some Busy Bags- We've compiled a list of our favorite busy bags for kids in this post. Get out the materials for play time, and then package them up in bags when you're done. Two birds with one stone!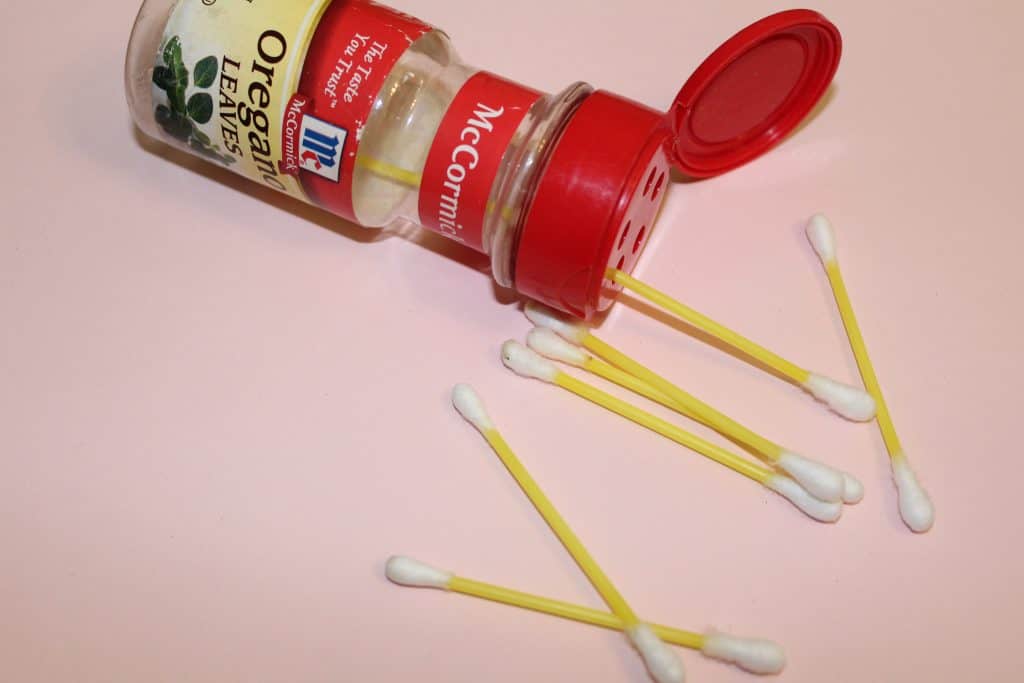 Sticker and Workbooks- There are tons of little sticker and workbooks at places like Target or the Dollar Store. We grab them whenever we see them, and save them for a stuck at home day. If you've got a toddler, check out our favorite workbooks for toddlers.
Do a Dot Markers-  Do a dot markers are fantastic for fine motor skills, prewriting, and hand eye coordination. Get our free transportation themed printables to make it even more fun!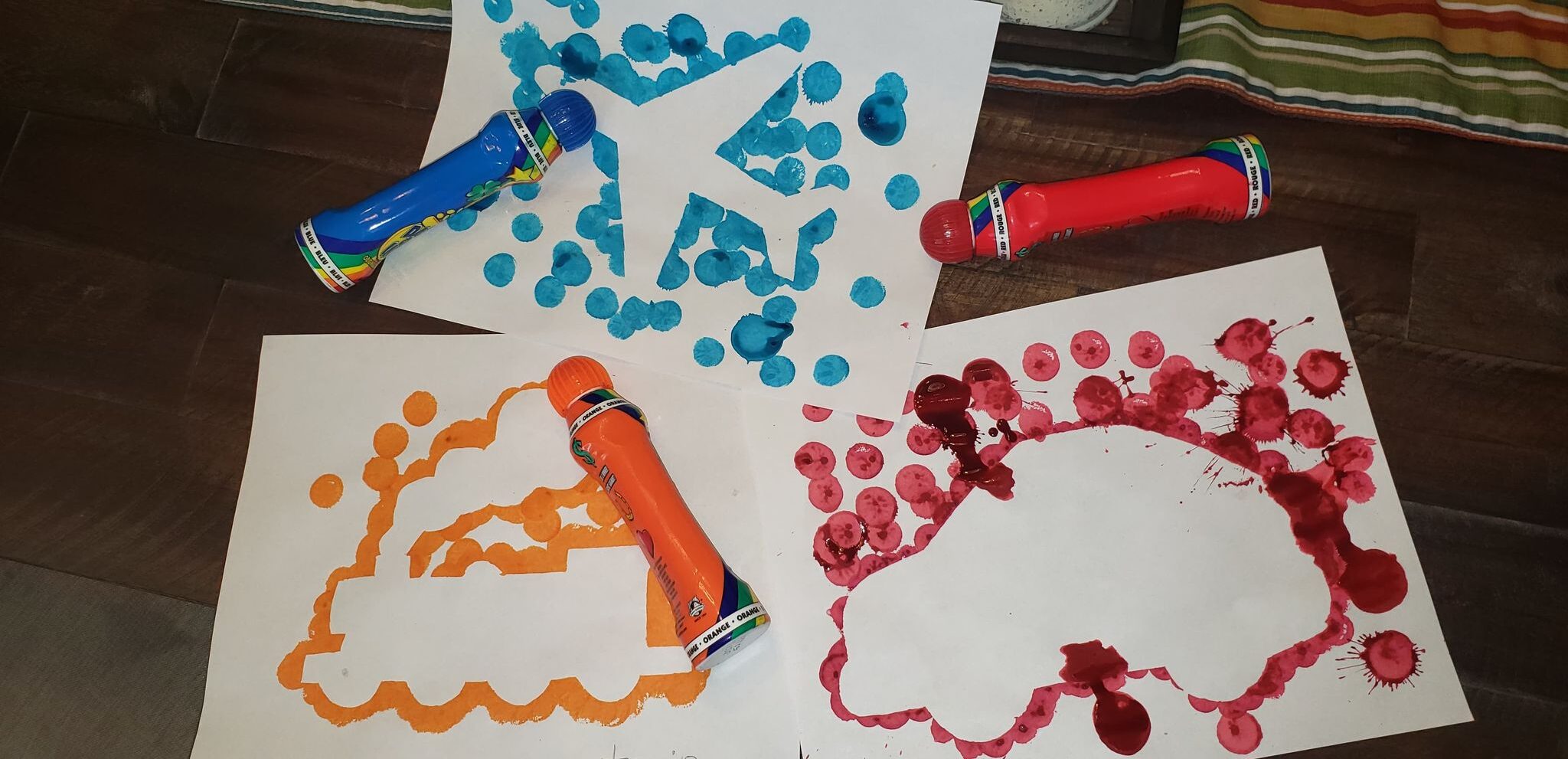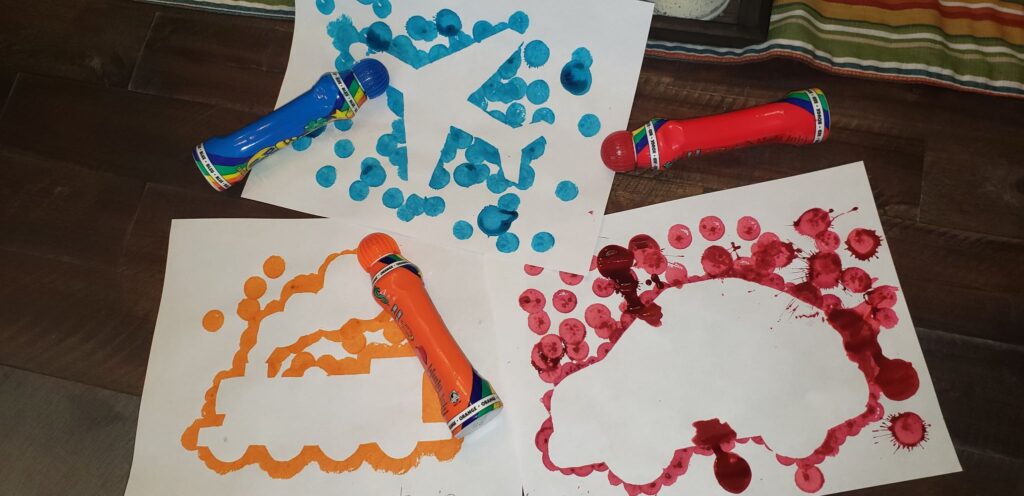 Recommended: Printable Activity Cards (Use the promo code "stircrazy" to bring the price to just $4!)


Sensory Activities for Stir-Crazy Toddlers
Homemade Playdough- This is a two-in-one activity. First you make the playdough, and then you can actually play with it. Get our favorite recipe (and TONS of activity ideas) at this link.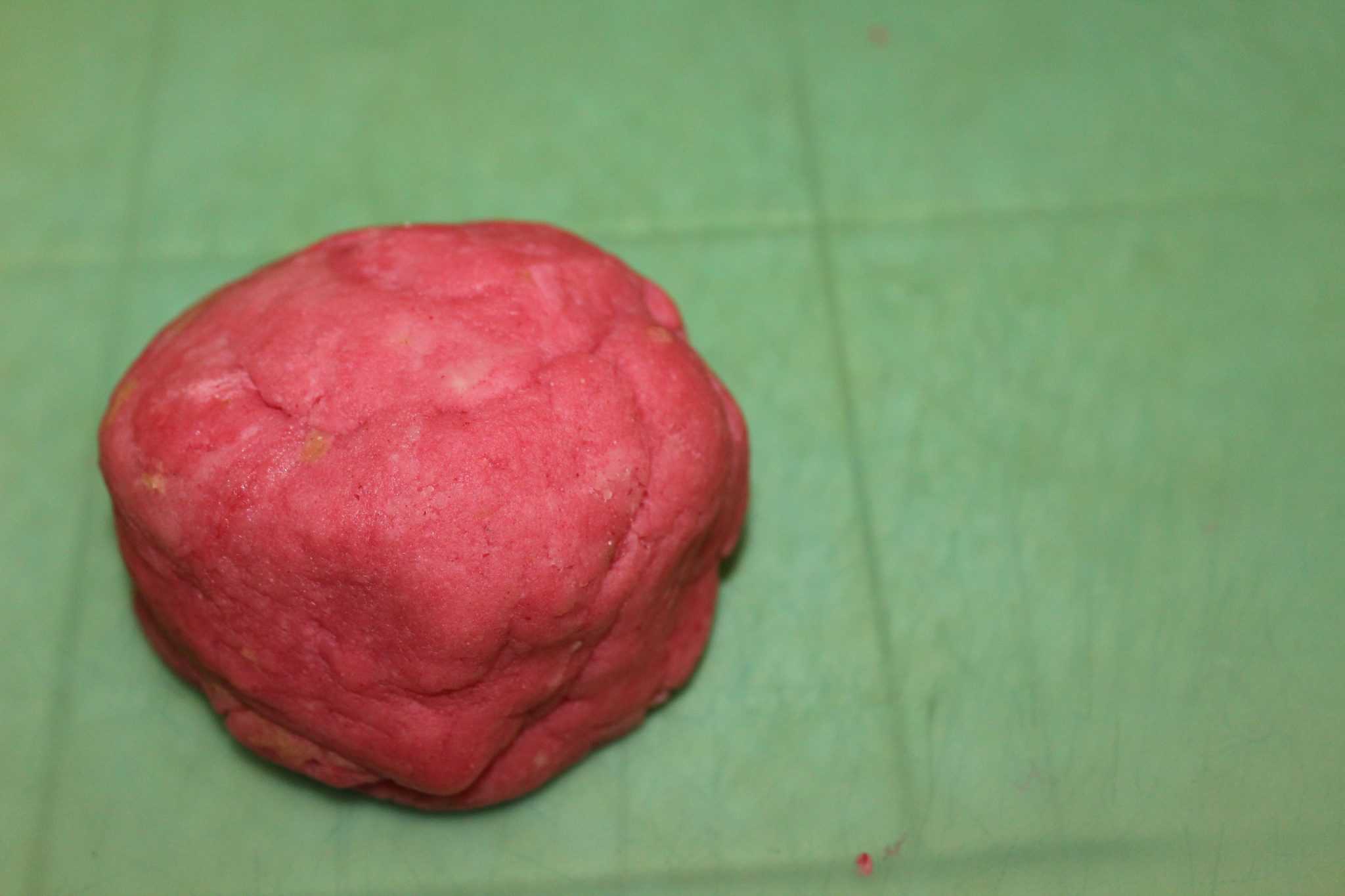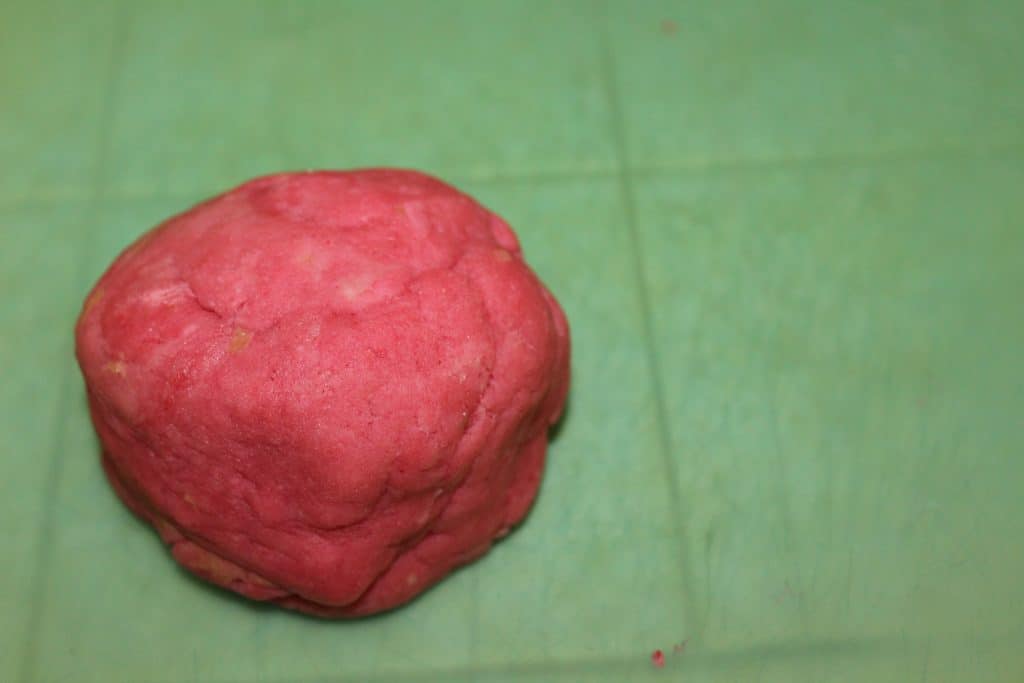 Fluffy Slime- Ahhh, slime. You either love it or hate it, but either way, it's bound to keep the kids busy. And if you've been avoiding it for a while? It's gonna be an extra fun time-filler. We've got a fun twist with our Fluffy Slime Recipe.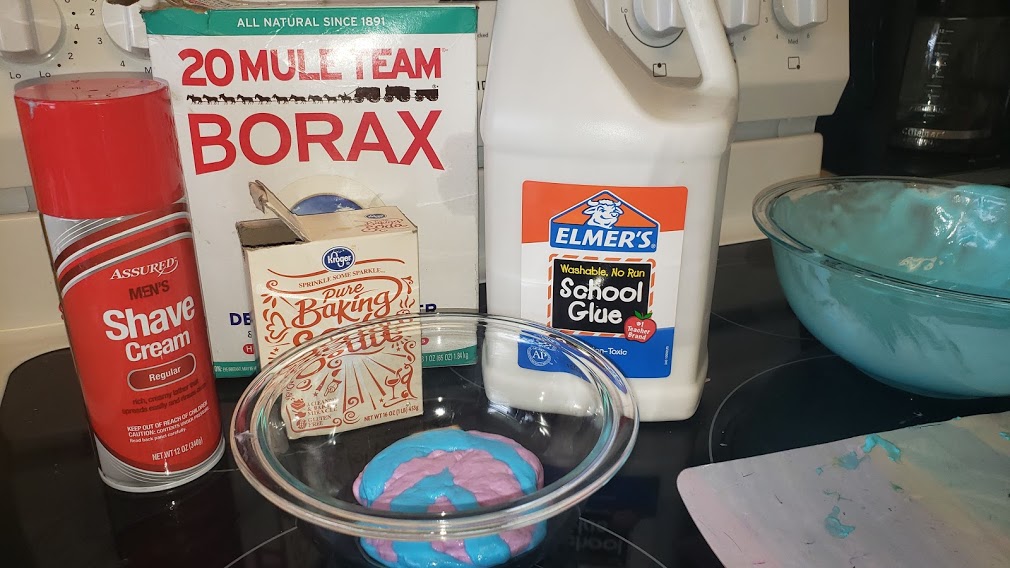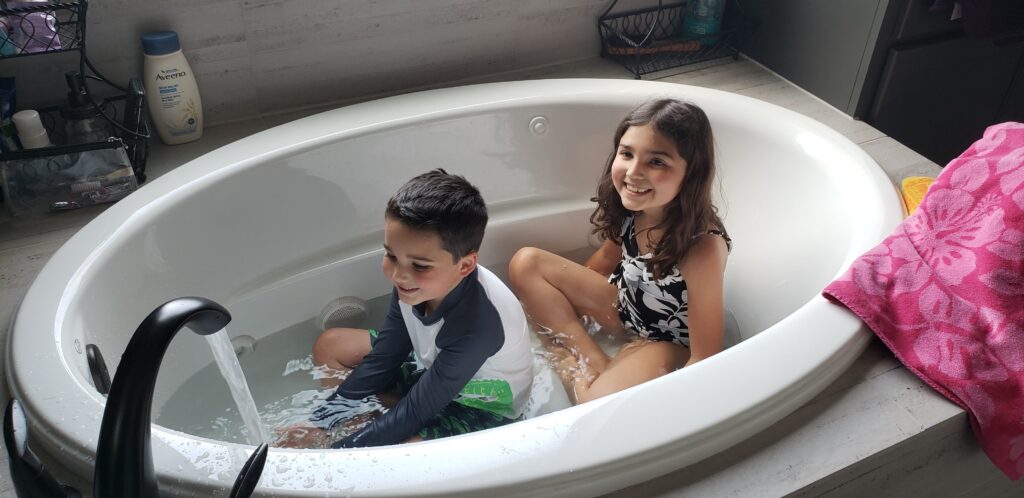 Water Table- Head outside for some splashy water fun. Add some play food, plates, and bowls, and ask your kids to make you "soup." Or, turn it into recycled materials water play by adding a few (clean!) plastic containers.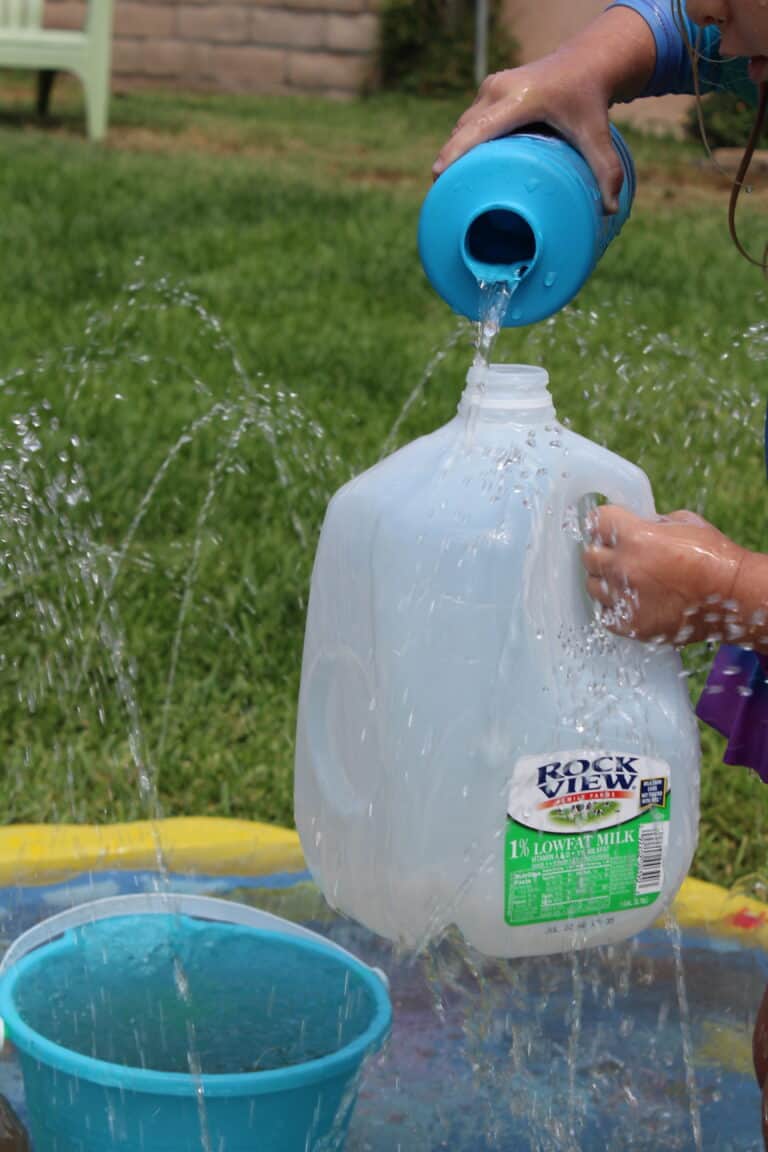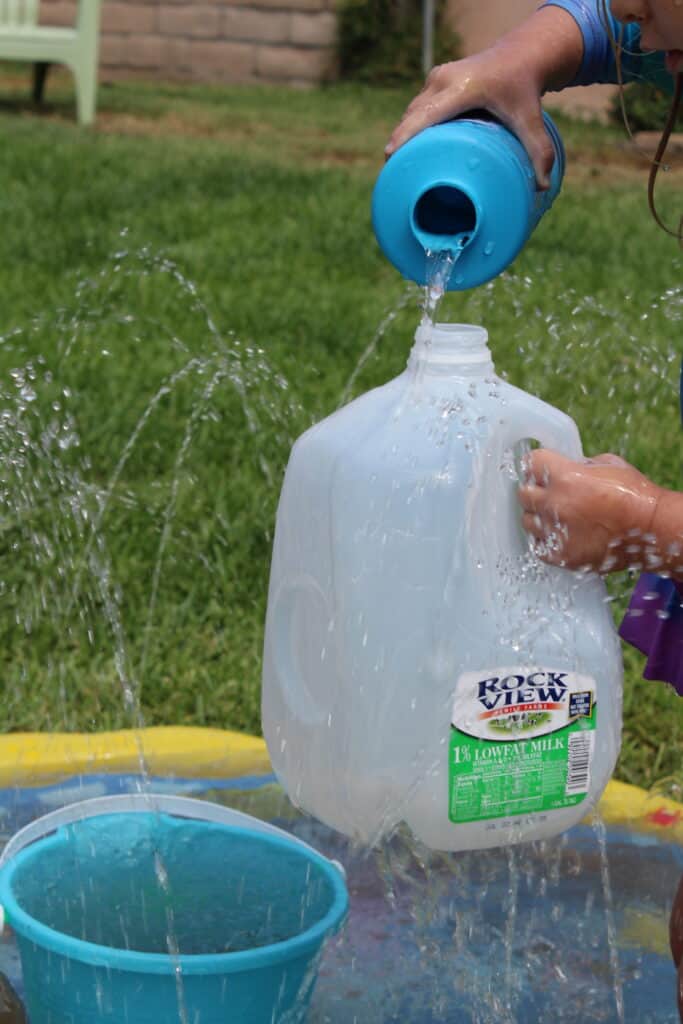 Glow Stick Bath-  For even more fun, throw some glow sticks into the bath with your kids!
Construction Themed Sensory Bin- with a few simple mini construction toys (and a filler of your choice!) this construction themed sensory bin will keep them entertained longer than you think!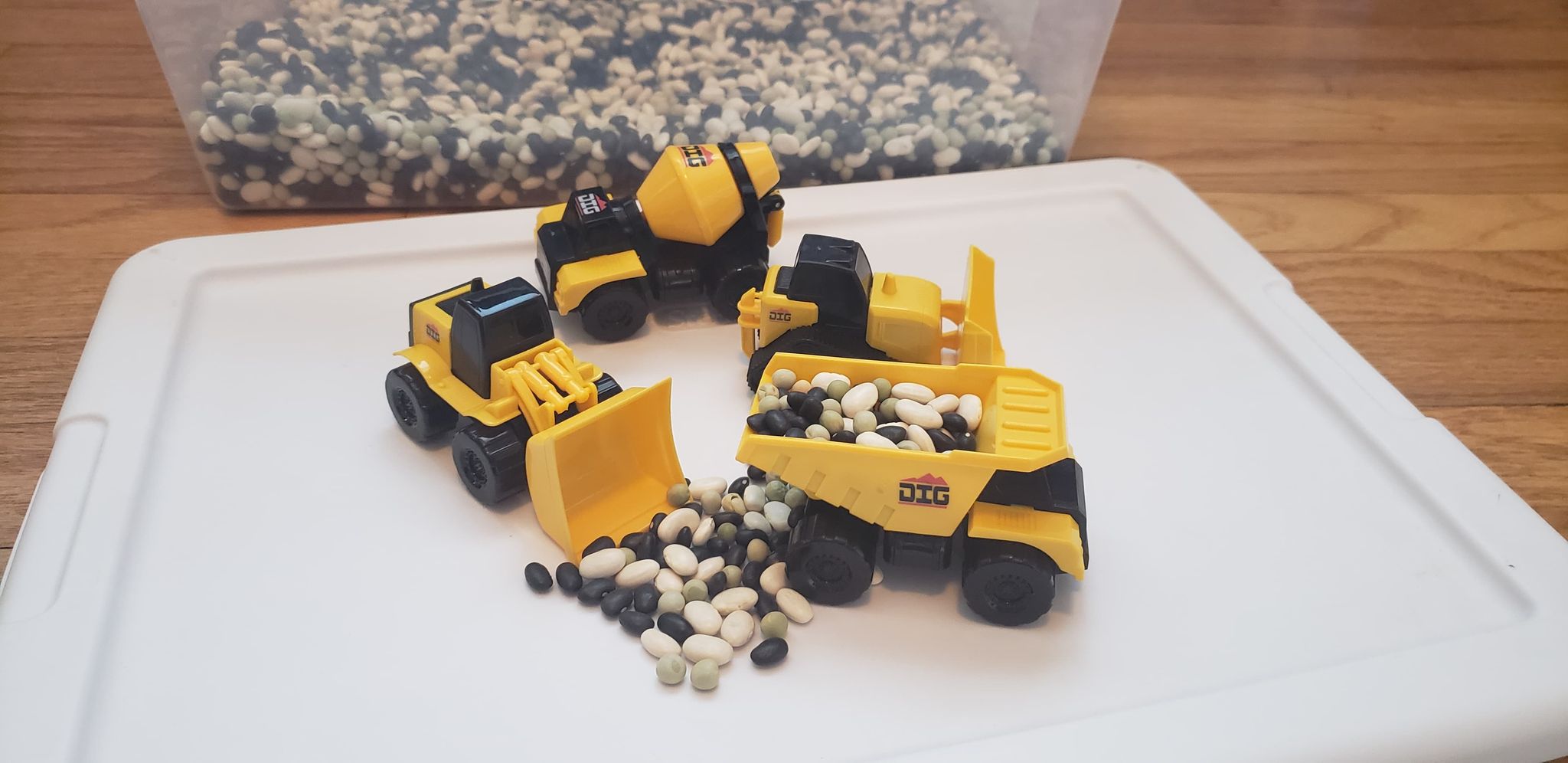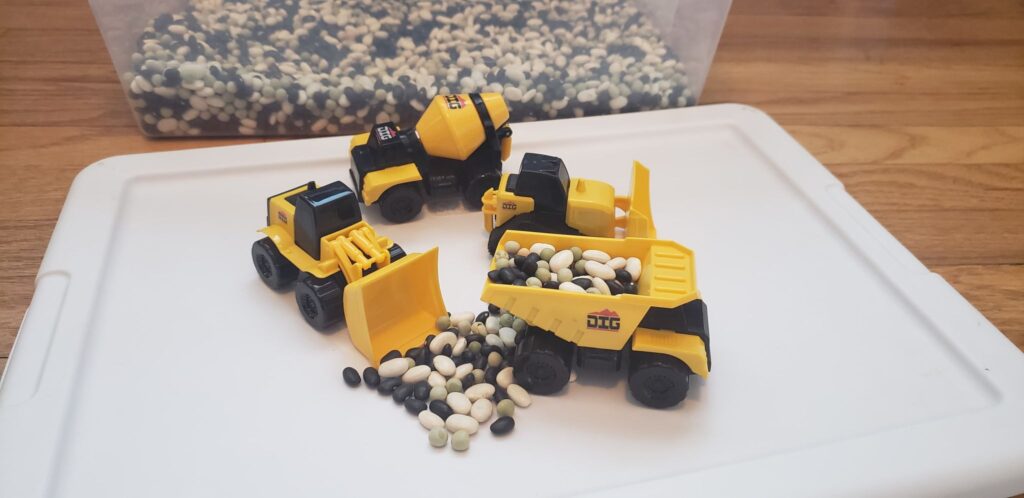 Ice Table- Pour some ice into the water table and let kids scoop and pour with the ice. For extra fun, drop a few drops of food coloring into an ice tray before filling with water and freezing. Kids will love to watch the colors melt and blend over time.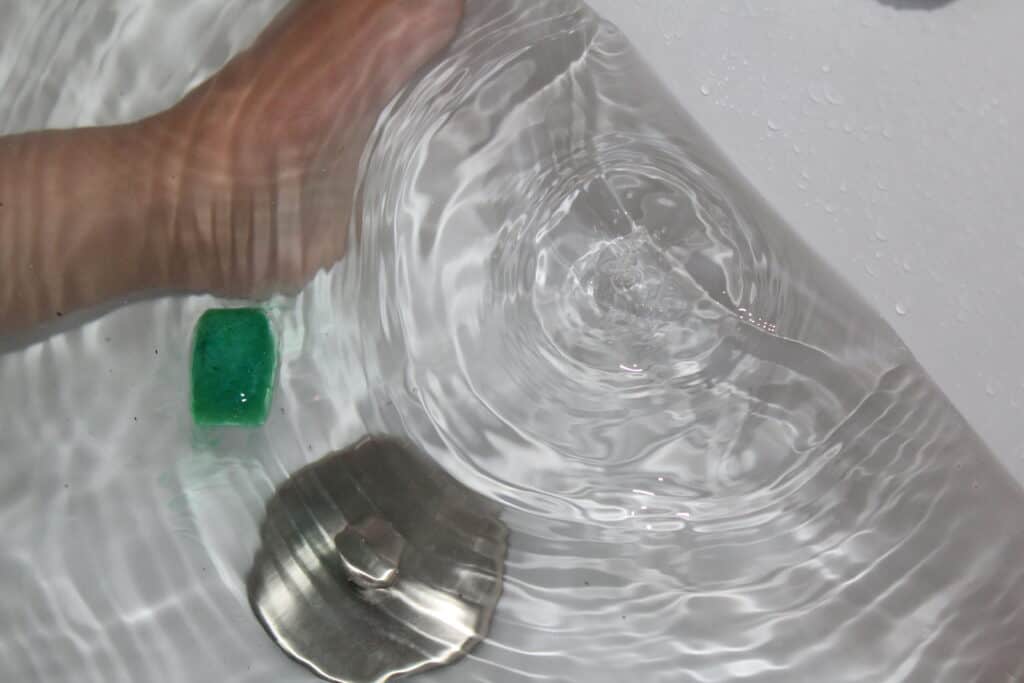 Shaving Cream Table- I mean…this is GOING THERE. But the kids will have So.Much.FUN. with a water table filled with shaving cream. And they'll make a mess. But at least it'll be a clean-smelling mess? (Make a smaller version with a few drops of food coloring in a bowl of shaving cream)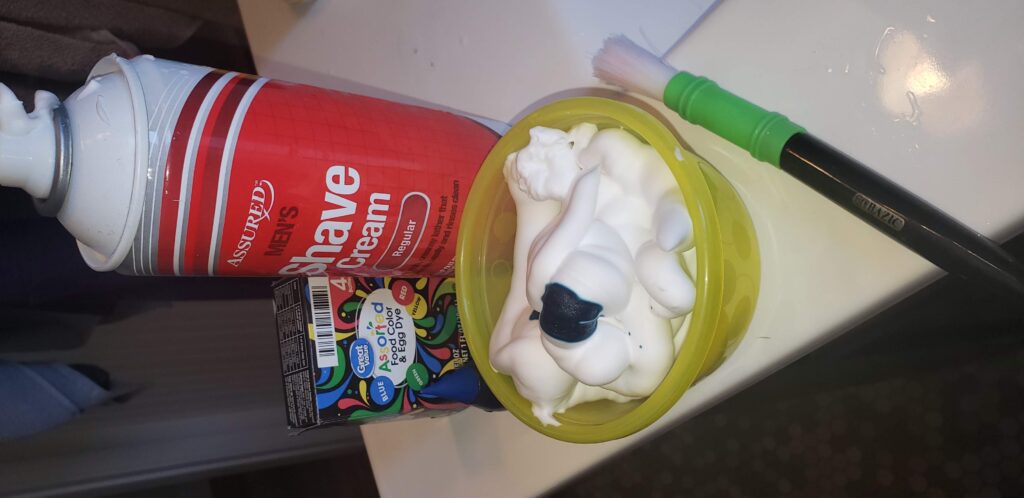 Smell Spices from the Cabinet- It's not what you typically think of when you hear "sensory play," but your kids can learn and experience a lot with the smells available just in your kitchen cabinet. Have them put them in order of how much they like (or dislike) them.
Lemonade Squeeze Sensory Bin– Kids can host a pretend lemonade stand with this easy set up/easy clean up sensory bin.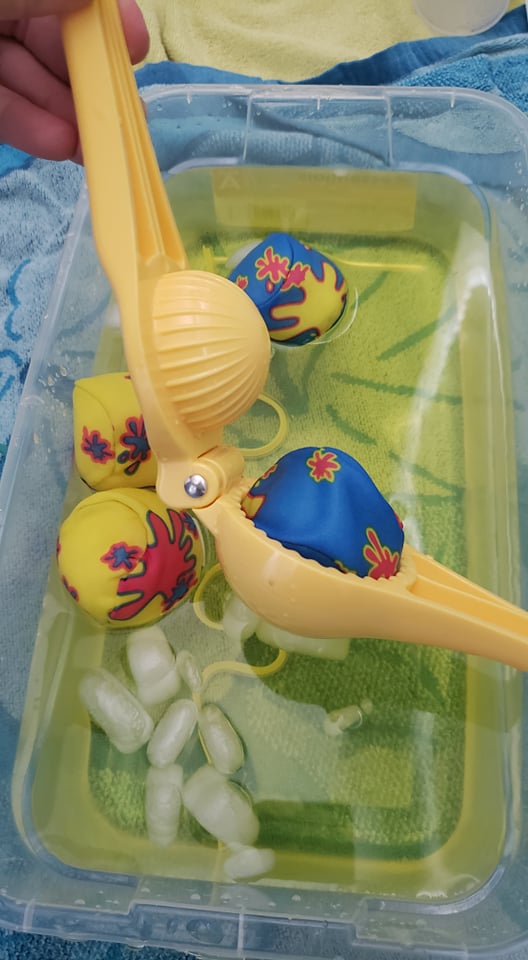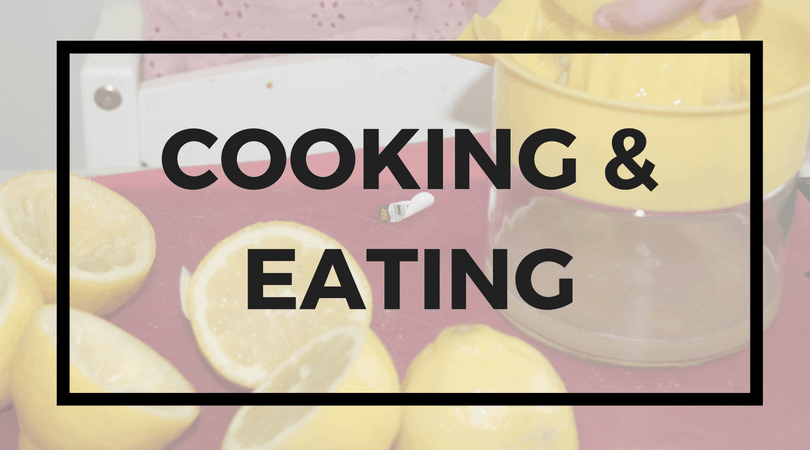 Cooking & Eating
Tea Party- Serve your lunch tea party style, complete with lemonade "tea" and sandwiches cut small. Insist that everyone hold their pinkies up while they drink, and use a fancy English accent.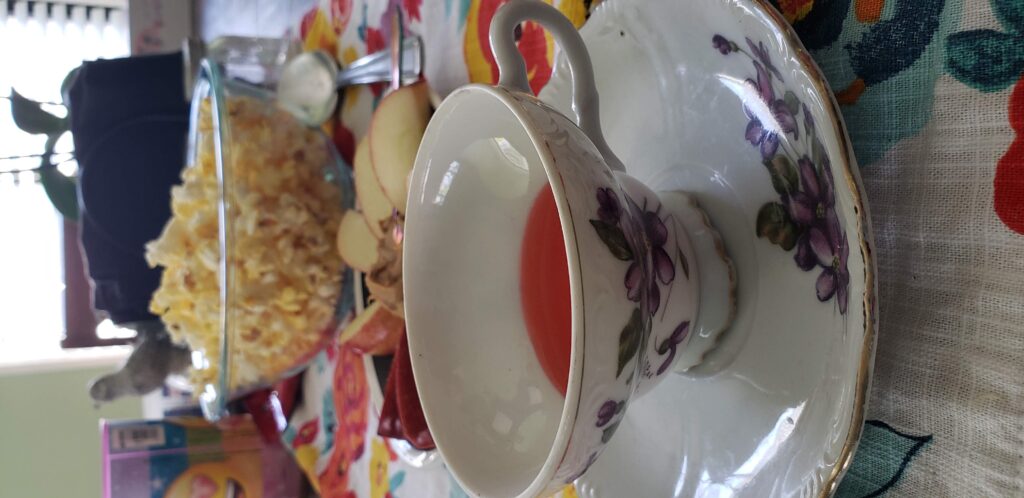 Bake Cookies- Or cake, or brownies. Whatever your family is into! On a recent at-home day, I found a box of cake mix in the back of the cupboard and some rogue sprinkles. We googled a frosting recipe, baked the mix into smaller cakes, and each of the kids got to decorate (and then eat!) they're own little cake.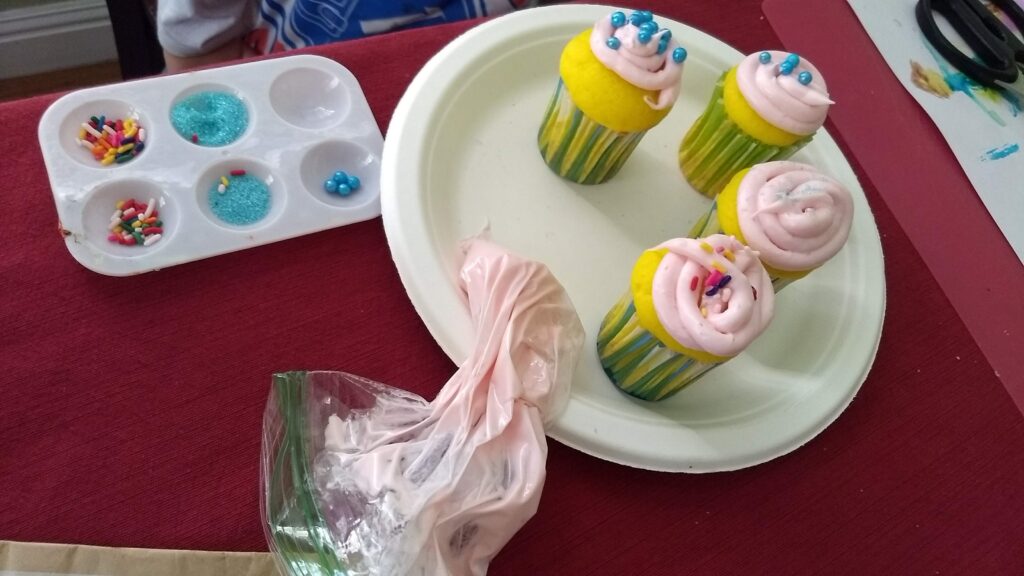 Cook Dinner Together- Get the kids involved in the chopping, stirring, and mixing. Turn dinner time into a project using our easy tips.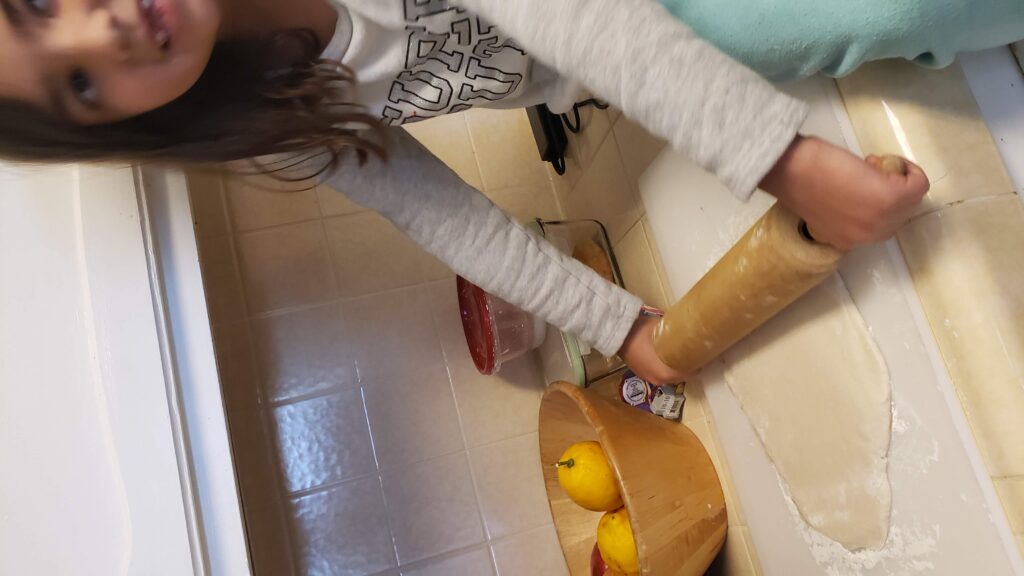 Make Your Own Snack- Kids can make their own PB&J for the first time, or "cook" their own Peanut Butter Smiles or Ants on a Log. (Side Note: Why do so many kids' DIY recipes involve peanut butter???)
Ice Cream in a Bag- You can make ice cream with simple household ingredients. Find the recipe and instructions here.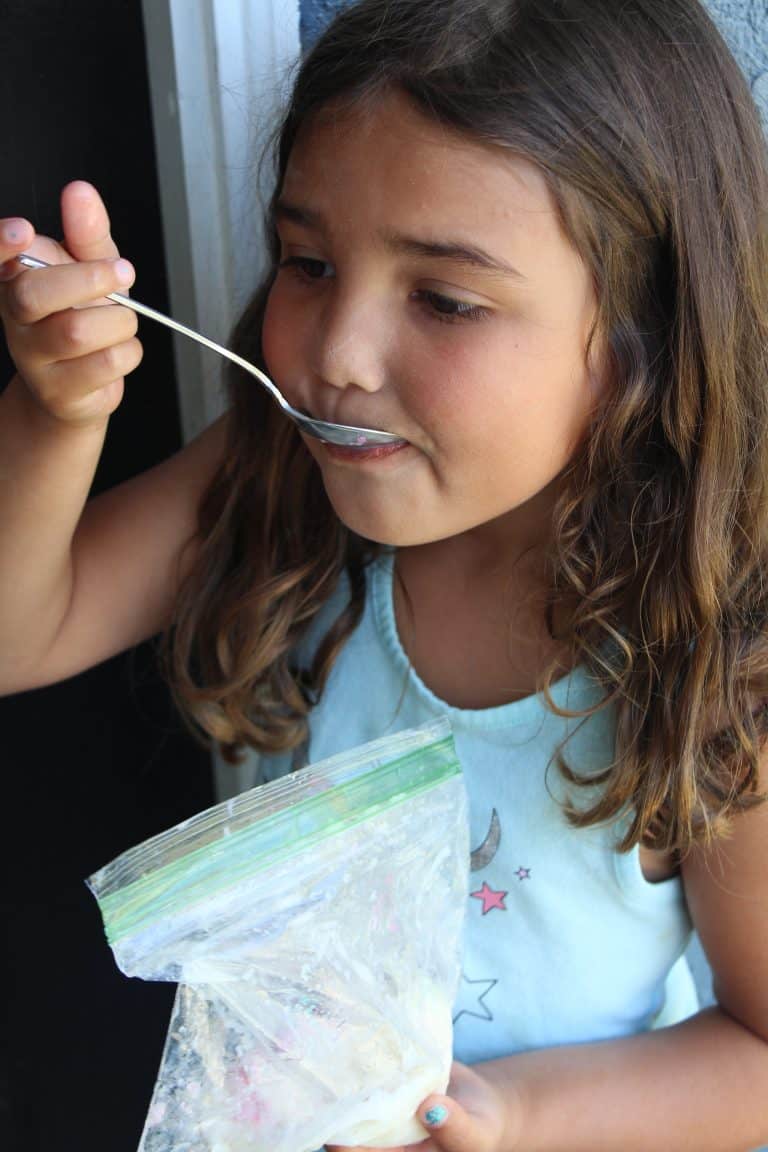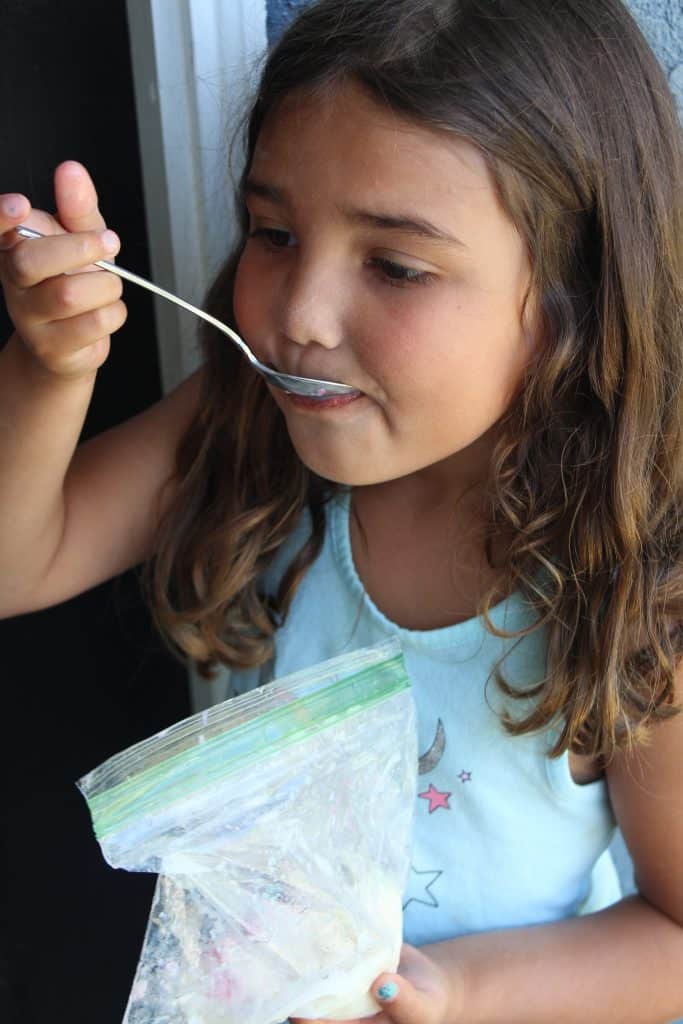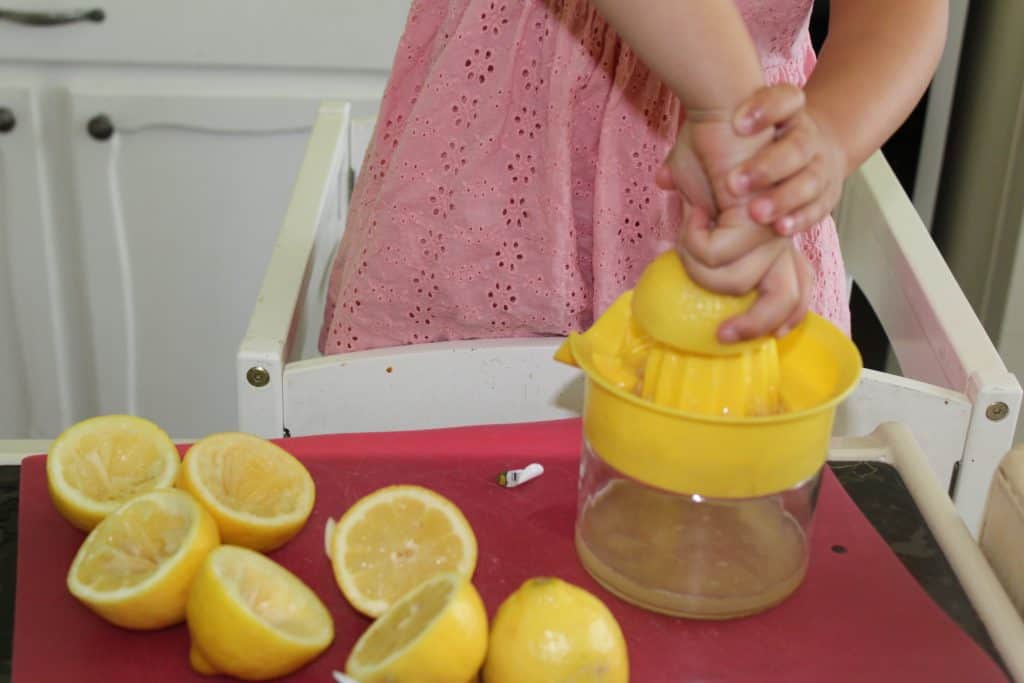 Bread in a Bag- Need a hands-on activity that integrates sensory play, measurement, cooking, and science? Try this homemade bread in a bag from Busy Toddler.
Have a Nailed It Challenge- Set up a challenge of your own, or pick an image online to replicate. Work as individuals, or as a team, to recreate a baking challenge.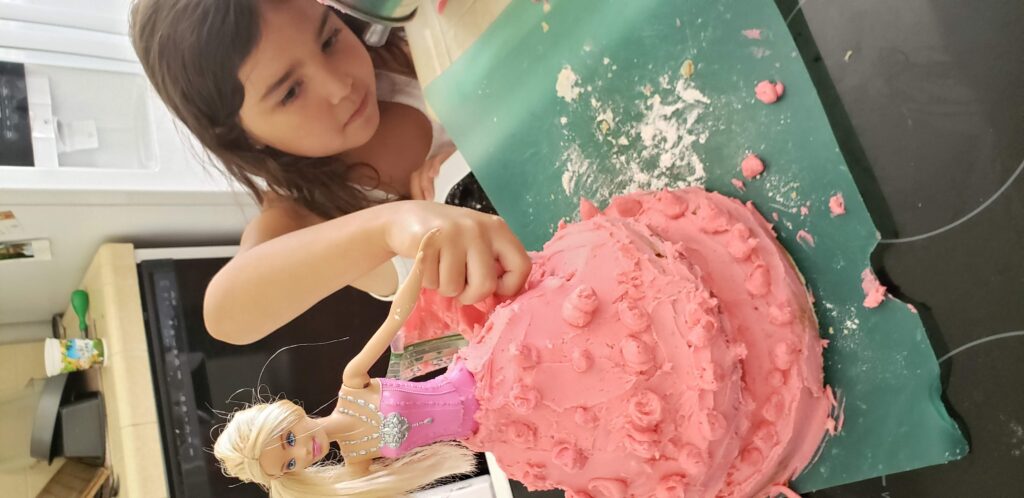 Work Through a Kids' Cookbook– Kids love to cook, and that goes double for when they get to choose their own recipes. Grab a kids' cookbook and let your child choose which one they want to make (or give them options based on which ingredients you already have in the house.)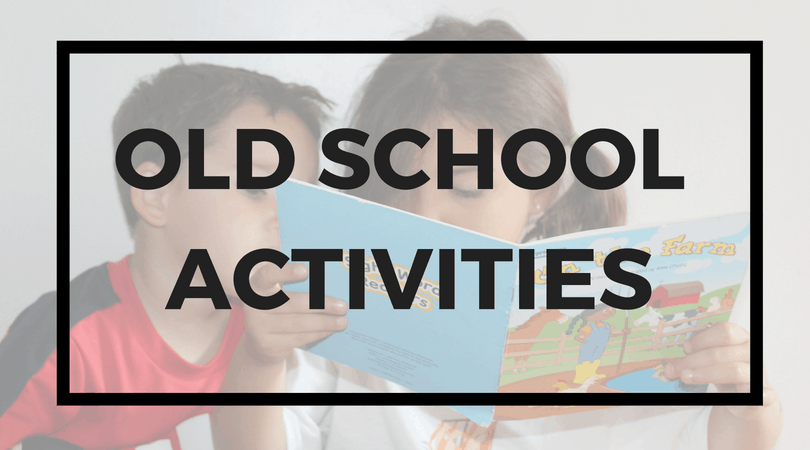 Old School Alternatives
Puzzles- Pick a puzzle just outside of your kids' abilities and work together to put it together.
Movie with Popcorn- I know, it's more screen time. But it's also a little more fun if you make a production of it with blankets and pillows and legit popcorn (do you have an air popper? They're the coolest).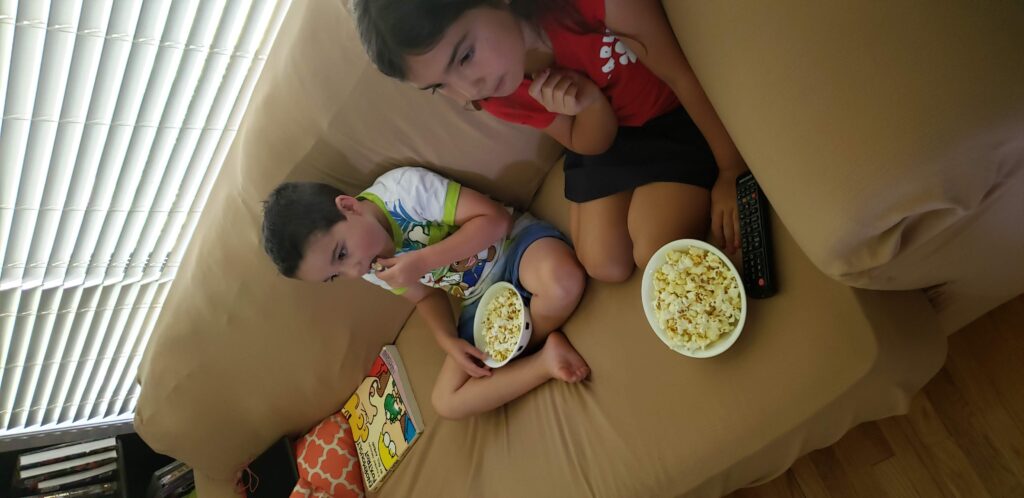 Build a Fort- Get fancy with some chairs and the couches, or just drape a sheet over your kitchen table.  Settle inside your fort with some blocks or books, or add flashlights for extra fun.
Board Games- It's time for Candyland, Chutes and Ladders, and Sneaky Snacky Squirrel. Winner picks the next game!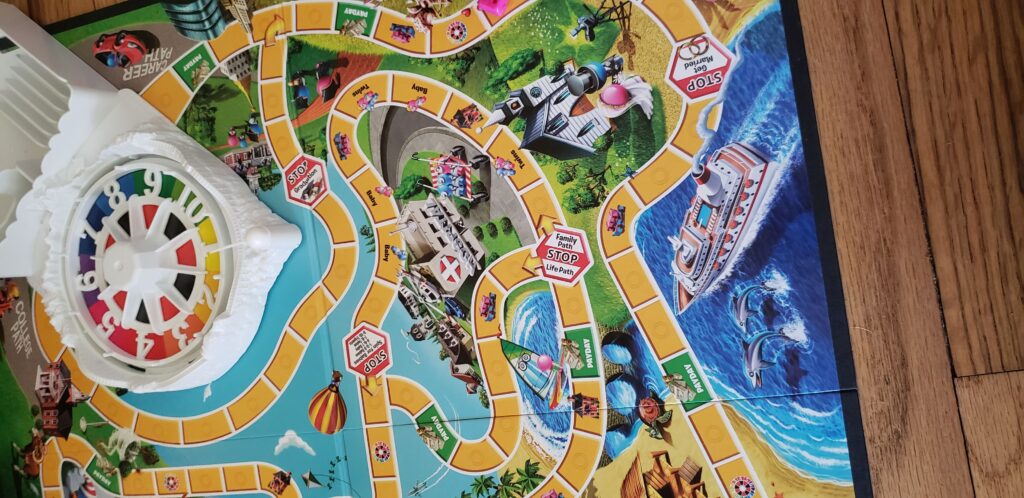 Do Some Chores- At least a bit of your day should probably be spent tackling your "to do" list. Hand out the towels and furniture polish, and have your kids put a little effort into keeping the house looking nice.
Read a Chapter Book- If you've been putting off starting chapter books with your kids, it's a great opportunity to get started. Might we recommend Harry Potter?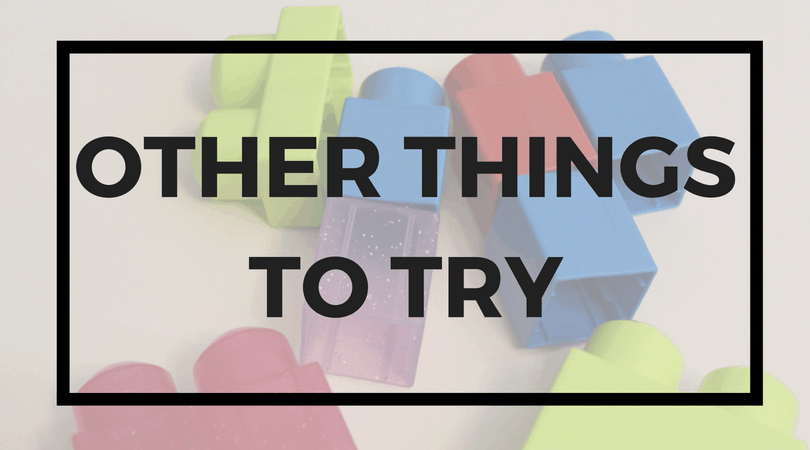 More Indoor Activities for Stir-Crazy Kids
Dance Party- If you've got an Alexa, have her crank up the tunes, or Google some kid classics like the "Freeze Dance" or "The Cha-Cha Slide." Do your kids even KNOW what the Macarena is? How about the Cupid Shuffle or the Wobble? If not, make It your mission to teach them TODAY.
Better Screen Time Options- Look, there's going to be more screen time when you're stuck inside all day. These are "better" tech activities for your kids.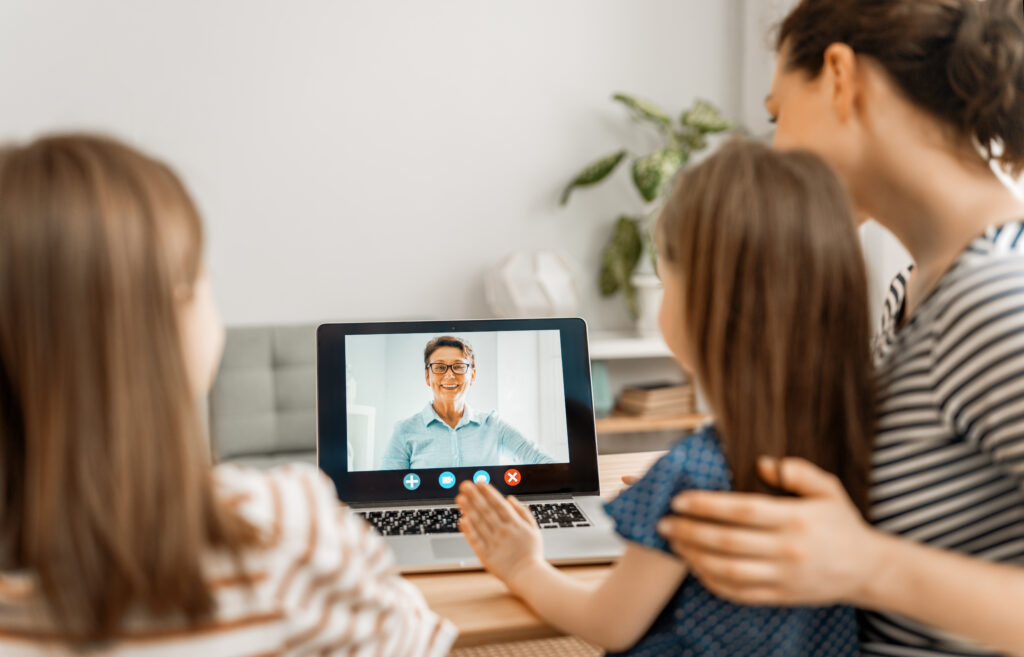 Finish a Project- Whether it's one of yours or one of your kids, we're gonna guess that there's a project laying around your house somewhere that needs to be finished. Switch out the hallway pictures, put the final touches on that canvas you were painting, or rehang that coat hook that keeps falling down.
Rainbow Rock Hunt- This multi-step activity has kids painting, hunting, hiding, and practicing colors. Find the instructions (and free printable!) for our rainbow rock hunt here.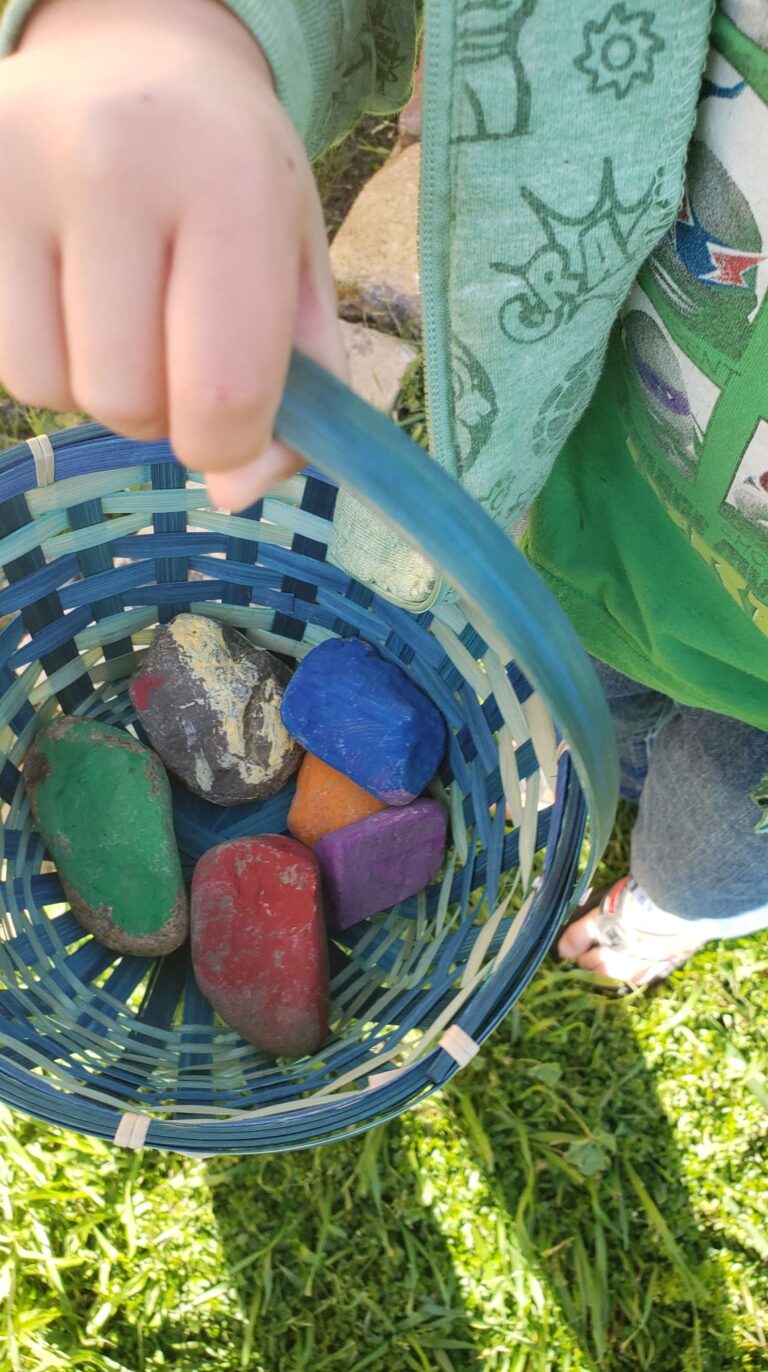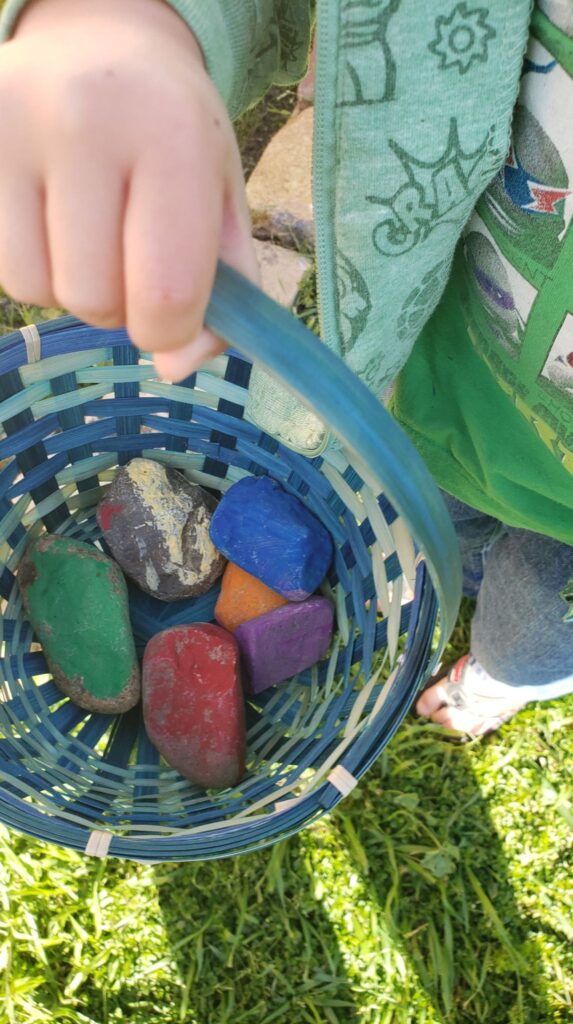 Move and Groove Inside- We are OBSESSED with this Magic Moves wand. You can passively sit on the couch while the wand tells your kids to jump, skip, or dance around the living room. It really does add a little magic to your kids' movement.
Organize and Donate Toys- We've figured out how to declutter toys with kids, and we recommend you give it a try! Puzzles with missing pieces, anything that's broken, or toys that haven't been played with in months need to get kicked to the curb!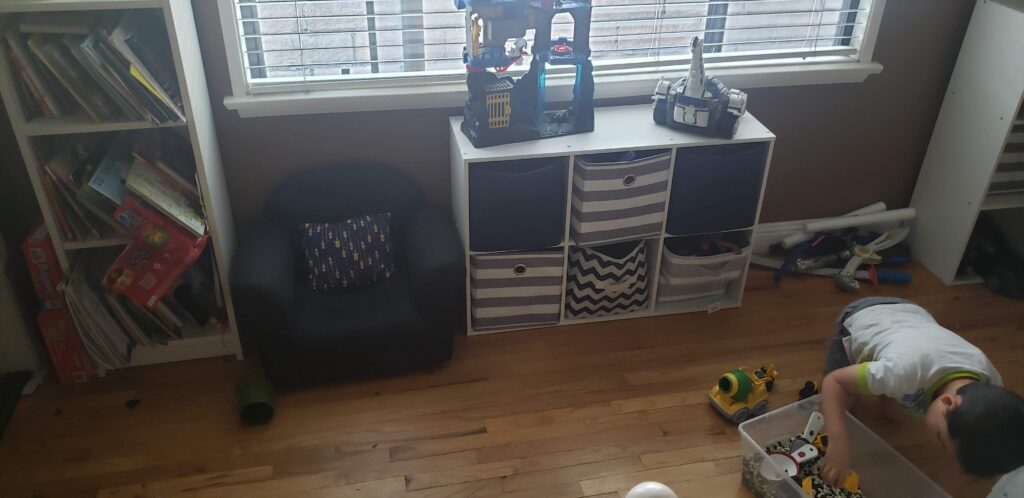 Jump on an Indoor Trampoline- We have SO gotten our money's worth out of this indoor trampoline. I'll be honest- I don't let it live in the house, because it takes up a bit of space. I keep it in the garage and bring it in when we need it, which makes it that much more fun.
Get Out the "Complicated" Toys- You know what I'm talking about- the BIG bin of LEGO bricks, or the magnatiles, or that playdough princess castle. Anything that you usually say "no" to- today, it's your chance to say YES.
*******
By utilizing some of these ideas, you might make it through a stuck-at-home day alive. It'll be a close call- but mama, you're gonna MAKE IT. What would you add to our list? Tell us in the comments below (and don't forget to follow us on Pinterest, where we're adding new ideas every day)!
Looking for more fun ideas to help keep your kids occupied? Check out these fun posts!
Recommended for You:
Get printer-friendly cards with these activities (and SO many more!). Use code "stircrazy" to get 33% off our already low price (bringing it down to just $4!)