Whether you've got a road trip coming up or just need to find a way to keep your kiddos entertained for more than a hot minute, you're going to love this all in one travel activity bag. The best bag to use (and the best goodies to fill it with!) to keep toddlers and preschoolers entertained on the go.
I'm borderline obsessed with making busy bags for kids. The Dollar Tree, Daiso, and the Target Bullseye Playground are all practically begging me to make more busy bags every time I go near them.
But the more I made, the more I ran into a problem- what busy bag storage system contains all this goodness? I'd love to use the busy bags for travel, but I needed an easy way to store and transport them.
I don't know about you, but there are TONS of times when I could benefit from having my stash of busy bags with me.  Like when the doctor is running behind, or when we've got a long flight, or on one of our ten hour road trips.
Or when my husband sends me and my two children to stand in line for a few hours at a Best Buy for a video game system at 6 am on fifteen minutes notice.
No? Is that one just me?
Well at any rate, I finally found a way to set up a travel activity bag that can come with us- and it didn't take a whole lot of additional time or effort.
I don't always feel like a super mom, but this fully-stocked, always-so-ready-it-lives-in-the-trunk Travel Activity Bag is a major source of pride for me.
And the best part? You can have your own busy bag storage system in place before you know it, too.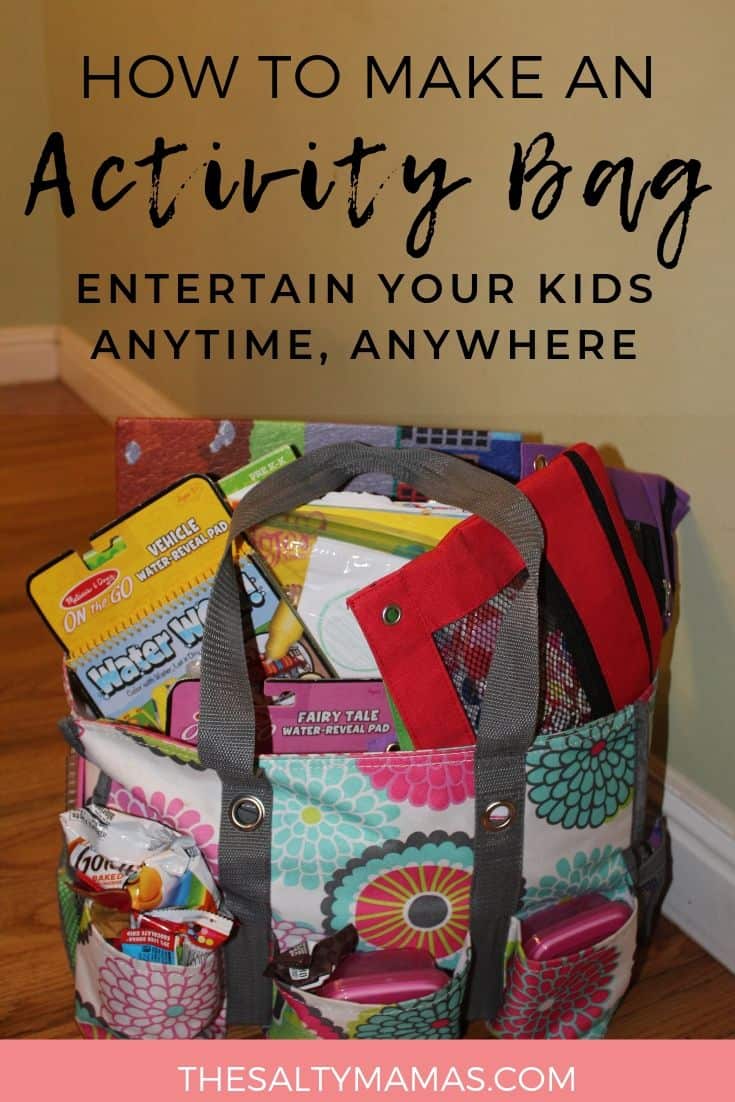 This post contains affiliate links. You can read more at our disclosures page. Thanks for supporting The Salty Mamas!
The Best Bag Travel Activity Bag for Busy Bag Storage
First up, you're gonna need an awesome bag to hold all of those fun kids' activities. My bag of choice is the Zip-Top Organizing Utility Tote from Thirty One.  I love that it has exterior pockets, which allows easy access to loose toys and snacks.
It's got a roomy interior, so it's got lots of busy bag storage space. Or, do what I do and add a double duty caddy for more internal organization.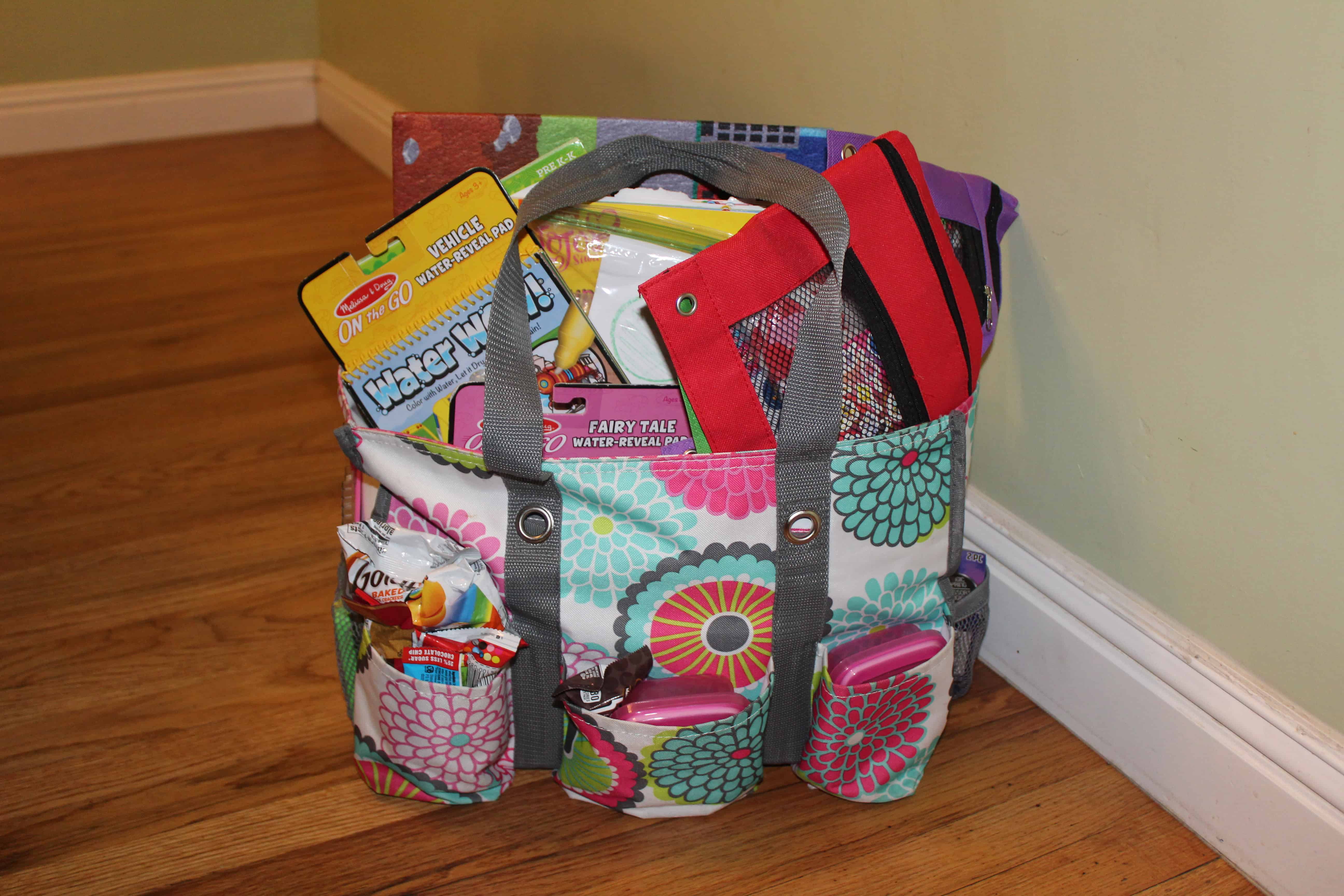 You can achieve the same effect with a different bag, but I do recommend that whatever you choose for your kids' travel activity bag has a zipper top. This makes it easy to contain all your goodies when you're stowing your bag- like under the seat in front of you on a plane, for example.
Making Your Travel Activity Bag Easy to Use on the Go
The most crucial aspect of the Busy Bag, besides the bag, is the little trays that I keep inside of it. These trays give your kids a surface to work on wherever they might be. It can be a desk, a magnet board, a flannel board, or even a snack tray.
Grab a cookie sheet tray from the Dollar Tree– the smaller kind, with a slight lip around the edge. It'll keep your busy bags secure and self-contained, no mater where you happen to be.
They don't take up much space, and we've used them everywhere from restaurants to the plane during the "Trays Secured" portion of the flight.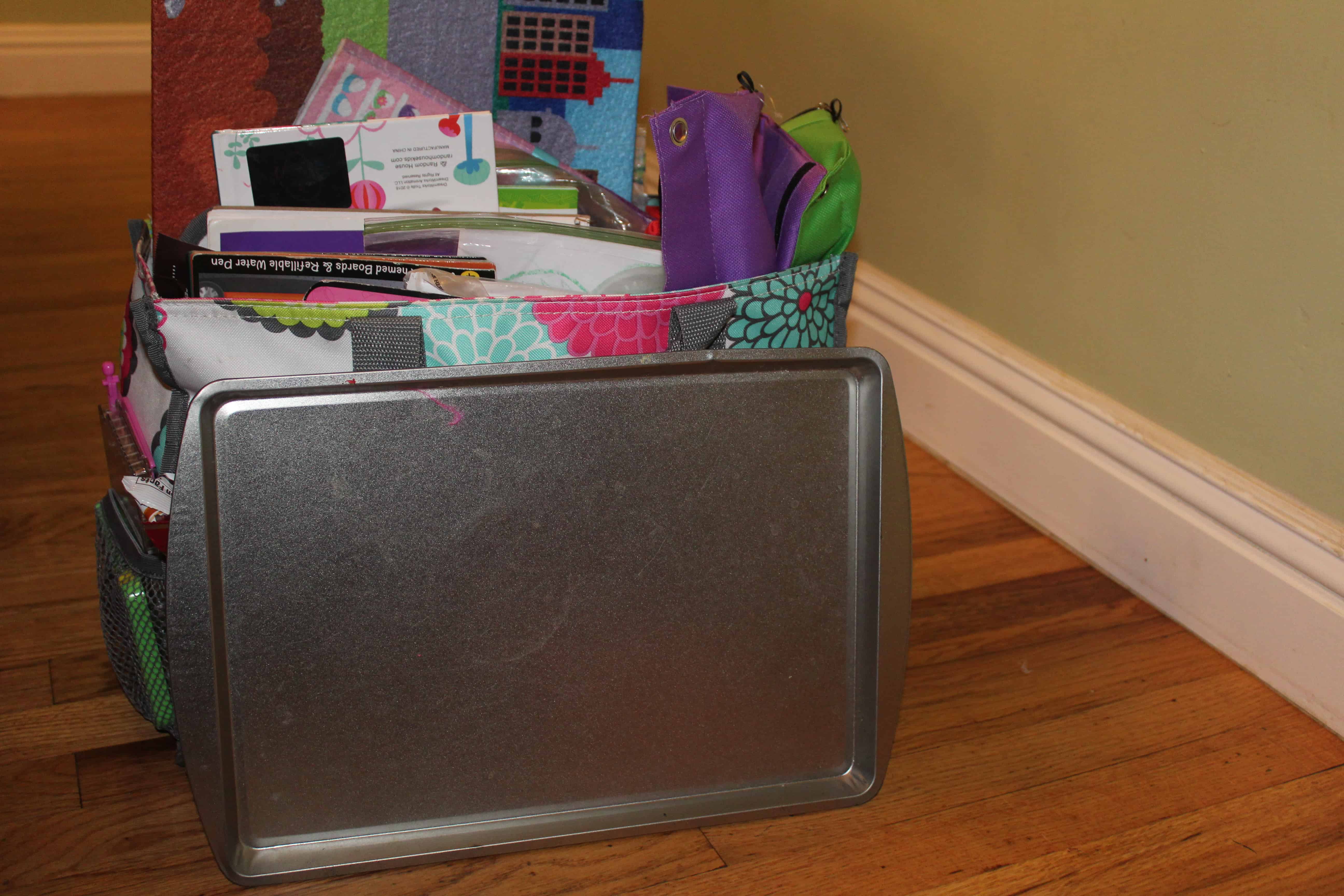 And as a bonus, dollar store cookie sheets fit PERFECTLY across the armrests of my kids' carseats during road trips, giving them a space to work even when we're on the move.

The Best Additions to Your Kids' Activity Bag
Once you've got your travel activity bag and your tray ready, it is time to fill it with all sorts of cheap, won't-break-my-heart-to-lose-it, engaging little activities for your youngsters. What's in mine changes constantly, which is probably part of the allure of the bag for my kids.
I am always on the hunt for little Dollar Bin finds to fill it with, and dollar stores are a surprisingly rich treasure trove of everything-included projects.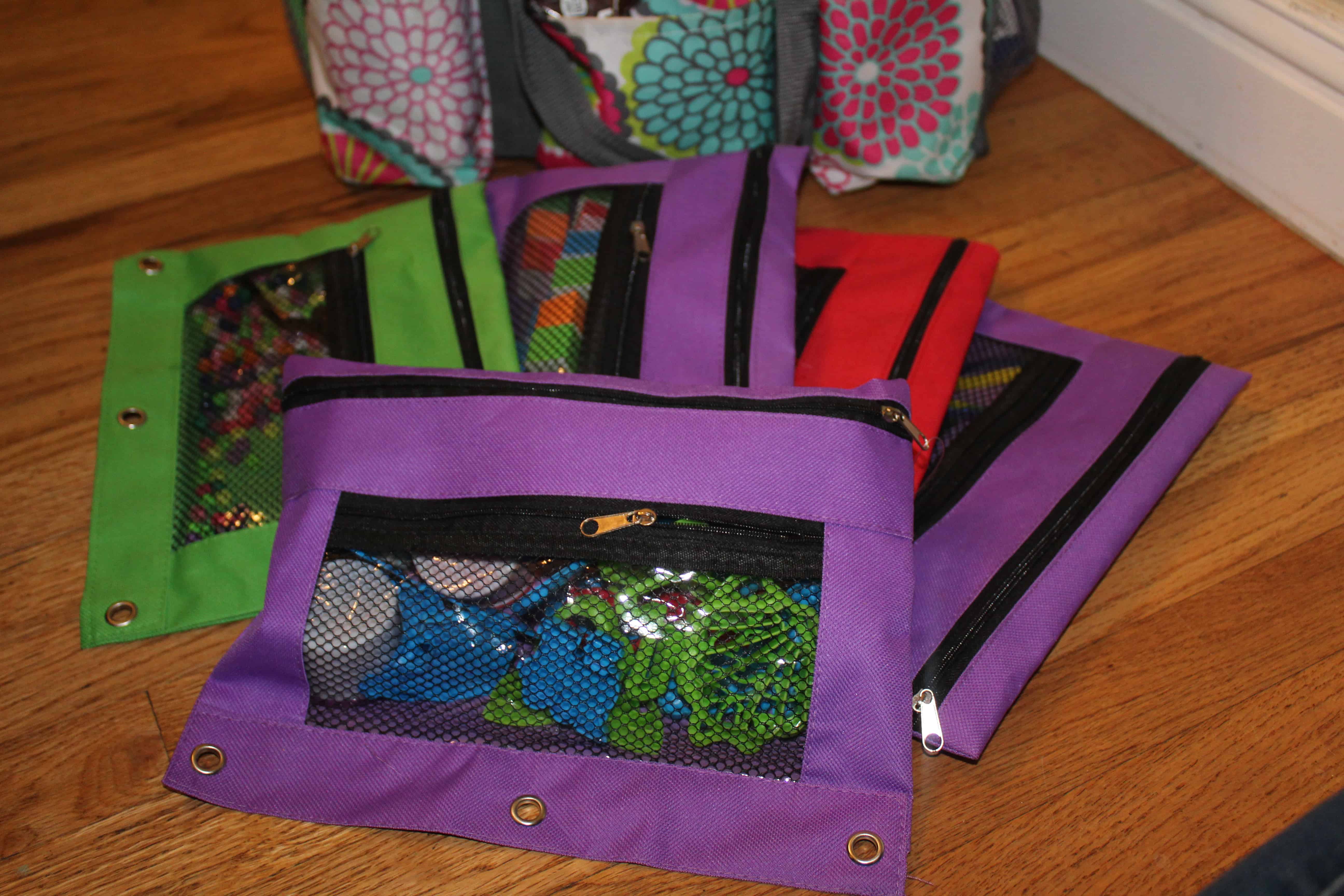 As I've mentioned, I'm partial to busy bags. You can find my list of easy toddler busy bags here (they also work wonders with my six year old, so don't let the name fool you).
Coloring Books and Crayons
You can't go wrong with a classic. My kids can color for HOURS when they're in the mood, so I make sure to include a box of crayons and coloring book for each child.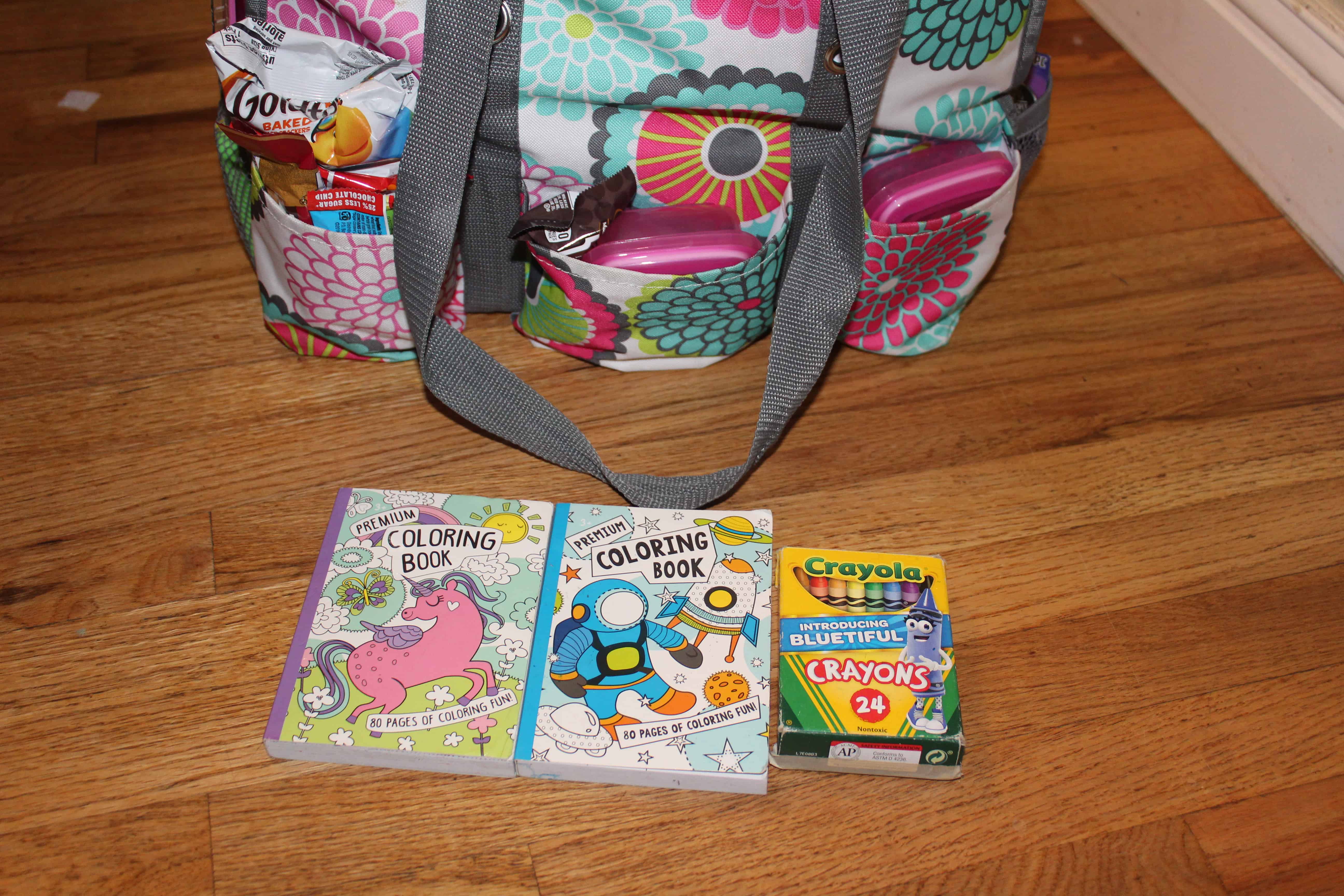 I found these miniature ones in the Dollar Spot at Target, and their small size makes them a perfect addition to our road trip activity bag.
Toys
Sometimes it's the simplest things that manage to keep kids' attention. Everytime I'm at the Dollar Tree I try to scoop up an item to add to our travel activity bag. Something like Slinky's or Magnadoodles work particularly well.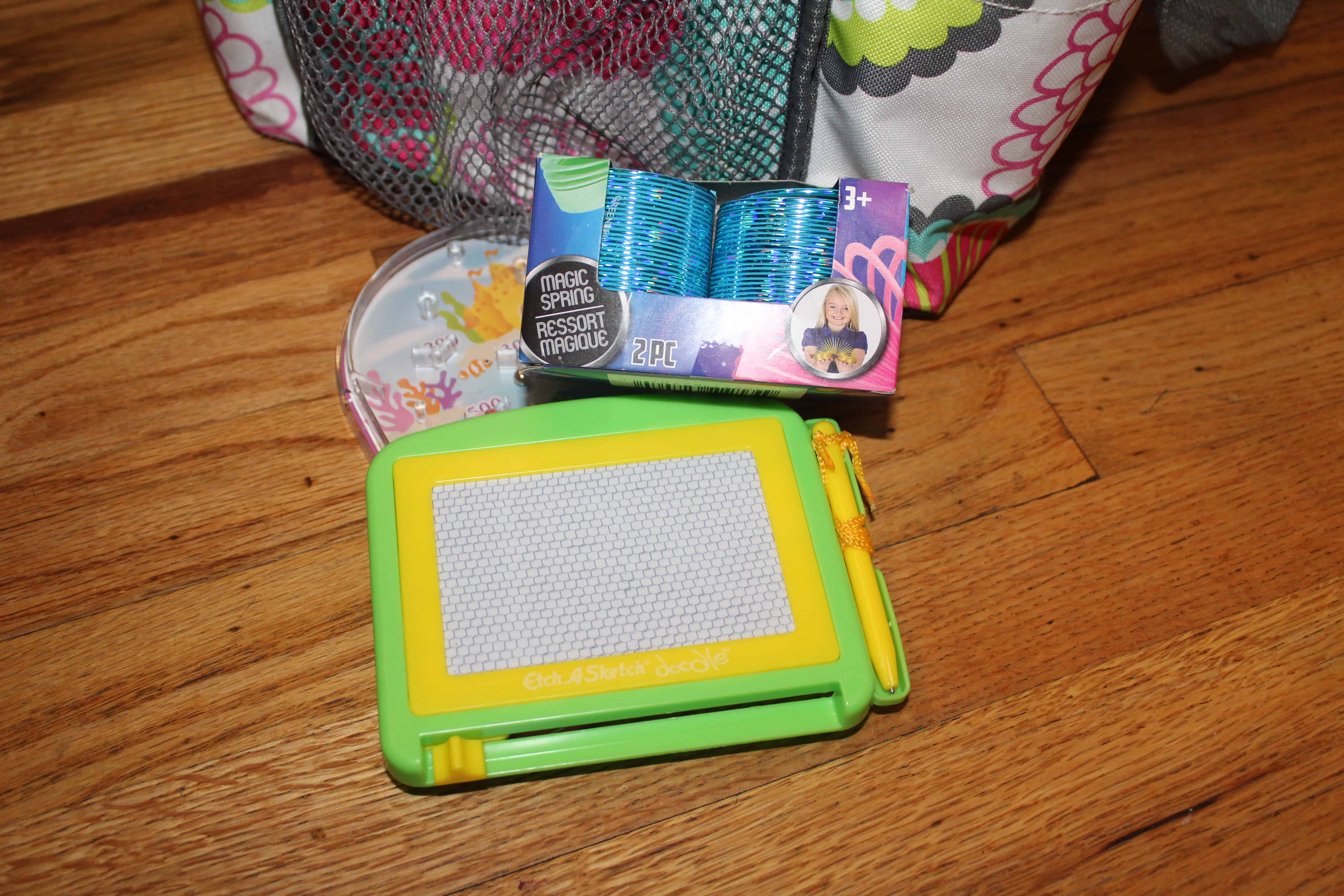 Snacks
In a pinch, snacks will almost always stop my kids from having a total meltdown. Obviously, you're going to want to choose something non-perishable. Choose a variety of options so that you'll be able to give kids a choice.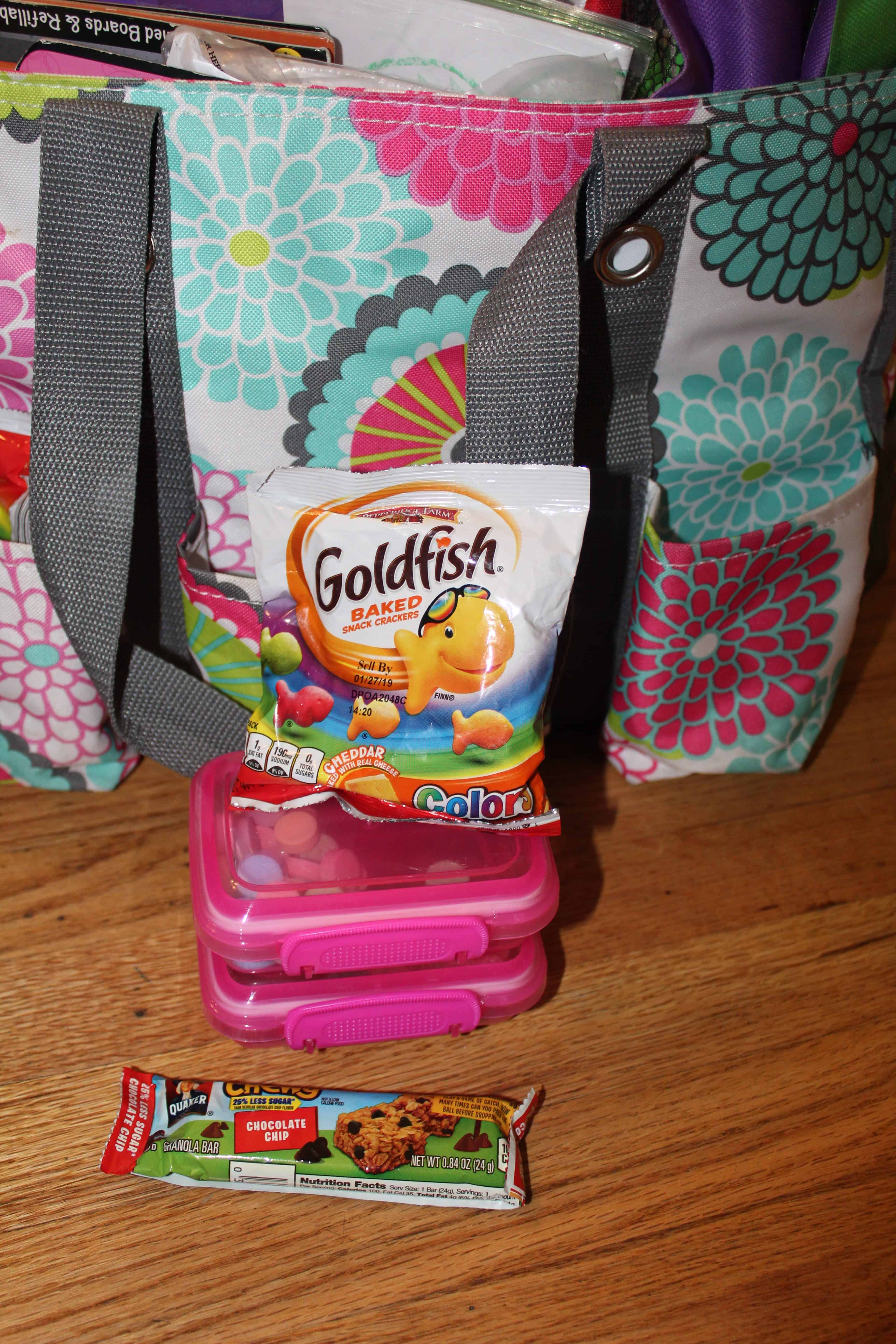 Lollipops, individually packaged gold fish, fruit snacks, and granola bars do particularly well. If we're prepping for a long road trip, I'll also portion out some candy into small containers to give out at random intervals.
Chick-fil-A Kids' Meal Books
We love Chick-fil-A, and spend more time there than I'd care to admit. Which often means we get duplicates of their toys. The best part is that their "toys" are often engaging little activities for kids to do, even on the go.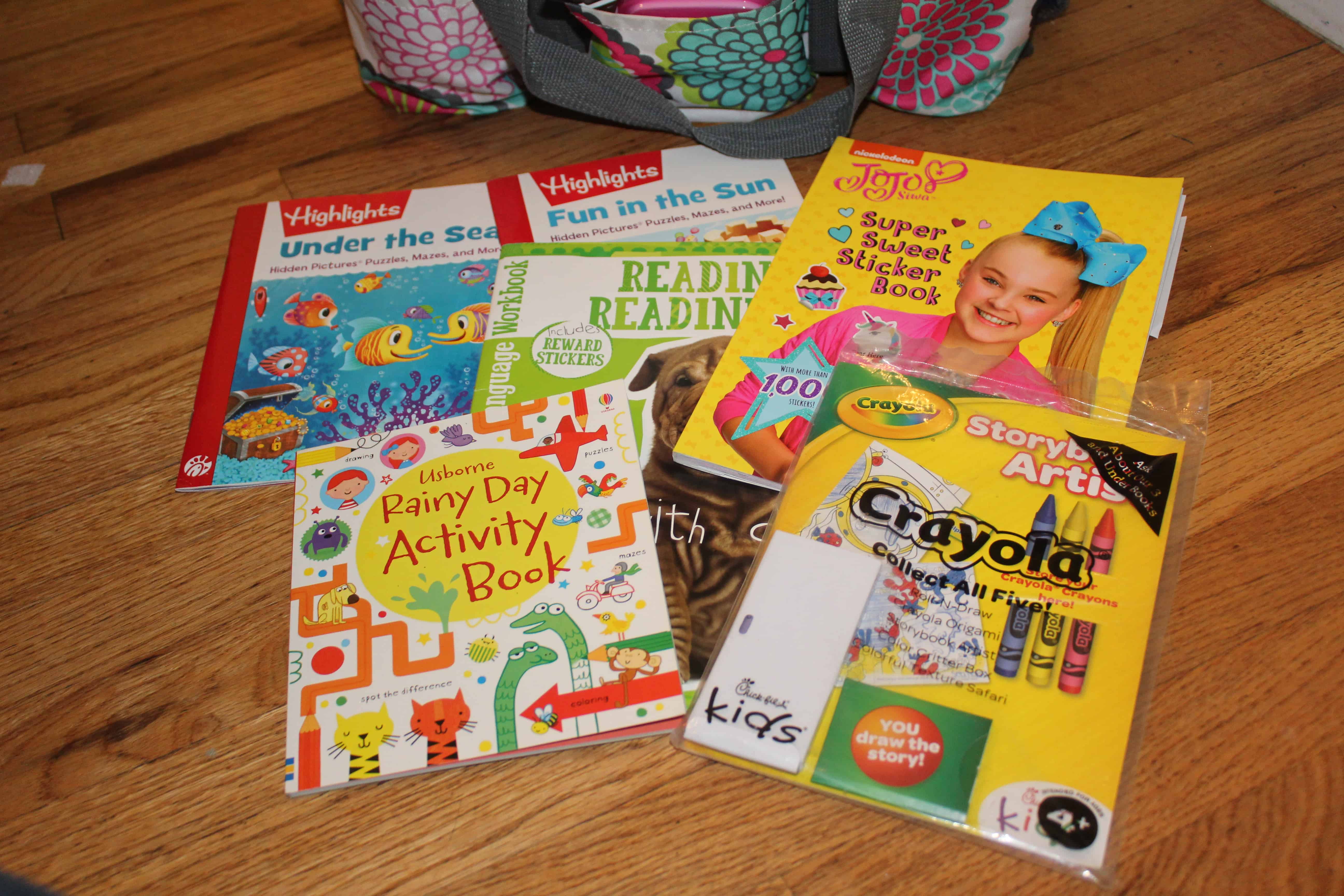 Whenever we get one of their activity books, Highlights magazines, or Crayola creativity items, I stash it in our travel activity bag for kids. They make perfect distractions when we need them most, and the best part? They cost me absolutely nothing.
Other Items to Include in your Travel Activity Bag for Toddlers
Here are a few other items that make regular appearances or are permanent fixtures in our bag:
Keep Your Travel Activity Bag Fresh
After the initial setup, it just takes a little refill here and there to keep the activity bag new and exciting for my kids. I usually pick up one or two items a month to add to it. Every once in a while you'll want to go through and throw out anything that's been used up, and make sure your busy bags are organized.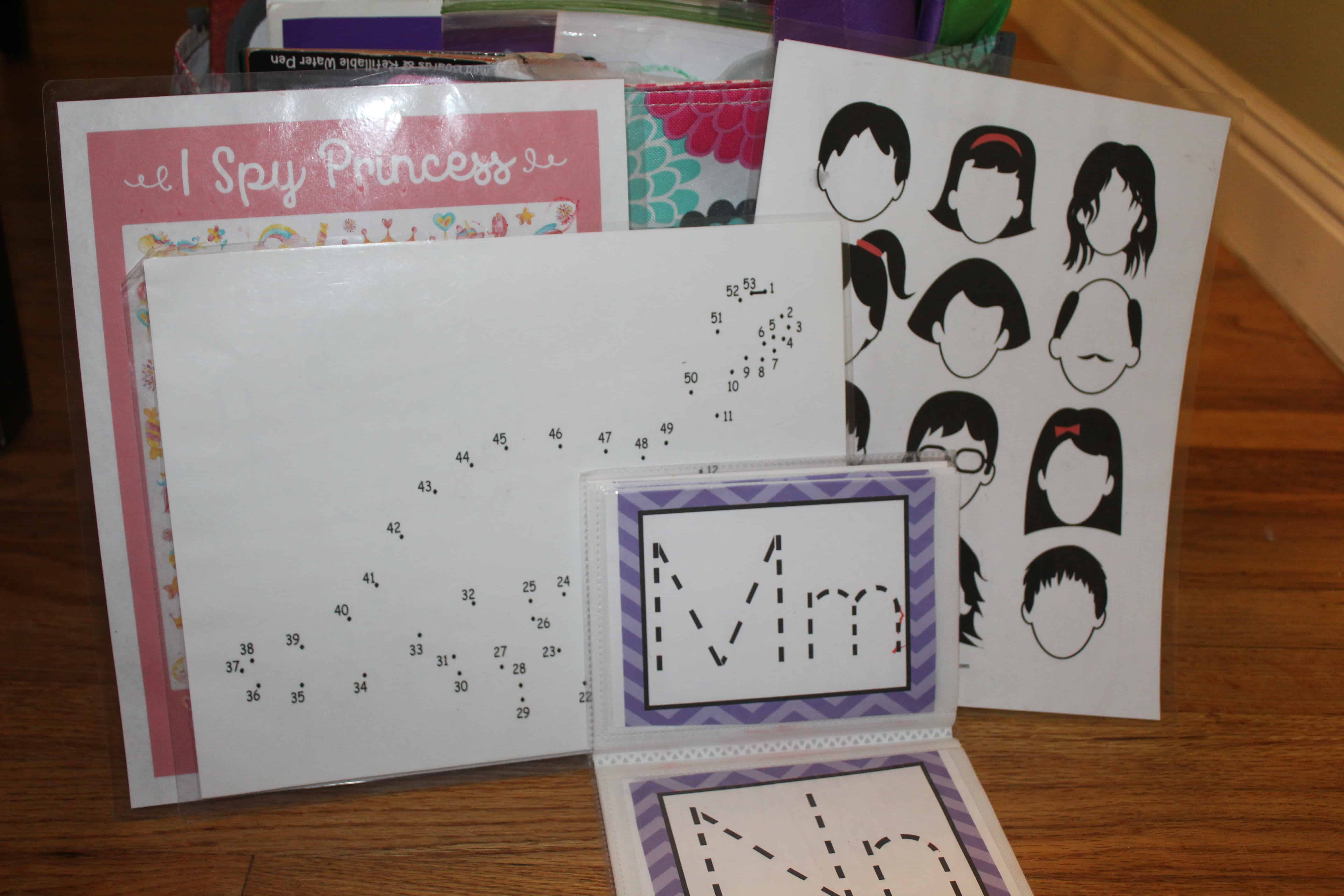 Beyond that, I am ready to look like one of THOSE moms at any time, in any place.
Like while watching the sunrise in a Best Buy parking lot.
*****
Check out our busy bag in action– and follow us on Facebook so you never miss one of our helpful videos again!
Looking for more ways to keep your kids entertained? Check out these posts next-