This post contains affiliate links, but as always, the thoughts and opinions expressed here are our own. You can read more at our Legal & Disclosures page. Thank you!
You know those times when your kids have to just sit quietly for a really long time, and you are out of data and/or don't have enough phones to go around and/or they've already watched 75 hours of TV today? Like when the doctor is running behind, or if you're flying to Hawaii, or when your husband sends you and your two children to stand in line for a few hours at a Best Buy for a video game system at 6 am on fifteen minutes notice?
No? Is that one just me?
Well at any rate, I don't always feel like a super mom, but the thing that is sure to make me give myself some major kudos is my fully-stocked, always-so-ready-it-lives-in-the-trunk Busy Bag. My bag of choice is the Zip-Top Organizing Utility Tote froFr Thirty One  (which I love because ALL THE POCKETS), but it can be done with any similar bag.
(Side Note: A fully loaded Busy Bag makes an INCREDIBLE family gift for Christmas, or when a new baby is on the way.  If you are giving this as a gift, I would definitely go with the Thirty-One Tote. It definitely gives it an extra polish, and can be embroidered. Yes, Christine sells Thirty-One. But I'm being completely objective here- it's got Wow Factor.)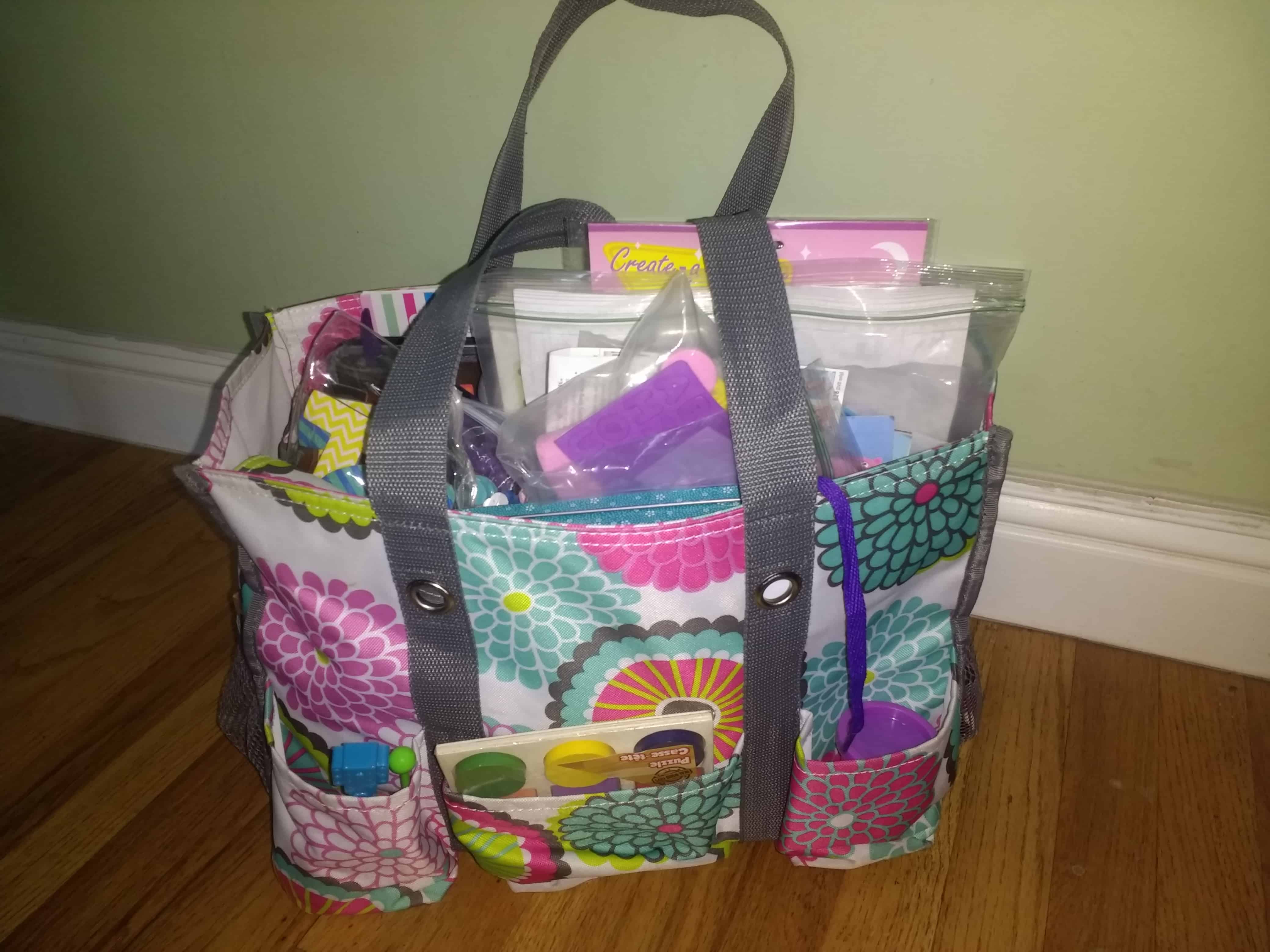 The most crucial aspect of the Busy Bag, besides the bag, is the little tray that lives inside of it. It's just a cheap cookie sheet from the Dollar Tree, but it operates as a desk, magnet board, flannel board, and snack tray when we are out and about. And as a bonus, it fits PERFECTLY across the armrests of my kids' carseats during road trips.
So once you've got your bag and your tray ready, it is time to fill it with all sorts of cheap, won't -break-my-heart-to-lose-it, engaging little activities for your youngsters. What's in mine changes constantly, which is probably part of the allure of the bag for my kids. I am always on the hunt for little Dollar Bin finds to fill it with, and dollar stores are a surprisingly rich treasure trove of everything-included projects.
Here are a few of the items that make regular appearances or are permanent fixtures in our bag:
• Coloring Books and Crayons
• Color Wonder Markers and Paper
• A PlayPack or Two
• Playdough
• Magnet Letters and Numbers
• A few magnet puzzles, or small puzzles with magnets attached to the back.
• Beads and pipe cleaners for lacing
• Sticker Mosaics
• Stickers and Blank Paper
• A Magna Doodle
• Activity books
• Water Wow Books
• MagicInk Books 
• Non-Perishable Snacks
• Laminated Eye Spy Pages, Connect-the-Dots, Finish-the-Picture Prompts, Tracing Pages, etc. with a dry erase marker
• Color By Number Pages
• A few pre-prepped craft activities and a glue stick
• Some of these Melissa and Doug "On the Go" sets
• Memory games
• Magnetic tic-tac-toe
• Paint-With-Water Books/Pages
• Duplo blocks for younger kids, or small bags of Legos for older kids
I'm telling you, this bag makes me look like I have my stuff together. And after the initial setup, it just takes a little refill here and there to keep it fresh and exciting. Beyond that, I am ready to look like one of THOSE moms at any time, in any place. Like while watching the sunrise in a Best Buy parking lot.
*****
Want to see the Busy Bag in action? Head over to Facebook to watch a video that shows the bag's features and what I keep inside!