As mothers of young children, we spend an embarrassing amount of time at Chick-fil-A. From taking over their play area to sleeping in their parking lot, we're there a TON. As in, we know the owner and many of the employees by name. We also know ALL the Chick Fil A money saving hacks, and all the ways to cheapskate your way to a free lunch or two. And we are equal parts proud and embarrassed by these facts.
Even though it's fast food, those dollars spent at Chick-fil-A add up quickly, especially when your kids keep growing and insist upon eating their own food.  I keep a VERY tight cash budget, which means that I can only eat out with the kids about once a week- and that's if I keep our total under $10 for the three of us. So how do I fuel our obsession with CFA while keeping our costs down? We've got a few Chick fil A money saving hacks for you to help you make it work.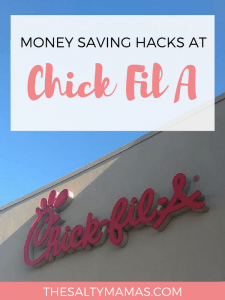 Chick-fil-A One App Hacks
This app is a total money saver. Every time you order, you can scan the app. Over time, your purchases will translate into free treats. No one really knows the exact dollars-to-rewards formula, but we're not one to look a gift horse free chicken in the mouth, so we'll take whatever fruit cups, sandwiches, and milkshakes they see fit to send our way.
As a bonus, the app features mobile ordering, which helps your points add up faster. It also prevents you from having to wrestle the three angry possums masquerading as your children while standing in line.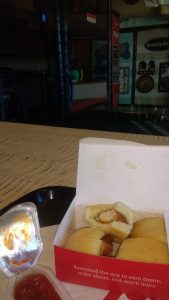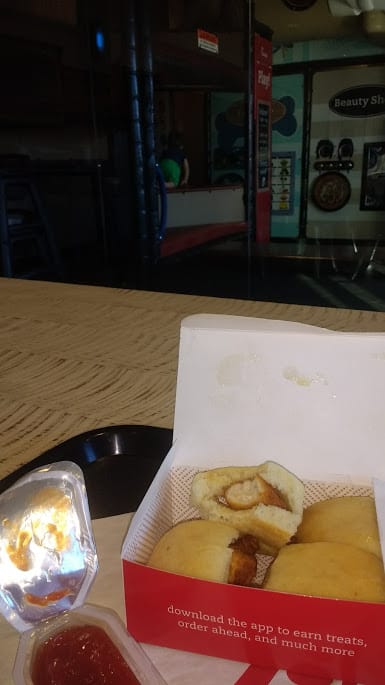 Select a Favorite Restaurant on the App
Some restaurants will sporadically add surprise treats to the app in order to entice customers to come in. We have three Chick-fil-A locations near us, and on of them performs better than the others (We're looking at you, Long Beach Towne Center).  You can use these treats at any CFA though, so select the restaurant that gives out the most treats and then use them wherever you please. This Chick-fil-A hack will get you absolutely free food on a regular basis, so it's definitely one of our best tips.
Check Your Receipt for Surveys
After you order, check out the bottom of your receipt. A couple of times a month, my receipt includes a link to a survey I can take in exchange for a free chicken sandwich. It takes all of five minutes, does a favor to my local Chick-fil-A, and can easily feed a kid or two on our next visit. There's no limit on how many of these you can do, so if you're lucky enough to get two survey invites in a row, you can complete them both and be swimming in sandwiches.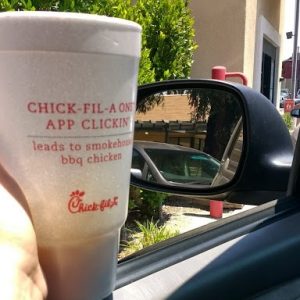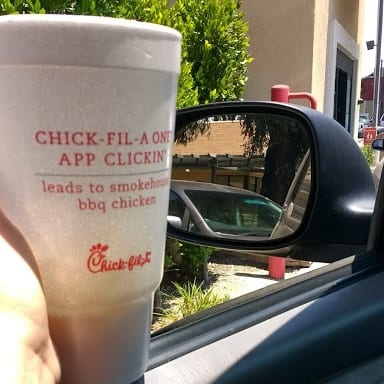 Buy a Chick-fil-A Cow Calendar
Towards the end of the year, CFA starts selling what they call the Cow Calendar. And if you just see it on the wall with its $8 sticker price, you probably wonder who in the heck loves Chick-fil-A so much that they want to make it a part of their kitchen decor.
The short answer is that pretty much NO ONE wants to hang one of these bad boys on their wall, but everyone loves free chicken.  The calendars contain a card that you contains one free offer a month. Sometimes it`s for something small like a drink, or sometimes its a pack of their Chicken Nuggets, but if you add up the offers you can plainly see that this little calendar pays for itself pretty quickly.
Attend a Chick fil A First 100 Event
If a Chick-fil-A happens to be opening near you (you can check here to see which cities will be getting a new location here!), you could be in for the experience of a lifetime. If sleeping on the ground for free chicken is the kind of thing you're into (spoiler alert: we are).  The first 100 customers that enter a new CFA location receive a card that gets them 52 free meals to use over the course of the next year. And in case you're wondering who is crazy enough to do that, the short answer is that we are, and you can read all about when we did it.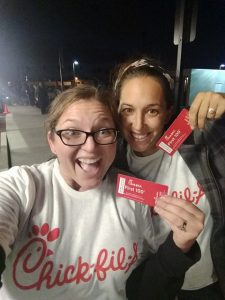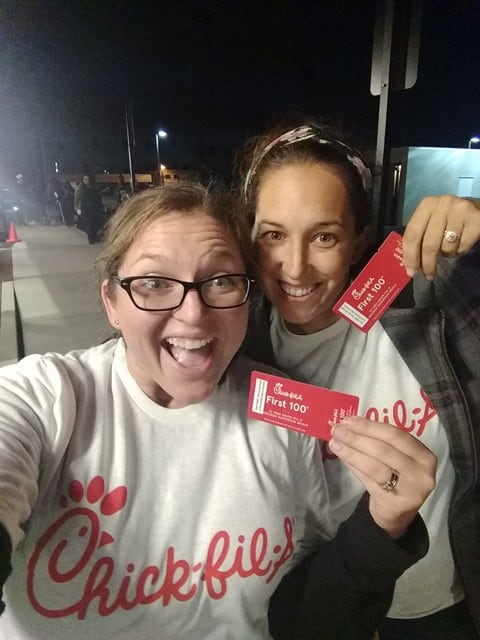 Split Meals Between Kids
This one largely depends on your family and their appetites, but we've split meals with our kids in all kinds of ways.
Get a larger kids' meal and split it between two kids.
Get a 12 Count Adult Meal with a larger fry and divvy it up (you can do the same with a regular adult 8 count meal if your kids' appetites are smaller).
Sub the Nuggets in a kids` meal for a Chicken Sandwich. Cut it into nugget-sized pieces and give each child a half of the bun.
Split your free survey sandwich between the kids and buy a fry or fruit cup for them to split.
You can buy an extra bun for 30 cents, which makes for a great snack for littler kids. For another 10 cents, they'll even add a slice of cheese and now you've essentially got a grilled cheese.
Pro Chick fil A Money Saving Hacks- Visit at the Time of Day Where Breakfast Meets Lunch
Okay, this one varies depending on location, but here's what we've found- if you are at CFA at 10:30, when they stop serving breakfast and start serving lunch, they will often give away any of the breakfast items they can no longer sell. Sometimes they give items away when you order, and sometimes they'll walk through the restaurant with a tray offering up biscuits or hasbrowns or even breakfast sandwiches. This doesn't happen every time, and you definitely shouldn't expect it, but when it does it can add up to a decent meal without a huge bill.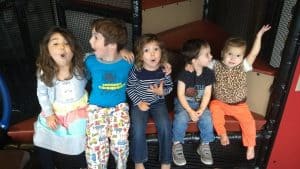 Trade in Your Kids' Toys for Ice Cream
Many of you already know that you can trade in your child's toy for an ice cream when you visit. It's a great way to extend the trip and add a sweet treat to your day. But there's a couple of Chick Fil A hacks in this as well. First, you can exchange "old" toys for an ice cream, too. So if you run out of time to turn in your Flashlight toy, you can use it the next time you go, even if they're onto books by then. Secondly, you don't have to use these on the same visit. So if you desperately need to get your kids out of the house, you can take your unused kids' meal toys to CFA, buy yourself a soda, and spend the afternoon playing and eating "free" ice cream.  It's a super cost-effective way to sneak in a few more visits to Chick-fil-A without the cost of a full meal.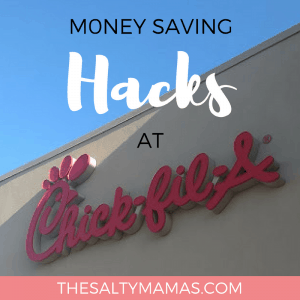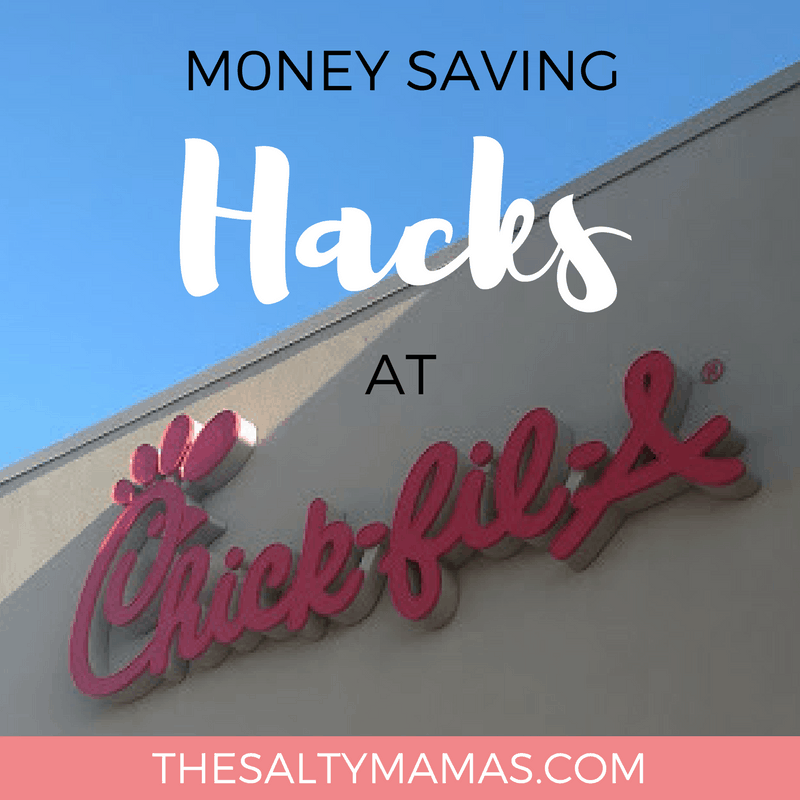 So download that app, do a survey or two, and get ready to split some chicken. Or milkshakes. Or a Frosted Sunrise. Whatever floats your boat, because using these Chick fil A hacks will have you SWIMMING in free items at your local CFA. What's your favorite item at Chick-fil-A? Tell us in the comments below!