Nervous about flying with a toddler? Wondering how to entertain a toddler on a plane? Or worse, how to deal with people on a plane when your toddler cries? DON'T BE! With some airplane prep, prayer and a dash of luck, you can make it to your final destination stress free!
When Cole was a baby, we went on a lot of trips. Before he was a year, he'd flown to Seattle, New York, Baltimore, and Hawaii twice. And generally, it went really well. Then we had Evie, and when she was about 4 months old we decided to try a flight as a family of four. But after a 45 minute flight to Reno, we swore off air travel. It wasn't for us. We would drive, we would cruise, but there was no way in hell we were getting back on a plane.
Until now.
As a family of 5.
Going across an ocean.
It was time to get strategic. This isn't a simple toss a baby in an Ergo, bounce and provide snacks type of production. And lots of the tips for road tripping with kids is applicable, but a plane has all. Those. Other. People. So here are plane specific tips for traveling with kids.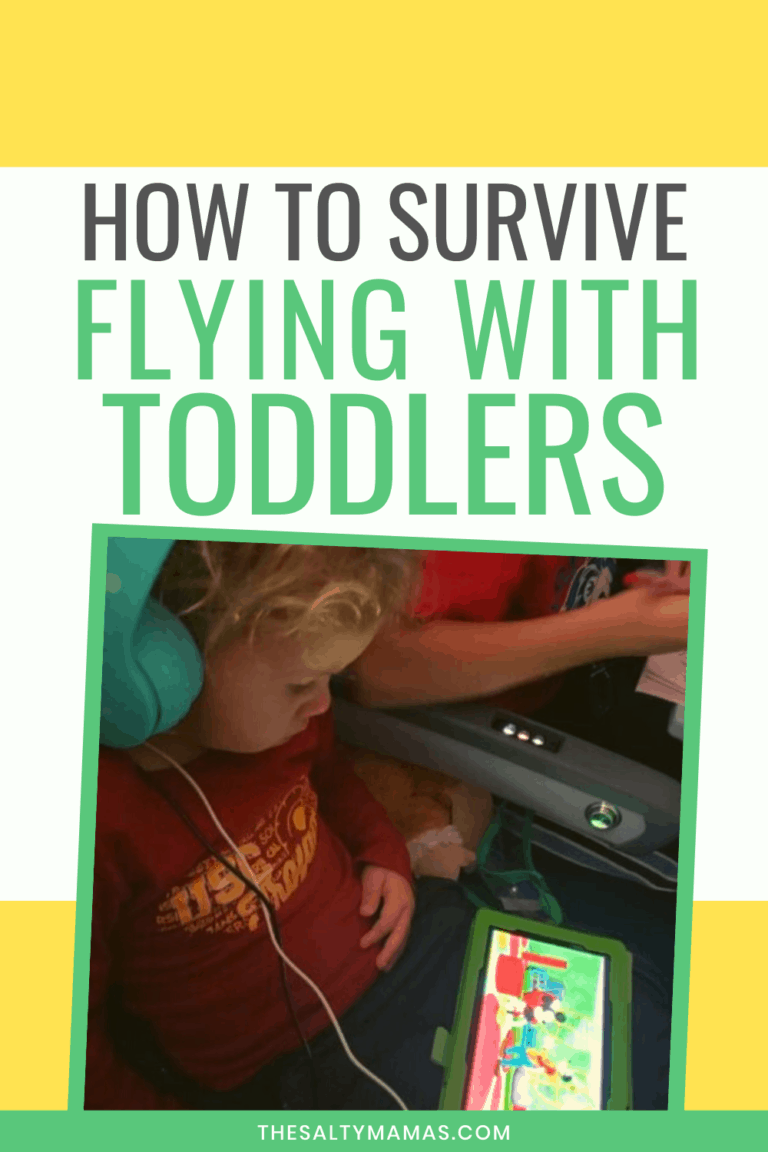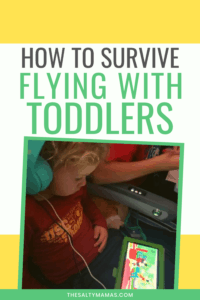 This post contains affiliate links, , but as always, the thoughts and opinions expressed here are our own. You can read more at our Legal & Disclosures page. Thank you!
Forget those other people.
Yes, I know I just reminded you about them, but you can't dwell on the stink-eye that business man is giving you or the old lady that apparently has forgotten what kids are. (I literally spent an entire take-off with my grandmother-in-law plugging her ears and pretending she didn't know us, so yeah, I've been there.) Don't make them cute gift bags to apologize preemptively. You paid to be on the flight too. Now, do all these other things so you don't have to apologize when your kid spends the next six hours kicking the back of their chair.
Raid the Dollar Tree.
I spent a thousand hours on Amazon trying to pick the best activity books that would entertain the kids. I had a few in my cart and was gonna spend about $20. Then an angel (my best friend) told me to go to Dollar Tree. $24 later I had a lifetimes worth of coloring books, crayons, activity books, and tiny portable crafts. And an ice cold Coke. Because sometimes quantity is better than quality.
I suspect with my selection we'll at least have the first 10 minutes of the flight covered. Grab a baking sheet for each kid too. The fold down trays probably won't reach your kiddos and you'll need somewhere for them to do all those crafts! (Plus, they're magnetic, so bring a baggie of magnets for all kinds of fun!)
Abandon any firm stance you have on screen time.
We're "those people." Our kids watch TV, we're not monsters, but they have no idea how to use a tablet. They don't know that phones hold magical games. The fanciest thing they think they can do on a phone is scroll through old pictures I've taken, or maybe use Snapchat on Auntie JJ's phone.
But on a plane? Maybe there are special games you can get ONLY when you're on a plane! We've turned it into something special and made a big deal about that part. I had new headphones for the kids that we gave them as we announced that the movies are never-ending! If you want to sit nicely glued to your seat and watch movies for the next six hours? I'll love you forever, sweet child.
Bonus idea: Wrap anything new like a gift! Now your kid gets the experience of unwrapping a present and is in a happy festive mood! Don't bring out all the "presents" at once, but drag that out. Getting fussy, oh look, another coloring book wrapped in pretty paper!
Embrace sweets.
You'd be amazed at how quiet a kid can be while enjoying a Dum-Dum. Bring one thousand. One flight of non-stop snacks won't trigger early onset diabetes. So make it like a special thing that happens only on airplanes if you want, but do not ignore this tip that may save your life.
Don't forget the return trip!
I feel SO accomplished when the bags are packed, we're ready to go, and all the kids activities are organized. We arrive, all in one piece, and I give myself a nice pat on the back. Then I realize, "Oh crap, we have to fly home and do this all over again!" Unless you're moving to where you're going, you're going to have to deal with this reality.
My strategy? Hide half the haul from the Dollar Tree. Don't even let your kid know it exists. Pack it in a checked bag if you don't want to be tempted. Kids love a shiny object they've never seen before – and by the flight home they'll be onto you, so save something extra special for the return flight.
Having said that – in case of emergency, use EVERYTHING.
And then pray/wish on a star/find a lucky penny/rub a rabbits foot – DO IT ALL. Because even with all these tips you can probably use all the help you can get!
*******
And lest you think this is all theoretical? I sat on a tarmac for three hours with all three kids and then flew six hours this week – and at the end of all the lollipops and paint with water books and movies? We got mad compliments from the people surrounding us. And not because I've got great kids, but because their Mom was hella prepared to entertain toddlers on a plane!
How about you, mamas? What are your best ideas for entertaining toddlers during a flight?
Looking for more travel tips? Head here next-