Have you planned the ultimate family road trip? Well, if you just realized you actually need to bring – and entertain – your family on the trip, you might be slightly less excited. There's a lot to think of from family road trip essentials to fun ideas for long road trips, and we've got you covered on all of it!
So I'm not trying to brag or anything, but…well I totally am. I'm shamelessly going to proclaim myself the queen of taking road trips with kids, because everyone has gifts, and this may well be mine. My family ROCKS at road trips.
Lest you think I'm gloating about being good at all things #momlife, I'm currently writing this while draped over my crying one year old, making shushing sounds in his ear. So for sure I don't have it all figured out.
But traveling alone with a toddler or two? Coming up with fun ideas for long road trips? Yeah, I'm your girl. My kids have been road tripping since infancy. We drive two hour stretches very often, like monthly. And we've taken many, many 9+ hour trips, from when we had one tiny baby to today. Like, TODAY today.
So maybe I'm not an expert, but I am very experienced. Here's a few tips, so you can gain from my wisdom learn from my mistakes.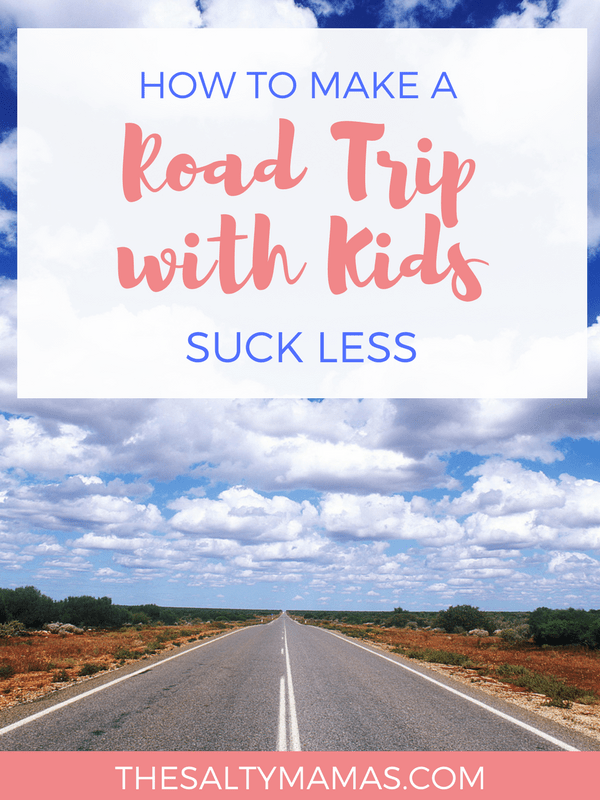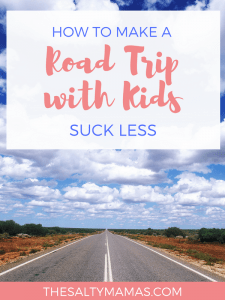 This post contains affiliate links. You can read more at our

legal page

. Thanks for supporting The Salty Mamas!
Phase One- Prep for Your Road Trip With Kids
First up, you need to prep within an inch of your life (your sanity may depend upon it). Bring so many more snacks than you ever dreamed (fruit and cheese for early on, then goldfish and pretzels, and chips and fruit snacks. You'll want options). Bring drinks. They shouldn't be alcoholic, though you'll wish they were. Raid the dollar store, or more than one if you have time. Buy self-contained projects, toys, candy. Buy stickers, crayons, dry erase markers, magnets and a cookie sheet, window clings. Buy everything, because on hour nine you would pay ANYTHING to keep the kids from crying and/or screaming. $1 is the bargain of a lifetime. You might want to store it all in a handy bag with lots of pockets, so you can access it whenever needed. Also pack quarters and dollar bills, in case you need to bribe them reward their good behavior.
Phase Two- Boredom
Do nothing. For as long as possible. This might sound crazy – you got all those kid friendly games and snacks prepped in Phase 1! But remember, this is a marathon, not a sprint. So begin with the basics. Look out the windows. Try not to entertain your kids in any way. You might (hopefully) be surprised. On our last road trip with the kids, this phase lasted an hour and a half. Valuable time when I wasn't using up all my pre-prepped stuff.
Phase Three- Go Old School
Next, you'll move on to classic road trip games. We're so used to relying on electronics, we forget how fun the simple games can be.But it wouldn't be the ultimate family road trip without a round of I Spy! On our last 2 hour drive, we made up a road trip Bingo where everyone got to pick one thing we were looking for. When we found all five things, we started again. And darned if it didn't last us almost the entire drive – with tons of giggles along the way. So don't overlook these old school favorites.
20 Questions
I Spy
Take turns counting or doing the alphabet (you say 1, next person says 2, etc. See how high you can get!)
Alpha categories (Pick a category like "food" and think of one food for every letter of the alphabet. When you're done, pick a new category!)
The humming game (take turns humming a song while everyone guesses)
Guess the animal (Take turns giving clues about animals – winner goes next!)
Sing everyone's favorite songs.
Rainbow cars (First one to find a red, orange, yellow, green, blue and purple car wins!)
You'll naturally find which games REALLY click for your family, and in our experience, the old school games tend to inspire my kids to create their own games!
Phase Four- Start the Entertainment
Eventually, the old fashioned family fun will become a little stale. Hey, when I was a kid I remember asking if it was time to bust out the GameBoy yet – so I can't blame my kids! But don't get too excited. We're nowhere near the electronics phase of the trip yet. Instead, bust out the most boring activity you brought. Probably a book or coloring. Draw it out.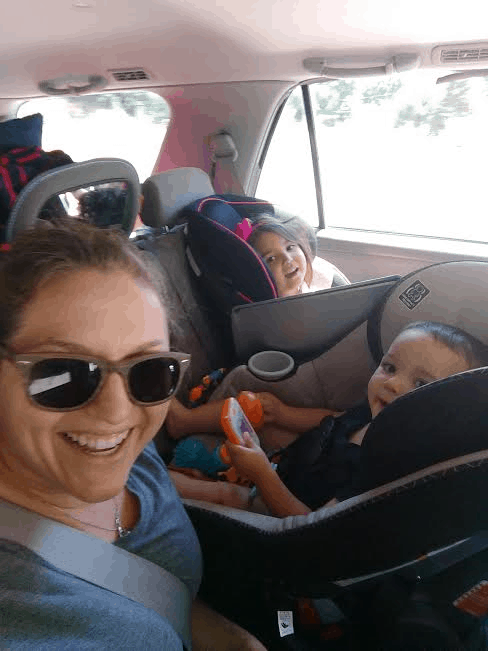 Phase Five- Step Up Your Game
It's time for a more exciting activity, like sticker mosaics, magnetic games, or a sticker book. We love these busy bags which can easily be rotated between kids or easily brought inside a restaurant stop along the way.
If you want to be REALLY extra, put the new book, magnet game or small toy in wrapping paper. It adds some festive excitement to the process and makes them forget they're trapped in a carseat for the fourth hour in a row.
Need More Busy Bag Ideas? Check These Out: (Even More) Preschool Busy Bags
Phase Six- Eat The Healthyish Snacks
In my house, when all else fails – SNACK. So if you've looked out the window, read the books, played with the bags and the fussies are setting in, the time has come. Start doling out the snacks. Puffs, Little Crunchies, and pouches for your solid-food-eating babies. Pretzels, raisins, and granola bars for the older kids.
If they're grumpy enough, they'll be touting the sweetness that is "nature's candy" and will celebrate those raisins! It could be worse, you could have suggested they look out the window again!
Phase Seven- Begin Again
Speaking of looking out the window again, it's time to start back at the beginning. Pray it works. Cry a little when they aren't looking. Regroup. You GOT this!
Phase Eight- Electronics
The time has come. Now is the time to bring out the apps, the DVD players, and the downloaded shows. Tune out the kids and pray that they focus on those electronics until their eyes bleed – or until the batteries die – whichever happens first. Remember, you have done an amazing job and have made it through seven stages of a road trip before you got to the screens. You basically deserve some kind of award.
Phase Nine- Begin Again…Again
If you're on a proper road trip, even the electronics might get boring. Or at least need to be charged. Try and cycle through the tips. Again. You're almost out of tricks, and you're not. even. close to your destination. But hopefully everything will be recharged by the time you loop around again!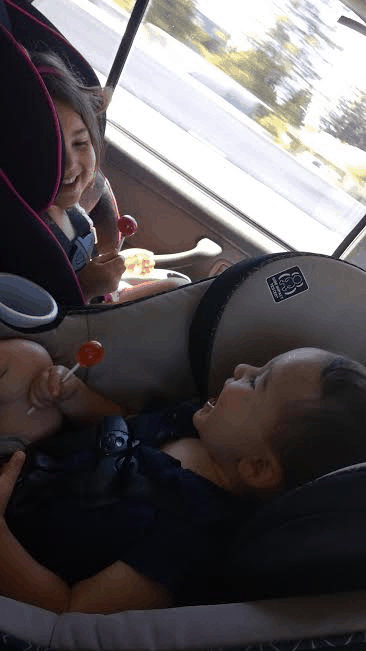 Phase Ten- Special Snacks
I hope you brought alllll the candy. And did not tell the children about it, or let them see it. This candy is to be secretly reserved for an emergency. And now is JUST that emergency. Draw it out. Make them guess what the surprise is before you show them. Make them pick a hand. Spend ten minutes where they keep not guessing the right hand and they giggle (hopefully). When you finally produce the goods, dole out one piece at a time in exchange for answering trivia questions. Or as prizes for who can keep their eyes closed longest. Or whatever you can think of. This is your last hope, and you've got to make it last.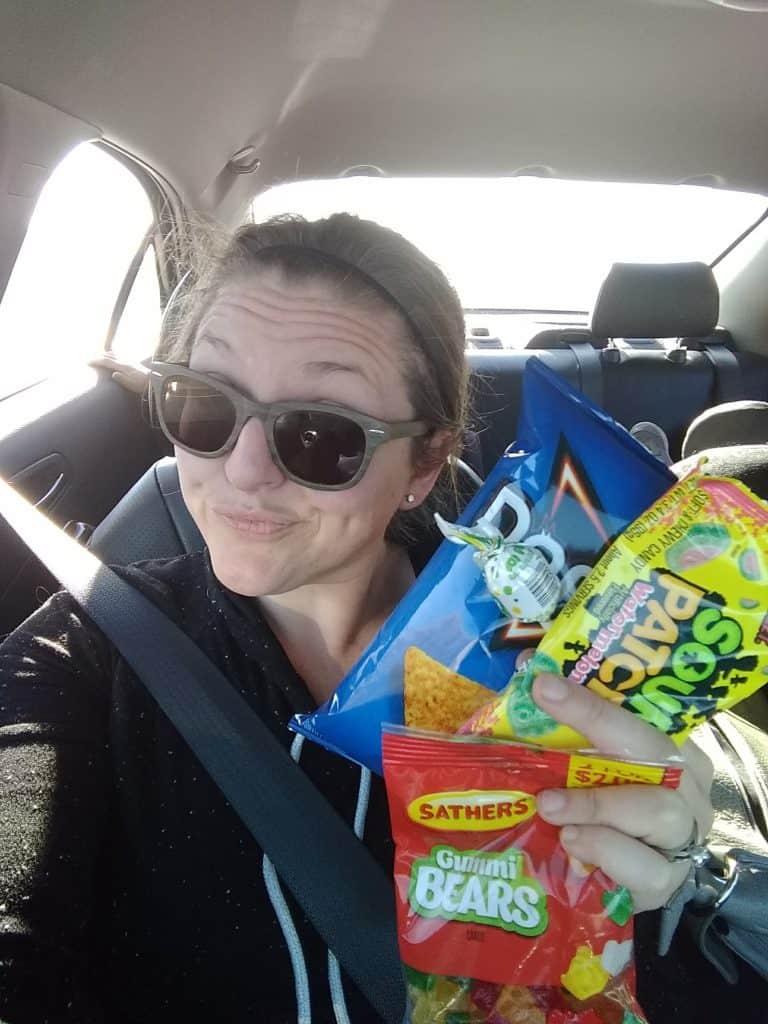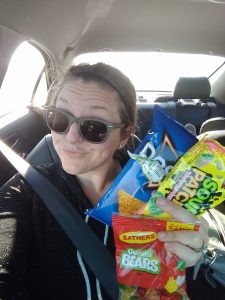 Or rather, I'VE got to make it last. For the next hour or so. We're on hour ten of an eleven hour trip, and I'm fresh out of candy… And patience. Wish me luck.
***********
Looking for more travel tips? Check out these posts from The Salty Mamas: