Need some fun St. Patrick's Day activities for preschoolers or toddlers? Check out these engaging St. Patrick's Day fine motor activities for the kids to get them in the Irish spirt, and follow up with a few St. Patrick's Day sensory activities, too. Read on for our kid-approved favorites!
I've always felt that St. Patrick's Day gets the short end of the stick when it comes to holidays. Crammed between Valentine's Day and Easter, it often gets shuffled to the back of the priority list. But with leprechauns, rainbows, and gold coins, there is HUGE potential for crazy-fun St. Patrick's Day activities for preschool that are suited right to their interests.
We are constantly on the lookout for ways to engage our toddlers through play. Toddlers are starting to learn how to use their fingers more effectively, and so we include fine motor skills activities in our toddler daily schedule to help them practice these skills.
But we never, ever, ever want this practice to feel like work, so we do our best to change up the activities based on the month, theme, weather, or what's going on in our lives. So this March, we are doing it up BIG with St. Patrick's Day fine motor activities for toddlers (and some fun St. Patrick's day sensory activities, too). Read on for the full list of ways to celebrate St. Patrick's Day with your kids.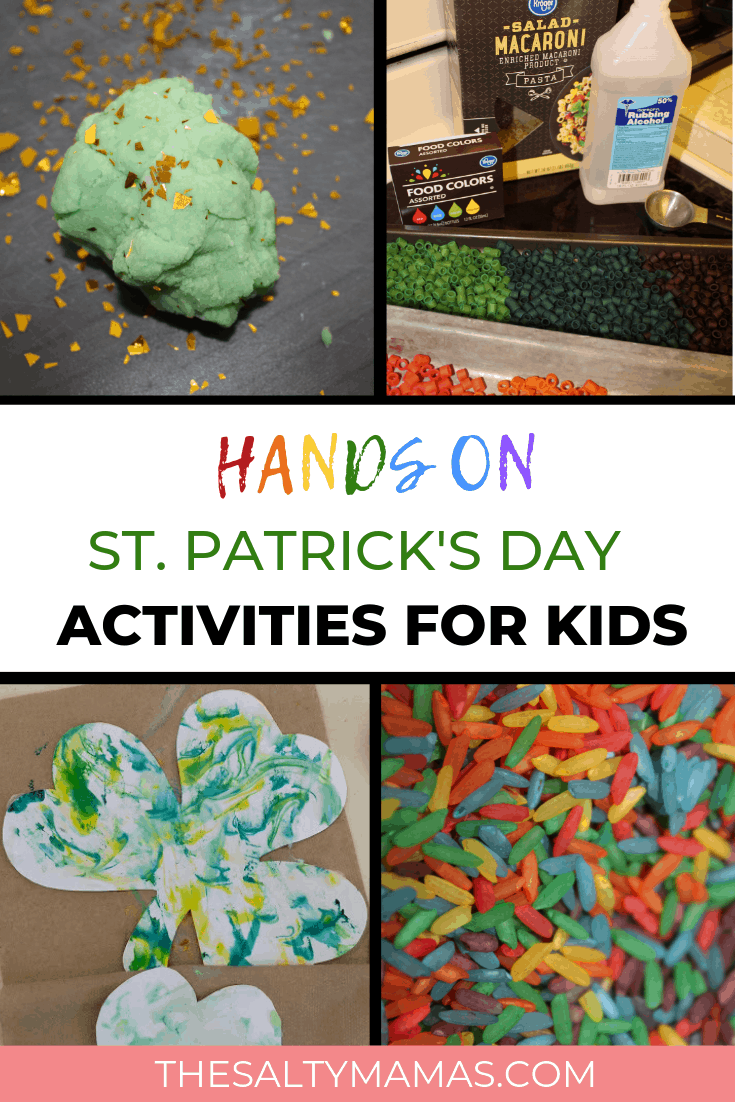 This post contains affiliate links. You can read more at our legal page. Thanks for supporting The Salty Mamas!
Rainbow Gold Coin Drop
Toddlers love dropping things into containers. I don't know why, I can't explain it, but I promise you that they do. We typically use playing cards in an oatmeal container or Q-tips into a spice jar, but it's even better with a theme.
Pick up some plastic gold coins at the dollar store or on Amazon and then grab an empty tube or canister. I used a Pringles can, which provided a satisfying "clink" when the coin reached the bottom of the container.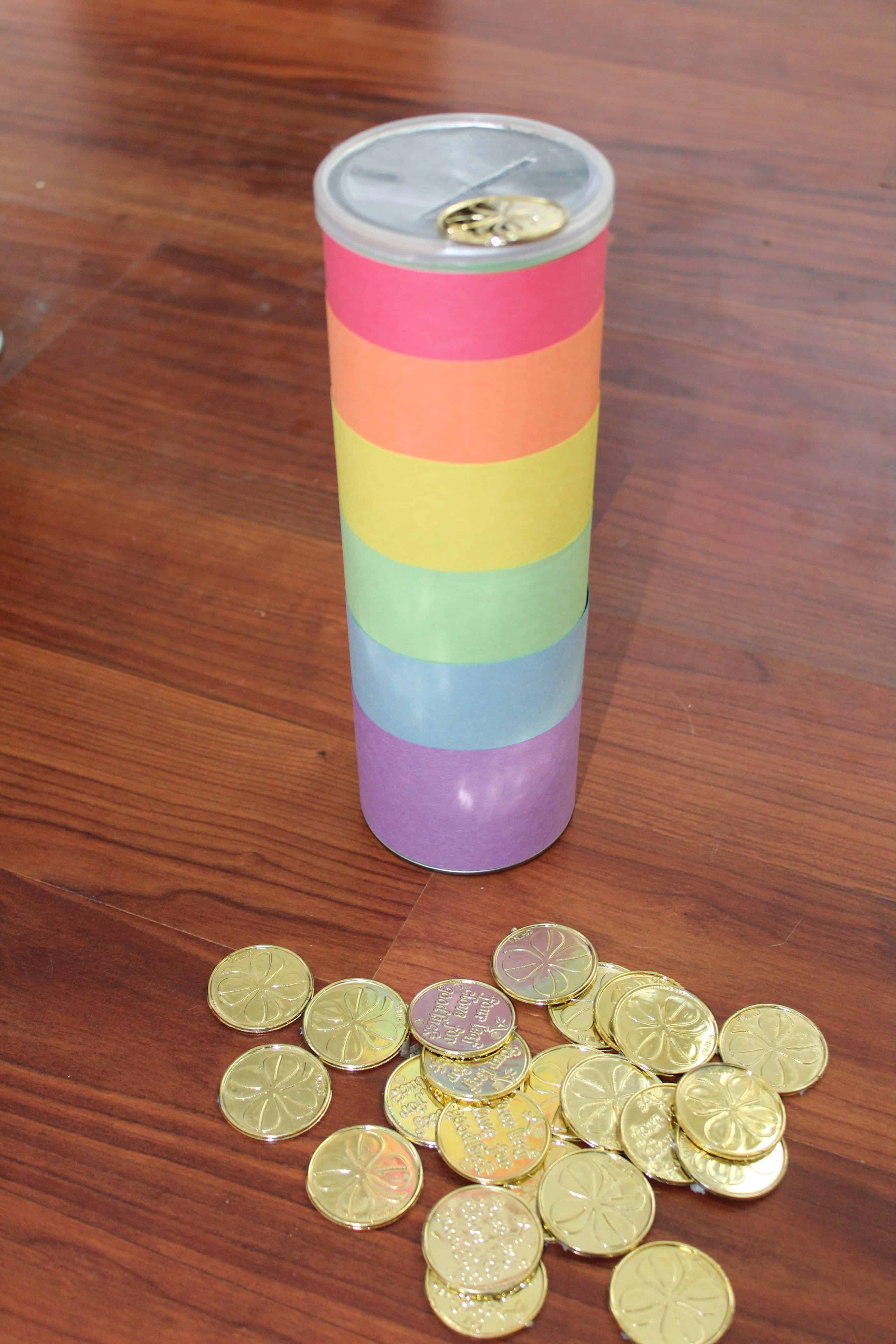 For a little extra fun, I wrapped strips of construction paper around the tube in a rainbow pattern and attached with a small piece of tape. You could also have your kids use Kwik Sticks to decorate the tube like a rainbow themselves.
One by one, kids will drop the coins into the rainbow tube. Empty and repeat all month long!
Do-A-Dot Rainbow Lines
Kids are OBSESSED with rainbows. I tried this activity with 6, 5, 3, and 2 year olds and each one loved it as much as the next.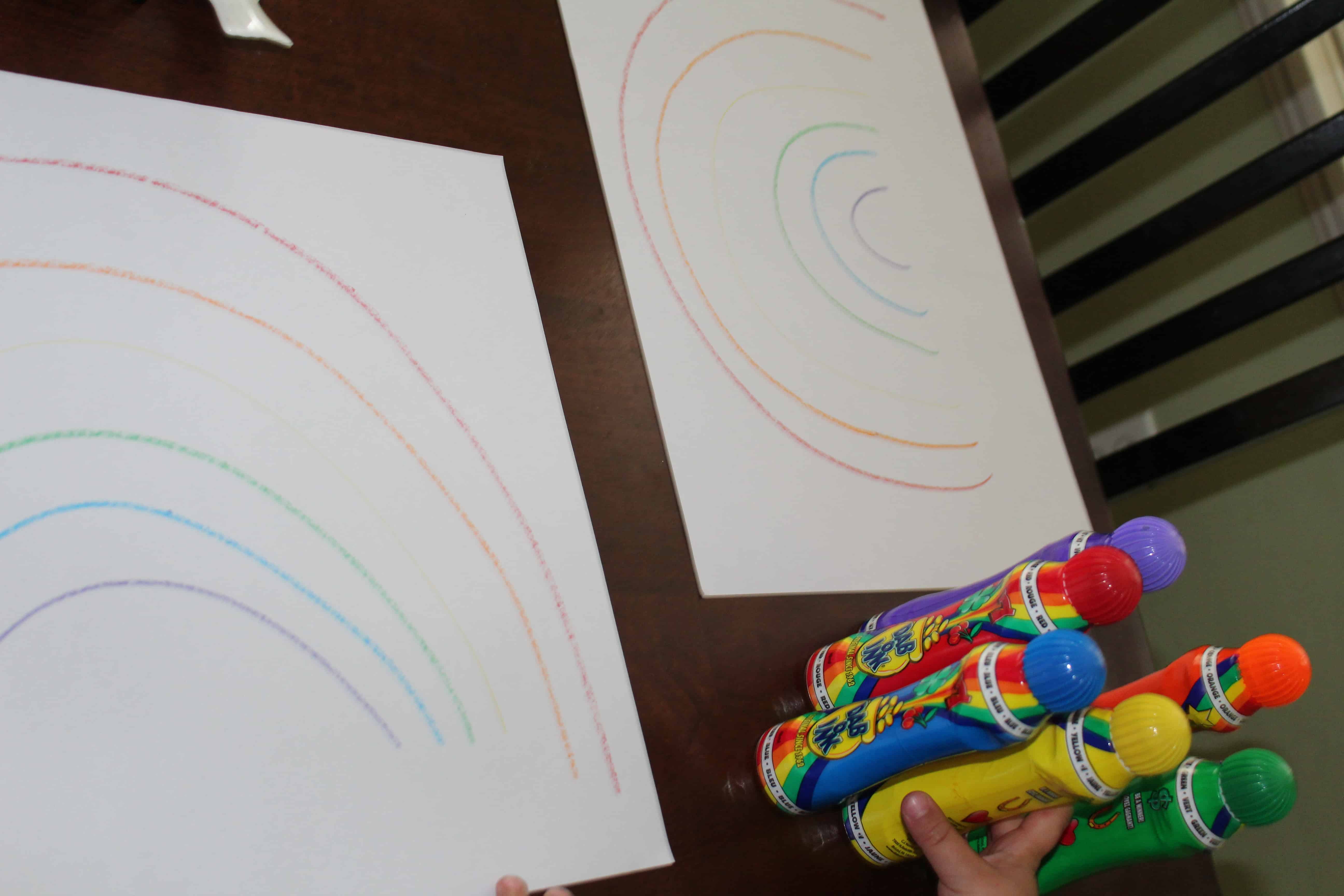 Using a marker or crayon, draw lines in the shape and colors of a rainbow. Put out Do-A-Dot markers or stickers in the rainbow colors. Ask kids if they can make the rainbow bigger by adding matching dots of ink to each line. It may seem like a simple activity, but it works on fine motor and pre-writing skills in the process.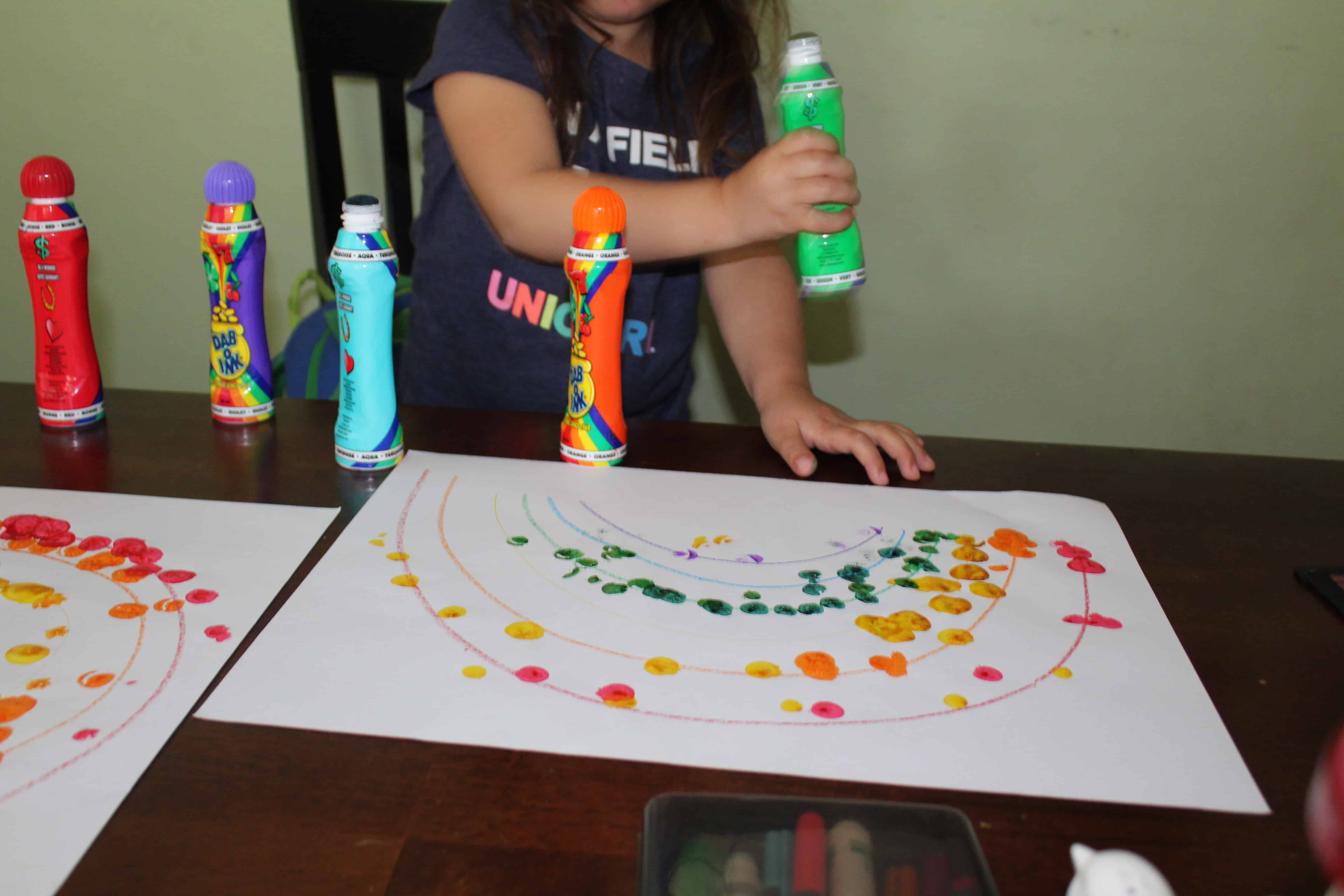 Not only is this activity super fun, but it also helps kids learn their colors Sing the rainbow colors song while you're at it for a little extra colorful fun.
Pot of Gold Playdough
Take your playdough to the next level this month with a St. Patrick's Day theme. You all know that we prefer homemade playdough (get our recipe here) because A.) It doesn't dry out as quickly, B.) It helps fill up more time on a stuck-inside day, and C.) We can make just one color at a time so they don't drive us crazy by mixing the colors all together.
When it comes to a St. Patrick's Day Playdough recipe, you've got some decisions to make. First, grab our homemade playdough recipe. From there, you might want to make plain green playdough, rainbow colored playdough, or even add five-8 drops of mint extract for a little shamrock-shake vibe.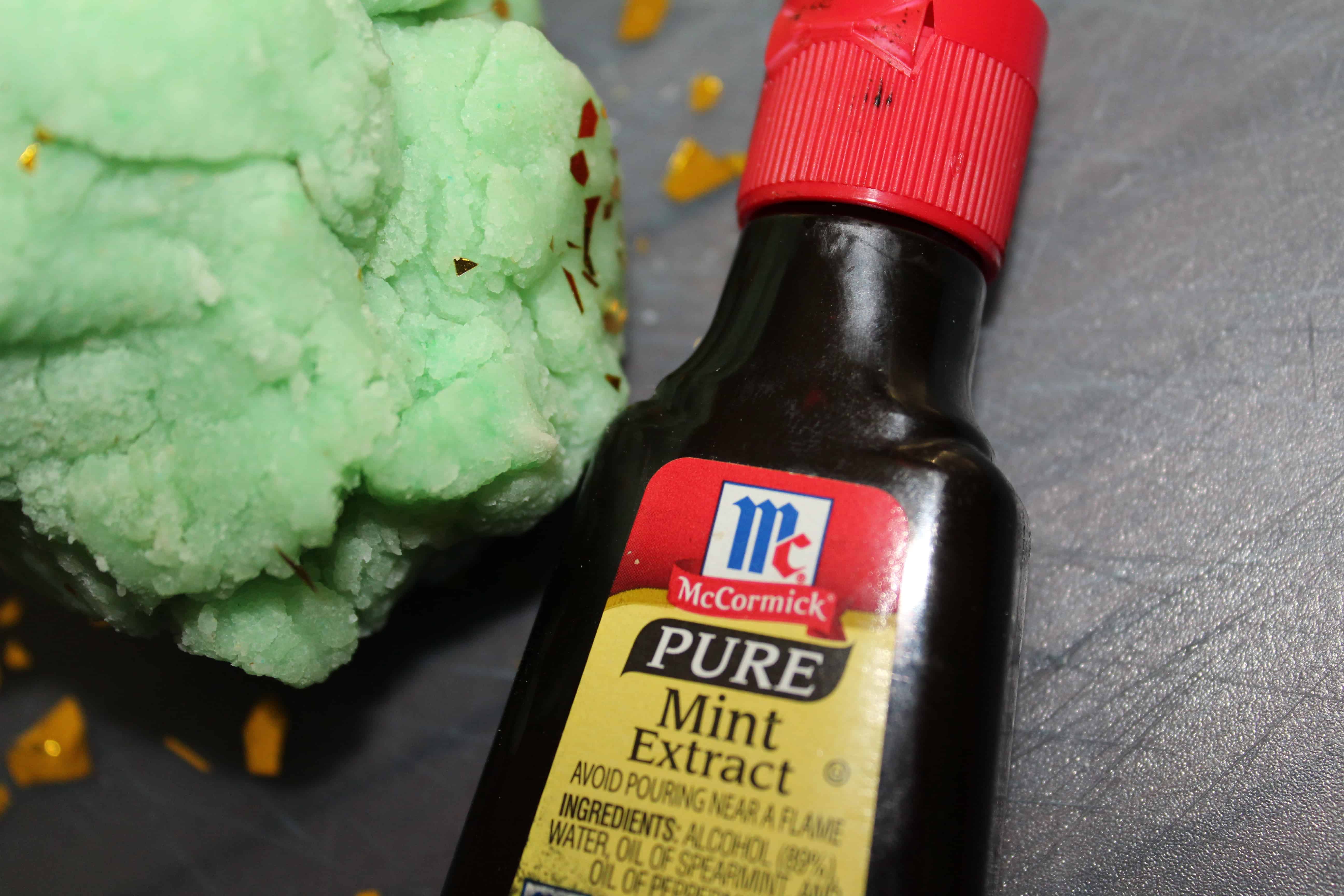 If you're feeling adventurous, you can do what we did and make some Pot of Gold Surprise Playdough. You'll make a regular batch of green (or mint-smelling!) playdough and roll it into balls. Make a hole in the center of the ball of playdough.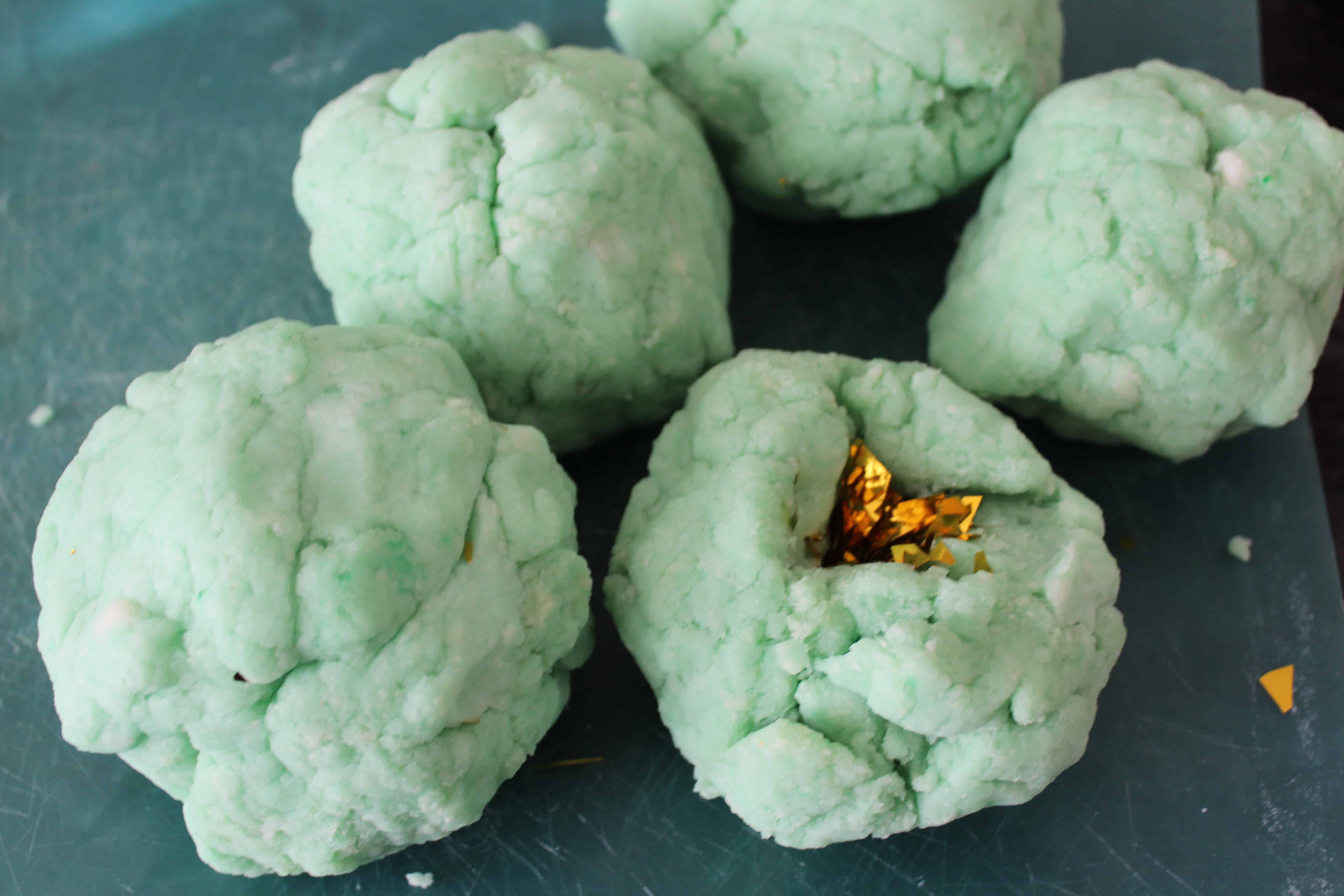 Fill the hole with gold-glitter flakes and cover it up with playdough. You don't want the gold to show at first!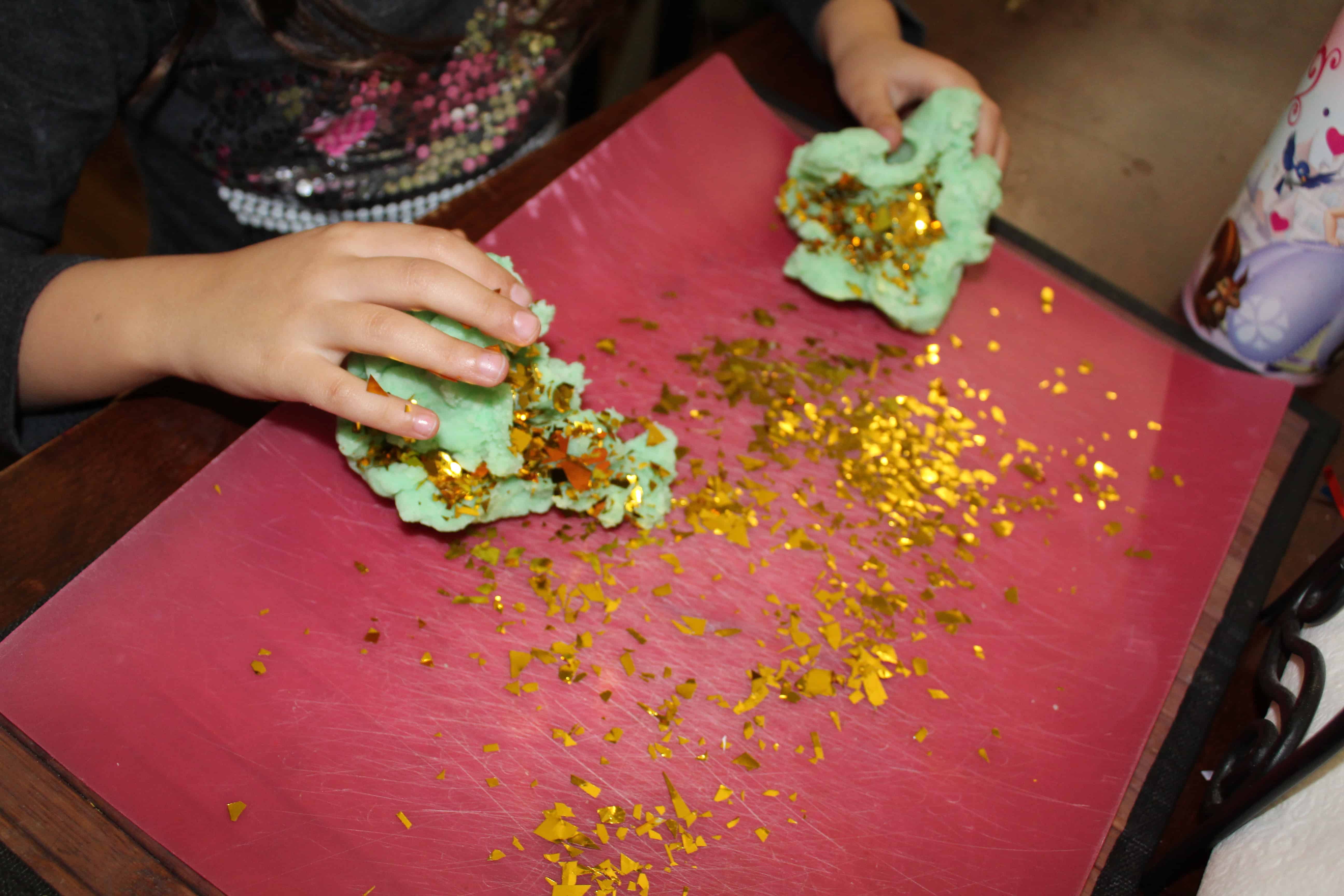 Now let your kids play with the playdough, and see their joy when the gold glitter starts to emerge. (And get your dustbuster ready…these gold flakes don't stay just on the table!)
Shamrock Marbled Print Art
For St. Patrick's Day last year, I put a twist on our Valentine's Day marbled art activity.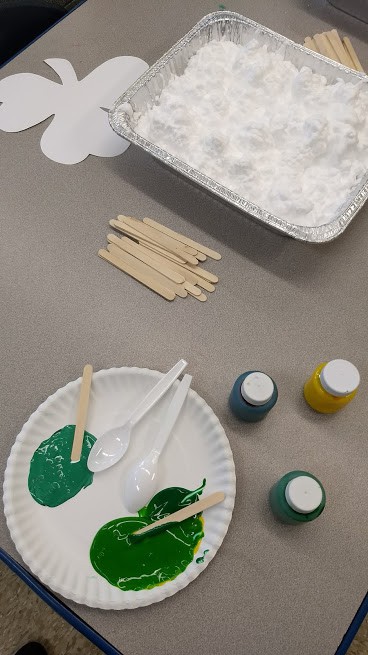 For a St. Patrick's Day art project, we added various shades of green paint to the shaving cream instead, and had them press down shamrock-shaped paper instead of hearts.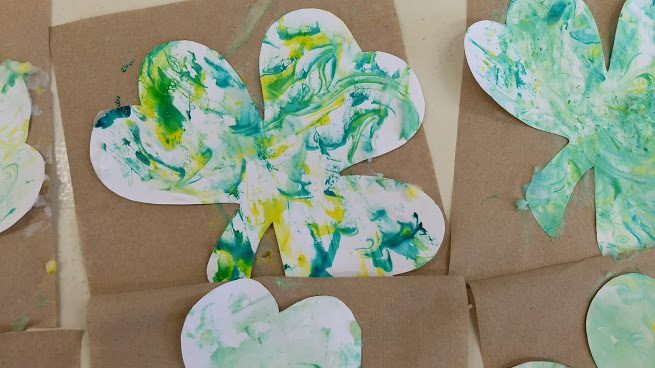 And can you imagine how excited they'd be if you put rainbow colors into your shaving cream instead? I mean…minds blown.
Rainbow Pasta Beads
I learned this trick from a preschool teacher I used to work with. Pony beads are easy to get, but the price on them can add up quickly. Instead, you can make HUNDREDS of "beads" yourself, for the low price of $1.
To get started, grab a box of Macaroni Salad Pasta. Add a small amount of pasta (about 1/2 cup) to a Ziploc bag, and shake it up with 2 teaspoons of rubbing alcohol and a few drops (2-3) of food coloring. When the color is thoroughly mixed in, pour the pasta "beads" onto a cookie sheet and spread it out a bit to dry (usually, it's ready in about an hour).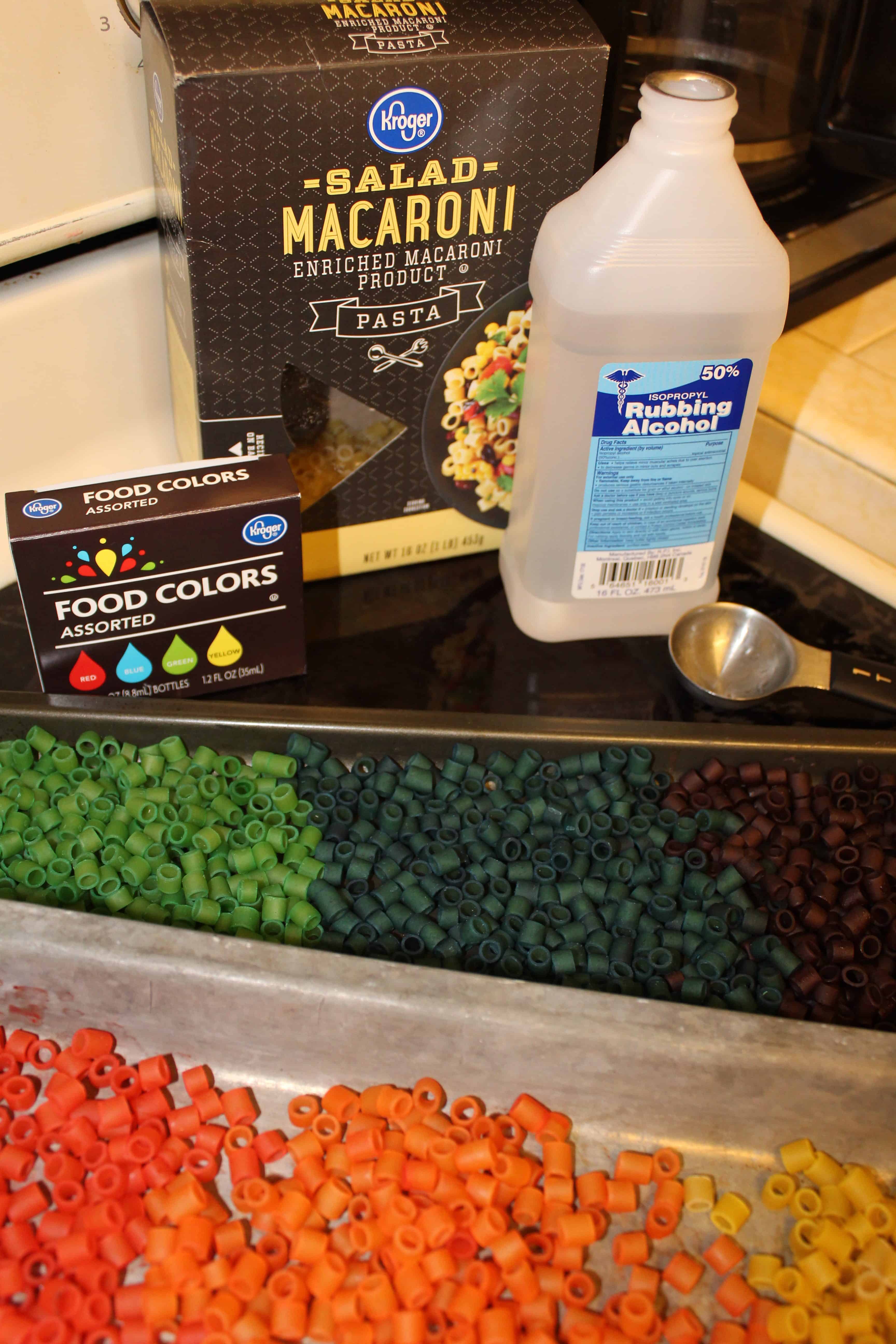 When they're done, kids can use pipe cleaners or string to lace the beads. If your kids are younger, have them focus on making a bracelet with the colors of their choice. If they're older, have them experiment with patterns. We think going in order of rainbow colors would work perfectly.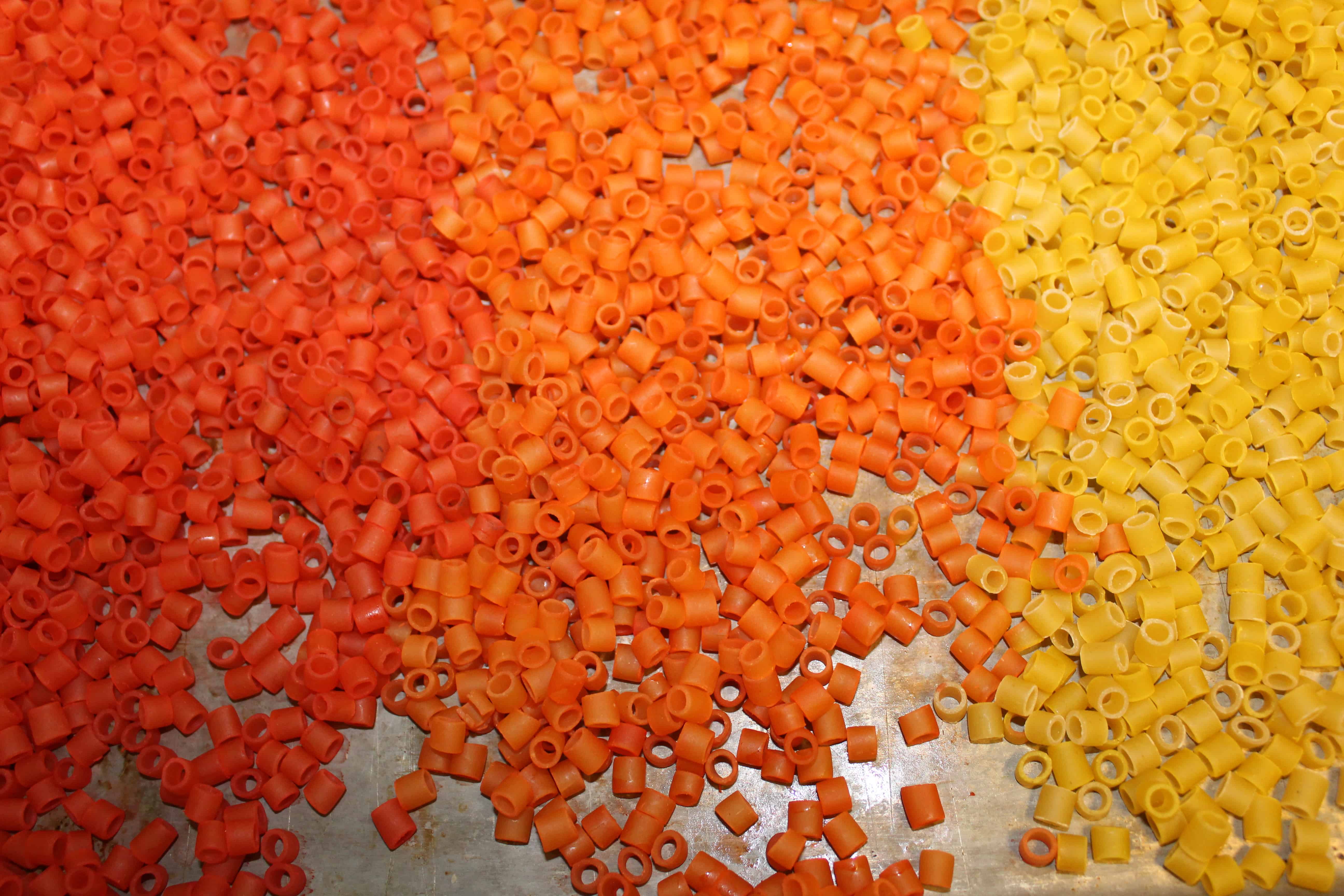 Rainbow Rice
We love to whip up a batch of rainbow colored rice for our kids' sensory bins. It's cheap, satisfying to let slip through your hands, and much easier to sweep up than a lot of other fillers we've used (I'm looking at you, Orbeez).
To make, add about a cup of rice to a Ziploc bag. Add in a Tablespoon of rubbing alcohol and 4-5 drops of food coloring. Zip up the bag, and shake. (The kids REALLY love getting in on the shaking action!) Pour out on a flat baking sheet for about an hour to dry. Repeat for as many colors as desired (or just stick with green).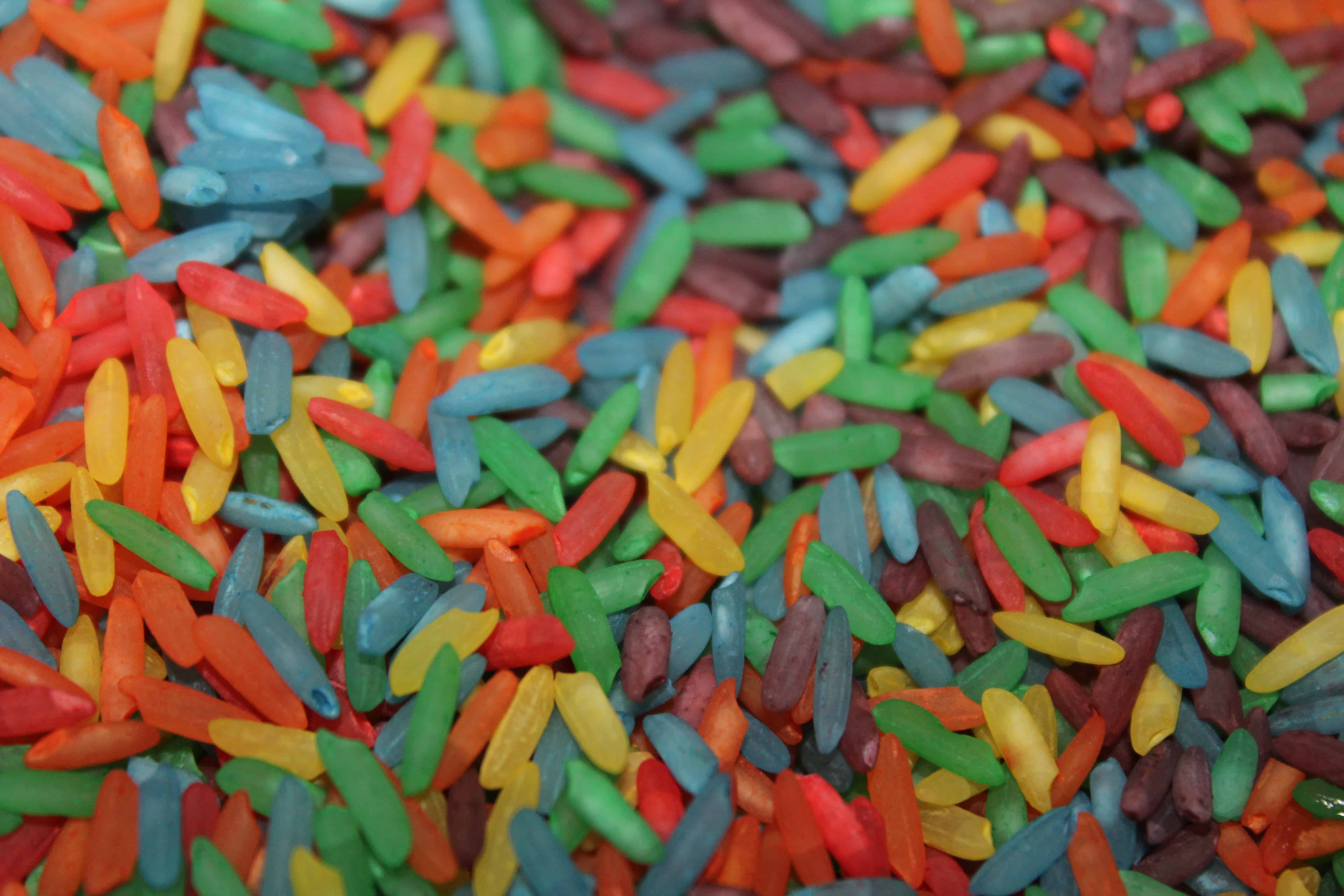 I like to lay out each color side by side in their sensory bin and let them mix them together on their own. It adds a little extra to their play.
Leprechaun Sensory Snow
We love mixing in a little STEM action wherever we can, and we are especially loving this Leprechaun Snow from Team Cartwright. Older kids will get really into the science portion (it's actually COLD!) and littler kids will just love the sensory play.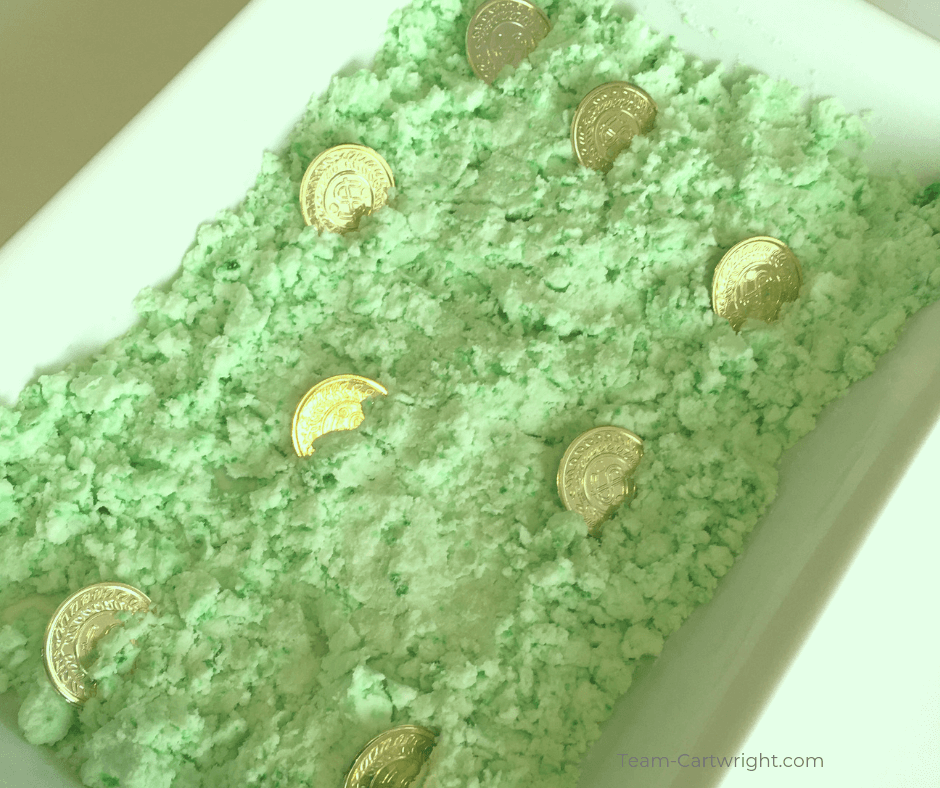 After they've played with the Leprechaun Snow, check out Team Cartwright's clever way to clean the coins for a little added bubbly fun. Get the full details on how to make leprechaun snow!
*******
With a few tricks (and a fair amount of food coloring), there are TONS of ways to celebrate with St. Patrick's day activities for preschool. All of these fine motor and sensory activities are easily adaptable for toddlers, too, so even your littlest kids can get in on the fun.
So what do you think, mamas? Which St. Patrick's Day fine motor activity are you going to try?
Looking for more ways to play with your kids? Check out these fun ideas-